Mountain and Hill Walks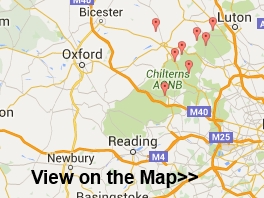 This page shows some of the finest climbs in Britain. There is a mixture of fairly easy hills and strenuous mountain climbs. You will be rewarded with some truly wonderful views.
Please use the links below to view full route information including descriptions, elevation profiles, interactive maps and GPS downloads.
You can also view an overview map of all the routes in the using the Mountain and Hill Walk Map
Route Name
Distance
Description
Abbotsbury Castle
2 miles (4 km)
This walk from the pretty Dorset village of Abbotsbury visits the Iron Age Hillfort of Abbotsbury Castle. The route makes use of two long distance trails to take you to the site, where there are fine coastal views to enjoy. It's only about a two mile walk from the village but there is a fair climb to the hill's peak which stands at a height of almost 700ft.
The walk starts in the centre of the village and immediately picks up the Macmillan Way which starts in Abbotsbury. You follow the waymarked trail north fo about half a mile until you link with the South Dorset Ridgeway. Follow the path west for about 1.5 miles and you will come to the hill fort. The castle's position high above the Channel made it a first-line defence against invasion. The fort was occupied by the Celtic Durotriges tribe, but when the Romans invaded in AD 43, the second Augustian legion of Vespasian took the fort quickly with little struggle before moving on to Maiden Castle.
You can return the same way or continue west along the path and then head south to the coast. In this way you can turn it into a long circular walk.
The area is great for walkers with lots of options for extending your walk. You could head to the delightful Abbotsbury Subtropical Gardens or head to the wonderful Chesil Beach. View Full Details>>
Alderley Edge
4 miles (7 km)
This lovely circular walk explores the beautiful National Trust owned area of Alderley Edge. Starting at Alderley Edge train station you climb to a sandstone escarpment, where there are fabulous over the Cheshire Plain to the Peak District. You return through a delightful wooded area, passing a waterfall, before arriving back at Alderley Edge train station.
The National Trust have also devised a number of other walking trails which you can pick up from the Wizard Tea-Room. These include the Miners Ramble which explores the age-old mining history of the Edge. The Wizard Trail also starts from the edge and will take you to the the Wizard's well, the 15th century Alderley mill and National Trust owned Hare Hill. You can follow a permissive path south to Hare Hill to extend the walk. View Full Details>>
Alport Castles
10 miles (16 km)
This walk visits this extraordinary geological feature in the Peak District National Park.  Alport Castles is a spectacular formation of rocks formed from numerous landslides over a period of time. The largest of these, resembles a full-scale motte and bailey castle. It's a fabulous sight and is surrounded by some stunning Peak District scenery. Bird watchers can look out for peregrine falcons nesting on the crags. The elevated spot on the the stepped landslip makes ideal spot for sitting down and soaking up the views.
This circular walk starts at the parking area at the northern end of Ladybower Reservoir. You then follow a footpath along Derwent Reservoir and Howden Reservoir, passing through woodland with views of the impressive Howden Dam on the way. The walk then climbs away from the reservoir towards Alport Castles. Here you can enjoy wonderful views over the River Alport and Alport Dale. The walk then descends to Hagg Side woodland before returning to Ladybower Reservoir.
To extend your walking in the are you could try the fantastic climbs to Derwent Edge and Stanage Edge. View Full Details>>
An Sgurr Eigg
5 miles (7.5 km)
Climb to the highest point on the volcanic island of Eigg on this challenging walk in the Scottish Inner Hebrides. From the 393 metres (1,289 ft) summit there are spectacular views all round of Mull, Coll, Muck, the Outer Hebrides, Rum, Skye, and the mountains of Lochaber on the mainland.
The walk starts at the ferry terminal and follows a waymarked route through Galmisdale and heather and bracken moorland to the summit. View Full Details>>
Angle Tarn
5 miles (8 km)
This walk climbs to Angletarn Pikes from Patterdale in the Lake District. The area is a favourite of many with Angle Tarn considered one of the most beautiful spots in the Lake District. Alfred Wainwright described it as 'among the best of Lakeland tarns'. On the walk you will also enjoy super views over Ullswater Lake and the surrounding fells.
The walk starts at the parking area in Patterdale and climbs to Boredale Hause. You continue to Stony Rigg and then on to Angletarn Pikes. The Pikes are named after the two rocky towers at the summit, separated by a long section of peaty bog. From here there are great views down to Angle Tarn and over to the Helvellyn range and the Far Eastern Fells across Martindale. You then descend to the tarn for a waterside section before returning to Patterdale on the same route. Alternatively, you could continue past the tarn and head towards The Knott and Hayeswater to extend your walk. Brothers Water is also nearby and is another good walk to try in the area. View Full Details>>
Ankerdine Hill
1 miles (1 km)
Climb to this hill in Knightwick on this walk in the Malvern Hills. There's a nice waterside stretch along the River Teme, woodland trails and great views from the high points.
The circular walk starts in the village of Knightwick and heads to Horsham Farm along the River Teme. You then climb through Hay Wood to Ankerdine Hill which reaches a height of well over 400ft. On the hill there's some nice woodland trails and great views over the Worcestershire countryside. View Full Details>>
Aran Fawddwy
10 miles (16 km)
Climb to the 905 m (2,969 ft) summit of this mountain in southern Snowdonia and enjoy breathtaking panoramic views. The mountain is only (31 ft) short of being a member of the Welsh 3000s.
The walk starts from the village of Llanuwchllyn near the southern end of Bala Lake. You can park in the village or catch the Bala Lake Railway to Llanuwchllyn and start the walk from there. From the village you head south and pick up the Aran Ridge footpath. You first climb to Aran Benllyn, passing Llyn Lliwbran on the way. You continue to Aran Fawddwy with lovely views down to the lake of Creiglyn Dyfi.
It's a challenging climb but with some wonderful views towards the Rhinog mountains, the Berwyns and the rest of the Arans. The walk can also be attempted from Cwm Cywarch.
To continue your walking in the area you can try the Bala Lake Walk. Footpaths climb into the hills and forests above the lake with wonderful views over the water and surrounding mountains. View Full Details>>
Arenig Fawr
6 miles (9.5 km)
This walk visits the pretty Llyn Arenig Fawr before climbing to Arenig Fawr in the Snowdonia National Park. It's a beautiful area with lovely views of the nearby Llyn Celyn and great views of the surrounding countryside and mountains.
Start the walk at the south eastern end of Llyn Celyn about half a mile east of Arenig. From here you can follow a footpath south to Llyn Arenig Fawr. The lake supplies water to the nearby town of Bala and the surrounding villages. It's a beautiful spot and generally very peaceful.
Follow the path around the lake and continue west to climb Arenig Fawr.
At the 854 m (2,802 ft) summit  you will find a trig point and a memorial to eight American aircrew who died when their Flying Fortress bomber crashed on 4 August 1943. Some of the crash wreckage is still scattered across the hillside 300 m (330 yds) from the memorial location.
There are splendid views to enjoy from the summit. On a clear day you can see Snowdon, Crib Goch, the Glyders, Tryfan and the Carneddau range. View Full Details>>
Arnside Knott
2 miles (2.5 km)
This popular circular walk takes you around a small, coastal hill in the Arnside and Silverdale AONB. The route runs for a distance of just under two miles with a small climb on the way.
The Knott is a popular beauty spot and internationally important wildlife area. The area includes a mixture of limestone grassland, woodland, wet meadow, scree and scrub. It's also renowned for its butterflies and flowers. From the 159 metres (522 ft) high point there are fabulous views over Silverdale and the coastal estuary towards Grange over Sands, Morecambe Bay, the River Kent Estuary and the Lake District fells. There's a handy toposcope at the top which details the landmarks you can see from the summit.
This circular walk starts at the car park by the hill and takes you to the viewpoint and through the woodland on public footpaths. It runs for about 1.5 miles with a little climbing on the way.
You can continue your walk by picking up the Cumbria Coastal Way which starts at the nearby Milnthorpe Sands. Or you could visit the nearby Leighton Moss Nature Reserve. Also nearby is Warton Crag nature reserve with its rare butterflies and plants.
Just to the south, you can follow footpaths to and enjoy a climb to the Victorian Pepperpot monument on King William's Hill. View Full Details>>
Arthur's Seat
3 miles (4.5 km)
This is a hugely popular climb to the peak of Arthur's Seat in Edinburgh's Holyrood Park. It's a fairly challenging hike with the hill reaching a height of 251 m (823 ft) at the top. Here you can enjoy panoramic views of the city, the coast and the surrounding mountains.
The site is geologically significant being part of the Arthur's Seat Volcano site of special scientific interest. Like the rock on which Edinburgh Castle is built, the hill was formed by an extinct volcano system of the Carboniferous age, which was then eroded by a glacier about 350 million years ago.
The shortest route to the top is from the Dunsapie Loch, just to the east of the hill. There's a car park there and trails leading up from the loch to the peak, which is a short distance away. This longer circular route climbs to Arthur's seat from Holyrood Palace, just to the north of the hill.
Starting from the car park near the palace, you first bear east before turning west and climbing along Salisbury Crags. There's some fine views back down to the palace from here with the Scottish Parliament and the Firth of Forth also visible on a clear day.
After passing along the crags you pass Gutted Haddie before coming to the summit which is the site of a hill fort. After taking in the wide ranging views you descend towards the remains of St Anthony's Chapel. The atmospheric ruins stand on a rocky outcrop above St Margaret's Loch, commanding excellent views over North Edinburgh, Leith and the River Forth.
From the chapel you continue the descent to St Margaret's Loch where you will see lots of ducks, geese and swans on the water. You then pass the natural spring at St Margaret's Well, before returning to the car park. Near here you can also visit the fascinating Dynamic Earth visitor attraction. The principal focus of Dynamic Earth is to facilitate a better public understanding of the processes that have shaped the Earth (known as earth science). This includes the Big Bang, abiogenesis, plate tectonics and glaciation.
To continue your walking in the area you could head north west and enjoy another climb to Calton Hill. The hill is home to a number of significant monuments and the City Observatory.
Also nearby are Bonaly Country Park and Dalkeith Country Park where there's more nice walking and cycling trails to try. In the parks there's nice woodland trails, reservoirs and riverside paths to enjoy. View Full Details>>
Ashurst Beacon
5 miles (8 km)
This walk is a moderate climb to Ashurst Hill from the Lancashire village of Appley Bridge. It's a circular walk, taking in some lovely Lancashire countryside with splendid views and a nice waterside stroll along the Leeds and Liverpool Canal.
The walk starts from the train station at Appley Bridge and heads south west along country lanes and public footpaths to the beacon. From the 172m (564ft) summit there are wonderful views to the coast and Blackpool Tower.
After taking in the fine views, the walk descends past Dalton to the River Douglas and the canal. Here you can enjoy a stroll along the water before returning to the train station.
You can extend your walking in the area by climbing to the nearby Parbold Hill. It's only about a mile west of the station and affords more great views to the Pennines and the Welsh Mountains.
Also near the station is the delightful Fairy Glen. The hidden beauty spot includes pretty streams, beautiful waterfalls, dramatic cliff faces, wooden bridges and shady woodland trails. View Full Details>>
Bamford Edge
4 miles (6 km)
Climb to Bamford Edge on this exhilarating walk in the Peak District. The walk is geologically significant with lots of interesting gritstone rock formations to look out for. From the elevated position of Bamford Edge there are simply wonderful views over the surrounding area.
The walk starts from the Derbyshire village of Bamford and climbs on country lanes towards Bole Hill and Bamford Clough. You then head north and pick up the Bamford Edge footpath on Bamford Moor. There are splendid views across the Peak District Hope Valley and down to the lovely Ladybower Reservoir below.
The route can be turned into a longer circular walk by continuing to Stanage Edge just east of Bamford Edge. Here you will find a stunning gritstone escarpment of Stanage Edge and the peak of High Neb. From here you can enjoy wonderful views over the Hallam Moors and the Hope Valley.
You could also descend to Ladybower Reservoir and enjoy the woodland trails along the water.
The Derwent Valley Heritage Way runs past Bamford so this is another option. You could follow the riverside path into Hathersage for example. The walk could also be started from Hathersage following the River Derwent to Bamford and then ascending from there.
Just to the west you can enjoy a climb to Win Hill which has some of the best views in the area. View Full Details>>
Barbon Beck Barbondale
9 miles (15 km)
This lovely valley in the Cumbrian section of the Yorkshire Dales is a great place for a peaceful, waterside walk. It can also be made into a challenging circular walk by climbing Castle Knott Hill and Calf Top Hill.
The circular walk starts from the village of Barbon which is located just a few miles north east of Kirkby Lonsdale. The Barbon Beck runs through the village to the River Lune, about one mile to the west. After leaving the village you climb to Eskhome Pike, Castle Knott Hill and Calf Top Hill. It's a challenging climb with Calf Top Hill reaching a height of 609m (2000 ft). From the high points there are splendid views of the surrounding fells and countryside.
The route then descends from Calf Top to Hanging Clint and Rowel Gill. Here you pick up the much easier path along the beck through Barbondale. On the way you'll pass a series of pretty waterfalls and a woodland section at Barbon Manor.
For an easier walk you can just take the southern section of the path along the Beck which is very flat.
To extend your walking in the area you could head to Kirkby Lonsdale, pick up the Lune Valley Ramble and enjoy another waterside walk along the River Lune.
You could also follow the Limestone Link to Hutton Roof Crags and Farleton Fell where you will find some of the finest limestone pavement in the country. View Full Details>>
Bardon Hill
2 miles (4 km)
Climb to the highest point in Leicestershire on this walk near Coalville. The hill is located just a couple of miles east of Coalville town centre. A good start point for the walk is the village of Whitwick just to the north of the hill. From here you can follow the Ivanhoe Way long distance trail to the hill. It's about a 2.5 mile walk from the village to the 912 feet (278 m) high hill summit where you will find a radio mast and wonderful views over the Charnwood Forest and the extensive Bardon Hill quarry below. On a clear day you can see as far as the Malvern Hills, the Shropshire Hills and the Peak District.
To extend your walking in the area you could pick up the Charnwood Forest circular walk which runs past the hill. Following it south will take you to the village of Markfield which is an alternative start point for visiting the hill. View Full Details>>
Beacon Batch
4 miles (6.5 km)
Enjoy a climb to this lovely viewpoint on this circular walk in the Mendip Hills. Black Down is the highest hill in the Mendip Hills, with Beacon Batch the summit point.
This route is the shortest ascent from the Burrington Combe car park just to the north of the hill. The walk makes use of the Limestone Link and the Mendip Way long distance trails to create a circular route around the hill. The route runs for just over 4 miles and includes a moderate climb.
Starting from the Burrington Combe car park off the B3134 you pick up a section of the Limestone Way, heading south. Other paths then take you south west up to the Beacon Batch summit which stands at a height of 325 m (1,066 ft).  There's lovely views over the countryside below including the popular Blagdon Lake and Chew Valley Lake. The summit is also notable as the site of several bronze age round barrows, one of which anchors a concrete trig point. All of the barrows show signs of being opened in the past, but the only recorded excavation was done in 1820.
The route then descends across Black Down which is a moorland area, with its steeper slopes covered in bracken and its flatter summit in heather. During World War II a bombing decoy town was constructed on Black Down, which was intended to represent the blazing lights of a town which had omitted to follow black-out regulations.
The descent takes you north west to Hill Farm where you pick up the Limestone Way. Follow it east and you will soon come to Read's Cavern where traces of Iron Age occupation have been found. You continue east past a series of other limestone caves before returning to the car park. View Full Details>>
Beamsley Beacon
3 miles (5.5 km)
This short climb in the Yorkshire Dales visits Beamsley Beacon which is also known as Howber Hill. The local landmark is located close to the little village of Beamsley in the Craven district of North Yorkshire. You can start the walk from here and then follow a mixture of country lanes and public footpaths to the hill. The summit stands at a height of 326 metres (1,070 ft) and includes a number of stone cairns, dating from the Bronze Age. From the peak there are splendid views over the surrounding hills and countryside including the nearby Chelker Reservoir. You can extend the walk by continuing on to Old Pike.
Beamsley is located very close to the wonderful Bolton Abbey. You can extend your walk by following the nature trails along the River Wharfe and it's surrounding woodland. The Dales Way also passes through the area. You could visit the beacon from Ilkley by following the long distance trail along the river to Beamsley village. Our Beamsley Beacon Walk from Ilkley shows an alternative, more direct route to the sumit from the popular town. View Full Details>>
Beinn Dubh
4 miles (6.5 km)
This is a lovely walk to try if you are visiting the pretty Luss Village in the Loch Lomond and the Trossachs National Park. The short climb gives fabulous views over the surrounding area.
The walk starts in Luss at the car park and visitor centre. You then follow a footpath out of the village through some woodland before climbing Beinn Dubh on a nice grassy path. There are simply wonderful views of Loch Lomond, Glen Luss and the Arrochar Alps to enjoy. You can return the same way or continue to Mid Hill along the Glen Striddle Horseshoe. View Full Details>>
Beinn Eighe
3 miles (5 km)
Follow the Beinn Eighe Mountain Trail through a beautiful nature reserve on this circular walk near Kinlochewe. On the walk you will pass attractive pinewood woodland, mountainous lochs, white quartzite crags and pretty waterfalls. The views over Loch Maree and the Torridon Mountains are simply stunning.
The route starts from the car park at the southern end of Loch Maree. From here you gain access to the waymarked mountain trail. The trail climbs through woodland and past burns and waterfalls to the high point where you will find a small loch and a cairn.
It's a challenging walk with steep and rocky sections. View Full Details>>
Ben Avon
21 miles (33 km)
This challenging walk in the Cairngorms takes you to the unusual Ben Avon plateau with its numerous granite tors and wonderful far reaching views. You start in Braemar in a parking area just off the Old Military Road to the east of the village. You then pick up the Gleann an t-Slugain path which will take you to Ben Avon. It's generally a very good path passing through woodland, along pretty streams and through the delightful Fairy Glen. On the way you'll enjoy great views over Glen Quoich, Glas Allt Mor and Slochd Mor. At the summit you will find the huge Leabaidh an Daimh Tor. Some scrambling is required to get to the true summit where there are excellent views of Beinn a'Bhuird mountain.
If you'd like to continue your walking in the area then you could head to Linn of Dee and Linn of Quoich which are both near Braemar. View Full Details>>
Ben Bhraggie
5 miles (8.5 km)
This circular walk climbs Ben Bhraggie hill in Golspie. The hill stands at a height of 397 metres (1,302 ft) giving fabulous views over Sutherland. At the summit you will find the Sutherland monument. The 100ft statue represents George Leveson-Gower, the first Duke of Sutherland. He remains a controversial figure for the part he played in the Highland Clearances where thousands of Sutherland tenants were forced out of their homes in the early 19th century.
The walk begins in the pretty village of Golspie on the North Sea coast. You then follow waymarked paths through forest and over heather moorland to the summit. You descend to Golspie on more woodland trails through Ben Bhraggie Wood.
The area is also fantastic for mountain biking with a wildcat trail billed as the longest freeride descent in the UK. View Full Details>>
Ben Lawers
6 miles (10 km)
Ben Lawers is one of the most popular climbs in Scotland due to the beauty of the surrounding area. It is also designated as a National Nature Reserve and run by the National Trust for Scotland.
The walk starts at the Ben Lawers car park and follows a nature trail through woodland with wild flowers and views of the Edramucky Burn. The path continues towards Beinn Ghlas with wonderful views of Loch Tay and other munros such as Meall Corranaic and Meall nan Tarmachan. The path then reaches the 1,214 m (3,983 ft) Ben Lawers summit with magnificent views of Ben Lomond and Glencoe to the west, and the Cairngorms to the north.
It is a steep climb to the summit but on a good path for most of the way. The reserve is populated with many interesting arctic-alpine flora including purple saxifrage, moss campion, yellow saxifrage, globeflower and rose root. Also look out for a variety of wildlife including whinchat, stonechat, willow warblers, ring ouzels, red grouse, ptarmigan and red deer.
The Rob Roy Way runs past the nearby Loch Tay and Killin. This is a good option if you would like to continue your walking in the area. View Full Details>>
Ben Ledi
4 miles (7 km)
Climb to this popular viewpoint on this challenging walk in the Trossachs. The mountain gives fabulous views over the woodland and lochs of the Queen Elizabeth Forest Park.
There's a car park at Creag Dhubh, just off the A84, about 2 miles west of Callander. From here you can pick up the tracks to take you through woodland and then up on to the mountain peak. It's about a 2.5 climb from the car park to the 879 m (2,884 ft) summit of Ben Ledi. There's fabulous views of Loch Lubnaig and Callander, while on a clear day you can see as far as the Wallace Monument and Stirling Castle. There's also splendid views of some of the most famous mountains of the area including Ben Lawers and Ben Lomond.
To extend your exercise in the area you could enjoy a waterside cycle or walk along Loch Lubnaig and visit the delightful Falls of Leny on the way. The Rob Roy Way also passes through the area so you could futher explore the Queen Elizabeth Forest Park by picking up the trail and visiting Loch Venachar and Loch Drunkie. View Full Details>>
Ben Lomond
7 miles (11.5 km)
Climb one of Scotland's most popular munros on this challenging walk in the Loch Lomond and the Trossachs National Park. The mountains sits on the eastern shore of Loch Lomond rising to a height of 974 metres (3,196 ft). The climb takes place on a good path with a steady gradient, starting from the Rowardennan car park. The first section takes you through woodland towards Coire Corrach. You continue the ascent to Sron Aonaich and Sithean before reaching the summit where there are fabulous views across Loch Lomond & the Trossachs National Park.
If you would like to continue your walking in the area then you pick up the West Highland Way and enjoy a walk along Loch Lomond. View Full Details>>
Ben Lui
5 miles (8 km)
Climb to the 1,130 m (3,710 ft) summit of this famous Munro in the Loch Lomond and the Trossachs National Park. The peaks of Ben Lui are designated as a National Nature Reserve with lush mountain vegitation including saxifrages, mosses and lichens. View Full Details>>
Ben Macdui
10 miles (16 km)
Climb to the summit of the second highest mountain in Britain on this challenging walk in the Cairngorms. The walk starts from the Cairngorm Ski Centre car park and climbs to the summit via the Miadan Creag an Leth-choin ridge, passing Lochan Buidhe on the way. You can return the same way or head to the nearby Cairn Gorm by taking the north east path at Lochan Buidhe. View Full Details>>
Ben Nevis Mountain Track
11 miles (17 km)
Follow the Ben Nevis Mountain Track (or Tourist Route) up Britain's highest mountain on this spectacular walk. View Full Details>>
Ben Venue
9 miles (14 km)
This challenging walk climbs the popular mountain of Ben Venue in the Trossachs. There's fabulous views over the surrounding mountains, lochs and forestry from the high points.
The route starts from the Ben Venue car park off the A821 at the western end of Loch Achray. From here you can pick up woodland trails along Achray Water to Gleann Riabhach. As you ascend the mountain you can enjoy wonderful views back down to the huge Loch Katrine and Loch Venachar. There's also far reaching views of the area's other mountains, particularly Ben Lomond. At the 729 m (2,392 ft) summit you can see as far as the Firth of Forth, the Isle of Arran and the Paps of Jura on a clear day. See the drone footage video below to appreciate the majestic surroundings.
The mountain sits in the wonderful Queen Elizabeth Forest Park where there are miles of other cycling and walking trails to try. For example you can extend your exercise by following the wonderful cycle and walking path along the northern side of Loch Katrine.
Glen Finglas is also nearby. Here you can enjoy woodland trails, open heathland, rushing streams, waterfalls and challenging hill climbs. View Full Details>>
Ben Vrackie
5 miles (8 km)
Climb to the summit of Ben Vrackie on this challenging walk in Pitlochry.
Start the walk from the car park just to the north of the town near Moulin. View Full Details>>
Bickerton Hill and Maiden Castle
2 miles (3.5 km)
This walk uses part of the Sandstone Trail to visit Maiden Castle Iron Age hill fort and Bickerton Hill. It's a lovely area with the hills covered in pretty heather, bilberry bushes and yellow gorse. You'll reach a height of over 700ft with wonderful views over the Cheshire countryside to enjoy. The area is managed by the National Trust so there are good footpaths and conveniently located car parks.
You can start your walk from the car park off the Old Coach Road near the village of Duckington. From here pick up the Sandstone Trail and climb through woodland to Larkton Hill and Maiden Castle. The hill fort dates from 600 BC commanding a fine view over the Cheshire Plain.
From the fort you continue east to Gallantry Bank before turning north to climb to Raw Head, the highest point on the Bickerton Hills. Raw Head stands at a height of 227 m (745 ft) with more great views to enjoy from here.
The area is well known for its varied flora and fauna. The attractive woodland areas consist of silver birch, aspen, holly, rowan, sessile oak and wild cherry trees. Look out for a wide variety of butterflies such as gatekeeper, red admiral, speckled wood and tortoiseshell. Interesting bird sightings include buzzard, kestrel,  jay, long-tailed tit, magpie, nuthatch, raven, treecreeper and green woodpeckers.
To extend your walk you can continue east along the Sandstone Trail to Bulkeley Hill and then explore the Peckforton Hills. View Full Details>>
Bignor Hill
7 miles (11.2 km)
This walk or cycle climbs to Bignor Hill from the village of Amberley in West Sussex. It's a moderate climb of about 3.5 miles, following the South Downs Way for the duration of the route. It's a good path which is also suitable for cycling. If you prefer a shorter walk then you could park at the car park just half a mile west of the hill, and start your climb from there.
This route starts off from Amberley train station, following a section of the River Arun out of the village. The waymarked path then heads west, past Coombe Wood before skirting the northern edge of Houghton Forest. You then climb past Bury Hill and Westburton Hill before arriving at the Bignor Hill summit. At over 700ft the hill commands wonderful views over the South Downs to the coast.
To extend the walk you could follow the Monarch's Way south west along the Stane Street Roman Road to visit Eartham Woods. To turn it into a circular route you could head south east into Houghton Forest and return on the woodland trails to the village.
You could also explore the countryside around the village on our Amberley Circular Walk. View Full Details>>
Billinge Hill
1 miles (2.4 km)
Climb to the highest point on Merseyside and enjoy fantastic views as far as Snowdonia in Wales on this walk in St Helens.
The walk starts in Longshaw where there is a footpath into the woods of the Billinge Plantation, just off Crank Road. Follow the woodland trails south and you will gradually ascend to the hill summit on the other side of the plantation.
The hill stands at a height of 179 m (587 ft) commanding fine views towards Great Orme in Wales, Blackpool tower, Greater Manchester, Winter Hill and the Derbyshire Peak District. You'll also see a beacon tower at the summit and several large transmitter masts nearby.
After taking in the views the route descends to the woods and returns to the start point. View Full Details>>
Birchen Edge
2 miles (2.5 km)
Climb to this gritstone edge and enjoy wonderful views over the Derwent Valley in the Peak District. You can start the walk from the Robin Hood pub car park just to the south of Birchen Edge. From here you can pick up the footpaths to take you across the gritstone edge to the wonderful view point where you will find Nelson's Monument. Next to this are three boulders carved with the names of three of Nelson's ships: Victory, Defiance and Royal Soverin. It's a splendid spot with interesting rock formations and fabulous views over the surrounding area.
Just to the west you'll find Gardom's Edge. A public footpath runs past it towards Eagle Stone and Baslow Edge. This is a good option if you'd like to further explore this geologically fascinating area. You should see lots of rock climbers as you go.
Birchen Edge is located very close to the splendid Chatsworth Park. Here you'll find 1000 acres of parkland to explore with views of the River Derwent, woodland trails and fallow deer. The Derwent Valley Heritage Way also passes nearby Baslow so you can enjoy a riverside stroll through the area.
Also nearby is the spectacular Curbar Edge which has more interesting rock formations and expansive views of the Eastern Moors. View Full Details>>
Black Combe
5 miles (8 km)
Black Combe sits in the south west corner of the Lake District. It's proximity to the coast means you get fabulous sea views from the 1970 foot (600m) summit. On a clear day you can see Wales, Ireland, Scotland and the Isle of Man. View Full Details>>
Black Crag
4 miles (6.5 km)
This walk climbs to a lovely viewpoint above Tarn Hows in the Lake District National Park. Black Fell is located just a few miles north of Coniston, and is the high point in the hilly area bounded by Windermere, Langdale and Coniston.
The walk starts from the Tarn Hows car park and follows the footpath along the eastern side of the lakes. This opening section is quite flat with lovely views over the still waters of this delightful beauty spot.
After leaving the tarns the walk continues through the woodland of the Iron Keld plantation, before the final, steeper section takes you up to the 323 m (1,060 ft) Black Crag summit. Here you will find an Ordnance Survey triangulation column complete with a National Trust sign. There's also magnificent views of the Coniston and Langdale Fells.
This walk returns to the start point on the same path but if you wanted to explore the fell further you can head west from the summit to Low Arnside. View Full Details>>
Black Down
4 miles (6 km)
Climb to the highest point in the South Downs on this challenging route in Sussex. The area is run by the National Trust and includes a series of well defined paths taking you to flower-rich meadows, ancient woodland and copses. There are fabulous views over the Weald from the Temple of the Winds, at the southern end of Black down. The English Channel can also be seen through the River Arun gap on a clear day. The circular route below starts at the car park near the Temple of the Winds and takes you north across Black Down to Boarden Door Bottom.
Cyclists can also enjoy a number of easy bridleways or more challenging mountain bike trails which run across the area.
The Sussex Border Path walking trail runs through Black Down so you could pick up this trail and head west to the nearby Marley Common to continue your walk.
Black Down is located just a few miles south of Haslemere town centre. You can reach it from the train station on our Haslemere Circular Walk which also visits Marley Common. View Full Details>>
Black Rocks Cromford
4 miles (6 km)
This circular walk visits Black Rocks in the Peak District National Park. The rocks are a striking gritstone outcrop surrounded by the woodland of Cromford Moor. There are wonderful views of the Derwent Valley from the rocks which are in an elevated position above the town of Cromford.
The walk starts by the Cromford Canal and follows the High Peak Trail to Black Rocks. You then head across Cromford Moor with its woodland trails and heather moorland.
If you'd like to continue your walking in the area you could enjoy a waterside walk along the Cromford Canal. You could also head west along the High Peak Trail to visit Middleton Top. Here you'll find an excellent visitor centre with good facilities and a wealth of information on the area. There's also the historic Middleton Top Engine House, built in 1829 and fabulous views down to the nearby Carsington Water. View Full Details>>
Blackstone Edge
2 miles (4 km)
Climb to this gritstone escarpment in the Pennine Hills and enjoy wonderful views over Greater Manchester and Yorkshire. The high point stands at 1,549 feet (472 m) with Manchester city centre, Winter Hill and the mountains of north Wales visible on a clear day.
You can start your walk from the car park near Blackstone Edge Reservoir. From here you can pick up the Pennine Way and follow it to the summit. If you continue south along the path it will take you to Rock Stones Hill and Green Hole Hill. Heading north will take you to White Holme Reservoir, Warland Reservoir, Langfield Common and Withens Clough Reservoir. View Full Details>>
Blakey Ridge
11 miles (18.5 km)
This circular walk explores Blakey Ridge in Rosedale. The ridge reaches a height of over 1,300 feet (400 m), commanding fine views over the North York Moors. After visiting the ridge the walk explores the surrounding moors. It's about a 12 mile hike with the majority of the route taking place on elevated paths over 1200ft above sea level. As such there's wonderful moorland views to enjoy for the majority of the walk.
Start the walk from the parking area on Stepin Turn, just to the south of the ridge summit. Follow the road north past the Lion Inn and you will soon come to a footpath on your left leading up to the summit.
The route then crosses High Blakely Moor, Farndale Moor and Middle Head before coming to Bloworth Crossing. Here you turn south, following a track past Bloworth Wood before turning east toward Church Houses. The final section follows country lanes back to the car park.
After your walk you can enjoy refreshments at the splendid Lion Inn pub. View Full Details>>
Bleadon Hill
2 miles (3.5 km)
Enjoy great views to the Somerset Levels and coast on this climb to Bleadon Hill. As well as the views there's lots of flora and fauna to enjoy. Look out for plants including wild thyme, common spotted orchid, pyramidal orchid and bee orchid. You may also see Buzzards flying overhead.
The hill is located just to the south east of Weston-Super-Mare. There is roadside parking on the Roman Road running across the hill. From here you can follow country lanes to Upper Canada before picking up footpaths to take you across the woodland on Hutton Hill. You then follow the West Mendip Way along the Roman Road to take you back to the car park. The walk can be extended by heading south towards the village of Loxton. You can follow the West Mendip Way past Loxton Hill and Loxton Wood to the village. Here you will find the Parish Church of St Andrew which dates from the 11th century.
You could also head to the larger village of Bleadon just to the south west of the hill. Here you will find the Grade I listed Church of St Peter and St Paul which dates from the 14th century. There are also good options for taking on refreshments after your walk.
If you'd like to further extend your walk then head west to the coast and explore the wonderful Brean Down where there are splendid views of the Bristol Channel, south Wales and Weston Super Mare.
If you head south east along the trail you can visit the nearby Loxton village, Crook Peak and Wavering Down for more great hill top walking. View Full Details>>
Bleaklow
11 miles (17 km)
This challenging walk takes you to Bleaklow Head and Bleaklow Stones near Glossop, in the Peak District National Park. The elevated largely peat covered, gritstone moorland, is popular with walkers.
The walk starts from the car park at Torside Reservoir and follows the Longdendale Trail along the water before picking up the Pennine Way to Torside Clough. The climb continues past Sykes Moor to the 633 m (2,077 ft) summit of Bleaklow Head. Here you will find a huge cairn of stones and wonderful views across Greater Manchester, Lancashire, Cheshire and the Hope Valley.  View Full Details>>
Blencathra
7 miles (11.5 km)
This is a fantastic climb to the summit of one of the Lake District's most well known and popular mountains. The walk begins at the parking lot in the pretty village of Threlkeld. You then climb Blencathra (or Saddleback) via Scales Fell, Scales Tarn and Sharp Edge. Sharp Edge is a challenging scramble along a narrow crest. Alfred Wainright describes it thus: 'The crest itself is sharp enough for shaving (the former name was razor edge) and can be traversed only a cheval at some risk of damage to tender parts.' View Full Details>>
Blorenge
7 miles (12 km)
This challenging walk takes you around this prominent hill in the southeastern corner of the Brecon Beacons National Park. The hill is located near Abergavenny and rises to a height of 561 m (1,841 ft).
This popular walk starts at the car park next to Keeper's pond and follows footpaths across the hill before climbing to the summit. There are fabulous views of the Usk Valley, Sugarloaf Mountain and Skirrid Fawr. You'll also pass through the Punchbowl on the eastern side of the hill. This delightful area has a large pond and woodland which attracts a wide variety wildlife.
If you're interested in more hill climbing in the area then Sugarloaf Mountain and Skirrid Fawr are also easily reachable from Abergavenny.  View Full Details>>
Blue Bell Hill
2 miles (3 km)
Visit the Blue Bell Hill viewpoint on this circular walk on the North Downs Way near Chatham. From the hill there are great views over the  River Medway and North Downs. The south west side of Blue Bell Hill is a Site of Special Scientific Interest with several rare plant species. The hill is also home to Kit's Coty chamber tomb, a Neolithic chambered long barrow which forms part of the Medway megaliths. The megaliths were constructed from local sarsen stone and soil between the 4th and 3rd millennia BCE. Our longer Medway Megaliths Walk visits three of the stones and starts from the same car park. View Full Details>>
Borough Hill Daventry
2 miles (3 km)
This circular walk follows a footpath around Borough Hill in Daventry. The hill lies just to the east of the town, dominating the area at a height of 200 metres (660 ft). The trail provides some excellent views over the surrounding Northamptonshire countryside.
You can start the walk from the car park at the south western side of the hill. From here you can pick up a trail around the hill, passing the last remaining radio mast from the former Daventry transmitting station. The station operated from 1925 until 1992, carrying long-wave, medium-wave, and short-wave broadcasts at different times in its history. Since 1992, only DAB services have been broadcast from the site using a single mast.
The trail runs for a distance of about 2 miles, passing the site of two Iron Age hill forts and two Bronze Age barrows. Antiquities from a Roman Villa were discovered in the 19th century and are now kept in the British Museum.
The hill is also has an interesting military history with Charles I Royalist army using the hill as a base just before the Battle of Naseby in 1645. View Full Details>>
Bosley Cloud
2 miles (3.5 km)
This short circular walk visits the Bosley Cloud hill, near Congleton, on the edge of the Peak District. The hill stands at 343 m (1,125 ft) and offers wonderful views over Congleton, Greater Manchester and the surrounding Peak District hills and countryside.
You start at the parking area at Timbersbrook and follow the Gritstone Trail to the Cloud summit. You can descend the same way or take an alternative path to the south of the peak. The route follows good waymarked footpaths and includes woodland sections followed by a steep ascent to the craggy sandstone summit. Here you will find a toposcope which details the landmarks you can see from the viewpoint. These include the Dane Valley, the Pennine Hills and the Potteries.
If you would like to extend your walk you could continue along the Gritstone Trail or pick up the Maccelsfield Canal on the Cheshire Ring Canal Walk just to the north.
You could also head to the nearby Bosley Reservoir and pick up the waterside path. View Full Details>>
Bossington Hill
3 miles (4.5 km)
Enjoy fabulous views of the Exmoor coastline on this bracing climb near Porlock. The area also includes attractive flora including bell heather, ling heather and western gorse. Look out for wildlife including buzzards, peregrine falcons, kestrels.
The walk starts from the car park at the end of Hill Road, just east of the village of Bossington. You then head north along public footpaths before picking up a section of the South West Coast Path to take you towards the hill summit. From here there are lovely views over the Bristol Channel to the Welsh coast.
An alternative route is to follow the coast path from the village of Bossington to Hurlstone Point. Then turn south to reach the hill.
You can easily extend the walk by exploring the Holnicote Estate and climbing to Selworthy Beacon. The beacon is located just to the east of Bossington Hill.
Also nearby are the settlements of Porlock and Porlock Weir. Porlock Weir is particularly lovely, with 17th century cottages and a delightful harbour. View Full Details>>
Boulsworth Hill
7 miles (12 km)
Climb to Lad Law, the 1,696 ft (517 m) summit of Boulsworth Hill on this challenging walk in the South Pennines. The walk starts in the historically fascinating village of Wycoller and makes use of the Bronte Way and the Pendle Way footpaths to take you to Boulsworth Dyke where you begin the serious climbing to the hill summit. The views are far reaching with the Lake District Peaks, the Peak District, Pendle Hill and Blackpool Tower all visible on a clear day. You then descend via Bedding Hill Moor and return to Wycoller on the same paths.
It's a fine walk with some wonderful moorland scenery and a nice waterside section along the Wycoller Beck at the start. The beck is crossed with ancient Clapper and Pack-horse bridges one of which is over 1,000 years old. You'll also pass the ruined Wycoller Hall thought to be the inspiration for 'Ferndean Manor' in Charlotte Bronte's novel Jane Eyre.
If you would like to extend your walk you could head to the nearby Widdop Reservoir. View Full Details>>
Bowfell
6 miles (10 km)
Climb one of the most popular fells in the Lake District on this challenging walk. Bowfell is is in Alfred Wainwright's 'best half dozen' Lake District fells. The views from the summit are magnificent with every main fell group in the Lake District visible including the Helvellyn range, the Langdale Pikes across Langdale and Scafell Pike towering above Eskdale.
The route starts from the car park at Middle Fell Farm, just west of Dungeon Ghyll. From here you head west along the Oxendale Beck, passing Whorneyside Force Waterfall on the way. You continue west to Buscoe and the Three Tarns before coming to the summit.
If you'd like to continue your climbing you could head to the Langdale Pikes - the start point for this route is close by. View Full Details>>
Bredon Hill
5 miles (7.5 km)
Climb to the 299 m (981 ft) summit of this hill in the Cotswolds and enjoy fine views over the surrounding countryside. The walk starts from the Worcestershire village of Overbury and climbs to Bredon Hill on good footpaths, passing woodland and streams on the way. At the summit you will find the Iron Age Hill Fort of Kemerton Camp and a small stone tower known as Parsons Folly or Banbury Stone Tower. There's also Roman earthworks and several ancient standing stones.
The hill is also a nature reserve so there is a wide variety of flora and fauna to look out for. This includes wild thyme, common rock rose, pyramidal orchid and dwarf thistle. These attract butterflies such as marbled white, brown argus and dingy skipper.
Bredon hill is mentioned in a poem of A. E. Housman's anthology A Shropshire Lad: 'In summertime on Bredon, The bells they sound so clear, Round both the shires they ring them, In steeples far and near, A happy noise to hear.'
The whole of this circular walk is more suited for walkers as it uses some public footpaths but much of it uses bridleways which cyclists can also use.
The Wychavon Way long distance footpath passes close to the hill so you could pick this up to extend your walking. View Full Details>>
Brendon Hills
5 miles (7.5 km)
Explore the Brendon Hills range on this challenging walk in the Exmoor National Park. The hills are a less well known area of the county so provide an opportunity for a quieter walk in idyllic surroundings. The attractive landscape consists of streams, rivers, rolling hills and wooded valleys.
The walk starts from the village of Wheddon Cross near Cuttcombe. You then pick up the Coleridge Way and climb to Lype Hill, the highest point in the range at 1,388 feet (423 m). From here you can enjoy lovely views over the attractive Somerset and Exmoor countryside. The route then passes Lype Common and Colly Hill before descending to the village of Luxborough where you can enjoy refreshments.
To continue your walking in the area you can climb the nearby Dunkery Beacon or pick up the Samaritans Way South West. There are also good woodland walking trails if you head north to Croydon Hill Iron Age hill fort from Churchtown.
If you continue east along the Coleridge Way you will come to Combe Sydenham Country Park. View Full Details>>
Brent Knoll
3 miles (5 km)
This nice circular walk climbs to a prominent hill on the Somerset Levels. The route runs for just over 3 miles, providing fine views to the coast. There's also a visit to the two villages at the foot of the hill which both have interesting old churches to see.
The walk starts at the village of Brent Knoll which lies a short distance to the west of Brent Knoll hill. From here you can pick up footpaths heading north east to the 137 m (449 ft) summit of the hill.  Here you will find the noteworthy Brent Knoll Camp an Iron Age hill fort, with multiple ramparts (multivallate) following the contours of the hill, broken only by the main entrance on the eastern side. It has been designated as a Scheduled Ancient Monument and is now in the care of the National Trust. There are great views over Burnham on Sea and Brean to enjoy from here too.
After exploring the hill top the route descends north to the village of East Brent. Here you can visit the interesting 15th century church which is Grade I listed. It's also a good place to stop for refreshments at what is roughly the half way point on the walk. The Brent Knoll Inn has a good menu and a lovely beer garden to relax in. You can find it just to the east of the village at postcode TA9 4JG.
After exploring East Brent the route then picks up footpaths on the northern side of the hill. These bend round to the west to return you to the finish point back in the village. View Full Details>>
Brent Tor
1 miles (1 km)
Enjoy a short climb to this distinctive Dartmoor Hill and visit the historic hill top Church of St Michael, the parish church of the village of Brentor, which lies below the Tor.
You can start the walk from the Church car park just to the west of the hill. From here you can pick up footpaths taking you up to the hill summit and the church. It's a short climb, taking place on a grassy path with some stone steps as you approach the summit. From the hill top there are wonderful views across the surrounding countryside of Devon. The Church of St Michel de Rupe (Saint Michael of the Rock') atop the Tor dates to the 13th century. The ancient church is still used on Christmas Day, Easter Day and for Evensong during the summer. View Full Details>>
Brown Willy
4 miles (7 km)
Climb to the highest point on Bodmin Moor on this circular walk in north east Cornwall. The summit stands at a height of 1,378 feet (420 m) making it the highest point in the county as well. There's fantastic views across the moor to the Cornish coast and a number of fascinating historical sites to see on the way.
Start the walk from the car park at the end of Roughtor Road, just to the north west of the hills. You then follow paths south east onto the Roughtor Moors and up to Rough Tor. The fascinating site is the 2nd highest point on the moors and includes a logan stone, a neolithic tor enclosure, a large number of Bronze Age hut circles, and some contemporary monuments.
After exploring Rough Tor the route branches to the left to visit Showery Tor. The granite Tor is a prominent landmark consists of a natural outcrop enveloped by a giant man-made ring cairn thought to have been a religious focal point.
The route then continues the ascent to Brown Willy, crossing the De Lank River on the way. Here you can see a number of Bronze Age cairns including a summit cairn thought to be the resting place of an ancient Cornish king.
After exploring the summit and taking in the views the route then descends across the Rough Tor Moors, passing more cairns before returning to the car park. View Full Details>>
Bryn Cader Faner
9 miles (14 km)
This walk climbs to a Bronze Age round cairn in the Ardudwy area of the Rhinogydd mountains. It's a fascinating monument and one of the finest of its type in Britain. From the elevated position of the stone circle there are magnificent views over Snowdonia. The site sits at a height over 1250ft (380m) so it is quite a challenging climb.
The walk starts from Llandecwyn and follows a section of the Taith Ardudwy Way to the cairn circle. You can pick up the trail just to the east of the train station. Follow it east towards the tranquil Llyn Tecwyn Uchaf where you turn south towards the village of Llandecwyn, with its ancient church.
You continue south past another beautiful body of water at Llyn Tecwyn Isaf where you turn east to Caerwych. The route then climbs to Y Gyrn before the final ascent to Bryn Cader Faner. The diameter of the circle is 8.5 metres (28 ft) with 18 thin jagged pillars which jut upwards from the low cairn. It is thought to date back to the late third millennium BC. After admiring the structure and taking in the views you return on the same path.
If you would like to extend the walk you can continue south and visit Llyn Eiddew Mawr. If you head east you can visit Llyn Trawsfynydd. The huge lake has some nice cycling and walking trails running around the perimeter. View Full Details>>
Buachaille Etive Mor
8 miles (13 km)
Explore the stunning Buachaille Etive Mor ridge on this exhilarating walk in Fort William. View Full Details>>
Buckden Pike
7 miles (12 km)
This circular walk climbs to the 702 metres (2,303 ft) summit of Buckden Pike in the Yorkshire Dales National Park. Buckden Pike is considered to be one of the finest climbs in Yorkshire with its splendid views over the beautiful Wharfedale and the Nidderdale AONB. There's also waterside sections along the area's rivers and gills with photogenic waterfalls to see on the way.
The walk starts in the parking area in the village of Buckden and follows a bridleway to the summit. From here there are wonderful views of Great Whernside, Yockenthwaite Moor and across the Yorkshire Dales. You then descend to Starbotton passing the war memorial to the Polish airmen who died when their Wellington Bomber crashed on Buckden Pike during a snowstorm in 1942. The descent follows the Walden Road with views of pretty becks and waterfalls on the way. At Starbotton you cross the River Wharfe and pick up the Dales Way for a lovely riverside section taking you back to Buckden. Look out for Kingfisher, Heron, and Dipper on this section of the walk.
To extend your walking in the area you could head south to the village of Kettlewell and climb to Great Whernside for more great views over Wharfedale. View Full Details>>
Bulbarrow Hill
2 miles (4 km)
This walk explores the Dorset Downs, visiting the Iron Age hillfort at Bulbarrow Hill. The area has an interesting history and offers fine views over the Blackmore Vale.
There's a car park just to the east of the hill where you can pick up the Wessex Ridgeway to take you across the hill to Rawlsbury Camp. The hill is the second highest in Dorset standing at a height of 274-metres (899 feet). The views from the summit stretch into Somerset, Wiltshire and Devon.
To extend your walk you could head north east along the Wessex Ridgeway to Ibberton Hill, Okeford Hill and Blandford Forest. Continue south west and you will come to Ball Hill.
Cyclists can reach the hill by following National Cycle Network route 253 from the picture postcard village of Milton Abbas or Okeford Fitzpaine. View Full Details>>
Burrow Mump
5 miles (8 km)
This walk climbs this small hill overlooking the village of Burrowbridge in the Somerset Levels. On top of the hill there is the striking 18th century ruined church of St Michael's. It's a short, steep climb to the hill summit from the car park but there are lovely views over the Somerset Levels towards Glastonbury Tor and the Rivers Parrett and Tone. This circular walk starts at the Burrow Mump car park and climbs to the ruined church before heading along the river to Samways Farm. Here you head into the countryside along the Burrow Drove and Broad Drove tracks. You continue to Pathe and Stathe where you pick up a trail along the river which leads back to Burrowbridge. There's lovely views across Southlake Moor which can be flooded in winter. This attracts large numbers of wildfowl including pochard, teal and tufted duck. Look out for Otters and newts along the River Parret.
The River Parret Trail runs through Burrowbridge so you can extend your walk by picking up this waterside, long distance trail. If you head south east you will come to Langport while walking north east will take you into Bridgwater. View Full Details>>
Butser Hill
1 miles (1 km)
Climb to the highest point on the South Downs on this walk near Petersfield.
There's a good sized car park off Limekiln Lane just to the west of the hill. From here it is a short climb to the 271 metres (889 ft) high summit of the hill. At the top you can enjoy wonderful views over the South Downs to the Isle of Wight.
The area is also a nature reserve with woodland, lowland, chalk grassland habitats. Look out for variety of butterflies including Duke of Burgundy, Chalkhill Blue and Silver-Spotted Skipper.
Fans of the comedy Only Fools and Horses may remember a scene with Del Boy reluctantly taking off on a hang glider. This scene was filmed on the western slopes of Butser Hill. View Full Details>>
Cadair Berwyn
5 miles (8 km)
Climb to the highest point in the Berwyn Mountains range on this challenging walk in North East Wales. The walk starts from the car park at Tan-y-pistyll and takes you to the beautiful Pistyll Rhaeadr Waterfall. The falls are 240-foot (73 m) high and regarded as one of the Seven Wonders of Wales. You'll pass through attractive woodland and along the rushing waters of the Afon (River) Rhaeadr on this section of the walk. View Full Details>>
Cadair Idris
5 miles (8 km)
The epic circular walk to the 893 m (2,930 ft) summit of Cadair Idris is one of the most popular climbs in the Snowdonia National Park. This route follows the Minffordd Path and begins near the car park at Minffordd and the glacial Tal-y-llyn Lake. The area is part of a National Nature Reserve which includes woodland, streams, waterfalls and some wonderful geological formations such as the cliffs of Cwm Cau.
The walk starts from the Dol Idris Car Park at the junction of the A487 & B4405 (postcode: LL36 9AJ). There's plenty of parking here with toilets facilities also. From here you can easily pick up the Minffordd Path which will guide you up to the summit.
You begin the walk with a lovely woodland section with streams and waterfalls before ascending towards the stunning Llyn Cau. This beautiful lake is surrounded by huge cliffs and is a breathtaking sight, particularly when viewed from above. You continue around the lake towards Penygadair - the highest point on the mountain. From here there are magnificent views of the Barmouth estuary, the Cambrian Mountains, the Brecon Beacons, the Rhinogs and the rest of Snowdonia National Park. You continue east to Mynydd Moel and descend towards Moelfryn, crossing the Nant Cadair before returning to the car park through the woodland.
After your hike you can enjoy refreshments at the splendid Ty Te Cadair Tea Room where there's outdoor seating with great views. View Full Details>>
Cadbury Castle
1 miles (1.5 km)
Climb to this Iron Age hillfort on Cadbury Hill on this short walk in Somerset. The hill is thought to be the site of King Arthur's Camelot and has a fascinating history. From the high points there are wonderful views over the surrounding Somerset countryside.
You can start the walk from the car park just off Chruch Lane to the east of the hill. You then pick up the footpath on Castle Lane to take you up and around the ramparts of the hill fort. It's a splendid spot with far reaching views over the beautiful woodland and countryside below.
The hill is on the Leland Trail long distance footpath so you have the option of starting your walk from the village of North Cadbury and heading south along the trail to visit the castle. You could also extend your walk by heading west through the countryside to Queen Camel.
You can visit the hill by bike by cycling along National Cycle Network route 266 from Castle Cary or along route 26 from Sherborne. View Full Details>>
Caer Caradoc
9 miles (14 km)
Climb to the 1500 ft (459 m) summit of this distinctive hill in the Shropshire Hills AONB. The circular walk starts at Church Stretton, near the train station, and takes you to the Caer Caradoc summit where you will find an ancient hill fort. There are fabulous views of The Wrekin, Long Mynd, Carding Mill Valley, Wenlock Edge, the hills of North Wales and the Brecon Beacons. The walk then descends towards Comley and continues to the pretty village of Cardington. From here you return to Church Stretton via Willstone Hill, passing Hope Bowdler Hill on the way. View Full Details>>
Caerphilly Mountain
1 miles (1 km)
Enjoy a climb to the summit of Caerphilly Mountain and a walk across Caerphilly Common on this circular route in South Wales.
You can park at the Caerphilly Mountain Snack Bar car park on Mountain Road to start your walk. From here you can pick up the tracks to take you to the 271 metres (889 ft) summit where there are fabulous views over the town and Caerphilly Castle. There are a few different paths to choose from. Most of them are good wide trails though they can get muddy in winter. After your walk you can enjoy refreshments at the snack bar.
The Taff Ely Ridgeway Walk passes the common so you can pick up this long distance trail to continue your walk. The waymarked trail starts on the common and will take you to Garth Hill, the Ely Valley and the Taff Vale.
The Glamorgan Ridgeway Walk also passes the mountain. It's a long distance ridge top walk which takes you to Llantrisant forest and Margam Country Park. View Full Details>>
Cairn Gorm
3 miles (5.5 km)
This walk follows the signed 'Windy Ridge Path' from the Cairngorm Ski Centre car park to the summit of the mountain.  At 1245 metres (4084 ft) Cairn Gorm is the sixth highest mountain in the United Kingdom. The route passes the Ptarmigan Restaurant, the highest restaurant in the UK. It is located at the Ptarmigan Train Station of the CairnGorm Mountain railway. It's just over half way from the summit so it's a great place to stop for refreshments and enjoy wonderful views of Loch Morlich, the Rothiemurchus Forest, Ben Nevis and Ben Hope. You continue to the summit where you will find a cairn and a weather station building. The views of the surrounding area are truly wonderful.
You descend via the same path with the option of catching the funicular railway back to the base at Ptarmigan.
The Ben Macdui and Coire an t-Sneachda walks start from the same car park so if you'd like to continue your walking in the area then these are good options. View Full Details>>
Caldy Hill
2 miles (4 km)
Explore 250 acres of woodland and heathland on this lovely walk on the Wirral Peninsula. You can also climb the 260ft high Caldy Hill for fabulous views over the River Dee, Hilbre Island and the Irish Sea. On a clear day you can even see as far as Snowdonia and the Lake District.
It's a great place for flora and fauna with pretty heather, willdfowers, bracken, silver birch and oak trees.
Less than an a mile to the east is Royden Park and Thurstaston Common and Coast. It's a great place to extend your walk with woodlands, meadows, heathland and two meres where you will find an abundance of birdlife.
Just to the west you can pick up the Wirral Way and follow it to the nearby Wirral Country Park. View Full Details>>
Calton Hill
1 miles (1 km)
Enjoy a short walk to Calton Hill in Edinburgh and enjoy lovely views across the city to the coast. It's a short and fairly easy climb with the hill also home to a number of significant monuments and the City Observatory.
The walk starts at the western end of the hill, next to Regent Road. Here you will find the Dugald Stewart Monument, dedicated to the Scottish philosopher. Dugald Stewart was a professor at the University of Edinburgh, holding the chair of moral philosophy from 1786 until his death. From the monument follow the path east to the Nelson Monument, paid for by public subscription and erected on the hill in 1816. You can climb the spiral staircase for enhanced views along Princes Street below. There's also a path off to the side which you can follow to the south viewpoint. This route continues to the National Monument, Scotland's national memorial to the Scottish soldiers and sailors who died fighting in the Napoleonic Wars. The structure is modelled on the Parthenon in Athens but due to the lack of funds, was left unfinished in 1829.  From here there are wonderful views to the Firth of Forth, Arthur's Seat, Salisbury Crags and Holyrood Park.
The walk continues past the monument and heads along Hulme Walk to the North Viewpoint before heading towards the City Observatory. The astronomical observatory was established in 1776 and includes a fine old gothic tower in the southwest corner. The central building is designed in the style of a Greek temple and houses the 6-inch (15 cm) refractor in its dome and the 6.4-inch (16 cm) transit telescope.
To extend your walking in the area, head south east and visit Holyrood Park where you can climb to Arthur's Seat. The park is only a 10 minute walk from Calton Hill and includes several small lochs, a ruined chapel and the fascinating Dynamic Earth. The principal focus of Dynamic Earth is to facilitate a better public understanding of the processes that have shaped the Earth (known as earth science). This includes the Big Bang, abiogenesis, plate tectonics and glaciation. View Full Details>>
Cam Peak Dursley
4 miles (6 km)
Enjoy a circular walk across Cam Long Down to Cam Peak on this lovely walk in Dursley. The down is on a splendid section of the Cotswold Escarpment with marvellous views, wildflower rich limestone grassland and attractive woodland.
You can start the walk from the centre of Dursley and follow the Cotswold Way across the down. It climbs from the town to Cam Peak, reaching a height of over 700ft at the high points. From here there are really lovely views over the River Severn to the Forest of Dean, May Hill and the Welsh mountains.
The route takes you over Cam Long Down with the option of continuing a little further east and visiting Uley Bury. This long, flat-topped hill is an impressive multi-vallate, scarp-edge Iron Age hill fort dating from around 300 BC.
If you would prefer a shorter walk then you can start from the car park on the down.
It's easy to extend your walk by continuing along the Cotswold Way. If you follow it north east you can visit Coaley Peak for more great views.
Also nearby is the expansive Woodchester Park which includes a series of lakes and woodland trails. View Full Details>>
Captain Cook's Monument
6 miles (10 km)
Enjoy a walk from Great Ayton to this iconic landmark on Easby Moor. Captain Cook's Monument is an obelisk 60 ft (18 m) high in memory of the great British explorer. This walk starts in the village of Great Ayton and climbs to the monument through woodland and moorland. You then pick up the Cleveland Way to take you across Great Ayton Moor to the wonderful Roseberry Topping. This distinctive hill commands wonderful views across the Cleveland Plain towards the Pennine Hills. The route then descends from Roseberry Topping to Great Ayton and the finish point.
If you'd like to continue your walking in the area then you could climb Roseberry Topping on the National Trust walk or continue east along the Cleveland Way towards Guisborough Forest and Walkway. View Full Details>>
Carneddau
6 miles (9 km)
This walk explores the Carneddau mountain range in the Snowdonia National Park. You'll visit the peaks of Carnedd Llewellyn and Yr Elen with wonderful views of Tryfan, The Glyders and Llyn Ogwen as you go.
The walk starts from Llyn Ogwen where there is roadside parking. You then follow a track north along the River Lloer to Bryn Mawr and Cwm Loer where you pass around the pretty lake of Ffynnon Lloer. The route then involves a scramble to Pen Yr Ole Wen before continuing to the peaks of Carnedd Fach and Carnedd Dafydd. You continue to the 1,064 m (3,491 ft) summit of Carnedd Llewelyn, the second highest peak in Wales after Snowdon. Just to the east of the peak you will find the highest lake in Wales, Llyn Llyffant. From Carnedd Llewelyn you can continue a short distance north west to the 962 m (3,156 ft) peak of Yr Elen. It's a very challenging walk with some scrambling but you will be rewarded with spectacular views of Snowdonia, Bangor, Anglesey and the Irish Sea.
If you would like to continue your walking in the area then you could climb Tryfan or enjoy an easier walk around Llyn Ogwen. Also in the range is Foel Fras near the coast at LLanfairfechan. View Full Details>>
Cartmel Fell
4 miles (6 km)
This walk visits the village of Cartmel Fell from Bowland Bridge in the Lake District. You'll also enjoy a climb to the nearby Raven's Barrow described by Wainwright as "a lovely belvedere for viewing a lovely valley".
The walk starts from the village of Bowland Bridge and follows country lanes south to Cartmell Fell with views of the River Winster. At Cartmell the route visits the noteworthy St Anthony's Church which is Grade I listed. It was built in 1504 as a chapel of ease to Cartmel Priory, and has changed little since.
The walk then climbs west to Raven's Barrow where there are fine views from over the Winster valley to enjoy. The summit stands at a height of 500 feet (150 m) with additional views to some of the surrounding fells such as Whitbarrow and Sow How. You could extend the walk by continuing west a short distance to visit the pretty Sow How Tarn. This walk heads north east to return to Cartmel Fell before picking up the country lanes to return to Bowland Bridge.
Back in Bowland Bridge head to the Hare & Hounds pub for refreshments after you walk (Postcode:LA11 6NN). The 17th century coaching Inn & Restaurant includes a lovely beer garden to sit out in during the warmer months. View Full Details>>
Castell Dinas Bran
2 miles (3.8 km)
This walk visits the atmospheric ruins of a medieval castle from the attractive north Wales town of Llangollen. View Full Details>>
Castle Crag
3 miles (5 km)
Castle Crag is the smallest hill included in Alfred Wainwright's Pictorial Guide to the Lakeland Fells. It stands at 290 m (950 ft) in the beautiful Borrowdale area of the Lake District.
This walk begins at the pretty village of Grange and makes use of the Cumbria Way and the Allerdale Ramble to take you along the River Derwent before ascending Castle Crag.  At the summit you will find a circular cairn of slate and a memorial to Borrowdale men killed in World War I. The views of Derwent Water and Borrowdale are truly wonderful.
The climb can also be started from nearby Rosthwaite.
If you wanted to continue your walk you could follow the Cumbria Way north to the beautiful Derwent Water and enjoy a lakeside stroll. Another popular fell is the nearby Catbells which gives faboulous views across Derwent Water. View Full Details>>
Castle Hill Huddersfield
1 miles (1 km)
Climb to this prominent landmark and scheduled ancient monument on this walk in Huddersfield. At the top of the hill you will find and Iron Age Hillfort and the grade II listed Victoria Tower. The tower is 106 feet (32.3 m) high, making the hill over 1000 ft high. From the summit there are fantastic views over the town and the surrounding countryside of the Holme Valley.
You can start the walk from the car park located at the top of the hill or from the nearby Berry Brow Train Station, if you wish to visit by public transport. You can follow the Holme Valley Circular Walk from the station to the hill which is about a 1 mile climb to the east. Then you can follow a series of good surfaced footpaths around the hilltop. At the summit you will find the fascinating remains of an early Iron Age Hillfort and a 12th century motte and bailey castle. It is also the site of a deserted medieval village.
To extend your walk follow the Holme Valley Circular Walk south to Farnley Tyas, via Molly Carr Wood and Royd House Wood. View Full Details>>
Catbells
4 miles (6 km)
Catbells is one of the most popular climbs in the Lake District. At 451 metres (1,480 ft) it is not particularly high so attracts lakeland walkers of all abilities. Alfred Wainwright said of Catbells: 'It is one of the great favourites, a family fell where grandmothers and infants can climb the heights together, a place beloved. Its popularity is well deserved, its shapely topknott attracts the eye offering a steep but obviously simple scramble.' The fell is located on the western side of Derwent Water near to the popular town of Keswick.
This circular walk starts at the car park at Hawes End and climbs to Skelgil Bank and on to the summit on a good but steep path with minimal scrambling. From the summit there are fabulous views of Derwent Water, Bassenthwaite Lake, the Newlands Valley, Skiddaw and Keswick to the north, while the view south has a fine vista of Borrowdale. You descend towards Manesty where you pick up the Allerdale Ramble waymarked walking trail which will take you back to the finish point at the car park. View Full Details>>
Cefn Bryn
7 miles (12 km)
This super walk in the Gower AONB takes you along an elevated sandstone ridge known as the 'backbone of Gower'. With a high point of 188m/617 ft the walk is quite challenging but you are rewarded with wonderful views of the coastline and countryside of the Gower Peninsula.
The walk starts in the little village of Penmaen where there is parking at the National Trust car park. You then pick up the good footpath along the ridge with wonderful views back to Oxwich Bay. You continue towards Cefn Bryn Common and to the neolithic burial ground of Arthur's Stone. Its name comes from a legend that the ancient British King Arthur threw a large stone from Llanelli which landed on this spot. Look out for Wild ponies and horses in this area. There is also the Broad Pool  nature reserve consisting of a large pond which attracts wildlife such as dragonflys and wetland birds. At the summit point there is a handy toposcope detailing all the landmarks that can be seen from the hill top.
This walk descends back to Penmaen from Arthur's Stone but you could continue along the ridge to Ryer's Down and Llanmadoc where you will find the splendid Whiteford Sands Nature Reserve. Here you will find woodland and sand dunes with nice coastal views to the lighthouse at Whiteford Point.
The Three Cliffs Bay Walk also starts from Penmaen. View Full Details>>
Chanctonbury Ring
4 miles (6 km)
Climb to this early Iron Age hill fort on the South Downs and enjoy wonderful views over the surrounding countryside and coast. The hill is also an important area for flora and fauna, including the protected Great Crested Newt which can be found in the dew pond on the hill.
Chanctonbury hill stands at a height of 238 metres (781 ft) a few miles north of the coastal town of Worthing. You can start this circular walk from the car park on Washington Bostal, just off the A24. From here you pick up the South Downs Way and follow it east to the hill. After exploring the fort and taking in the views you descend to Chalkpit Wood where you follow the Wiston Bostal track towards Chanctonbury Ring Rd. Here you turn west and follow a bridleway through woodland passing Owlscroft Barn and Combe Holt, before returning to the car park.
A shorter alternative route is to start from the car park on Chanctonbury Ring Road and climb to the hill fort from there.
If you would like to extend your walk then we recommend you head south from the hill to the nearby Cissbury Ring. The historic site can be reached by following a bridleway south from Chalkpit Wood for about 2 miles. It is the second largest hill fort in England, dating back to around 250 BC.
You can also continue along the South Downs Way in either direction. Head west and you will come to Kithurst Hill, Springhead Hill and the village of Amberley. Head east and you will come to Bramber Castle on the River Adur.
Also nearby is the mysterious Clapham Wood near the village of Clapham. View Full Details>>
Cherhill White Horse
2 miles (4 km)
This circular walk takes you to Cherhill Down and the Lansdowne Monument in Wiltshire. The Cherhill White Horse dates from the 18th century and is the third oldest white horse in the country. The downs are a lovely place for a walk with splendid views across rolling valleys and hills. On a clear day you can see the Tetbury water tower.
The walk starts in the pretty village of Cherhill with its thatched cottages, village hall and pub. The route then makes use of the White Horse Trail to climb the downs where you will pass the 120ft high Lansdowne Monument. The impressive structure was erected in 1845 by the 3rd Marquess of Lansdowne to commemorate his ancestor Sir William Petty. You will also pass Oldbury Castle, a hill fort which dates from the bronze age. The walk then descends the hill to the A4 where you pick up a roadside path to lead you back to Cherhill village.
If you would like to extend your walk then you could continue along the White Horse Trail to the nearby Avebury Stones and Silbury Hill.
A few miles to the south east you can visit the Devizes White Horse at Roundway Hill. The hill is also the site of a 1643 Civil War battle and Oliver's Castle Iron Age Hillfort. View Full Details>>
Chinley Churn and Cracken Edge
4 miles (6.5 km)
Climb Chinley Churn and enjoy super views over the Peak District towards Kinder Scout on this circular walk.
The walk starts from Chinley train staion and takes you over Cracken Edge to Chinley Churn. There are lots of interesting geological features and fantastic views across the Peak District. You'll also pass two large railway viaducts and the old slate quarry at Cracken Edge. The walk continues north to Hills Farm where you have the option of heading east along the Pennine Bridleway to the 1,620ft (494m) summit of South Head where there are more fabulous views. You can return to the train station on the same path or an alternative to the west of Chinley Churn. View Full Details>>
Chipping Campden to Dover's Hill
3 miles (5 km)
This walk climbs to Dover's Hill from the lovely market town of Chipping Campden in the Cotswolds. The hill is a high point on the limestone escarpment that effectively forms the northern edge of the Cotswolds. There is a spectacular view northwards across the Avon valley from here.
You start off in the centre of Chipping Campden with its wonderful limestone terraced main street which dates from the 14th century to the 17th century. The 17th century market hall arches are a particularly iconic Cotswolds piece of architecture.
From Chipping Campden you pick up the Cotswold Way and follow it out of the town to Dover's Hill. The hill stands at a height of 754 feet (230 metres) with splendid views over the surrounding Cotswolds countryside. On a clear day you can also see the Black Mountains of South Wales and the Long Mynd in Shropshire. 
If you would like to continue your walking from Chipping Campden then you could follow the Monarch's Way to the nearby Hidcote Manor Garden.
You can also follow the path to the village of Ebrington where you can pick up the Ebrington and the Foxcote Estate circular walk. View Full Details>>
Christmas Common and Watlington Hill
4 miles (6 km)
This circular walk takes you around the lovely area of Christmas Common in the Chilterns.
The walk starts from the decent sized car park on Hill Road and takes you to Watlington Hill. Here you will find nice woodland paths and an abundance of wildlife. Red Kites are often seen gliding above while the hill is one of the last sanctuaries of the extremely rare silver spotted skipper butterfly. Also look out for rabbits on the attractive chalk grassland and redwings and fieldfares above. The hill commands great views of the Chilterns and the Oxfordshire Plain.
This walk makes use of the Swan's Way and the Oxfordshire Way to take you through some of the countryside and woodland surrounding Watlington Hill and the little village of Christmas Common. There is a nice pub in the village where you can enjoy refreshments at the end of the walk. View Full Details>>
Chrome Hill
5 miles (7.5 km)
This circular walk climbs the beautiful Chrome Hill in the Upper Dove valley area of the Peak District. You will visit the Chrome and Parkhouse Hills SSSI, an area with fascinating geology and limestone flora. It is also known as the Dragon's Back ridge.
The walk starts from the little village of Earl Sterndale near Buxton. View Full Details>>
Cissbury Ring
2 miles (3 km)
Visit this historic hill fort in West Sussex and enjoy terrific views over the South Downs countryside on this circular walk. It's a very beautiful place with rolling hills, patches of woodland, wildlife-rich chalk grassland, wildflowers in the summer and a series of good footpaths and tracks to guide your around the area.
At 60 acres the fill fort is the second largest in England, dating back to around 250 BC. It also contains a Neolithic mine, one of the first flint mines in Britain.
You can start the walk from the Storrington Rise car park which is less than a mile west of the hill. Then climb east towards the hill fort which stands at a height of around 600ft. The area is wonderful for flora and fauna in the summer months. Look out for bee orchids, field fleawort and round-headed rampion. Around the wildflowers you will see many different types of pretty butterfly. Keep your eyes peeled for chalkhill blues, dark-green fritillaries and marbled whites.
The area is located just north of Worthing so you could walk there from the town. You can follow a bridleway from the outskirts across Findon Valley to reach the site.
The Monarch's Way long distance footpath passes just to the north of the hill so you could pick this up to extend your walk. If you head east you could visit Bramber Castle and Upper Beeding on the River Adur. The The South Downs Way also passes close to the site.
There's lots of different bridleways you can pick up around the hill too. You can follow them across Canada Bottom and Tenants Hill for more great views over Worthing to the coast.
If you follow the paths north you will soon come to Chanctonbury Ring Hill Fort. The fort dates from the early Iron Age and at a height of 238 metres (781 ft) commands fine views of the area.
Also nearby is the mysterious Clapham Wood near the village of Clapham. View Full Details>>
Claife Heights
6 miles (10 km)
Claife Heights lies between Lake Windermere and Esthwaite Water in the Lake District. It's a splendid area for a walk with peaceful woodland, a number of tranquil tarns and wonderful views over the surrounding lakes. It's a special place as it has a distinctive feel to the rest of the lake district. It was also a place visited regularly by Beatrix Potter who lived at the nearby Hill Top. 
This circular walk starts at the ferry landing on the western shore of Windermere. You can catch the ferry from Bowness on Windermere. The route then heads to Far Sawrey before climbing through woodland to High Blind How, the high point on Claife Heights at 270 m (890 ft). The walk then passes a series of delightful tarns including Wise Een Tarn and Moss Eccles tarn. Beatrix Potter owned Moss Eccles and donated it to the National Trust after her death. The tarn is stocked with water lilies and fish, and surrounded by pretty rhododendrons. It's a particularly tranquil spot and one you'll want to stop at for a while. From the tarn the walk then descends on a good path to Far Sawrey and then on to the ferry.
An alternative route takes you to the National Trust view point of Claife Station along the western shore of Windermere. See the video below for details of this. 
If you'd like to continue your walking in this area then you could visit the nearby Wray Castle or climb to Latterbarrow Hill. View Full Details>>
Clee Hills
12 miles (19 km)
Visit Titterstone Clee Hill and Brown Clee Hill on this challenging walk in the Shropshire Hills AONB. Titterstone Clee stands at a height of 1,749 feet (533 m) while Brown Clee at 1,772 feet (540 m), is the highest peak in Shropshire. The views from the hills are truly wonderful with the Welsh Mountains of Snowdonia, Cadair Idris, the Brecon Beacons, and the Black Mountains visible. There are fine views across the Shropshire Hills AONB including Long Mynd, Caer Caradoc and Stiperstones are also marvellous. To the south are the Malvern Hills and the Cotswolds, and to the east are the Clent Hills, Turner's Hill,  and Barr Beacon. To the north is Cannock Chase and the Peak District including The Roaches and Winter Hill.
This walk starts at the car park at Titterstone Clee Hill and follows the Shropshire Way 5 miles north to Brown Clee Hill. Look out for a variety of wildlife including rabbits, adders, peregrine, kestrel, skylark, Eurasian curlew and barn owl often scene on the hills.
If you'd like to extend this walk you could start it from the nearby town of Ludlow and follow the Shropshire Way to Titterstone Hill. View Full Details>>
Cleeve Hill Circular
5 miles (8 km)
Climb to the highest point in the Cotswolds on this splendid circular walk. The walk makes use of the Cotswold Way so is well defined and way-marked. It begins at the car park at the southern end of Cleeve Common before crossing the common and climbing up to the peak of Cleeve Hill which stands at 1,083 ft (330 m). From here there are marvellous views:  to the west, over Cheltenham and the racecourse, over the River Severn and into Wales, and to the north over Winchcombe. View Full Details>>
Cley Hill
1 miles (1.5 km)
Climb this distinctive hill in Warminster and enjoy wonderful views over West Wiltshire and Somerset. The chalk downland of the hill is covered in wildflowers in the summer months.
There is a car park about half a mile south of the hill. From here you can pick up the footpath to the hill summit. The hill is located very close to Longleat Park so you can continue your walk here. There are miles of woodland trails, a series of ponds and the famous safari park. You could try the Shearwater Lake Walk which takes you along a 37 acre lake with access to the surrounding forest. A short walk from here is the wonderful Heaven's Gate with fascinating sculptures and wonderful views over Longleat.
The Mid-Wilts Way also crosses the hill so you could pick this up and head towards Upton Scudamore or into Longleat Forest. Head east and you will soon come to the town of Warminster. Our Warminster Walk will take you around the Smallbrook Meadows Nature Reserve and the Lake Pleasure Grounds in the town centre. View Full Details>>
Clougha Pike
5 miles (8 km)
This circular walk takes you to Clougha Pike in the Forest of Bowland. The hill is located a few miles east of Lancaster, reaching a height of 413 m (1,355 ft). Clougha Pike commands wonderful views over Morecambe Bay, Snowdonia and the Lake District Fells. It's a great area for wildlife too so keep your eyes peeled for grouse and hares on the way.
You can park at the Rigg Lane car park (postcode below) just to the west of the hill. You then head towards Ottergear Bridge near Cragg Wood and the River Conder. The path then takes you towards Wisp Hill and Black Fell before coming to the Clougha Pike summit. Take a while to soak in the wonderful views. On a clear day you should be able to see the coast and beyond to the Isle of Man.
The route then descends back to the car park via Windy Clough with views of Trough Brook on the way.
An alternative, shorter route is to start from Rigg Farm and follow the Rowton Brook to the summit. The walk can be extended by continuing east along the path to Grit Fell and Ward's Stone, the highest hill in the Forest of Bowland. It can be quite a difficult walk though as it is a boggy area.
Cyclists can reach the hill on regional route 90 which runs through Quernmore. View Full Details>>
Cnicht
3 miles (5.5 km)
Climb to the 'Matterhorn of Wales' on this challenging walk from the village of Croesor in Gwynedd. Although several thousand metres lower, Cnicht has a similar appearance to the famous mountain of the Alps. View Full Details>>
Coaley Peak
2 miles (4 km)
This walk takes you to the Coaley Peak viewpoint from the village of Uley in the Cotswolds. The walk uses part of the Cotswold Way National Trail to take you through Coaley Wood to the viewpoint. At the peak there is a display showing all the landmarks you can see in the area.
The walk starts from the car park on Crawley Hill road next to Uley Bury. It's worth exploring the Iron Age hill fort on Uley Hill before starting your climb to the peak. From here you head north through the woods for about 1.5 miles before reaching the viewpoint. Here you will find farmland and a wildflower meadow. There are also splendid views over the Severn Vale and the Forest of Dean.
There is a good sized car park at the site if you prefer to visit directly. See the google street view link below for the view from there.
Near the hill you will find Woodchester Park which is a great place to extend your walk. The extensive park includes a series of lakes and woodland trails.
Just to the south west is the lovely Cam Peak near Dursley. You can cross Cam Long Down on the Cotswold Way with more great views to enjoy. View Full Details>>
Coire an t-Sneachda
3 miles (5.5 km)
Follow a good path to this stunning glacial corrie in the Cairngorms. You start off from the Cairngorm Ski Centre car park and soon pick up the well maintained path to this spectacular corrie. As you climb you will see wonderful views of the Rothiemurchus Forest and Loch Morlich while crossing pretty streams on huge stepping stones. The surrounding glacial cliffs and huge boulders add to the dramatic nature of this stunning area. In the colder months you may see ice climbers attempting Magic Crack.
The climb to Cairn Gorm also starts from the same car park so you can continue your walking in the area on this path. View Full Details>>
Colley Hill
2 miles (3 km)
Climb to the 722 ft (220 m) summit of Colley Hill on this walk in the North Downs. Colley Hill is located just to the west of Reigate Hill. It's a satisfying climb with great views  over Surrey to the South Downs.
You start off at the Wray Lane car park near Gatton Park and follow the North Downs Way west to the hill summit. You'll pass Reigate Fort, woodlands and grassland with pretty wildflowers in the summer. As you climb you can enjoy great views of Box Hill and Leith Hill. You'll also pass the interesting Inglis Memorial.
If you'd like to extend your walk then the Reigate Hill and Gatton Park Walk also starts from the Wray Lane car park. View Full Details>>
Colmers Hill
1 miles (2.2 km)
Enjoy a circular walk to Colmers Hill and enjoy wonderful views over the Dorset countryside and coast. The hill is located just to the west to the town of Bridport, providing great views over the town. The hill is a distinctive landmark of the area with its conical shape, topped by pine trees.
Start the walk from the little village of Symondsbury where footpaths will take you up to the hill top. It's quite a steep climb but you are rewarded with splendid views of rolling hills and the Jurassic Coast. In the springtime you may also see bluebells around the summit.
After taking in the views the route continues west toward Quarry Cross. Here you pick up Shute's Lane to descend back to the village. Here you can enjoy refreshments at the excellent Symondsbury Kitchen, where there is a lovely garden to sit out in. View Full Details>>
Combe Gibbet
2 miles (3 km)
This walk climbs to the interesting structure of Combe Gibbet and continues on to Inkpen Hill. The gibbet was erected in 1676 for the purpose of gibbeting the bodies of George Broomham and Dorothy Newman. The gibbet was placed high on Gallows Down as a detterent to other criminals. It's now a popular tourist destination with great views and a number of footpaths to follow through the surrounding countryside. The hill is also a popular climb for cyclists with a number of bridleways to follow across Inkpen and Walbury Hill.
This walk starts at the Inkpen Beacon car park and climbs to the gibbet along the Test Way long distance footpath. It's a good path which leads to the Inkpen long barrow and then up onto Inkpen Hill. From here there are wonderful views over the surrounding Berkshire countryside.
The walk can be extended to visit the nearby Walbury Hill. At 297 m (974 ft) Walbury Hill is the highest point in Berkshire and South East England. At the summit you can enjoy more great views over the county and explore the Iron Age Hill fort of Walbury Camp. If you continue along the Test Way you can visit Combe Wood. You could also pick up the Wayfarer's Walk and head south east along a wonderful ridge top path to the nearby Pilot Hill, the highest hill in Hampshire. View Full Details>>
Conic Hill
2 miles (3.5 km)
This popular climb to Conic Hill gives wonderful views over Loch Lomond. The hill is situated above Balmaha and can be reached by following a good, stepped path along the West Highland Way to the summit. The walk starts from the Balmaha car park/visitor centre and heads through the woodland of the Balmaha plantation before climbing the wooden steps and following grassy paths to Conic Hill. The views back over Loch Lomond towards the Arrochar Alps and Ben Lomond are stunning. You can descend the same way or extend your walk by continuing along the West Highland Way to the Burn of Marr and Milton of Buchanan. This would turn the route into a longer circular walk. View Full Details>>
Constitution Hill Aberystwyth
3 miles (5.5 km)
This circular walk visits Constitution Hill and explores the area around the town of Aberystwyth in Ceredigion. It's a fantastic viewpoint with views over the town below, several of the Welsh Mountains and Cardigan Bay. At the hill summit you will find one of the world's largest camera obscuras, offering a bird's eye view of 1000 square miles of countryside and coast.
The hill is a short climb from the centre of the town. After reaching the summit you continue to the woodland of Glanmor Fach before heading along the golf course and descending back into the town. The footpaths are generally good and there are really nice views for most of the way. On a clear day you can see the Pembroke Coast to the south and Snowdonia to the north.
If you'd like to visit the hill without the climb then you could take the funicular electric cliff railway which is the longest in Britain.
The Abercyclefest also organises a downhill mountain bike race on the hill. See the video below for details!
To continue your walking in the Aberystwyth area catch the Vale of Rheidol Steam Railway to the spectacular Devil's Bridge Falls.
You can also pick up a lovely section of the Ceredigion Coast Path on our Aberystwyth to Borth Walk. View Full Details>>
Conwy Mountain
3 miles (5.2 km)
Enjoy fabulous views over Conwy Bay and the Welsh mountains on this climb to Conwy Mountain (Mynydd y Dref).
You can follow a section of the North Wales Path from the town up into the hills. Starting at Conwy Suspension Bridge head north along the Conwy Estuary to Bodlondeb Woods. Follow the trail round the edge of the woods before turning south towards Cadnant Park. Trails then climb west to the mountain summit which stands at a height of 244 m (801 ft). Here you will find Neolithic Hut Circles and the Iron Age hillfort of Castell Caer Seion. There's also lots of pretty heather and magnificent views over the town to Great Orme and the mountains of the Snowdonia National Park.
There are a number of footpaths you can follow around the hill top. At the western end you will find the Sychnant Pass where the car park offers an alternative start point for exploring the area. View Full Details>>
Coombe Hill
5 miles (8 km)
Climb to the 260 m (850 ft) summit of this lovely hill in the Chilterns. Coombe Hill is the highest viewpoint in the Chiltern Hills and commands wonderful views over Aylesbury Vale and the Cotswolds.
This circular walk starts in Wendover, near the train station, and follows the Ridgeway long distance trail to the summit. It's a nice, grassy footpath taking you over the delightful Bacombe Hill. There's a series of nice woodland paths and the area is also a nature reserve so look out for pretty wildflowers and over 20 species of butterfly. The summit is a special place with the iconic Coombe Hill Monument. It was erected in 1904 in memory of 148 men from Buckinghamshire who died during the Second Boer War. As well as the great views over the Chilterns AONB you can also see Chequers, the country home of the Prime Minister from the summit.
From the summit you descend on more nice woodland paths to Dunsmore and then back into Wendover.
You could also visit the hill from the south by climbing from nearby Princes Risborough along the Ridgeway. Our walk starts from the town's train station and visits the attractive nature reserves at Pulpit Hill and Whiteleaf Hill on the way.
To extend your walking in the area you can pick up the Wendover Canal Arm of the Grand Union Canal. It starts in the town and heads to the nearby Weston Turville Reservoir, Tring Reservoirs and Bulbourne.
Also of interest is Wendover Woods where there's miles of good walking and cycling trails to be found. In the woods you can also enjoy a climb to the summit of Haddington Hill, the highest point in the Chilterns. View Full Details>>
Corndon Hill
2 miles (4 km)
Climb to this prominent hill in Powys and enjoy wonderful views over the Long Mynd and Stiperstones on this lovely walk on the Wales-England border.
You can start the walk from a parking area just north of the hill, near the Mitchell's Fold stone circle. From here it is a short walk to the hill summit which stands at a height of 1,683 ft. The view from here is first class with the Shropshire Hills and Welsh Mountains stretching out in front of you for miles. On a clear day the Clee Hills, Severn Valley, Clwydian Hills, Cheshire Plain, Cadair Idris, the Rhinogs and the Black Mountains are all in focus.
After taking in the view you can return the same way or turn it into a longer circular walk by descending south east and then south from the summit. The footpath then loops round to Lan Fawr near Priest Weston before returning to the car park.
The walk to Mitchell's Fold Stone Circle starts from the same car park so you can easily visit the fascinating Bronze Age stones at the same time.
Corndon Hill is located just a few miles west of the wonderful Stiperstones Nature Reserve. It's a great place to continue your walking with its craggy rock outcrops, gorgeous heather heathland and more wonderful views from the elevated position.
The long distance Shropshire Way also runs nearby and is another great way to explore this beautiful area on foot.
Also of interest is the Bishop's Castle Ring long distance footpath. It passes just to the west of the hill and will take you on a tour of the countryside and hills surrounding the Shropshire market town of Bishop's Castle. View Full Details>>
Cothelstone Hill
2 miles (3.5 km)
Enjoy heathland, woodland and wonderful views on this circular walk in the Quantocks. It's a lovely area with the groups of beech trees known as the Seven Sisters, bronze age burial mounds and the remains of a folly tower. You should also see several Exmoor Ponies around the hilltop and bluebells in the woodland in the spring.
The walk starts at the car park just to the east of the hill, and follows good footpaths to the summit. Here you can enjoy wonderful 360 degree views across the Quantocks towards the Severn Estuary. It's a fabulous spot on a nice clear day. The walk then descends through woodland and past Merridge Hill before returning to the car park.
The Samaritans Way South West and the Macmillan Way both cross the hill so you could pick these up to extend your walk. For example you could head north and visit Lydeard Hill and Wills Neck, the highest point in the Quantocks. View Full Details>>
Cown Edge Way
17 miles (28 km)
Visit the striking Cown Edge rocks on this walk through Greater Manchester and Derbyshire.
The path starts at Hazel Grove and heads east towards Marple where you can enjoy waterside stretches along the Macclesfield Canal and the Peak Forest Canal with views of the River Goyt. View Full Details>>
Craig Cerrig-Gleisiad a Fan Frynych
3 miles (5 km)
Enjoy a walk through this spectacular glacial National Nature Reserve and climb to the summit of Fan Frynych on this challenging walk in the Brecon Beacons. The reserve can be easily accessed from a lay-by on the A470 from which the walk starts. Soon you will be exploring this wonderful natural amphitheatre with imposing craggy cliffs created during the Ice Age, 20000 years ago. The reserve contains rare arctic-alpine plants such as purple saxifrage and mossy saxifrage. There is also an abundance of wildlife to look out for including Peregrine falcons, merlin, red kite and a variety of butterflies. The area also contains woodland, streams and an Iron Age Hillfort. From the 629 m (2,064 ft) summit of Fan Frynych there are splendid views over the national park.
The Brecon Beacons Way also passes the reserve so you could pick this up to continue your walk. View Full Details>>
Cranmore Tower
1 miles (1.5 km)
Visit the highest point on the Mendip Way and enjoy a stroll through Cranmore Wood on this circular walk in Somerset. The tower is 45 metres (148 ft) tall and dates from the 19th century. You can climb to a viewing platform where you can enjoy views over the Mendip Hills. The surrounding woods have some nice footpaths with beech trees and bluebells in the spring. Look out for badgers, rabbits and deer in this area. The tower has a tea room attached to it for refreshments after your walk. View Full Details>>
Crinkle Crags
6 miles (10 km)
Crinkle Crags stands at a height of 859 m (2,818 ft) surrounding the valleys of Great Langdale and Upper Eskdale. View Full Details>>
Croft Ambrey
2 miles (4 km)
Climb to this Iron Age Hill Fort and enjoy great views over the Herefordshire countryside on this circular walk. The walk starts from the National Trust's Croft Castle car park. View Full Details>>
Crook Peak
6 miles (9 km)
Climb to Crook Peak from the village of Compton Bishop on this fine circular walk in the Mendip Hills. The hill and the adjacent Wavering Down are a splendid place for a walk with wonderful views over the countryside to the coast. The route uses part of the West Mendip Way to take you across the downs where you will reach a height of nearly 700ft. On a clear day you can see all the way to Brean Down and Porthkerry on the Welsh coast.
The area is a designated  geological and biological Site of Special Scientific Interest run by the National Trust. It consists of a variety of interesting flora including ancient woodland, calcareous grassland and the pretty Cheddar Pink flower.
You can start the walk from the village of Compton Bishop which is only about a mile from Crook Peak. After visiting the peak you head east across Wavering Down passing Compton Hill on the way. At King's Wood you turn south and descend to the village of Cross on some nice woodland trails. At Cross, you turn west and follow footpaths back to Compton Bishop.
You can also start the walk from the car park at King's Wood. It's located off Winscombe Hill Road at the eastern side of Wavering Down.
The eastern end of the walk also comes close to Axbridge where you can visit Cheddar Reservoir and the spectacular Cheddar Gorge. These are both good options if you wish to extend your walk. Also nearby is the climb to Brent Knoll. View Full Details>>
Cross Fell Walk
9 miles (15 km)
This circular walk visits the noteworthy Cross Fell, the highest point of the Pennine Range and the highest peak in England outside of the Lake District. The walk begins in the village of Kirkland and takes you to the 893 metres (2,930 ft) summit using bridleways and the Pennine Way.
You start off a few miles west of the hill, in the little settlement of Kirkland where some parking is available on the village roads. You then follow footpaths to Cocklock Scar and Skirwith Fell, passing the Iron Well Spring on the way. At Skirwith Fell you turn right to the summit of Cross Fell, passing Cross Fell spring as you go. From the summit there are magnificent views of the Eden Valley, the Solway Firth, the Scottish mountains and the mountains of the Lake District. The route continues to Crowdundle Head where you have the option of returning to Kirkland or continuing along the Pennine Way to Little Dun Fell and Great Dun Fell. From Crowdundle Head you descend to Kirkland Fell, Wildboar Scar, Grumply Hill and Tottle Hill, following the Littledale beck for a while. The route then bears right to return to Kirkland.
This is a challenging walk on mostly well defined paths. It's best attempted in fine weather as the area can be quite inhospitable in rough conditions.
If you'd like to continue your walking in the North Pennines AONB then you could head to the nearby Cow Green Reservoir and Cauldron Snout Waterfall for some waterside walking. View Full Details>>
Cuilcagh Mountain
13 miles (21 km)
This challenging circular walk climbs to the summit of Cuilcagh Mountain, the highest point in the Breifne Mountains. The mountain sits on the border between County Fermanagh (in Northern Ireland) and County Cavan (in the Republic of Ireland). It's a very popular hike with the route to the summit taking place on the waymarked Cuilcagh Way.
The trail climbs through one of the largest expanses of blanket bog in Northern Ireland, using a boardwalk for part of the route.
The walk starts from the car park at Cladagh Bridge on the Marble Arch Road, a few miles north of the summit. From here you can pick up the trails heading south along the Cladagh River. You'll soon come to the Marble Arch Caves Global Geopark. The Geopark features various sites which demonstrate the geological and wider natural heritage of the area, as well as the cultural heritage relating to 7,000–8,000 years of recorded human occupation since the last ice age. This includes a number of show caves which exhibit a wide range of classic cave features. The natural limestone caves are named after the nearby Marble Arch, a natural limestone arch at the upstream end of Cladagh Glen under which the Cladagh River flows.
The route continues past the caves along the Aghinrawn River to Skea Hill and Lough Atona along the splendid Stairway to Heaven. This area supports numbers of rare, vulnerable or endangered species. It is one of the most important upland breeding sites in Northern Ireland for Eurasian golden plover, and the Merlin.
Near the lough you turn east to climb to the 666 m (2,185 ft) summit of Cuilcagh. There's wonderful views across Ireland and Northern Ireland with the Irish Sea and Atlantic coast visible on clear day.
After taking in the views the route descends north east to Florence Court Forest Park. The forest has colour coded, waymarked trails with attractive woodland and riverside paths to enjoy. In the park there's a walled garden and a fine viewpoint where you can see much of Fermanagh, Upper Lough McNean, Belomore mountain, Enniskillen, Brougher Mountian, Upper Lough Erne and Knockninny. There's also the Florence Court yew tree, known as the 'mother' of all Irish yew trees. 
From the forest head west to Gortmcconnell Rock before descending back to Marble Arch Caves. The final section leads you along the river to return to the car park. View Full Details>>
Culmstock Beacon
6 miles (9.5 km)
This walk climbs to Culmstock Beacon in the Blackdown Hills AONB. You'll also visit Black Down Common where there's extensive heathland supporting a wide variety of flora and fauna.
The walk starts from Millhayes, just north of Hemyock, on the River Culm. You follow quiet country lanes west and then north to Culm Davy, passing the little chapel on the way. The route then climbs past Culm Davy Hill and through the associated woodland. Bear left and you will soon come to Culmstock Beacon where you will find a stone signal station built to warn of the Spanish Armada in 1588. From the 250m (820ft) summit there are magnificent views over the surrounding countryside of Somerset and Devon.
You can continue your walk across Black Down Common where you will often see horses and a variety of birdlife. The large common is a great place for walkers with lots of footpaths and more fantastic views from its elevated position.
To extend your walking in the area head a couple of miles to the north east and visit the Wellington Monument.
Just to the south of the beacon you will find the village of Culmstock where you can enjoy waterside footpaths through the River Culm Valley. View Full Details>>
Curbar Edge
2 miles (3 km)
This circular walk takes you along the spectacular Curbar Edge in the Peak District. From the elevated position on Curbar Edge there are magnificent views over the Eastern Moors of the Peak District. The area is also covered with interesting rock formations. Look out for red deer on the moors and birdlife such as the Ring Ouzel, in the air.
The walk starts from the Curbar Gap Car Park and soon picks up the footpath to take you along the gritsone escarpment of Curbar Edge. You'll pass unusual rock stacks and some woodland trails with fabulous views towards Big Moor and White Edge. It is a fairly easy walk without too much strenuous climbing.
If you would like to extend your walk then the wonderful, National Trust owned Longshaw Estate is a good option. It is located a couple of miles to the north and consists of miles of walking and cycling paths taking you through ancient woods, parkland and heather moorland. On the way you will pass Froggatt Edge which has some nice birch woodland and more great views.
Curbar Edge is located just a few miles south west of Sheffield. The nearby village of Calver is also well worth a visit with its historic cotton mill and the River Derwent. You could pick up the Derwent Valley Heritage Way here and enjoy a riverside walk.
A couple of miles to the south east you will find Birchen Edge. It's another geologically fascinating area with fine views over the Derwent Valley.
The walk can also be started from the nearby village of Baslow if you prefer. View Full Details>>
Cwm Idwal
2 miles (4 km)
Explore this hanging valley in Snowdonia and enjoy some of the most spectacular mountainous scenery in the country. In a Radio Times poll in 2005, Cwm Idwal was ranked the 7th greatest natural wonder in Britain.
This circular walk begins at the car park next to the western end of Lllyn Ogwen. You then pick up a footpath which ascends to the beautiful Llyn Idwal. It's a simply wonderful spot with the crystal clear lake and surrounding mountains forming a spectacular natural amphitheatre. The footpath runs along the edge of the lake to the Darwin Idwal Boulders and then to the Idwal Slabs. The slabs were used as a training ground for Mount Everest conqueror Edmund Hillary.
As you pass the lake you close in on the impressive headwall of Cwm Idwal know as 'The Devil's Kitchen'. From here the route descends on the western side of Llyn Idwal to Llyn Ogwen and the finish point.
If you would like to continue your walking in the area then you could climb the challenging Tryfan mountain. The route starts from the eastern end of Llyn Ogwen which is a great place to extend your walk. View Full Details>>
Danby Beacon
6 miles (9.5 km)
This circular walk from the village of Danby climbs to Danby Beacon for wonderful views over the Fryup Dales. It follows quiet country lanes for most of route with splendid views of the heather covered moors and the River Esk. You'll also pass the excellent Moors National Park Centre with information, exhibitions and refreshments set in 13 acres of grounds on the banks of the River Esk. The walk passes the village of Houlsyke and the remains of the 14th century Danby Castle. Now a working farm the castle was once inhabited by Catherine Parr before she became the sixth wife of Henry VIII.
The walk starts in centre of Danby where parking is available. Danby also has a train station near the route start.
If you would like to continue your walking in the area then you could head a few miles north to Scaling Dam where there is a delightful nature reserve and reservoir. View Full Details>>
Danebury Hill Fort
1 miles (2 km)
Climb to Danebury Hill Fort and Danebury Down on this short walk in Hampshire. After archeological excavations it is believed the Iron Age Fort dates back to between 500BC-100BC.
You can start your walk from the car park on Old Stockbridge Road about 1 mile east of the hill. From here you can pick up the footpath taking you up to the hill fort. The high point stands at 143 m (469 ft) providing wonderful views over the beautiful Test Valley. It's a great spot for a picnic in the summer when you'll see lots of people enjoying the views and walking their dogs.
The hill is great for wildlife. Look out for wild ponies and the Chalkhill Blue Butterfly. The fort also has a number of information boards where you can read all about the fascinating history of the area.
The fort is located near to Stockbridge and the village of Longstock. An alternative route would be to start your walk in Longstock and follow footpaths west to the hill. The Test Way also runs through Stockbridge and Longstock. You could extend your walk by picking up the riverside trail. Heading north east will take you to Chilbolton, Wherwell and Harewood Forest. Head south and you will come to King's Somborne and Horsebridge.
Cyclists can reach the fort by following National Cycle Network Route 246 from Andover to the Stockbridge area. View Full Details>>
Darwen Tower
3 miles (5 km)
This circular walk takes you up Darwen Hill to Jubilee Tower from Tockholes in Lancashire. The short climb to the tower gives great views over the surrounding moorland and reservoirs. The Bowland Fells and the mountains of Ingleborough and Whernside make a wonderful backdrop. On a clear day you can also see North Yorkshire, Morecambe Bay, Blackpool Tower, the Lake District and the Isle of Man.
The walk starts from the car park at Tockholes and follows good footpaths to the hill summit and the tower. You can then climb the 85 feet high tower on the stone spiral staircase inside. The tower was built in the late 19th century to commemorate Queen Victoria's Diamond Jubilee.
The route descends along the Witton Weavers Way, passing the attractive Sunnyhurst Hey and Earnsdale Reservoirs before returning to the car park. At Earnsdale reservoir you will find the pretty Sunnyhurst Woods. You could extend the walk by exploring the 85 acres of woodland with its streams and wide variety of birdlife.
There's also nice footpaths around Roddlesworth Reservoir and the adjacent Rake Brook Reservoir. View Full Details>>
Deadwater Fell
5 miles (8.5 km)
Climb to the summit of Deadwater Fell in Kielder Forest and enjoy wonderful views over Northumberland and Scotland. The 1900 feet (571 metres) fell sits on the England-Scotland border about 2.5 miles north of Kielder. You can start the walk from Kielder Castle and follow footpaths through woodland and across open moorland to the hill summit. From here there are great views towards the Lake District, the Pentland Hills near Edinburgh and the North Sea coast. This route is for walkers but there is also a good mountain bike trail which you can follow all the way to the summit. 
If you would like to continue your walking in the area then you could try the Kielder Forest Lakeside Way and enjoy views across Kielder Water. View Full Details>>
Denbies Hillside
2 miles (3 km)
Explore this lovely area of the North Downs on this short circular walk. You can start the walk from the Denbies Hillside car park on Ranmore Common. There's waymarked trails, woodland paths and great views of Leith Hill and Dorking from the high points. There's also lots of interesting plants and wildlife to look out for. Several species of orchid grow on the hillside and there are a vairiety of butterflies to see in the summer months.
The area also includes the Denbies Wine Estate which contains the largest vineyard in England, representing more than 10 per cent of the plantings in the whole of the United Kingdom. There's an excellent visitor centre with a working winery where you can learn all about the wine making process. View Full Details>>
Derwent Edge
8 miles (13 km)
Climb to this wonderful Millstone Grit escarpment and enjoy fabulous views back down to the numerous beautiful reservoirs below. It's a challenging circular walk climbing to a height of over 1700ft around Back Tor. You will be rewarded with stunning far reaching views over the Peak District.
The area is also full of interesting flora and fauna. Look out for rare plants such as common cottongrass, mountain strawberry and crowberry. Wildlife includes Eurasian golden plover, red grouse, ring ouzel and mountain hare.
The walk starts from the Fairholmes car park in between Ladybower Reservoir and Derwent Reservoir. Here you will find a great visitor centre which makes an excellent base for exploring the Derwent Valley.
The trail heads north along Derwent Reservoir towards the impressive Derwent Dam. Just after Abbey Bank you turn east and start the climb to Lost Lad Hill, crossing Little Howden Moor and Greystones Moss. At the summit of Lost Lad there's a toposcope showing the surrounding hills. You can also see up to Back Tor, the next destination on the walk. From here there are fabulous views over the reservoirs below, Stanage Edge and the Kinder Plateau.
From Back Tor you head south to Dovestone Tor and along the fantastic ridge path towards Derwent Edge. Around here there are some wonderful geological formations including the impresive Salt Cellar stone. It has a striking resemblance to a certain condiment holder! Even more impressive are the Wheel Stones (or Coach and Horses) which resemble a coach and horses on the horizon when viewed from the A57 road to the south.
Shortly after passing the Wheel Stones you turn west and descend back to Ladybower Reservoir. The final section takes you along the water back to the car park. The visitor centre has a good cafe where you can refresh yourself after your adventure.
To extend your walking in the area you can follow the waterside trail along Ladybower Reservoir and visit Lower Ladybower Reservoir.
If you are interested in more exhilarating climbs then look no further than Stanage Edge and Bamford Edge which are both nearby. For geology enthusiasts Alport Castles with its spectacular formation of rocks, is a must see. View Full Details>>
Detling Hill
3 miles (5 km)
This walk climbs to Detling Hill, just to the east of the village of Detling in Kent. The hill is located in the Kent Downs area of the North Downs and provides fine views over the surrounding countryside from the summit.
You can start the walk from Detling village and follow the North Downs Way east to Gorse Farm before picking up other paths to take you to the hill top which stands at a height of 200 m (660 ft). View Full Details>>
Devil's Pulpit
3 miles (5 km)
Climb to this wonderful viewpoint and enjoy views over the Wye Valley AONB on this circular walk in Tintern in the Forest of Dean.
You can start the walk from the car park off the B4228 just north of Tidenham. You then head west through woodland before a moderate climb to the Devil's Pulpit. From here there are splendid views over Tintern Abbey and the River Wye.
After taking in the views you pick up the Offa's Dyke Path to take you through Worgan's Wood to Tidenham Chase. You then follow Miss Grace's Lane back to the woods from the start of the route.
To extend the walk you could continue along the Offa's Dyke Path to Woodcroft and Chepstow in Wales. If you head north you can visit Caswell Wood and Oakhill Wood. Caswell Woods consist of a variety of interesting plants and trees with bare limestone rock which attract Kestrels. At Brockweir you can cross the river then follow it round to the fascinating Tintern Abbey ruins.
Heading south along the path will take you to the magnificent limestone cliffs at Wintour's Leap. View Full Details>>
Ditchling Beacon
5 miles (8 km)
Climb to the highest point in East Sussex and enjoy wonderful views of the Weald and the Downs on this circular walk. The lovely chalk grassland of the area is covered with a variety of flowers and plants during the summer months. Look out for marjoram, thyme and different types of orchid with butterflies such as the Chalkhill Blue flying around them.
The walk begins in the village of Ditchling just to the north of Ditchling Beacon and follows the Sussex Border Path to Burnhouse Bostall. You then pick up the South Downs Way and head to the beacon passing the Ditchling Beacon Nature Reserve on the way. You then descend to Ditchling following bridleways past Wick Farm and Stoneywish Country Park.
If you'd like to continue your walking in the area then you could head west along the The South Downs Way to the beautiful Devils Dyke.
The video below shows the area well from about 7:00 minutes on. View Full Details>>
Druids Temple
9 miles (15 km)
Visit this fascinating replica of Stonehenge, on this lovely circular walk from Masham. The unusual folly is one of the local highlights and with a series of pleasant footpaths around the site it is a popular destination for walkers.
The walk starts in the market town of Masham in the Harrogate district of North Yorkshire. The attractive town has some fine Georgian architecture and has some nice riverside footpaths along the River Ure and River Burn.
From the town you head west along the Ripon Rowel long distance trail. It will take you towards Micklebury Hill and across Fearby Moor, with nice views of the River Burn. The route then climbs on to the wooded area where you will find the Druids Temple structure. It was built in about 1820 by William Danby of nearby Swinton Park. The site includes a large stone table, a sheltered cave, and an altar stone. It became a folly of national reputation and is still an impressive sight. Situated at over 800ft there are great views over Wensleydale from the Druid's Plantation surrounding the folly.
After exploring the folly and the woodland, the walk then descends to High Knowle and the pretty Sole Beck before picking up the Ripon Rowel to take you back to Masham.
To extend the walk you could continue west and visit Leighton Reservoir and Roundhill Reservoir. There's some nice trails along the water and up into the surrounding moorland. Around here you can also pick up the Six Dales Trail. View Full Details>>
Duncryne Hill
1 miles (1.5 km)
This short climb takes you to the top of Duncryne hill near Gartocharn in the Loch Lomond and the Trossachs National Park. The hill is known as the 'Dumpling ' and stands at a modest height of 465 ft (142 m) giving wonderful views towards Loch Lomond. You can park by the roadside on Duncryne Road where you will find a gate and a good footpath leading through woodland to the hill. You follow the path to the hill summit where you will find a triangulation point. From here there are fabulous views over the Loch, its islands and the surrounding mountains of Ben Lomond and The Cobbler. View Full Details>>
Dundry Hill
5 miles (7.6 km)
A nice circular walk around the Somerset village of Dundry, exploring the expansive Dundry Hill which surrounds the village. There's some lovely countryside and great views of the Chew Valley to the south and the city of Bristol to the north.
The hill is also geologically significant with a limestone cap formed during the Jurassic period. It's also rich in fossils and freestone which has been quarried since Roman times.
Look out for a variety of flora and fauna as you make your way across the hill. You may see birds including Buzzard, Stonechat and Perigrine Falcon. In the meadows you can see lots of wildflowers including orchids and knapweed.
The walk starts next to the church in the village and heads east on tracks and footpaths to East Dundry. You then follow country lanes west to Dundry Down, where you will reach a height of over 700ft.
The route then returns to the village where you can enjoy refreshments at the Dundry Inn and visit the historic church which dates from the 15th century. View Full Details>>
Ebbor Gorge
2 miles (2.5 km)
This circular walk explores a wonderful limestone gorge near Wookey Hole. In the gorge you will find waymarked woodland trails and a variety of interesting plants and flowers. There's also pretty streams and lots of interesting rock formations. There is some climbing involved with some of the paths reaching a height of over 700ft. From these high points at the top of the gorge there are great views towards Glastonbury and the Somerset Levels.
The area is also a designated nature reserve so look out for wildlife including red deer and birds of prey. The site also attracts a large variety of butterflies including white-letter hairstreak, high brown fritillary and chalkhill blue. Flora includes bluebells, wood anemone, ancient woodland and various fungi and ferns.
There is a good sized car park just off the Deerleap Road where you can start your walk. You could also follow the West Mendip Way from the nearby town of Wells to the site. It's about a two mile walk, passing Wookey Hole on the way.
The West Mendip Way passes through the area so you could pick this up to extend your walk. View Full Details>>
Eccles Pike
4 miles (6 km)
This is a popular climb to Eccles Pike from Whaley Bridge in the Peak District. It's about a two mile walk from the train station/centre of Whaley Bridge to the hill. You follow footpaths east through the countryside, passing Buxworth before climbing to the 370 metres (1,210 ft) summit of Eccles Pike. From here there are fabulous views over the Peak District towards Windgather Rocks, Combs Edge, Combs Reservoir, Cat's Tor and Shining Tor. At the summit you will find a topograph which shows all the sights you can see from the top. It's a lovely spot with the surrounding fields covered in various wildflowers in the summer months.
After descending from the summit you could return the same way or follow Eccles Road back to Whaley Bridge to create a longer circular walk. This quiet country lane will take you past Hilltop and New Horwich. View Full Details>>
Eggardon Hill
2 miles (3 km)
Climb to this Iron Age hill fort and enjoy wonderful views over Marshwood Vale on this hilltop walk near Bridport.
The walk starts from the roadside parking area shown on the google street view link below. The footpath to the hill is just up the road from here. The hill fort is over 2500 years old and is rich in attractive plantlife. From the 252 m (827 ft) summit the views are wonderful with the English Channel and Lyme Bay visible on a clear day. It's a nice elevated path which takes you to the Bell Stone before returning the same way.
A local cycle route runs past Eggardon hill so you could follow this from nearby Powerstock to reach the hill. National Cycle Network Route 2 could also be followed from Bridport to Uploders before picking up the local route to Eggardon. It's a nice ride along a series of pretty country lanes.
You could also start the walk from Powerstock and follow good footpaths to the hill. View Full Details>>
Eildon Hills
5 miles (8.1 km)
This circular walk climbs to a series of wonderful viewpoints above the town of Melrose on the Scottish Borders. The Eildon Hills consist of three peaks of about 400 metres with wonderful views to Melrose Abbey, Leaderfoot Viaduct and the surrounding countryside of the Borders.
The walk starts in Melrose next to the abbey. From here you can pick up the St Cuthbert's Way long distance trail and follow it south towards the hills. You then follow a different path on your right up to Eildon Mid Hill. At 422m (1,385 ft) it is the highest of the peaks and includes a trig point and a view indicator at the summit. There are fabulous views over the surrounding area from here.
After taking in the views the route then heads south to visit Eildon Wester Hill (371m) where there are great views back to the other two hills.
The route then turns north to visit Eildon North Hill (404m), the final of the 3 peaks. This hill was the site of a large Bronze Age Settlement which included 300 hut circles. There is also some evidence that prehistoric peoples regarded the Eildon Hills as a holy place and scholars believe they may have been a place of ceremonial gatherings. There are several holy springs around the base of the hills, now dedicated to Christian saints, but probably originally sacred to Celtic deities.
The final section of the walk descends from the north hill to Eildontree Stone where you pick up a secton of the Borders Abbeys Way to take you towards Newstead before returning to Melrose. View Full Details>>
Elidir Fawr
4 miles (6 km)
Climb to Elidir Fawr, the northernmost peak in the Glyderau range on this challenging walk in Snowdonia. The walk takes you to the 924 metre (3,031 ft) summit from the village of Nant Peris at the bottom of the Llanberis Pass. It's only about a 2 mile climb, but quite steep.
The walk starts from the parking areas off the A4086 in Nant Peris. Cross the A4086 and then pick up a country lane heading north. A footpath then takes you the rest of the way to the summit, passing the Afon Dudodyn on the way. There are fabulous views over the peaks and reservoirs of the national park.
You can extend the walk by continuing a short way on to the pretty Marchlyn Mawr reservoir.
Following the path further will take you to Foel-Goch and then on to Y Garn. From the 947 m (3,107 ft) summit there are great views of Llyn Clyd and the Ogwen Valley.
Also nearby are the climbs to Glyder Fawr and Glyder Fach and Tryfan. View Full Details>>
Eston Nab
3 miles (5 km)
Climb to Eston Nab and Eston Beacon on this popular walk in North Yorkshire. The hill is located just to the east of Middlesbrough standing at a height of 242 metres (794 ft). From the summit there are splendid views towards the coast and across the North York Moors. The nab is historically significant as it includes Bronze Age burial mounds and an Iron Age hill fort. There is also the Eston Nab monument which dates from the early 19th century. It was built as a look-out post against invasion during the Napoleonic wars.
You can start your walk from Flatts Lane Country Park where there is a car park. From here you can pick up the Cleveland Way and follow it past Normanby Moor. Public footpaths then take you across Eston Moor to Eston Beacon and Eston Nab. Take a while to soak in the splendid views of the nearby Roseberry Topping and Urra Moor. From the nab you can descend on the same trail or on other paths running past Eston Bank.
There's a variety of habitats to enjoy on this varied walk. You will pass lowland heath, grassland and woodland. Look out for wildife including lapwing, curlew, green woodpecker, linnet and a wide variety of butterflies.
To extend your walk you could head south east along the Cleveland Way to Hutton Village and Hutton Lowcross Woods. Just beyond that is Roseberry Common and the splendid Roseberry Topping. It's a similar climb with great views of the Cleveland plain and the Pennines to enjoy. View Full Details>>
Fairfield Horseshoe
10 miles (16 km)
This is a challenging horseshoe shaped walk which takes you on a tour of some of the Lake District's most beautiful fells. The walk begins at Ambleside and heads towards Rydal Mount, the historic home of William Wordsworth. You climb to Heron Pike and then onto Great Rigg and Fairfield before returning to Ambleside via Dove Crag, High Pike and Low Pike. The views are spectacular with Rydal Water, Grasmere , Lake Windermere and Coniston Water all visible from the peaks.
This is an extremley challenging walk with an ascent of nearly three thousand feet. The paths are well defined however, care should be taken on the summit of Fairfield where in poor visibility there is the danger of steep drops to the north and west. View Full Details>>
Fan Gyhirych
1 miles (2 km)
This walk climbs to the  2379 feet (or 725 m) summit of Fan Gyhirych mountain in the Fforest Fawr section of the Brecon Beacons National Park. View Full Details>>
Fan Y Big and the Cribyn
7 miles (12 km)
This walk makes use of the Brecon Beacons Way to take you to Fan Y Big and Cribyn mountains from the Blaen y Glyn Waterfalls. You start off in the Blaen y Glyn car park and climb to the 719 m (2,359 ft) summit of Fan Y Big. This section passes along the spectacular Craig Fan Ddu with wonderful views towards Fan Y Big. From the Fan Y Big summit you continue west along Craig Cwm Cymwyn to the 795 m (2,608 ft) summit of Cribyn. You can extend the walk by continuing west to the summit of Pen Y Fan.
It's a spectacularly beautiful area with wide ranging views across the national park. Also look out for a wide variety of wildlife which includes red kites, sky larks, meadow pipits, peregrines and kestrels. View Full Details>>
Firle Beacon
4 miles (6 km)
This circular walk takes you to the splendid Firle Beacon in the South Downs. The popular route makes use of the The South Downs Way and various bridleways and country lanes to take you to the beacon from the pretty village of Firle.
The start point for the walk is the little village of Firle, located just a few miles from Lewes. You can enjoy a stroll through the village with its three pubs, old church, cricket green and little pond. You will also pass Firle Place and its surrounding grounds. The old manor house was first built in the late 15th century by Sir John Gage. The route follows a bridleway around the grounds of the house before ascending to Firle Beacon. From the 712 feet (217 m) summit there are wonderful views over the Weald towards the south coast. The Firle Escarpment is also a Site of Special Scientific Interest. The large area of chalkland is home to a variety of flora and fauna. Look out for the rare spider orchid Ophrys sphegodes and Exmoor Ponies as you make your way through this lovely area.
From the beacon summit you descend on the South Downs Way before picking up Firle Bostal country lane to take you back to the village. This lane is shown on the google street view link below.
It's easy to extend your walk by continuing west from the beacon along the South Downs Way to Beddingham Hill. Another option is to start the walk from the nearby village of Alfriston on the Cuckmere River. You can then follow the South Downs Way to the beacon via Bostal Hill.
You could also visit the lovely Mount Caburn Nature Reserve with its interesting plants, flowers and wildlife. View Full Details>>
Fleetwith Pike
4 miles (6 km)
This walk takes you to the 648 metres (2,126 feet) summit of this imposing fell in the Lake District. This circular walk starts at Gatesgarth in the Buttermere valley and climbs steeply to the summit via Fleetwith Edge. From here there are wonderful views of the nearby Pillar and Great Gable fells and the lakes of Crummock Water, Loweswater and Buttermere. From the summit the route then descends to Bell Crags, passing Honistor Crag on the way. You continue to Wanscale Bottom, passing waterfalls and the pretty Wanscale Beck.
It's a steep and challenging climb to the summit but with an easier, more gradual descent. View Full Details>>
Foel Cwmcerwyn
4 miles (6 km)
Climb to the highest point in the Presili Hills on this challenging walk in Pembrokeshire. The hill stands at 1759 feet and commands wonderful views of the surrounding area.
The walk starts at the Bwlch Gwynt car park on the B4329 and follows a woodland trail through the northern end of the Pantmeanog Forest before picking up a mountain track to the Foel Cwmcerwyn summit. Here you will find a trig point, a number of cairns and fabulous views. You can also reach the hill from the little village of Rosebush in the south-west.
From the same car park you can also easily climb Foel Eryr. It's only about a half a mile climb from Bwlch Gwynt and makes a nice extension to the walk. Alternatively you could extend your walk by following the wonderful Preseli Hills Golden Road east to visit the Iron Age Hillfort at Foel Drygarn near Crymych. View Full Details>>
Foel Fras
9 miles (15 km)
Climb to the summit of Foel Fras on this challenging climb in the Carneddau mountain range in the Snowdonia National Park.
The walk starts from the pretty seaside town of Llanfairfechan and climbs towards Garreg Fawr along the North Wales Coast Path. You continue to Pen Bryn Du before reaching the 770 m (2,526 ft) of Drum. From Drum you climb to Foel Fras with wonderful views down towards the pretty Llyn Anafon below. The summit of Foel Fras stands at 942 m (3,091 ft) making it one of the Welsh 3000s (mountains over 3000ft high). From the high pint there are wonderful views over Carneddau and the rest of Snowdonia.
This route descends straight back to LLanfairfechan but you have other options if you'd like to extend your walk. You could continue south and climb to Carneddau Llewellyn, the second highest peak in Wales after Snowdon. This would take you past Garnedd Uchaf and Foel Grach. You could also descend back to Drum and head east to visit Pen Y Castell.
As an alternative you can start the walk from the beautiful Aber Falls by heading left from the car park along the North Wales Coast Path towards Garreg Fawr. Then follow this route from there. View Full Details>>
Fontmell and Melbury Downs
5 miles (7.5 km)
Enjoy a variety of beautiful flora and fauna in this nature reserve in Compton Abbas on the Dorset/Wiltshire border. The area is associated with the novels of Thomas Hardy and includes a climb to Melbury Hill for wonderful views over the area. Also look out for a variety of birds, butterflies, wildflowers and orchids in this delightful area.
The walk starts from the car park at the top of Spread Eagle Hill and follows footpaths to Compton Abbas. From here you climb past Compton Down before reaching the 863 feet summit of Melbury Hill. From here there are splendid views over Blackmore Vale, Vale of Wardour and Shaftesbury. On the summit there's a handy toposcope which details the landmarks you can see. From the summit the walk then descends back to Compton Abbas before crossing Fontmell Down and returning to the car park.
At the end of your walk you can enjoy refreshments at the Compton Abbas Airfield Restaurant which is located just to the east of the car park. View Full Details>>
Fountains Fell
8 miles (13 km)
Climb to this prominent fell in the Yorkshire Dales and enjoy wonderful views over the surrounding hills and countryside. The circular walk starts from the beautiful Malham Tarn and climbs to the fell using a section of the Pennine Way National Trail. The route climbs to a height of 668 metres (2,192 ft) with lovely views of the pretty Fountains Fell Tarn below. At the northern tip of the route you have the option of following the Pennine Way north west to Pen y ghent, one of the famous three peaks of Yorkshire.
To extend your walking in the area you can explore the Malham Tarn estate with its glacial lake and Tarn Moss Nature Reserve. There's also the climb to Gordale Scar, the fascinating Malham Cove and the beautiful Janet's Foss waterfall to visit on the estate.
The route of the Settle Loop also passes just to the south west of the fell. View Full Details>>
Friar's Crag
1 miles (1.5 km)
This short walk in Keswick visits a beautiful viewpoint overlooking Derwentwater. You can start the walk from the theatre car park just north of the crag. The route then passes along the lake before coming to the viewpoint. Here you can enjoy a rest on the bench and take in the stunning views across the lake and Derwent Isle. You will also pass the memorial to John Ruskin, the leading English art critic of the Victorian era. He has strong associations with Keswick and greatly admired the view from Friar's Crag.
After taking in the views you can return to the car park the same way or head around Strandshag Bay and return through Cockshott Wood. Just to the east of Cockshott Wood you can take a small detour and visit Castlehead Woods and the Castlehead viewpoint. It's worth visiting as you can enjoy wonderful views of the surrounding fells with a toposcope naming them all.
If you would like to extend your walk further you could continue south and explore Great Wood before climbing to Walla Crag. Also nearby is the wonderful Castlerigg Stone Circle. View Full Details>>
Frodsham Hill
3 miles (5 km)
Climb to this prominent hill on the Mid-Cheshire Ridge on this lovely walk in Cheshire. Frodsham or Overton Hill stands at a height of 500 feet (152 metres) offering fabulous views over the Cheshire Plain and the Mersey estuary. The walk also visits Woodhouses Iron Age Hillfort which is protected as a Scheduled Ancient Monument.
The walk starts at the Frodsham Hill car park just to the south of the hill on Bellemonte Road. From here you can pick up the North Cheshire Way to the Frodsham War Memorial. The sandstone obelisk is dedicated to the memory of the fallen in World Wars I and II and sits on Frodsham Hill. From here you pick up the Sandstone Trail and head south west along the ridge to Woodhouse Iron Age Hillfort. You then turn around and follow woodland trails back to the start point.
To extend your walking in the area you could head to the nearby Helsby Hill where there's another Iron Age Hillfort, more great views and nice woodland trails.
The Delamere Way also passes the hill. You can follow it south east to visit Delamere Forest and Blakemere Moss Lake near Kelsall. View Full Details>>
Froggatt Edge Circular Walk
4 miles (6 km)
Enjoy splendid views over the Dark Peak on this climb to the gritstone escarpment of Froggatt Edge. There's interesting rock formations, sheltered birch woodland and lots of lovely heather to see in the late summer.
You can start the walk from the car park just to the south of Nether Padley on the A625. Grindleford railway station in Upper Padley is also very close by.
From the car park you can pick up footpaths heading south along the escarpment toward the village of Froggatt. It's a nice path with attractive woodland, a pretty stream and splendid views to enjoy.
The route then descends to the village of Froggatt which has a pub and a quaint 17th-century bridge. At the bridge you can pick up the Derwent Valley Heritage Way to take you along the river toward Grindleford. Here you turn east to follow woodland trails through Hay Wood back to the car park. Near here you can enjoy refreshments at The Grouse Inn which offers a good selection of meals. View Full Details>>
Garth Hill
4 miles (6 km)
This challenging walk takes you to the summit of Garth Hill or Mountain near Cardiff. The hill is thought to be the inspiration for the fictional hill featured in the film 'The Englishman Who Went Up a Hill But Came Down a Mountain' starring Hugh Grant.
The walk begins in the village of Taff's Well and follows the Taff Ely Ridgeway Walk to the 307 m (1,007 ft) summit. Here you can enjoy fantastic views of Cardiff, the Bristol Channel and the Taff Valley. You will also find a number of burial sites dating from the early to middle Bronze Age, around 2000 BC. You descend on country lanes, crossing the River Taff and finishing back in Taff's Well.
To extend your walking in the area just head a mile to the east and visit Castle Coch and Fforest Fawr. View Full Details>>
Garway Hill
1 miles (1.5 km)
Climb across Garway Common to the summit of Garway Hill on this walk in in south-west Herefordshire. There is a car park on the south eastern corner of the common where you can pick up the footpath to the hill. From the 1200ft (366m) summit there are splendid views over the Bristol Channel into Wales. On a clear day you can see Ross-on-Wye, May Hill, Skirrid Fawr, Sugarloaf Mountain and the Forest of Dean. After climbing the hill you can pick up any number of footpaths to explore the rest of Garway Common.
To extend your walking in the area you could head to nearby Grosmont and pick up the Three Castles Walk. View Full Details>>
Glaramara
5 miles (8 km)
This walk climbs to Glaramara, a substantial fell in the Borrowdale area of the Lake District.
Start the walk from the car park at Seatoller about 2.5 miles north of the fell. You then follow the Honister Pass east for a short distance before turning south along the path that will take you up to the fell. The path runs along Combe Gill to Thornthwaite Fell before passing Combe Head and arriving at the Glaramara summit. From here there are fantastic views of the Borrowdale Valley, Derwent Water and Skiddaw.
To extend your walking in the area you could head to the nearby Seathwaite car park and enjoy a circular walk to Styhead Tarn and Sprinkling Tarn. This includes a visit to the lovely Taylor Gill Force Waterfall.
The Allerdale Ramble also passes Seatoller View Full Details>>
Glastonbury Tor
2 miles (2.6 km)
This popular walk takes you from the ruins of Glastonbury Abbey to the summit of the iconic Glastonbury Tor. The circular walk runs for about 2 miles with a moderate climb on the way. View Full Details>>
Glyder Fawr and Glyder Fach
5 miles (8 km)
Explore the Glyderau mountain range on this spectacular walk in Snowdonia. The challenging walk visits the peaks of Glyder Fawr and Glyder Fach with incredible views towards Tryfan and over Llyn Ogwen and Llyn Idwal. You will also pass incredible rock formations in the form of the Cantilever Stone and Castell y Gwynt. 
The walk starts at Llyn Ogwen by Idwal Cottage where parking is available. You then climb towards the pretty Llyn Bochlywd and then on to Bwlch Tryfan. You continue to the peak of Glyder Fach, the second highest of the Glyderau range and the sixth highest in Wales. There is a challenging section over the spectacular Bristly Ridge where some scrambling is required. It's a stunning ridge with truly awe inspiring views over Nant Ffrancon and Cwm Idwal. At the summit of Glyder Fach you will find the precariously positioned Cantilever Stone.
The climb then continues to the high point of the Glyderau range at the 1000m high Glyder Fawr. You will pass the magnificent Castell y Gwynt with its series of tall spiky rocks and enjoy views towards Snowdon on this section.
The descent back to Llyn Ogwen passes the two pretty lakes of Llyn y Cwn and Llyn Idwal with wonderful views over the Ogwen Valley.
If you'd like to continue your walking in this area then the Cwm Idwal and Tryfan walks are both nearby.
The climb to Elidir Fawr can also be tackled from the nearby Nant Peris at the bottom of the Llanberis Pass. View Full Details>>
Goatfell
7 miles (10.5 km)
Climb to the high point on the Isle of Arran and enjoy wonderful views over the surrounding area on this challenging walk.
The walk starts from the Cladach  car park near Brodick Castle. You can reach Brodick by catching the ferry from Ardrossan Harbour. Trains run to Ardrossan Harbour from Glasgow and take about 45 minutes so the walk is quite accessible if you are coming without a car from the city.
From Brodick the route ascends on a good path through woodland and heather moorland. At the 874 m (2,867 ft) summit there are wide ranging views with the Arran peaks, the Mull of Kintyre, the Clyde Estuary and Ireland all visible on a clear day. You descend on the same path with great views of Brodick Bay as you go.
If you'd like to continue your walking in the area then you could explore the lovely Brodick Castle Country Park which has lots of good walking trails to try. View Full Details>>
Gog Magog Hills
10 miles (16 km)
This walk explores the Gog Magog Downs, a ridge of low chalk hills extending for several miles to the southeast of Cambridge.
You start your walk at the village of Stapleford four miles to the south of Cambridge. The village became famous when it emerged that Barack Obama was a direct descendant of Thomas Blossom, who lived in Stapleford during the 16th century before emigrating to the United States.
You can pick up footpaths taking you from the village to Ash Grove, crossing the River Granta on the way. The walk then climbs to Copley Hill and Wandlebury Country Park where there is an Iron Age Hill Fort and a nature reserve. View Full Details>>
Goodrich Castle and Coppet Hill
6 miles (9 km)
Explore the Goodrich Castle estate before climbing to Coppet Hill on this walk in Herefordshire. There's fascinating history, woodland trails and great views from the high points to enjoy.
You can start the walk from the Goodrich Castle car park. First explore the ruinous Norman medieval castle described by Wordsworth as the 'noblest ruin in Herefordshire'. Then follow the footpaths south through Goodrich before climbing Coppet Hill. The hill is also a nature reserve with woodland and lots of wildlife. Look out for butterflies, deer and a variety of birdlife. From the high points of the hill you can see the Brecon Beacons, the Clee Hills and the Malvern Hills.
You can use the google street view link below to virtually explore part of the castle grounds and see the great views you get of the surrounding Herefordshire woodland and countryside.
To extend your walking in this lovely area you could pick up the Wye Valley Walk and enjoy a waterside walk along the River Wye. Follow the river south east and it will take you towards Welsh Bicknor, Lower Lydbrook and the Forest of Dean. Eventually you will come to Symonds Yat Rock where there are woodland trails and wonderful views over the Wye Valley. Near here is the mysterious King Arthur's Cave which is also worth a visit.
The castle and hill are located a few miles south of Ross-on-Wye. You could follow the riverside path from the town as an alternative route. View Full Details>>
Gordale Scar
4 miles (7 km)
This circular walk climbs to the spectacular Gordale Scar in the Yorkshire Dales. It's a popular walk through a wonderful limestone ravine with streams, waterfalls and striking geological features to enjoy. The unique area is about 16 million years old and has its own micro-climate which allows rare wildflowers and plants to thrive iin the gorge.
The circular trail runs for just over 4 miles and includes some moderate climbs and a bit of a scramble around the waterfall so a reasonable level of fitness is required.
You start in the pretty village of Malham and follow Gordale Lane and Gordale Beck north east to Gordale Scar. Here you will find two waterfalls and overhanging limestone cliffs over 100 metres high. It's a truly stunning sight and well worth the climb from Malham. From Gordale Scar you continue the climb towards Seaty Hill where there are magnificent views of the Yorkshire Dales. The final section descends along country lanes to Malham Village. View Full Details>>
Gordon Way
11 miles (18 km)
Explore the Bennachie range in Aberdeenshire on this challenging walk. The route starts at the Bennachie Centre and heads west through Bennachie Forest, past Oxen Craig (the highest of the range) to Suie in the west. The views from the Bennachie ridge are stunning.
To climb to the two highest points in the range try our Bennachie Circular Walk which starts from the visitor centre. View Full Details>>
Gowbarrow Fell
4 miles (6.5 km)
This circular walk visits Aira Force Waterfall before climbing to Gowbarrow Fell above Ullswater Lake. The route uses a section of the Ullswater Way long distance trail to take you around Gowbarrow Park where there's pretty becks, woodland and wonderful views from the high points.
The park was previously a medieval hunting-park, which belonged to the lords of Greystoke. The fell, along with 750 acres of the park, were bought by the National Trust in 1906.
Start the walk from the National Trust Aira Force car park, just off the A592. Pick up the trails heading north through ancient woodland to the spectacular 65ft high waterfall. View Full Details>>
Grasmoor
7 miles (10.5 km)
This challenging circular walk climbs Grasmoor from the Buttermere Valley in the Lake District. The walk begins at the parking area at Lanthwaite at the northern end of Crummock Water. You then climb to Whiteside fell, passing Whin Ben on the way. From the peak of Whiteside there are extensive views of West Cumberland, the Solway Firth and the hills of Scotland. The next section takes you from Whiteside to Hopegill Head along a spectacular ridge with wonderful views of Gasgale Gill. The peak of Hopegill Head is a special place with views of the Isle of Man, the Scottish Border hills and the Helvellyn range. The walk continues to Sand Hill and the 852 m (2,795 ft) Grasmoor summit. From here there are splendid views over the surrounding fells and lakes. The walk then descends to the shores of Crummock Water, passing Lad Hows and Cinderdale Beck and common. View Full Details>>
Great Dun Fell
11 miles (18 km)
This walk takes you to the second-highest hill in the Pennines, and makes use of Britain's highest road. The fell includes some bridleways and country lanes so much of the route is suitable for cycling as well.
You start in the village of Dufton and follow the Pennine Way along Hurning Lane to Cosca Hill where you cross Great Rundale Beck. You continue the ascent, crossing Swindale Beck and passing a series of Cairns before arriving at Green Fell. Here you turn left and head to the summit of Great Dun Fell where you will find a a large radar station at the 848 m (2,782 ft) high point. There are also wonderful views across the Eden Valley, Cross Fell and North Pennines AONB.
From the summit you descend on Britain's highest road which takes you all the way to Knock Village, passing Green Castle and Knock Pike on the way. The final section follows a country lane from Knock to the finish point at Dufton.
The complete route below is designed for walkers but Great Dun is a very popular climb for cyclists as you can make use of the tarmac road that runs from Knock to the summit (it is essentially the descent section of this route). It is considered by many cyclists to be the greatest climb in Britain. Click here for the gpx file which just includes the tarmac road climb for cyclists. Also see the video below to see what you can expect!
If you're looking to continue your walking in the area then you could climb Cross Fell - the highest hill in the country, outside of the Lake District. Also nearby is the lovely Cow Green Reservoir and Cauldron Snout waterfall. You can also visit High Cup Nick waterfall set in a spectacular glacial valley. View Full Details>>
Great Gable
5 miles (8 km)
Great Gable is one of the most popular mountains in the Lake District for climbers. It's a steep ascent with rugged paths, a fair amount of scrambling and some of the most spectacular rock scenery in the Lake District.
This circular walk starts at the car park at Seathwaite and ascends to Stockley Bridge following Grains Gill along the way. You continue to Greenhow Knott where you will pass the beautiful Taylor Gill Force waterfall which drops an impressive 140 feet into the Seathwaite Valley. The next section takes you along Styhead Gill to the lovely Styhead Tarn turning north west to the summit of Great Gable. View Full Details>>
Great Shunner Fell
8 miles (13 km)
Climb to the highest point in Wensleydale on this popular walking route in the Yorkshire Dales National Park. The route begins at the village of Hardraw near to the lovely Hardraw Force Walk waterfalls. It then follows the Pennine Way National Trail to the fell top which lies about 4.5 miles north of the village. As such the path is well defined and way-marked. The route continues along the trail to Thwaite where there is an old bridge and some waterfalls. You can turn it into a circular walk by following the Cliff Gate Road south if you prefer.
There are fabulous views from the summit of Wensleydale to the south, Ribblesdale to the south west and Swaledale to the north, as well as views into Cumbria and County Durham.
To extend your walking in this lovely area you could pick up the 10 mile Hawes Circular Walk which takes you on a tour of the rivers, becks, waterfalls and hills surrounding the town. View Full Details>>
Great Whernside
4 miles (6.5 km)
Climb to this prominent fell on this walk from Kettlewell to Great Whernside in North Yorkshire. Great Whernside forms the watershed between Wharfedale and Nidderdale, and is on the boundary between the Yorkshire Dales National Park and Nidderdale Area of Outstanding Natural Beauty. You can ascend to the 704 m (2,310 ft) summit from the village of Kettlewell. It's about a 2.5 mile climb and considered by many to be one of the best in the Yorkshire Dales. From the summit there are wonderful views of Pen y ghent, Ingleborough, Whernside, Pendle Hill and the Lake Distirct Mountains.
This route climbs to the summit directly from Kettlewell, following a footpath to Hag Dike and then on to the summit. You can turn it into a longer circular route by continuing north from the summit to Blackfell Top and Black Dike and then descending to Starbotton Road. See our Circular Walk around Kettlewell for more details.
Kettlewell is a pretty little village with a car park where you can start the walk. After your walk there's good pubs and cafes where you can refresh yourself after your exercise.
There's lots of good options for extending your walking in the Kettlewell area. The Dales Way runs through the village so you could pick up the long distance path and head south to the market town of Grassington. Here you can enjoy riverside paths along the River Wharfe and a visit to the pretty Linton Falls.
Just to the north is the village of Buckden where you can climb to Buckden Pike. View Full Details>>
Grindslow Knoll
5 miles (8 km)
This challenging circular walk visits Grindslow Knoll and Grindsbrook Clough in Edale in the Peak District. It's a beautiful area with interesting rock formations and wonderful sweeping views over the Peak District.
The walk starts from the pretty village of Edale which can be reached by train from Manchester or Sheffield. You then ascend to the Nab where there are splendid views of the Hope Valley. You continue to Ringing Roger where you will find a fascinating formation of weathered rocks and another fabulous viewpoint. The route continues along the spectacular Kinder Plateau, passing Nether Tor and Upper Tor before reaching Grindsbrook Clough. There is a popular alternative footpath here which runs along the Grindsbrook Clough back to Edale. It's a lovely waterside section along the Grinds Brook with pretty waterfalls along the way. This route, however continues to the summit of Grindslow Knoll, where there are great views of the Kinder Plateau, the Hope Valley and the Great Ridge. From here, the walk descends back to Edale where you can enjoy refreshments at the Old Nags Head pub. The pub is famous for being the start of the Pennine Way long distance walk. View Full Details>>
Grinshill
2 miles (3.4 km)
This circular walk visits Corbet Wood and the viewpoint at Grinshill, near Shrewsbury. It's a pretty area with peaceful woodland trails and great views over South Shropshire and the Welsh Borders from the dramatic cliff tops at Grinshill Hill.
The site includes some rugged trails and an easier, family friendly route.
Grinshill is a geologically interesting area with stone quarried in the area since at least the 12th century. It's great for wildlife too with many species of butterfly and birds including coal tits, goldcrests, warblers and woodpeckers.
The route also visits the little village of Clive, birthplace of the English Restoration dramatist William Wycherley, author of 'The Country Wife'. It's nice to stroll around the village with its pretty cottages and Victorian church.
You can start the walk from the car park at Corbet Wood, next to Grimshill Quarry. Then follow the woodland trails west toward Clive. Just before Clive you can turn left and follow paths up to the Grinshill viewpoint which stands at a height of 192 metres (630 ft).
After taking in the views descend back to the path and head to the village of Clive. Here you'll find a lovely church made from the two different coloured sandstones quarried from Grinshill.
The walk then returns to the car park along a section of the Marches Way. View Full Details>>
Grisedale Pike
7 miles (11.5 km)
Climb to this striking fell on this challenging walk near Keswick. The circular walk climbs to the summit of Grisedale Pike before visiting Hopegill Head and Sand Hill. It's a challenging walk but the path is mostly well defined.
Start your walk from the car park on Whinlatter Pass just to the west of the village of Braithwaite. From here you can directly pick up the Grisedale Pike Path heading south west. The popular path climbs to the summit which stands at 791 m (2593 feet). From here there are wonderful views to the Cumbrian coast, the Vale of Keswick, the Pennines and the head of Derwentwater. On a very clear day you can even see the Belfast Hills and the Southern Uplands of Scotland.
The route then continues south west to Hopegill Head which stands at a height of 770 m (2,530 ft). The head includes the 130 metre (417ft) high cliff of Hobcarton Crag, which drops precipitously to Hobcarton Gill on the fell's north east side. From the summit the The Isle of Man is seen on clear days, as are the Scottish Border hills. To the east you can clearly see the Helvellyn range.
From Hopegill Head the walk descends to Sand Hill and Coledale Hause, before turning east towards the Force Crag Mines. The National Trust now own the area which was an important part of the Cumbrian mining industry. For over 200 years men worked the isolated spot digging for lead in the early years and then later barites and zinc.
The final section follows the Coledale Beck back to Braithwaite.
The village is located near to several other walking atttractions so there is great scope for extending your walk. Just to the north is the splendid Whinlatter Forest Park where there are miles of great walking paths and mountain bike trails. Just to the east you can pick up the Cumbria Way long distance trail and enjoy a walk along Derwent Water and a climb to Catbells. View Full Details>>
Gummers How
1 miles (2 km)
Enjoy wonderful views over Lake Windermere on this short climb to Gummers How in the Lake District National Park. Gummers How is a fairly small hill at the southern end of Lake Windermere, near to Fell Foot Country Park. It stands at a height of 321 m (1,053 ft) and can be easily climbed from a parking area near Fell Foot Brow or you could go for a longer climb from Fell Foot Country Park itself. It's a lovely footpath with terrific views over Windermere, Lakeside, Newby Bridge and the coast. There's also a number of other trails which you can use to explore the area around the hill. Just to the east you can visit the interesting hamlet of Cartmel Fell where you will find a Grade I listed church dating from 1504. There's also Raven's Barrow where there are fine views from over the Winster valley to enjoy.
If you'd like to extend your walk you could pick up the Windermere Way which runs past the hill. View Full Details>>
Haddington Hill
3 miles (4.5 km)
Enjoy a climb to the highest point in the county of Buckinghamshire on this circular walk in Wendover Woods.
There's a car park located very close to the hill summit from which you can start the walk. Follow the path east and you will soon reach the 267 m (876 ft) summit where you will find a rock marking the high point of the Chilterns. The rest of the route explores some of the footpaths to the south of the hill before returning to the car park.
The Icknield Way Path and The Ridgeway long distance trails both pass the hill. To continue your hill climbing in the Chilterns, follow the trails west to Coombe Hill. Here you can enjoy fabulous views over the Aylesbury Vale and the Cotswolds. View Full Details>>
Hallin Fell
2 miles (3.5 km)
A splendid walk from Howtown climbing to Hallin Fell on the southern side of Ullswater. From the fell summit there are fabulous views of the lake and surrounding fells of the Martindale Valley. View Full Details>>
Hambledon Hill
2 miles (4 km)
Climb Hambledon Hill and enjoy far reaching views over the Cranborne Chase AONB on this walk near Child Okeford in Dorset. On the hill you will find one of the country's best preserved Iron Age hill forts. The area is also a National Nature Reserve so there is an abundance of interesting flora and fauna to look out for. Plants include pyramidal orchid and wild thyme while butterfly species include dingy skipper, grizzled skipper, chalkhill blue and adonis blue. From the 192 m (630 ft) summit there are fabulous views over rhe Blackmore Vale, the river Stour, Wiltshire and Somerset.
This circular walk starts from the village of Child Okeford and follows country lanes and the Stour Valley Way to the hill summit. You then descend back to the village via Fernhayes Copse.
The Stour Valley Way and the Wessex Ridgeway both cross the hill so you could pick up either of the long distance trails to extend your walk. View Full Details>>
Hambleton Hills
20 miles (32 km)
This walk explores the Hambleton Hills range on the western edge of the North York Moors. You'll visit the highest points on the hills with splendid views over the Vale of Mowbray, the River Rye Valley and the Vale of York. The route makes use of the Cleveland Way national trail for the duration of the walk.
Start your walk at the Kilburn White Horse car park and then head north past the iconic hill figure to the splendid Sutton Bank passing Roulston Scar on the way. The hill at Sutton Bank is the site of one of the most important prehistoric monuments in the region, an Iron Age hill fort dating from about 400 BC.
You continue past Gormire Lake and Hambleton Down before skirting the eastern edge of Boltby Forest. From here you head between Kepwick Moor and Arden Great Moor before coming to Black Hambleton which rises to a height of 1,308 feet (400 m). Take a while to enjoy the fabulous views over the surrounding moorland and woodland before returning on the same footpath. View Full Details>>
Haresfield Beacon
5 miles (7.5 km)
Enjoy woodland trails and wonderful views over the Severn Vale and the Cotswolds on this circular walk near Stroud. There are miles of walking and cycling trails on which to explore the large estate. On the way you will pass wildflower meadows, an Iron Age hill fort and the Bronze Age Long Barrow of Haresfield Beacon.
This walk starts at the car park and follows the Cotswold Way National Trail through Standish Wood. You pass the Long Barrow and Standish Quarry before heading through the countryside to Oxlynch. The path then passes Vinegar Hill and Ring Hill before reaching the topograph where you can enjoy splendid views. From the topograph it is a short walk back to the car park and the finish point.
The area is superb for interesting flora and fauna. Look out for bluebells in Standish woods and orchids and butterflies in the limestone grasslands. You may also see buzzards and kestrels from the viewpoints.
The whole of this route is for walkers but much of it is suitable for mountain bikers too.
If you would like to continue your walking in this beautiful area then you could head south of Stroud and visit Rodborough Common and Woodchester Park for more great walking trails. You could also pick the Cotswold Canals Walk and enjoy waterside walking along the Stroudwater canal through Stroud. View Full Details>>
Harter Fell
2 miles (4 km)
An enjoyable climb to Harter Fell in the Eskdale area of the Western Lake District.
You can start the walk from the car park at Birks Bridge, just over a mile to the east of the fell. From here you head west, crossing the River Duddon before a woodland section through Dunerdale Forest. Follow the trails through the woods to Birks, Buck Crag, Mart Crag and Maiden Castle. Soon after you will come to the 649m summit of Harter Fell.
Here you will find three rocky tors and wonderful views of the Duddon estuary, Morecambe Bay, the Irish Sea and the Isle of Man. Several fells are also in sight including Sca Fell, Scafell Pike, Broad Crag, Great End, Esk Pike, Bow Fell and Crinkle Crags. View Full Details>>
Hartshead Pike
2 miles (3.5 km)
Climb this hill in Greater Manchester for great views over Ashton-under-Lyne, Mossley and Oldham. At the summit you will find the 19th century Hartshead Pike Tower, a Grade II Listed building. From the 267 m (876 ft) summit you can enjoy views over the Pennine Hills, the city of Manchester and even Snowdonia in Wales on a clear day. 
The circular walk starts near Mossley train station and climbs past Luzley Brows and Luzley Hall to Mossley Cross. You continue to Hartshead Pike before descending back to the town via Broad Carr.
If you would like to continue your walking in the area then you could pick up the Oldham Way which runs past Hartshead Pike. You could also pick up the Tame Valley Way and enjoy a walk along the River Tame through Mossley. You can also pick up the Huddersfield Narrow Canal and head across the Pennines and the Peak District towards Huddersfield. View Full Details>>
Hay Bluff
1 miles (1.5 km)
This is a popular climb to Hay Bluff hill in the Black Mountains. The hill straddles the border of Wales and England. Most of the area lies within Powys with the eastern flanks in Herefordshire. From the summit there are wonderful views over the Wye Valley and the Welsh Mountains.
This walk starts from the Hay Bluff car park located just half a mile north west of the hill. However, you could also start the walk from Hay on Wye. Just follow the Offa's Dyke Path south from the town centre for about three miles and you will reach the hill. The path passes Cusop and Tack Wood before arriving at the car park and Stone Circle at the foot of the climb.
The route to the 677 m (2,221 ft) passes Ffynnon y Parc on a good path.  You can further explore the area as the entire hill is designated as open country so walkers have the freedom to roam at will. View Full Details>>
Haystacks
5 miles (7.5 km)
Although not one of the highest of the Lake District fells at (597 m, 1,958 ft), Haystacks was one of Alfred Wainright's favourites. So much so that he chose to have his ashes scattered near the summit.
The walk begins at the car park at the south eastern end of Buttermere and starts by crossing Peggy's Bridge. You then cross Buttermere Fell, ascending to Scarth Gap and then to the summit. The view is magnificent with Gable Crag on Great Gable and the western panorama of Ennerdale Water and High Crag. Crummock Water and Buttermere are also visible.
The walk then heads past the lovely Innominate Tarn, a popular beauty spot with an indented rocky shore and a line of tiny islets. Shortly after you come to Blackbeck Tarn, a long slender pool which overflows through a cleft in the crags. You continue the descent through Warnscale Bottom with views of Warnscale Beck and a series of pretty waterfalls to enjoy.
If you'd like to continue your walking then a stroll around the nearby Ennerdale Forest and Buttermere Lake are always enjoyable. View Full Details>>
Healey Nab
4 miles (6 km)
Enjoy woodland, rolling hills, moorland, ponds and streams in this elevated area of countryside above Chorley. The area is great for walkers and mountain bikers with a network of paths criss-crossing the hill.
This route is designed for walkers to reach the hill from Chorley town centre but the area is also great for mountain bikers with a Red Route and Black Route to try in the wooded section of the route. If you look on the open street map below you can see the routes marked out in the woodland section on the Nab. Also see the video below for an idea of the jumps you can expect to find at the site.
This walk starts at Chorley train station and heads east crossing the Leeds and Liverpool Canal and the M61 to reach Healey Nab. You then follow footpaths past Chorley Reservoir and then across the Nab towards Anglezarke Reservoir, before climbing to the woodland area. You follow the woodland trails before descending back towards Chorley. The hill rises to a height of well over 600 feet so there are fabulous views over the surrounding hills, reservoirs and countryside of the West Pennine Moors.
You can extend your walking in the area by trying the Chorley Canal Walk to Adlington or heading to the delightful hamlet of White Coppice with its idyllic cricket pitch and series of reservoirs.
There's also a nice trail to try around the nearby Rivington Country Park and Rivington Reservoirs.
If you prefer you could reach the Nab by parking at the nearby Anglezarke Reservoir and then following the trails along the water. View Full Details>>
Hedgehope Hill
6 miles (9 km)
Climb to the 714 metres (2,343 ft) summit of Hedgehope Hill in the Cheviots on this challenging circular walk. The walk begins at the parking area at Langleeford by the Harthope Burn. You then ascend towards Housey Crags and Long Crags and onto the summit where there are fabulous views towards the coast and Lindisfarne Castle. You can descend the same way or head towards Harthope Linn waterfall where you can follow the Harthope Burn back to Langleeford. View Full Details>>
Helm Crag
4 miles (6 km)
Enjoy a circular walk to the summit of this distinctive fell in the Lake District. Alfred Wainwright said of Helm Crag: 'The virtues of Helm Crag have not been lauded enough. It gives an exhilarating little climb, a brief essay in real mountaineering, and, in a region where all is beautiful, it makes a notable contribution to the natural charms and attractions of Grasmere'. The route runs for a distance of about 4 miles along a series of public footpaths.
The ascent of Helm Crag is popular with walkers as it begins from the lovely town of Grasmere and is an easy/moderate climb.
The walk begins at the centre of Grasmere and follows the Easedale Road to Lancrigg, passing Easedale Beck on the way. You then follow footpaths to the summit of Helm Crag, passing White Crag on the way. The summit has wonderful views over Grasmere and towards the Helvellyn range. You will also see two rocky outcrops known as The Lamb & Lion and the striking 'Howitzer' which is the high point on Helm Crag. From the summit you soon reach Helmside where you descend back to Grasmere on country lanes. View Full Details>>
Helman Tor
2 miles (3.5 km)
This circular walk climbs to Helman Tor and then visits the adjacent Breney Common Nature Reserve in Bodmin.
You can park at the Helman Tor car park just south of the hill to start your walk. It's a short climb from here to the rocky outcrop which stands at a height of 209 m (686 ft). From here there are fabulous views over the surrounding Cornish coutntryside.
After descending from the tor the route then follows the Saints Way long distance trail around Breney Common. The reserve covers over 500 acres with heathland, grassland, wetland, woodland and ponds. It's great for widlife with grazing ponies and the rare Orange Tip butterfly to look out for. Various wildfowl can be seen on the open water too. View Full Details>>
Helsby Hill
1 miles (2 km)
Enjoy a climb to Helsby Hill Fort on this short circular walk in Cheshire. The hill is one of the notable landmarks of the area, standing over 450ft above the village of Helsby below. From the summit there are splendid views over the Mersey Estuary, the city of Liverpool and into Wales.
You can start your walk from the Helsby Quarry car park off Alvanley Road, about 1 mile to the south of the hill summit. Then head north, crossing the road before picking up the woodland trails towards the hill top. Here you pick up a section of the North Cheshire Way to take you to the edge of the woodland, before turning around and picking up the Middle Walk trail to take you back down the hill.
Several long distance trails pass Helsby Hill so you can pick any of these up to extend your walk. For example you could follow the Longster Trail south to Harmer's Wood and then on to the pretty Manly Mere where there is an adventure trail to try.
The Sandstone Trail runs just to the east of Helsby. On this trail you can climb to the nearby Woodhouses Hill Fort and then on to Frodsham Hill near Overton. Here you can also link up with the Delamere Way and follow it south east to the expansive Delamere Forest near Kelsall.
The Longster Trail starts on Helsby Hill so this is another good option. The long distance path runs from Helsby to Chester via the villages of Great Barrow and Guilden Sutton. View Full Details>>
Helvellyn
4 miles (6.5 km)
Climb to Helvellyn from Thirlmere Lake on this challenging climb.
Helvellyn is the third highest mountain in England at 950m (3,120 ft) and one of the most popular climbs in the country. It is situated in the Lake District National Park between Thirlmere Reservoir and Ullswater.
This route starts at the parking lot at Thirlmere Reservoir and takes a direct, short route to the summit via Helvellyn Gill and Browncove Crags. It's a steep ascent but the path is well defined for most of the route so there isn't much scrambling. The views from the summit are spectacular. On a clear day you can see the Solway Firth and hills of south-west Scotland to the north-west, Cheviot and the Pennine Hills to the north-east, Morecambe Bay, Blackpool and the coast of North Wales to the south, and the Irish Sea to the west. 
Thrill seekers can take an alternative route from Glenridding via Striding Edge - an exposed knife edge ridge which is not for the faint hearted. See the video bellow for details. View Full Details>>
Hen Cloud
1 miles (2 km)
Enjoy a short climb to Hen Cloud on this circular walk in the Staffordshire Peak District. The hill is on the southern end of a gritstone escarpment which includes The Roaches and Ramshaw Rocks.
You can start your walk from the roadside parking area on the Roach Road, just to the west of Hen Cloud. On the eastern side of the road you can pick up a footpath climbing to the summit. There's footpaths you can follow around the hill top with wonderful rock formations and fabulous views to enjoy as you go. View Full Details>>
Herefordshire Beacon and British Camp
2 miles (2.5 km)
This walk climbs to Herefordshire Beacon in the Malvern Hills Area of Outstanding Natural Beauty. As well as some splendid views the site includes the significant British Camp Iron Age Hillfort, first constructed in the 2nd century BC. The boundary between Herefordshire and Worcestershire also runs just past the hill to the east.
The hill includes a few different footpaths which you can use to make a circular walk. You can start from the car park just to the north of the hill, off the A449. There's handy information boards here giving a detailed history of the camp.
From the car park you can directly pick up a path to take you up to the top of the beacon. At the 338 m (1,109 ft) summit there are splendid views into the counties of Herefordshire, Worcestershire and Gloucestershire. Just to the west of the hill you can also see the lovely Eastnor Deer Park and mock 19th century castle.
Follow the paths south through the earthworks and defensive ditches of British Camp to Millenium Hill, before descending on other paths to the car park. You could also pick up other trails to take you to the pretty British Camp Reservoir, just to the south east of the car park.
You can pick up the Geopark Way long distance trail to further explore the Malvern Hills. Following the paths north will take you to the popular Worcestershire Beacon and the town of Great Malvern. If you head south you will soon come to Midsummer Hill where there is another Iron Age Hillfort and Scheduled Ancient Monument. View Full Details>>
Hergest Ridge
4 miles (6.5 km)
Cross the Hergest Ridge on this splendid walk on the England Wales border. The ridge runs between Kington in Herefordshire to the little village of Gladestry in Powys, Wales. It's an exhilirating and beautiful way to cross the border between the two countries. The route runs for about 4 miles along the Offa's Dyke Path reaching a height of 426 m (1,398 ft). There are fabulous panoramic views of the Welsh Hills and English countryside as you make your way across the ridge. The beautiful area inspired the 1974 album 'Hergest Ridge' by the English musician Mike Oldfield.
You can start the walk in the centre of Kington, picking up the trail on Ridgebourne Road and following it west up to the ridge. The route then passes Yeld Wood and Hanter Hill before descending into Gladestry where you can enjoy refreshments. The route also passes a disused Victorian circular country racecourse, popular between 1825 and 1846. You can still see the markings about half way along the ridge.
To extend your walk you can continue along the path towards Newchurch. The Mortimer Trail also passes through Kington so you can also pick up this path and explore the Herefordshire countryside north of the town. View Full Details>>
Higger Tor
4 miles (6 km)
This circular Peak District walk visits the prehistoric Carl Wark and Higger Tor on the eastern moor of the Dark Peak. It's quite a challenging walk reaching a height of 434 m (1,424 ft) at Higger Tor. From the high points there are splendid views over the Peak District landscape.
Start the walk from the parking area off the A6187 near Burbage Bridge. From here you can pick up the footpaths heading north onto Burbage Moor. The route continues along the Burbage Rocks to Upper Burbage Bridge where you turn south. You pass along Fiddler's Elbow before reaching Higger Tor where there's a number of strange grey gritstone rocks.
You continue south across Hathersage Moor where you will soon reach Carl Wark. The photogenic rocky promontory is faced by vertical cliffs on all but one side, which is protected by a prehistoric embankment. It stands at a height of 370 metres (1,214 ft) above sea level and is approximately 230 metres (750 ft) long and 60 metres (200 ft) wide.
After exploring Carl Wark the route continues south to the car park, passing another interestingly shaped rock at Toad's Mouth on the way. View Full Details>>
High Cup Nick
9 miles (14 km)
This circular walk explores High Cup Nick, a spectacular glacial valley and one of the major highlights in the North Pennines AONB. The whole of the valley is within an area mapped as open country under the Countryside and Rights of Way Act 2000 hence there is a general right for walkers to roam at will. The section of the Pennine Way running through the area is also a bridleway therefore legally available to cyclists and horseriders too.
This 8 mile route begins at the village of Dufton in the Eden Valley and starts by following the Pennine Way to Dod Hill and Peeping Hill. You continue your ascent to High Cup Nick where there is a waterfall and great views of the u-shaped glacial valley, the Eden Valley, Dufton Pike and Murton Pike. You'll also pass Nichol's Chair, a notable pinnacle of this rock on the northern side of the valley. It is named after a local cobbler who, for a bet, practised his craft perched on its summit.
The walk then descends through High Cup Gill where you will pass boulder fields on your way to High Cup Gill Beck. You continue along the beck through Middletongue Crag to Harbour Flatt where you join a country lane, taking you back to Dufton.
This is a special place with some spectacular geological wonders to enjoy. It is quite a steep and challenging climb but the footpaths are generally good for most of the walk.
An alternative route starts from Cow Green Reservoir, approaching High Cup from the east and following the Pennine Way to the summit.
If you would like to continue your walk you could head to the nearby Cow Green Reservoir and visit the wonderful Cauldron Snout waterfall. The circular High Force Waterfall Walk is another major highlight of the area. You could also head to Cross Fell for more wonderful views of the area. View Full Details>>
High Pike
6 miles (9.5 km)
This walk climbs to High Pike from the village of Caldbeck in the Lake District. The walk follows the Cumbria Way all the way from the village to the summit. As such the route takes place on good waymarked paths.
It's about a 3 mile walk from Caldbeck to High Pike. From the car park in the village head south to Nether Row before climbing past Low Pike to the 658 m (2,159 ft) summit. Here you will find a trig point and  a substantial wind shelter which has been built from the stones of a ruined cottage. There are great views of the Solway Firth and the Scottish Border hills to the north. To the south are good views of Skiddaw and Blencathra.
To extend your walking in the area try our Caldbeck Walk which visits the waterfalls along the beck before climbing to Brownrigg.
You could also continue south along the Cumbria Way and climb to Skiddaw. Just to the south east is Carrock Fell which is often climbed as part of a circular walk with High Pike.
Also nearby is the expansive Greystoke Forest where you will find miles of mountain bike trails and footpaths. View Full Details>>
High Stile
7 miles (12 km)
This walk climbs to the summit of High Stile in the Lake District. The walk follows the High Stile Ridge taking in the Buttermere fells of Red Pike, High Stile and High Crag. It's a challenging walk with a steep ascent and descent, but you are rewarded with fabulous views over the surrounding lakes and the North Western Fells.
The walk starts in Buttermere, passing the lake before climbing Red Pike via the pretty Bleaberry Tarn. From the summit of Red Pike there are wonderful views over a number of lakes including Derwentwater, Buttermere, Crummock Water, Ennerdale Water and Loweswater. View Full Details>>
High Street from Haweswater
6 miles (9 km)
Climb to the highest point in the far eastern section of the Lake District on this challenging circular walk. You can park at the Haweswater car park at Mardale Head at the southern end of the water to start your walk. You then pick up the footpath heading south west towards Small Water climbing along Mardale Beck. The path passes around Small Water to Nan Bield Pass before climbing to Mardale Ill Bell. At Nan Bield Pass you have the option of taking a detour and visiting Harter Fell.
From Mardale Ill Bell you climb around Blea Water to the 828 metres (2,718 ft) summit of High Street. The views are magnificent with the Pennines, the Helvellyn range and the Southern Fells all coming into view. The route then descends to Long Stile and Rough Crag with wonderful views back down to Haweswater as you go.
As an alternative you can head to Bowderthwaite Bridge where you can pick up a section of Wainwright's Coast to Coast long distance footpath. View Full Details>>
High Tor Matlock
1 miles (2 km)
This short climb takes you to High Tor hill between Matlock and Matlock Bath. The impressive limestone crag is just over a mile from the town centre and the train station. If you follow the Derwent Valley Heritage Way along the River Derwent south you will soon come to the tor. There's fantastic views of Matlock Bath, the Heights of Abraham, Riber Castle and the surrounding Peak District countryside from the summit. The hill also includes a splendid narrow walkway called 'Giddy Ledge'. Only try this if you've a real head for heights though! View Full Details>>
High Vinnalls
2 miles (4 km)
Climb to this wonderful viewpoint on this circular walk in Mortimer Forest in Ludlow. It's a challenging climb with the High Vinnalls viewpoint reaching a height of over 1200ft. From the high points there are fabulous panoramic views over the surrounding Herefordshire countryside.
This walk uses part of the Mortimer Trail long distance footpath. It starts at the High Vinnalls car park but you could start from Ludlow and follow the Mortimer Trail through the Mary Knoll Valley to reach the hill. To extend your walk you could follow the trail south to Croft Ambrey Hill Fort and woods. View Full Details>>
High Wheeldon
2 miles (2.5 km)
This walk climbs High Wheeldon Hill in the Upper Dove Valley area of the Peak District. It's a popular walk with the hill summit giving wonderful views over the Peak District. You can see Parkhouse Hill, Chrome Hill and the villages of Earl Sterndale, Longnor and Crowdecote.
The walk starts from the little village of Earl Sterndale near Buxton. The village is a popular start point for walks because of its proximity to Dovedale, Parkhouse Hill and Chrome Hill. View Full Details>>
High Willhays
6 miles (9 km)
Climb to the highest point on Dartmoor on this splendid circular walk in the Dartmoor National Park. The walk starts at the car park at Meldon Reservoir and takes you to the 621 metres (2,039 ft) summit via Longstone Hill and Black Tor.
You start with a pleasant waterside section along the shores of the pretty Meldon Reservoir. It has a spectacular dam with wonderful views over the West Okement valley. You then leave the reservoir climbing Longstone Hill towards Black Tor with its strking Logan Stone and great views over Walkhampton Common. The route then heads to the summit of High Willhays where there are fabulous views over Dartmoor and Devon. From the summit you descend to the impressive Yes Tor. It is the second highest peak on Dartmoor just two metres below High Willlhays.
The final section descends over Okehampton Common to the reservoir and the finish point. It's a challenging walk but on generally good paths and wonderful views as the reward. Also look out for Dartmoor Ponies as you go.
If you'd like to continue your walk you could follow the footpath around Meldon Reservoir or try the climb to Yes Tor which starts from the same car park. There's also the Dartmoor Way and Granite Way which also run past the reservoir.
You could start the walk from the nearby town of Okehampton by following the Granite Way to the reservoir. View Full Details>>
Highdown Hill and Highdown Gardens
3 miles (5 km)
This walk visits Highdown Gardens before climbing Highdown Hill in the South Downs. The walk begins at the car park at Highdown Gardens. Both the gardens and parking are free, though you are free to make a donation if you wish. You can then follow a series of footpaths through the park with its beautiful collection of rare plants and trees. The chalk gardens are situated on Downland countryside with wonderful views towards the sea. Highlights include two pretty ponds with fish, toads and newts, a Himalayan Birch Bark Cherry Avenue, a Rose Garden and a Herb Garden.
After touring the gardens you can then continue your walk to Highdown Hill. The hill stands at 81 metres (266 ft) and is a popular spot for walkers. From the summit there are wonderful views of the coast including the Seven Sisters and the Isle of Wight. View Full Details>>
Hole of Horcum
5 miles (8 km)
Enjoy a circular walk around this beautiful natural amphitheatre in the North York Moors. The hollow is 400 ft deep and was created over thousands of years by a series of landslides caused by water pressure. View Full Details>>
Holmbury Hill
3 miles (4.5 km)
Climb to the 856 feet (261 m) summit of Holmbury Hill on this circular walk in the Surrey Hills. The hill is the fourth highest point in the county and commands wonderful views over the surrounding area.
The walk starts in the village of Holmbury St Mary, next to the church. You then pick up the Greensand Way and follow it through Hurt Wood to the hill summit where you will find an Iron Age hillfort and great views over the Weald of Sussex.  You descend on more good woodland trails, returning you to the village. The area is also good for mountain bikers with a number of bridleways through Hurt Wood to try.
If you'd like to continue your walking in the area then you could head east and climb the nearby Leith Hill, the highest point on the Greensand Ridge. Around here you'll also find the expansive Abinger Common and Holmwood Common with miles of good trails to try.
If you head west you can climb Pitch Hill and explore the expansive Hurt Wood and Winterfold Forest. View Full Details>>
Holnicote Estate
3 miles (5 km)
This walk visits Selworthy Beacon and Bury castle in the splendid Holnicote Estate in Somerset. You start off in the village of Selworthy next to the church, and head to the nearby Bury Castle where you will find an Iron Age enclosure dating back to 400 B.C. You then climb to the 308 metres (1,010 ft) high Selworthy Beacon where there are marvellous views across Exmoor and the Somerset coast. It is one of the highest points in the Exmoor National Park along with Dunkery Beacon. From the high point you descend on Folly Combe, returning to the church soon after.
If you would like to continue your walking in the area you could head to the nearby Dunkery Beacon. It is the highest point in Exmoor and consists of a beautiful nature reserve with woodland walks. You could also pick up the South West Coast Path and head west along this lovely stretch of coastline towards Bossington Hill and Porlock or east toward Minehead. View Full Details>>
Holyhead Mountain
2 miles (3.5 km)
Climb to the summit of Holyhead Mountain on this walk on Holy Island, Anglesey. From the 722 feet (220 m) summit there are magnificent views towards the Isle of Man, the Skerries and the mountains of Ireland.
The walk starts from the car park at the lovely Breakwater Country Park. The park covers 100 acres and includes a nature trail, a large pond and a visitor centre. You then follow the coast path to North Stack before ascending the mountain. The mountain is historically significant with a late Roman watchtower at the summit and an Iron Age stone circle settlement near its foot. The area is wonderful for wildlife watching with puffins, stonechats and oyster catchers to look out for. You may also see grey seals in the summer months.
If you would like to extent your walk you could continue along the coast to South Stack Lighthouse. Here you can descend the 400 steps to the island and enjoy fabulous views on the way. The area also includes the South Stack RSPB nature reserve where you can look out for puffins and porpoises. View Full Details>>
Horsenden Hill
2 miles (2.5 km)
This circular walk in Ealing climbs to Horsenden Hill. The hill reaches a height of 85m / 276 ft commanding fine views over the city of London. It's a lovely place for a walk with areas of meadows, woodland, grassland and wetland attracting a large variety of wildlife. After climbing the hill you can continue your walk in the western part of the site where you will find wildflower meadows, hedgerows and the Grand Union Canal.
The Horsenden Hill site also includes a new Gruffalo trail for children. Look out for a series of delightful wooden sculptures representing the characters from the book.
You can pick up the footpaths from the car park off Horsenden Lane North. Perivale and Sudbury Town tube stations are also nearby.
The Capital Ring long distance walking trail crosses the hill so you can pick this up to extend your walk. If you follow the path north you will soon come to Sudbury Hill. Head south and you can visit Pitshanger Park and the Perivale Wood nature reserve. The pretty reserve consists of oak woodland, pasture, damp scrub, three ponds and two streams. It's only a 5 minute stroll from the car park and well worth a visit if you have time.
The Grand Union Canal also passes to south of the hill. You can pick up the waterside path and head west to Northolt or east towards Alperton. At Northolt you can visit Northala Fields with its lakes, streams and four distinctive hills made out of the rubble from the old Wembley Stadium View Full Details>>
Hound Tor
5 miles (8.5 km)
Hound Tor is considered one of the best view points in the Dartmoor National Park. It's a lovely walk to the 414 m (1,358 ft) summit with the landscape thought to have inspired 'The Hound of the Baskervilles'.
The walk starts from the Haytor Vale visitor centre where parking is available. You then head to Haytor Rocks which is one of the most popular natural beauty spots in Dartmoor National Park. From here there are excellent views of the coastline, the Teign Estuary and across Dartmoor. The route then picks up the Haytor Granite Tramway to take you to Holwell Tor and then onto Hound Tor, crossing the pretty Beck Brook on the way. Near the summit you will pass the fascinating remains of a deserted medieval village. It includes several buildings dating from the 13th century including longhouses, smaller houses and barns.
From the summit of Hound Tor you descend to Smallacombe Rocks and cross Haytor Down before returning to Haytor Vale. View Full Details>>
Humbleton Hill
5 miles (8.1 km)
Enjoy a walk to Humbleton Hill from Wooler and take in the great views over the Cheviot Hills.
The walk starts in the popular walking town of Wooler. Begin by following country lanes west out of the town to Wooler Common where you can pick up a trail along the Humbleton Burn. After about a mile you turn north, following a section of the St Cuthbert's Way past Brown's Law. You then branch to the right to pick up the trails that will take you up to the Humbleton Hill summit. Here you will find the remains of an Iron Age hillfort and splendid views towards Yeavering Bell, the Northumberland coast and the Scottish Hills.
The hill is also of historical significan being the site of the Battle of Homildon Hill fought between the English and Scottish armies in 1402. View Full Details>>
Hutton Roof Crags and Farleton Fell
5 miles (8.5 km)
Explore some of the finest limestone pavement in the country on this climb to Hutton Roof Crags and Farleton Fell. The scenery is striking with boulders and unusual rock formations covering the landscape. You'll pass across Hutton Roof Crags and climb over Newbiggin Crags before reaching the high point at Farleton Knot. All the way there are magnificent views over the surrounding fells. The area is also a nature reserve with a wide variety of interesting flora and fauna. Look out for fly orchids, lily of the valley and dark red helleborine. Wildlife includes small tortoiseshell and brimstone butterflies with birdlife such as woodpecker, long-tailed tits, redwing, fieldfare and mistle thrush. You may also see roe deer.
This circular walk starts in the village of Hutton Roof and follows the Limestone Link over Hutton Roof Crags and Newbiggin Crags before reaching the high point at Farleton Knott. From here there are fabulous views over the Lake District and the Yorkshire Dales. The route then follows country lanes and other footpaths back to Hutton Roof.
Hutton Roof Crags is located a couple of miles west of Kirkby Lonsdale. You could start the walk from here and follow the Limestone Link to the crags.
To extend your walking in the area you could pick up the Lune Valley Ramble and enjoy a riverside stroll along the River Lune.
Also nearby is the beautiful Barbondale where there is a nice walk to Calf Top Hill and along the Barbon Beck. View Full Details>>
Ilkley Moor
5 miles (8 km)
Visit this geologically fascinating area of West Yorkshire on this challenging and atmospheric circular walk on Ilkley Moor. The moor is in an elevated position above the town with attractive moorland and wonderful views over the surrounding countryside. It's a beautiful place with pretty heather in the summer and a myriad of different footpaths to follow.
Ilkley Moor is located just to the south of the town of Ilkley so you could easily reach it from the bus or train station in the centre of the town. Then follow the Dales Way Link south to take you onto the moor. This route, however, starts from the Cow and Calf car park on Hangingstone Road. Near here you will find the well known Cow and Calf rocks. This striking rock formation consists of a large rock and a smaller one, sitting next to each other like a cow and its calf.
From the rocks follow the paths west across the moor to Cranshaw Thorn Hill and Keighley Road, where you turn south to Whetstone Gate. The route then turns east to take you to another of the major landmarks on the moor. The Twelve Apostles is a fascinating Bronze Age stone circle with 12 stones made from the local millstone grit.
After leaving the Twelve Apostles you head north back towards the car park passing the Backstones stone circle on the way. After your exercise you can enjoy refreshments at the excellent Cow and Calf pub. View Full Details>>
Ingleborough Mountain
8 miles (13 km)
This walk climbs to Ingleborough, one of Yorshire's Three Peaks, standing at a height of 723 metres (2,372 ft). This circular walk starts in the village of Clapham and takes you along Clapham lake to Clapdale Woods. You continue along Clapham Beck toward Ingleborough Cave. You can take a short detour from the route to visit this show cave which has a long fossil gallery and interesting stalagmitic formations. From the cave you continue to Trow Gill where you will pass through a lovely, wooded limestone ravine before reaching Gaping Gill natural cave. You continue north to the summit where there are fantastic views over the Yorkshire Dales.
The descent takes you through Newby Moss to Newby Cote where you pick up a country lane which takes you back to Clapham .
If you'd like to continue your walking in the area then you could try climbing the other two of the Yorkshire Dales three peaks:-Pen y ghent and Whernside.
On the southern slopes of Ingleborough you will find the fascinating Norber Erratics. The geologically significant set of glacial boulders were probably deposited by melting ice sheets at the end of the last ice age, around 12,000 years ago. They can be reached by heading south from Sulber Nick to Moughton Scar and Crummack Dale. You can also approach the mountain from the north from the famous Ribblehead Viaduct on our Whernside, Ingleborough Circular Walk. This route climbs to the summit via Park Fell and Simon Fell before heading to nearby Whernside. View Full Details>>
Ivinghoe Beacon
5 miles (8 km)
Climb to the top of this iconic hill in the Chilterns on this walk in Buckinghamshire. Ivinghoe Beacon stands at 233 m (757 ft) and commands fine views over the Chiltern Hills and the Vale of Aylesbury.
The walk starts from the car park next to Pitstone Windmill and makes use of the Icknield Way Path to take you to the summit. The Pitstone Windmill has been restored by the National trust and is well worth a visit before you begin your climb to Beacon Hill. On the way you'll pass through chalk grassland and woodland with a wide variety of wildlife to look out for. View Full Details>>
Jenkin's Crag
1 miles (1.5 km)
This is a nice easy climb to try from Waterhead in Ambleside. It takes you from the northern end of Lake Windermere to a viewpoint overlooking the lake. There's a footpath near to the bus stop on the A591 which is signed for Jenkin's Crag. You climb toward Skelghyll Wood where you pick up woodland trails to the viewpoint. Here you can enjoy great views over the lake to the surrounding mountains. It's a short walk of about 0.5 miles and a nice one to do if you are staying in Waterhead or if you've got half an hour to spare before catching a bus from Waterhead!
The walk also passes the pretty Stagshaw Gardens. The gardens are owned by the National Trust and include a lovely collection of shrubs, plants and flowers including rhododendrons, azaleas and camellias. View Full Details>>
Kentmere Horseshoe
12 miles (19 km)
This challenging circular route explores the range of fells in the upper Kentmere valley area of the Lake District. The route visits some of the quieter areas of the national park while visiting a series of lesser known fells. There's wonderful views of several lakes, the surrounding fells, the Pennine Hills and the Lancashire coast. The path is generally pretty good for nearly all of the route.
The walk starts from the village of Kentmere located a few miles east of Ambleside. You then climb towards Garburn Nook along Crabtree Brow and Garburn Pass. The route then turns north to Yoke Fell which stands at a height of 706 m (2,316 ft). From here there are great views of Lake Windermere, Morecambe Bay, Coniston and Langdale.
From Yoke Fell you continue to Ill Bell where you will find a number of columnar cairns and splendid views towards the Scafells. The path continues to Thornthwaite Fell via Froswick Fell with great views of Kentmere Common and Kentmere Reservoir below.
At Thornthwaite Fell you turn east towards Mardale Ill Bell and Harter Fell. Here you can enjoy nice views down towards Haweswater before turning south toward Kentmere Pike. View Full Details>>
Kerry Ridgeway
15 miles (24 km)
This is an exceptionally beautiful walk or cycle through Powys and then into Shropshire.
The route runs along a ridge top overlooking Wales on the one side and England on the other with spectacular views for the duration of the ride. It runs for about 15 miles with a gradual descent when going from west to east.
You start at Cider House Farm near Kerry and head east to Bishop's Castle passing through Ceri Forest on the way. You will pass through heather moors, woodlands and bilberry rich heaths with fabulous views of the Welsh and Shropshire Hills. View Full Details>>
Kinder Scout
7 miles (11 km)
Explore the Kinder plateau on this exhilarating and challenging circular walk from the popular village of Edale. You will enjoy spectacular views of the Hope Valley and pass some fascinating gritstone rock formations.
The walk begins in the pretty village of Edale which can be reached by train from Manchester or Sheffield. You then pick up the Pennine Way and follow it to Upper Booth and on to the recently restored Jacob's Ladder footpath. The route then follows the spectacular Kinder plateau where you can enjoy some of the best views in the Peak District. At Grindsbrook Clough you descend to Edale along the delightful Grinds Brook with waterfalls and splendid views along the way. View Full Details>>
Kinver Edge
2 miles (4 km)
This National Trust owned woodland escarpment has miles of good walking trails to try. It's excellent walking country with lovely heathland, woodland trails and magnificent views over the surrounding Staffordshire and Worcestershire countryside. The sandstone ridge also includes an Iron Age Hill Fort and fascinating red sandstone formations. You can stop and admire the views from a number of seats dotted along the ridge top path.
This circular walk around the site starts from the parking area off Compton Road next to the Holy Austin Rock. You then follow a nice way marked trail along Kinver Edge to Nanny's Rock. You can actually explore this fascinating sandstone rock house with its five empty rooms and the 'devil's' chimney.
Just after Nanny's Rock the path heads north east through some pretty bluebell woods before returning to Holy Austin Rock House. This rock house has been restored by the National Trust so you can see how it would have looked when people lived in them. The houses are carved right into the rock and were inhabited right up until the 1960s.
The area is great for wildlife watching with highlights including green hairstreak butterflies, willow warbler and cuckoo. It's also great for flora with yellow gorse and lovely purple heather in the late summer months.
The long distance Staffordshire Way, Worcestershire Way and North Worcestershire Path all pass the site. You can easily pick up any of these trails to extend your walking in the area. Heading south will take you through Kingsford Country Park to Drakelow where there is a small multivallate Iron Age hillfort. Continuing along the Worcestershire Way will take you to Shatterford Lakes Wildlife Sanctuary, Eymore Wood and Trimpley Reservoir.
Heading north from the edge along the Staffordshire Way will take you to Enville. Cookley village on the River Stour can be also be easily reached by descending along the North Worcestershire Path. These are all nice places to visit if you feel like stretching your legs further.
For cyclists National Cycle Network Route 54 passes through Cookley just to the east of the site. If you are coming from Kidderminster you could follow the route north to Cookley and then follow country lanes east to each Kinver Edge. View Full Details>>
Kit Hill
1 miles (2 km)
This country park in Cornwall covers 400 acres with miles of good footpaths to try. The park was given to the people of Cornwall in 1985 by Prince Charles to mark the birth of his son Prince William. You can climb to the 334 m (1,096 ft) Kit Hill summit and enjoy wonderful views over the Tamar Valley AONB, Dartmoor and Bodmin Moor. At the top of the hill you'll find an artificial fort and a folly built built in the style of a low-walled Saxon castle. There's also a number of viewing tables which highlight features of the surrounding countryside you can see from the summit.
The area is great for wildlife with buzzards, sparrowhawks, deer and various butterflies to look out for. Attractive vegetation includes heathers, gorses, grasses and bilberry. There's also an interesting mining history with the 19th century Summit Stack a well known landmark.
The park is located just to the north of Callington and has a car park on the eastern side near Monkscross.
To continue your walking in the area you could try the Tamar Valley Discovery Trail and enjoy a waterside walk along the River Tamar. If you head a couple of miles east to Chilsworthy you can pick up the trail there. Also nearby is the splendid Cotehele House. The Tudor house has nice footpaths taking you around the extensive grounds. View Full Details>>
Langdale Pikes
4 miles (7 km)
This popular circular walk takes you to the top of the Langdale Pikes. One of the best known features of Great Langdale they include the Pike of Stickle, Loft Crag, Harrison Stickle and Pavey Ark. Alfred Wainright said of the Langdale Pikes: 'No mountain profile arrests and excites the attention more than that of the Langdale Pikes and no mountain group better illustrates the dramatic appeal of a sudden rising of the vertical from the horizontal; the full height from valley to summit is revealed at a glance in one simple abrupt upsurge to all travellers on the distant shore of Windermere and, more intimately, on the beautiful approach along Great Langdale. Nor is the appeal visual only: that steep ladder to heaven stirs the imagination, and even the emotions, and this is especially so whenever the towering peaks come into view suddenly and unexpectedly..'
The walk starts from the New Dungeon Ghyll National Trust car park and follows the spectactular Dungeon Ghyll Force waterfall on a footpath largely consisting of a series of stone steps. Most of the path is quite easy although there are a couple of rockier sections which require a bit of scrambling.
When you reach the summit you are rewarded with magnificent views of the surrounding area, with Lake Windermere and Elterwater clearly visible. The walk then takes you around the peaceful Stickle Tarn before passing Pavey Ark and heading west to Harrision Stickle. You continue to Pike of Stickle before descending to Loft Crag and Mark Gate.
If you'd like to try another nearby fell you could head to the nearby Bowfell. The route for this starts from very near to the start point for this one. View Full Details>>
Lantern Pike
5 miles (8 km)
This climb to Lantern Pike from Hayfield makes use of the Pennine Bridleway. It's a circular walk which starts in the village of Hayfield and takes you along the Sett Valley Trail to Birch Vale Reservoir. Here you turn north and climb to the 373 metres (1,224 ft) summit of the hill. At the summit you can take in some wonderful views of the surrounding Peak District hills and countryside. The walk then descends to the pretty hamlet of Little Hayfield before crossing Middle Moor and following the Snake Path back to Hayfield.
If you would like to continue your walking in the area then a walk to Kinder Scout and Kinder Reservoir is a great option. View Full Details>>
Latrigg
5 miles (8.5 km)
Climb this popular fell near Keswick on this lovely circular walk in the Lake District National Park. The walk starts in the town of Keswick and ascends Latrigg using the Cumbria Way and other footpaths. You continue towards Brundholme before returning through Brundholme Wood with a section along the Keswick Railway Path leading back into Keswick. This final section includes waterside walking along the River Greta.
The summit stands at 368 m (1,207 ft) and the views of Derwent Water, Keswick and down the valley of Borrowdale are stunning. This is a popular walk because of its proximity to Keswick. It is also a relatively straightforward climb on well defined paths.
Another popular fell is the nearby Catbells which gives faboulous views across Derwent Water.
Also nearby is the fascinating Castlerigg Stone Circle. The ancient stone circle is located about a mile from Kewswick and is well worth a visit. View Full Details>>
Latterbarrow
4 miles (5.7 km)
This is a fairly easy climb to Latterbarrow Hill in the Lake District. The hill reaches a height of 803 feet (245 m) with splendid views over Esthwaite Water and Lake Windermere.
This circular walk starts in Hawkshead, following country lanes and footpaths to the hill summit where you will find a stone monument. There's also splendid views of a number of fells including the Fairfield Horseshoe and Red Screes. The walk then descends through the woodland on Claife Heights, passing a number of tarns on the way.
If you'd like to continue your walking in the area then you could head to the nearby Wray Castle or explore the tarns and woodland of Claife Heights. View Full Details>>
Leckhampton Hill
4 miles (6 km)
This circular walk takes you along a particularly beautiful section of the Cotswold Way National Trail visiting Leckhampton Hill and Hartley Hill. The walk starts at a parking area next to the A435 about three miles south of the centre of Cheltenham. From here you can pick up the Cotswold Way and follow the track to Charlton Kings Common and Hartley Hill. You cross the hill to to the Devil's Chimney, an iconic Cotswold landmark. This unusual limestone rock formation stands above a disused quarry in Leckhampton. It's a picturesque spot with fabulous countryside views providing a wonderful backdrop to the chimney. The area of Leckhampton Hill and Charlton Kings Common is a biological and geological Site of Special Scientific Interest and a Key Wildlife Site. Look out for a variety of interesting flora and fauna such as meadow pipit and grasshopper warbler. Rare plants include fly orchid, musk orchid and purple milk-vetch.
The walk finishes with a stroll along a country lane which leads back to the start point.
If you would like to extend your walk then you could continue along the Cotswold Way to the delightful Crickley Hill Country Park. View Full Details>>
Leith Hill
4 miles (6 km)
Climb to the highest point in the South East on this challenging circular walk in the Surrey Hills AONB. View Full Details>>
Liddington Hill
9 miles (14.5 km)
This circular walk uses the Ridgeway and the Aldbourne Circular Walk to climb Liddington Hill near Swindon. On the hill you will find Liddington Castle, a late Bronze Age and early Iron Age hill fort. The route climbs to a height over 900 feet with fantastic views over the countryside of the North Wessex Downs Area of Outstanding Natural Beauty.
You start the walk at the car park just south of the village of Chiseldon. You then follow footpaths up to Folly Farm before turning north to climb Liddington Hill. You can then explore Liddington Castle, one of the earliest hill forts in Britain, dating back to the seventh century BC. It's a fascinating and often tranquil area with few visitors.
After taking in the wonderful views the walk then descends to Sugar Hill and Shipley Bottom before returning to Folly Farm and the car park.
An alternative route is to follow the Aldbourne Circular Walk from the village of Aldbourne. It's located a few miles south east of the hill.
You could extend your walk by picking up the Chiseldon and Marlborough Railway Path. The disused railway runs to Marlborough through some lovely countryside with views of the River Kennet and a visit to some pretty Wiltshire villages.
Also nearby is Barbury Castle Country Park and the splendid Coate Water Country Park which has nice cycling and walking trails around a large lake. View Full Details>>
Lingmoor Fell
4 miles (6 km)
Enjoy wonderful views of the Langdale Valley on this walk to Lingmoor Fell in the Lake District. This route starts from The Old Dungeon Ghyll hotel and takes you to the 469 m (1,539 ft) summit via Side Pike. The fell divides the valleys of Great Langdale and Little Langdale commanding splendid views of the two. The walk includes a woodland section at the start and the option to take a small detour to the beautiful Lingmoor Tarn. If you are looking for a shorter route to the summit then you could park at the car park at Blea Tarn and head north along the country lane to Bleatarn house where a path will take you to the summit of Lingmoor Fell. View Full Details>>
Little Solsbury Hill
3 miles (5.5 km)
This circular walk climbs this small hill made famous by the Peter Gabriel song 'Solsbury Hill'.
The walk starts in the village of Batheaston, following footpaths to the hill summit and the ancient Iron Age Hill Fort. From here there are super views over Bath and the surrounding countryside of the River Avon valley.
The route then heads along Chilcombe Bottom to Northend, passing two reservoirs on the way. The last section follows the waymarked Limestone Link back to Batheaston.
If you're coming from the centre of Bath you can reach the hill by following the Kennet and Avon Canal to Bathampton and then picking up the Limestone Link to take you to Little Solsbury Hill. View Full Details>>
Lochnagar
11 miles (17 km)
This challenging walk climbs to Lochnagar Mountain in the Grampians of Scotland.
The walk starts from the Balmoral Estate visitor centre where there is parking available. From here you can pick up footpaths heading west up the mountain. You'll pass the picturesque loch and Meikle Pap before coming to the 1155 metre summit of the hill. The mountain's principal feature is a north-facing corrie around which most of the subsidiary tops as well as the main peak sit. It is also a popular breeding ground for dotterel and golden eagles.
The true summit is called Cac Carn Beag and provides magnificent views over Deeside and the Cairngorms massif. There's a handy viewpoint indicator which details all the peaks and features you can see from the top. View Full Details>>
Long Man of Wilmington
5 miles (8.5 km)
Climb to this iconic hill figure on Windover Hill on this splendid circular walk in the South Downs. The walk begins in the village of Alfriston on the Cuckmere River and follows the South Downs Way to the Long Man. It's a fairly easy climb on a good path with splendid views of the South Downs and the coast to enjoy. From the high point you descend to Litlington passing the delightful Lullington Heath Nature Reserve on the way. It's a lovely area made up of chalk heath with heather, bell heather and gorse bushes. At Litlington you pick up the Vanguard Way and enjoy a lovely waterside section along the Cuckmere River which takes you back to Alfriston. View Full Details>>
Long Mynd
6 miles (9 km)
This circular walk takes you to Pole Bank, the highest point on the Long Mynd in the Shropshire Hills AONB. Much of this beautiful area is owned and managed by the National Trust so there are good footpaths to follow to the 516m (1,693 ft) summit.
The walk starts at the National Trust's Carding Mill Valley visitor centre and car park in Church Stretton. You begin by following a pretty stream uphill on a good stony path. You continue along Mott's Road passing Calf Ridge and Lightspot Hollow where there is the option to take a short detour to Lightspot Waterfall. At the top of the hill you head west along the ancient Portway, passing a Neolithic monument which was converted to a shooting box during the Victorian period. You soon come to the summit at Pole Bank where there are magnificent views of the Brecon Beacons, the Cambrian and Berwyn Mountains, Snowdonia and the Malverns. After taking in the views you descend passing the spring at Boiling Well and continuing through Townbrook Valley with its pretty brook and Victorian reservoir. A short woodland section then takes you to the finish point at the car park.
The walk makes use of the Shropshire Way and the Jack Mytton Way so there is the option of continuing your walk along these long distance footpaths. You could also climb the nearby Caer Caradoc for more fabulous views. If you're looking for a shorter less strenuous walk you could visit the reservoir and waterfall on the Carding Mill Valley walk. View Full Details>>
Longridge Fell
5 miles (7.5 km)
Enjoy a walk to the summit of England's most southerley fell on this wonderful circular walk in the Forest of Bowland. The walk begins at the car park at Turner Fold and takes you to the 1,148-ft (350-m) summit on woodland footpaths. There are fabulous views from the high point including the Fylde Coast, the Vale of Chipping, the fells of the Forest of Bowland (including Parlick, Fair Snape Fell and Beacon Fell), the Yorkshire Dales and on a clear day the Lake District fells.
Longridge Fell is situated to the north of both Preston and Blackburn. View Full Details>>
Lonscale Fell
4 miles (6 km)
Climb to Lonscale Fell from Keswick on this lovely walk in the Lake District. From the 715 m (2,346 ft) summit there are splendid views over Thirlmere and Derwentwater. It's a nice climb which you can start from the centre of Keswick. The route follows the Cumbria Way long distance footpath out of the town, climbing through the woodland of Whinny Brow to Ewe How. You continue on to Lonscale Fell, passing Latrigg, Whit Beck and Lonscale Crags on the way. The route leaves the Cumbria Way on Lonscale Crags and heads towards the hill summit. It's a nice, fairly short climb on good footpaths with wonderful views over many of the major fell groups.
There's lots of good options for extending your walking in the area. You could climb to Latrigg or visit the fascinating ancient stones at Castlerigg Stone Circle.
At Whit Beck you could turn north west and up Skiddaw Little Man to Skiddaw.
A similar climb to this one can be found at Great Wood with the climb to Walla Crag. View Full Details>>
Lord Hereford's Knob (Twmpa)
1 miles (2 km)
This is a short climb to Lord Hereford's Knob or Twmpa in the Black Mountains. The scenery is stunning with magnificent views over the Brecon Beacons National Park on one side and the Herefordshire countryside on the other.
You can park at the Gospel Pass car park about 1 mile to the east of the hill. From here you can pick up the footpath to the 690 m (2,260 ft) summit. View Full Details>>
Loughrigg Fell
2 miles (3 km)
The climb to Loughrigg fell from Grasmere is a very popular one. It's a reasonably straightforward climb with wonderful views over Rydal Water and Grasmere Lake. The walk starts in the centre of Grasmere and follows country lanes and good footpaths to the 335 m (1,099 ft) summit. You start by following Red Bank road from Grasmere which runs around the western side of the lake before picking up a footpath to the summit which is effectivley a series of stone steps. The route also passes Loughrigg Terrace which is well worth a short detour. This level path affords wonderful views towards Helm Crag and the Fairfield group and leads to the fascinating Loughrigg Caves.
From the Loughrigg Fell summit there are lovely views of Elterwater, Langdale, the Coniston Fells and Windermere. You will also find an Ordnance Survey triangulation column beside a large cairn.
The fell is on the Windermere Way circular walk, so you can pick this up to extend your walk.
You could also descend the hill to the south and visit the tranquil Loughrigg Tarn and continue to Elterwater where you can enjoy a waterside stroll along the River Brathay and visit Skelwith Force waterfall. View Full Details>>
Loughrigg Tarn
2 miles (3 km)
This circular walk takes you to the lovely Loughrigg Tarn from Skelwith Bridge. The walk starts from the Skelwith Bridge Hotel and follows country lanes and footpaths around the pretty tarn. It's a fairly easy climb to the high point above the tarn with splendid views of the surrounding fells. It's a secluded peaceful spot which was a favourite of William Wordsworth.
It's possible to continue your walk north and climb to the top of Loughrigg Fell. The Colwith Force waterfall walk also starts from Skelwith Bridge. It follows the Cumbria Way to the 40ft falls through some lovely countryside and woodland.
If you would like to visit the tarn from Ambleside then try our Ambleside to Skelwith Bridge Walk which visits the tarn. View Full Details>>
Lydeard Hill
2 miles (2.5 km)
Climb to Lydeard Hill in the Quantocks an enjoy splendid views over the surrounding countryside on this short circular walk.
You can start your walk from the Lydeard Hill car park on Lydeard Hill Road. It's a good sized parking area with great views, located just a mile east of the village of West Bagborough. From here you can pick up the footpaths to the hill summit which is a short distance from the car park. Head through the gate and then follow the wide paths to the hill top. You can then continue around the hill where there are nice woodland sections and open countryside to enjoy.
You can extend your walk by picking up the Samaritans Way South West and following it to the nearby Wills Neck and Cothelstone Hill. View Full Details>>
Maiden Castle Dorset
2 miles (2.5 km)
Climb to this Iron Age hill fort near Dorchester and enjoy wonderful views over the surrounding countryside. Maiden Castle is the largest and most famous pre-Roman fortress in Britain. It covers almost 100 acres with banks as high as 80 feet enclosing a hill-top site of about 45 acres. It was inhabited as early as the Bronze Age, but most of the visible ramparts were erected in the 1st century BC. 
There is a car park on Maiden Castle Road just north of the hill fort. From here you can pick up good footpaths to take you around the site. There's superb views to Dorchester and over the Dorset countryside as you make your way round the fort.
You can reach the site by bike by following National Cycle Network Route 2 from Dorchester. You can pick up the route from the centre of town near the train station. It's then about a one mile ride along Maiden Castle Road to the site.
The South West Coast Path runs just to the south of the hill so you could pick it up and head west to the Hardy Monument to extend your walk. View Full Details>>
Malham Cove
9 miles (14 km)
This super walk visits two well known beauty spots in the Yorkshire Dales. The hike to the cove and tarn is one of the most popular walks in Yorkshire. The cove was exposed to a global audience when featured in the flim 'Harry Potter and the Deathly Hallows (Part 1)'. It was used as the hideout for Harry and Hermione when they fled there to avoid capture.
It begins at the village of Malham and follows the Pennine Way to the stunning Malham Cove. View Full Details>>
Malvern Hills
8 miles (13 km)
This walk takes you the full length of the Malvern Hills from End Hill in North Malvern to Chase End Hill at the southern end. The Hills divide the counties of Herefordshire and Worcestershire and are covered with numerous footpaths and bridleways.
The start point for the walk is the car park at North Malvern in the 19th century spa town of Great Malvern. You then pass End Hill, Table Hill and Sugarloaf Hill on your way to Worcestershire Beacon. At 425 m (1,394 ft) the Beacon is the highest point in the Malverns and offers fabulous views of Worcestershire, Herefordshire, Gloucestershire, the Cotswolds, the Welsh Mountains and the Severn Valley. You can climb to the beacon from Great Malvern on our circular walk.
The route continues to Jubilee Hill, Black Hill and Herefordshire Beacon where you will find the noteworthy British Camp Iron Age hill fort and reservoir of the same name. Next you come to Hangman's Hill, and Swinyard Hill before arriving at the interesting Midsummer Hill where you will find an Iron Age hill fort which spans Midsummer Hill and Hollybush Hill. There are also splendid views of Eastnor Deer Park and the castle grounds.
The final section takes you over Raggedstone Hill to the finish point at the end of the range, known as End Hill.
It's a delightful walk on good footpaths with fabulous views throughout. Also look out for the springs and fountains dotted along the hills.
If you would like to try a longer walk try our Malvern Hills Circular Walk which takes you along a section of the old Worcestershire Way long distance trail. View Full Details>>
Mam Tor
3 miles (4.5 km)
This 517 m (1,696 ft) hill in the Peak District affords fabulous views over the surrounding area. This circular walk starts at the car park at the southern side of the hill and takes you to the summit on well defined walking trails and stone steps. The scenery is beautiful and dramatic with fine views over the Hope Valley and Edale Valley. The area is also geologically significant with Mam Tor consisting of 320 million year old Carboniferous rocks.
From the summit you descend to Hollins Cross before turning south and continuing your descent to Mam Farm and Little Mam Tor. At Winnats Head Farm you turn west to return to the finish point.
The hill can also be reached on the other side of the great ridge from the villages of Castleton or Hope. See the Mam Tor Walk From Hope Walk for full details of this route.
If you would like to continue your walking then the nearby Kinder Scout is a good option. It is the highest point in the Peak District and affords fabulous views to Manchester, Snowdonia and Winter Hill.
You could also try the Castleton Circular Walk and visit the towering limestone pinnacles at Winnats Pass before climbing the 476 m (1,562 ft) high Lose Hill for more great views of the Hope Valley.
Another great option is to try the Great Ridge Walk from Mam Tor to Lose Hil. This takes you across a stunning ridge with more wonderful views to enjoy. View Full Details>>
Marcle Ridge Circular Walk
4 miles (6 km)
Climb to Marcle Ridge and enjoy splendid views towards the Malvern Hills on this circular walk in Herefordshire. It's a lovely area with attractive woodland areas and interesting plants such as orchids and spurge laurel to look out for. From the elevated position on the ridge there are super views of the Cotswold Hills, the Wye Valley, the Brecon Beacons and the Black Mountains.
There's a parking area off Glowson Wood Rd where you can start your walk. Please note this car park is privately owned with permission granted by the owners for walkers to use it. As such please respect the space as it is not cleaned or managed by the council. Pick up the footpath here and follow it north through Hoar Wood to Hooper's Oak. The route then turns west and then south to Hyde Common and Lyndalls Wood. The final section takes you along Ridge Hill before returning to the car park where there is a picnic area nearby.
The Three Choirs Way and the Herefordshire Trail both pass Marcle Ridge so it's easy to extend your walking in the area. If you head north west along the Three Choirs Way you could visit Broadmoor Common and Haugh Woods where there's lots more footpaths and wildlife to look out for. Heading north will take you across Marcle Hill to Woolhope Cockshoot. View Full Details>>
Mardon Down
5 miles (8 km)
Climb to Mardon Down on Dartmoor and enjoy wonderful far reaching views over the surrounding area. The hill is also home to a fascinating set of ancient stone circles and covered with lots of interesting plants and flowers. It's a really pretty spot and well worth the challenging climb.
The walk starts in the village of Moretonhmapstead about 1.5 miles south west of the hill. You then follow footpaths towards Yarningdale before crossing the down. You'll pass a cairn circle before coming to Mardon Down stone circle which is the biggest on Dartmoor. The walk climbs to well over 1000 ft so it is a fairly challenging ascent. You are rewarded with wonderful views towards the Devon coast, Hay Tor, Hound Tor and Exmoor. It's great for wildlife too with birds such as stonechats, skylarks and cuckoos to look out for. You might also see Dartmoor ponies and rabbits as you make your way across the hill.
You can continue across the down towards Cod Wood, Dunsford Nature Reserve and Meadhaydown Nature Reserve. These are all just a mile or so north east of Mardon Down.
Both the Dartmoor Way and the Dartmoor Ramble pass Moretonhampstead so it is easy to extend your walking in the area. View Full Details>>
May Hill
1 miles (2 km)
Climb this hill on the Gloucestershire/Herefordshire border for wonderful views over the two counties, the Forest of Dean and the River Severn. On a clear day you can also see the Cotswolds and the Black Mountains in Wales.
The walk starts from the May Hill Common car park about a mile north of the hill. You then climb to the 1000ft (305m) summit where you will find a distinctive row of Corsican pine trees planted to commemorate Queen Victoria's Golden Jubilee in 1887. The summit is also covered in interesting flora such as acid grassland, heather and bluebells in the spring. Look out for wildlife including ponies and meadow pipits on the way.
You can return the same way or venture into the adjacent Newent Woods and visit Glasshouse Hill and Castle Hill Wood to extend your walk. The Gloucestershire Way and the Wysis Way both pass the hill so you could also pick up these long distance walking trails.
An alternative route to the hill would be to follow the Wysis Way from nearby Mitcheldean. View Full Details>>
Meikle Bin Trail
6 miles (9.5 km)
Climb to the Meikle Bin mountain on this splendid walk in the Carron Valley. It's a challenging climb with the summit rising to a height of nearly 1900ft.
The walk starts from the Todholes car park at the northern end of the Carron Valley Reservoir. From here you pick up the waymarked trail and head south through the forest to Bin Bairn. The rest of the route climbs to Meikle Bin where there are fabulous views to the coast and the surrounding hills and mountains.
To continue your walking in the area you can try the Loch Shore Trail at the southern end of the Carron Valley Reservoir. It's another well signposted trail with more great views over the water. View Full Details>>
Middleton Top
7 miles (11 km)
At Middleton Top you will find an excellent visitor centre with a number of good walking trails to try. The site includes the Middleton Top Engine House which you can visit on certain weekends throughout the year. Built in 1829 it was used to haul wagons up the Middleton incline and has been recently restored.
This circular walk takes you west from the centre to Harboro Rocks, before returning via Griffe Grange and Middleton Moor. The route makes use of some of the popular waymarked trails which run through the area.
Starting from the centre car park you head west along the High Peak Trail. The shared walking and cycle path follows a disused railway line from Cromford to Dowlow. This section will take past Eniscloud Farm to Harboro Rocks. There's super views from here over the Peak District and the lovely Carsington Water.
Just after passing the rocks you turn north east to pick up a section of the Limestone Way. A footpath then turns south east to take you through Griffe Grange before passing the quarries on Middleton Moor. The route then turns south to return you to the visitor centre and the finish point of the walk.
Another good walk to try from the centre is the hike to the Cromford Black Rocks. View Full Details>>
Milk Hill
3 miles (5 km)
Climb to the highest point in Wiltshire on this circular walk near the village of Alton Barnes. The hill is located on the Pewsey Downs National Nature Reserve near to the Alton Barnes white horse.
The walk starts from the Pewsey Downs car park just to the east of the hill. From here you can pick up a footpath heading west past the white horse hill figure to Milk Hill. At the 295 m (968 ft) summit there are extensive views to the Mendip Hills, the Cotswolds and in clear weather as far as the Black Mountains in Wales.
After taking in the views you descend to the north on another path. This soon joins with the Wansdyke Path and the Tan Hill Way. Here you have the option of heading west to visit Tan Hill (294m) the second highest point of Wiltshire. The long distance trails also visit some of the other hills in the North Wessex Downs AONB.
This route continues the descent east to Red Shore where you turn south to return to the car park. View Full Details>>
Moel Arthur
2 miles (2.5 km)
This short climb follows the Offa's Dyke Path from the Clywd Forest to Moel Arthur in the Clwydian Range AONB.
You can start the walk from the car park at the eastern end of the Clywd Forest, about a mile north west of Moel Arthur. You then follow good footpaths to the summit where there are lovely views over the Vale of Clywd and the other mountains on the Clwydian Range. In the autumn months the hill slopes are a lovely site, covered in pretty heather. The area also has an interesting history with an Iron Age Hillfort and some of the largest banks and ditches in the area.
If you would like to extend your walking in the area then you could continue south along the Offa's Dyke Path to the nearby Moel Famau Country Park. View Full Details>>
Moel Eilio
8 miles (13 km)
This circular walk climbs to Moel Eilio from Llanberis in the Snowdonia National Park. It's a challenging climb with the option of continuing up to the peak of Snowdon Llanberis Path after reaching the Moel Eilio peak.
Start your walk in Llanberis and head past the quarries to Bwlch y Groes. Here you can ascend to the summit on the north ridge of Moel Eilio, passing Bryn Mawr on the way. From the 726 m (2,382 ft) summit there are splendid views towards Snowdon and the surrounding mountains. After taking in the views you descend to the subsidiary summits of Foel Gron and Foel Goch. The path then descends past Cefn Drum and the Llanberis Waterfall before returning to the town.
An alternative route is to start from the Snowdon Ranger Path car park and head to the summit via Foel Gron and Foel Groch. See the video below for details of this route and to give you an idea of the scenery you can expect to see on this walk.
To extend your walking in the area you can climb to the Snowdon Peak on the Snowdon Llanberis Path or visit the beautiful Padarn Country Park. View Full Details>>
Moel Famau Country Park
3 miles (5.5 km)
Climb to the top of Moel Famau mountain on this circular walk through the stunning Moel Famau Country Park. The walk starts at the car park at Bwlch Penbarra and immediately picks up the Offa's Dyke Path to take you to the 1818 feet high peak. Part of the Clwydian Range the mountain peak proffers wonderful views of the Wirral, Merseyside, Snowdonia, the Dee Valley and the coast. At the summit you will also find the 19th century Jubilee Tower constructed in 1810 to commemorate the Golden Jubilee of King George III. The climb from the car park is not too strenuous so would suit reasonably fit walkers. It also takes place on a good path. From the summit the trails then descend through the Clwyd Forest before returning you to the car park.
If you'd like to continue your walking in this beautiful area then you could visit the nearby Loggerheads Country Park. Located just a few miles to the east it contains dramatic limestone cliffs, wooded gorges and secluded grasslands next to the River Alyn.
Also of interest is the Iron Age Hillfort at Moel Arthur just to the north of the park. View Full Details>>
Moel Hebog
2 miles (3 km)
This challenging walk climbs Moel Hebog from Beddgelert in the Snowdonia National Park. There's great views of the Welsh coastline and several peaks including Snowdon, Moel Siabod and the Nantlle Ridge. Please note that while this is a great walk the path is not always well defined and there is a degree of scrambling involved.
The walk starts from the picturesque village of Beddgelert with its fine bridge crossing the River Colwyn and a number of good pubs for refreshment. You then follow footpaths out of the village and through a woodland section before ascending the mountain path. At the 783 m (2,569 ft) summit you will find a trig point where you can enjoy some stunning views of the surrounding peaks. The walk can be extended by continuing to the peaks of Moel yr Ogof and Moel Lefn .
The area is great for wildlife spotting. Look out for Buzzards, Red Kites and Perigrine Falcons as you make your way up the mountain.
If you'd like to continue your walking in the area then you could follow the Fishermans Walk along the stunning Aberglaslyn Pass. You could also visit the nearby Beddgelert Forest where you'll find miles of walking paths and mountain bike trails. View Full Details>>
Moel Siabod
5 miles (8 km)
Climb to the summit of Moel Siabod on this challenging walk in Snowdonia. The mountain reaches a peak of 872m making it the highest peak in the Moelwynion mountain range. The views from the summit are particularly special. On a clear day the you can see Snowdonia, Glyderrau and the Carneddau ranges.
The start point at the village of Pont Cyfyng is delightful, with views of the Afon (river) Llugwy and the Llugwy waterfalls. You then ascend to the summit passing a small lake, a quarry and the lovely Llyn-y-Foel on the way. There's also the spectacular Deaer Ddu south east ridge which requires some scrambling before you reach the summit.
This is a challenging walk with some scrambling required. You are rewarded with wonderful views throughout. View Full Details>>
Moel y Gest
5 miles (8 km)
This hill near Porthmadog offers fine views over North Wales including the Llyn Peninsula, the Rhinogydd, Moelwynion, Moel Hebog, and Snowdon.
This walk starts at the lovely harbour in Porthmadog and follows the coastal path south to Borth-Y-Gest. Here you can leave the coast and follow a footpath north west to the hill summit which stands at a height of 263 m (863 ft). It's a lovely spot with fine views back down to Porthmadog and the adjacent river estuary. As well as the great views you will also find a hillfort which shows some resemblance to the "nuclear forts" of the Early Middle Ages found in Scotland. After taking in the views the route descends back to Porthmadog on the same paths. View Full Details>>
Moncrieffe Hill
4 miles (6 km)
This large area of woodland near Perth has miles of nice walking trails and some moderate hill climbs to try. There's lots to see including a nice family sculpture trail. Here you'll find pieces including dragonflies, swinging bees, a wooden bench shaped like a slug and a deer made of metal. There's also lots of wildlife to see on the site. Look out for birds such as great-spotted woodpecker and buzzard, as you make your way through the woods.
You can start the walk from the parking area at Wallacetown Wood at the eastern end of the woods. From here you can pick up the woodland footpaths heading west up to Moncrieffe Hill.  The summit area, which is known as Moredun Top, is clear and provides fine views over Perth and the Firth of Tay. The route then follows other paths to an Iron Age hill fort and Tarsappie Hill before returning to the car park. View Full Details>>
Mount Caburn
4 miles (7 km)
This walk visits the delightful Mount Caburn Nature Reserve in the South Downs. You can reach the reserve by following a footpath from the centre of Lewes. It's just over 2 miles to the reserve from the town with the route crossing the River Ouse before passing Malling Down Nature Reserve, Ranscombe Camp hill, Oxteddle Bottom and Caburn Bottom.
The reserve consists of managed chalk downland and a Bronze Age hill fort. There is also a wide variety of flora and fauna to look out for. This includes the largest British population of burnt-tip orchid and pyramidal orchids. There are also many different types of wildflowers such as Sweet briar, Marjoram and the bright yellow horseshoe vetch. These attract various butterflies including Adonis, chalkhill blue butterfly and silver-spotted skippers. It's also great for bird watching with Skylarks, meadow pipits, yellowhammers, corn bunting, kestrels, peregrine falcon and buzzards to look out for.
The summit of Mount Caburn stands at 480-feet (146m) and consists of an Iron Age Hill Fort. There are wonderful views of Lewes, Glynde, Firle and the South Downs to enjoy.
After climbing the hill you could visit the delightful Little Cottage Tea Rooms and enjoy a cream tea. The tea rooms are located just to the south of the reserve on Ranscombe Lane.
A shorter, alternative route to the reserve is to start from Glynde Bridge. There is a train station and parking area about a mile from the hill.
If you would like to extend your walking in the area then you could head to the nearby Firle Beacon. It is located just a few miles to the south east and offers great views over the Weald towards the south coast.
A few miles to the north you can visit the delightful Barcombe Mills where there are lovely waterside walks along the River Ouse and Barcombe Reservoir. View Full Details>>
Mount Keen
11 miles (17 km)
This is the shortest route to the summit of Mount Keen, the most easterly of the Scottish Munros. It starts at the Invermark car park in Glen Esk and heads through Glen Mark to the summit. The path is quite good for most of the route but become rockier towards the summit. There are fabulous views of Glen Esk, Loch Lee and the Cairngorms. Look out for red deer as you make your way through the beautiful Glen Mark.
Mount Keen stands at 939 m (3,081 feet). The walk will probably take about 5-7 hours. View Full Details>>
Mow Cop
1 miles (1.5 km)
Visit Mow Cop Castle and the Old Man of Mow on this short circular walk on the Cheshire–Staffordshire border. The castle sits in an elevated position above the village with wonderful views over the surrounding Staffordshire countryside and the Cheshire Plain. The 18th century folly is a well know landmark positioned 355m above sea level and visible for miles around. The walk also visits the Old Man of Mow - an interesting 65ft rock formation just to the north of the castle. Near here is a triangulation pillar and more great views to enjoy.
Mow Cop is on the Gritstone Trail so you can extend your walk by continuing along this long distance trail. View Full Details>>
Muncaster Fell
7 miles (11 km)
This fine circular walk near Ravenglass climbs to Muncaster Fell with a visit to Muncaster Tarn and great views along the Cumbrian Coast.
You can start the walk from the Muncaster Castle car park and follow trails up to Fell Lane. Follow the lane up to Chapel Hill where you pick up woodland trails to High Eskholme. View Full Details>>
Mynydd Illtud Common
2 miles (3 km)
Starting at the Brecon Beacons Visitor Centre, enjoy a stroll across the pretty Mynydd Illtud Common on this easy circular walk. From the common there are great views towards Pen Y Fan and Corn Du, the Black Mountains and the river Usk. It's a good spot for wildlife too - look out for red kites, larks and butterflies. View Full Details>>
Mynydd Mawr
5 miles (8 km)
Climb to the 698 m (2,290 ft) summit Mynydd Mawr on this challenging climb in the Snowdonia National Park. On the walk you will enjoy stunning views of Llyn Cwellyn and the surrounding mountains. The walk starts from the village of Rhyd Ddu and follows woodland trails through Beddgelert Forest before climbing above Llyn Cwellyn to Foel Rudd and then on to the Mynydd Mawr summit. There are interesting geological formations, rocky outcrops and breathtakingly beautiful views to enjoy. It's also a fairly quiet walk with most people heading to Snowdon from Rhyd Ddu.
If you'd like to continue your climbing in the area then the Snowdon Rhyd Ddu Path starts from the village too. You could also head along the wonderful Nantlle Ridge. View Full Details>>
Nantlle Ridge
9 miles (14 km)
This popular circular walk explores the Nantlle Ridge range of mountains in the Snowdonia National Park. View Full Details>>
Newlands Corner
2 miles (3.5 km)
This lovely beauty spot on the North Downs is great for walking with a number of footpaths to try. There's several nice woodland trails and open chalk downland with wonderful views over the Surrey Hills. This circular walk starts from the excellent Newlands Corner Visitor centre where you will find information, a cafe, picnic tables and a car park. It's located just a few miles east of Guildford town centre so is easily accessible. The walk follows the North Downs Way and other footpaths around the visitor centre. You'll visit Albury Downs and Walnut Tree Bottom with lots of opportunities to sit on one of the many benches and soak in the splendid views.
It's a great area for flora and fauna. In the summer the grassland is covered with a variety of wildflowers. In the woodland area you may see roe deer, green woodpeckers, nuthatches and tawny owls. View Full Details>>
Newlands Valley
8 miles (12.8 km)
Enjoy a challenging circular walk around this beautiful, peaceful valley near Keswick. The route climbs to some of the prominent peaks in the valley with superb views for the duration of the walk. For an easier walk just park at the same car park and follow the first section of the route down to Newlands Chapel. The 16th-century church has stained glass windows and a pulpit dated 1610.
Start the walk from the car park at Little Town, just to the west of Cat Bells. This area has been made famous as the setting for the story of Mrs Tiggy Winkle by Beatrix Potter. 
Head west past the chapel towards High Snab where you pick up a footpath along the Scope Beck. This will take you up to Robinson fell which stands at a height of 737m (2,418 ft). There's splendid views across the valley from here.
The route then descends to Littledale Edge and Hindscarth Edge before climbing to Dale Head, which stands at a height of 753 m (2,470 ft). There's more great views down the valley with Skiddaw making a fine backdrop.
From Dale Head you descend to the north, passing along the Newlands Beck to Castle Nook and Lowthwaite Crag, before returning to Littletown. View Full Details>>
Nicky Nook
4 miles (6.2 km)
This circular walk takes you up a popular and delightful fell in the Forest of Bowland. The route runs for a distance of just under 4 miles and involves a moderate climb to the hill top. View Full Details>>
Nine Standards Rigg
9 miles (14 km)
Enjoy wonderful views over the Eden Valley on this climb to the summit of Hartley Fell in the North Pennines AONB. The walk starts from Kirkby Stephen and climbs to the 662 m (2,172 ft) summit on a mixture of country lanes and footpaths. You will pass a series of cairns about 10ft tall known as the Nine Standards. At the summit there is a trig point that marks the watershed divide across England. From here, rivers flow west toward the Irish Sea and east toward the North Sea. There are also wonderful views of Cross Fell, Great Dun Fell and the Howgills.
The walk is on Wainwright's Coast to Coast walking route so you could pick this up to continue your walking in the area.
To continue your walking in the area you can try our Kirkby Stephen Circular Walk and enjoy riverside paths along the River Eden. View Full Details>>
Norber Erratics
2 miles (3 km)
This walk climbs to this geologically significant set of glacial erratic boulders in the Yorkshire Dales. The Norber erratics can be reached from the nearby village of Austwick. It's a short but quite challenging climb from the village to the rocks which are situated on the southern slopes of Ingleborough Mountain. The fascinating boulders were probably deposited by melting ice sheets at the end of the last ice age, around 12,000 years ago. The walk exposes you to some fine limestone scenery with wonderful views to be enjoyed from the high points. The boulders are dramtically placed with the far reaching dales scenery making a striking backdrop for any photographer.
This walk starts in Austwick and takes you north to the boulders on good footpaths. You could also start from the nearby village of Clapham. The walk can be extended by heading north to Thwaite Scars, Crummack Dale and Moughton Scars. Just to the north of Moughton Scars you can pick up the trail to Ingleborough Mountain at Sulber Nick.
After your exercise you can refresh yourself in the local pub in Austwick.
To further extend your walking in the area you can head west to Clapham where you can enjoy a stroll along Clapham Lake and Clapham Beck to the wonderful Ingleborough Show Cave. See our Clapham Walk for full details. View Full Details>>
Okeford Hill
1 miles (2 km)
Visit Okeford Beacon in Dorset and enjoy cycling and walking trails with wonderful views. You can park at the Okeford Hill Picnic Site, about a mile to the south of Okeford Fitzpaine. From here you can pick up the Wessex Ridgeway trail to explore the woodland and countryside around Okeford Hill. Many other tracks will take you into Blandford Forest or you can head south west towards Bell Hill and Ibberton Hill.
The area is also home to Okeford Hill Mountain Bike Park. Here you can try a variety of downhill mountain bike trails. See the video below for a sample of what you can expect! There's also bridleways for cyclists at Shillingstone Hill and Blandford Forest. View Full Details>>
Old Man of Coniston
5 miles (7.5 km)
Climb the 2,634 feet (803 m) high Old Man of Coniston on this strenuous walk in the Lake District. It's just under 5 miles there and back so should take about 3-4 hours to complete.
The route starts at Coniston village and soon joins Church Beck which you follow for about a mile before heading past Crowberry Haws, Stubthwaite Crag and the dramatically positioned tarn of Low Water to the summit. Here you will find a combined slate platform and cairn with magnificent views of Coniston Water, the southern Lake District, Morecambe Bay, Blackpool Tower, Winter Hill in the Pennines, the Lancashire coast and the Isle of Man.
This route is popular with tourists and offers a direct and picturesque path to the summit. View Full Details>>
Old Man of Storr
5 miles (7.5 km)
Climb the famous Old Man of Storr on this stunning walk on the Isle of Skye. The walk takes you to the 719 m (2,359 ft) high summit on well constructed paths.
The walk starts at car park located at the northern end of Loch Leathan and follows a well defined path to Needle Rock and then on to Coire Scamadal. You then double back and ascend to the summit of the Storr where there are some truly breathtaking views. The Trotternish Ridge stretches away to the north, while the Islands of Harris, Raasay and Rona are all visible to the east. To the south are great views across the Isle of Skye to the Cuillin mountains.
You descend following the rim of Coire Faoin towards Bealach Beag and then down to the side of Loch Leathan before finishing back at the car park. View Full Details>>
Old Winchester Hill
9 miles (14 km)
This walk takes you up the 197 metres (646 ft) Old Winchester Hill in the South Downs. The hill and surrounding area is a National Nature Reserve with a wide variety of butterflies and wildlife to look out for. These include buzzards, kites, roe deer and foxes. The area is made largely of chalk grassland with extensive scrub and many orchid species. There is also an Iron Age hill fort and earlier Bronze Age barrows and burial mounds.
This circular walk starts at the village of Meonstoke and makes use of the South Downs Way to take you to Old Winchester Hill before returning via Warnford and Beacon Hill. There are super panoramic views of the South Downs and the Meon Valley from the high points. On a clear day you may even be able to see the Isle of Wight.
If you'd like to continue your walk then you could pick up the South Downs Way or the Monarch's Way which run past the hill. View Full Details>>
Oldbury Hill
1 miles (2 km)
Enjoy a series of walking paths around this Iron Age Hillfort near Sevenoaks. The circular walk will take you through ancient woodland with interesting plants including heather and bilberry. From the high points there are great views of the surrounding countryside. Dating from 100 BC the impressive fort is one of the largest in the country, situated in an excellent defensive position on a very steep hill. 
You can start your exercise from the good sized car park off Styants Bottom Road. From here you can pick up a number of trails to take you up to the hill fort which stands at a height of over 600ft. There are also bridleways which are popular with mountain bikers.
To extend your walk you can follow paths south across Raspit Hill and Ightham Common to the splendid Ightham Mote. Here you will find a medieval moated manor house surrounded by gardens, parkland and woodland. You can also pick up the Greensand Way and follow it to the nearby Knole Park where there's more great walks to try around the deer park.
Mountain bikers can head to the nearby Mereworth Woods where there are miles of trails with some good descents and jumps to try. View Full Details>>
Orrest Head
2 miles (3.4 km)
Orrest Head was the first fell climbed by Alfred Wainwright. It inspired him to a 'to a life made happy by fellwandering' so you can expect some wonderful views over lakeland on this fairly easy climb. It's a great walk to do if you're coming in by train as the start of the climb is located right next to Windermere railway station. View Full Details>>
Osmington White Horse
3 miles (5.5 km)
Climb to the Osmington White Horse and enjoy wonderful views along the Jurassic Coast on this circular walk in Dorset. You start the walk from the interesting village of Osmington, near Weymouth. The village includes a church dating from the 12th century and picturesque thatched dwellings dating back to the 16th century. You then pick up the South Dorset Ridgeway and the South West Coast Path to take you up to Osmington Hill. The distinctive figure dates from the early 19th century and represents King George III riding his horse. After taking in the views you descend to the village of Sutton Poyntz. It's a lovely little village with thatched cottages, a stream with a nice footpath and a mill pond. It's a great place to stop for refreshments before the final leg back to Osmington. This takes you along public footpaths past White Horse Farm before returning you to the village.
If you'd like to continue your walk you could head down to the lovely Osmington Mills and enjoy views of Osmington Bay. Continue east along the coast path and you will pass the site of the medieval village of Ringstead before coming to Ringstead Bay. If you would like to view the white horse without the walk you can visit the new Osmington White Horse viewpoint. It can be found on the A353 heading towards Osmington from Weymouth. It has information boards and a great view of the white horse. View Full Details>>
Painswick Beacon
3 miles (5 km)
Visit the delightful Cotswolds village of Painswick and climb the nearby Painswick Hill on this walk near Stroud.
The walk starts from Painswick known as the 'Queen of the Cotswolds' because of its picturesque cottages, pretty churchyard with yew trees and the splendid Rococo Gardens. You can then follow the Cotswold Way National Trail north to the beacon. The trail is well signposted and takes you through the local golf course and past the aptly named Paradise valley. You soon come to the beacon where you will find an Iron Age Hill Fort and fabulous views over the Severn Vale, the Forest of Dean and the Welsh Mountains.
From the top of the hill you can descend back to the village or if you'd like to extend your walk, you could continue along the Cotswold Way to the nearby Pope's Wood and Kites Hill. A little further on is Coopers Hill where the annual Cheese Rolling event is held on the Spring Bank Holiday. It involves locals chasing a large round cheese down a near-vertical grass slope.
If you enjoy this walk you could head a couple of miles south west and visit Haresfield Beacon for more great walking trails and panoramic views of the Cotswolds.
You could also follow the Wysis Way long distance trail south and visit the beautiful Slad Valley. View Full Details>>
Pap of Glencoe
5 miles (8 km)
This challenging walk takes you up the 742 m (2,434 ft) high Pap of Glencoe in the Highlands of Scotland. The walk begins at the car park at Lochan to the east of the village of Glencoe. It starts by passing through woodland before beginning the climb along the mountain tracks. It is a steep climb with some muddy sections and some scrambling for the last 100 metres to the summit. However, you will be rewarded with breathtaking views over Glencoe, the Mamores and Loch Leven.
If you are looking for a more gentle walk in the area then you could try the Glencoe Lochan Trail which starts from the same car park. View Full Details>>
Parbold Hill
6 miles (9.5 km)
This circular walk climbs to Parbold Hill from the village of Parbold in Lancashire. You'll visit the wonderful viewpoint with views towards the Pennine Hills and beyond. The route also continues to climb Hunters Hill and Harrock Hill for more good views and lovely countryside.
The walk starts from Parbold train station and heads along the Leeds and Liverpool Canal before turning north to climb to the Parbold Hill viewpoint. Here you will find a plaque showing you all of the sights you can see from the top. This includes Ashurst Beacon, Dalton, the River Douglas, the city of Liverpool and the Berwyn Mountains of Wales.
After taking in the views the walk continues north to High Moor and Harrock Hill. The route then turns south, descending to Hunter's Hill before returning to Parbold village.
This walk passes close to Fairy Glen which is well worth a short detour if you have time. The delightful beauty spot includes pretty streams, beautiful waterfalls, dramatic cliff faces, wooden bridges and shady woodland trails.
To extend your walk you could head west along the canal to Burscough and visit the lovely Martin Mere Nature Reserve. You could also climb to the nearby Ashurst Beacon and enjoy more nice views to the coast. View Full Details>>
Parlick and Fair Snape Fell
4 miles (7 km)
This walk from Parlick Fell to Fair Snape Fell is considered one of the loveliest in the Forest of Bowland. The walk takes place on a very good footpath with wonderful views over the surrounding countryside from the high points.
The walk starts at the parking area on Startifants Lane and climbs to Parlick Fell. You continue north to Fair Snape, passing Bindhurst Fell on the way. The summit stands at 520 m (1,710 ft) and commands wonderful views over Londridge Fell and Beacon Fell.
The walk can also be started from the nearby village of Chipping. It's located about 2 miles south east of Parlick Fell and is a great place to stop for refreshments.
If you'd like to continue your walking in the area then you could head to the nearby Beacon Fell Country Park for more wonderful views and woodland trails. View Full Details>>
Parys Mountain
5 miles (8 km)
This circular walk on the Isle of Anglesey visits the fascinating disused copper mines of Parys Mountain. The mountain was mined for copper ore in the early Bronze Age and dominated the world's copper market during the 1780s, when the mine was the largest in Europe. The mines are an extraordinary sight, rich with various ores and minerals. The striking mixture of colours and shadows from the undulating hills are very picturesque. From the elevated position there are wonderful views of the Anglesey coast and countryside. There is also an old windmill and a number of pools/ponds. Cyclists can reach the mountain by following the wonderful Copper Trail Cycle Route which is named after the mountain. View Full Details>>
Peckforton Castle and Peckforton Hills
5 miles (8.5 km)
Explore the Peckforton Castle Estate and the Peckforton Hills on this walk in Cheshire. The walk makes use of the Sandstone Trail to take you along woodland trails with great views of the surrounding Cheshire countryside from the elevated Sandstone Ridge. If you head north along the ridge you could also visit the ruins of the 13th century Beeston Castle. It's a short climb with fabulous views over the beautiful countryside of the Cheshire Plain.
If you were to head south along the trail you would soon come to Bickerton Hill and Maiden Castle where there are more great views and the Iron Age hill fort of Maiden Castle. View Full Details>>
Peel Tower
8 miles (13 km)
This walk climbs to the Peel Monument on Holcombe Hill in Ramsbottom near Bury. The tower is dedicated to Sir Robert Peel, the 19th century Prime Minister considered the father of modern British policing. The impressive landmark stands at a height of 1,100 feet (335 m) above sea level, commanding wonderful views over the surrounding countryside and towns. View Full Details>>
Pegsdon Hills
2 miles (4 km)
Enjoy a climb to Deacon Hill and enjoy wonderful views over the Chilterns on this walk in the Pegsdon Hills. The hills are also a designated nature reserve so there's lots of intersting flora and fauna to see as well.
There's a series of footpaths to follow across the site where you will find chalk hills and wildflower meadows with orchids and moschatels. In the summer months the flowers attract butterflies such as dingy and grizzled skippers. There are fine views of the surrounding Chiltern Hills from the high points which reach nearly 172 metres at Deacon Hill.
Start the walk from the car park on the Pirton Road just to the east of the site. From here you can pick up the Icknield Way Path and follow it towards Deacon Hill where there's a trig point and wonderful views to enjoy.
The route then follows other footpaths across the hills before picking up the Icknield Way to return you to the car park.
On your walk you may see a deer and various birds including skylark, buzzard and fieldfare. View Full Details>>
Pen Y Fan
5 miles (8 km)
Climb the highest peak in South Wales and southern Britain on this stunning walk in the Brecon Beacons National Park.
This is a challenging climb to the 2906 feet (886m) summit but the footpaths are generally very good for most of the walk.
You start at the car park at Storey Arms about 10 miles north of Merthyr Tydfil. There is an alternative car park at Pont ar Daf just to the south if you prefer.
The first stage passes through woodland and crosses Blaen Taf Fawr before ascending toward Bwlch Duwynt. You continue to Corn Du where there are fabulous views of the Neuadd Valley, Cantref Reservoir, Beacons Reservoir and Llwyn-on Reservoir. Shortly after you reach the summit of Pen Y Fan where you will find a former Bronze Age burial chamber. The views are fantastic with Sugar Loaf, the Bristol Channel , Carmarthen Bay, Swansea Bay, the Gower Peninsula, the Black Mountains, the Cambrian Mountains and Exmoor all visible on a clear day. 
From the summit you descend to Corn Du and then on to the heather covered Y Gyrn. You soon come to a woodland area and the finish point at the car park. View Full Details>>
Pen y Fan Horseshoe Walk
8 miles (12.6 km)
This fantastic horseshoe ridge walk visits Pen Y Fan, Corn Du and the Cribyn in the Brecon Beacons National Park. It's a challenging hike but you will be rewarded with some simply stunning views over the surrounding peaks and reservoirs.
The walk starts from the car park in Taf Fechan Forest and heads north to the beautiful Lower Neuadd Reservoir. You then climb west onto the Craig Fan Ddu ridge and head north with fantastic views toward Pen y Fan and Corn Du.
The route climbs to the summit of Corn Du at 873 m (2,864 ft). Here you will find a well structured Bronze Age cairn and views to the Black Mountain range and Fforest Fawr.
You continue a short distance to the 886 m (2,907 ft) summit of Pen Y Fan which is the highest peak in south Wales. There's more panoramic views here to the Bristol Channel, Carmarthen Bay, Swansea Bay, the Gower Peninsula, the Black Mountains, the Cambrian Mountains, Exmoor and the Clee Hills in South Shropshire can be seen.
After taking in the views the route descends along Craig Cwm Sere to the Cribyn, standing at a height of 795 m (2,608 ft). The impressive views include Mynydd Epynt, the town of Brecon and the Cambrian mountains beyond. Look out for mountain birds including peregrine falcons, common buzzards and the red kite in this area.
You continue the descent along Craig Cwm Cynwyn toward Bwlch Y Fan and Fan-y-Big. The final section descends past Tor Glas and the Upper and Lower Neuadd Reservoirs to the car park. View Full Details>>
Pen y ghent
6 miles (9 km)
Climb to the 694 m (2,277 ft) summit of Pen y ghent on this challenging circular walk in the Yorkshire Dales. Pen y ghent is probably the most famous and popular of the Yorkshire Three Peaks. The others are Ingleborough and Whernside. This route is the classic ascent from Horton in Ribblesdale via Brackenbottom Scar. It runs for just under 6 miles and includes a challenging ascent of over 1300ft.
You start in the village of Horton in Ribblesdale at the car park and follow country lanes towards Brackenbottom. You continue the ascent, picking up the Pennine Way just before reaching the summit. From here there are fabulous views across the Yorkshire Dales. The descent follows the Pennine Way passing Tarn Barn, Horton Scar and Hull Point - the largest natural hole in England.
The mountain is located close to the Malham Tarn Estate where you can enjoying cycling and walking trails around the beautiful glacial lake and try another challenging climb to Fountains Fell and Fountains Fell Tarn. View Full Details>>
Pen Yr Ole Wen
2 miles (3.5 km)
Climb to the 7th highest mountain in Snowdonia on this challenging walk in the Carneddau mountain range.
Start the walk from the National Trust Ogwen Cottage car park at the western end of Llyn Ogwen. Head up to the A5 and turn left until you cross the bridge. On your right you should see a stile and a National Trust information board. This path will lead you all the way up to the Pen Yr Ole Wen summit.
The mountain stands at a height of 978 m (3,209 ft), the same height as England's highest peak, Scafell Pike. There's splendid views over the Ogwen Valley, Cwm Idwal and the Glyderau group including Tryfan. After taking in the views the route then descends back to the car park on the same track. View Full Details>>
Pendle Hill
5 miles (7.5 km)
This walk climbs to the summit of Pendle Hill in Lancashire. It starts in the delightful village of Barley and makes use of the Pendle Way long distance footpath to take you on a circular tour of the area. It's a steep climb but the path is pretty well defined for most of the way. From the 557 metre (1,827 ft) summit there are fabulous views over the Pennines to the east, the Bowland Fells to the northwest, and the West Pennine Moors to the south.
After leaving the summit you descend to Boar Clough before enjoying two waterside stretches along the Upper and Lower Ogden Reservoirs. The path then leads you back into Barley.
The area is famous for the Pendle Witch Trials. These took place in 1612 when twelve people from the area were charged with the murders of ten people by the use of witchcraft. Ten were subsequently found guilty and executed by hanging. View Full Details>>
Penshaw Monument
1 miles (1.5 km)
Climb Penshaw Hill and visit this iconic Sunderland landmark on this short walk in Tyne and Wear. It's a popular spot with the impressive monument sitting in an elevated position with wonderful views over the surrounding countryside. You can park at the foot of the monument and follow the footpath up the hill to the high point. After taking in the views you can then explore the woodland trails in Penshaw wood where there are pretty bluebells, white ramsons and wood anemones in the spring.
The 70 foot high monument was built in 1846 and commemorates the 1st Earl of Durham. It appears on the badge of Sunderland Football Club and can be see for miles around. View Full Details>>
Pewley Down
6 miles (10 km)
This walk visits the Pewley Down viewpoint near Guildford. The route includes a canal-side stretch and a visit to Chantry Woods, before climbing the hill.
The walk starts on the River Wey Navigation Canal near to the train station in Guildford. You follow the Wey South Path along the canal to Shalford Park where you pick up the North Downs Way. Follow it east and it will take you through Chantry Wood. The woods have some nice trails to try and pretty bluebells in the spring.
Just before you reach Halfpenny Lane you turn north west and follow the Mile Path bridleway up to Pewley Down. From here there's nice views over the surround North Downs countryside and woodland. View Full Details>>
Pillar from Wasdale Head
7 miles (11.5 km)
Climb to this prominent Lakeland Fell on this popular circular route. The mountain stands at 892 metres (2,927 feet) making it the eighth highest in the Lake District. On the walk you'll enjoy splendid views of the valleys of Ennerdale and Wasdale.
The fell is typically climbed from Wasdale Head where there is a popular car park. From here you head north to the rushing water of Ritson's Force Waterfalls. You continue to Gatherstone Head, crossing Gatherstone Beck on the way. The ascent continues along the Black Sail Pass before turning west to the Pillar summit via Looking Stead. The summit is wide and grassy with splendid views of most of the major Lakeland fells. You can also see Loweswater and Ennerdale Water. Nearby is Pillar Rock, considered one of the wonders of the Lake District. The striking rock is popular with rock climbers and located just to the north of the Pillar summit.
After taking in the fine views you descend to Scoat Fell. From here the full horseshoe of the Western Fells can be seen. The descent continues to Red Pike fell, passing Scoat Tarn before coming to Dore Head. The final section takes you around Dorehead Screes and along Mosedale Beck before returning to the Wasdale Head car park.
To continue your walking in the area you could climb to Scafell Pike. Scafell is the highest point in England and is often climbed from Wasdale Head.
Just to the north of Pillar is Ennerdale Forest where there are footpaths leading to the lovely Ennerdale Water. View Full Details>>
Pilot Hill
2 miles (3.5 km)
Climb to the highest point in Hampshire on this walk on the Berkshire/Hampshire border. The walk starts from the Inkpen Beacon car park about 2 miles north west of the hill. From here you pick up the Wayfarer's Walk and follow it past Walbury Hill and the pretty West Woodhay Down. At 297 m (974 ft) Walbury Hill is the highest point in Berkshire and South East England. At the summit you can enjoy more great views over the county and explore the Iron Age Hill fort of Walbury Camp.
The route continues to Pilot Hill where you pick up the Brenda Parker Way to take you to the Hampshire village of Faccombe. View Full Details>>
Plynlimon
5 miles (8 km)
Climb to the highest point in the Cambrian Mountains on this challenging circular walk in Ceredigion. There are wonderful views of the reservoirs, countryside and forests of mid-wales to enjoy.
The walk starts from the parking area on the A44 at  Esteddfa Gurig. You then pass a farm and then through a gate marked 'All Walks' before beginning the ascent. The path takes you to the summit of Pen Pumlumon Fawr which stands at a height of 752 metres (2,467 ft). Here you will find a trig point and magnificent views in all directions. You can then descend the same way or via Pen Y Drawsallt, to the west. View Full Details>>
Pontesbury and Pontesford Hill
3 miles (5.4 km)
This circular walk from the village of Pontesbury climbs to Earl's Hill and Pontesford Hill for lovely views over the Shropshire countryside. There's much to enjoy with woodland trails, an Iron Age Hillfort and a variety of flora and fauna in the nature reserve area. Look out for the pretty bluebells in the woodland area during the spring months. In the summer you can see orange tip butterflies fluttering around the many wildflowers.
The walk starts off from the centre of Pontesbury and heads east to the wooded area just to the north of the hills. You then follow the trails south to Pontesford Hill and Earl's Hill, which stands at a height of 320m (1049ft). Here you'll find a triangulation pillar, far reaching views over the Shropshire Hills and an Iron Age Hillfort dating from 600BC.
After taking in the views you descend south to pick up the Marches Way trail. You can then follow this back through the woods towards the village. View Full Details>>
Pots and Pans
4 miles (6.4 km)
Climb to a distinctive hill on this circular walk on Saddleworth Moor, Oldham. There's fantastic views over the Peak District from the elevated position of the moor. You'll also encounter a number of interesting rock formations at the summit.
Start the walk from the parking area next to St Chads on Church Lane, in the village of Saddleworth. From here you head east through the village where you can pick up a footpath heading north to Running Hill Lane. Turn east to follow country lanes and footpaths up to Broadstone Hill.
The walk then turns south, passing Slades Rocks and Shaw Rock before coming to Dick Hill. You continue to Alderman's Hill before heading to Pots and Pans. Here you will find an Obelisk and a number of rock formations, with a wonderful backdrop of Peak District Hills. The war memorial on the hill commemorates Saddleworth's losses in the two World Wars. It's a very photogenic location with fine views over the city of Manchester to enjoy as well.
After taking in the views the route descends back to the car park, passing Primrose Hill on the way. You can enjoy refreshments in one of the cafes in Saddleworth or nearby Uppermill. View Full Details>>
Precipice Walk Dolgellau
3 miles (5 km)
A lovely circular walk through the hills surrounding Llyn Cynwch in the Snowdonia National Park. From the elevated position of the trail there are fabulous views over the Mawddach River and the surrounding mountains. The walk takes place on good, signed paths with an easier path along the reservoir for those looking for a more sedate stroll.
You can start your walk from the car park a few miles north of Dolgellau, near to Nannau Farm and the Foel Offrwm Hill Fort. From here you can pick up the trails heading west towards the lake. Follow the paths above the water, taking you round to Foel Cynwch and the Foel Faner Iron Age Hillfort. The route then descends to the lake where you enjoy an easy waterside stretch before returning to the car park. View Full Details>>
Preseli Hills Golden Road
7 miles (11 km)
This splendid walking trail runs right along the spine of the Preseli Hills giving wonderful views of the area. On a clear day you can see Cardigan Bay, Snowdonia and even Ireland. You will also pass two quarries which are believed to have provided the stones for Stonehenge. The road is thought to date back to Neolithic times. It's a 7 mile linear route but you could turn it into a circular walk by following the country lane at the end of the route south east towards Rosebush and then turning north through the Pantmaenog Forest to return to the start point.
The walk starts at the Bwlch Gwynt car park on the B4329 and heads east following the trail past the northern end of the Pantmeanog Forest. Here you have the option to take a short detour south to Foel Cwmcerwyn, the highest point in the Presili Hills. View Full Details>>
Rannerdale Knotts
2 miles (4 km)
Visit Rannerdale Knotts and Whiteless Pike on this circular walk in the beautiful Rannerdale valley. It's a small fell but its proximity to Buttermere and Crummock Water make it an attractive option for walkers. There's also good footpaths, fine views and a section through the lovely bluebell valley.
You can start the walk from the small car park off the B5289, next to Crummock Water. Then head north through the bluebell valley. The area is managed by the National Trust and is a stunning sight in the spring months, when carpets of bluebells cover the hills. You then head east through High Rannerdale, passing along Squat Beck. Near Whiteless Breast you turn west and ascend to the 355 m (1,165 ft) summit of Rannerdale Knotts. It's a wonderful spot with views back down to Crummock Water and Buttermere Lake.
To extend your walking in the area you could try the Crummock Water and Buttermere walks. Both lakes have lovely waterside paths to try.
For a more challenging climb you could try the Grasmoor walk which starts from the nearby Rannerdale Bridge. View Full Details>>
Red Screes
4 miles (6 km)
This circular route takes you up Red Screes fell in the Lake District National Park. The walk begins in the popular town of Ambleside and ascends to Scandale Fell and Scandale Pass along the Scandale Beck. From Scandale Pass you turn east to the summit of Red Screes. Here you will find cairns, a circular stone shelter and the pretty Red Screes tarn. There are magnificent views of the coast, Helvellyn, Dove Crag, Fairfield and over Deepdale Hause. To the west you can see the Coniston, Bowfell and Scafell fells. You descend passing Raven Crag to Snarker Moss where the ground can be quite boggy. You continue to Snarker Pike before reaching the Kirkstone Road which will take you back into Ambleside. View Full Details>>
Rhinog Fawr
4 miles (7 km)
Visit the Rhinogs range of mountains in the Snowdonia National Park and climb Rhinog Fawr on this challenging walk. You'll pass heathery slopes, little streams, rocky outcrops and two small lakes on your way to the top.
The walk begins from the Llyn Cwm Bychan car park a couple of miles north of Rhinog Fawr. You then follow the footpaths through a woodland area before climbing the Roman Steps. You'll pass the two pretty lakes of Llyn Morwynion and Llyn Du before coming to the 720 m (2,360 ft) summit of Rhinog Fawr. From here there are fabulous views over the surrounding peaks and lakes. The area is also a National Nature Reserve so look out for interesting flora and fauna including purple heather and wild goats. View Full Details>>
Ridge Walk Mam Tor to Lose Hill
5 miles (8 km)
Follow the Great Ridge from Mam Tor to Lose Hill on one of the most popular walks in the Peak District. Although the walk reaches a height of well over 1600ft, it is not as challenging as you might think because the start point for walk is already in an elevated position. The walk runs for a distance of about 2.5 miles, so roughly 5 miles there and back.
It's a very beautiful area with the views over the Peak District stunning for the duration of the route. You can see the Hope Valley, the Edale Valley and several of the prominent fells. The area is also geologically fascintating with several 320 million year old Carboniferous rocks.
Start the walk from the National Trust Mam Nick car park. It's located just to the south west of Mam Tor on the Sparrowpit Buxton A623.A6 Road. From here it's a short but steep climb to the 517m (1,696 ft) summit of Mam Tor. The route then passes along the Great Ridge, descending to Hollins Cross before passing Back Tor and finishing on Lose Hill. It's about a 2.5 mile walk so 5 miles in total.
This ridge walk is located very close to both Edale and Castleton so you could start your walk from either of these popular Peak District villages.
To extend your walk you can visit the nearby Winnats Pass with its towering limestone pinnacles. You could also pick up the Pennine Way around Edale and climb towards Kinder Scout. View Full Details>>
Rivington Pike
2 miles (3 km)
This popular walk climbs to the Rivington Pike viewpoint in the lovely Rivington Country Park, near Bolton. View Full Details>>
Roseberry Topping
2 miles (3 km)
Climb to the summit of this distinctive hill near Guisborough and enjoy wonderful views across the beautiful North York Moors National Park. The circular walk runs for a distance of about 2 miles but is still quite a challenging climb. The summit has a symbolic half-cone shape and jagged cliff, which has been likened to the Matterhorn in Switzerland. The area is managed by the National Trust so there are very good footpaths to take you to the summit.
The walk starts at the car park just to the west of the hill, and heads along Roseberry Lane and through Newton Wood and Roseberry Common to the summit. There are wonderful views of the Cleveland plain and the Pennines on a clear day. From the summit you descend toward Newton Wood for another woodland section where you can see bluebells in the spring months. Also look out for roe deer and woodpeckers on this part of the walk.
If you'd like to continue your walking in the area then you could pick up the Cleveland Way and head east to the Guisborough Forest and Walkway. You could also climb to Captain Cook's Monument for more wonderful views of the area.
Another similar climb can be found at Eston, Middlesbrough. From Eston Nab there are more splendid views over the moors to the coast. View Full Details>>
Rough Tor
2 miles (3 km)
This is a climb to the 1313 ft (400m)  summit of Rough Tor on Bodmin Moor. Rough Tor is the second highest point in Cornwall and a popular spot for walkers. View Full Details>>
Roundway Hill
3 miles (5.5 km)
Visit this historically significant hill on this interesting walk in Devizes. The hill is the site of a famous Civil War battle where a Royalist cavalry force under Lord Wilmot won a crushing victory over the Parliamentarians in 1643. You'll also visit the iron age hillfort of Oliver's Castle and enjoy views of the Devizes White Horse and the surrounding Wiltshire countryside.
The walk starts from the Roundway Hill car park next to Oliver's Castle. You could also easily walk to the site from Devizes by following the Wessex Ridgeway north for about two miles. You can then follow a circular route around the site for about 4 miles. There's also the option of exploring the woodland of the Roundway Hill Covert with its 68 acres of broadleaf woodland.
This route is designed for walkers but the area is also good for mountain biking with trails running across Roundway Hill and the adjacent Beacon Hill.
To extend your walk you can continue along the Wessex Ridgeway towards Morgan's Hill where you can pick up the Wansdyke Path. It's located about two miles north east of the car park at the start of this walk.
You could also visit the nearby Cherhill White Horse which is also located near Morgan's Hill. View Full Details>>
Saddleworth Moor
5 miles (8 km)
Enjoy a walk across this atmospheric moor in the Peak District. You can start at the car park at Dovestone Reservoir and follow footpaths past Yeoman Hey Reservoir and Greenfield Reservoir. You then follow the Greenfield Brook to Raven Stones Brow with little waterfalls to enjoy on the way. After crossing the brook you then head up and across the moor. This is a challenging section with the moor reaching heights of around 1500ft. There are excellent views over the reservoirs to the surrounding Pennine Hills and some fascinating geological features to look out for on the way.
From the high point on the moor you descend to Dovestone Reservoir and enjoy a woodland and waterside section taking you back to the car park.
To extend your walk you can pick up the Oldham Way and follow it south over the Chew Hills to Chew Reservoir. You could also reach the moor from nearby Mossley train station by following the Oldham Way. View Full Details>>
Scafell Pike
5 miles (8.2 km)
Climb the highest mountain in England on this spectacular walk in the Lake District. Scafell pike stands at a height of 978 metres (3,209 ft) between Eskdale and Wasdale, at the northern end of Wast Water. The route below is the shortest, most direct way to the summit. Although very challenging it is probably the easiest route up Scafell Pike. It starts from the car park in Wasdale Head village and heads to Lingmell Gill, Lingmell Scars and Hollow Stones before finishing at the highest point where you will find an Ordnance Survey triangulation column beside a huge cairn. The views are stunning with the coast, the Isle of Man and Snowdonia all visible on a clear day.
For a different, more scenic route to the summit you can try the Scafell Pike from Borrowdale route. This longer route takes you around Styhead Tarn and along the famous Corridor Route. The Scafell Pike from Langdale route is another popular route. It is a longer and more challenging climb, but with some wonderful views of the Langdale Valley and a visit to Angle Tarn.
Another great climb also starts from Wasdale Head. The circular climb to Pillar is a splendid walk taking you to the eighth highest point in the Lake District. View Full Details>>
Scafell Pike from Borrowdale
9 miles (14.5 km)
This walk takes you to the highest mountain in England along one of the most popular and scenic routes to the summit. The challenging climb from Seathwaite in beautiful Borrowdale takes in Styhead Gill, Styhead Tarn and the famous Corridor Route.
The route starts in the little hamlet of Seathwaite a few miles north of the mountain. There's lots of roadside parking although it can get busy in the summer months. From here you pick up the footpath to Stockley Bridge along the pretty gill and then turn right towards Taylorgill Force waterfall. The path ascends along the running waters of Styhead Gill before coming to the lovely Styhead Tarn. You continue around Sty Head and Spout Head heading along the Corridor Route on a series of stone steps.  The route takes you along the western flank of the Scafell massif with wonderful views of the fell. The final steep section takes you around Lingmell Col to the summit. Take a while to rest and enjoy the fabulous panoramic views of the Lakeland Fells before descending the same way.
An alternative route is to continue along Grains Gill from Stockley Bridge. The path continues along Ruddy Gill, passing Sprinkling Tarn before rounding Great End and ascending to Scaffel Pike from the eastern side.
To climb to the summit the most direct way try the Scafell Pike From Wasdale route. For a longer more challenging walk try the Scafell Pike from Langdale route. This route involves a fair amount of scrambling but with some wonderful views of the Langdale Valley and a visit to Angle Tarn. View Full Details>>
Scafell Pike from Langdale
12 miles (19.5 km)
This is one of the longer and more challenging routes to the top of England's highest mountain. There's several challenging sections with steep scrambles so this route is only really suitable for more experienced hikers. Along the way you are rewarded with spectacular views of the Langdale Valley and Langdale Pikes.
The walk starts from the New Dungeon Ghyll Hotel in Langdale, following a section of the Cumbria Way along Langdale Fell and Mickleden Beck, to Angle Tarn. This section also passes the beautiful Rossett Gill waterfall.
From the tarn you continue past Esk Hause to Ill Crag, before the final section takes you onto the Scafell Summit. Please note that a fair amount of scrambling is required from Esk Hause to the Scafell summit. From here views are stunning with the coast, the Isle of Man and Snowdonia all visible on a clear day.
Look out for birds of prey including buzzards and kestrels as you make your way along the route.
For an alternative route to the summit you can try the Scafell Pike from Borrowdale walk. This route takes you around Styhead Tarn and along the famous Corridor Route.
For the most direct route to the summit try the Scafell Pike From Wasdale walk.
To extend your walking in the area you can climb to the Langdale Pikes. The route also starts from New Dungeon Ghyll.
The climbs to Crinkle Crags, Bowfell and Dungeon Ghyll are also nearby. View Full Details>>
Scout Scar
2 miles (3 km)
Enjoy a short but steep climb to a wonderful viewpoint near Kendal. There's a good footpath leading up to the viewpoint where you can see the Coniston Old Man, Bowfell and the Langdale Pikes. It's a geologically fascinating area with carboniferous limestone and steep slopes to admire.
There is a car park on Underbarrow Road just to the north west of the hill. You can follow the road from Kendal to the site. It's about 2 miles west of the town centre. From here you can pick up the footpaths to take you up to Scout Scar and along Barrowfield Wood. At the 235m (775ft) summit you will find a structure known as 'The Mushroom'. This shelter has a view finder (toposcope) showing all the fells you can see from the viewpoint.
You can explore the area further by visiting Cunswick Scar and Helsington Barrows as shown in the video below. The longer circular walk starts in Kendal and visits the Lake District's outlying fells as described by Alfred Wainright in the first chapter of his book on the area.
If you continue south from this route you will soon come to Sizergh Castle. The 1,600-acres estate includes miles of great walking trails through limestone pasture, orchards and Brigsteer Woods.
In Kendal itself you could try our Kendal Castle and River Walk which visits the atmospheric ruins of the 12th century castle and also takes you along the River Kent. View Full Details>>
Scrabo Tower
1 miles (1 km)
Scrabo Hill and country park is located near Newtownards in County Down, Northern Ireland. You can follow footpaths to the top of the hill where you will find the well known landmark Scrabo Tower. The 19th century tower is 125 feet (38 m) high and visible for miles around. The views from the summit of Scrabo Hill extend to Strangford Lough, the Mourne Mountains and the Scottish coast. You can pick up the footpath from the car park. It's a short climb of less than half a mile but quite steep.
After descending the hill you can continue to explore Scrabo Country Park. There are nice woodland trails through Killynether Woods with lots of bluebells in the springtime.
To extend your walking in the area you pick up the Comber Greenway from nearby Comber. This cycling and walking trail runs along National Cycle Network route 99 and a disused railway line from Belfast to Comber. View Full Details>>
Seat Sandal
4 miles (6.5 km)
This circular walk climbs to Seat Sandal fell near Grasmere in the Lake District National Park. You can start the walk from the layby parking just off the A591 at Mill Bridge. Head north from layby, crossing Tongue Gill before picking up the footpaths heading north east. The first section follows Wainwright's Coast to Coast along Tongue Gill to the Farfield Iron Mine. The route continues al the C2C to Grisedale Hause where you turn south west towards the Seat Sandal summit. From the 736 m (2,415 ft) summit you can see the Helvellyn and Fairfield ranges, the Solway Firth, the Scottish mountains and Morecambe Bay to the south. After taking in the views you descend back to the start point on the western side of Great Tongue. You could also descend on a section of the C2C via Little Tongue Gill.
To extend your walk you can continue along the C2C to Grisedale Tarn which is just to the north of Seat Sandal. The path will eventually lead you to St Sunday Crag where there's great views over Ullswater.
The fell is also very close to the route for the Fairfield Horseshoe which is another popular climb in the area. View Full Details>>
Shaftoe Crags
2 miles (3 km)
Climb to Shaftoe Crags and enjoy far ranging views over the Northumberland countryside on this circular walk near Morpeth. The area is geologically significant with a number of interesting rock formations including the Devil's Punchbowl. The crags reach a height of nearly 700ft. From this elevated position the views over the surrounding area are magnificent, with the Northumbrian coast visible on a clear day. There are also evidence of ancient occupation with a number of Iron Age burial mounds.  View Full Details>>
Sharpenhoe Clappers
3 miles (5 km)
Visit this classic chalk escarpment in the Chilterns and enjoy wonderful views across this beautiful area. This circular walk makes use of the John Bunyan Trail and the Icknield Way Path to take you on a tour of the Sharpenhoe Clappers and the Smithcombe Hills. There's a degree of climbing involved with the route hitting a peak of just over 500ft at the high points.
You can park at the Sharpenhoe Clappers car park on Sharpenhoe Road to start your walk. Then head north towards the Iron Age Hill Fort and beech wood which sits atop the area. In the summer months the chalk grasslands are covered in pretty wildflowers which attract a variety of butterflies. Look out for orchids, primroses and an uncommon rose, Rosa stylosa, found in scrub areas. 
After exploring the hill fort you can head south through the Smithcombe Valley along the Icknield Way Path. You'll pass Smithcombe hill as you make your way to the village of Streatley. From Streatley you pick up the John Bunyan Trail to take you back to the car park.
There's lots of good options for extending your walking in the area. Just to the east is the lovely Barton Hills National Nature Reserve where there's lots more interesting flora and fauna to see. Just to the west is Sundon Hills Country Park with lots more walking trails and great views to enjoy. View Full Details>>
Sheepstor
3 miles (5 km)
This circular walk climbs to Sheepstor where you can enjoy lovely views down to Burrator Reservoir. The walk runs for about 3 miles with a moderate climb and then some flat waterside paths along the reservoir. Start the walk from the reservoir car park at the eastern end of the water. From here you can pick up footpaths heading south west to Yellowmead Down and Sheepstor. The summit is 369m above sea level and it is one of the area's most prominent tors. There's nice views across Dartmoor and the reservoir below from here.
The route then descends to the west, passing through woodland before coming to Burrator Reservoir. You can then pick up paths along the water, leading you back to the car park and the finish point of the walk.
At the southern end of the route you can take a short detour to visit Sheepstor village, after which the hill is named. The village has a noteworthy church, dedicated to St Leonard, which is built of granite and dates from the 15th century. View Full Details>>
Shining Tor and Cats Tor
6 miles (10 km)
Climb to the highest point in Cheshire on this wonderful walk in the Goyt Valley.
The walk starts from the Erwood Hall Car Park at the southern end of Erwood Reservoir. The route then ascends to Shining Tor, passing the Errwood Estate with its old ruined hall and attractive woodland. The hall was built in the 1830s by Samuel Grimshawe with a 2000 acre estate consisting of farmland and woodland with azaleas and rhododendrons. You can see the Grimshawe's family cemetery and an attractive Spanish Shrine to the governess of the children at Errwood Hall. The estate is a popular start point for walks in the Goyt Valley.
At the 559 m (1,834 ft) summit of Shining Tor you can enjoy great views of the Cheshire Plain, Winter Hill, the city of Manchester and Jodrell Bank. On a clear day you can also see as far as Snowdonia.
The route then heads north along the ridge to Cats Tor and then on to Pym Chair. It's a lovely stretch of the walk with a good path leading along the ridge with views of Cats Tor and the surrounding Peak District hills and moorland. Pym Chair is another popular viewpoint with a car park. You could also start the walk from here if you prefer.
From Pym chair you descend back to Errwood Reservoir along a nice country lane before a final waterside section leads you back to the Errwood Hall car park.
If you would like to continue your walking in the area then you could pick up the Midshires Way which runs past the reservoir. You could actually start the walk from nearby Buxton and follow the Midshires Way to Shining Tor from there. The Errwood Reservoir and Fernilee Reservoir Walk also starts from the same location.
If you head north from Pym Chair then you would soon come to Windgather Rocks, a popular place for rock climbers. View Full Details>>
Shutlingsloe
3 miles (5 km)
Enjoy fabulous views over Cheshire on this climb to Shutlingsloe Hill in the Peak District. The distinctive hill is also known as the Cheshire Matterhorn due to its shape from certain directions.
The walk starts from the Trentabank Reservoir car park and follows a footpath through Macclesfield Forest to Shutlingsloe, passing Nessit Hill on the way. There is quite a steep path to the 506 m (1,660 ft) summit but you will be rewarded with splendid views of the surrounding Peak District scenery. At the summit you will find a toposcope detailing all the landmarks visible from the viewpoint. This includes Shining Tor and the famous large dish of the radio telescope at Joddrell Bank. You can return on the same path or descend to Wildboarclough and return on country lanes to make it a circular walk.
Highlights on the walk include nice woodland trails through the conifer forest and views over Trentabank Reservoir with its heronry and interesting plantlife.
It's easy to extend your walking in this lovely area. You could head west from the car park to Ridegate Reservoir and pick up the Gritstone Trail and follow it to the excellent Tegg's Nose Country Park. View Full Details>>
Silver How
2 miles (3 km)
This is a fairly easy climb to Silver How fell in the Lake District. It's a short circular walk starting in Grasmere and a nice one to try if you're looking for an introduction to fell walking. The walk passes the National Trust owned Allan Bank, the former home of William Wordsworth. It's a lovely place to stop for a drink or go for a stroll in the pretty garden. From the Silver How summit there are super views of Grasmere village and lake. Many of the famous fells are also visible such as Helm Crag, Steel Fell, Heron Pike and Fairfield. The walk descends from the summit with a woodland section taking you back to Grasmere.
If you enjoy this walk then there are some similar ones to try starting in Grasmere. For example you could climb the nearby Helm Crag or visit the pretty Easedale Tarn. Both walks are similar in length and are also fairly easy climbs. View Full Details>>
Simons Seat
6 miles (10 km)
This walk from Bolton Abbey climbs through the Valley of Desolation to Simon's Seat. It's a beautiful, varied walk with waterfalls, rushing becks, heather moorland, woodland trails and spectacular views from the high points. The route is a fairly challenging 3 mile hike to the summit, using a good waymarked path which rises steadily before reaching a peak of 485m (1590ft).
The walk starts from the estate car park next to the River Wharfe. Cross the bridge over the river and then turn left to pick up the trail along the Posforth Gill to the Valley of Desolation. You'll pass some pretty waterfalls before heading into the woodland and moorland of the Valley of Desolation.
The marked trails then take you along the Great Agill Beck to the interesting rock formations of Truckle Crags. Shortly after you arrive at the 485m peak of Simon's Seat where you can enjoy wonderful views over the countryside of the Yorkshire Dales. View Full Details>>
Simonside Hills
7 miles (11 km)
The Simonside Hills are a fabulous place for walkers with miles of footpaths taking you through woodland and moorland to wonderful viewpoints. You'll pass interesting rock formations, rocky outcrops and acres of forest as you make your way through this wildly beautiful area of the Northumberland National Park. View Full Details>>
Skiddaw
13 miles (21 km)
This is the popular Skiddaw circular walk from Keswick in the Lake District National Park. It's a challenging route, running for almost 13 miles, and reaching a height of over 3000ft at the high points.
Skiddaw is the 4th highest mountain in England and is a popular climb with hill walkers. This route makes use of the Allerdale Ramble way-marked walking trail so is well defined and easy to follow.
The route starts from the town of Keswick at the northern end of the beautiful Derwent Water. From here you can pick up the Allerdale Ramble and head north east to Ormathwaite, Applethwaite and Millbeck where there are some pretty waterfalls. The path then heads to Carl Side before the final steep climb to the summit of Skiddaw which stands at a height of 931 m (3,054 ft). Here you will find several cairns and a number of stone windshelters. The views are magnificent - you can see the Cheviots, North Pennines, Yorkshire Dales, Forest of Bowland, the Isle of Arran, the Isle of Man and the Mourne Mountains of Northern Ireland on a clear day.
After taking in the views you then descend to Longside Edge and Ullock Pike before a woodland stretch through Thornthwaite Forest takes you to the River Derwent. You then follow the lovely riverside path back into Keswick. View Full Details>>
Skirrid Fawr
9 miles (14.5 km)
Climb this 486m (1594 feet) mountain in the Brecon Beacons on this challenging walk. Skirrid Fawr (or Ysgyryd Fawr) forms part of the Black Mountains range.
The walk starts in Abergavenny, next to the tourist information centre and follows the Marches Way long distance trail to the summit. Here you will find the ruins of an iron–age hill fort and St Michael's medieval Roman Catholic church. There are splendid views across the Brecon Beacons, Black Mountains, Abergavenny and the surrounding countryside.
The walk descends through woodland areas before rejoining the Marches Way and returning to Abergavenny.
If you'd like to climb another black mountain then the iconic Sugarloaf is also near Abergavenny. The Brecon Beacons Way also runs through the area so you could pick this up to continue your walk. View Full Details>>
Slemish Mountain
1 miles (1.5 km)
Follow the Slemish Path to the 1437 ft summit of this mountain in County Antrim. The challenging path starts from the Carnstroan Lane car park near Broughshane and climbs steeply to the summit. Here you are rewarded with fine views over Antrim, the Scottish coast, Ballymena town, Lough Neagh and the Sperrin Mountains. View Full Details>>
Slieve Donard
5 miles (8 km)
Climb to the highest peak in Northern Ireland on this challenging walk in the Mourne Mountains. It's a beautiful area with a waterside section along the Glen River a real highlight of the walk. The river has rocky pools, pretty waterfalls and surrounded by attractive woodland. The climb to the summit passes along the Mourne Wall which runs for 22 miles over 15 mountains. It was constructed in the early part of the 20th century.
The walk starts from the attractive coastal town of Newcastle in County Down. After leaving the car park in Donard Park the route heads through the Scots Pine and Oak of Donard Forest. You'll follow the lovely Glen River Path to the Mourne Wall where you turn left to reach the 850m (2,789 ft) summit. From here the views are spectacular with Newcastle Beach, the Isle of Man, Scotland and Wales all visible on a clear day. Also at the summit you will find a small stone tower and two prehistoric burial cairns.
If you would like to extend your walking in the area then you could visit the nearby Tollymore Forest Park with its riverside walks and waymarked, woodland walking trails.
Also nearby is the splendid Murlough Bay National Nature Reserve where there is a beautiful sand dune system, woodland trails and a wonderful beach. For an easy stroll around Newcastle head to the pretty Islands Park in the town. It lies on the banks of the Shimna and Tullybrannigan Rivers, between the Bryansford Road, Bryansford Avenue and the Shimna Road. View Full Details>>
Snaefell
2 miles (3 km)
Climb to the peak of the highest mountain on the Isle of Man on this short climb from the Bungalow station. It's about a one mile climb from the station which is on the excellent Snaefell Mountain Railway. Catch the railway from the town of Laxey then alight at Bungalow to climb the rest of the way. You can also drive to the Bungalow car park and start the walk from there. The trail has sections of gravel, slate stones, grass and rock. It's a short path but quite steep near the summit.
From the 2,037 feet (620.9 m) high summit it is said you can see the six kingdoms of the Isle of Man, England, Ireland, Scotland, Wales and Heaven. A plaque points out the directions of landmarks and their distances from the summit.
At Laxey you can pick up the Isle of Man Coastal Path to extend your walk. View Full Details>>
Snake Pass
8 miles (13.5 km)
This circular walk explores the area around the Snake Pass with great views of the Pennines. It's an interesting area with some nice woodland trails, lots of pretty streams and fabulous views from the high points. It's a fairly challenging walk, reaching a height of nearly 1800ft at Mill Hill.
The walk starts in the Lady Clough Woods car park just off the Roman Road. Also known as Snake Woods this attractive conifer plantation climbs the steep slopes on either side of the clough. You follow the woodland trails south to Saukin Ridge where you pick up the Snake Path. This stony footpath runs west along Black Ashop Moor to Ashop Clough and Ashop Head. There's nice streams and pretty heather to look out for on this section. At Ashop Head you have the option of picking up the Pennine Way and following it south east towards the magnificent Kinder Scout. You could also head due south and visit Kinder Reservoir. View Full Details>>
Snowdon Horseshoe
7 miles (12 km)
This classic circular walk to the Snowdon summit is a favourite for many. The 7 mile challenge is considered one of the finest ridge walks in the country. It is a very challenging circuit with knife edge sections along Crib Goch, where great care should be taken, particularly on windy days.
The walk starts from the Pen-y-pass car park at the top of the Llanberis Pass off the A4086 road. From here you pick up the Snowdon Pyg Track and head west towards Bwlch Y Moch. You continue west to the exhilarating section along Crib Goch. The high point stands at 923 metres (3,028 ft) above sea level. It involves a fair degree of scrambling and a challenging knife edge ridge so take your time! After tackling three rock-pinnacles you will arrive at the grassy col at Bwlch Coch. From here there are great views to Llyn Glas, Y Lliwedd's twin peaks and the Snowdon peak.
The next section climbs to Garnedd Ugain mountain, the second highest peak in Wales, lying just under one kilometre north of the summit of Snowdon itself. The route continues to the Finger Stone on Bwlch Glas, marking the top of the Pyg Track and Miners Track. Soon after you reach the summit of Snowdon where you can enjoy views as far as the Isle of Man, the Peak District, the Lake District and Ireland. A brass plaque shows all the surrounding mountains of Snowdonia you can see.
The route then steeply descends to Bwlch Cileau and Y Lliwedd using part of the Watkin Path. You continue the descent to Lliwedd Bach and then on to Llyn Llydaw. There are nice views here back to Crib Goch where you can see walkers tackling the same challenging ridge you have already completed!
Then next section passes along the shores of the pretty lake before following part of the Snowdon Miners Track to the much smaller Llyn Teyrn. From here it is a short stroll back to the car park and the end of the route.
There are lots of other routes up to the mountain summit to try. These include the Snowdon Llanberis Path, Miners Track, Pyg Track, Ranger Path and the Rhyd Ddu Path. View Full Details>>
Snowdon Llanberis Path
9 miles (14.5 km)
Climb to the summit of the highest mountain in Wales on this challenging walk. The Llanberis Path is the longest of the six routes to the top of Snowdon but because of it's gradual elevation it is generally considered the easiest route to the summit. It's very popular with leisure walkers as it runs parallel with the Snowdon Mountain railway which starts at Llanberis. As such you can use the railway to take you up (or down) part of the route.
The path starts in Llanberis near to the Royal Victoria Hotel and climbs towards Hebron Station with great views back towards Dinorwig Slate Quarry and Elidir Fawr. You continue to Halfway House, with wonderful views of Moel Cynghorion, Foel Goch, Foel Gron, Moel Eilio and the Cwm Brwynog valley. At Halfway House you can purchase refreshments in the summer months. The next stage ascends towards Cwm Glas Bach with views of the Llyn Du'r Arddu lake. The final section takes you from Bwlch Glas to the summit where there are magnificent views over Snowdonia, Ireland, the Isle of Man, the Peak District and the Lake District.
If you're looking for more challenging climbs to the summit you could try the Snowdon Miners Track or the Snowdon Pyg Track. The peak can also be reached by following a longer trail to Moel Eilio Foel Gron and Foel Goch.
For an exhilarating circular ridge walk, taking in the Crib Goch ridge, try the Snowdon Horseshoe. View Full Details>>
Snowdon Miners Track
8 miles (13 km)
This route follows the Miners Track to the summit of the highest mountain in Wales. It is a slightly longer route than the alternative Pyg Track but has the advantage of waterside sections alongside the mountain's three beautiful lakes of Llyn Teyrn, Llyn Llydaw and Glaslyn.
The walk begins in the Pen y Pass car park and ascends to the pretty Llyn Teyrn before coming to the much larger Llyn Llydaw. The path crosses the lake and then runs right along it's northern edge, making for a lovely waterside section. At the lake you'll also pass the ruins of the old Britannia Copper Mine crushing mill.
You continue along a steep section to Llyn Glaslyn and then Bwlch Glas where you can see the tracks of the Snowdon Mountain Railway. The final section takes you from Bwlch Glas to the Snowdon summit where there are magnificent views over Snowdonia, Ireland, the Isle of Man, the Peak District and the Lake District.
The Pyg Track starts from the same car park. It is a shorter route but has more challenging rocky sections.
For an exhilarating circular ridge walk, taking in the Crib Goch ridge, try the Snowdon Horseshoe. View Full Details>>
Snowdon Pyg Track
7 miles (11 km)
Climb to the summit of Snowdon on this challenging walk in the Snowdonia National Park. Snowdon is the highest mountain in Wales, standing at a height of 1,085 metres (3,560 ft). The Pyg Track is one of six paths to the Snowdon summit. It is generally regarded as the most challenging as it crosses some rough and rocky terrain.
The walk begins in the Pen y Pass car park and ascends to Bwlch y Moch. You continue past the beautiful glacial lakes of Llyn Llydaw and Glaslyn on your way to Bwlch Glas where you can see the tracks of the Snowdon Mountain Railway. The final section takes you from Bwlch Glas to the summit where there are magnificent views over Snowdonia, Ireland, the Isle of Man, the Peak District and the Lake District.
The Snowdon Miners Track also starts from the same car park and has the advantage of waterside sections along the mountain's three beautiful lakes of Llyn Teyrn, Llyn Llydaw and Glaslyn.
There's also the Snowdon Ranger Path,Snowdon Llanberis Path and the Snowdon Rhyd Ddu Path to try.
For an exhilarating circular ridge walk, taking in the Crib Goch ridge, try the Snowdon Horseshoe. View Full Details>>
Snowdon Ranger Path
8 miles (13 km)
Climb to the summit of Snowdon on the ranger path on this challenging walk in the Snowdonia National Park. You can start your walk from the National Park car park next to Llyn Cwellyn and the Snowdon Ranger railway station. From here you can pick up the path, heading east away from the lake. It's generally a good track with rockier sections as you approach the summit. It runs for nearly 4 miles with wonderful views over the surrounding mountains and the numerous beautiful lakes. The route actually passes very close to Llyn Ffynnon-y-gwas and Llyn Du r Arddu as you approach the summit. You will also pass Clogwyn Du'r Arddu, considered to be one of the best climbing cliffs in Britain. Here there are magnificent views of the Llechog ridge and Cwm Clogwyn with the lakes of Llyn Glas, Llyn Coch and Llyn Nadroedd. (Blue Lake, Red Lake and Snakes' Lake). From the Snowdon summit the views are also impressive with 18 lakes and 14 peaks visible. On a clear day you can see as far as Ireland, the Isle of Man and the Lake District.
The ranger path is one of several routes to the summit. You can also try the Llanberis Path, Miners Track, Pyg Track and the Rhyd Ddu Path.
For an exhilarating circular ridge walk, taking in the Crib Goch ridge, try the Snowdon Horseshoe. View Full Details>>
Snowdon Rhyd Ddu Path
7 miles (12 km)
The Rhyd Ddu Path is one of the six main routes to the summit of the highest mountain in Wales. It is considered to be one of the quietest and most beautiful, though there are some challenging sections where care should be taken.
The path begins in the car park in the village of Rhyd Ddu and ascends to Pen ar Lon, Rhos Boeth and Llechog, before reaching the 1,085 metres (3,560 ft) summit. On the asent you will enjoy magnificent views of Llyn y Gadair and Llyn Cwellyn lakes, and the summits of Moel Hebog, Moel yr Ogof, Moel Lefn, Mynydd Drws y Coed and Mynydd Mawr. From the Snowdon summit there are views over Snowdonia, Ireland, the Isle of Man, the Peak District and the Lake District.
For an exhilarating circular ridge walk, taking in the Crib Goch ridge, try the Snowdon Horseshoe. View Full Details>>
Snowdon Watkin Path
7 miles (12 km)
The Watkin Path to the Snowdon summit is considered to be the most challenging of the available routes as it starts from the lowest elevation. It is, however, very pretty with attractive woodland and waterfalls near the start.
You can start your walk from the good sized Nant Gwynant car park off the A498. Then if you head south over the Afon Glaslyn you will soon come to the start of the Watkin path on your right. You head north along the path, passing through woodland before a waterside stretch along the Afon Cwm Llan. You'll pass some lovely waterfalls before coming to the Gladstone Rock. The rock is dedicated to the Prime Minister William Gladstone, who opened the path in 1892.
The path continues north from the rock with great views over the Glaslyn estuary and Llyn Glaslyn lake below. The next section from Bwlch y Saethau  is quite challenging with a very steep incline and loose stones. Shortly after you reach the summit where you are rewarded with magnificent views towards Ireland, the Isle of Man and the Lake District.
There's several other routes across Snowdon to try. If you would like to do a circular walk then the Snowdon Horseshoe is a good option.
For a longer but less demanding climb try the Llanberis Path.
The beautiful Llyn Gwynant and Llyn Dinas are also very close to the start of this route. You could visit these two lovely lakes from the same car park.
You can virtually climb to the summit using the google street view link below! View Full Details>>
St Catherine's Hill Christchurch
2 miles (2.5 km)
This hill to the north of Christchurch stands at 53-metres (174 ft). A climb to the top is rewarded with super views of the surrounding countryside and the River Avon with the coast and the Isle of Wight beyond. As well as the great views the area is covered with attractive heathland and coniferous forest to explore. There's also an abundance of wildlife with Dartford Warbler, Sand Lizard, Smooth Snake, Adder, Nightjar, Hobby, Grayling, Silver-studded Blue, Scarce Chaser and White-legged Damselfly to look out for. It's easy to extend your walk by picking up a footpath north to Town Common and Blackwater Hill where there are great views over the River Stour. Just beyond Blackwater Hill is the Sopley Common Nature Reserve. Here you'll find dry heathland, covered with purple heather, and a variety of wildlife including lizards & smooth snakes, heath grasshoppers, wood tiger beetle & grayling butterfly. All in all St Catherine's Hill and the area around it makes for a splendid long or short walk.
To extend your walk you could visit Christchurch Harbour and Hengistbury Head where there are more great views of the area. View Full Details>>
St Catherine's Hill Winchester
1 miles (1.5 km)
Climb this small hill in Winchester for fine views over the town, the River Itchen and the surrounding countryside of the South Downs. It's a very pretty area with the chalk downland covered in wild flowers including bird's-foot trefoil, salad burnet, dropwort and several types of orchid. This attracts 25 different types of butterfly such as marbled white, chalkhill blue and brown argus. There are also the ramparts of an Iron Age hill fort, a 17th/18th century mizmaze and a copse of beech trees containing the site of a 12th century chapel.
There is a car park just north of the hill where you can pick up the footpaths to the hill. You could also walk from the centre of town which is only about a mile away. If you're coming by bike then National Cycle Route 23 runs right past the hill along the river. View Full Details>>
St Martha's Hill
2 miles (3 km)
This circular walk visits the lovely St Martha's Hill in the North Downs, near Guildford. From the high points there are tremendous views of the Surrey Hills and Newlands Corner.
The walk starts from the St Martha's Hill, Guildford Lane Car Park, just east of the hill. You then follow the North Downs Way to the high point and the 19th century church of St Martha's. The hill summit stands at 574 feet (175 m) and commands wonderful views of the surrounding area. There are also a number of nice woodland trails, attractive grassland and a number of interesting plants. View Full Details>>
St Sunday Crag
8 miles (13 km)
This challenging circular walk from Patterdale climbs to this prominent fell on the north-eastern ridge of Fairfield. The circular walk climbs to Birks Fell and then onto the 841 m (2,759 ft) of St Sunday Crag. There's fabulous views of the Helvellyn range, High Street and the lake below.
The walk takes place on generally good footpaths on a splendid elevated ridge.
You can start your walk from the pretty village of Patterdale at the southern end of Ullswater Lake. Then follow the trail south west out of the village to Birks Fell before climbing across St Sunday Crag. You then descend to the pretty Grisedale Tarn before turning round and returning to Patterdale via Grisedale Forest and Patterdale Common.
To extend your walking in the area you could visit the lovely Aira Force Waterfall. The long distance Ullswater Way will take you on a tour of the area surrounding the lake.
Wainwright's Coast to Coast runs through the area so you could continue along the path past Grisedale Tarn towards Seat Sandal where there are more splendid views. View Full Details>>
Stanage Edge
10 miles (16.5 km)
Climb to the stunning gritstone escarpment of Stanage Edge and then on to High Neb on this popular walk in the Peak District.
The walk begins in the village of Hathersage and follows footpaths over the Hodd Brook to Cliff Wood. You climb towards Hurst Clough and North Lees before coming to Stanage Edge. The route then passes along the top of the rocky edge where you are likely to pass rock climbers on your way to the high point at High Neb. Here you can enjoy wonderful views over Hallam Moors and the Hope Valley. View Full Details>>
Stinchcombe Hill
1 miles (2 km)
This circular walk climbs to the lovely viewpoint at Stinchcombe Hill in the Cotswolds. The hill is located just to the west of Dursley so you could start your walk from there and follow the Cotswold Way to the hill. This circular walk, however, starts from the car park about half a mile east of the hill. You follow the Cotswold Way to the hill summit where you will find a topograph displaying all the landmarks you can see from the peak. It's a lovely view with the Tyndale Monument and the village of North Nibley visible across the attractive countryside and woodland below. You can also see the Vale of the River Severn and Forest of Dean from the 219 metres (719 ft) Drakestone Point.
The public footpaths pass Stinchcombe golf course so please keep to the signposted paths only.
After descending back to the car park you have the option of extending your walk along the Cotswold Way. You can follow it through the series of woods on the outskirts of Dursley. This includes Sheep Path Woods, Cockshott Woods and Hermitage Woods. If you continue south along the path you can visit the Tynedale Monument view point and the town of Wotton-under-Edge. View Full Details>>
Stiperstones
9 miles (15 km)
The area around this Shropshire Hill is fantastic for walking and cycling. This walk takes you to the 536 m (1,759 ft) Stiperstones summit where you can enjoy fabulous views of the area.
The Stiperstones is a 6 mile/10km ridge covered with craggy rock outcrops and gorgeous heather heathland. The area is also a National Nature Reserve with a diverse range of flora and fauna. Look out for red grouse, Eurasian curlew, peregrine falcon and the rare ring ouzel as you make your way across the hills.
This walk begins in Habberley taking you through woodland to the Stiperstones ridge. You head along the ridge passing the quartzite tors that Stiperstones is famous for. These include Shepherd's Rock, the Devil's Chair and Manstone Rock. Manstone is the highest at 536 metres (1,759 ft) and commands fabulous views over the Shropshire Hills, the Long Mynd and Wales. From here you return to Habberley on different tracks, passing through a series of wooded areas as you go.
If you'd like to continue your climbing in the area then you could head to the nearby Caer Caradoc and the stunning Long Mynd. This route also makes use of the Shropshire Way so you could continue along this path to the Bog Mine Visitor Centre where you'll find historical information about the area and two circular walks. View Full Details>>
Stoodley Pike
7 miles (11 km)
This circular walk takes you to the Stoodley Pike monument from Todmorden. It makes use of the Calderdale Way and the Pennine Way to take you to the monument before returning to Todmorden along the Rochdale Canal.
The walk starts in Todmorden near the train station. You then follow the Calderdale Way to the little village of Lumbutts where you will find an old church, a mill house and pretty cottages.  The walk continues past the Heeley Dam reservoir to Withens Gate where you pick up the Pennine Way. This takes you across Higher Moor to the Stoodley Pike summit. Here you will find the impressive monument, built in 1856 at the end of the Crimean War. You can climb the stairs of the monument to a viewing platform and enjoy wonderful views over Calderdale.
From the summit you descend to the Rochdale Canal where a long waterside section leads back to Todmorden. It's a lovely section of the canal with old bridges, mills and locks. The surrounding hills and countryside make a splendid backdrop.
You can also reach the hill from nearby Hebden Bridge by following the Pennine Bridleway.
If you'd like to extend your walk then you could follow Pennine Way the to the nearby Withens Clough Reservoir. There is a nice waterside footpath with good views of the surrounding moorland and back to the monument. View Full Details>>
Sugarloaf Mountain
5 miles (8 km)
Climb to the summit of this iconic mountain on this challenging circular walk in Monmouthshire, Wales. Sugarloaf is part of the Black Mountains range and stands at a height of 1,955 feet (596 metres).
The walk starts at the car park to the south of the summit near the town of Abergavenny. You head towards the lovely oak woodland of St Mary's Vale where you will pass pretty streams and a variety of woodland wildlife. You continue on to the summit where there are fabulous views of the Severn Estuary, the Cotswolds to the east, as far as the Brecon Beacons including Pen y Fan and Corn Du to the west and the Bristol Channel to the south. There are also great views over the nearby Usk River Valley and Abergavenny. On a clear day you could also see the Shropshire Hills and Somerset.
You descend towards Mynydd Llanwenarth, passing ancient medieval ditches before returning to the finish point, back at the car park.
If you'd like to continue your climbing in the area then the Skirrid Fawr walk also starts in Abergavenny. You could also pick up the splendid Brecon Beacons Way which runs through the area.
To start the hike from the town see our alternative Abergavenny Sugarloaf Walk which starts from the bus station in the town centre and uses an alternative path to climb to the summit. View Full Details>>
Sutton Bank and the Kilburn White Horse
6 miles (9 km)
This challenging circular walk in the North York Moors visits the Kilburn White Horse, the lovely Gormire Lake and the scar at Sutton Bank. It's one of the premium walks in the park and a must see if you are in the area.
You start at the car park which sits just under the white horse and pick up the Cleveland Way to take you to the 978 ft (298 m) summit of Sutton Bank. The hill is a high point in the Hambleton Hills and commands splendid views over the North York Moors, the Vale of York and the Vale of Mowbray. At the summit you will find the fascinating Sutton Bank National Park Centre where you can find out how the dramatic landscape was formed in the ice age. From the viewing platform there are views of Roulston Scar, Hood Hill and Lake Gormire. There's a handy view indicator which displays all the landmarks you can see. Also look for gliders setting off from the top of the hill on fine days.
From the summit you descend through woodland to Gormire Lake, passing the striking Whitestone Cliff as you go. You continue through the countryside before a final woodland section through the Hoodhill Field Plantation returns you to the car park.
The area is also great for mountain biking. The North York Moors National Park Authority has created a green, blue and red trail. These are all waymarked and start from the Sutton Bank National Park Centre where you can hire bikes. View Full Details>>
Swanage to Corfe Castle via Ballard Down and Nine Barrow Down
8 miles (13 km)
Walk from the coastal seaside resort of Swanage to the village of Corfe Castle on this splendid hill top route in Dorset. This is a popular walk of about 8.5 miles which can be done in a day. It crosses the two well known local hills of Ballard Down and Nine Barrow Down with fabulous panoramic views to enjoy. Busses run regularly between Swanage and Corfe Castle so you can do the walk and then get the bus back. You could also return via the Swanage steam railway.
The walk starts on the front in Swanage close to the town centre. You then follow a section of the South West Coast Path up to Ballard Point. You then follow the Purbeck Way west to Studland Hill and Ballard Down. From the elevated position on the down there are splendid views of Old Harry Rocks, Studland, Poole Harbour, the Isle of Wight and Swanage. In the summer there are lots of wildflowers with the Adonis Blue butterfly to look out for. The area is also popular with mountain bikers as the grassy hills are great to ride down.
After climbing across the down you descend towards Ulwell before climbing towards Godslington Hill and Nine Barrow Down. The down reaches a height of 199 m (653 ft) with fabulous views towards Corfe Castle.
The final section is a lovely descent into Corfe Castle, passing Brenscombe Hill, Rollington Hill and Challow Hill. Here you can enjoy refreshments and explore the fascinating ruins of the 11th century castle. View Full Details>>
Swyre Head
2 miles (2.5 km)
Visit the highest point of the Purbeck Hills on this coastal walk in Dorset. On a clear day the views are simply breathtaking in all directions.
There is a car park at the end of West Street about a mile south west of the village of Kingston. This short route to the summit starts from here but you could also start from the village if you prefer. If you're coming by public transport then starting from Corfe Castle is a good option. All these start points make use of a section of the The Hardy Way to take you to the hill summit. It's a great spot standing at an elevation of 208 m (682 ft) and commanding views as far as Dartmoor and the Isle of Portland near Weymouth. The Isle of Wight, Lulworth Cove, Poole Harbour and much of the Purbeck Hills are also visible on a clear day. If you feel like extending your walk you can continue along the Hardy Way to Kimmeridge Bay where there are rock pools with a variety of marine wildlife. Here there is also a nice circular walk to Chapmans Pool to try. View Full Details>>
Table Mountain
4 miles (6 km)
Enjoy wonderful views over the Brecon Beacons on this moderate climb to the 451m peak of Table Mountain (Crug Hywel). The walk starts from the pretty town of Crickhowell with its ruined Norman castle and 18th century 13-arched bridge across the river Usk. You then follow the Table Mountain footpath which starts at the northern end of the town. It passes through fields and woodland to the unusual flat top of the mountain. At the top you will find an Iron Age Hill Fort and wonderful views in all directions.
If you would like to extend the walk then you could continue north along the Cambrian Way to the summit of Pen Cerrig Calch, a subsidiary summit of Waun Fach, standing at a height of 701 metres.
You could also pick up the Usk Valley Walk which runs past Crickhowell. The long distance Brecon Beacons Way also passes Table Mountain so you can easily pick this up too. View Full Details>>
Tavy Cleave and Hare Tor
5 miles (7.5 km)
This circular walk takes you to this lovely steep-sided valley of the River Tavy in the Dartmoor National Park. It's a delightful area with the rushing water and waterfalls of the river surrounded by interesting vegetation and several large tors.
The walk starts from the Lanehead car park at Higher Willsworthy. You then follow footpaths past Nat Tor before picking up a riverside path along the Tavy to Tavy Cleave. You then climb to the 1742 ft (531m) summit of Hare Tor. From here there are splendid, wide ranging views over Dartmoor. The walk then descends to Ger Tor and Nattor Down before returning to the car park.
This walk is located just a couple of miles east of Lydford so if you would like to continue your walking you could visit the beautiful Lydford Gorge. Here you will find the 100-foot-high (30-metre) 'White Lady Waterfall' in a lovely wooded glade. View Full Details>>
The Calf from Sedbergh
7 miles (11.2 km)
Climb to the highest top in the Howgills on this challenging walk from Sedbergh. The walk follows a section of the Dales High Way long distance trail so takes place on good paths. It's about a 3.5 mile hike heading north from the town centre.
Starting in the eastern part of the town follow Castleshaw Lane north from where it meets with Main Street. This will lead you to a footpath along the pretty Settlebeck Gill towards Arant Haw Fell.
The path continues to climb past Rowantree Gains Fold and Calders Fell before coming to the summit of The Calf. From the 676 m (2,218 ft) summit there are fabulous views of the Lakeland peaks, the Yorkshire Three Peaks and many of the nearer Howgill Fells.
At the summit you have the option of heading east and visiting Cautley Spout waterfall and then descending south east along Cautley Beck towards Low Haygarth. Around here you can pick up the Pennine Journey trail and return to Sedbergh on this path. This turns the route into a longer circular walk.
If you'd like to extend your walking in the Sedbergh area you can try our circular walk which visits the River Rawthey and the River Dee.
The Dales Way long distance trail also passes through the town and is a great way to explore this lovely area of the Yorkshire Dales. View Full Details>>
The Cheviot
9 miles (14 km)
This circular walk climbs to the 815 m (2,674 ft) summit of the highest hill in the Cheviot hills. The walk begins at the parking area at Langleeford by the Harthope Burn. The route then ascends along public footpaths and with the burn on your left. You continue to Cairn Hill passing the pretty Harthope Linn waterfall on the way. At Cairn Hill you pick up the Pennine Way to take you to the summit. This section takes place on stone slabs through an area of peat bog. At the summit you can enjoy excellent views of the North Sea, the Lake District Fells, Cross Fell and the Lammermuir Hills. You then descend back to Langleeford via Scald Hill. View Full Details>>
The Cobbler Mountain
6 miles (9 km)
The Cobbler or Ben Arthur is one of the most popular climbs in the highlands. At 884 m (2,900 ft) it is not the highest of the Arrochar Alps but is considered the most spectacular. View Full Details>>
The Ercall
2 miles (3.5 km)
This small hill near The Wrekin has some nice walking trails to follow through Ercall Woods. The area is geoligcally significant with rocks dating back 500 million years and several disused quarries. There's also lots of interesting flora and fauna to look out for. In the spring you will find carpets of bluebells and the dingy skipper and speckled wood butterflies. From the high points on Ercall Hill there are splendid views across the Shropshire countryside.
You can start your walk from the car park on Wellington Road near Ercall Lane. From here you pick up the Shropshire Way and head in a north easterly direction past Lawrence Hill and through the woods to the Ercall Hill summit. The path then descends towards the Ercall Wood College on the outskirts of Wellington. You can also easily reach the area from the centre of Wellington. Head south from the train station or bus station for about a mile and you will come to the woods.
This route is designed for walkers but the area is also very popular with mountain bikers.
To extend your walk you can try the The Wrekin circular walk which starts from the same car park. View Full Details>>
The Hangman Hills
5 miles (7.5 km)
A challenging circular walk visiting Little Hangman and Great Hangman Hills near Combe Martin in Devon.
The walk starts in Combe Martin and heads east to Little Hangman Hill via Lester Point. You continue by climbing the 1044 feet (318 metres) high Great Hangman Hill. It is England's highest sea cliff and the highest point on the South West Coast Path. At the summit you wil find a cairn and can enjoy fabulous views over the surrounding coast and countryside. The route then descends through the countryside to Knap Down, before returning to Combe Martin. Here you can wander through the pretty village, admire the beautiful Combe Martin Bay and reward yourself with refreshments at one of the excellent pubs. There's also fine views over Holdstone Down and towards Lundy Island.
In the summer months look out for pretty flowers such as primroses and violets and wildlife including warblers and various coastal birds.
If you would like to extend your walking in the area then you could head east along the coast to the lovely Heddon Valley. Here you will find riverside walking trails and the imposing cliffs of Heddon's Mouth. View Full Details>>
The Roaches
3 miles (5.5 km)
This circular walk is one of the most popular in the Peak District and a favourite for many. It runs along an elevated rocky ridge, with fascinating rock formations and wonderful views of the surrounding countrsyide and the nearby Tittesworth Reservoir. Ridge walking is always a joy but this one is something special. Highlights include a series of weathered gritstone boulders and the mystical Doxy Pool. The pool is said to be inhabited by a malicious water spirit which drags victims into the depths.
The area is also great for unusual wildlife. In the 1930s five Australian Bennett's wallabies were released into the wild from a private collection. A small colony is believed to continue to live around the area with occasional sightings.
The circular walk starts from the roadside parking area on Roach Road (ST13 8UA). You will see a gate and information board on the eastern side of the road where you can pick up the nice path up to the ridge. The path runs north past the Doxy Pool to the high point on the ridge at 505 m (1,657 ft). You descend to Bearstone Rock where you turn south and follow the Roach Road back to the car park. View Full Details>>
The Trundle
1 miles (2 km)
Climb to Trundle Hill and enjoy wonderful views over the South Downs on this circular walk in the Chichester area. The Iron Age Hillfort sits in an elevated position on St Roche's Hill above Goodwood Racecourse, just to the south of the village of Singleton. You can park at the Seven Points car park, just to the west of the hill, at the end of Town Lane. From here you can pick up a section of the Monarch's Way long distance trail to take you up to the hill. From the 675 feet (206 m) summit there are great views of Sussex, Hampshire and the English Channel. You can turn it into a circular walk by continuing along the path towards Goodwood racecourse and then following another bridleway back to the car park.
The hill is part of the larger Goodwood Country Park where you can enjoy miles of walking trails through woodland and countryside. View Full Details>>
The Wrekin
5 miles (8 km)
This popular walk takes you to the summit of this iconic Shropshire Hill.
You start at the car park at Lawrence Hill and follow good footpaths along the Shropshire Way to the 407 m (1,335 ft) summit. View Full Details>>
Thorpe Cloud
1 miles (2 km)
This short walk climbs to the top of Thorpe Cloud in the Peak District. This small hill can be climbed from the Dove Dale car park. It's a short climb on good footpaths with the reward of wonderful views over the beautiful Dovedale
Thorpe Cloud reaches a height of 287 m (942 ft). It was used in the 2010 film of Robin Hood, starring Russell Crowe.
To continue your walking in the area you could visit Ilam Park and Dovedale. View Full Details>>
Toys Hill
4 miles (6 km)
Visit the highest point on the Kent Downs on this circular walk in Sevenoaks. There's hundreds of acres of woodland to explore with wonderful views over the Weald of Kent.
This circular walk starts at the National Trust car park and follows footpaths to the Toys Hill viewpoint where you can stop and soak in the views over the Kent countryside. The route then heads along Scords Lane and Scords Wood where you pick up the Greensand Way to take you to the village of Ide Hill. On this section you will pass the memorial bench to Octavia Hill, the founder of the National Trust. The area is one of the National Trust's first properties with the estate now occupying more than 200 acres.
The pretty village of Ide Hill marks the half way point on the walk so it's a nice place to stop for refreshments. Ide hill has a nice village green and the 19th century St Mary's church, the highest church in Kent.
After leaving Ide Hill you head to the beautiful Emmetts Garden. The 19th century garden contains many exotic trees and shrubs from around the world. From here you head back to the car park via Scord Wood.
This route is designed for walking but you can also bring your bike to Toys Hill and pick up one of the bridleways through the woods. If you head along Scords Lane you can pick up a bridleway taking you through Scords Wood to Emmetts Garden.
If you would like to continue your walking in the area then you could head along the Greensand Way to the nearby Chartwell House. Our 8 mile Westerham Circular Walk visits the hill and Chartwell from the town centre. View Full Details>>
Troller's Gill
7 miles (11.5 km)
This walk takes you to the wonderful limestone gorge of Troller's Gill in Wharfedale in the Yorkshire Dales. The walk starts in Burnsall and heads along the River Wharfe and the Dales Way to Haugh. Here you turn north and head to Skyreholme along the Fir Beck. Soon after you come to the splendid Parceval Hall Gardens. This Grade II listed manor house has 24 acres of formal and woodland gardens to explore and is an added bonus on the walk. 
From Parceval Hall you follow the Skyreholme Beck to Troller's Gill. It's a magnificent sight and well worth the climb!
The route then descends through Appletreewick Pasture and Hartlington, returning to Burnsall. View Full Details>>
Truleigh Hill
3 miles (5 km)
This hill in West Sussex has a set of distinctive radio masts on the summit. You can park at a small parking area to the west of the hill and follow the South Downs Way past Beeding Hill to the top of Truleigh Hill. There's great views of the surrounding hills and countryside from the high points. You can turn it into a circular walk by following tracks across Bushy Bottom and then the Monarch's Way back to the car park.
You could also start the walk from nearby Upper Beeding or Bramley Castle if you prefer.
To extend your walk you can continue east along the South Downs Way to Edbarton Hill and then on to Devils Dyke. The beautiful V-Shaped Valley is a great place for walking and mountain biking.
You can use the google street view link below to follow this part of the trail. View Full Details>>
Tryfan
2 miles (3.6 km)
This is a very popular and very challenging climb to the top of Tryfan in Snowdonia. Tryfan has a distinctive pointed shape with rugged crags making it stand it out amongst the other peaks in the area. This route takes you to the 917.5 m (3,010 ft) summit via the north ridge. The path is difficult in many places so scrambling with both hands is required.
The walk starts from the car parking area next to Llyn Ogwen and ascends to Milestone Buttress and then onto the eye catching Canon Stone. This splinter of rock protrudes from the mountain at a 45 degree angle. The route continues to the north ridge where you will scramble over several boulders before reaching the summit. At the summit you will see the striking boulders of Adam and Eve. It is said that if you jump between the rocks on the 'Leap of Faith' you will be rewarded the Freedom of Tryfan.
The descent takes you to Bwlch Tryfan and then onto the pretty Llyn Bochlwyd. You continue with lovely views of the lake to Bochlwyd Buttress and then back to the shores of Lyn Ogwen.
If you would like to continue your walking in the area then you could head to the nearby Cwm Idwal for more stunning mountainous scenery. The route starts from the eastern end of Llyn Ogwen.
You could also tackle the nearby Glyder Fawr and Glyder Fach or the slightly quieter Carneddau Range.
The climb to Elidir Fawr can be tackled from the nearby Nant Peris at the bottom of the Llanberis Pass. View Full Details>>
Twistleton Scar
5 miles (8 km)
Enjoy wonderful views towards Ingleborough and Whernside on this circular walk in the Yorkshire Dales. It's a moderate walk with great limestone scenery and views of the surrounding hills. You can start and finish the walk from the pretty village of Chapel-le-Dale.
To extend your walk, head north east and visit the splendid Ribblehead Viaduct. View Full Details>>
Tyndale Monument
2 miles (3.5 km)
This is a climb to the Tyndale Monument from the popular Cotswolds town of Wotton-under-Edge. It uses a section of the Cotswold Way National Trail to take you from the town to Westridge Woods and then on to the tower. The 19th century monument is an impressive landmark standing at a height of 111 ft (34 m). It was built in honour of William Tyndale, a translator of the New Testament who was born in the area. From the tower viewpoint there are wonderful views across the Cotswold Hills AONB and into south Wales. You can actually climb the spiral staircase of 121 steps for even better views! A topograph displays all the places you can see from the summit. This includes the Somerset Monument at Hawkesbury Upton, another local landmark you can climb to.
The site is next to the geologically significant Nibley Knoll which shows a thick section of Lower and Middle Jurassic rocks. After your climb you can descend into the village of North Nibley and enjoy refreshments there. 
To extend your walking in the area you could try the Wotton-under-Edge circular walk which takes you through the farmland and woodland surrounding the town. It also passes the Newark Park estate with 700 acres of parkland, gardens and lakes to explore.
If you follow the Cotswold Way north then you can visit Stinchcombe Hill where there is another great viewpoint. View Full Details>>
Uffington White Horse
2 miles (2.5 km)
This short circular walk visits White Horse Hill and the Iron Age hillfort of Uffington Castle near Swindon. View Full Details>>
Urra Moor
6 miles (9 km)
Urra Moor is the highest moor in the North York Moors and an atmospheric and beautiful place for a walk. This route takes you to the high point at Round Hill which reaches a height of 454 metres (1,454 ft) above sea level. There's some wonderful moorland scenery with the lovely purple heather in the late summer months. There's also far reaching views across the national park from the elevated position of the moor.
You can start the walk from the Clay Bank car park just to the north of the moor. The route then follows a section of the Lyke Wake Walk across Carr Ridge to Round Hill. The route then turns west to Medd Crag before returning north to Cowkill Well. From here it is a short distance back to the car park.
On your walk look out for some interesting carved rocks including the Face Stone, a carved stone about 1 metre (3 ft 3 in) in height into which has been carved the shape of a face.
To extend your walking in the area you could try the Wainstones walk which also starts at the Clay Bank car park. The stones are a series of fascinating sandstone rocky outcrops with a number of interesting Bronze Age carvings. They are located just a mile west of the start/finish point for this walk so are easy to visit.
Just next to the Wainstones you will find Lord Stones Country Park. Here you will find a number of ancient stones with prehistoric carvings. There's also a fantastic viewpoint on Cringle Moor with a viewfinder detailing several landmarks you can see.
Two long distance paths also pass Urra Moor. You can pick up the Cleveland Way and the Lyke Wake Walk to further explore this lovely area on the moors. View Full Details>>
Wainstones
2 miles (4 km)
Climb Hasty Bank Hill and visit the fascinating Wainstones on this circular walk in the North York Moors. The Wainstones are a series of sandstone rocky outcrops with a number of interesting Bronze Age carvings. They are located near the village of Great Broughton and make for a splendid walking destination.
This walk begins at the car park on Clay Bank Road and climbs Hasty Bank using the Cleveland Way National Trail. From the summit there are wonderful views of the Tees Valley and the nearby Roseberry Topping and Urra Moor. View Full Details>>
Walbury Hill
1 miles (1.5 km)
This walk takes you to the highest point in Berkshire at Walbury Hill near Hungerford. The hill summit stands at 297 m (974 ft) and proffers wonderful views over the surrounding Berkshire countryside. At the summit you will also find the Iron Age Hill fort of Walbury Camp. The hill is also a popular climb for cyclists with a number of bridleways to follow across Inkpen and Walbury Hill.
The walk starts from the Inkpen Beacon car park and follows the Wayfarer's Walk to the hill. The car park is located about half a mile from the hill so it is a short climb.
The Test Way long distance footpath also passes the hill so it's easy to extend this walk and climb to Combe Gibbet, Inkpen Beacon and Combe Wood. You could then return through Combe and turn it into a longer circular walk.
You could also pick up the Wayfarer's Walk and head south east along a wonderful ridge top path to the nearby Pilot Hill, the highest hill in Hampshire. View Full Details>>
Walla Crag
2 miles (4 km)
This circular walk on Derwentwater climbs to Walla Crag and explores Great Wood in the Lake District. It's a short but rewarding climb with wonderful views over the lake below.
The walk can be started from nearby Keswick but this route starts and finishes from the Great Wood car park off Borrowdale Road, near Calfclose Bay. From here you can directly pick up the Walla Crag Trail to take you up to the crag. The trail heads south from the car park to Cat Gill before turning north east passing Lady's Rake and then on to the Walla Crag summit. The high point stands at 379 m (1,243 ft) with wonderful views over Derwentwater and towards Skiddaw. You can just descend the same way but this route continues on to Castlerigg where you cross the pretty Brockle Beck. Here you have the option of visiting the fascinating Castlerigg Stone Circle which is just off the route at Castlerigg. However, this route descends on woodland trails through Great Wood, passing Watson's Park on the way.
There's lots to enjoy on the walk with heather in the summer months, the rushing waters of Cat Gill and some spectacular Lakeland views.
The walk can be extended by heading along the lake towards Ashness Bridge and Suprise View. Bleaberry fell is also nearby.
Just to the north is the wonderful Friar's Crag viewpoint and the Castlehead viewpoint. These both proffer wonderful views of the lake and surrounding fells.
The walk can also be started from Keswick as shown in the video below. View Full Details>>
Wallace Monument
1 miles (2 km)
This walk visits Abbey Craig hill in Stirling, home to the National Wallace Monument which commemorates Sir William Wallace, the 13th-century Scottish Knight. View Full Details>>
Wansfell Pike
6 miles (10 km)
This circular walk in the Lake District takes you up Wansfell Pike fell to Troutbeck, and then back through Skelghyll woods. It's popular with walkers as it begins and ends in the accessible town of Ambleside.
The first section of the walk takes you from the centre of Ambleside to Stock Ghyll Force, a spectacular 70 foot waterfall which can be viewed safely from a railed viewpoint. View Full Details>>
Warton Crag
3 miles (5 km)
Enjoy a circular walk around Warton Crag on this lovely route in Lancashire.
The limestone hill near Carnforth stands at 163 metres (535 ft) making it the highest point in the Arnside and Silverdale AONB. View Full Details>>
Watership Down
2 miles (2.5 km)
Climb this hill made famous by Richard Adams' 1972 novel 'Watership Down'. The hill is located about 2 miles south west of the village of Kingsclere. The downs are popular with walkers and cyclists with good footpaths and bridleways crossing the area.
This walk starts at the White Hill car park off the B3051 just south of Kingsclere. You then pick up the Wayfarer's Walk long distance footpath to take you to the 237m hill summit. The path passes White Hill and The Warren on the way to Watership Down. It's a beautiful area with wonderful views over the surrounding countryside and the Sydmonton Court estate. The estate consists of a 16th century Tudor manor house and is home to the summer arts Sydmonton Festival. This walk finishes at the Watership Down Hill summit but you could extend the route by heading north along public footpaths to Sydmonton. You could also turn it into a circular walk by heading south from just east of the hill summit and then following country lanes and bridleways back round to the car park. If you continue west along the Wayfarer's Walk then you will pass the wonderful Highclere Castle. The house is famous as the location of period drama 'Downton Abbey'. It is surrounded by a 5000 acre estate with nice walking trails including a climb to the splendid viewpoint at Beacon Hill.
Less than a mile away to the west is Ladle Hill where you will find a well preserved hill fort. View Full Details>>
Waun Fach
7 miles (12 km)
Climb to the highest mountain in the Black Mountains on this challenging walk in the Brecon Beacons. The walk starts from Castell Dinas just of the A479. View Full Details>>
Wellington Monument
1 miles (1.6 km)
Enjoy a climb up Wellington Hill and visit the monument created to commemorate the Duke of Wellington's victory at the Battle of Waterloo. View Full Details>>
Wenlock Edge
19 miles (31 km)
Wenlock Edge runs from Craven Arms to Much Wenlock, in the Shropshire Hills AONB. This walk follows the 19 mi (31 km) limestone escarpment using the footpaths of the Shropshire Way and the Jack Mytton Way long distance routes. View Full Details>>
Westbury White Horse
3 miles (5 km)
Climb to Westbury Hill and visit the Westbury White Horse on this circular walk near Bratton in Wiltshire. The striking hill figure is 180 feet (55 m) tall and 170 feet (52 m) wide and has been adopted as a symbol for the town of Westbury, appearing on welcome signs and the logo of its tourist information centre. It is also considered a symbol for Wiltshire as a whole. From the viewpoint on Westbury Hill there are wonderful views over the Salisbury Plain and the surrounding Wiltshire countryside.
You can start the walk from the car park just to the south of the site near Bratton. Then follow the footpaths north to the lovely viewpoint. You can then pick up other paths along the ridge to the Iron Age hillfort of Bratton Camp. Habitats include extensive chalk grassland where you can look out for the Adonis Blue Butterfly.
The White Horse Trail,Wessex Ridgeway Trail and the Imber Range Perimeter Path all pass the hill so you could easily pick up these long distance footpaths to extend your walk. The White Horse Trail is of particular interest. The waymarked circular trail starts at the Westbury White Horse and runs through Pewsey, Marlborough, Broad Town, Cherhill, Devizes, Steeple Ashton and Bratton. It also visits the Cherhill White Horse.
Heading south along the Imber Range Perimeter Path will take you over Upton Cow Down to Warminster. View Full Details>>
Whernside
8 miles (13 km)
Climb to the highest point in North Yorkshire on this challenging circular walk in the Yorkshire Dales. Whernside is one of the Yorkshire Three Peaks, with the others being Ingleborough and Pen y ghent. The route runs for a distance of just under 8 miles with a steep ascent and descent, meaning a good level of fitness is required.
The circular walk begins at Ribblehead and heads to the Blue Clay Ridge via the magnificent Ribblehead Viaduct. You continue your ascent passing the pretty Little Dale Beck and Force Gill where you can see a series of waterfalls. The route then passes Knoutberry Hull and a small tarn before arriving at the 736 m (2,415 ft) Whernside summit. From here there are fantastic views over the Yorkshire Dales, the Lake District and Morecambe Bay.
From the summit you descend to Broadrake before crossing the lovely Winterscales Beck. You then follow the beck to Gunnerfleet Farm, and on to the finish point at Ribblehead.
To extend your walking in the area you could try our easy circular walk around the magnificent Ribblehead Viaduct. The Grade II* listed structure is one of the England's greatest monuments to Victorian engineering.
The long distance Dales Way and Ribble Way both pass near to the mountain so you could pick up these splendid trails to further explore the area. View Full Details>>
White Nancy
2 miles (3.5 km)
This walk climbs to unusual structure of White Nancy overlooking the town of Bollington in Cheshire. The folly is in the shape of a small domed sugar loaf and thought to have been built in 1817 by Colonel Gaskell as a monument to the Battle of Waterloo.
This circular walk makes use of the Gritstone Trail to take you from Bollington to the 280.5 metres (920 ft) high White Nancy before crossing the Saddle of Kerrridge to Kerridge Hill. From the elevated position above the town you can enjoy splendid views across the Cheshire Plain, the mountains of North Wales to the west, the hills of Shropshire to the south and the Pennines to the north and east.
It's easy to extend your walk by continuing along the Gritstone Trail to the nearby Tegg's Nose Country Park. View Full Details>>
White Sheet Hill
4 miles (7 km)
Climb to the 245 m (804 ft) summit of this hill in Wiltshire and enjoy wonderful views over the Stourhead Estate and the surrounding countryside. View Full Details>>
Wild Boar Fell
9 miles (14.5 km)
This circular walk climbs Wild Boar Fell in the Mallerstang area of the Yorkshire Dales National Park. It's one of the best climbs in the Dales with extensive views from the summit.
You can start the walk from the small parking area at The Thrang, off the B6259. It's located just to the south of Mallerstang and Outhgill which is another possible start point, though parking is limited here. You could also start from Pendragon Castle, a little further north, as in the video below.
From the parking area you pick up a section of the Pennine Bridleway to take you south towards Lock Hill. Here you turn west to High Dolphinsty where you then turn south to climb to the fell summit. You'll pass the wonderful cliffs at The Nab before reaching the 2,323 ft (708 m) summit. Here you will find a series of cairns with fantastic views over the Eden Valley and Mallerstang. The Howgills, Pennines, the Lake District fells, the Yorkshire Three Peaks can also all be seen and, on a clear day, there is a glimpse of the coast at Morecambe Bay. Just to the west of the summit you can take a small detour and visit the pretty Sand Tarn.
After taking in the views, the route descends to Swarth Fell and Stubbing Rig before crossing the River Eden. Around here you will pass the impressive Hell Gill Force, the highest waterfall on the river. You then head north along Slade Edge with a riverside section leading you back to Lock Hill and The Thrang.
If you enjoy this climb then head to the nearby Nine Standards Rigg to extend your walking in the area. Here you can enjoy more great views of Cross Fell Walk, Great Dun Fell and the Howgills.
You could also follow the long distance Pennine Journey north from The Thrang. It will take you to the ruins of the 12th century Pendragon Castle and along the river to Kirkby Stephen. View Full Details>>
Wills Neck
2 miles (3.5 km)
Climb to the highest point in the Quantock Hills on this circular walk in Somerset. Wills Neck stands at a height of 1,261 ft (384 m) and commands wonderful views of Dartmoor, Exmoor, the Brecon Beacons, the Mendips and Blackdown Hills.
This walk starts at the Triscombe Stone Car Park and follows the Macmillan Way to the Wills Neck summit. You descend on the Samaritans Way South West. It's a nice walk on decent footpaths with some attractive woodland and great views. The walk can easily be extended by visiting the nearby Bagborough Hill, Lydeard Hill and the interesting Triscombe Quarry. You could also head a couple of miles south and visit the lovely Cothelstone Hill where there are more great views and a herd of Exmoor Ponies. View Full Details>>
Win Green Hill
2 miles (2.5 km)
Climb to the highest point in the Cranborne Chase AONB and enjoy wonderful views over Shaftesbury, Salisbury Plain, Glastonbury Tor, the Mendips, the Quantocks, the Purbecks and the south coast.
There is a National Trust car park near the hill summit. You can park here and follow footpaths up to the 277 metres (909 ft) high point and enjoy the panoramic views over the beautiful surrounding coutryside. The summit has a distinctive look with a clump of beech trees growing on a Bronze Age bowl barrow. In the summer months you will find many interesting plants and flowers on the rich downland of the hill. There's also a handy toposcope which details all the landmarks you can see from the summit.
You could extend your walk by continuing south along the Wessex Ridgeway to Tollard Royal via Ashcombe Bottom. As an alternative you could start the walk from the village of Tollard Royal and visit the hill from there. Also just to the west you will find Fontmell and Melbury Downs nature reserve where there's fine views and interesting flora and fauna. View Full Details>>
Win Hill
7 miles (10.5 km)
This is a popular climb to Win Hill in the Derbyshire Peak District. The hill is in a delightful location above Ladybower Reservoir. From the 462 m (1,516 ft) summit there are excellent views of the reservoirs below, the River Derwent, the Hope Valley and the surrounding hills. This loop climbs to the hill summit before descending to Hope Brink and Aston.
Start your walk from the Heatherdene car park at the southern end of Ladbybower Reservoir, just off the A6013. From here you can pick up a footpath heading south along the reservoir before crossing the dam and beginning the steep ascent to Win Hill. This takes you through woodland and along Park Clough to the summit. From here you can enjoy one of the best views in the Peak District with the Upper Derwent Valley, Stanage Edge, the Great Ridge, Mam Tor and Kinder Scout all visible on a clear day.
After taking in the views the walk descends to Hope Brink. This area has some good bridleways which are popular with mountain bikers. From here you turn south towards the village of Aston where you follow country lanes back to the reservoir. The route finishes with a short section along the Derwent Valley Heritage Way which leads you back to the car park.
The hill is located very close to the villages of Bamford and Thornhill. You could start your walk from either of these places if you prefer.
There's lots of good options for extending your walk in this beautiful area. Just to the east you can climb to Bamford Edge where there are great views and lots of interesting gritstone rock formations to look out for. Also nearby is the wonderful gritstone escarpment of Stanage Edge. It's another geologically fascinating place with more wonderful views to enjoy.
Part of this walk uses the Derwent Valley Heritage Way long distance trail. You could follow the trail south along the River Derwent to Hathersage.
On the western side of the dam you can pick up the Thornhill Trail. The easy cycling and walking trail runs south along disused railway line from the dam to Bamford station. View Full Details>>
Windgather Rocks
6 miles (10 km)
This walk visits this interesting gritstone crag which is popular with rock climbers. There are fascinating geological rock formations and wonderful views over the Peak District to enjoy.
The walk starts from Whaley Bridge, near the train train station in the town. You then follow footpaths around the pretty Toddbrook Reservoir before climbing to Taxal Moor. From here you can enjoy super views back towards Whaley Bridge and the reservoir. The final section takes you along Taxal Edge to the rocks where you can enjoy splendid views over the surrounding countryside.
The walk can be extended by continuing south to Shining Tor and Cats Tor. It's a great ridge walk with more wide ranging views.
Also nearby are Errwood Reservoir and Fernilee Reservoirs where you can enjoy waterside trails. View Full Details>>
Windy Gyle
10 miles (16 km)
Climb to the summit of this hill in the Cheviots and enjoy fabulous views into Scotland and England as you stand high on the border. This challenging circular route runs for a distance of about 10 miles using the bridleways and footpaths that cross the area.
The walk begins from the Wedder Leap car park and heads towards Shorthope hill, crossing the River Coquet and following the Rowhope Burn as you go. You continue the climb to Little Ward Law before coming to Russel's Cairn at the 619 m (2,031 ft) summit of Windy Gyle. From here there are wonderful views over the Scottish Borders, the Eildon Hills and Edinburgh.
You begin the descent by heading west along the Pennine Way and then south towards Swineside Law and Hindside Knowe. Shortly after you cross the River Coquet and return to the car park. This is a challenging walk but the footpaths are generally good and you're rewarded with some stunning scenery.
To continue your walking in the Cheviots you could climb the highest hill - The Cheviot. View Full Details>>
Winnats Pass
5 miles (7.5 km)
This challenging circular walk in the Peak District takes you through this spectacular hill pass. The walk starts at the village of Castleton and climbs through Winnats Pass with its towering limestone pinnacles. It's a wonderful geological feature and worth the steep climb. On the way you'll pass Speedwell Cavern where you can take an amazing underground boat trip 450m under the Hills of Castleton.
The walk makes use of the Limestone Way to return to Castleton, passing Cave Dale, Mam Tor and the fascinating Peveril Castle. This ruined medieval castle has an amazing history stretching back to the Norman Conquest of 1066.
The walk can be extended to visit the nearby Mam Tor. View Full Details>>
Winter Hill
8 miles (13.5 km)
Enjoy a walk to Winter Hill on the West Pennine Moors in Lancashire. The walk begins in Rivington Country Park and takes you to the 1,496 feet (456 m) high summit on a series of footpaths.
After leaving the country park you ascend crossing Rivington Moor with fine views of Rivington Reservoir and Anglezarke Reservoir. You continue towards the village of Belmont where there is the opportunity for a short detour to the pretty Belmont Reservoir. After leaving Belmont you ascend towards the summit of the hill where you will see the Winter Hill TV Mast. From here there are fabulous views towards Greater Manchester, Blackpool Tower, Jodrell Bank Observatory, Snaefell in the Isle of Man and the Lake District mountains.
The descent takes you to Crooked Edge Hill and Horwich before returning to the country park. View Full Details>>
Wintour's Leap
2 miles (4 km)
Climb to this magnificent limestone viewpoint on this walk in the Wye Valley. You can start the walk from the south western end of the village of Woodcroft. View Full Details>>
Wittenham Clumps
1 miles (1.5 km)
This circular walk climbs to these two distinctive hills near Dorchester. On the way you can enjoy wonderful views over the Oxfordshire and Berkshire countryside. View Full Details>>
Worcestershire Beacon
4 miles (6.5 km)
This circular walk takes you to the high point of the Malvern Hills at Worcestershire Beacon. The walk starts in Great Malvern, just to the west of the train station. From the Edward Elgar Statue you can pick up the Worcestershire Way to take you onto the hills. The route then heads to North Hill and Sugarloaf Hill before climbing to Worcestershire Beacon. From the 425 metres (1,394 ft) summit you can see 13 counties of England on a clear day. Other highlights includes views of The Wrekin, Cannock Chase, the Welsh border mountains, the Shropshire Hills and across the valleys of the Severn and Avon to the Cotswold Hills.
After soaking in the views the route descends to Lower Wyche before returning to Great Malvern.
To explore the full range of this beautiful area try our Malvern Hills Walk. View Full Details>>
Y Garn
4 miles (7 km)
Enjoy breathtaking views over the Snowdonia National Park on this challenging circular walk to the 947 m (3,107 ft) summit of Y Garn.
The walk starts at the car park at the western end of Llyn Ogwen and climbs to the wonderful natural amphitheatre of Cwm Idwal. In a Radio Times poll in 2005, Cwm Idwal was ranked the 7th greatest natural wonder in Britain. You pass along the beautiful clear waters of Llyn Idwal before climbing towards Pinnacle Crag. You continue to the summit with views Llyn Clyd and the Ogwen Valley. The route then descends towards the Devil's Kitchen and Cwm Idwal before returning to the car park.
If you'd like to continue your walking in the area then you could try the challenging Tryfan mountain.
If you continue north from the peak you can visit Foel-Goch, the Marchlyn Mawr reservoir and the summit of Elidir Fawr. View Full Details>>
Yeavering Bell
3 miles (5 km)
Climb to the summit of this hilll in the Cheviots and visit the largest Iron Age hillfort in the region. The walk starts near Kirknewton at the Gefrin lay-by where there is some roadside parking. From here you head south climbing to the fort on public footpaths and the St Cuthbert's Way long distance path. View Full Details>>
Yes Tor
5 miles (8 km)
This circular walk climbs to Yes Tor from Meldon Reservoir in the Dartmoor National Park. The route runs for about 5 miles, visiting West Mill Tor and Black Down on Okehampton Common. The tor is Dartmoor's second highest peak, at 619 metres (2,031 ft) above sea level. View Full Details>>
Yorkshire Three Peaks
25 miles (40 km)
Visit the famous Yorkshire Dales three peaks of Pen y ghent, Whernside and Ingleborough on this challenging circular walk. View Full Details>>
Yr Eifl
4 miles (6 km)
Climb the Yr Eifl mountain group on this challenging circular walk on the Llyn Peninsula. The three summits are collectivley known as 'The Rivals' offering wonderful views over the Llyn Peninsula coastline, the Isle of Man, the mountains of Ireland and the Lake District, as well as the entire sweep of Cardigan Bay. The route visits the peak of Tre'r Ceiri where you will find Britain's best preserved Iron Age hill fort.
The walk starts from the Porth-y-Nant upper car park just off the B4417 north of Llithfaen. You then ascend past the Graig Ddu cliffs where you can look down and see the abandoned village of Borth y Nant. You continue to Bwlch yr Eifl where you turn east towards the 561 m (1,841 ft) summit of Yr Eifl. It's a stunning spot. Take a while to soak in the magnificent views of the coast and mountains of Snowdonia.
The footpath then descends to Tre'r Ceiri where you can explore the interesting Iron Age stone hut circles before descending the mountain.
If you would like to continue your walking in the area then you could pick up the Llyn Peninsula Coastal Path which runs past the mountain. View Full Details>>