Derbyshire Cycle Routes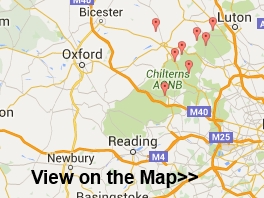 Derbyshire has some beautiful scenery and excellent cycle trails and tracks.
Cycling attractions include the splendid Trans Pennine Trail and the Pennine Bridleway both of which contain miles of traffic free cycle tracks giving wonderful views of the beautiful Peak District National Park. Many of the routes below cover these two trails and other cycling attractions in the county.
Use the links to view full route information including elevation profiles, interactive maps and GPS downloads.
You can also view an overview map of all the routes in the using the Derbyshire Cycle Map>>
There are several National Cycle Networksigned routes in the county many of which have been mapped and can be viewed and downloaded below.

For more information on cycle routes in Derbyshire including tips, advice and free cycle maps please click here
Route Name
Distance
Description
Ashbourne to Buxton
30 miles (48 km)
This ride takes you along various off road cycle paths and tracks through the Derbyshire countryside.
The start point is at the beginning of the Tissington Trail -a 13 mile off road path following the trackbed of a disused railway line. View Full Details>>
Bakewell Loop
9 miles (15 km)
This lovely short ride first follows the Monsal Trail through the Derbyshire countryside before returning to Bakewell via Ashford in the Water.
View Full Details>>
Burton-Upon-Trent to Derby
16 miles (26 km)
Travel through Staffordshire into Derbyshire along National Cycle Route 54 on this pleasant short route. The ride begins with a stretch by the River Trent in Burton Upon Trent, heading north towards Etwal with views of the Trent & Mersey Canal on the way. At Etwal you join a dismantled railway line for an off road stretch which takes you to the outskirts of Derby. You then head on road into the centre of Derby. View Full Details>>
Burton-Upon-Trent to Uttoxeter
25 miles (40 km)
Travel through Staffordshire and Derbyshire along National Cycle Route 54 on this interesting route. You start near the railway station in Burton Upon Trent and head north to Egginton in Derbyshire, with views of the River Trent and the Trent & Mersey Canal. The route continues through the countryside mainly on road but with a short stretch along a dismantled railway line near Etwal and Hilton. Other villages of note on the route are Hatton, Marston on Dove and Sudbury - home to National Trust owned Sudbury Hall with its interesting history and attractive gardens. View Full Details>>
Buxton to Hadfield
21 miles (34 km)
This ride takes you along National Cycle route 68 through the beautiful Peak District. The route starts by the railway station in Buxton and soon joins the lovely Midshires Way which has a nice traffic free section. You then continue onto Whaley Bridge and New Mills with views of the River Goyt and Combs Reservoir.
A spell along the Pennine Bridleway then takes you through Charlesworth, before a traffic free section crossing the River Etherow takes you into Hadfield, where you finish by the train station. View Full Details>>
Buxton to Marple
20 miles (32 km)
Follow National Cycle Route 55 and Cycle Route 68 from Buxton in the Peak District to the lovely town of Marple in Cheshire.
Highlights on this route include the beautiful Peak District scenery and the Middlewood Way - an off road path passing by the Macclesfield Canal. View Full Details>>
Buxton to Matlock
31 miles (50 km)
A challenging but rewarding route taking you through the heart of the Peak District.
Highlights include views of the Rivers Wye and Derwent and Chatsworth Park - an attractive country house home to the Dukes of Devonshire. There is also a run along the lovely Monsal Trail which follows the River Wye. Attractive towns on the route inlclude Ashford in the Water and Bakewell. View Full Details>>
Buxton to Uttoxeter
42 miles (68 km)
Take a trip through the lovely White Peak area of the Peak District on this challenging route which also passes by the famous Alton Towers theme park . You start by the railway station in Buxton and head south along National Cycle route 68 towards Hurdlow where you join the off road Pennine Bridleway for a short stretch. Country roads take you onto Hartington shortly before crossing the River Dove at Beresford Dale. You then join the Manifold Way - a terrific off road section that follows a dismantled railway line along the River Manifold.
Country roads then take you onto Oakamoor where you join another dismantled railway line taking you along the River Churnet through the Churnet Valley. View Full Details>>
Carsington Water
7 miles (12 km)
This route follows the circular cycling and walking trail around Carsington Water in Ashbourne, Derbyshire. The trail starts at the excellent visitor centre where cycle hire is available. It includes long shoreline sections and several woodland sections with great views of the surrounding countryside. The route runs for just over 7 miles on a fairly flat path so it's suitable for most abilities.
The lake is also a great place for birdwatching. Look out for little owl, little grebe, great northern diver, Eurasian oystercatcher, common tern and breeding common redshank.
If you enjoy this route then you could head to the nearby Ogston Reservoir where there are more fantastic bird watching opportunities.
The Pennine Bridleway and Midshires Way long distance trails run just to the north of the site. You can pick up these trails to extend your walking around Wirksworth. The town is a good base for walkers with the High Peak Trail and the Black Rocks near Cromford to visit.
Just to the north of the site you will find Middleton Top. There's an excellent visitor centre here and fine views back down to the reservoir from the hill top. View Full Details>>
Chesterfield Canal
44 miles (71 km)
Follow the full length of the Chesterfield Canal on this fine cycle ride from Chesterfield to West Stockwith. The route is just over 40 miles so it can be completed in a day as it takes place on a nice flat path. Most of the canal is suitable for cyclists but please keep to a reasonable speed and dismount where advised.
The ride starts at Chesterfield Basin and heads to Stavely along a section of the National Cycle Network. You then head through Killimarsh, Kiveton Park, Worksop, Retford and Hayton before finishing at West Stockwith. View Full Details>>
Chesterfield to Alfreton
14 miles (23 km)
Follow National Cycle Route 67 on this lovely largely off road route through Derbyshire. The ride starts by Chesterfield train station and heads south out of the town to join National Cycle route 67 on the Five Pits Trail - this lovely trail takes you through Grassmoor Country Park and on to Tibshelf Ponds. From there a short on road section takes you through Alfreton to the finish point at the train station. View Full Details>>
Chesterfield to Sheffield
19 miles (30 km)
This is a nice route that follows the Trans Pennine Trail from Chesterfield to Sheffield.
The route starts by the Chesterfield Canal and follows it for a few miles before a spell along a dismantled railway. The route finishes in the centre of Sheffield near the train station but apart from the finish is mainly off road.
Route highlights include the fine Renishaw Hall stately home at Eckington and shortly after the lovely Rother Valley Country Park with its expansive lake. View Full Details>>
Cloud Trail
13 miles (21 km)
This super traffic free cycle route runs from Derby to Worthington along National Cycle Network route number 6. Most of the trail takes place on traffic free, well surfaced paths so it's a lovely one for families or anyone looking for an easy flat ride.
The route begins in the centre of Derby near the train station and takes you along the River Derwent and Derby Canal path, passing Pride Park, the home of Derby County Football Club. The rest of the ride takes place on a dismantled railway path which passes Swarkstone, Melbourne, the Trent Viaduct, the Trent and Mersey Canal and the River Trent. The route finishes at Cloud Quarry in Worthington.
It's a lovely route with waterside sections and great views of the surrounding countryside to enjoy. View Full Details>>
Derby Canal
6 miles (10 km)
Follow the Derby canal from the centre of the city to the Trent and Mersey Canal at Swarkestone. The flat path runs for about 6 miles and is suitable for cyclists or walkers.
The route starts in the city centre and follows the River Derwent past Pride Park football stadium and The Sanctuary Bird and Wildlife Reserve. You then come to Alvaston Park where you turn south away from the river, following the path through the suburbs of Allenton, Boulton and Shelton Lock. At Swarkestone Lock the canal ends, meeting with the Trent and Mersey Canal. You can extend your exercise by heading east or west along the canal.
You could also continue south along the Cloud Trail to Worthington.
Another good option is to continue following the river east at Alvaston Park and head to Elvaston Castle Country Park. It's only a couple of miles away and has a lovely lake and nice woodland trails to try. Just to the north of the canal there's nice riverside walks through the popular Darley Abbey Park. View Full Details>>
Derby to Ashbourne
22 miles (35 km)
Follow National Cycle Route 54 through Derbyshire on this lovely route. The route starts by the tourist information centre in Derby and heads west to Mickleover where you join a dismantled railway line taking you to Etwal. The route continues through the countryside on quiet roads, through the villages of Longford and Rodsley, before finishing by the tourist information centre in Ashbourne. View Full Details>>
Derby to Loughborough
25 miles (40 km)
Follow National Cycle Route 6 from Derby to Loughborough. Much of this route follows off road paths and tracks including a pleasant stretch along the River Derwent at the start. This section takes you past Pride Park football stadium and also through Alvaston Park. You then pick up the Cloud Trail along a dismantled railway before another waterside stretch along the Trent & Mersey Canal and then across the River Trent. You then enter Leicestershire passing by the villages of Wilson and Breedon on the Hill and through some lovey countryside on the approach to Loughborough. View Full Details>>
Derby to Matlock
22 miles (35 km)
Starting by the River Derwent in Derby this route follows a series of quiet country roads to Matlock.
Route highlights include splendid views of the River Derwent especially at Duffield and Milford with its photographic weir. There is also another lovely waterside stretch along the Cromford Canal to enjoy. View Full Details>>
Derby to Nottingham
19 miles (30 km)
This easy route takes you between two major English cities. The routes starts on the banks of the River Derwent in Derby and the follows National Cycle Route 6 to Long Eaton and then Nottingham, finishing on the banks of the River Trent. Much of the route follows the River Derwent with the lovely Attenborough Nature Reserve a further route highlight. The final stretch into Nottingham is particularly enjoyable taking you through the lovely university park, before a pleasant stretch along the River Trent brings the ride to a close. View Full Details>>
Elvaston Castle Country Park
2 miles (3 km)
Explore 321 acres of open parkland, woodland and formal gardens on this cycle or walk near Derby. In the park you will find the 17th century Elvaston Castle surrounded by delightful gardens with stables, kennels, a walled garden, a home farm, several cottages, gatelodges, an ice house and a boathouse.
In the country park there are a number of footpaths and bridleways to follow while National Cycle Route 6 also runs through the park. There is also a Nature Reserve where you can follow a number of footpaths to reed bed areas, wildflower meadows, wet woodlands, a lake and islands.
The River Derwent runs very close to the park so you can follow the riverside path into Derby to extend your walk or cycle.
Also nearby is Kedleston Hall. This much larger park features grassy meadows, serpentine lakes, pleasure grounds, woodland and contoured hills.
Allestree Park is also well worth a visit for walkers. Covering 320 acres the park is the largest Local Nature Reserve in Derby.
The long distance Bonnie Prince Charlie Walk also runs through the area. Follow it into Derby and it will take you close to the historic Darley Abbey Park. View Full Details>>
Erewash Canal
12 miles (19 km)
Follow the Erewash canal through south Derbyshire on this waterside cycling and walking route. The canal runs from Trent Lock near Long Eaton to the Langley Mill (Great Northern) basin. You can follow the towpath all the way on your bike or on foot. It's a nice easy route that runs for about 12 miles so it's a good family cycle ride or long walk. On the way you'll pass old mills, pretty locks and a number of stone bridges. The areas around Nutbrook Junction and Trowell Marsh are nature reserves where you can look out for a wide variety of wildlife. There's also nice views of the River Erewash and the surrounding countryside. The canal forms part of the larger Erewash Valley Trail so it's easy to extend your exercise on this circular route.
You start off at Trent Lock on the border of Derbyshire, Leicestershire and Nottinghamshire. It's a major canal junction where several significant waterways meet including the River Soar, the Trent and Mersey Canal, the River Trent and the Erewash Canal. The canal then weaves its way through the town of Long Eaton to Sandiacre. You continue north to Ilkeston, passing Gallows Inn and the impressive Bennerley Viaduct, before finishing at Langley Mill at the basin of the Erewash Canal.
You can virtually follow part of the route along the canal from Trent Lock by clicking on the google street view link below.
To continue your walking in the area you can visit the lovely Attenborough Nature Reserve which is located near the start of the canal at Long Eaton. You can follow the Trent Valley Way along the River Trent to reach the reserve. The Beeston Canal can also be picked up at the eastern end of the reserve, next to the pretty Beeston Lock.
The canal also forms part of the Nutbrook Trail Cycle Route which runs up to Shipley Country Park on a dismantled railway line. View Full Details>>
Erewash Valley Trail
28 miles (45 km)
This splendid cycling and walking trail explores the canals, countryside, towns and villages of south Derbyshire and Nottinghamshire. It's a circular route with miles of great traffic free sections so it's ideal for families or anyone looking for a safe cycle ride. Walkers can also enjoy the nice surfaced trails along the canals and through the nature reserves on this varied route.
As a circular route there are several options for a start point. This route starts at Trent Lock on the Erewash Canal just south of the town of Long Eaton. Trent Lock is a significant canal junction where the River Soar, the Trent and Mersey Canal, the River Trent and the Erewash Canal meet (you can virtually explore this section on the street view link below). You then follow the canal towpath north through the town of Long Eaton to Sandiacre. You continue to Ilkeston, passing Gallows Inn and the impressive Bennerley Viaduct, before coming to Langley Mill at the basin of the Erewash Canal. It's a nice section with lots of pretty locks, stone bridges and views of the River Erewash.
At Langley Mill you turn south and pick up the Nottingham Canal heading to Cossal and Trowell. The disused canal has now been declared as a nature reserve which attracts lots of dragonflies, damselflies and birdlife. The canal leads you towards Stapleford Hills and Bramcote Hills Park. The park includes a mix of woodland and parkland with a nice walled garden. You'll also pass the geologically fascinating Hemlock Stone. The stone is an outcrop of New Red Sandstone, deposited more than 200 million years ago in the Triassic Period. It's worth stopping to have a look at the plaque and stone on Stapleford Hill before continuing.
From the park you continue through Stapleford and Chilwell to the lovely Attenborough Nature Reserve. Here you'll find 350 acres of lakes, wetland, woodland, grassland and scrub with a huge variety of wildlife to look out for. The Beeston Canal can also be picked up at the eastern end of the reserve, next to the pretty Beeston Lock.
The final waterside section takes you along the River Trent to Trent Lock and the finish point. Towards the end of the route you pass along the Trent Valley Way so this is a good option if you would like to continue your walking in the area.
The trail also forms part of the Nutbrook Trail Cycle Route which runs along the Erewash Canal before bearing right near Stapleford and heading up to Shipley Country Park on a dismantled railway line. View Full Details>>
Five Pits Trail
6 miles (10 km)
This is a super off road cycling and walking trail running from Grassmoor Country Park to Tibshelf. The route follows National Cycle Route 67 but there is also a detour at Wolfie Pond which heads east to the Williamsthorpe Nature Reserve before rejoining the route south. You can use this to create a circular walk along the trail.
The trail follows the route of the old Grand Central Railway through the countryside passing the Locko bird and wildlife reserve on the way. The start and end points of the route are also delightful with Grassmoor Country Park at one end and the woodlands and meadows of Tibshelf Ponds at the other. The trail is located just three miles south of Chesterfield town centre. If you're are on your bike you could follow the Chesterfield to Alfreton cycle route along National Cycle 67 as an extension of your ride. View Full Details>>
Grassmoor Country Park
1 miles (2 km)
Enjoy meadows and lagoons in this pretty country park near Chesterfield. The park is a haven for wildlife - look out for water voles, grass snakes and butterflies. Grassmoor is the start of the Five Pits Trail so there is scope for continuing your walk or cycle. View Full Details>>
Great Northern Greenway
3 miles (4.2 km)
This is the first open section of the Great Northern Greenway, running between Derby City and Breadsall. When complete it will run from Derby City to Ilkeston. View Full Details>>
High Peak Trail
17 miles (28 km)
This splendid, shared walking and cycle trail follows a disused railway line from Cromford to Dowlow through the beautiful Peak District.
The trail starts near Cromford railway station and climbs through the stunning High Peak area of Derbyshire giving fabulous views of the area.
The trail links with the popular Tissington Trail at High Peak Junction. It's a similar trail trail running from Parsley Hay in the north to Ashbourne in the south.
Highlights on the route include the fascinating Neolithic henge monument of Arbor Low at Parsley Hay. Near Cromford you will also pass the noteworthy Middleton Top. Here you'll find an excellent visitor centre with good facilities and a wealth of information on the area. There's also the historic Middleton Top Engine House, built in 1829 and fabulous views down to the nearby Carsington Water. View Full Details>>
Horseshoe Trail
12 miles (20 km)
This cycling and walking trail in Derbyshire takes you on a tour of the countryside, villages and reservoirs near Burton-Upon-Trent and Swadlincote. It uses a mixture of quiet roads, bridleways and the woodland trails of the National Forest. There's some challenging climbs but with fabulous views over the surrounding South Derbyshire countryside.
The route starts at the pretty Foremark Reservoir and heads to Repton Common and Milton before coming to the pretty village of Ticknall. Woodland sections through Stantons Wood and Robin Wood take you towards Ingleby and Seven Spouts before the final section takes you back to the reservoir via the Hangman's Stone.
To extend your walking in the area you can visit the lovely Staunton Harold Reservoir or Calke Abbey. View Full Details>>
Howden Derwent and Ladybower Reservoirs
16 miles (25 km)
This super cycle route takes you around three beautiful reservoirs in the Derbyshire Peak District. The route starts at the information centre at the top of Ladybower Reservoir where cycle hire is available. You then follow a series of waterside roads and traffic free paths around Derwent Reservoir and Howden Reservoir before returing to the start point.
There's some spectacular scenery to enjoy including the Upper Derwent Valley with its mixture of water, woodlands, open moors and the dramatic Victorian dams. The area is well know for its birds of prey so look out for goshawk, sparrowhawk, buzzard, merlin and peregrine falcon.
The route is around 4 miles from Hope train station and 12 miles from Sheffield. View Full Details>>
Linacre Reservoirs
2 miles (3 km)
Enjoy cycling and walking trails around these three pretty reservoirs near Chesterfield. Cyclists can enjoy a good track running around the middle and lower reservoirs while walkers can follow the same trails plus another around the upper reservoir. The trails are a mixture of lovely waterside paths plus some woodland trails through Linacre Woods. Look out for nuthatches, flycatchers and woodpeckers in the woods and kingfishers and mandarin ducks on the water.
The circular route below starts at the car park and follows the shared cycle and walk trail around the middle and lower reservoirs. Linacre Reservoirs is located just a few miles west of Chesterfield city centre. View Full Details>>
Long Eaton to Langley Mill
12 miles (20 km)
This lovely ride starts at the Nutbrook Trail just north of Long Eaton rail station following it north to Langley Mill.
The trail follows the Erewash Canal and also includes a section through Shipley Country Park which makes it ideal for a leisurley afternoon's cycling. View Full Details>>
Longdendale Trail
8 miles (13 km)
This splendid cycling and walking trail follows a disused railway line through the Longdendale in the Peak District National Park. The path starts in Hadfield and runs alongside a series of beautiful reservoirs including Bottoms Reservoir, Torside Reservoir, Woodhead Reservoir and Rhodeswood Reservoir before finishing at Salter's Brook. It runs for just over 8 miles on a gradually ascending path which is ideal for both cyclists and walkers. There's also fine views of the lovely rolling hills and countryside for the duration of the route. It's easy to access with a train station and public car park right next to the start point at the western end in Hadfield. View Full Details>>
Longshaw Estate
4 miles (6 km)
The Longshaw Estate is a National Trust owned country park in Upper Padley in the Peak District. The estate is perfect for walking with fabulous views of the Peak District, ancient woods, parkland and heather moorland. In the park there are pretty ponds, a waterside path along Barbrage Brook and the lovely Big Moor where you should look out for red deer. There are also excellent facilities with a tea room, shop and the Moorland Discovery Centre.
From easter 2014 there will be two new bridleways suitable for cyclists. The routes will be waymarked so you can explore the estate on two wheels or on foot.
The Derwent Valley Heritage Way runs near the estate so you could continue your walk along the River Derwent. You could also continue south and climb up to Froggatt Edge and Curbar Edge where there are spectacular views of the Peak District. The wonderful Padley Gorge Trail with its babbling brook and pretty waterfalls is another good option.
You're also close to Stanage Edge where you can enjoy fabulous views and interesting rock formations.
The park is located just a few miles from Sheffield. View Full Details>>
Manchester to Buxton
36 miles (58 km)
Follow National Cycle routes 6, 62 and 55 through Manchester, Cheshire and Derbyshire on this lovely ride. You start by Manchester Oxford Road station heading south through Chorlton to the River Mersey. Here you join a lovely traffic free section along the Trans Pennine Trail which takes you to Stockport. You then pass through Bredbury where you join another off road stretch by the River Goyt taking you onto Marple where you join the Middlewood Way - a lovely off road cycle path running along the Macclesfield Canal to Bollington and Macclesfield. View Full Details>>
Monsal Trail
10 miles (16 km)
Follow the Monsal Trail through the Peak District National Park on this cycling and walking path.
The trail follows a disused railway line from Chee Dale near Buxton to Bakewell with the first section following the River Wye to Monsal Head via Cressbrook Dale and Miller's Dale. This popular beauty spot includes shady wooded valleys, rushing rivers and lots of interesting flora and fauna. At Monsal Head you will pass over the impressive Headstone Viaduct, built in 1836.
The second section runs onto Bakewell passing Great Longstone with more stunning views to enjoy. View Full Details>>
National Cycle Route 54
101 miles (162 km)
This Sustrans cycle route runs from Worcestershire based Stourport on Severn to Parsley Hay. View Full Details>>
National Forest Trail
25 miles (40 km)
Explore the National Forest in Leicestershire and Derbyshire on this super figure-of-eight cycle ride. The ride follows country lanes through woodland and countryside near Burton Upon Trent, visiting Donisthorpe Country Park, Conkers Waterside and Moira. View Full Details>>
Nottingham Canal
8 miles (13 km)
Enjoy a walk or cycle along this pretty canal in Nottingham. The route runs along the Erewash Valley Trail from Langley Mill to the outskirts of Nottingham. It's a nice flat ride which is ideal for families.
The route starts at Langley Mill and heads south to Cossall and Trowell. This area has now been declared as a nature reserve which attracts lots of dragonflies, damselflies and birdlife. On the Trowell section are the remains of Swansea bridge, one of the original stone bridges, which was built around 1793–95. From here you can see the original stone built lock keepers cottages.
The route finishes very close to Wollaton Park where you can extend your outing. View Full Details>>
Nutbrook Trail
10 miles (16 km)
This easy cycling and walking trail runs from Long Eaton to Heanor along the Erewash Canal and a dismantled railway line. It runs for about 10 miles and is part of National Cycle Route 67. It's a great one for families or anyone looking for a safe, flat ride or walk.
The route starts in Long Eaton next to West Park and follows the Erewash Canal north through Sandiacre and Stapleford. It's a pleasant section along the canal towpath with pretty locks and old stone bridges.
Just after Stapleford you leave the canal and bear west toward Ilkeston along a dismantled railway line. You'll pass through the pretty Manor Floods Nature Reserve where there is a nice lake and lots of wildlife to look out for. The final section takes you through the lovely Shipley Country Park to the finish point at Heanor. It's a great park with 700 acres of woodland, lakes and parkland.
To extend your outing you could pick up the circular Erewash Valley Trail and further explore the Derbyshire and Nottinghamshire countryside on your bike or on foot. View Full Details>>
Pennine Bridleway
120 miles (193 km)
This fabulous 120 mile long trail runs through the beautiful Derbyshire Peak District, through Lancashire and on into Yorkshire.
It is suitable for mountain bikers, horse riders and walkers taking you on a tour through some of the most beautiful parts of the country. View Full Details>>
Pleasley Pit Country Park
1 miles (2 km)
This former colliery site in Mansfield has been converted into a lovely country park and local nature reserve. There are a series of nice walking trails taking you to ponds, reed beds, grassland and woodland. It's great for flora and fauna with orchids, butterflies and dragonflies. There's also a bird hide where you can look out for Sand Martins and the various other species that visit the park.
The park also includes a cycle path so you can bring your bike. Parking is available at the south eastern end of the park.
You can also learn about the history of the site by touring the engines and south shaft pit top on open days. The remaining pit buildings are an impressive sight and are now a Scheduled Ancient Monument (SAM). View Full Details>>
Poolsbrook Country Park
2 miles (3.5 km)
This 180 acre park consists of 85 acres of woodland, 42 acres of grassland and 23 acres of green water. There are several miles of well maintained paths suitable for cyclists or walkers. The park is located in Staveley, very near to Chesterfield and the village of Duckmanton. View Full Details>>
Sabrina Way
203 miles (327 km)
This route is part of the National Bridleroute Network and primarily designed for horse riders but can be used by walkers and cyclists also. The trail starts at the deer park at Great Barrington and heads north to Hartington. The route passes through the Cotswolds, the Malvern Hills, the Wyre Forest and Cannock Chase Forest, before finishing in the Derbyshire Peak District. View Full Details>>
Sett Valley Trail
2 miles (4 km)
This splendid cycling and walking trail runs through the beautiful Sett Valley in the Peak District. The route follows a disused railway line from New Mills to Hayfield via Birch Vale. It's a good surfaced path which provides a fairly easy ride for families. Along the way there's fantastic views of the River Sett, the pretty reservoir at Birch Vale, the Blubell Wood nature Reserve and the surrounding Peak District countryside and hills. The route finishes at the former Hayfield Station where there are good facilities including a cafe and visitor centre. Please note that West of St Georges Road in New Mills the route is unsuitable for cyclists. View Full Details>>
Shipley Country Park
6 miles (9 km)
This large country park near Ilkeston boasts 700 acres of attractive and varied landscape. In the park you'll find a number of lovely walking trails while the Nutbrook Trail cycle route also runs through the park.
The trails visit Porter Wood, Mapperley Wood, Shipley Lake, the Shipley Hill viewpoint and Mapperley Reservoir. There's excellent facilities with a visitor centre, play areas, and a wildlife garden. The park is not far from both Derby and Nottingham. View Full Details>>
Stockport to Glossop
19 miles (30 km)
This route goes from Greater Manchester into Derbyshire via National Cycle Route 62. The route starts by the railway station in Stockport and soon joins the Trans Penine Trail taking you along the River Tame and through Reddish Vale Country Park. You continue off road along the trail until Godley Green where quiet roads take you onto Broadbottom and then Hadfield crossing the River Etherow. A short stretch south then takes you through the High Peak district of Derbyshire with some wonderful scenery before you finish in Glossop at the train station. View Full Details>>
Teversal Trail
4 miles (7 km)
Enjoy cycling and walking along these former railway lines, located on the Nottinghamshire/Derbyshire border. It's a nice flat path, with good views of the surrounding countryside to enjoy on the way.
The route starts from the Teversal Trails visitor centre on Carnarvon Street in the Ashfield district of Nottinghamshire. The centre has lots of information on the walks and cycle routes in the area. There's plenty of parking and a nice cafe for refreshments at the end of your exercise.
From the centre you head north along the old railway toward Upper Pleasley where you will find Pleasley Pit Country Park in Derbyshire. The former colliery site has been converted into a lovely country park and local nature reserve with ponds, reed beds, grassland and woodland.
At the park the route turns south towards the village Skegby where there are a number of interesting old buildings to see. Just before reaching the village you turn west, passing Coppy Wood before returning to the visitor centre. View Full Details>>
Thornhill Trail
2 miles (3 km)
This easy cycling and walking trail runs along a disused railway line between Ladybower Dam down and Bamford station. It runs for just under 2 miles along a flat path with views of the River Derwent and a woodland section near the reservoir. It's a good one for families or anyone looking for an easy cycle or walk.
The route runs along a section of the Derwent Valley Heritage Way so there is scope for extending your walk along this long distance path. Heading south east will take you along the river to Hathersage.
There's also a good cycling trail around the Howden, Derwent and Ladybower Reservoirs. If you're on foot try the Ladybower Reservoir Walk or the climb to Win Hill. You can take a short detour from the path at Parkin Clough to climb the hill where you will enjoy fabulous views over the reservoir. The summit is only about a quarter of a mile west from the path and a great option if you are on foot. View Full Details>>
Tissington Trail
13 miles (21 km)
The Tissington trail is a 13 mile off road path following the trackbed of a disused railway line through the stunning Peak District National Park.
The trail is shared by walkers and cyclists offering fabulous views of the Derbyshire countryside. It runs from Parsley Hay in the north to Ashbourne in the south.
The trail links with the popular High Peak Trail at High Peak Junction. View Full Details>>
Torside Reservoir
4 miles (6 km)
Enjoy a circular walk or cycle around this large man made lake in the Derbyshire Peak District.
There's a good sized car park off the Woodhead Road on the southern side of the water. From here you can pick up the Longdendale Trail to take you along the water. On the northern side of the reservoir you can follow footpaths along the water if you are on foot. If you're on a bike the A628 runs above the reservoir giving great views across the area. View Full Details>>
Trans Pennine Trail
215 miles (346 km)
This terrific walking and cycling trail runs from coast to coast across northern England entirely on surfaced paths. It starts on the Yorkshire coast at Hornsea and passes through Yorkshire, Derbyshire and Greater Manchester before finishing on the Merseyside coast at Southport. View Full Details>>
Trent and Mersey Canal
95 miles (153 km)
Follow the Trent and Mersey Canal through Derbyshire, Staffordshire and Cheshire on this long distance waterside walk.
The route start at Shardlow near Long Eaton in Derbyshire and heads through Weston-on-Trent and Willington to Burton Upon Trent where you will pass Mercia Marina and the lovely Branston Water Park with its woodland, wetland and meadow. You continue to Alrewas where you will pass the National Memorial Arboretum. The Arboretum contains over 50,000 trees with nearly 300 memorials for the armed forces, civilian organisations and voluntary bodies who have played a part in serving the country.
The next stage takes you through Handsacre to Rugeley where you will pass the wonderful Cannock Chase Country Park. It's worth taking a short detour to explore the Cannock Chase AONB with miles of woodland walking and cycling trails, lakes, ponds and wildlife including deer and various birds to look out for.
You continue through the beautiful Trent Valley passing the National Trust Owned Shugborough Park at Great Haywood. It is worth a visit with a grand hall, museum, kitchen garden, model farm and extensive parkland with follies, woodland and a Chinese House with two Chinese-style bridges.
The route continues through Weston to Stone before coming to the outskirts of Stoke-on-Trent where you will pass the splendid Trentham Gardens. Also in Stoke you will pass Westport Lake which is worth a small detour.
You continue north to Kidsgrove where you will find the  Grade II* listed Rode Hall, surrounded by parkland and formal gardens. The hall and gardens are open to the public from April to September and are well worth a small detour from the canal.
The canal continues through Cheshire to Sandbach where you will pass close to the Watch Lane Flash Nature Reserve. Onward to Middlewhich and Northwhich where you will pass Marbury Country Park. View Full Details>>