Gloucestershire Cycle Routes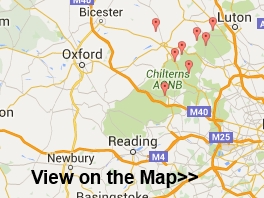 Gloucestershire has some lovely countryside and pretty towns as well as serving as an access point for Wales. One of the chief attractions in the county is the river Severn and the Gloucester to Chepstow route below gives great views of this famous river separating Wales and England.
There are also some lovely rides in and around the county town of Gloucester with the river and the Vale of Gloucester providing a fine backdrop.
Use the links to view full route information including elevation profiles, interactive maps and GPS downloads.
You can also view an overview map of all the routes in the using the Gloucestershire Cycle Map>>
There are several National Cycle Networksigned routes in the county many of which have been mapped and can be viewed and downloaded below.

For more information on cycle routes in Gloucestershire including tips, advice and free cycle maps please click here
Route Name
Distance
Description
Bridgwater to Bristol
56 miles (90 km)
This is a long but largely flat ride through some beautiful countryside following National Cycle Route 3 from Bridgwater to the busy city of Bristol.
You will pass through Glastonbury (home of the famous music festival) and the Mendip forest on your way through Somerset to Gloucestershire. Highlights include a lovely waterside section along the pretty Chew Valley Lake at Chew Stoke and the Shapwick Heath RSPB reserve. View Full Details>>
Bristol and Bath Railway Path
16 miles (26 km)
This lovely cycle or walk takes you along a disused railway line with its series of charming stations. Starting in the historic city of Bristol you will pass through Staple Hill, Mangotsfield and then Warmley where the station platform contains a cafe - perfect for a stop for refreshments.
The route then takes you along the Avon Valley Railway and past Bitton railway station which also has a cafe.
The final delightful section takes you along the River Avon and into the historic city of Bath. View Full Details>>
Bristol to Chepstow
25 miles (40 km)
This lovely ride takes you from England to Wales via the Severn Bridge.
The ride starts on the River Avon in Bristol and takes you along the River Severn before crossing the bridge into Wales and finishing in Chepstow. View Full Details>>
Bristol to Gloucester
53 miles (85 km)
This ride starts on the River Avon in Bristol and takes you along the River Severn to Gloucester.
The route follows the National Cycle Route 41 for most of the way and is largely flat so expect a nice relaxing scenic ride. View Full Details>>
Bristol to Portishead
11 miles (17 km)
Travel along the River Avon and through the stunning Avon Gorge on this ride from Bristol to the Somerset coast.
You start off in Bristol and soon join the River Avon which takes you to Pill, passing the Clifton Suspension Bridge, Leigh Woods and the Avon Gorge on the way. View Full Details>>
Bristol to Thornbury
25 miles (40 km)
This route starts by the River Avon in Bristol and follows the tow path for a few miles before heading north along National Cycle Route 4 to Thornbury. View Full Details>>
Bristol to Trowbridge
30 miles (48 km)
This lovely largely traffic free route takes you along National Cycle Route 4 from Bristol to Bath and Bradford-on Avon before finishing in Trowbridge. View Full Details>>
Cirencester to Moreton-in-Marsh
30 miles (48 km)
This ride takes you along National Cycle Route 48 through the beautiful Costwolds district. You start near the tourist information centre in Cirencester and head along minor roads to the lovely Bourton-on-the-Water - Venice of the Cotswolds and the perfect place to stop for some refreshments. From here you continue to Stow-on-the Wold, another lovely village in the region before the final stretch takes you into Moreton-in-Marsh, finishing at the train station. View Full Details>>
Cirencester to Stroud
22 miles (35 km)
Follow National Cycle routes National Cycle Route 48 and 45 through the beautiful Cotswolds region on this attractive route which takes you close to the source of the River Thames. The route starts near the abbey grounds in Cirencester and follows National Cycle Route 48 to Kemble where you will join National Cycle Route 45. The route continues on the Thames path and minor roads through the Cotswolds to Nailsworth where an off road path takes you into Stroud finishing near the River Frome. View Full Details>>
Claude Duval Bridleroute
63 miles (102 km)
This shared walking and cycle path runs from Quainton, near Aylesbury in Oxfordshire to Great Barrington in the Cotswolds.
This route is named after the well-known local highwayman, Claude Duval. It starts at Quainton and passes Stratton Audley, Bicester and Bucknell before crossing the Oxford Canal near Woodstock. The route then heads towards Chipping Norton and then Spelsbury where you join the River Evenlode for a short waterside stretch to Ascott d'Oyley. You then head onto Great Barrington via Fifield. View Full Details>>
Coleford Milkwall and Parkend Railway Path
3 miles (5 km)
This short cycling and walking path follows the disused Coleford Milkwall and Parkend railway from Coleford to Parkend. You will head into the peaceful Forest of Dean passing Milkwall station and the disused Darkhill Ironworks on the way. The route links with National Cycle route 42 with more details on the Forest of Dean Family Route.
Also nearby is the fascinating Forest of Dean Sculpture Trail where you'll find a lovely walking trail taking you to a collection of high-quality, contemporary sculptures in a beautiful woodland setting. View Full Details>>
Cotswold Line
68 miles (109 km)
This cycle route runs from Worcester to Long Hanborough, just outside Oxford. View Full Details>>
Cotswold Water Park
10 miles (16.5 km)
This fabulous attraction has numerous waterside cycling and walking paths taking you around the park's 150 lakes. There are 40 square miles to explore within the water park but with the Thames Path National Trail and National Cycle Route 45 running through the park there is great scope for continuing your exercise along these trails (bike hire is available in the park). There is a wide variety of wildlife to see too - look out for otters, water voles and beavers.
The western section of the park shown in the map is located between Swindon and Cirencester. There is also an eastern section located near Fairford and Lechlade. Our Fairford Walk starts from the town and explores that section of the park before heading to Lechlade for a stroll along the Thames. View Full Details>>
Forest of Dean Family Cycle Trail
9 miles (14.22 km)
A fine Family Cycle ride around the beautiful Forest of Dean - submitted by David Curtis.
This circular route takes you along National Cycle route 42 and the Wye Valley path through the delightful Forest of Dean. The easy route takes place on off road paths making it ideal for families.
This route is also suitable for walkers.
The trail passes close to the fascinating Forest of Dean Sculpture Trail. The trail takes you to a unique collection of high-quality, contemporary sculptures in a beautiful setting. You'll also pass the RSPB's wildlife rich Nagshead Nature Reserve and the delightful Cannop Ponds which is a lovely place to stop for a picnic.
You could also try the Coleford Milkwall and Parkend railway path. The trail follows the disused Coleford Milkwall and Parkend railway from Coleford to Parkend. It is suitable for both cyclists and walkers. View Full Details>>
Gloucester and Sharpness Canal
16 miles (26 km)
Enjoy cycling and walking along the towpath of this lovely canal in Gloucestershire. The whole of the route is suitable for walkers while cyclists can enjoy several sections as well. National Cycle Route 41 of the National Cycle Network runs along the canal from Gloucester Docks to the outskirts of the city. There's also another section from Frampton on Severn to Shepherd's Patch.
The canal runs from Gloucester Docks to Sharpness with wonderful views of the Severn Estuary, the Forest of Dean and the Cotswolds. Route highlights include Gloucester Docks with its variety of shops, leisure facilities, marina and fascinating Gloucester Waterways Museum. You will also pass the wonderful Slimbridge Wetland Centre where you can see thousands of migrant birds. The route finishes at the dock of Sharpness Port which was opened in 1874.
The canal links nicely with the River Severn in several places so you have the option of picking up the Severn Way and continuing your walk. View Full Details>>
Gloucester to Tewkesbury
17 miles (28 km)
This route follows National Cycle Route 45 through the Vale of Gloucester. View Full Details>>
Haresfield Beacon
5 miles (7.5 km)
Enjoy woodland trails and wonderful views over the Severn Vale and the Cotswolds on this circular walk near Stroud. There are miles of walking and cycling trails on which to explore the large estate. On the way you will pass wildflower meadows, an Iron Age hill fort and the Bronze Age Long Barrow of Haresfield Beacon.
This walk starts at the car park and follows the Cotswold Way National Trail through Standish Wood. You pass the Long Barrow and Standish Quarry before heading through the countryside to Oxlynch. The path then passes Vinegar Hill and Ring Hill before reaching the topograph where you can enjoy splendid views. From the topograph it is a short walk back to the car park and the finish point.
The area is superb for interesting flora and fauna. Look out for bluebells in Standish woods and orchids and butterflies in the limestone grasslands. You may also see buzzards and kestrels from the viewpoints.
The whole of this route is for walkers but much of it is suitable for mountain bikers too.
If you would like to continue your walking in this beautiful area then you could head south of Stroud and visit Rodborough Common and Woodchester Park for more great walking trails. You could also pick the Cotswold Canals Walk and enjoy waterside walking along the Stroudwater canal through Stroud. View Full Details>>
National Byway - Ledbury Loop
21 miles (33 km)
The National Byway is a 3,200-mile (5,150km) sign-posted leisure cycling route around Britain. This section explores the countryside around the market town of Ledbury on the Gloucestershire and Herefordshire border. The loop follows a series of nice country lanes, visiting several pretty villages with some great views across the Malvern Hills and the surrounding countryside.
You can start the ride in Ledbury and then head to Eastnor Castle and Bromesberrow. Here you can just head south to Bromesberrow and Bromesberrow Heath or head east to Pendock to extend the route.
From Bromesberrow Heath you continue to Dymock and Leddington before returning to Ledbury. View Full Details>>
National Cycle Route 41
132 miles (212 km)
This is the complete Sustrans National Cycle Route 41 running from Bristol to Rugby. View Full Details>>
National Cycle Route 48
76 miles (123 km)
This signed Sustrans cycle route runs from Tetbury to Moreton-in-Marsh and Southam. View Full Details>>
National Cycle Route 57
87 miles (140 km)
This signed Sustrans route runs from Gloucestershire based Farmington to Welwyn Garden City in Hertfordshire. View Full Details>>
Pittville Park
1 miles (2 km)
Enjoy a short waterside walk or cycle around this pretty park in Cheltenham. In the park you will find aviaries , small areas of woodland and three lakes with waterside paths. You will also pass the impressive Grade I listed Pittville Pump Room. Built in 1825 it is the last and largest of the spa buildings to be built in Cheltenham. There are also play areas for children, a boat house and cafe. Cyclists can cycle around the two western lakes so it's a nice option for anyone looking for a safe family ride in the town. View Full Details>>
Sabrina Way
203 miles (327 km)
This route is part of the National Bridleroute Network and primarily designed for horse riders but can be used by walkers and cyclists also. The trail starts at the deer park at Great Barrington and heads north to Hartington. The route passes through the Cotswolds, the Malvern Hills, the Wyre Forest and Cannock Chase Forest, before finishing in the Derbyshire Peak District. View Full Details>>
Stroud to Gloucester
20 miles (32 km)
Follow National Cycle routes 45 and 41 from Stroud to Gloucester on this fairly easy route. Starting near the train station in Stroud the route soon joins National Cycle Route 45 for an off road stretch to Stonehouse.
You'll then join National Cycle route 41 after crossing the Gloucester and Sharpness Canal. The route turns North East following minor roads with views of the River Severn before finishing with a pleasant stretch along the Gloucester and Sharpness canal taking you into Gloucester town centre. View Full Details>>
Stroud Valleys Trail
6 miles (9 km)
This route runs from Stonehouse to Nailsworth following a disused railway line. The route is traffic free with splendid views of the Cotswolds and makes for a pleasant afternoon's cycling or walking particularly for families.
Click here for more information on this route.
You can further explore the area by following our walk to King's Stanley on the Stroud Canal. View Full Details>>
Swindon to Cirencester
19 miles (30 km)
This route follows National Cycle Route 45 from Wiltshire to Gloucestershire taking you through a lovely part of the Cotswolds. The route starts in Swindon Old Town and follows an off road cycle path into the countryside. A dismantled railway line takes you to Cricklade before more off road paths take you through Cotswold Water Park - the UK's largest water park with 133 numbered lakes.
An on road section then takes you into the finish point in Cirencester near the abbey grounds. View Full Details>>
Symonds Yat Rock
2 miles (4 km)
Enjoy wonderful views over the Wye Valley from this well known viewpoint on the Herefordshire and Gloucestershire border. From the elevated position you have a great view of the beautiful wooded gorge below. It's also a popular spot for birdwatching with peregrine falcons, buzzards, goshawks and hobbies regularly seen. The area is great for walking and cycling with miles of waymarked woodland trails and riverside paths to try. This circular walk starts from the car park and follows good footpaths to the viewpoint. You then continue along the river through the woodland, passing Huntsham Hill on the way. A section along the Perigrine Path then takes you along the River Wye before heading through Riddings Wood to the car park.
There are several other waymarked trails in the area which visit the Iron Age Hillfort and Mailscot Wood. There is also a nature trail with nature boards through an attractive section of mixed woodland. You can buy refreshments from the excellent Log cabin cafe.
This route is designed for walkers but cyclists can try the Symonds Yat Rock Cycle Trail which runs for about 3 miles from the campsite. You can also pick up the Perigrine Path cycle route which runs through Symonds Yat. View Full Details>>
Thornbury to Gloucester
30 miles (49 km)
This route follows National Cycle Route 41 through the Gloucestshire countryside from Thornbury to Gloucester via Berkeley. It includes nice waterside stretches along the Gloucester and Sharpness Canal and the River Severn. View Full Details>>