Suffolk Cycle Routes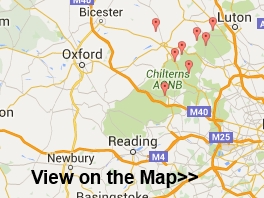 Suffolk is a fairly flat county with a lovely coastline making it ideal for cycling. There's miles of open countryside to explore on quiet country roads and off road paths with a variety of well signed local and national routes to follow.
One of the highlights is the lovely town of Bury St Edmunds with its historic ruined abbey.
Use the links to view full route information including elevation profiles, interactive maps and GPS downloads.
You can also view an overview map of all the routes in the using the Suffolk Cycle Map>>
There are several National Cycle Networksigned routes in the county many of which have been mapped and can be viewed and downloaded below.

For more information on cycle routes in Suffolk including tips, advice and free cycle maps please click here
Route Name
Distance
Description
Alton Water
7 miles (11 km)
Follow a mixture of well surfaced and unsurfaced cycling and walking trails around this large reservoir in Stutton, Ipswich. The reservoir is surrounded by lovely countryside and includes a butterfly garden, woodland, a wildflower meadow, ponds and a bird hide. It's a great place for wildlife watching. Look out for golden eye, wigeon, pochard, teal and shoveller. There is also a visitor centre at the start of the route where you can hire bikes. View Full Details>>
Beccles to Norwich
25 miles (40 km)
Follow National Cycle Route 1 from Beccles in Suffolk to Norfolk based Norwich.
This is a fairly flat route on quiet roads and country lanes passing through some attractive countryside and the lovely riverside market town of Lodden.
Highlights on the route include the famous Norfolk Broads with splendlid views of Rockland and Whitlingham Broad on the route. There is also a relaxing spell along the River Yare and through the lovely Whitlingham Country Park towards end of the route. View Full Details>>
Beccles to Saxmundham
32 miles (52 km)
This route follows National Cycle route 1 from Beccles to Saxmundham via Halesworth. The route starts near Beccles train station and heads south on a series of quiet roads to Saxmundham. This a pleasant route with few climbs that takes you through some lovely Suffolk countryside. View Full Details>>
Brandon Country Park
7 miles (11 km)
A lovely cycle or walk around Brandon Country Park and the surrounding Thetford Forest in Suffolk. There are three waymarked, woodland walks while the Poacher Trail cycle route also starts out at Brandon Country Park. This is an intermediate ride waymarked with blue posts.
The park has beautiful lakeside lawns, a delightful walled garden and an excellent visitor centre. You will then head into Thetford Forest along peaceful woodland trails before returning to Brandon Country Park. The park is located near to the small town of Brandon on the River Ouse. If you have time you could continue your walk along the nearby Little Ouse Path for a delightful waterside walk. View Full Details>>
Bury St Edmunds to Stowmarket
19 miles (30 km)
Follow National Cycle Route 51 from Bury St Edmunds to Stowmarket. The route starts near the ruined abbey near the town centre and then meanders through the suffolk countryside along country roads. There are also several off road sections and few climbs making for an easy afternoon's cycling. The route finishes at the train station in Stowmarket. View Full Details>>
Bury St Edmunds to Thetford
26 miles (42 km)
This pleasant cycle ride follows National Cycle routes 51 and 13 through Suffolk and into Norfolk.
You start near the ruined abbey at Bury St Edmunds and head through the town and out into the countryside on a traffic free cycle path. The route then passes through a series of delightful villages including Great Barton, Great Livermere and Coney Weston before a woodland section through West Harling Heath and Common. You then follow the River Thet through Brettenham to Thetford.
There are train stations at either end of the ride making it easily accessible. View Full Details>>
Cambridge to Newmarket
21 miles (33 km)
This route follows National Cycle routes 11 and 51 through Cambridgeshire to Suffolk. The route starts on the River Cam in Cambridge and heads along the river and National Cycle Route 11 before joining National Cycle Route 51 near Fen Ditton. A series of quiet country roads and off road paths take you to Burwell before an off road stretch takes you into Newmarket, home of the famous racecourse. View Full Details>>
Dedham Vale
42 miles (68 km)
This circular cycle route explores the Dedham Vale AONB on the Essex-Suffolk border. View Full Details>>
Felixstowe to Ipswich
16 miles (26 km)
Follow National Cycle Route 51 from the Suffolk coast to the county town. The route starts on the sea front in Felixstowe passing the pier before moving through the town centre. A stretch through the countryside then follows along the Suffolk Coast and Heaths Path taking you to the outskirts of Ipswich via Levington. A short but pleasant stretch through Landseer and Holywells Parks follows before passing by the marina and docks and heading into the centre of Ipswich, finishing next to the tourist information centre. View Full Details>>
Fritton Lake Country Park
6 miles (9.5 km)
This super country park is situated just a few miles from Lowestoft and Great Yarmouth. There are lovely cycling and walking paths around the large lake which is 2.5 miles long. The lake is surrounded by peaceful woods where there are nice shady trails to try.
You can follow footpaths along the Angles Way public footpath on the western side of the lake. Please stick to this section as the central and eastern parts are private property.
The Angles Way long distance path runs past the site so you could pick this up and head north to visit the impressive Roman Fort at Burgh Castle.
If you follow the trail south you can visit Somerleyton. The delightful model village includes thatched red-brick estate cottages and the splendid Somerleyton Hall. View Full Details>>
Gorleston to Lowestoft
9 miles (15 km)
This route follows the Norfolk and Suffolk coastline from Gorleston to Lowestoft. The route follows National Cycle route 1 for part of the route with some off road and some on road sections. There are some lovely coastal views at Hopton on Sea and Corton as you head south from Norfolk into Suffolk with the route finishing at Lowestoft train station. View Full Details>>
Halesworth to Ipswich
39 miles (62 km)
This route follows National Cycle route 1 from Halesworth to Ipswich via Framlingham. The route is fairly flat and mainly follows quiet country roads through the Suffolk countryside before finishing in the centre of Ipswich near the tourist information centre.
Highlights on the route include the Mere and Castle at Framlingham. View Full Details>>
Ickworth Park
5 miles (8 km)
A circular walk around the parks and gardens at Ickworth in Bury St Edmunds. There are 1,800 acres of parkland to explore with lakes, woodland and arable fields to enjoy. The walk also takes you through the beautiful Italianate garden which is the oldest of its kind in England. Here you'll also find the 18th century Italian Rotunda, built by the 4th Earl of Bristol to house his collection of Italian art and sculpture.
The route below is devised for walkers but much of the park is also great for cycling, with bike hire available from the Ickworth hotel. Please click here for more information. Also of interest is the Newmarket to Bury St Edmunds cycle route which runs along National Cycle Route 51 and passes close to Ickworth Park. View Full Details>>
Ipswich to Colchester
31 miles (50 km)
This route takes you through the Suffolk countryside along National Cycle route 1. You start by the tourist information centre in Ipswich heading out of town to join the River Gipping where you can enjoy a short riverside stretch. You then continue west through the countryside to Hadleigh with lovely views of the River Brett. Shortly after leaving Hadleigh there is a nice off road stretch along the Hadleigh Railway Walk taking you through Raydon Great Wood. You then continue to Colchester on country roads passing through High Woods Country Park as you go. View Full Details>>
King's Forest
9 miles (15 km)
This large area of woodland near has miles of cycling and walking trails to enjoy. You can park at West Stow Country Park and pick up the Icknield Way Path which runs through the woods along the Westtow Road track. The woods are great for wildlife with Fallow, Red, Roe and Muntjac deer to look out for. You may also see foxes and badgers. Birdwatchers may see Owl, Warblers, Finches, Goldcrests, Great Spotted and Green Woodpecker, Treecreeper, Nuthatch and Buzzards.
To extend your walking in the are you can further explore West Stow Country Park. It's right next to the woods and includes waterside trails through the Lackford Lakes Nature Reserve and along the River Lark. Also nearby is the pretty Cavenham Heath Nature Reserve. The reserve has nice trails through heathland with more wildlife to look out for.
The long distance Lark Valley Path also runs through the area so you could pick this up and enjoy a riverside walk through Suffolk. View Full Details>>
National Cycle Network Regional Route 30
205 miles (330 km)
This long distance circular cycle route follows National Cycle Network Regional Route 30, National Cycle Route 1 and National Cycle Route 11 around the counties of Norfolk and Suffolk. View Full Details>>
Newmarket to Bury St Edmunds
19 miles (30 km)
This route follows National Cycle Route 51 through the Suffolk countryside. The route starts near the tourist information centre in Newmarket and heads east to Moulton which has views of the River Kennet. The ride continues to Bury St Edmunds on quiet roads passing National Trust owned Ickworth Park and House with its splendid gardens laid out by Capability Brown. You finish near the cathedral and ruined Abbey in Bury St Edmunds. View Full Details>>
Newmarket to Ely
21 miles (33 km)
This route follows National Cycle Route 51 and National Cycle Route 11 from Suffolk into Cambridgeshire. The route starts near the tourist information centre in Newmarket and follows National Cycle Route 51 to Burwell where you join National Cycle route 11 turning North West.
Country roads then take you to a pleasant stretch through Wicken Fen and then onto another off road section along the River Ouse before reaching the finish point by the Cathedral in Ely. View Full Details>>
Rendlesham Forest
5 miles (8 km)
Rendlesham Forest is probably most famous for reported UFO sightings in 1980 but it is also a great place for cycling and walking. Cyclists can enjoy two easy, family cycle routes on flat well defined paths and quiet country lanes. For walkers there are also two way-marked trails of differing lengths. Both are an easy stroll suitable for all abilties. There is also a UFO trail which takes you to some of the areas connected to the UFO sighting in December 1980.
The circular route below starts at the car park/visitor centre and takes you through forest on trails and quiet roads. The route is suitable for cyclists and walkers but the latter could take the woodland paths adjacent to the section along the road.
The forest also has a bike park with two challenging one-way rides. This is located near the car park.
Rendlesham is located just a few miles east of Woodbridge.
If you would like to continue your walking in the area then you could pick up the Suffolk Coast Path. It runs along the Butley River through Boyton Marshes to the River Ore and the coast. Also nearby is the wonderful Orford Ness Nature Reserve. The national trust owned reserve is located on a remote shingle spit by the River Ore and can be accessed by catching the National Trust ferry from Orford Quay.
Also nearby is Tunstall Forest where you can try the excellent 10 mile red graded single-track mountain bike trail. View Full Details>>
Stowmarket to Woodbridge
24 miles (38 km)
This route follows National Cycle routes 51 and 1 from Stowmarket to Woodbridge. The route starts near the town centre in Stowmarket following the River Gippin to the outskirts of Ipswich before heading east through the countryside to Woodbridge. The route finishes near the train station and River Deben in Woodbridge. View Full Details>>
Suffolk Coast Regional Cycle Route 41
62 miles (100.5 km)
This long distance regional cycle route follows trails through the lovely Suffolk Coast AONB. View Full Details>>
Thetford Forest
4 miles (7 km)
Enjoy miles of cycling and walking trails in this large forest in Suffolk.
Cyclists will find 4 way-marked trails of varying distance and difficulty. The Shepherd Trail is a nice easy ride on well defined paths, suitable for families. Experienced mountain bikers can try the exciting Beater trail which takes you through beautiful beech woods on a single track.
Walkers can enjoy a number of way-marked walks such as the lovely Nature Trail. This walk features a viewing hide where you can look out for the wildlife in the forest. This includes four types of deer and countless varieities of birds and butterflies. 
The circular route below starts at the visitor centre and follows cycling and walking tracks around the centre of the forest.
If you would like to continue your excercise you could head to the nearby Brandon Country Park. Here you will find beautiful lakeside lawns, a delightful walled garden and an excellent visitor centre.
The super Little Ouse Path walking route also runs through the forest. Head a few miles north towards Lynford and you will find the delightful Lynford Arboretum with its peaceful, woodland walking trails. View Full Details>>
Tunstall Forest
10 miles (16.5 km)
This large forest in Suffolk has miles of good footpaths and a 10 mile red graded single-track mountain bike trail. The waymarked route is called the Viking Trail and is a narrow flowing singletrack running through the trees, with twists, berms and some short climbs. It's a fun ride and not too challenging though there are some technically tricky bits. The ride starts at the car park off Tunstall Road towards the northern end of the forest.
This mountain bike route is designed for cyclists but walkers can easily pick up the forest footpaths from the same start location. You can walk down to Tunstall Common and then continue south to the little village of Chillesford for refreshments. From here you can pick up the Suffolk Coast Path to take you back into the forest and then head west to return to the car park. View Full Details>>