Sussex Cycle Routes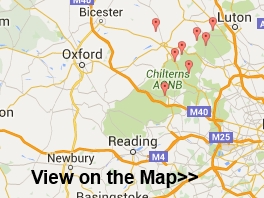 Sussex has plenty to keep the cyclist busy with a vast array of cycle routes and some splendid scenery.
The main attractions include the South Downs (Area of Outstanding Natural Beauty) with its wonderful rolling countryside and also the coastal rides in and around the seaside towns of Brighton and Eastbourne.
Also check out the lovely Cuckoo Trail - a flat off road trail running from Heathfield to Eastbourne Park which makes for a relaxing afternoons cycling.
Use the links to view full route information including elevation profiles, interactive maps and GPS downloads.
You can also view an overview map of all the routes in the using the Sussex Cycle Map>>
There are several National Cycle Networksigned routes in the county many of which have been mapped and can be viewed and downloaded below.

For more information on cycle routes in Sussex including tips, advice and free cycle maps please click here
Route Name
Distance
Description
Bewl Water
12 miles (20 km)
This is a walking and cycling route around the beautiful Bewl Water reservoir near Lamberhurst. The route runs alongside the reservoir for most of the way though there is an inland section on quiet country lanes around Tolhurst. It runs for about 12.5 miles with great views of the High Weald AONB.
Bike hire is available during the summer months from the Boat House Bistro.
The area is also great for wildlife watching with Goldcrests, Long Tailed Tits, Wagtails, Skylarks and Lapwings in the woodland. Also look out for Kingfishers, Herons and the Great Crested Grebe on the water.
Please note the route is not always open for cyclists during the winter months - please check the Bewl Water website before setting off. View Full Details>>
Black Down
4 miles (6 km)
Climb to the highest point in the South Downs on this challenging route in Sussex. The area is run by the National Trust and includes a series of well defined paths taking you to flower-rich meadows, ancient woodland and copses. There are fabulous views over the Weald from the Temple of the Winds, at the southern end of Black down. The English Channel can also be seen through the River Arun gap on a clear day. The circular route below starts at the car park near the Temple of the Winds and takes you north across Black Down to Boarden Door Bottom.
Cyclists can also enjoy a number of easy bridleways or more challenging mountain bike trails which run across the area.
The Sussex Border Path walking trail runs through Black Down so you could pick up this trail and head west to the nearby Marley Common to continue your walk.
Black Down is located just a few miles south of Haslemere town centre. You can reach it from the train station on our Haslemere Circular Walk which also visits Marley Common. View Full Details>>
Bognor Regis to Littlehampton
9 miles (14 km)
This route follows National Cycle route 2 from Bognor Regis to Littlehampton. View Full Details>>
Brighton to Eastbourne
34 miles (55 km)
Starting at the pier in Brighton this ride takes you along the south coast to Newhaven and then inland through some lovely countryside to Eastbourne along National Cycle Route 2.
You start in Brighton and head east along the coast to Newhaven via Rottingdean with views of Brighton Marina and some lovely coastal scenery. After passing through Newhaven with its attractive harbour, you continue along the coast path to Seaford before heading inland along the Cuckmere River and through the South Downs to Polegate. Here you join the lovely traffic free Cuckoo Trail taking you to Eastbourne Park. View Full Details>>
Brighton to Newhaven
9 miles (14.5 km)
Follow the Brighton to Newhaven clifftop path on this splendid coastal walk on the south coast. Much of this route follows a traffic free path along National Cycle Network route 2 so you can bring your bike too. Part of the route also passes the popular Undercliff Walk Brighton from the marina at Black Rock to Saltdean. This follows a nice surfaced path along the sea wall with great views of the white cliffs and the sea. Much of the rest of this walk is on an elevated clifftop trail with splendid coastal views. It's about a 9 mile walk but fairly flat throughout.
The walk starts on the front in Brighton and heads east to the Brighton Marina where you pick up the sea wall path. This takes you to Saltdean where you will pass the impressive Saltdean Lido. You continue to Telscombe Cliffs where there's a fine cliff top path and pub. Near here are the outskirts of Peacehaven where the cycle route turns inland but you can continue along the cliff top if you are on foot. At Peacehaven you will pass the Greenwich Meridian monument marking the site where the Greenwich meridian crosses the English south coast.
The final section takes you past Peacehaven Heights, Harbour Heights and the 19th century Newhaven Fort (video below) before finishing at Newhaven Harbour.
At Newhaven the walk links with two long distance walking trails. You can pick up the Sussex Ouse Valley Way and follow it north along the River Ouse to Piddinghoe if you would like to extend your walk. You could also follow the Vanguard Way further along the coast to Seaford. View Full Details>>
Brighton to Worthing
13 miles (21 km)
This nice coastal route takes you Brighton to Worthing along National Cycle Network Route 2. View Full Details>>
Camber Sands
3 miles (5 km)
Enjoy a walk or cycle along National Cycle Network Route 2 from Rye to the beautiful Camber Sands. You can pick up the trail in the centre of Rye near to the train station. It's about a 3 mile ride to the beach, passing alongside Camber Road. There are lovely views of Northpoint Water and Rye Bay before passing Rye Golf Club and entering the village of Camber. It's a beautiful and popular beach with the only sand dune system in East Sussex. If you continue your cycle along the coast road you will come to Broomhill Sands and Lydd.
To extend your outing you could pick up the Saxon Shore Way long distance footpath and walk to the Rye Harbour Nature Reserve just south of Rye. The reserve a variety of habitats such as saltmarsh, lagoons, grazing marsh, shingle and reedbeds. You can also visit the ruins of Henry VIII's Camber Castle. The Device Fort was built to protect the Sussex coast against French attack in the 16th century.
The Sussex Border Path also passes through Rye. You can follow the path north from the town centre and enjoy a waterside walk along the River Rother.
You can also follow the England Coast Path east and visit the wonderful Dungeness RSPB Nature Reserve. The large reserve boasts lakes, lagoons and an expansive section of shingle beach with a wide variety of wildlife. View Full Details>>
Centurion Way
6 miles (10 km)
This pleasant short route follows the Centurion Way along a disused railway path from Chichester to West Dean. View Full Details>>
Chichester to Bognor Regis
8 miles (13 km)
This is a nice, easy short route from Chichester to Bognor Regis which follows National Cycle Route 2 and local cycle paths.
You start in the centre of Chichester and soon join a lovely canalside path along the Chichester Canal. The route then follows another off road path through Chichester's various lakes. A traffic free roadside path and series of quiet roads then lead you to Bognor Regis, finishing near the train station.
Most of this ride is traffic free and with train stations at either end is easily accessible. View Full Details>>
Crawley to Brighton
25 miles (40 km)
Follow National Cycle Route 20 from Crawley to the seaside resort of Brighton. You start at the train station in Crawley and head through Tilgate Forest passing through the golf course. The route continues to Handcross where you can see the pretty Nymans Gardens before passing the villages of Staplefield, Bolney and Hickstead. A long traffic free section then follows taking you to the outskirts of Brighton with views of the South Downs as you go. The final stretch takes you through Brighton passing the attractive pavillion gardens before finishing near the prom. View Full Details>>
Crawley to Eastbourne
48 miles (78 km)
Follow National Cycle Route 21 from Crawley to Eastbourne on the south coast.
You start by Three Bridges train station in Crawley and head east to East Grinstead along the traffic free Worth Way. View Full Details>>
Cuckoo Trail
14 miles (23 km)
This traffic free cycle and walking path runs along a disused railway line from Heathfield to the outskirts of Eastbourne. View Full Details>>
Ditchling Common Country Park
2 miles (4 km)
Explore 188 acres of lovely parkland near Burgess Hill in East Sussex. The park trails pass oak trees, grassland, a lake and a stream. Many different birds visit the park including stonechats, linnets, woodpeckers, chiffchaffs, and blackcaps. In the spring months the area is a draw for walkers as it's covered in carpets of bluebells. Cycling is permitted through the park along the bridleways but all of the paths are open to walkers.
There is a car park on Folders Lane at the southern end of the site. From here you can pick up the trails heading north across the common. Burgess Hill train station is about a mile to the west if you prefer to visit by public transport. View Full Details>>
Downs Link
36 miles (58 km)
This is a terrific walking or cycling path running from St Martha's Hill in Guildford to Shoreham by Sea. View Full Details>>
Eastbourne to Rye
31 miles (50 km)
This coastal ride takes you along National Cycle Route 2 from Eastbourne to Rye.
You start along the Eastbourne prom heading east to Sovereign Harbour. The route continues along the coast passing Pevensey Castle and Cooden Beach before lovely stretches along the seafront in Bexhill and Hastings. View Full Details>>
Forest Way
11 miles (17 km)
This cycling and walking route runs from East Grinstead to Groombridge following National Cycle Route 21 along a flat tree lined path. The path is also a designated country park.
The trail follows a disused railway line route and has splendid views of the rolling hills of the downs and local farmland.
Please click here for more information on this route.
Weir Wood Reservoir is just to the west of the route so you could visit this lovely nature reserve if you have time. View Full Details>>
Friston Forest
5 miles (8 km)
Enjoy miles of cycling and walking trails in this large forest on the South Downs near Eastbourne. There are trails for mountain bikers ranging from gentle off road trails to an exhilarating single track ride. There are two fairly easy waymarked trails for walkers. Look out for wildlife including rare butterflies and deer.
This circular route starts at the car park and takes you along some of the bridleways in the forest. It also visits the pretty village of West Dean.
It's easy to extend your outing by visiting the nearby Cuckmere River and Cuckmere Haven and Seven Sisters Country Park. You could also pick up the The South Downs Way which runs past the forest.
Our South Downs Circular Walk also passes through the forest. It will take you on a tour of the surrounding area, visiting Seven Sisters Country Park and Birling Gap. View Full Details>>
Guildford to Brighton
45 miles (72 km)
This route takes from Surrey based Guildford to Brighton the south coast. Along the way there's lovely views of the Low Weald, riverside paths and a coastal section at the end of the route.
You first follow the Downs Link through the South Downs to Shoreham-by-Sea before picking up the National Cycle Network to take you into Brighton. The ride runs for a distance of about 45 miles with some moderate climbs along the way.
The route starts on St Martha's Hill, just to the south east of Guildford town centre. The first section then takes you south to Cranleigh with views of the Wey and Arun Canal. You continue past Rudgwick into the Low Weald countryside, crossing the River Arun as you go.
The route then passes Itchingfield and Southwater where you'll head through the lovely Southwater Country Park. From here you proceed to Henfield, crossing the River Adur and passing Partridge Green on the way. View Full Details>>
Guildford to Horsham
22 miles (35 km)
This route follows the Downs Link Bridlepath from Guildford to Horsham via Cranleigh.
The route starts by Guildford rail and first follows the Wey Path along the River Wey before joining the Downs Link trail. This takes you through the North Downs along a disused railway line track bed before a short on road section takes you into Horsham, finishing at the train station. View Full Details>>
Harting Down
3 miles (5.5 km)
This large area of chalk downland on the South Downs is managed by the National Trust. View Full Details>>
Hastings Country Park
3 miles (5 km)
Enjoy over 600 acres of beautiful parkland and coast on this circular route in Hastings. The park is located in the High Weald Area of Outstanding Natural Beauty, most of the park has been designated a Special Area of Conservation and a Local Nature Reserve. Peregrines, black redstarts and fulmars can be seen on the coastal cliffs, while Dartford warblers, stonechats and yellowhammers can be seen on the gorse covered hills.
The route below is most suitable for walkers but National Cycle Network route 2 also runs through the park and is a short cycle from Hastings. See the Eastbourne to Rye Cycle Route for more details. View Full Details>>
Hastings To Bexhill
5 miles (8 km)
This traffic free waterfront route runs along National Cycle Route 2 from Hastings To Bexhill. View Full Details>>
Havant to Chichester
11 miles (18 km)
Follow National Cycle Route 2 on this lovely short route along the south coast. Route highlights include Emsworth Quay and a pleasant off road section near Bosham View Full Details>>
Horsham to Shoreham-By-Sea
23 miles (37 km)
Follow the Downs Link Bridlepath from Horsham to Henfield and Shoreham by Sea on this attractive, fairly flat route.
The route starts by Horsham rail and follows off road tracks, a dismantled railway line and the River Adur before finishing at Shoreham harbour. View Full Details>>
Houghton Forest
4 miles (6 km)
These woods near Arundel have good mountain bike trails and some nice footpaths to try. You can park at the Whiteways Countryside car park, just off the A29 at the south eastern end of the forest. From here you can pick up the trails heading north west through the woods. You could also follow either the Monarch's Way or South Downs Way from the village of Houghton. You can also extend your walking in the area by continuing along either of these long distance trails or the Midhurst Way which also passes through the forest. View Full Details>>
Littlehampton to Shoreham-By-Sea
14 miles (23 km)
This route follows National Cycle Route 2 along the beautiful Sussex coast, from Littlehampton to Shoreham by Sea.
You start by following the River Arun passing Littlehampton marina before a short stretch along the coast with views of Littlehampton beaches. The route then heads through Ferring and Worthing. View Full Details>>
London to Brighton
65 miles (104 km)
Travel from the banks of the River Thames in Greenwich to the South Coast on this popular route along National Cycle Network Routes 21 and 20. The route runs for a distance of about 65 miles, using a mixture of minor roads and traffic free paths.
The ride starts by the Cutty Sark on the Thames in Greenwich and heads south along the Ravensbourne and Pool Rivers to New Beckenham. From there you continue south to Elmers End where you will pass through the lovely South Norwood Country Park. The park includes a pretty lake with lots of wildlife to look out for. The route then continues through the pretty Addington golf course and on to Addington Hill along the London Loop.
The ride then heads through New Addington, Warlingham and Caterham to Redhill. There are several off road sections to enjoy on this section with pleasant stretches through Holt Wood near Warlingham and Mercers Country Park near Redhill. The park incldues a nice lake which is great for birdwatching.
From Redhill you continue to Crawley, passing Horley before an interesting traffic free section through Gatwick Airport takes you to Crawley.
The final section runs from Crawley to Brighton first passing through Tilgate Forest in Tilgate Country Park. View Full Details>>
London to Newhaven
99 miles (160 km)
Follow a series of signed National Cycle Network paths from London to Newhaven on this long ride to the coast. Newhaven is the town where you can catch the ferry to Dieppe in France and pick up a number of cycle trails to explore the country.
The route starts in the centre of London and heads south through the outskirts of the city, passing Clapham, Merton, Wallington and Coulsdon. You then enter the North Downs, passing Redhill, Gatwick Airport, Horley and Crawley. Here you turn east to East Grinstead following a dismantled railway line along the Worth Way.
At East Grinstead you pick up another nice traffic free section along the Forest Way to Groombridge. Shortly after you turn south to Rotherfield, Mayfield, Heathfield and Hailsham with part of the ride running along the lovely Cuckoo Trail. The final English section takes you through the South Downs, passing Alfriston before coming to the ferry at Newhaven. View Full Details>>
London to Paris
314 miles (506 km)
This ride takes you along the proposed route for the Avenue Verte - a traffic-free cycle path, safe enough for a child, linking London and the French capital.
The ride includes some climbs - the toughest being the North Downs for people cycling the route from south to north. Most of the route is rolling countryside, apart from Redhill to Crawley (via Gatwick airport!) in the UK, and the capital cities themselves. There are some pleasant waterside stretches to enjoy too, notably a run along the Wandle Trail in London and then a lovely spell along the wooded banks of the Seine in France.
The route starts in central London and heads to Newhaven on the south coast. From here you can catch the ferry to Dieppe in France and proceed to Paris.
The English part of the route heads south through London passing Clapham, Merton, Wallington and Coulsdon. You then enter the North Downs, passing Redhill, Horley and Crawley with a section along the Worth Way. Here you turn east to East Grinstead, picking up a nice traffic free section to Groombridge. Shortly after you turn south to Rotherfield, Mayfield, Heathfield and Hailsham. The final English section takes you through the South Downs, passing Alfriston before coming to the ferry at Newhaven. On the other side you head south east through the beautiful French countryside to the capital in Paris. View Full Details>>
National Cycle Route 21
94 miles (152 km)
This is the complete Sustrans National Cycle Route 21 running from Greenwich in London to Eastbourne on the south coast. View Full Details>>
Petersfield to Brighton
43 miles (70 km)
Starting in the market town of Petersfield follow the South Downs Way to Brighton on the south coast. View Full Details>>
Redhill to Tunbridge Wells
36 miles (58 km)
Starting in Redhill first travel south through Gatwick airport (easier and more pleasant than it sounds!) and then onto the off road Worth Way, Forest Way and Sussex Border Path that will take you through East Grinstead and some lovely countryside before finishing in Royal Tunbridge Wells.
The ride follows National Cycle Route 21 and has a number of traffic free sections making it an attractive, leisurely ride. View Full Details>>
Rye to Dover
39 miles (62 km)
This largely flat coastal ride takes you along National Cycle Route 2 from Rye in East Sussex to Dover and its famous white cliffs.
You start in Rye and head to Camber where there is a lovely coastal stretch with views of Camber sands. The route continues inland through Romney Marsh. to Hythe where you can enjoy a lovely spell along the Hythe Military Canal followed by a cruisy strech along the prom. View Full Details>>
Salterns Way
11 miles (18 km)
This super short cycle ride takes you along the Chichester Channel from Chichester to the sand dunes of East Head. The route starts near the centre of Chichester and follows minor roads and off road tracks through Birdham and West Wittering before finishing near the beach at East Head. You will pass attractive marinas and pretty villages while also enjoying terrific views of Chichester Harbour and Hayling Island.
The route runs for a distance of just over 11 miles on a nice flat path. The finish point at East Head is particularly lovely. You can lock up your bike and enjoy a stroll through shingle, sandy beach and a delightful sand dune habitat. The area is great for wildlife with skylarks, ringed plover and common seals to look out for. View Full Details>>
Seven Sisters Country Park
3 miles (5.5 km)
Explore nearly 700 acres of parkland and coast on this delightful circular walk through the South Downs. The Country Park is named after the famous Seven Sisters chalk cliffs on the Sussex Heritage Coast. On the route you will enjoy fabulous views of the Cuckmere river before heading towards the beautiful coastline.
The walk starts from the country park visitor centre next to Exceat Bridge at a postcode of BN25 4AB for your sat navs. From here you can pick up the South Downs Way National Trail and follow the waymarked path south along the Cuckmere River to the Seven Sisters cliffs. The path then heads east along the wonderful coast path to a significant landmark at Birling Gap. This special area is run by the National Trust and includes the famous Belle Tout lighthouse. There's also fabulous views along to the nearby Beachy Head and 500 acres of open chalk grassland with a wide variety of butterflies and wildflowers to look out for.
The route then leaves the coast and heads north towards Friston Forest where you can enjoy some nice woodland trails and look out for rare butterflies and deer. These trails will lead you west back to the visitor centre where the route finishes.
There are a number of other footpaths and trails in the Park - further information and trail maps can be found in the Visitor Centre. Cycling is permitted on the valley floor and there is a concrete track which offers access to the beach. Mountain biking is also popular in Friston Forest so much of this area is great for cyclists as well as walkers. View Full Details>>
Shinewater Lake Park
2 miles (3 km)
Shinewater Park is located near Eastbourne. It has two large lakes and well surfaced cycling and walking paths. There's plenty of wildlife to see with moorhen, coot, reed bunting and great crested grebe near the lakes. View Full Details>>
South Coast Cycle Route
165 miles (265 km)
This epic cycle route makes use of signed cycle paths to take you from Southampton to Dover along England's south coast. The 160 mile route has many traffic sections running right along the coast with the remainder running as close to the sea as possible.
The ride starts at the docks in Southampton and heads east to Portsmouth, Chichester, Bognor Regis, Worthing and Brighton where there's a nice traffic free section along the famous sea front.
You continue to Seaford where there's an inland section to Eastbourne where you rejoin the coast and head to Bexhill, Hastings and Rye. There's a nice section here past Rye Harbour to the popular Camber Sands. View Full Details>>
St Leonard's Forest
2 miles (4 km)
This large area of woodland is located just to the east of Horsham. There are miles of cycling and walking trails to explore with attractive pine woodland, a series of pretty streams with little waterfalls and the Whitevane Pond at the north western end of the forest. There are good wide tracks ideal for a mountain bike or hybrid. There's some steep climbs to try with fun descents. For walkers there are miles of easy flat tracks to enjoy. Look out for wildlife including peacocks and wood warblers. View Full Details>>
Tilgate Country Park
4 miles (6 km)
Tilgate Country Park is a popular large park and forest area in Crawley, Sussex. Here you'll find stunning lakes, lawns, gardens and miles of woodland and bridleways. View Full Details>>
Worth Way
7 miles (11 km)
This 7 mail long bridleway and footpath runs along National Cycle Route 21 from Crawley to East Grinstead. View Full Details>>