Warwickshire Cycle Routes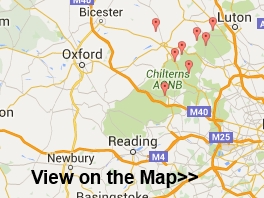 There is plenty to see in Warwickshire by bike with many well signed attractive cycle routes to enjoy.
One of the cycling highlights is the West Midlands Cycle Route - 163 miles of signed cycling through the heart of England.
Warwickshire is also home to Stratford Upon Avon (pictured) - birthplace of William Shakespeare and also part of National route 5 which will take you through this pretty town and along the Stratford-Upon-Avon Canal.
Use the links to view full route information including elevation profiles, interactive maps and GPS downloads.
You can also view an overview map of all the routes in the using the Warwickshire Cycle Map>>
There are several National Cycle Networksigned routes in the county many of which have been mapped and can be viewed and downloaded below.

For more information on cycle routes in Warwickshire including tips, advice and free cycle maps please click here
Route Name
Distance
Description
Atherstone to Bedworth
28 miles (45 km)
This route follows the North Warwickshire Cycleway through the lovely Warwickshire countryside.
The route starts in Atherstone near the train station and crosses the Coventry Canal before passing through Monks Park Wood. You continue on quiet roads to the splendid Kingsbury Water Park with 15 lakes in 600 acres of country park. The routes horseshoes back finishing in Bedworth near the train station. View Full Details>>
Banbury to Stratford-Upon-Avon
36 miles (58 km)
Follow National Cycle Route 5 from Oxfordshire to Warwickshire on this lovely rural route.
The route starts near the Oxford Canal in Banbury heading north west along a series of quiet country roads and off road tracks towards Shipston on Stour.
View Full Details>>
Birmingham and Fazeley Canal
15 miles (24 km)
Enjoy a walk or cycle along the Birmingham and Fazeley Canal from the city centre of Birmingham to the town of Fazeley in Staffordshire. Along the way there's lots of pretty locks, old bridges, nature reserves and wildlife to look out for.
You start off at Old Turn Junction near the National Indoor Arena in Birmingham and head through Aston and Tyburn where you pass close to Pype Hayes Park. The large park has 100 acres to explore with a lake, ornamental gardens and woodland. It's just north of the canal at Tyburn and worth a short detour. Just next to the park there is the pretty Plantsbrook Nature Reserve which consists of open water, wetland, woodland and meadow.
You leave the city and head through Minworth and Cudworth before coming to the splendid Kingsbury Water Park. The 600 acre country park is a major highlight on the route. It consists of 15 lakes with miles of good cycling and walking trails to try.
The final section takes you from Kingsbury Water Park to the town of Fazeley near Tamworth. On the way you'll pass Middleton Lakes RSPB reserve with 400 acres to explore. It's a great place for wildlife watching with common pochard, tufted duck and smew to look out for. View Full Details>>
Coventry Canal
38 miles (61 km)
Enjoy waterside cycling and walking along the 38 mile long Coventry Canal towpath. Walkers can follow the whole of the route while cyclists can enjoy lovely sections through Coventry and from Marston Junction to Nuneaton.
The canal runs from the centre of Coventry to Fradley Juction, passing through Bedworth, Nuneaton, Atherstone, Polesworth and Tamworth.
Highlights along the canal include the vibrant Coventry Canal Basin with its shops, businesses and art gallery. You'll also pass the splendid Hartshill Country Park which has miles of footpaths and wonderful views over the Anker Valley. There's also some wonderful countryside to enjoy and a series of artworks by local artists on the Arts Trail from the Basin to Hawkesbury Junction. At the end of the route at Fradley Junction there is a nature reserve with excellent bird watching opportunities. View Full Details>>
Coventry to Leicester
42 miles (68 km)
Follow National Cycle Route 52 and National Cycle Route 63 through the West Midlands, Warwickshire and into Leicestershire. The route starts on the Coventry Canal on the outskirts of Coventry and heads north along the canal and National Cycle route 52 to Bedworth. A short on road section then takes you through Bedworth before rejoining the tow path of the canal which takes you into Nuneaton in Warwickshire. A short stretch along the lovely off road Weddington Country Walk follows before an on road section by the Ashby-de-la-Zouch canal takes you onto Market Bosworth. You then turn east along National Cycle route 63 just after Shackerstone. A pleasant off road section then follows through Grange Wood before country roads take you onto Thornton, passing Bagworth Heath Woods and Thornton Reservoir. View Full Details>>
Coventry to Nuneaton
12 miles (20 km)
Follow National Cycle Route 52 from the West Midlands into Warwickshire on this pleasant waterside route. The route starts on the Coventry Canal on the outskirts of Coventry and heads north along the canal to Bedworth. A short on road section then takes you through Bedworth before rejoining the tow path of the canal which takes you into Nuneaton. View Full Details>>
Daventry to Rugby
19 miles (30 km)
This route starts near Daneholme park in Daventry Country Park and follows The Great Central Cycle Ride to Rugby in Warwickshire.
The route largely takes place on quiet country roads and passes through the villages of Ashby St Ledgers and Crick. There are also pleasant views of the Grand Union Canal along the way. The ride finishes near the train station in Rugby. View Full Details>>
Draycote Water
5 miles (8.5 km)
Enjoy a circular waterside cycle or walk around the delightful Draycote Water Country Park near Rugby. There is a flat 5 mile path surrounding the park's reservoir which ideal for cycling and walking (a section of the path is part of National Cycle Route 41). You can also climb Hensborough Hill for fabulous views of the surrounding area. The park has a visitor centre and a restaurant.
The park is popular with bird watchers and includes a hide and feeding station. Look out for birds including the great northern diver during the winter months, along with kittiwake and small numbers of Mediterranean and little gulls.
To continue your walking in the area you can head east to pick up our Circular Walk Around Rugby. This will take you along the Great Central Walk Nature Reserve and the Oxford Canal. View Full Details>>
Great Central Walk Rugby
7 miles (11 km)
This walk takes you along the Great Central Walk in the Warwickshire town of Rugby. The dismantled railway line is now a nature reserve which is open to walkers and cyclists. The trail can be picked up just to the south of Rugby train station and followed for just over 3 miles to Onley Lane. Here you leave the trail to follow the country lane down to the Oxford Canal at the southern end. The area is good for wildlife spotting with a variety of butterflies and birds to see along the path. View Full Details>>
Kingsbury Water Park
3 miles (4.3 km)
Explore 15 lakes in over 600 acres of country park on this super cycle or walk in Warwickshire. There are many miles of surfaced paths around the lakes, with a bridleway around the southern perimeter of the Park. These are suitable for cyclists and bike hire is available in the park. Please note that no cycling is allowed through the Woodland Walk, around the Nature Reserve at the Broomey Croft side of the Park, or in the Visitor Centre courtyard.
The park is excellent for birdwatching with a number of hides situated around the lake. There is also a miniature railway and an excellent visitor centre.
The Heart of England Way and the Warwickshire Centenary Way walking routes run through the park so there is the option of continuing your walk. The park is located on the River Tame about 8 miles from Birmingham.
On the western side of the park you can pick up the Birmingham and Fazeley Canal and enjoy a waterside cycle or walk towards Birmingham or Fazeley. If you head north along the canal you will soon come to the lovely Middleton Lakes RSPB nature reserve. The reserve has several well laid out walking trails taking you to meadows, woodland and lakes. View Full Details>>
National Cycle Route 41
132 miles (212 km)
This is the complete Sustrans National Cycle Route 41 running from Bristol to Rugby. View Full Details>>
National Cycle Route 48
76 miles (123 km)
This signed Sustrans cycle route runs from Tetbury to Moreton-in-Marsh and Southam. View Full Details>>
National Cycle Route 52
48 miles (78 km)
This signed Sustrans Cycle Route runs from Warwick to Thringstone where it joins with National Cycle Route 6. View Full Details>>
Newbold Comyn
3 miles (5 km)
This super park in Leamington Spa, lies on the River Leam and covers 300 acres. The park is perfect for a relaxing riverside stroll or cycle with National Cycle Route 41 passing through the park. View Full Details>>
Pooley Country Park
6 miles (9 km)
This cycle or walk takes you around the lovely Pooley Country Park in Warwickshire. View Full Details>>
Royal Leamington Spa to Rugby
21 miles (33 km)
This route follows National Cycle Route 41 also called the Lias Line from Leamington Spa to Rugby.
The route starts by following the Grand Union Canal near Leamington Spa and passing Newbold Comyn Country Park before transferring to quiet country roads and then back onto the canal.
You'll then head north to Draycote Water - a perfect place for a waterside picnic. View Full Details>>
Ryton Pools Country Park
5 miles (8.7 km)
Enjoy a cycle or walk around this lovely park in Ryton, Warwickshire. The park covers 100 acres and includes a number of cycling and walking trails, a large area of peaceful woodland and the four tranquil pools after which the park is named. Ryton Pools also includes a visitor centre, bird hides and a miniature railway.
The route below takes you through the park and then to some of the nearby woods. The park can be found just a few miles north east of Leamington Spa. If you would like to continue your walk the Coventry Way and the Warwickshire Centenary Way both pass near to the park.
The delightful Brandon Marsh Nature Reserve is just to the north of the village of Ryton-on-Dunsmore. View Full Details>>
Stratford-Upon-Avon to Redditch
19 miles (31 km)
This lovely route follows National Cycle Route 5 from Stratford-Upon-Avon to Redditch. View Full Details>>
Stratford-Upon-Avon to Warwick
16 miles (25 km)
This route follows National Cycle Route 41 through Warwickshire. You start near the train station in Stratford-Upon-Avon and head through the attractive town centre passing the famous Royal Shakespeare Theatre and crossing the River Avon. The route then continues through the countryside passing through Loxley (thought to be the birthplace of Robin Hood) and National Trust owned Charlecote Park. View Full Details>>
Stratford Greenway
5 miles (8 km)
This 5 mile cycling and walking trail runs along a disused railway line from Stratford Upon Avon to Long Marston. The greenway follows the route of the old Honeybourne Line passing the Stratford Upon Avon Racecourse before crossing the River Avon and the River Stour. You then pass Milcote where there is a nice picnic area with a refurbished railway carriage cafe. It's about half way along the route so a nice place to stop for refreshments. The final section takes you through the countryside to the finish point at the village of Long Marston.
The path is flat and well surfaced so it's an ideal ride for families or anyone looking for an easy traffic free ride.
If you would like to continue your exercise in the Stratford Upon Avon area you could pick up the towpath of the Stratford Upon Avon Canal and enjoy a waterside cycle or walk.
For walkers the long distance Avon Valley Footpath and Monarch's Way both run through the area. View Full Details>>
Stratford Upon Avon Canal
26 miles (42 km)
Enjoy waterside cycling and walking on this 26 mile canal which runs from Stratford Upon Avon to Birmingham. The whole route can be walked while cyclists can enjoy the sections from Stratford Upon Avon to Wilmcote at one end and through the outskirts of Birmingham at the other.
The route starts in the centre of Stratford Upon Avon and passes through a series of pretty villages before entering the outskirts of Birmingham and finishing in King's Norton. There's lots of pretty locks and some lovely Warwickshire countryside to enjoy. Around Solihull you'll pass close to Earlswood Lakes which is well worth a small detour. You'll also pass close to the lovely Baddesley Clinton. Here you will find a moated manor house surrounded by gardens and woodland. Near here there's also the option of visiting the tudor Packwood House. You could try our Lapworth Circular Canal Walk which visits both of these interesting properties. Also, around Kingswood the canal links up with the Grand Union Canal Walk so you can easily pick up another super canal trail. View Full Details>>