Bedfordshire Walks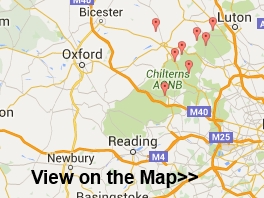 With numerous lovely parks, the beautiful Chiltern Hills and the fabulous Greensand Ridge there is much to enjoy for the walker in this county.
Use the filter to show walks of a certain type such as woods, reservoirs, hills, long distance, country parks, canals and rivers.
In the spring walkers flock to the beautiful bluebell woods in the Bedfordshire area. Click the 'Woodland' button below to see these.
Use the links to view full route information including elevation profiles, interactive maps and GPS downloads.
You can also view an overview map of all the routes in the using the Bedfordshire Walk Map>>
Route Name
Distance
Description
Ampthill Park
1 miles (2 km)
Climb the Greensand Ridge and enjoy wonderful views over Bedfordshire in this pretty park in Ampthill. The park has good footpaths taking you to the high points and then around the pretty lake. There are also woodland trails in Laurel Wood and the option of extending your walk to the nearby Cooper's Hill which lies just to the south. In the park you will also find Katherine's Cross - a memorial to Katherine of Aragon who stayed at the former Ampthill Castle.
If you would like to continue your walk you could pick up the Greensand Ridge long distance walking trail which runs through the park. If you follow it east you will soon come to Maulden Woods where there are lots of nice woodland walking trails through semi-natural broadleaf woodland, acidic grassland and conifer plantations. View Full Details>>
Arlesey
4 miles (6 km)
This small town in Bedfordshire is located close to two rivers where you can enjoy some easy waterside walking. View Full Details>>
Ascott House
2 miles (2.5 km)
This National Trust owned estate is the countryside residence of the Rothschild family. The 16th century manor house is surrounded by over 200 acres of parkland and 30 acres of beautiful formal gardens. View Full Details>>
Aspley Woods
3 miles (5 km)
These 800 acre woods near Milton Keynes have some good mountain bike trails and miles of footpaths. View Full Details>>
Barton Hills
2 miles (3 km)
Visit the Barton Hills National Nature Reserve and enjoy peaceful walking trails in the Chilterns. A series of footpaths take you to the attractive downland, chalk grassland, natural springs and beech woodland. It's delightful in the summer months with a variety of wildflowers attracting butterflies such as marbled white and dark green fritillary. Look out for vegetation including wild thyme, horseshoe vetch, marjoram and orchids as you make your way along the paths. It's a great area for wildlife too with lots of different birds and mammals such as ponies, stoats, weasels and hares. You can start your walk from the little town of Barton-le-Clay which lies just to the north of the reserve. Follow the John Bunyan Trail through the town and south to the reserve.
To extend your walking in the area you can follow the John Bunyan Trail and the Icknield Way Path through the surrounding Bedfordshire countryside. The trails can take you east towards Hexton, Pegsdon and Pirton or south towards Luton. The video below shows an exploration of the Barton and Pegsdon Hills from Hexton. From there you can enjoy a climb with wonderful views over the surrounding area. Also nearby is the village of Streatley and Sundon Hills Country Park near Toddington. This includes the climb to Sharpenhoe Clappers where there is an Iron Age Hillfort and more great views to enjoy. View Full Details>>
Bedford Park
1 miles (2 km)
Enjoy an easy stroll around this pretty park near the centre of Bedford. The park contains some nice mature woodland and a pretty lake with a fountain and ducks and swans. There is also a very good cafe.
The John Bunyan Trail runs through the park so you could pick this up to extend your walk. View Full Details>>
Bedford to Sandy
7 miles (12 km)
This lovely route follows National Cycle routes 12 and 51 and the Bedford to Sandy Country Way - an off road path perfect for walking or cycling. The ride is very flat with views of the Rivers Great Ouse and Ivel plus a spell through Priory Country Park the main highlights. View Full Details>>
Biggleswade
9 miles (14 km)
This market town in Bedfordshire has fine trails along the peaceful River Ivel and some attractive local countryside to explore. View Full Details>>
Chicksands Wood
2 miles (4 km)
These woods in central Bedfordshire have some good walking trails to try. In the peaceful woods you will find lots of flora and fauna with pretty bluebells in the spring and a variety of woodland birds.
You can start your walk from Appley Corner where there is some parking available. Then follow the Long Drive south west through the centre of the woods. This nice wide track includes a monument to Lord Halifax. At Pedley Wood you can pick up the Greensand Ridge Walk long distance trail to take you back to Appley Corner.
It's easy to extend your walk if you have time. Just continue south west along the Greensand Ridge Walk to Clophill where you will find Maulden Woods. Here you will find more walking trails taking you through semi-natural broadleaf woodland, acidic grassland and conifer plantations.
At the Appley Corner end of the woods you can pick up the John Bunyan Trail and follow it a short distance to Rowney Warren Wood near Shefford. View Full Details>>
Chiltern Way
124 miles (200 km)
This is the original 125 mile circuit of the Chilterns AONB taking you through Hemel Hempstead, Chalfont St Giles, Marlow, Hambleden, Turville, Fingest, Bix Bottom, Ewelme, the Ridgeway, Stokenchurch, Great Hampden, Aldbury, the Dunstable Downs Country Park, Sharpenhoe Clappers and Harpenden. The main attractions on the route are the series of delightful villages with their ancient churches, pretty village greens and fascinating museums. The Chilterns countryside is also beautiful with rivers, canals and the rolling hills to enjoy. View Full Details>>
Clay Way
11 miles (18 km)
A lovely walk or cycle through the Forest of Marston Vale along the West Bedfordshire Clay Ridge. You start at Bromham, on the River Great Ouse, and head to Cranfield, passing through Hanger Wood, Astey Wood and Stagsden as you go. View Full Details>>
Clophill and Haynes Circular Walk
7 miles (11 km)
A circular walk visiting the settlements of Clophill and Haynes in Bedfordshire. The route runs for about 7 miles with a few small climbs, some woodland stretches and a visit to an ancient church on the way. View Full Details>>
Cross Bucks Way
24 miles (38 km)
Travel from Stratton Audley in Buckinghamshire to Linslade, near Leighton Buzzard along the Cross Bucks Way. View Full Details>>
Dunstable Downs Country Park
4 miles (6.5 km)
Climb Dunstable Downs and enjoy breathtaking views over the Chilterns Area of Outstanding Natural Beauty on this circular walk in Whipsnade. There are miles of footpaths crossing the chalk grasslands of the Downs visiting a number of interesting sites including:
The Five Knolls - a Bronze Age cemetery constructed over 4000 years ago.
Whipsnade Heath - a mosaic of grassland, scrub and woodland, with a fantastic variety of wildlife.
A peak of 797 ft (243 m) - this is the highest point in Bedfordshire and provides fine views over the county
Whipsnade Tree Cathedral - an extraordinary 10 acre park in planted in the form of a cathedral.
The area also includes the Chilterns Gateway Visitor Centre which has a wealth of information about the area, a cafe and fabulous views in a sheltered environment. Look out for gliders, kite fliers, hang gliders and paragliders on the downs too. You will often see them gliding past the hills on a summer day.
If you'd like to continue your walk you could follow the Icknield Way Path which runs through the park. This will take you north east into Dunstable or south west to another major highlight of the area at Ivinghoe Beacon. The iconic hill is located just a few miles to the west of the park and is a great way to extend your walking in the area. It commands fine views over the Chiltern Hills and the Vale of Aylesbury. View Full Details>>
Great Barford
5 miles (8 km)
This Bedfordshire based village has some delightful riverside walking trails. The historic settlement also includes an ancient bridge and a notable church with a 15th century tower. View Full Details>>
Greensand Ridge Walk
40 miles (64 km)
A walk through Bedforshire, Buckinghamshire and Cambridgeshire from Leighton Buzzard to Gamlingay. The route follows a ridge of greensand which rises from the clay vales on either side.
You will pass through Woburn Park, Millbrook, Maulden Woods, Chicksands Wood, Ampthill Park and Sandy with some delightful countrsyside, woodland trails and fabulous views to enjoy. View Full Details>>
Harrold Odell Country Park
3 miles (5 km)
This park has two pretty lakes set in 144 acres of country park. It is located between Bedford and Northampton on the River Great Ouse near the villages of Harrold and Odell in Bedfordshire. You will find river meadows, a nature reserve, two picturesque lakes and a range of managed habitats. There is also free parking and refreshments in the Tea-Zels Cafe.
There are a number of well maintained walking paths around the lakes and through the nature reserve while cycling is permitted along the lakeside bridleway. The North Bedfordshire Heritage Trail also runs through the park so there is scope for continuing your walk if you have time. View Full Details>>
Icknield Way Path
110 miles (177 km)
The Icknield Way Path starts at Ivinghoe Beacon in Buckinghamshire and heads to Knettishall Heath in Suffolk along prehistoric pathways. There's fantastic views as you climb through the hills of the Chilterns AONB. There's also a series of lovely nature reserves and country parks to enjoy on the way.
Highlights on the walk include the Cam Valley views from Royston Heath, the lovely Dunstable Downs Country Park and the splendid Whipsnade Tree Cathedral. View Full Details>>
John Bunyan Trail
77 miles (124 km)
Follow in the footsteps of John Bunyan, the Puritan Evangelist and author of the book 'Pilgrim's Progress'. The walk visits many historic villages associated with Bunyan. It starts at Streatley and visits Sharpenhoe, Harlington, Westoning, Steppingley, Flitwick, Ampthill, Millbrook, Ridgmont, Cranfield, Bromham, Stevington, Pavenham, Oakley, Clapham, Bedford, Elstow, Shefford, Meppershall, Shillington, Hexton and Barton le Clay before returning to Streatley. There's some beautiful Bedfordshire countryside to enjoy including Sharpenhoe Clappers, the Barton Hills, the Pegsdon Hills and views of the Chiltern Hills for much of the walk. View Full Details>>
Kingfisher Way
21 miles (34 km)
This is a delightful walk along the River Ivel from Baldock to Roxton. You start off at the source of the river at Ivel springs, Baldock, and follow the river north through Stotfold, Henlow, Langford, Biggleswade, Sandy and Blunham. View Full Details>>
Langford
3 miles (5 km)
This Bedfordshire based village has some pleasant footpaths along the River Ivel. View Full Details>>
Lea Valley Walk
53 miles (85 km)
A super walk with a series of delightful waterside sections along the River Lea. The walk runs from Leagrave, the source of the River Lea near Luton, to the Thames at Limehouse Basin, east London. You follow a riverside path for much of the way through, Luton, Hatfield, Hertford, Ware and Cheshunt with a swan emblem clearly waymarking the walk. The walk passes Nature Reserves, pretty riverside villages and includes a section through the fantastic Lee Valley Park - London's largest open space. You'll also pass the Olympic Park in Stratford which is well worth exploring. The final section of the walk runs along the Limehouse Cut Canal which is also suitable for cyclists.
In the Lee Valley park you can also pick up the Stort Navigation and follow the towpath to Bishop's Stortford. The river also runs parallel to the New River Path around Hertford and Ware so it's possible to create a circular walk using both the footpaths in this area. View Full Details>>
Leighton Buzzard
9 miles (14 km)
This Bedfordshire based market town is located close to a canal, two fine country parks and the Chiltern Hills AONB. The interesting town also includes a 13th century church and a popular heritage railway. View Full Details>>
Luton
17 miles (27.6 km)
This Befordshire based town has nice walks along the River Lea and is also close to the Chilterns Hills AONB where there are excellent walking opportunites. Other highlights include Wardown Park in the town, the nearby Luton Hoo Park and the popular Barton Hills National Nature Reserve. View Full Details>>
Marston Vale Timberland Trail
13 miles (21 km)
A circular route through the beautiful Marston Vale in Befordshire. The walk passes Ampthill Park, Jackdaw Hill, Marston Mortaine and Stewartby Lake Country Park. The walk also visits the Engligh Heritage owned ruined house at Houghton, which is free to visit and commands excellent views of the surrounding area. View Full Details>>
Maulden Woods
3 miles (5 km)
Enjoy miles of nice woodland walking trails in this popular wood in Maulden, Bedfordshire.  The site consist of semi-natural broadleaf woodland, acidic grassland and some conifer plantations. You can access the woods by following the Greensand Ridge Walk from the village. The path takes you through some nice countryside to the woods where you can pick from several trails. The southern section takes you into Pennyfather's Woods with a path through more open countryside and grassland to enjoy. Look out for wildlife including deer, badgers and foxes. In the spring and summer months there are lots of wildflowers and bluebells. These attract a wide variety of butterflies including white admiral and purple hairstreak.
This walk starts from the village of Maudlen but there is also a car park in the north eastern corner of the site, just off the A6. There's also a picnic area in the southern section.
To extend your walk you could visit the nearby Ampthill Park where you can enjoy fabulous views from the Greensand Ridge. If you follow the Greensand Ridge Walk east it will take you through Clophill to Chicksands Wood and Rowney Warren Wood near Shefford. View Full Details>>
Milton Keynes Boundary Walk
63 miles (101 km)
Enjoy rivers, canals, woodland and beautiful countryside on this walk around the boundary of Milton Keynes.
There's nice views of the Grand Union Canal, the Great Ouse river and the countryside of Bedfordshire, Buckinghamshire and Northamptonshire. View Full Details>>
North Bedfordshire Heritage Trail
70 miles (113 km)
A super circular walk around the North Bedfordshire countryside visiting twenty three villages, two country parks and around thirty public houses. View Full Details>>
Old Warden
1 miles (1.3 km)
This chocolate box Bedfordshire village is famous for the Shuttleworth Museum of historic airplanes and motor vehicles at Old Warden Aerodrome. View Full Details>>
Ouse Valley Way
142 miles (229 km)
Follow the River Great Ouse from the source at Brackley, Northamptonshire, to the mouth at The Wash at King's Lynn. You begin at Brackley and head to Buckingham, Milton Keynes, Olney, Bedford, St Neots, Huntingdon, St Ives, Ely, Downham Market before finishing at King's Lynn. View Full Details>>
Pegsdon Hills
2 miles (4 km)
Enjoy a climb to Deacon Hill and enjoy wonderful views over the Chilterns on this walk in the Pegsdon Hills. The hills are also a designated nature reserve so there's lots of intersting flora and fauna to see as well.
There's a series of footpaths to follow across the site where you will find chalk hills and wildflower meadows with orchids and moschatels. In the summer months the flowers attract butterflies such as dingy and grizzled skippers. There are fine views of the surrounding Chiltern Hills from the high points which reach nearly 172 metres at Deacon Hill.
Start the walk from the car park on the Pirton Road just to the east of the site. From here you can pick up the Icknield Way Path and follow it towards Deacon Hill where there's a trig point and wonderful views to enjoy.
The route then follows other footpaths across the hills before picking up the Icknield Way to return you to the car park.
On your walk you may see a deer and various birds including skylark, buzzard and fieldfare. View Full Details>>
Priory Country Park
3 miles (4.2 km)
Explore 360 acres of lakes, meadows and woodland, in this park situated on the river Great Ouse in Bedford. The park includes the pretty Priory Marina and lake which are perfect for a peaceful waterside walk or cycle. National Cycle Network route 51 passes through the park so you can continue your cycle on the Bedford to Sandy cycle route. For walkers the John Bunyan Trail passes through Bedford if you wish to continue your walk. View Full Details>>
Ridgeway Link
7 miles (12 km)
This is a walking path which runs from the Chilterns Gateway Visitor Centre near Dunstable to the Ridgeway National Trail at Ivinghoe Beacon.
There are splendid views of the surrounding area at the start before heading through Dunstable Downs, Whipsnade and Dagnall. View Full Details>>
Rowney Warren Wood
2 miles (4 km)
These woods in Bedfordshire have walking trails, a BMX trail and mountain bike trails to try. In one half of the woods you will find the cycling trails and in the other peaceful woodland footpaths. There's good facilities as well with a good sized car park, picnic areas and a cafe.
At the northern section of the woods you will find Chicksands Bike Park. The park has a range of trails for all abilities. See the video below to give you an idea of what you can expect to find at the site!
The woods are in a good location for extending your walking. You could pick up the John Bunyan Trail and head to the nearby Chicksands Wood. The woods have nice wide trails and pretty bluebells in the spring.
You can also pick up the Greensand Ridge Walk and visit Maulden Woods near Clophill. Here you will find more walking trails taking you through semi-natural broadleaf woodland, acidic grassland and conifer plantations. View Full Details>>
Rushmere Country Park
3 miles (5.5 km)
Explore 400 acres of lakes, ancient woodland conifer plantations, meadows and heath in this country park in Leighton Buzzard. View Full Details>>
Sandy
2 miles (3.2 km)
This Bedfordshire based market town has some nice waterside trails along the River Ivel and a significant local nature reserve to explore. View Full Details>>
Sharnbrook
2 miles (3.8 km)
This pretty Bedfordshire village has some pleasant riverside trails, a Norman church and a local nature reserve to explore. There's also a delightful mill theatre converted from the historic old water mill. View Full Details>>
Sharpenhoe Clappers
3 miles (5 km)
Visit this classic chalk escarpment in the Chilterns and enjoy wonderful views across this beautiful area. This circular walk makes use of the John Bunyan Trail and the Icknield Way Path to take you on a tour of the Sharpenhoe Clappers and the Smithcombe Hills. There's a degree of climbing involved with the route hitting a peak of just over 500ft at the high points.
You can park at the Sharpenhoe Clappers car park on Sharpenhoe Road to start your walk. Then head north towards the Iron Age Hill Fort and beech wood which sits atop the area. In the summer months the chalk grasslands are covered in pretty wildflowers which attract a variety of butterflies. Look out for orchids, primroses and an uncommon rose, Rosa stylosa, found in scrub areas. 
After exploring the hill fort you can head south through the Smithcombe Valley along the Icknield Way Path. You'll pass Smithcombe hill as you make your way to the village of Streatley. From Streatley you pick up the John Bunyan Trail to take you back to the car park.
There's lots of good options for extending your walking in the area. Just to the east is the lovely Barton Hills National Nature Reserve where there's lots more interesting flora and fauna to see. Just to the west is Sundon Hills Country Park with lots more walking trails and great views to enjoy. View Full Details>>
Shefford
15 miles (24 km)
This Bedfordshire based town is close to several areas of woodland with miles of walking and cycling trails to try. To the east there are also some pleasant waterside paths along the River Ivel and the River Hiz. View Full Details>>
Stevington
6 miles (9.6 km)
This route uses sections of the John Bunyan Trail and the Ouse Valley Way to create a circular walk around the Bedfordshire village of Stevington. View Full Details>>
Stewartby Lake Country Park
4 miles (6.5 km)
Also known as Millennium Country Park, this lovely area covers over 500 acres and includes woodland, grassland, meadow, lakes and wetland habitats.
There are well surfaced paths for cyclists and walkers taking you along Stewartby lake and Pillinge Lake before passing the village of Marston Moretaine. If you are on foot you can also follow the Wetlands Trail throught the nature reserve within the park. Here you will find a number of bird hides from which you can observe a variety of winged visitors.
There is also an excellent visitor centre with a Lakeside Cafe bar, gift shop and bike hire.
If you want to continue your walk you could follow the Marston Vale Timberland Trail which visits some of the most interesting and attractive parts of Marston Vale and runs right through the park.
Stewartby Lake is located right next to Millbrook and Stewartby rail stations and about 5 miles south of Bedford. View Full Details>>
Stotfold
4 miles (7 km)
This is a lovely riverside walk to the picturesque Stotfold Mill in Bedfordshire near Baldock and Letchworth. View Full Details>>
Sundon Hills Country Park
5 miles (8 km)
Climb to a height of over 500 feet and enjoy wonderful views over the Bedfordshire countryside on this circular walk near Luton. You can park at the car park on Harlington Road and then pick up the Icknield Way Path to take you across the park. The waymarked paths take you to woodland, chalk downland and grassland. It's great in the summer with lots of wildflowers and butterflies to look out for on the hills. Keep your eyes peeled for a range of flora and fauna including creeping buttercup, cowslip, orchids, great spotted woodpecker, foxes and badgers.
To extend your walk you can follow the John Bunyan Trail and the Icknield Way Path to Streatley. The path passes Sharpenhoe Clappers, Smithcombe Valley and Smithcombe Hill before coming to the village. Sharpenhoe has an Iron Age Hillfort and nice views over the area.
If you continue east along the paths then you will come to the lovely Barton Hills National Nature Reserve and Hexton where you can enjoy more climbs through the Barton and Pegsdon Hills. Heading west will take you through the countryside to Toddington where there's a fine 700 year old pub to visit. You can also follow the John Bunyan Trail south to Luton. View Full Details>>
The Three Shires Way
37 miles (60 km)
The Three Shires Way is a long distance bridleway which runs between Tathall End in north-east Buckinghamshire and Grafham Water in Cambridgeshire. The shared cycling and walking route traces the outline of ancient trackways and passes through a beautiful rural landscape. Along the way it skirts several small, historic villages, meanders through remnants of ancient woodland, and has many spectacular views.
The route is (sometimes) signposted with the Three Shires Way logo and officially runs for 37 miles, though it's nearer 39 miles long if starting/finishing at the Grafham Water Car Park. I'd recommend cycling north to south (unless faced by a strong south or south-west wind), hence : Start at Grafham Water Car Park, Cambs : TL166680 Finish at Tathall End, Milton Keynes : SP820468 A circular route around Grafham Water is also available, which extends the total distance to almost 47 miles. It passes through Easton, Spaldwick, Covington, Shelton, Yielden, Knotting, Lavendon and Emberton before arriving at Tathall End. It is generally a quiet rural route, much of it on clay and very muddy at certain times of the year. Some parts are classified as a 'Byway Open to All Traffic' or a 'Road Used as a Public Path' (generally open April to October), and are therefore legally accessible by motor vehicles. These tracks can be very rutted indeed; a notable example is Forty Foot Lane. Beware!
Note : Mapped on the 1:25,000 series Submitted by:Mark Worthington November 2008 View Full Details>>
Toddington
11 miles (17.8 km)
This Bedfordshire based village sits on a major long distance trail and is surrounded by some lovely Chilterns countryside. View Full Details>>
Turvey
6 miles (9 km)
This attractive Bedfordshire village is situated in a lovely rural spot close to the River Great Ouse. View Full Details>>
Two Ridges Link
8 miles (13 km)
This lovely, easy walk links The Ridgeway National Trail and the Greensand Ridge Walk. View Full Details>>
Whipsnade Tree Cathedral
2 miles (4 km)
This extraordinary 10 acre park in Whipsnade is planted in the form of a cathedral, using grass avenues for the nave, chancel, transepts, chapels and cloisters and 'walls' with different species of trees. It is run by the National Trust and is perfect for a peaceful stroll in beautiful surroundings.
The circular walk below makes use of the Icknield Way Path taking you around the tree cathedral and up to Dunstable Downs. The park is located near Dunstable, Luton and Hemel Hempstead. View Full Details>>
Woburn Park
5 miles (8.5 km)
This walk takes you through the beautiful Woburn Park in Befordshire. The park includes tranquil ponds, pretty Orchards, a 3000 acre deer park and the magnificent Woburn Safari Park with its White Rhino, Elephants, Tigers and Black Bears. There's also the splendid Woburn Abbey - a stunning country house which is the seat of the Duke of Bedford. View Full Details>>
Woburn Sands
13 miles (21 km)
This Bedfordshire based town is located just to the east of Milton Keynes. The accessible train station in the town is a good place to start a walk with waymarked footpaths to follow into the countryside, woodland and heathland which surround the town. View Full Details>>
Wrest Park
2 miles (2.5 km)
Explore 92 acres of landscaped early eighteenth-century garden in this lovely walk in Silsoe. View Full Details>>
Wyboston Lakes
1 miles (2 km)
This short walk explores the Wyboston Lakes Nature Reserve near St Neots. The walk starts from the Hotel complex next to the reserve. View Full Details>>