Derbyshire Walks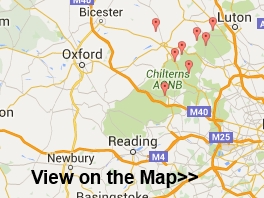 With the stunning Peak District National Park and wonderful long distance trails such as the Trans Pennine Trail and the Pennine Bridleway Derbyshire is a county with dramatic, beautiful and varied scenery. Other highlights include the wonderful wooded gorge at Lumsdale Valley, the pretty waterfalls at Lathkill Dale and the county town of Matlock which makes a great base for exploring the region.
Use the filter to show walks of a certain type such as woods, reservoirs, hills, long distance, country parks, canals and rivers.
In the spring walkers flock to the beautiful bluebell woods in the Derbyshire area. Click the 'Woodland' button below to see these.
Use the links to view full route information including elevation profiles, interactive maps and GPS downloads.
You can also view an overview map of all the routes in the using the Derbyshire Walk Map>>
Route Name
Distance
Description
Allestree Park
2 miles (3 km)
This large park in Derby covers 320 acres and includes miles of good footpaths for walkers to try. In the park you will find a lovely large lake and peaceful woodland with nature trails. The park is also a nature reserve with lots of interesting flora and fauna to look out for on your walk. Keep your eyes peeled for White letter hairstreak butterflies, Brown Hare and a variety of woodland birds.
The park also includes the Grade II listed Allestree Hall. The 19th-century former country house has an interesting history and some pretty gardens to explore. There's also an 18 hole golf course with a cafe where you can enjoy refreshments after your walk.
To continue your walking in the Derby area you can head to the nearby Elvaston Castle Country Park. There's hundreds of acres of cycling and walking trails surrounding the 17th century Elvaston Castle.
Also nearby is Kedleston Hall. This much larger park features grassy meadows, serpentine lakes, pleasure grounds, woodland and contoured hills.
The long distance Bonnie Prince Charlie Walk also runs through the area so you could pick up the trail to further explore the Derbyshire countryside. View Full Details>>
Alport Castles
10 miles (16 km)
This walk visits this extraordinary geological feature in the Peak District National Park.  Alport Castles is a spectacular formation of rocks formed from numerous landslides over a period of time. The largest of these, resembles a full-scale motte and bailey castle. It's a fabulous sight and is surrounded by some stunning Peak District scenery. Bird watchers can look out for peregrine falcons nesting on the crags. The elevated spot on the the stepped landslip makes ideal spot for sitting down and soaking up the views.
This circular walk starts at the parking area at the northern end of Ladybower Reservoir. You then follow a footpath along Derwent Reservoir and Howden Reservoir, passing through woodland with views of the impressive Howden Dam on the way. The walk then climbs away from the reservoir towards Alport Castles. Here you can enjoy wonderful views over the River Alport and Alport Dale. The walk then descends to Hagg Side woodland before returning to Ladybower Reservoir.
To extend your walking in the are you could try the fantastic climbs to Derwent Edge and Stanage Edge. View Full Details>>
Arbor Low
1 miles (1.5 km)
Visit this Neolithic henge monument and enjoy some lovely moorland scenery on this fascinating circular walk in the Peak District. The site is located a few miles west of Youlgreave. You can park at Upper Oldhams Farm just off Long Rake. Walk through the farm (there is a £1 charge per person) and then climb towards Arbor Low. The limestone circle sits in an elevated position with super views over the White Peak area of the Peak District. The henge is one of the most well preserved in Britain with 50 large limestone slabs and fragments. It's an atmospheric place, thought to date back to 2500BC to 1500 BC. After you have explored the stone circle you can head south west to Gib Hill where you will find an ancient burial mound.
The High Peak Trail and the Midshires Way both pass close to the site at Parsley Hay. You could pick up these long distance footpaths to extend your walking in the area. Heading north west will take you to Pomeroy while heading south takes you towards Hartington and the Biggin Dale Nature Reserve.
Just over a mile to the north you'll find the beautiful Lathkill Dale. This is a great place to extend your walking in the White Peak. There are wonderful limestone cliffs and the rushing waters of the River Lathkill to enjoy. View Full Details>>
Around Belper
12 miles (19.5 km)
This long circular walk makes use of two of the waymarked long distance trails running through the countryside surrounding the Derbyshire town of Belper. There's much to enjoy with waterside paths along the River Derwent and the Cromford Canal. There's also woodland trails and some moderate hills climbs with great views over the Peak District and the Amber Valley.
Belper forms part of the Derwent Valley Mills World Heritage Site. The modern factory, or 'mill', system was born here in the 18th century to accommodate the new technology for spinning cotton developed by Richard Arkwright.
This walk starts on Belper Bridge, just to the north of the train station, where there are nice views of the Belper Mills. Here you pick up the Derwent Valley Heritage Way and follow the trail north to Ambergate, passing the pretty Wyver Lane Pool on the way. You then follow the Cromford Canal past Shining Cliff Woods to Crich Carr, where you turn west until you come to the Midshires Way. Follow the trail south through Blackbrook to Farnah Green, where you turn east to head back to the river and the town. You'll pass the delightful Belper Riverside Gardens which have been offering visitors a tranquil setting to view the River Derwent for over 100 years.
To extend your walk you could continue south along the Midshires Way towards Duffield and Derby. In this area you can visit Allestree Park and Kedleston Hall.
A few miles to the west is the splendid Carsington Water where there are some great waterside walking and cycling trails to try. View Full Details>>
Ashbourne
8 miles (12.5 km)
The Derbyshire Dales town of Ashbourne is a fantastic base for walkers looking to explore the southern end of the Peak District. Several long distance walking trails pass through the town and surrounding area. The beautiful valleys of the River Dove and River Manifold are also nearby.
This walk takes you along the Bonnie Prince Charlie Walk to the delightful village of Osmaston and the adjacent Osmaston Park. View Full Details>>
Ashford in the Water
1 miles (2 km)
The pretty Peak District village of Ashford in the Water has some nice walking trails to try along the River Wye. It's a picture postcard area with quaint stone cottages, nice pubs and lovely views of the river and the old Sheep Wash Bridge. This short walk takes you from Ashford in the Water to the nearby town of Bakewell. It's about a one mile walk, passing Ashford Lake and Lumford Mill with river views on the way. You can return the same way or get the bus back from Bakewell. View Full Details>>
Bakewell
10 miles (15.5 km)
The market town of Bakewell makes and excellent base for exploring the Derbyshire Dales area of the Peak District National Park.
This long circular walk visits some of the villages, parks, woods and hills surrounding the town. There's lots to see with riverside paths, historic halls and beautiful countryside.
The walk starts in the centre of the town and then climbs past Bakewell Hill Golf Club towards Calton Pasture where there are nice pockets of woodland and good views of the surrounding area. On this section you climb to a height of well over 800ft with a trig point on Calton Pasture to look out for. From here you descend to New Piece Wood before reaching the village of Edensor. The little village is noted for the Grade I listed St Peter's Church. Many of the Dukes of Devonshire, are buried in the churchyard. There is also the Cavendish Memorial, an early 17th century church monument to Henry and William Cavendish, commemorating the sons of Sir William Cavendish and Bess of Hardwick. Near the church you can enjoy refreshments at the delightful Edensor Tea Cottage.
The walk continues to the nearby Chatsworth Park. The magnificent park is one of the highlights of the Peak District and well worth visiting if you have time. In the park you will find 1000 acres of parkland and gardens with views of the River Derwent, woodland trails and fallow deer.
At Chatsworth you can pick up the Derwent Valley Heritage Way and enjoy a waterside walk south along the River Derwent. On this section you pass Calton Lees before coming to the village of Rowsley. The little village is notable as the point where the River Wye flows into the River Derwent. There's also the Grade-II listed Peacock hotel, which dates from the middle of the 17th century. The 19th century St Katherine's Church is also noteworthy. The 7th Duke of Rutland laid coins of every value, from a sovereign to half a farthing in the foundation of the church.
After leaving Rowsley the walk heads west through Manners Wood before coming to Haddon Hall and Park. The fine country house on the River Wye is one of the seats of the Duke of Rutland. The hall originates from the 11th century with the medieval and Tudor hall dating from the 13th to the 17th centuries. Haddon Hall was used as the setting for Thornfield Hall in the 2006 BBC television version of Jane Eyre, starring Toby Stephens and Ruth Wilson. You can explore the lovely grounds with Elizabethan terraced gardens and views over the River Wye. You can generally visit the hall during the summer months.
The final section of the walk follows the River Wye, back into Bakewell where you can enjoy refreshments at one of the many pubs and cafes. View Full Details>>
Bamford Edge
4 miles (6 km)
Climb to Bamford Edge on this exhilarating walk in the Peak District. The walk is geologically significant with lots of interesting gritstone rock formations to look out for. From the elevated position of Bamford Edge there are simply wonderful views over the surrounding area.
The walk starts from the Derbyshire village of Bamford and climbs on country lanes towards Bole Hill and Bamford Clough. You then head north and pick up the Bamford Edge footpath on Bamford Moor. There are splendid views across the Peak District Hope Valley and down to the lovely Ladybower Reservoir below.
The route can be turned into a longer circular walk by continuing to Stanage Edge just east of Bamford Edge. Here you will find a stunning gritstone escarpment of Stanage Edge and the peak of High Neb. From here you can enjoy wonderful views over the Hallam Moors and the Hope Valley.
You could also descend to Ladybower Reservoir and enjoy the woodland trails along the water.
The Derwent Valley Heritage Way runs past Bamford so this is another option. You could follow the riverside path into Hathersage for example. The walk could also be started from Hathersage following the River Derwent to Bamford and then ascending from there.
Just to the west you can enjoy a climb to Win Hill which has some of the best views in the area. View Full Details>>
Baslow
9 miles (14 km)
The pretty Peak District village of Baslow gives access to a number of great walking routes. The popular village sits on the River Derwent which is spanned by a 17th-century bridge. There's also a pretty village green and nice pubs and cafes for refreshments.
This circular walk visits Baslow Edge, Curbar Edge and Froggatt Edge before returning to the village along the River Derwent. There's great views from over the moors from Curbar Edge and interesting geological features. Along the river there's weirs, mills and the villages of Grindleford and Calver. View Full Details>>
Birchen Edge
2 miles (2.5 km)
Climb to this gritstone edge and enjoy wonderful views over the Derwent Valley in the Peak District. You can start the walk from the Robin Hood pub car park just to the south of Birchen Edge. From here you can pick up the footpaths to take you across the gritstone edge to the wonderful view point where you will find Nelson's Monument. Next to this are three boulders carved with the names of three of Nelson's ships: Victory, Defiance and Royal Soverin. It's a splendid spot with interesting rock formations and fabulous views over the surrounding area.
Just to the west you'll find Gardom's Edge. A public footpath runs past it towards Eagle Stone and Baslow Edge. This is a good option if you'd like to further explore this geologically fascinating area. You should see lots of rock climbers as you go.
Birchen Edge is located very close to the splendid Chatsworth Park. Here you'll find 1000 acres of parkland to explore with views of the River Derwent, woodland trails and fallow deer. The Derwent Valley Heritage Way also passes nearby Baslow so you can enjoy a riverside stroll through the area.
Also nearby is the spectacular Curbar Edge which has more interesting rock formations and expansive views of the Eastern Moors. View Full Details>>
Black Rocks Cromford
4 miles (6 km)
This circular walk visits Black Rocks in the Peak District National Park. The rocks are a striking gritstone outcrop surrounded by the woodland of Cromford Moor. There are wonderful views of the Derwent Valley from the rocks which are in an elevated position above the town of Cromford.
The walk starts by the Cromford Canal and follows the High Peak Trail to Black Rocks. You then head across Cromford Moor with its woodland trails and heather moorland.
If you'd like to continue your walking in the area you could enjoy a waterside walk along the Cromford Canal. You could also head west along the High Peak Trail to visit Middleton Top. Here you'll find an excellent visitor centre with good facilities and a wealth of information on the area. There's also the historic Middleton Top Engine House, built in 1829 and fabulous views down to the nearby Carsington Water. View Full Details>>
Bleaklow
11 miles (17 km)
This challenging walk takes you to Bleaklow Head and Bleaklow Stones near Glossop, in the Peak District National Park. The elevated largely peat covered, gritstone moorland, is popular with walkers.
The walk starts from the car park at Torside Reservoir and follows the Longdendale Trail along the water before picking up the Pennine Way to Torside Clough. The climb continues past Sykes Moor to the 633 m (2,077 ft) summit of Bleaklow Head. Here you will find a huge cairn of stones and wonderful views across Greater Manchester, Lancashire, Cheshire and the Hope Valley.  View Full Details>>
Bonnie Prince Charlie Walk
17 miles (28 km)
Follow in the footsteps of Bonnie Prince Charlie on this walk which traces the route of his march from Ashbourne to Derby in 1745.
The path passes through Derbyshire farmland and woodland starting in Ashbourne town centre and heading south to Shirley via Osmaston and Osmaston park. You continue to Longford following the Shirley brook before turning east to Radbourne, where you will pass the 18th century Radbourne Hall. From here you head to Mackworth, passing the castle ruins, and entering the delightful Markeaton park on the outskirts of Derby. Just to the north of Mackworth is the delightful Kedleston Hall which is well worth a short detour if you have time. View Full Details>>
Buxton
20 miles (32 km)
The popular spa town of Buxton has a number of waymarked trails taking you though this beautiful area of the Peak District. There's also challenging hill climbs, riverside paths, pretty reservoirs and delightful parks to explore.
This walk from the town visits a series of beautiful valleys along the River Wye. You'll pass through Wye Dale, Chee Dale, and the popular Miller's Dale before finishing at Cressbrook Dale. It's about a 10 mile walk so 20 miles there and back. You can shorten it by going as far as Miller's Dale which is one of the highlights of the area. Here you have the option of heading north from the river and visiting Tideswell Dale and the village of Tideswell.
It's a fantastic area for walking with the rushing waters of the river, shady woodland and lots of wildlife to look out for on the way. Please note it's downhill on the way there so save some energy for the way back! You could turn it into a circular walk by heading north at Monk's Dale and returning through the countryside via Tunstead.
The walk uses some of the excellent long distance trails you can pick up near the town. This includes the Midshires Way, Pennine Bridleway and Monsal Trail. View Full Details>>
Calke Park
3 miles (5 km)
This walk takes you around the magnificent Calke country estate located in Ticknall, Derby. The walk begins at the car park and takes you along the beautiful Staunton Harold Reservoir before exploring the woodland, ponds and meadows of Calke Park. There is also a deer park with Calke's herd of fallow and red deer, while the wetlands area is also home to more wildlife with dragonflies and damselflies to see. The site has an interesting history having been an Augustinian priory from the 12th century until its dissolution by Henry VIII.
If you head a mile north you can visit the visitor centre and enjoy a well surfaced walk along the water to their wildflower meadow. View Full Details>>
Carsington Water
7 miles (12 km)
This route follows the circular cycling and walking trail around Carsington Water in Ashbourne, Derbyshire. The trail starts at the excellent visitor centre where cycle hire is available. It includes long shoreline sections and several woodland sections with great views of the surrounding countryside. The route runs for just over 7 miles on a fairly flat path so it's suitable for most abilities.
The lake is also a great place for birdwatching. Look out for little owl, little grebe, great northern diver, Eurasian oystercatcher, common tern and breeding common redshank.
If you enjoy this route then you could head to the nearby Ogston Reservoir where there are more fantastic bird watching opportunities.
The Pennine Bridleway and Midshires Way long distance trails run just to the north of the site. You can pick up these trails to extend your walking around Wirksworth. The town is a good base for walkers with the High Peak Trail and the Black Rocks near Cromford to visit.
Just to the north of the site you will find Middleton Top. There's an excellent visitor centre here and fine views back down to the reservoir from the hill top. View Full Details>>
Castleton Circular Walk
6 miles (10 km)
This challenging circular walk explores the hills and countryside surrounding the Derbyshire village of Castleton. You'll climb to the popular hills of Mam Tor, Hollins Cross and Lose Hill with spectacular views over the surrounding Peak District countryside. It's about a six mile walk with the route climbing to a height of over 1600ft at the high points.
You start from the popular village of Castleton in the Hope Valley. It's a great base for walkers wishing to explore this fantastic area of the Peak District. The route heads west out of the village across Winnats Pass with its towering limestone pinnacles and series of show caves.
The route then climbs to the 517 m (1,696 ft) summit of Mam Tor. The hill is geologically fascinating with 320 million year old Carboniferous rocks. From the summit there are fine views towards Manchester city centre, Stockport, Winter Hill and the Edale Valley.
From Mam Tor the route descends to the smaller Hollins Cross hill before climbing to Back Tor and Lose Hill. From the 476 m (1,562 ft) Lose Hill summit you then descend back to Castleton on a series of footpaths and country lanes.
To extend your walk you can head north west from Hollins Cross to Edale where you can climb the fabulous Kinder Scout. Just follow our Edale to Castleton Walk to reach Edale via Hollins Cross. View Full Details>>
Centenary Way
25 miles (40 km)
Follow the Centenary Way from Ilkeston to Ashbourne on this 25 mile walk through the Derbyshire countryside. The walk visits several pretty villages including West Hallam, Duffield , Brailsford, Edmaston, Shirley and Osmaston.
Highlights on the route include the delightful Kedleston Hall which is just to the south of the trail near Duffield. View Full Details>>
Chatsworth Park
6 miles (9 km)
This circular walk takes you around the splendid Chatsworth Park in the Derbyshire Peak District. There's 1000 acres of parkland to explore with views of the River Derwent, woodland trails and fallow deer.
The park is in a great location for walking with some great options for extending your exercise. You could pick up the Derwent Valley Heritage Way long distance footpath which runs past the estate. You can follow it north to Baslow or south to Calton Lees. About a mile north east of Chatsworth you can enjoy a climb to Birchen Edge. The gritstone edge provides stunning views over the Derwent Valley from the high points.
The park is not far from the lovely town of Bakewell. You could reach it by following the Bakewell Circular Walk from the town. This visits the nearby village of Edensor and the medieval Haddon Hall which is also well worth a visit. View Full Details>>
Chinley Churn and Cracken Edge
4 miles (6.5 km)
Climb Chinley Churn and enjoy super views over the Peak District towards Kinder Scout on this circular walk.
The walk starts from Chinley train staion and takes you over Cracken Edge to Chinley Churn. There are lots of interesting geological features and fantastic views across the Peak District. You'll also pass two large railway viaducts and the old slate quarry at Cracken Edge. The walk continues north to Hills Farm where you have the option of heading east along the Pennine Bridleway to the 1,620ft (494m) summit of South Head where there are more fabulous views. You can return to the train station on the same path or an alternative to the west of Chinley Churn. View Full Details>>
Chrome Hill
5 miles (7.5 km)
This circular walk climbs the beautiful Chrome Hill in the Upper Dove valley area of the Peak District. You will visit the Chrome and Parkhouse Hills SSSI, an area with fascinating geology and limestone flora. It is also known as the Dragon's Back ridge.
The walk starts from the little village of Earl Sterndale near Buxton. View Full Details>>
Combs Reservoir
2 miles (4 km)
This circular walk takes you around Combs Reservoir near Chapel-en-le-Frith on the edge of the Peak District National Park. You can park on the western side of the reservoir and then follow the shoreline footpath towards the village of Combs. In the village you will find the Beehive pub which is a nice place to stop for refreshments. From Combs you follow more public footpaths through the countryside on the eastern side of the water before country lanes take you back to the car park.
The walk can also be started from Chapel en le Frith railway station. You would follow public footpaths west through the countryside via Marshegreen farm. It's about a mile from the station to the reservoir.
If you enjoy this walk then there are others you can try nearby. You could head north about a mile and climb Eccles Pike for splendid views over the Peak District. The Errwood and Fernilee Reservoirs Walk is just to the west where you can also explore the Errwood Estate with its old ruined hall and peaceful woodland with azaleas and rhododendrons. View Full Details>>
Cown Edge Way
17 miles (28 km)
Visit the striking Cown Edge rocks on this walk through Greater Manchester and Derbyshire.
The path starts at Hazel Grove and heads east towards Marple where you can enjoy waterside stretches along the Macclesfield Canal and the Peak Forest Canal with views of the River Goyt. View Full Details>>
Creswell Crags
1 miles (1.5 km)
This walk takes you around this fascinating limestone gorge on the Derbyshire and Nottinghamshire border. There's a lovely waterside footpath running along Crags Lake with views of the surrounding caves and cliffs. It's a well surfaced trail taking you up close to the remarkable geological features in the park. There is an excellent visitor centre with a museum detailing the history of the caves and fissures. You can see bones of lynx, beaver and wild pig dating from the last Ice Age 9,500 years ago. There's also some fascinating Cave Art, with engravings and bas-reliefs found on the walls and ceilings of some of the caves as recently as 2013. It's a very important find as it had previously been thought that no British cave art existed.
If you'd like to extend your walk you could pick up the Robin Hood Way which runs through the park. A few miles to the north you will find the lovely Whitwell Wood which has three waymarked walking trails to try.
Just to the east of the crags you will find the lovely Welbeck Estate. Here you can follow the Robin Hood Way between the two pretty lakes and into the adjacent woodland. There's also a large deer park with resident white deer to look out for. You can reach the deer park by heading south east along the Robin Hood Way from the western end of Cresswell Crags. View Full Details>>
Cromford Canal
5 miles (8 km)
Enjoy a waterside stroll along the Cromford Canal on this easy walk in Derbyshire. This section of the canal runs from Cromford to Ambergate and is designated as a Biological Site of Special Scientific Interest and a Local Nature Reserve. The walk passes the Leawood Pump House by the aqueduct over the River Derwent and a series of pretty bridges. You'll also pass Shining Cliff Woods and enjoy lovely views of the Derwent Valley. The walk makes use of the Derwent Valley Heritage Way so you could continue along this long distance walking route to extend your walk.
The canal is located just a few miles south of Matlock. View Full Details>>
Cuckoo Way
46 miles (74 km)
This walk follows the Chesterfield Canal through Nottinghamshire, South Yorkshire and Derbyshire from Chesterfield to West Stockwith. You will pass 36 locks and 11 bridges as you walk along one of England's most beautiful waterways.
The walk passes Stavely, Retford and Worksop while there is also a pleasant section around the lovely Rother Valley Country Park at Killamarsh. Here you will find 5 lakes and a nature reserve which boasts the recording of over 260 different varieties of birds over the past two decades. Just south of Rother Valley Country Park you will pass the splendid Renishaw Hall at Eckington's. Here you will find a large country house surrounded by beautiful gardens, parkland, woodland and lakes.
Around Retford the splendid Idle Valley Nature Reserve is well worth a small detour. View Full Details>>
Curbar Edge
2 miles (3 km)
This circular walk takes you along the spectacular Curbar Edge in the Peak District. From the elevated position on Curbar Edge there are magnificent views over the Eastern Moors of the Peak District. The area is also covered with interesting rock formations. Look out for red deer on the moors and birdlife such as the Ring Ouzel, in the air.
The walk starts from the Curbar Gap Car Park and soon picks up the footpath to take you along the gritsone escarpment of Curbar Edge. You'll pass unusual rock stacks and some woodland trails with fabulous views towards Big Moor and White Edge. It is a fairly easy walk without too much strenuous climbing.
If you would like to extend your walk then the wonderful, National Trust owned Longshaw Estate is a good option. It is located a couple of miles to the north and consists of miles of walking and cycling paths taking you through ancient woods, parkland and heather moorland. On the way you will pass Froggatt Edge which has some nice birch woodland and more great views.
Curbar Edge is located just a few miles south west of Sheffield. The nearby village of Calver is also well worth a visit with its historic cotton mill and the River Derwent. You could pick up the Derwent Valley Heritage Way here and enjoy a riverside walk.
A couple of miles to the south east you will find Birchen Edge. It's another geologically fascinating area with fine views over the Derwent Valley.
The walk can also be started from the nearby village of Baslow if you prefer. View Full Details>>
Dale Abbey
1 miles (1.6 km)
This Derbyshire village includes the historic ruins of a 12th century abbey and some fine Peak District countryside. View Full Details>>
Dane Valley Way
41 miles (66 km)
Follow the River Dane through Derbyshire and Cheshire on this fabulous walk from Buxton to Middlewich.
Highlights on the route include the wonderful Three Shires Head where the counties of Cheshire, Derbyshire and Staffordshire meet. Here you will find pretty waterfalls, pools and an old packhorse bridge. Near here you will pass the fascinating deep mossy chasm of Lud's Church. The route also passes through the attractive town of Buxton and the delightful Buxton Country Park. View Full Details>>
Derby Canal
6 miles (10 km)
Follow the Derby canal from the centre of the city to the Trent and Mersey Canal at Swarkestone. The flat path runs for about 6 miles and is suitable for cyclists or walkers.
The route starts in the city centre and follows the River Derwent past Pride Park football stadium and The Sanctuary Bird and Wildlife Reserve. You then come to Alvaston Park where you turn south away from the river, following the path through the suburbs of Allenton, Boulton and Shelton Lock. At Swarkestone Lock the canal ends, meeting with the Trent and Mersey Canal. You can extend your exercise by heading east or west along the canal.
You could also continue south along the Cloud Trail to Worthington.
Another good option is to continue following the river east at Alvaston Park and head to Elvaston Castle Country Park. It's only a couple of miles away and has a lovely lake and nice woodland trails to try. Just to the north of the canal there's nice riverside walks through the popular Darley Abbey Park. View Full Details>>
Derwent Edge
8 miles (13 km)
Climb to this wonderful Millstone Grit escarpment and enjoy fabulous views back down to the numerous beautiful reservoirs below. It's a challenging circular walk climbing to a height of over 1700ft around Back Tor. You will be rewarded with stunning far reaching views over the Peak District.
The area is also full of interesting flora and fauna. Look out for rare plants such as common cottongrass, mountain strawberry and crowberry. Wildlife includes Eurasian golden plover, red grouse, ring ouzel and mountain hare.
The walk starts from the Fairholmes car park in between Ladybower Reservoir and Derwent Reservoir. Here you will find a great visitor centre which makes an excellent base for exploring the Derwent Valley.
The trail heads north along Derwent Reservoir towards the impressive Derwent Dam. Just after Abbey Bank you turn east and start the climb to Lost Lad Hill, crossing Little Howden Moor and Greystones Moss. At the summit of Lost Lad there's a toposcope showing the surrounding hills. You can also see up to Back Tor, the next destination on the walk. From here there are fabulous views over the reservoirs below, Stanage Edge and the Kinder Plateau.
From Back Tor you head south to Dovestone Tor and along the fantastic ridge path towards Derwent Edge. Around here there are some wonderful geological formations including the impresive Salt Cellar stone. It has a striking resemblance to a certain condiment holder! Even more impressive are the Wheel Stones (or Coach and Horses) which resemble a coach and horses on the horizon when viewed from the A57 road to the south.
Shortly after passing the Wheel Stones you turn west and descend back to Ladybower Reservoir. The final section takes you along the water back to the car park. The visitor centre has a good cafe where you can refresh yourself after your adventure.
To extend your walking in the area you can follow the waterside trail along Ladybower Reservoir and visit Lower Ladybower Reservoir.
If you are interested in more exhilarating climbs then look no further than Stanage Edge and Bamford Edge which are both nearby. For geology enthusiasts Alport Castles with its spectacular formation of rocks, is a must see. View Full Details>>
Derwent Reservoir
4 miles (6.5 km)
This is a moderate walk along Derwent and Ladybower Reservoirs, with a short climb to the woodland, farmland and moorland above the water. From the high points there are wonderful views of the Derwent Valley and the surrounding Peak District hills. View Full Details>>
Derwent Valley Heritage Way
51 miles (82 km)
Follow the River Derwent through the Derbyshire Peak District on this stunning walk. The path runs from Derwent Mouth, Shardlow and passes through Derby, Belper and Matlock on your way to the finish point at Ladybower Reservoir, Heatherdene.
Highlights on the route include a lovely section along the Cromford Canal from Cromford to Ambergate. You'll also pass the splendid Chatsworth Park with its 1000 acres of parkland with woodland trails and fallow deer. At Matclock you will pass High Tor hill where you can enjoy some wonderful views over the surrounding area. View Full Details>>
Dovedale
2 miles (4 km)
The beautiful Dovedale is one of the must see areas in the Peak District. The area attracts a million visitors each year because of its stunning natural beauty.
The walk starts at the Dove Dale car park, near Thorpe. It's a large car park so there should be spaces available most of the time. You then head north along the River Dove to the famous Dovedale Stepping Stones. The stones were first set down in the 19th century for Victorian tourists to cross the river. It's a lovely place to stop for a while, with great views of Thorpe Cloud, a large limestone hill towering over the river.
From the stones you continue north to Lovers' Leap. Legend says that a young woman who believed her lover had been killed in the Napoleonic Wars threw herself from the rock. She was saved when her skirt caught in the branches of a tree below. When she returned home, she heard her lover was still alive. You can use the steps provided to climb this rock formation for splendid views of the dale.
The next section takes you to the fascinating Reynard's Cave, passing the huge Tissington Spires on the way. You can enter the huge natural arch of Reynard's Cave and enjoy wonderful views of the area.
You continue to Pickering Tor and then onto the imposing Dove Holes caves, before the final stretch to the village of Milldale. Here you can enjoy refreshments at the tea shop before the return leg.
If you would like to continue your walking in the area then you could head to the nearby Ilam Park. The park can be easily reached from the same start point for this walk by following a footpath west for about a mile. Youl can then visit Bunster Hill, Hinkley Wood and the beautiful Ilam Hall gardens.
If you continue north along the riverside path you will come to Wolfscote Dale and Biggin Dale nature reserves.
For a longer route try our Dovedale Circular Walk which starts from the delightful village of Tissington and makes use of two of the long distance trails which run through the area. View Full Details>>
Dronfield 2000 Rotary Walk
11 miles (18 km)
Explore the woodland and farmland around Dronfield, in Derbyshire, on this pleasant circular walk. There are some steep climbs but with the reward of some splendid views of the nearby Peak District National Park. You will pass Dronfield, Holmesfield Woods, Dronfield Woodhouse and Coal Aston with waymarking to guide you along the way.
The route runs for just over 12 miles using various public footpaths running through the countryside. View Full Details>>
Eccles Pike
4 miles (6 km)
This is a popular climb to Eccles Pike from Whaley Bridge in the Peak District. It's about a two mile walk from the train station/centre of Whaley Bridge to the hill. You follow footpaths east through the countryside, passing Buxworth before climbing to the 370 metres (1,210 ft) summit of Eccles Pike. From here there are fabulous views over the Peak District towards Windgather Rocks, Combs Edge, Combs Reservoir, Cat's Tor and Shining Tor. At the summit you will find a topograph which shows all the sights you can see from the top. It's a lovely spot with the surrounding fields covered in various wildflowers in the summer months.
After descending from the summit you could return the same way or follow Eccles Road back to Whaley Bridge to create a longer circular walk. This quiet country lane will take you past Hilltop and New Horwich. View Full Details>>
Edale
4 miles (6 km)
The village of Edale is a fantastic place for walkers wishing to explore this beautiful area of the Derbyshire Peak District. It is famously the start of the Pennine Way and is also regularly used as a base for climbing the wonderful Kinder Scout, the challenging stone steps of Jacob's Ladder and Kinder Downfall, the highest falls in the Peak District.
Just to the south of the village are two more popular climbs to Mam Tor and Winnats Pass.
The village is easy to reach by public transport with Edale train station accessible from both Sheffield and Manchester Piccadilly. There's also a good sized car park in the centre. Facilities are good with campsites, hotels, pubs and cafes. There is also an excellent visitor centre which will provide a wealth of information on all the walks, accommodation and public transport for the area. It is located at Fieldhead, postcode S33 7ZA.
This easy circular walk explores the immediate area around the village, visiting the nearby hamlets of Upper Booth, Barber Booth and Ollerbrook Booth. It's a nice gentle walk to introduce you to the lovely Vale of Edale before you tackle the more challenging climbs mentioned above.
The walk starts in the village and then heads west along the first section of the Pennine Way to Upper Booth. Along the way there's great views up to Mam Tor, Kinder Scout and Rushup Edge.
The route then turns south east towards Barber Booth, passing close to the River Noe. You then head east back towards Edale with the option of visiting Ollerbrook Booth before finishing the walk.
At the end of your walk you can visit the 16th-century Old Nag's Head pub for refreshments.
To further extend your walking in the area, visit the nearby village of Castleton which is another great Peak District base for walkers. You can follow our Edale to Castleton Walk to reach the village.
Just a few miles to the east of Edale is the hugely popular Derwent Valley. Here you will find the wonderful Ladybower Reservoir and Derwent Reservoir. You can also enjoy exhilarating ridge walks to Derwent Edge and Bamford Edge.
You can use the google street view link below to explore the streets and pretty stone cottages of the village. View Full Details>>
Elvaston Castle Country Park
2 miles (3 km)
Explore 321 acres of open parkland, woodland and formal gardens on this cycle or walk near Derby. In the park you will find the 17th century Elvaston Castle surrounded by delightful gardens with stables, kennels, a walled garden, a home farm, several cottages, gatelodges, an ice house and a boathouse.
In the country park there are a number of footpaths and bridleways to follow while National Cycle Route 6 also runs through the park. There is also a Nature Reserve where you can follow a number of footpaths to reed bed areas, wildflower meadows, wet woodlands, a lake and islands.
The River Derwent runs very close to the park so you can follow the riverside path into Derby to extend your walk or cycle.
Also nearby is Kedleston Hall. This much larger park features grassy meadows, serpentine lakes, pleasure grounds, woodland and contoured hills.
Allestree Park is also well worth a visit for walkers. Covering 320 acres the park is the largest Local Nature Reserve in Derby.
The long distance Bonnie Prince Charlie Walk also runs through the area. Follow it into Derby and it will take you close to the historic Darley Abbey Park. View Full Details>>
Erewash Canal
12 miles (19 km)
Follow the Erewash canal through south Derbyshire on this waterside cycling and walking route. The canal runs from Trent Lock near Long Eaton to the Langley Mill (Great Northern) basin. You can follow the towpath all the way on your bike or on foot. It's a nice easy route that runs for about 12 miles so it's a good family cycle ride or long walk. On the way you'll pass old mills, pretty locks and a number of stone bridges. The areas around Nutbrook Junction and Trowell Marsh are nature reserves where you can look out for a wide variety of wildlife. There's also nice views of the River Erewash and the surrounding countryside. The canal forms part of the larger Erewash Valley Trail so it's easy to extend your exercise on this circular route.
You start off at Trent Lock on the border of Derbyshire, Leicestershire and Nottinghamshire. It's a major canal junction where several significant waterways meet including the River Soar, the Trent and Mersey Canal, the River Trent and the Erewash Canal. The canal then weaves its way through the town of Long Eaton to Sandiacre. You continue north to Ilkeston, passing Gallows Inn and the impressive Bennerley Viaduct, before finishing at Langley Mill at the basin of the Erewash Canal.
You can virtually follow part of the route along the canal from Trent Lock by clicking on the google street view link below.
To continue your walking in the area you can visit the lovely Attenborough Nature Reserve which is located near the start of the canal at Long Eaton. You can follow the Trent Valley Way along the River Trent to reach the reserve. The Beeston Canal can also be picked up at the eastern end of the reserve, next to the pretty Beeston Lock.
The canal also forms part of the Nutbrook Trail Cycle Route which runs up to Shipley Country Park on a dismantled railway line. View Full Details>>
Erewash Valley Trail
28 miles (45 km)
This splendid cycling and walking trail explores the canals, countryside, towns and villages of south Derbyshire and Nottinghamshire. It's a circular route with miles of great traffic free sections so it's ideal for families or anyone looking for a safe cycle ride. Walkers can also enjoy the nice surfaced trails along the canals and through the nature reserves on this varied route.
As a circular route there are several options for a start point. This route starts at Trent Lock on the Erewash Canal just south of the town of Long Eaton. Trent Lock is a significant canal junction where the River Soar, the Trent and Mersey Canal, the River Trent and the Erewash Canal meet (you can virtually explore this section on the street view link below). You then follow the canal towpath north through the town of Long Eaton to Sandiacre. You continue to Ilkeston, passing Gallows Inn and the impressive Bennerley Viaduct, before coming to Langley Mill at the basin of the Erewash Canal. It's a nice section with lots of pretty locks, stone bridges and views of the River Erewash.
At Langley Mill you turn south and pick up the Nottingham Canal heading to Cossal and Trowell. The disused canal has now been declared as a nature reserve which attracts lots of dragonflies, damselflies and birdlife. The canal leads you towards Stapleford Hills and Bramcote Hills Park. The park includes a mix of woodland and parkland with a nice walled garden. You'll also pass the geologically fascinating Hemlock Stone. The stone is an outcrop of New Red Sandstone, deposited more than 200 million years ago in the Triassic Period. It's worth stopping to have a look at the plaque and stone on Stapleford Hill before continuing.
From the park you continue through Stapleford and Chilwell to the lovely Attenborough Nature Reserve. Here you'll find 350 acres of lakes, wetland, woodland, grassland and scrub with a huge variety of wildlife to look out for. The Beeston Canal can also be picked up at the eastern end of the reserve, next to the pretty Beeston Lock.
The final waterside section takes you along the River Trent to Trent Lock and the finish point. Towards the end of the route you pass along the Trent Valley Way so this is a good option if you would like to continue your walking in the area.
The trail also forms part of the Nutbrook Trail Cycle Route which runs along the Erewash Canal before bearing right near Stapleford and heading up to Shipley Country Park on a dismantled railway line. View Full Details>>
Errwood Reservoir and Fernilee Reservoir
4 miles (6 km)
Enjoy some lovely waterside walking along these two reservoirs in the Goyt Valley area of the Peak District. The walk starts from the Erwood Hall Car Park at the southern end of Erwood Reservoir but you could also start the walk at Buxton and follow the Midshires Way to the reservoirs. The route follows good footpaths along the western side of the two reservoirs before following the River Goyt to Fernilee. You can return the same way or follow the Midshires Way through the woodland above the reservoirs. It's a beautiful area with the water surrounded by attractive woodland and the river feeding into Fernilee Reservoir at the northern end.
If you would like to continue your walking in the area then you could explore the Errwood Estate with its old ruined hall and peaceful woodland with azaleas and rhododendrons. The Shining Tor and Cats Tor Walk starts from the same location so you could climb these hills to extend your walking. They offer wonderful views of the Cheshire Plain, Winter Hill, the city of Manchester and Jodrell Bank. View Full Details>>
Etherow Goyt Valley Way
14 miles (22 km)
The Goyt Valley is an excellent place for walks with fine riverside trails along the Rivers Goyt and Etherow. There's also a number of pretty reservoirs and splendid views of the Peak District hills.
This walk takes you through the beautiful valley from Stockport to Hadfield along the waymarked Etherow Goyt Valley Way. If you'd like to explore the Upper Goyt Valley then see the Errwood Reservoir and Fernilee Reservoir Walk. This will take you along two lovely reservoirs near Whaley Bridge.
This path starts in Vernon and Woodbank Park on the River Goyt in Stockport and follows the river to Etherow Country Park near Marple. This is a lovely section with a reservoir, woodland and a variety of wildlife to enjoy. The walk then joins the River Etherow following it to Broadbottom and then onto Bottoms Reservoir in Hadfield.
There is a challenging climb near Broadbottom on this route but with fantastic views over the surrounding area. View Full Details>>
Eyam
5 miles (7.5 km)
This popular village in the Derbyshire Dales has a fascinating history and some lovely walks to try. Eyam is known as the 'Plague Village' because of an outbreak of bubonic plague in 1665. The villagers chose to isolate themselves rather than let the infection spread.
This walk visits some of the interesting sites in the village including Eyam Hall, the 'Plague Cottages', the Parish Church and Eyam Moor.
The walk starts from the National Trust car park in the centre of the village. From here you can visit the Jacobean style manor house of Eyam Hall. The hall dates from the 17th century and has attractive gardens to explore. You then head along Church Street and pass the so called 'Plague Cottages' where the first victims died. Soon after you come to the 14th century parish church of St Lawrence and the graveyard where the victims were buried. You can then head north out of the village, to Eyam Moor, passing the Plague Stone on the way. This is quite a challenging climb but with great views of the surrounding Peak District scenery from the high points. The moor is also home to Wet Withens stone circle. View Full Details>>
Five Pits Trail
6 miles (10 km)
This is a super off road cycling and walking trail running from Grassmoor Country Park to Tibshelf. The route follows National Cycle Route 67 but there is also a detour at Wolfie Pond which heads east to the Williamsthorpe Nature Reserve before rejoining the route south. You can use this to create a circular walk along the trail.
The trail follows the route of the old Grand Central Railway through the countryside passing the Locko bird and wildlife reserve on the way. The start and end points of the route are also delightful with Grassmoor Country Park at one end and the woodlands and meadows of Tibshelf Ponds at the other. The trail is located just three miles south of Chesterfield town centre. If you're are on your bike you could follow the Chesterfield to Alfreton cycle route along National Cycle 67 as an extension of your ride. View Full Details>>
Foremark Reservoir
2 miles (3 km)
This walk visits the pretty Foremark Reservoir near Burton Upon Trent in Derbyshire. The walk starts at the car park at the north eastern end of the reservoir and follows woodland trails along the reservoir to Carver's Rocks. The area is a nature reserve so look out for a variety of wildlife including several species of butterflies and wildfowl. The woodland area is lovely with bluebells and silver birches near the reservoir banks. It's a great place for a picnic and you can also purchase refreshments at the cafe. The reservoir is located near Ashby-de-la-Zouch, Ingleby, Swadlincote and Willington.
To extend your walking in the area you can visit the lovely Staunton Harold Reservoir or Calke Park. View Full Details>>
Froggatt Edge Circular Walk
4 miles (6 km)
Enjoy splendid views over the Dark Peak on this climb to the gritstone escarpment of Froggatt Edge. There's interesting rock formations, sheltered birch woodland and lots of lovely heather to see in the late summer.
You can start the walk from the car park just to the south of Nether Padley on the A625. Grindleford railway station in Upper Padley is also very close by.
From the car park you can pick up footpaths heading south along the escarpment toward the village of Froggatt. It's a nice path with attractive woodland, a pretty stream and splendid views to enjoy.
The route then descends to the village of Froggatt which has a pub and a quaint 17th-century bridge. At the bridge you can pick up the Derwent Valley Heritage Way to take you along the river toward Grindleford. Here you turn east to follow woodland trails through Hay Wood back to the car park. Near here you can enjoy refreshments at The Grouse Inn which offers a good selection of meals. View Full Details>>
Glossop
16 miles (25.5 km)
This popular market town is often referred to as the gateway to the Peak District National Park'. As such it's a walkers paradise with several waymarked trails, beautiful reservoirs and challenging hill climbs to try.
This long circular walk visits several of the highlights of the area, heading to the Longdendale Reservoirs before picking up the Pennine Way for a climb to Bleaklow Hill. The route then returns to Glossop along the course of an old Roman Road with wonderful moorland scenery to enjoy.
Starting in the town centre, near the train station, head through Manor Park in Old Glossop. You continue north past Swineshaw Reservoir to Padfield where you come to the Longdendale Reservoirs. This beautiful series of reservoirs have nice trails running along the southern side of the water including the splendid Longdendale Trail. Follow the paths past Bottoms, Woodhead, Valehouse and Rhodeswood reservoir. At Torside Reservoir you can pick up the Pennine Way to take you up to Torside Clough and then on to Bleaklow. The elevated largely peat covered, gritstone moorland, is popular with walkers with wonderful far reaching views over Greater Manchester, Lancashire, Cheshire and the Hope Valley.
After taking in the views, descend south to Hope Clough before turning west and following the Doctor's Gate Roman Road back into Glossop. There's wonderful views of Gathering Hill, the waters of the pretty Shelf Brook and the fine moorland scenery of Shelf Moor. View Full Details>>
Goyt Way
10 miles (16 km)
Follow the Goyt Way along the Peak Forest Canal and the River Goyt on this lovely waterside walk through Greater Manchester and Derbyshire.
The walk starts by Etherow Country Park Lake in Compstall and heads south through Marple and New Mills to Whaley Bridge. The first section through Marple follows the towpath of the Peak Forest Canal, passing pretty locks on the way. You then join the River Goyt to New Mills before picking up the Canal again near Whaley Bridge where the route finishes. The final section through New Mills passes the wonderful Torrs Riverside Park and Millennium Way, a beautiful river gorge with a fabulous 160 metre long walkway elevated over the water. View Full Details>>
Grassmoor Country Park
1 miles (2 km)
Enjoy meadows and lagoons in this pretty country park near Chesterfield. The park is a haven for wildlife - look out for water voles, grass snakes and butterflies. Grassmoor is the start of the Five Pits Trail so there is scope for continuing your walk or cycle. View Full Details>>
Grindslow Knoll
5 miles (8 km)
This challenging circular walk visits Grindslow Knoll and Grindsbrook Clough in Edale in the Peak District. It's a beautiful area with interesting rock formations and wonderful sweeping views over the Peak District.
The walk starts from the pretty village of Edale which can be reached by train from Manchester or Sheffield. You then ascend to the Nab where there are splendid views of the Hope Valley. You continue to Ringing Roger where you will find a fascinating formation of weathered rocks and another fabulous viewpoint. The route continues along the spectacular Kinder Plateau, passing Nether Tor and Upper Tor before reaching Grindsbrook Clough. There is a popular alternative footpath here which runs along the Grindsbrook Clough back to Edale. It's a lovely waterside section along the Grinds Brook with pretty waterfalls along the way. This route, however continues to the summit of Grindslow Knoll, where there are great views of the Kinder Plateau, the Hope Valley and the Great Ridge. From here, the walk descends back to Edale where you can enjoy refreshments at the Old Nags Head pub. The pub is famous for being the start of the Pennine Way long distance walk. View Full Details>>
Hardwick Hall Derbyshire
2 miles (3 km)
This wonderful National Trust owned estate has miles of splendid walking trails to follow. Not to be confused with Hardwick Hall Country Park in Country Durham, Hardwick Hall in Derbyshire is a fine place to stretch your legs if you are in the Mansfield or Chesterfield area. There's 2,500 acres of parkland, woodland, wetland and farmland to explore so you can easily spend a few hours walking the trails.
Features in the park include the lovely Lady Spencer's Walk which takes you through bluebell woodland to the surrounding fields and open countryside at the park's eastern end. At the western end of the park there are series of nice footpaths taking you around and between a series of pretty ponds. There's also a rose garden, herb garden and orchards to enjoy.
You can also explore the fine 16th century house with its wonderful architecture, golden stonework, expanses of glass and ornate furnishings.
To continue your walking in the area head west to Clay Cross and try our Clay Cross and Holmgate Circular Walk. View Full Details>>
Hartington
6 miles (9.5 km)
This pretty village is a great base for exploring some of the highlights of the popular Dove Dale area of the Peak District. The village includes attractive houses and a pretty green and duck pond. There's also an interesting history with the 13th century parish church of Saint Giles and the 17th century Hartington Hall. 
Hartington is popular with tourists so there are good facilities with a car park, pubs, a youth hostel and a visitor centre at Hartington signal box, on the site of the former Hartington railway station.
From the village you can directly explore the lovely Beresford Dale and Wolfscote Dale Nature Reserves, just to the south of the centre. This then leads you into Dovedale which is one of the highlights of the Peak District.
Just to the east of the village you can pick up the Tissington Trail. This cycling and walking trail follows a disused railway line through some stunning scenery. Right next to that is the High Peak Trail which also follows an old railway line from Cromford to Dowlow. These two rail trails are a great way to explore the Peak District on foot or by bike.
The fascinating Neolithic henge monument of Arbor Low is also within easy reach of the village. The limestone circle sits in an elevated position with super views over the White Peak area of the Peak District.
The Midshires Way and Pennine Bridleway long distance trails can also be picked up just to the east of the village.
The circular walk below takes you from the village through Wolfscore Dale before returning through the adjacent Biggin Dale. View Full Details>>
Hathersage
8 miles (12.5 km)
The village of Hathersage is a popular base for walkers wishing to explore some of the highlights of the Peak District National Park. It has several long distance trails running past it and a number of challenging climbs to try. Set in the beautiful Hope and Derwent Valleys the village is accessible by rail services to Hathersage train station.
Probably the most popular walk from the village is the climb to the beautiful gritstone escarpment of Stanage Edge. A similarly exhilirating climb across Bamford Edge is also possible from the village. There's more interesting gritstone rock formations and fabulous views from here.
The Derwent Valley Heritage Way also runs through the village along the River Derwent. If you follow the riverside path in a north westerly direction it will soon take you to the beautiful Ladybower Reservoir.
Heading south along the river will take you to the splendid Longshaw Estate and Padley Gorge with its beautiful wooded valley.
The 'Plague Village' of Eyam is just a few miles to the south of Hathersage. It is well worth a visit with its fascinating history, 17th century Eyam Hall and stone circle on Eyam Moor.
This circular walk takes you up on to Hathersage Moor, visiting Higger Tor and Carl Wark Hill Fort. There's lovely moorland scenery, fine views back down to the village and some interesting rock formations to look out for.
The walk starts in the village and follows footpaths to High Lees before climbing onto Hathersage Moor. Here you visit the Iron Age Hill Fort of Carl Wark which stands at a height of 370 metres (1,214 ft). The path then climbs to the nearby Higger Tor at a height of 434 m (1,424 ft). The striking gritstone tor overlooks the Burbage Valley. The route then descends to Burbage Bridge with views of the pretty Burbage Brook. Around here you can pick up the Padley Gorge Trail which takes you along the delightful brook with its waterfalls, rocky boulders and wooden bridges. This walk heads into the National Trust owned Longshaw Estate. The estate is fabulous walking country with ancient woods, parkland, heather moorland, ponds and the pretty Barbrage Brook. This section of the trail also links with the Sheffield Country Walk which takes you on a circular tour of the countryside around the city of Sheffield.
The final section of the walk takes you through Granby Wood and Yarncliff Wood before crossing the western side of the moor and returning to the village. View Full Details>>
Hayfield
2 miles (3 km)
The popular village of Hayfield is a great base for exploring some of the highlights of the High Peak area of the Peak District National Park. It's proximity to Lantern Pike, Kinder Reservoir, Kinder Downfall and Kinder Scout are particularly attractive. View Full Details>>
Heights of Abraham
3 miles (4.5 km)
Ride a cable car to the Hilltop Park and enjoy magnificent views of the Derwent Valley and surrounding Peak District at this major attraction in Matlock. The park also includes caverns and mine tours where you can experience a day in the life of a 17th Century lead mining family.
The cable car was opened in 1984 and is the first ever alpine cable car in Britain. It will take you to the top of Masson Hill where you can enjoy woodland walking trails and wonderful views over Matlock. There is also a riverside section along the River Derwent to enjoy.
If you would like to continue your walking in the area then you could head to the nearby Lumsdale Valley for a wonderful waterfall walk. The Derwent Valley Heritage Way also runs through the park so there is scope for continuing your walk along the River Derwent if you have time.
If you cross the river to the eastern side you can enjoy a climb to High Tor. The impressive limestone crag commands fine views over the town from the exciting narrow walkway of Giddy Edge. View Full Details>>
High Peak Trail
17 miles (28 km)
This splendid, shared walking and cycle trail follows a disused railway line from Cromford to Dowlow through the beautiful Peak District.
The trail starts near Cromford railway station and climbs through the stunning High Peak area of Derbyshire giving fabulous views of the area.
The trail links with the popular Tissington Trail at High Peak Junction. It's a similar trail trail running from Parsley Hay in the north to Ashbourne in the south.
Highlights on the route include the fascinating Neolithic henge monument of Arbor Low at Parsley Hay. Near Cromford you will also pass the noteworthy Middleton Top. Here you'll find an excellent visitor centre with good facilities and a wealth of information on the area. There's also the historic Middleton Top Engine House, built in 1829 and fabulous views down to the nearby Carsington Water. View Full Details>>
High Tor Matlock
1 miles (2 km)
This short climb takes you to High Tor hill between Matlock and Matlock Bath. The impressive limestone crag is just over a mile from the town centre and the train station. If you follow the Derwent Valley Heritage Way along the River Derwent south you will soon come to the tor. There's fantastic views of Matlock Bath, the Heights of Abraham, Riber Castle and the surrounding Peak District countryside from the summit. The hill also includes a splendid narrow walkway called 'Giddy Ledge'. Only try this if you've a real head for heights though! View Full Details>>
High Wheeldon
2 miles (2.5 km)
This walk climbs High Wheeldon Hill in the Upper Dove Valley area of the Peak District. It's a popular walk with the hill summit giving wonderful views over the Peak District. You can see Parkhouse Hill, Chrome Hill and the villages of Earl Sterndale, Longnor and Crowdecote.
The walk starts from the little village of Earl Sterndale near Buxton. The village is a popular start point for walks because of its proximity to Dovedale, Parkhouse Hill and Chrome Hill. View Full Details>>
Hope Valley
7 miles (10.5 km)
This is a linear walk through the Peak District's Hope Valley, from Castleton to Hathersage. It's quite a gentle route taking you through the middle of the Hope Valley along three of the waterways running through the district. There's nice waterside sections along streams and rivers with great views of the surrounding Peak District Hills.
Starting at Castleton you head east along the pretty Peakshole Water stream. The stream joins the River Noe at the village of Hope before passing Bamford and joining the River Derwent. Here you join a section of the Derwent Valley Heritage Way to take you into Hathersage.
Around Bamford you have the option of picking up the Thornhill Trail cycling and walking route. If you head north from the river at Shatton you can pick up the trail. It will take you along a disused railway line to the nearby Ladybower Reservoir.
Near the end of the Thornhill trail there is the option to climb to Win Hill. From here you can enjoy fabulous views over the reservoir and the Hope Valley.
Also nearby are the climbs to Bamford Edge and Stanage Edge. Here you will find interesting rock formations and more great views over the valley below.
Other good options for exploring this beautiful area include the Castleton Circular Walk. This will take you to up to Mam Tor where you can explore the Great Ridge and Lose Hill. View Full Details>>
Horseshoe Trail
12 miles (20 km)
This cycling and walking trail in Derbyshire takes you on a tour of the countryside, villages and reservoirs near Burton-Upon-Trent and Swadlincote. It uses a mixture of quiet roads, bridleways and the woodland trails of the National Forest. There's some challenging climbs but with fabulous views over the surrounding South Derbyshire countryside.
The route starts at the pretty Foremark Reservoir and heads to Repton Common and Milton before coming to the pretty village of Ticknall. Woodland sections through Stantons Wood and Robin Wood take you towards Ingleby and Seven Spouts before the final section takes you back to the reservoir via the Hangman's Stone.
To extend your walking in the area you can visit the lovely Staunton Harold Reservoir or Calke Abbey. View Full Details>>
Ilam Park
1 miles (2 km)
Ilam Country Park is a delightful open space owned by the National Trust. It is situated on the River Manifold about five miles north west of Ashbourne in the Staffordshire and Derbyshire Peak District. Highlights in the park include Ilam Hall and gardens, Bunster Hill, Hinkley Wood, a Visitor Centre, tea-room and shop. The park is perfect for a short riverside stroll in one of the prettiest areas in England.
It's easy to extend your walk in this beautiful area by heading to the nearby Dovedale. You can follow a footpath east for about 1 mile to reach the River Dove and the famous Dovedale Stepping Stones.
You could also try our Ilam Circular Walk which starts from the park. It explores the valleys of the River Manifold and the River Hamps to the west of Ilam Park. View Full Details>>
Kedleston Hall
2 miles (3.6 km)
Explore the 820 acres of parkland surrounding this country house near Derby in the Peak District. The landscape features grassy meadows, serpentine lakes, pleasure grounds, woodland and contoured hills with clumps of trees. There are also sculptures, a summer house and an orangery. The walk gives fantastic views of the gardens, the hall and the surrounding countryside.
The hall is a classical Palladian mansion built for the first Baron Scarsdale in the mid 18th century. Inside there are grand state rooms with fine collections of paintings and original furniture.
The Centenary Way walking route runs just to the north of the grounds. You could pick this up and head towards Duffield or Brailsford to continue your walk. The Bonnie Prince Charlie Walk runs just to the south of the hall. Pick this up to head into Derby. View Full Details>>
Kinder Reservoir
2 miles (3.5 km)
This walk takes you to Kinder Reservoir from Hayfield along the Snake Path. The reservoir is very pretty with the backdrop of woodland, fields and Peak District hills.
The walk starts in Hayfield where you will find the Snake Path turning on your left as you leave the village. You then follow it for about 2 miles to the reservoir where there is a footpath along the water. Follow the path up to William Clough for great views over the water. View Full Details>>
Kinder Scout
7 miles (11 km)
Explore the Kinder plateau on this exhilarating and challenging circular walk from the popular village of Edale. You will enjoy spectacular views of the Hope Valley and pass some fascinating gritstone rock formations.
The walk begins in the pretty village of Edale which can be reached by train from Manchester or Sheffield. You then pick up the Pennine Way and follow it to Upper Booth and on to the recently restored Jacob's Ladder footpath. The route then follows the spectacular Kinder plateau where you can enjoy some of the best views in the Peak District. At Grindsbrook Clough you descend to Edale along the delightful Grinds Brook with waterfalls and splendid views along the way. View Full Details>>
Lady Clough Woods
2 miles (4 km)
These attractive woodlands are located just off the Snake Pass in the Peak District. There are miles of nice nice walking trails to try. It's a very pretty area with the rushing water of the River Ashop, tranquil ponds and attractive coniferous woodland.
The walk starts from the car park at Birchen Clough Bridge just off Snake Road. From here you gain direct access to the woodland trails which take you to Lady Clough Moor and Urchin Moor. There are two colour coded waymarked trails on challenging paths with stream crossings and great views of the surrounding moorland. After the walk you can refresh yourself at the Snake Pass Inn just south of the woods.
The walk can be extended by heading west across Ashop Moor to Ashop Clough. Just to the east you will find the Alport Castles Walk.
You could also try our Snake Pass circular walk which explores the area around the pass. It starts from the woods and heads along Black Ashop Moor. View Full Details>>
Ladybower Reservoir
5 miles (8 km)
Enjoy a lovely waterside walk along the western shore of this large reservoir in the Peak District. The walk begins at the parking area at the northern end of Upper Ladybower reservoir and follows a good walking trail to Lower Ladybower Reservoir. The route passes through some pleasant woodland and has wonderful views of the surrounding countryside. Highlights on the path include the views of the photogenic Derwent Valley Aqueduct and the Ashopton viaduct which carries the Snale Pass over the water. Other walking trails lead up into the surrounding hills where you can enjoy great views over the reservoir.
If you would like to continue your walk you could climb to the spectacular geological rock formations of Alport Castles. You could also pick up the Derwent Valley Heritage Way which runs past the southern end of the reservoir.
A short climb to the east of the reservoir you will find the exhilarating Bamford Edge. From here you can enjoy fabulous views back across the water.
At the southern end of the water you can park at the Heatherdene car park and enjoy a climb to Win Hill which has some of the best views over the reservoir. Around here you can also pick up the Thornhill Trail cycling and walking trail. It runs from the Ladybower Dam to Bamford station along a disused railway line.
Also of interest are the wonderful climbs to Derwent Edge and Stanage Edge while the adjacent Derwent Reservoir also has some nice waterside paths. View Full Details>>
Lantern Pike
5 miles (8 km)
This climb to Lantern Pike from Hayfield makes use of the Pennine Bridleway. It's a circular walk which starts in the village of Hayfield and takes you along the Sett Valley Trail to Birch Vale Reservoir. Here you turn north and climb to the 373 metres (1,224 ft) summit of the hill. At the summit you can take in some wonderful views of the surrounding Peak District hills and countryside. The walk then descends to the pretty hamlet of Little Hayfield before crossing Middle Moor and following the Snake Path back to Hayfield.
If you would like to continue your walking in the area then a walk to Kinder Scout and Kinder Reservoir is a great option. View Full Details>>
Lathkill Dale
8 miles (13 km)
Enjoy a splendid riverside walk in the beautiful Lathkill Dale in the Peak District. The dale is a peaceful, atmospheric area flanked with large limestone cliffs and woodland. Along the River Lathkill you'll pass pretty waterfalls and weirs and a wide variety of flora and fauna. Look out for birds such as ducks, herons, wagtails, dippers, waterhens and coots. The river is very clear and pure so it's easy to spot fish swimming alongside you on your walk. Along the river there are also interesting flora such as wildflowers and the rare wild plant Jacob's Ladder.
This circular walk begins in the lovely village of Monyash at the excellent Bulls Head Pub, and follows footpaths through Bagshaw Dale to the river. You follow the river to Over Haddon where you can stop for refreshments at the splendidly positioned Lathkil Hotel. You then return on the same path for about half the way, before crossing the river and picking up the Limestone Way to take you back to Monyash.
This is a super, varied walk with riverside, woodland and countryside sections to enjoy. Most of it is fairly flat so it's suitable for people of all abilities. View Full Details>>
Limestone Way
46 miles (74 km)
Travel through the beautiful Peak District National Park on this walk through Derbyshire and into Staffordshire.
The walk starts at Castleton, passing through the scenic Cave Dale and past the remains of Peverill Castle. You continue south through the stunning Monk's Dale and Miller's Dale, where you cross the River Wye. The next stage takes you through Flagg and Monyash where you will pass close to the beautiful Lathkill Dale. It's pretty river, limestone cliffs and waterfalls mean it's worth a small detour to the route. You continue to Youlgreave, where you enter Bradford Dale for a pleasant waterside stretch before heading on to Brassington, Parwich and Tissington. View Full Details>>
Linacre Reservoirs
2 miles (3 km)
Enjoy cycling and walking trails around these three pretty reservoirs near Chesterfield. Cyclists can enjoy a good track running around the middle and lower reservoirs while walkers can follow the same trails plus another around the upper reservoir. The trails are a mixture of lovely waterside paths plus some woodland trails through Linacre Woods. Look out for nuthatches, flycatchers and woodpeckers in the woods and kingfishers and mandarin ducks on the water.
The circular route below starts at the car park and follows the shared cycle and walk trail around the middle and lower reservoirs. Linacre Reservoirs is located just a few miles west of Chesterfield city centre. View Full Details>>
Longdendale Trail
8 miles (13 km)
This splendid cycling and walking trail follows a disused railway line through the Longdendale in the Peak District National Park. The path starts in Hadfield and runs alongside a series of beautiful reservoirs including Bottoms Reservoir, Torside Reservoir, Woodhead Reservoir and Rhodeswood Reservoir before finishing at Salter's Brook. It runs for just over 8 miles on a gradually ascending path which is ideal for both cyclists and walkers. There's also fine views of the lovely rolling hills and countryside for the duration of the route. It's easy to access with a train station and public car park right next to the start point at the western end in Hadfield. View Full Details>>
Longshaw Estate
4 miles (6 km)
The Longshaw Estate is a National Trust owned country park in Upper Padley in the Peak District. The estate is perfect for walking with fabulous views of the Peak District, ancient woods, parkland and heather moorland. In the park there are pretty ponds, a waterside path along Barbrage Brook and the lovely Big Moor where you should look out for red deer. There are also excellent facilities with a tea room, shop and the Moorland Discovery Centre.
From easter 2014 there will be two new bridleways suitable for cyclists. The routes will be waymarked so you can explore the estate on two wheels or on foot.
The Derwent Valley Heritage Way runs near the estate so you could continue your walk along the River Derwent. You could also continue south and climb up to Froggatt Edge and Curbar Edge where there are spectacular views of the Peak District. The wonderful Padley Gorge Trail with its babbling brook and pretty waterfalls is another good option.
You're also close to Stanage Edge where you can enjoy fabulous views and interesting rock formations.
The park is located just a few miles from Sheffield. View Full Details>>
Lud's Church
3 miles (5 km)
This walk visits the fascinating deep chasm of Lud's Church on the edge of the Staffordshire Peak District. It's a lovely place for a walk with nice views of the Dane Valley and woodland trails through Forest Wood and Gradbach Wood near the chasm.
You can start the walk from the car park off Gradbach Mill Lane, about a mile to the east of the cave. From here you can pick up the Dane Valley Way and follow the River Dane to the chasm. The Millstone Grit geological formation is covered in moss and has an unusual atmospheric feel to it. It's 100 metres (328ft) long and 18 metres (59 ft) deep so you can walk along for quite a way between the tall mossy rocks.
After exploring Lud's church you can explore the surrounding woodland before crossing Black Brook and returning to the car park along the riverside path.
This area of the White Peak is great for walkers so there's lots of options for extending your walk. You could continue west along the Dane Valley Way and visit nearby Danebridge.
From the same car park you can visit Three Shires Head. The beautiful area is where the counties of Cheshire, Derbyshire and Staffordshire meet. There's lots of pretty waterfalls and a wonderful grade II listed packhorse bridge over the River Dane.
Just to the south of Lud's Church you will find The Roaches. The elevated rocky ridge, includes fascinating rock formations and wonderful views of the surrounding countrsyide. View Full Details>>
Lumsdale Valley
2 miles (2.5 km)
This splendid walk takes you from Matlock to the beautiful wooded gorge of the Lumsdale Valley. The walk starts near the centre of Matlock at Matlock Green and follows the Bentley Brook through woodland to the beautiful Lumsdale Waterfalls. As you make your way through the gorge you'll pass several historical mill ruins, waterwheels, three mill ponds and a series of waterfalls. It's a beautiful area and one of the lesser known attractions of the Peak District area.
Several of our other walks pass through Matlock so there are plenty of options for extending your exercise. The Derwent Valley Heritage Way, Heights of Abraham, Cromford Canal and the Limestone Way can all be picked up in Matlock. View Full Details>>
Mam Tor
3 miles (4.5 km)
This 517 m (1,696 ft) hill in the Peak District affords fabulous views over the surrounding area. This circular walk starts at the car park at the southern side of the hill and takes you to the summit on well defined walking trails and stone steps. The scenery is beautiful and dramatic with fine views over the Hope Valley and Edale Valley. The area is also geologically significant with Mam Tor consisting of 320 million year old Carboniferous rocks.
From the summit you descend to Hollins Cross before turning south and continuing your descent to Mam Farm and Little Mam Tor. At Winnats Head Farm you turn west to return to the finish point.
The hill can also be reached on the other side of the great ridge from the villages of Castleton or Hope. See the Mam Tor Walk From Hope Walk for full details of this route.
If you would like to continue your walking then the nearby Kinder Scout is a good option. It is the highest point in the Peak District and affords fabulous views to Manchester, Snowdonia and Winter Hill.
You could also try the Castleton Circular Walk and visit the towering limestone pinnacles at Winnats Pass before climbing the 476 m (1,562 ft) high Lose Hill for more great views of the Hope Valley.
Another great option is to try the Great Ridge Walk from Mam Tor to Lose Hil. This takes you across a stunning ridge with more wonderful views to enjoy. View Full Details>>
Matlock
5 miles (8.5 km)
The county town of Matlock is a great base for exploring the south eastern edge of the Peak District. This circular walk from the town takes you to High Tor and past the Heights of Abraham. You'll also enjoy a riverside stretch along the River Derwent on the Derwent Valley Heritage Way. This runs south to Matlock Bath passing High Tor on the way. From the distinctive limestone crag there are splendid views over the town to the Peak District hills beyond. The route then heads north west towards Bonsall before following the Limestone Way back into Matlock. View Full Details>>
Midland Railway Centre
3 miles (5 km)
This heritage railway in Derbyshire's Butterley has a delightful 35 acre country park with a wide range of wildlife areas and great views of the passing steam trains. The walk takes you around Butterley Reservoir, through Butterley park and on to Codnor Park Reservoir before finishing at Riddings station where you could catch the train back to the start point at Butterley. View Full Details>>
Midshires Way
225 miles (362 km)
This route follows public bridleways and quiet country lanes through Middle England, from Bledlow, near Aylesbury in Buckinghamshire, to Stockport in Greater Manchester. The path links The Ridgeway National Trail with the Trans Pennine Trail passing through the countryside of Buckinghamshire, Northamptonshire, Leicesteshire, Nottinghamshire and the Derbyshire Peak District National Park.
Highlights include waterside sections along the Grand Union Canal, the Peak Forest Canal and the River Ouse. There is a splendid wooded section through Salcey Forest near Northampton where you could try the Tree Top Trail. View Full Details>>
Miller's Dale
7 miles (11 km)
This popular beauty spot on the River Wye is one of the highlights of the Peak District National Park. There's shady wooded valleys, rushing rivers and lots of interesting flora and fauna to look out for on the way. This circular walk takes in Miller's Dale, Tideswell Dale and Monk's Dale. You'll also visit the 18th century Litton Mill and the village of Tideswell. Highlights on the route include the impressive Monsal trail viaduct and the limestone scenery in Tideswell Dale.
The walk starts from the Miller's Dale car park. From here you can pick up the Monsal Trail to take you east towards Litton Mill. The mill was notorious for it's terrible treatment of the child workers. It has now been converted into apartments. You can virtually explore this part of the Monsal Trail using the google street view link below.
At the mill the route then turns north following path through Tideswell Dale to the large village of Tideswell. This section is quite challenging with the village sitting in an elevated position of over 1000ft. Tideswell is a good place to stop for refreshments with plenty of pubs and cafes to choose from.
From Tideswell you head west to Monk's Dale, part of the Derbyshire Dales National Nature Reserve. You head south through the woodland of the dale, leading you back to the car park. View Full Details>>
Monsal Trail
10 miles (16 km)
Follow the Monsal Trail through the Peak District National Park on this cycling and walking path.
The trail follows a disused railway line from Chee Dale near Buxton to Bakewell with the first section following the River Wye to Monsal Head via Cressbrook Dale and Miller's Dale. This popular beauty spot includes shady wooded valleys, rushing rivers and lots of interesting flora and fauna. At Monsal Head you will pass over the impressive Headstone Viaduct, built in 1836.
The second section runs onto Bakewell passing Great Longstone with more stunning views to enjoy. View Full Details>>
Nottingham Canal
8 miles (13 km)
Enjoy a walk or cycle along this pretty canal in Nottingham. The route runs along the Erewash Valley Trail from Langley Mill to the outskirts of Nottingham. It's a nice flat ride which is ideal for families.
The route starts at Langley Mill and heads south to Cossall and Trowell. This area has now been declared as a nature reserve which attracts lots of dragonflies, damselflies and birdlife. On the Trowell section are the remains of Swansea bridge, one of the original stone bridges, which was built around 1793–95. From here you can see the original stone built lock keepers cottages.
The route finishes very close to Wollaton Park where you can extend your outing. View Full Details>>
Nutbrook Trail
10 miles (16 km)
This easy cycling and walking trail runs from Long Eaton to Heanor along the Erewash Canal and a dismantled railway line. It runs for about 10 miles and is part of National Cycle Route 67. It's a great one for families or anyone looking for a safe, flat ride or walk.
The route starts in Long Eaton next to West Park and follows the Erewash Canal north through Sandiacre and Stapleford. It's a pleasant section along the canal towpath with pretty locks and old stone bridges.
Just after Stapleford you leave the canal and bear west toward Ilkeston along a dismantled railway line. You'll pass through the pretty Manor Floods Nature Reserve where there is a nice lake and lots of wildlife to look out for. The final section takes you through the lovely Shipley Country Park to the finish point at Heanor. It's a great park with 700 acres of woodland, lakes and parkland.
To extend your outing you could pick up the circular Erewash Valley Trail and further explore the Derbyshire and Nottinghamshire countryside on your bike or on foot. View Full Details>>
Ogston Reservoir
2 miles (2.5 km)
This beautiful reservoir near the Derbyshire village of Brackenfield is one of Derbyshire's premier bird watching sites. There's a car park at the western end of the reservoir where you can view the birds from a bird hide. Look out for Shelduck, Mandarin, Teal, Gadwall and Common Scoters. You may also see Osprey and Buzzard.
There's also public footpaths climbing west into the countryside where you can enjoy views over the reservoir. You can extend your walk by following the footpath south to Brackenfield. It is also possible to turn it into a long circular walk using a combination of footpaths and country lanes. View Full Details>>
Padley Gorge Trail
3 miles (5 km)
Follow the Padley Gorge Trail through the stunning Hope Valley in the Peak District. The hugely popular walking trail runs along the lovely Burbage Brook with its pretty waterfalls, rocky boulders and wooden bridges.
You start off at Grindleford Station which you can reach direct from Manchester or Sheffield. The trail is signposted so you can pick it up quite easily. It runs for about 1.5 miles through Yarncliff Wood and then into more open countryside. You can return the same way or head into the beautiful Longshaw Estate to extend your walk.
It's a great area for wildlife spotting. Look out for dippers, pied flycatchers, wood warblers and redstarts. The woods at Yarncliff are also a designated Site of Special Scientific Interest (SSSI), and described as 'the best example of the remnant oak-birch woodland that once covered much of the edges of the gritstone uplands of the Peak District'. There's plenty of nice spots for a picnic next to the babbling brook and its pretty rockpools. You can also find refreshment at the excellent Grindleford Station Cafe, near the start of the route.
The gorge is close to the village of Hathersage so you could start your walk from there if you prefer.
You're also close to Stanage Edge where you can enjoy fabulous views and interesting rock formations. For a longer walk you could try our Padley Gorge Circular Walk which passes the Fox House Inn and the Longshaw visitor centre. View Full Details>>
Pavilion Gardens Buxton
1 miles (1.5 km)
Enjoy a stroll around these beautiful gardens in Buxton. The park covers 23 acres with plenty of nice walking trails to keep you busy for an hour or so. In the park you'll find shrubbery, trees, streams and a lake with ducks and geese. Other attractions include a miniature railway, an excellent cafe and a botanical conservatory with plants from around the world. At the weekends there is likely to be an event such as antique markets, local artists and brass bands to see.
If you'd like to extend your walk you could head to the nearby Poole's Cavern and Buxton Country Park which is less than a mile away. View Full Details>>
Peak Forest Canal
15 miles (24 km)
Travel from Derbyshire into Greater Manchester on this waterside walk along the Peak Forest Canal. The route runs from Buxworth in Derbyshire to Ashton-under-Lyne in Greater Manchester. On the way you'll pass a series of pretty locks with nice views of the surrounding countryside. It's about a 15 mile walk from end to end.
You start off in the village of Buxworth at the restored Bugsworth Basin which was used to to carry limestone to the canal in the 18th and 19th centuries using the Peak Forest Tramway Trail. You could also start from the nearby Whaley Bridge Basin if you prefer. The first section then heads north towards Bridgemont and New Mills with views of the River Goyt. Around New Mills you can visit the splendid Torrs Riverside Park and Millennium Way. Here you will find a beautiful river gorge with a fabulous 160 metre long walkway elevated over the water.
Soon after New Mills you come to Disley where you can take a small detour and visit the wonderful Lyme Park. The expansive deer park has great views of the surrounding Peak District Hills.
The canal continues north through Marple where you will come to the impressive Marple Aqueduct and a flight of sixteen locks. It's one of the highlights on the walk and a nice spot to stop for some refreshments.
The next stage runs through Romiley and Hyde before finishing at Ashton-under-Lyne where it links with the Ashton Canal. View Full Details>>
Pennine Bridleway
120 miles (193 km)
This fabulous 120 mile long trail runs through the beautiful Derbyshire Peak District, through Lancashire and on into Yorkshire.
It is suitable for mountain bikers, horse riders and walkers taking you on a tour through some of the most beautiful parts of the country. View Full Details>>
Pennine Way
268 miles (431 km)
This fabulous 268 mile path takes you through three of England's finest national parks. You start near Edale in the beautiful Derbyshire Peak District and head north towards the Yorkshire Dales National Park. The final section takes you over Hadrian's Wall in the stunning Northumberland National Park before crossing the England-Scotland border and finishing in the village of Kirk Yetholm in Scotland.
Though the path is often challenging you're rewarded with some of the most breathtaking views in the country. Highlights on the path include the beautiful Malham Cove, the heather moorland of the Marsden Moor Estate, the Malham Tarn Estate and the stunning Kisdon Force waterfall in the Yorkshire Dales National Park. You'll also enjoy a waterside section along the River Tees in Teesdale which leads to Low Force Watefall and High Force Waterfall.
The path also passes through Bronte country in West Yorkshire where you can visit the Bronte Waterfall and Top Withens. View Full Details>>
Peveril Castle
4 miles (7 km)
This ruined medieval castle in the Peak District has an amazing history stretching back to the Norman Conquest of 1066. This circular walk uses the Limestone Way and other public footpaths to take you around the castle ruins from the village of Castleton. There's some wonderful Peak District Scenery to enjoy and you will also pass the fascinating Peak Cavern. You can tour the cave to see unusual rock formations, and hear the eerie sound of the running waters. Peak Cavern has the largest natural cave entrance in the British Isles.
If you'd like to extend your walk you could climb to the spectacular Winnats Pass and on to Mam Tor. View Full Details>>
Pleasley Pit Country Park
1 miles (2 km)
This former colliery site in Mansfield has been converted into a lovely country park and local nature reserve. There are a series of nice walking trails taking you to ponds, reed beds, grassland and woodland. It's great for flora and fauna with orchids, butterflies and dragonflies. There's also a bird hide where you can look out for Sand Martins and the various other species that visit the park.
The park also includes a cycle path so you can bring your bike. Parking is available at the south eastern end of the park.
You can also learn about the history of the site by touring the engines and south shaft pit top on open days. The remaining pit buildings are an impressive sight and are now a Scheduled Ancient Monument (SAM). View Full Details>>
Poole's Cavern and Buxton Country Park
2 miles (4 km)
A walk around Buxton Country Park and a visit to Poole's Cavern - a natural limestone cave used as a lair by an outlaw in the fifteenth century. The walk starts underground in limestone caverns with crystal stalactites illuminated with paved walkways and handrails. You then come outside to explore the beautiful country park and woodlands. The route also climbs to the Solomon's Temple viewpoint with superb views of the Peak District. The eye catching Victorian folly is located on the south eastern edge of the park.
The park is located a short walk from Buxton town centre. If you would like to continue your walk then the Dane Valley Way also runs through the park. You could also head to the nearby Pavilion Gardens.
You can also pick up other long distance trails near the park. The Midshires Way runs through the town and will take you to the lovely Wye Dale on the River Wye. The Pennine Bridleway also runs past Buxton. View Full Details>>
Poolsbrook Country Park
2 miles (3.5 km)
This 180 acre park consists of 85 acres of woodland, 42 acres of grassland and 23 acres of green water. There are several miles of well maintained paths suitable for cyclists or walkers. The park is located in Staveley, very near to Chesterfield and the village of Duckmanton. View Full Details>>
Poulter Country Park
2 miles (3 km)
Enjoy a walk around this pleasant country park in Nether Langwith. There are two waymarked trails taking you to the park's viewpoint and the nature reserve. At the viewpoint there's a sculpture entitled 'Top of the World' which reflects the area's stone age past. There's far reaching views here across the countryside to Lincoln cathedral.
The limestone paths are well surfaced and include a nice sculpture trail. It's great for flora and fauna with wildflower meadows attracting lots of butterflies in the summer months. Also look out for various dragonflies around the pretty ponds.
Adjacent to Poulter Country Park is Scarcliffe Park where you will find a series of lovely woodland walking trails. View Full Details>>
Renishaw Hall
1 miles (2 km)
This country house near Sheffield is surrounded by attractive parkland and gardens. The main feature is the lovely Renishaw lake which has nice footpaths along the water and through the surrounding woodland. It's a lovely place for a stroll with wide grassy paths, shady woods and the River Rother running past the lake.
Next to the hall there is a splendid 19th century Italianate garden with statues, beautiful flower arrangements and a fountain. At the time of writing the gardens are open Wednesday to Sunday and on Bank Holiday Mondays, 10.30am to 4.30pm during the season. Please check the link below for more details though.
The Trans Pennine Trail and the Cuckoo Way both run right past the park so you could pick up one of these trails to extend your walk. If you were to head north you would come to the lovely Rother Valley Country Park where there are more walking trails around the large lakes. View Full Details>>
Ridge Walk Mam Tor to Lose Hill
5 miles (8 km)
Follow the Great Ridge from Mam Tor to Lose Hill on one of the most popular walks in the Peak District. Although the walk reaches a height of well over 1600ft, it is not as challenging as you might think because the start point for walk is already in an elevated position. The walk runs for a distance of about 2.5 miles, so roughly 5 miles there and back.
It's a very beautiful area with the views over the Peak District stunning for the duration of the route. You can see the Hope Valley, the Edale Valley and several of the prominent fells. The area is also geologically fascintating with several 320 million year old Carboniferous rocks.
Start the walk from the National Trust Mam Nick car park. It's located just to the south west of Mam Tor on the Sparrowpit Buxton A623.A6 Road. From here it's a short but steep climb to the 517m (1,696 ft) summit of Mam Tor. The route then passes along the Great Ridge, descending to Hollins Cross before passing Back Tor and finishing on Lose Hill. It's about a 2.5 mile walk so 5 miles in total.
This ridge walk is located very close to both Edale and Castleton so you could start your walk from either of these popular Peak District villages.
To extend your walk you can visit the nearby Winnats Pass with its towering limestone pinnacles. You could also pick up the Pennine Way around Edale and climb towards Kinder Scout. View Full Details>>
Robin Hood Way
107 miles (172 km)
Follow in the footsteps of this legendary figure on this super walk through Sherwood Forest and the Nottinghamshire countryside. On the route:

Nottingham Castle and the Robin Hood statue at route start
Wollaton Park - located near Nottingham at the start of the route this attraction includes a deer park and Elizabethan mansion
A waterside section along the Nottingham Canal near Trowell
Leen Valley Country Park - the path passes through this pretty country park located on the River Leen at Bestwood.
Newstead Abbey - with splendid lakes, gardens and the Augustian priory of Newstead Abbey, this is a major walk highlight. It is also the ancestral home of Lord Byron.
Burntstump Country Park with peaceful woodland walking trails.
The fascinating limestone gorge and caves at Cresswell Crags
Welbeck Estate - Next to Cresswell Crags you will find the estate of Welbeck Abbey. The route passes between the estate's two pretty lakes and passes the deer park with its resident white deer.
Bestwood Country Park with 650 acres of parkland and lakes
The white deer and Great Lake as you pass through Welbeck Park near Norton
The Major Oak in Sherwood Forest Country Park - reputed to be Robin Hood's shelter where he and his merry men slept.

View Full Details>>
Royal Shrovetide Football Challenge
19 miles (31 km)
This walk celebrates the Royal Shrovetide Football Match which occurs annually on Shrove Tuesday in the town of Ashbourne. View Full Details>>
Sabrina Way
203 miles (327 km)
This route is part of the National Bridleroute Network and primarily designed for horse riders but can be used by walkers and cyclists also. The trail starts at the deer park at Great Barrington and heads north to Hartington. The route passes through the Cotswolds, the Malvern Hills, the Wyre Forest and Cannock Chase Forest, before finishing in the Derbyshire Peak District. View Full Details>>
Sett Valley Trail
2 miles (4 km)
This splendid cycling and walking trail runs through the beautiful Sett Valley in the Peak District. The route follows a disused railway line from New Mills to Hayfield via Birch Vale. It's a good surfaced path which provides a fairly easy ride for families. Along the way there's fantastic views of the River Sett, the pretty reservoir at Birch Vale, the Blubell Wood nature Reserve and the surrounding Peak District countryside and hills. The route finishes at the former Hayfield Station where there are good facilities including a cafe and visitor centre. Please note that West of St Georges Road in New Mills the route is unsuitable for cyclists. View Full Details>>
Sheffield Country Walk
53 miles (85 km)
Explore the countryside around the city of Sheffield on this interesting circular walk. There's some truly splendid Peak District scenery to enjoy including views of Damflask Reservoir, Agden Reservoir and Dale Dike Reservoir. You also pass Treeton Dyke, Rother Valley Country Park and Stanage Edge - a popular spot for climbers and one of the major highlights of the Peak District. View Full Details>>
Shillito Woods
2 miles (3 km)
These woods near the village of Millthorpe have a nice walking trail and views across Ramsley Moor in the Peak District.
There's a car park at the southern end of the woods on Fox Lane. You can pick up the trail from here and follow it through the mature conifer woodland. The walk can be extended by crossing Fox Lane and heading north along Blake Brook on Ramsey Moor. Continue north and you will come to Smeekley Wood and Cockshutts Wood.  Footpaths can be followed all the way to the Derbyshire village of Holmesfield and the nearby Holmesfield Woods.
Shillito Woods are located a few miles south of Sheffield and not far from Dronfield where you can pick up the Dronfield 2000 Rotary Walk. Also nearby are the climbs to Curbar Edge and Birchen Edge where you can look out for fascinating rock formations and enjoy wonderful views from the elevated position of these wonderful Peak District locations.
Ramsley Reservoir is also located just a mile west of the car park. View Full Details>>
Shining Cliff Woods
1 miles (2 km)
Enjoy waymarked walking trails through this peaceful woodland near Ambergate. In the spring you'll find carpets of bluebells. Wildlife includes warblers, flycatchers and bramblings. The woods are near to the Derwent Valley Heritage Way, so you could pick this up and follow the River Derwent to continue your walk. Our Around Belper circular walk makes use of this trail to take in the river and the nearby Cromford Canal. View Full Details>>
Shining Tor and Cats Tor
6 miles (10 km)
Climb to the highest point in Cheshire on this wonderful walk in the Goyt Valley.
The walk starts from the Erwood Hall Car Park at the southern end of Erwood Reservoir. The route then ascends to Shining Tor, passing the Errwood Estate with its old ruined hall and attractive woodland. The hall was built in the 1830s by Samuel Grimshawe with a 2000 acre estate consisting of farmland and woodland with azaleas and rhododendrons. You can see the Grimshawe's family cemetery and an attractive Spanish Shrine to the governess of the children at Errwood Hall. The estate is a popular start point for walks in the Goyt Valley.
At the 559 m (1,834 ft) summit of Shining Tor you can enjoy great views of the Cheshire Plain, Winter Hill, the city of Manchester and Jodrell Bank. On a clear day you can also see as far as Snowdonia.
The route then heads north along the ridge to Cats Tor and then on to Pym Chair. It's a lovely stretch of the walk with a good path leading along the ridge with views of Cats Tor and the surrounding Peak District hills and moorland. Pym Chair is another popular viewpoint with a car park. You could also start the walk from here if you prefer.
From Pym chair you descend back to Errwood Reservoir along a nice country lane before a final waterside section leads you back to the Errwood Hall car park.
If you would like to continue your walking in the area then you could pick up the Midshires Way which runs past the reservoir. You could actually start the walk from nearby Buxton and follow the Midshires Way to Shining Tor from there. The Errwood Reservoir and Fernilee Reservoir Walk also starts from the same location.
If you head north from Pym Chair then you would soon come to Windgather Rocks, a popular place for rock climbers. View Full Details>>
Shipley Country Park
6 miles (9 km)
This large country park near Ilkeston boasts 700 acres of attractive and varied landscape. In the park you'll find a number of lovely walking trails while the Nutbrook Trail cycle route also runs through the park.
The trails visit Porter Wood, Mapperley Wood, Shipley Lake, the Shipley Hill viewpoint and Mapperley Reservoir. There's excellent facilities with a visitor centre, play areas, and a wildlife garden. The park is not far from both Derby and Nottingham. View Full Details>>
Snake Pass
8 miles (13.5 km)
This circular walk explores the area around the Snake Pass with great views of the Pennines. It's an interesting area with some nice woodland trails, lots of pretty streams and fabulous views from the high points. It's a fairly challenging walk, reaching a height of nearly 1800ft at Mill Hill.
The walk starts in the Lady Clough Woods car park just off the Roman Road. Also known as Snake Woods this attractive conifer plantation climbs the steep slopes on either side of the clough. You follow the woodland trails south to Saukin Ridge where you pick up the Snake Path. This stony footpath runs west along Black Ashop Moor to Ashop Clough and Ashop Head. There's nice streams and pretty heather to look out for on this section. At Ashop Head you have the option of picking up the Pennine Way and following it south east towards the magnificent Kinder Scout. You could also head due south and visit Kinder Reservoir. View Full Details>>
Staffordshire Way
95 miles (153 km)
Travel through Staffordshire, Cheshire, Derbyshire, Worcestershire and enjoy canals, lakes, country parks and a series of pretty towns and villages. Highlights on the walk include lovely views of the popular Blithfield Reservoir and the Caldon Canal. View Full Details>>
Stanage Edge
10 miles (16.5 km)
Climb to the stunning gritstone escarpment of Stanage Edge and then on to High Neb on this popular walk in the Peak District.
The walk begins in the village of Hathersage and follows footpaths over the Hodd Brook to Cliff Wood. You climb towards Hurst Clough and North Lees before coming to Stanage Edge. The route then passes along the top of the rocky edge where you are likely to pass rock climbers on your way to the high point at High Neb. Here you can enjoy wonderful views over Hallam Moors and the Hope Valley. View Full Details>>
Stanton Moor
2 miles (3.5 km)
This upland area near the Derbyshire village of Stanon-in-Peak has good walking trails, attractive woodland and fascinating ancient historical sites to visit.
You can start the walk at the village of Stanon-in-Peak near Matlock. The village has a 19th century Parish Church, Stanton Hall stately home and several fine stone houses. Just to the east of the village you can pick up public footpaths to take you across the moor. The area is geologically significant with several pillars of sandstone dotted around the edge of Stanton Moor. There are also four Bronze Age stone circles including the well known Nine Ladies. The site is owned by English Heritage and is a popular attraction for walkers and photpgraphers.
You could also start your walk from the village of Birchover to the south of Stanton Moor, if you prefer. See the Nine Ladies Stone Circle Walk for more details. View Full Details>>
Staunton Harold Reservoir
1 miles (1.2 km)
Enjoy a waterside walk along this 210 acre reservoir in Melbourne, Derbyshire. The reservoir has an excellent Visitor Centre with exhibitions, a pretty wildflower meadow with a variety of wildlife and peaceful woodland trails. There's a well surfaced footpath running from the visitor centre at the northern end of the lake. You can enjoy great views across the water to the surrounding Derbyshire countryside.
If you'd like to extend your walk you could head into the adjacent Calke Abbey. Here you will find woodland, ponds, meadows and a deer park. Also nearby is Foremark Reservoir where you'll find woodland trails and waterside paths. View Full Details>>
Sudbury Hall
1 miles (2 km)
This wonderful 17th century mansion in Derbyshire boasts a superb Great Staircase, fine Long Gallery, exquisite plasterwork, wood carvings, classical story-based murals and portraits by John Michael Wright, and of Charles II's mistresses. View Full Details>>
Teversal Trail
4 miles (7 km)
Enjoy cycling and walking along these former railway lines, located on the Nottinghamshire/Derbyshire border. It's a nice flat path, with good views of the surrounding countryside to enjoy on the way.
The route starts from the Teversal Trails visitor centre on Carnarvon Street in the Ashfield district of Nottinghamshire. The centre has lots of information on the walks and cycle routes in the area. There's plenty of parking and a nice cafe for refreshments at the end of your exercise.
From the centre you head north along the old railway toward Upper Pleasley where you will find Pleasley Pit Country Park in Derbyshire. The former colliery site has been converted into a lovely country park and local nature reserve with ponds, reed beds, grassland and woodland.
At the park the route turns south towards the village Skegby where there are a number of interesting old buildings to see. Just before reaching the village you turn west, passing Coppy Wood before returning to the visitor centre. View Full Details>>
Thornhill Trail
2 miles (3 km)
This easy cycling and walking trail runs along a disused railway line between Ladybower Dam down and Bamford station. It runs for just under 2 miles along a flat path with views of the River Derwent and a woodland section near the reservoir. It's a good one for families or anyone looking for an easy cycle or walk.
The route runs along a section of the Derwent Valley Heritage Way so there is scope for extending your walk along this long distance path. Heading south east will take you along the river to Hathersage.
There's also a good cycling trail around the Howden, Derwent and Ladybower Reservoirs. If you're on foot try the Ladybower Reservoir Walk or the climb to Win Hill. You can take a short detour from the path at Parkin Clough to climb the hill where you will enjoy fabulous views over the reservoir. The summit is only about a quarter of a mile west from the path and a great option if you are on foot. View Full Details>>
Thorpe Cloud
1 miles (2 km)
This short walk climbs to the top of Thorpe Cloud in the Peak District. This small hill can be climbed from the Dove Dale car park. It's a short climb on good footpaths with the reward of wonderful views over the beautiful Dovedale
Thorpe Cloud reaches a height of 287 m (942 ft). It was used in the 2010 film of Robin Hood, starring Russell Crowe.
To continue your walking in the area you could visit Ilam Park and Dovedale. View Full Details>>
Three Shires Head
4 miles (6 km)
Explore this beautiful section of the Dane Valley and enjoy rivers, old stone bridges and waterfalls on this lovely walk in the Peak District.
Three Shires Head is a point on Axe Edge Moor where the counties of Cheshire, Derbyshire and Staffordshire meet. Here you will find a Grade II-listed packhorse bridge over the River Dane. The bridge is thought to have been constructed in the 18th century. It's a delightful area with a number of small waterfalls and the surrounding Peak District scenery to enjoy.
The walk begins from a parking area in Gradbach a couple of miles south of Three Shires Head. You then follow the Dane Valley Way and other footpaths to the bridge and the river. Here you will also find Panniers Pool, a popular place for a paddle or swim in the summer months.
An alternative route would be to come from Buxton and follow the Dane Valley Way across Axe Edge Moor to the bridge. This is a much longer walk but does pass through the pretty Buxton Country Park on the way.
To extend your walking in the area you could visit the fascinating Lud's Church. The deep chasm is located just to the west of the start point of this walk.
Just to the south you can climb to The Roaches. View Full Details>>
Tissington Trail
13 miles (21 km)
The Tissington trail is a 13 mile off road path following the trackbed of a disused railway line through the stunning Peak District National Park.
The trail is shared by walkers and cyclists offering fabulous views of the Derbyshire countryside. It runs from Parsley Hay in the north to Ashbourne in the south.
The trail links with the popular High Peak Trail at High Peak Junction. View Full Details>>
Toddbrook Reservoir
3 miles (5.5 km)
Enjoy a short waterside walk along this pretty reservoir in Whaley Bridge. Toddbrook was built in 1831 to supply water for the Peak Forest Canal which you can pick up at Whaley Bridge Basin. You can easily reach the reservoir from the train station/centre of the town. There is a nice footpath running along the reservoir with views of the surrounding woodland, countryside and Peak District hills. Look out for birds including herons and ducks on the water.
If you would like to extend your walk then the Midshires Way runs past the reservoir so you could pick this up and head south through the Goyt Valley to the nearby Errwood and Fernilee Reservoirs. You can also explore the Errwood Estate with its old ruined hall and peaceful woodland with azaleas and rhododendrons. Another good option is the climb Eccles Pike for far reaching views over the Peak District. This walk also starts from Whaley Bridge. Also in the town you can pick up the Peak Forest Canal and head east to the restored Bugsworth Basin or north toward North Mills. View Full Details>>
Torrs Riverside Park and Millennium Way
1 miles (1 km)
This special park in New Mills takes you through a beautiful river gorge with a fabulous 160 metre long walkway elevated over the water. View Full Details>>
Torside Reservoir
4 miles (6 km)
Enjoy a circular walk or cycle around this large man made lake in the Derbyshire Peak District.
There's a good sized car park off the Woodhead Road on the southern side of the water. From here you can pick up the Longdendale Trail to take you along the water. On the northern side of the reservoir you can follow footpaths along the water if you are on foot. If you're on a bike the A628 runs above the reservoir giving great views across the area. View Full Details>>
Trans Pennine Trail
215 miles (346 km)
This terrific walking and cycling trail runs from coast to coast across northern England entirely on surfaced paths. It starts on the Yorkshire coast at Hornsea and passes through Yorkshire, Derbyshire and Greater Manchester before finishing on the Merseyside coast at Southport. View Full Details>>
Trent and Mersey Canal
95 miles (153 km)
Follow the Trent and Mersey Canal through Derbyshire, Staffordshire and Cheshire on this long distance waterside walk.
The route start at Shardlow near Long Eaton in Derbyshire and heads through Weston-on-Trent and Willington to Burton Upon Trent where you will pass Mercia Marina and the lovely Branston Water Park with its woodland, wetland and meadow. You continue to Alrewas where you will pass the National Memorial Arboretum. The Arboretum contains over 50,000 trees with nearly 300 memorials for the armed forces, civilian organisations and voluntary bodies who have played a part in serving the country.
The next stage takes you through Handsacre to Rugeley where you will pass the wonderful Cannock Chase Country Park. It's worth taking a short detour to explore the Cannock Chase AONB with miles of woodland walking and cycling trails, lakes, ponds and wildlife including deer and various birds to look out for.
You continue through the beautiful Trent Valley passing the National Trust Owned Shugborough Park at Great Haywood. It is worth a visit with a grand hall, museum, kitchen garden, model farm and extensive parkland with follies, woodland and a Chinese House with two Chinese-style bridges.
The route continues through Weston to Stone before coming to the outskirts of Stoke-on-Trent where you will pass the splendid Trentham Gardens. Also in Stoke you will pass Westport Lake which is worth a small detour.
You continue north to Kidsgrove where you will find the  Grade II* listed Rode Hall, surrounded by parkland and formal gardens. The hall and gardens are open to the public from April to September and are well worth a small detour from the canal.
The canal continues through Cheshire to Sandbach where you will pass close to the Watch Lane Flash Nature Reserve. Onward to Middlewhich and Northwhich where you will pass Marbury Country Park. View Full Details>>
Trent Valley Way
77 miles (124 km)
Follow the River Trent from Long Eaton in Derbyshire to West Stockwith in Nottinghamshire on this lovely waterside walk. The walk passes through Nottingham, Newark on Trent and a series of pretty riverside villages.
On the path you will pass the Attenborough Nature Reserve and the Beeston Canal. View Full Details>>
Welbeck Estate
4 miles (6 km)
Follow the waymarked trails through the Welbeck Estate on this easy walk on the Nottinghamshire and Derbyshire border. The Welbeck Abbey estate is located just to the south west of Worksop. You can begin your walk from the Harley Gallery car park just of the A60 in Welbeck. Just to the north of the car park you can pick up a section of the Robin Hood Way long distance footpath. If you follow it east it will take you through the estate to the lovely Shrubbery and Gouldsmeadow Lakes. The path passes between the two lakes with splendid views across the woodland and parkland of the estate.
This walk finishes at South Lodge just past the lakes but you can keep heading east through the woodland to Clumber Park. It's only a few miles away and a great way to extend your walk. Also nearby is the lovely Cresswell Crags. View Full Details>>
Whitwell Wood
2 miles (3.5 km)
This 171 hectare broad-leaved woodland has three colour coded, waymarked walking trails to try. They are all easy trails making the woods an ideal location for a peaceful afternoon stroll. In the woods you'll find a pond with a variety of wildlife, pretty wild flowers and a number of woodland birds. Look out for tadpoles, baby frogs and spiders around the pond and butterflies near the wildflowers. 
The woods are located just north of the little Derbyshire village of Whitwell. It's just a short stroll from the village centre to the entrance of the woods off Clinthill Lane.
If you would like to continue your walking in the area then you could head a few miles south to Cresswell Crags. Here you will find a wonderful limestone gorge with a waterside footpath running along Crags Lake with views of the surrounding caves and cliffs. View Full Details>>
Win Hill
7 miles (10.5 km)
This is a popular climb to Win Hill in the Derbyshire Peak District. The hill is in a delightful location above Ladybower Reservoir. From the 462 m (1,516 ft) summit there are excellent views of the reservoirs below, the River Derwent, the Hope Valley and the surrounding hills. This loop climbs to the hill summit before descending to Hope Brink and Aston.
Start your walk from the Heatherdene car park at the southern end of Ladbybower Reservoir, just off the A6013. From here you can pick up a footpath heading south along the reservoir before crossing the dam and beginning the steep ascent to Win Hill. This takes you through woodland and along Park Clough to the summit. From here you can enjoy one of the best views in the Peak District with the Upper Derwent Valley, Stanage Edge, the Great Ridge, Mam Tor and Kinder Scout all visible on a clear day.
After taking in the views the walk descends to Hope Brink. This area has some good bridleways which are popular with mountain bikers. From here you turn south towards the village of Aston where you follow country lanes back to the reservoir. The route finishes with a short section along the Derwent Valley Heritage Way which leads you back to the car park.
The hill is located very close to the villages of Bamford and Thornhill. You could start your walk from either of these places if you prefer.
There's lots of good options for extending your walk in this beautiful area. Just to the east you can climb to Bamford Edge where there are great views and lots of interesting gritstone rock formations to look out for. Also nearby is the wonderful gritstone escarpment of Stanage Edge. It's another geologically fascinating place with more wonderful views to enjoy.
Part of this walk uses the Derwent Valley Heritage Way long distance trail. You could follow the trail south along the River Derwent to Hathersage.
On the western side of the dam you can pick up the Thornhill Trail. The easy cycling and walking trail runs south along disused railway line from the dam to Bamford station. View Full Details>>
Windgather Rocks
6 miles (10 km)
This walk visits this interesting gritstone crag which is popular with rock climbers. There are fascinating geological rock formations and wonderful views over the Peak District to enjoy.
The walk starts from Whaley Bridge, near the train train station in the town. You then follow footpaths around the pretty Toddbrook Reservoir before climbing to Taxal Moor. From here you can enjoy super views back towards Whaley Bridge and the reservoir. The final section takes you along Taxal Edge to the rocks where you can enjoy splendid views over the surrounding countryside.
The walk can be extended by continuing south to Shining Tor and Cats Tor. It's a great ridge walk with more wide ranging views.
Also nearby are Errwood Reservoir and Fernilee Reservoirs where you can enjoy waterside trails. View Full Details>>
Winnats Pass
5 miles (7.5 km)
This challenging circular walk in the Peak District takes you through this spectacular hill pass. The walk starts at the village of Castleton and climbs through Winnats Pass with its towering limestone pinnacles. It's a wonderful geological feature and worth the steep climb. On the way you'll pass Speedwell Cavern where you can take an amazing underground boat trip 450m under the Hills of Castleton.
The walk makes use of the Limestone Way to return to Castleton, passing Cave Dale, Mam Tor and the fascinating Peveril Castle. This ruined medieval castle has an amazing history stretching back to the Norman Conquest of 1066.
The walk can be extended to visit the nearby Mam Tor. View Full Details>>
Wirksworth
5 miles (8 km)
This circular walk around the Derbyshire town of Wirksworth uses various footpaths to visit some of the highlights of the area.
Starting in the town you head north and pick up the High Peak Trail to take you up to the Black Rocks around Cromford. From here there are splendid views of the Derwent Valley from the elevated position of the rocks. You can then descend to the Cromford Canal where you have the option of a stroll along the towpath and visiting the historic Cromford Mill. Around here you can also pick up the Derwent Valley Heritage Way and enjoy a riverside walk to Matlock Bath.
From the river the walk then heads back across Cromford Moor to Wirksworth on bridleways. View Full Details>>
Wolfscote Dale
7 miles (12 km)
This walk visits Wolfscote Dale in the Dove Dale area of the Peak District. You can start the walk from the village of Hartington just north of the dale. There's a car park and cafe in the village so it makes a good start and end point for the walk. The footpaths then head south to Beresford Dale Nature Reserve where there's riverside paths, weirs, woodland, wildflowers and birdlife to enjoy. The route then crosses a wooden footbridge and leads you into the Wolfscote Dale Nature Reserve. The footpath winds its way along the River Dove with woodland sections and a number of weirs to enjoy. It's a beautiful area with the option of continuing south along the river to Milldale and then on to Dovedale. You could also visit the nearby Ilam Park where there are beautiful gardens and views of the River Manifold. Just to the east of Wolfscote Dale is the Biggin Dale Nature Reserve. You could return to Hartington on the footpath through the reserve. It's a lovely area with lots of interesting plants and flowers to look out for.
The dale is located near to the pretty village of Alstonefield which makes a worthy alternative start point for the walk. View Full Details>>