Hampshire Walks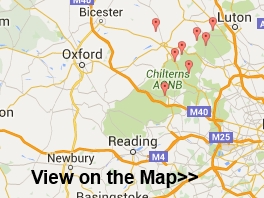 Hampshire has miles of wonderful footpaths, forest, canals and a lovely coast. One of the highlights is the splendid New Forest National Park. See our New Forest Walks for more details. Also see our Hampshire Country Parks page for lots of well laid out, waymarked walking trails.
The county town is the lovely city of Winchester. See our Winchester Walks page for walks near the city.
Use the filter to show walks of a certain type such as woods, reservoirs, hills, long distance, country parks, canals and rivers.
In the spring walkers flock to the beautiful bluebell woods in the Hampshire area. Click the 'Woodland' button below to see these.
Use the links to view full route information including elevation profiles, interactive maps and GPS downloads.
You can also view an overview map of all the routes in the using the Hampshire Walk Map>>
Route Name
Distance
Description
Alice Holt Forest
7 miles (12 km)
Explore the peaceful Alice Holt Forest on this pleasant circular route in Farnham. The trail makes use of National Cycle routes 224 and 22 which run through the forest.
The route starts and finshes at Bentley rail station and follows the tracks through the forest, before returning along a lovely quiet country lane, giving splendid views of the surrounding Hampshire countryside. View Full Details>>
Allan King's Way
42 miles (68 km)
Follow this splendid walking path from Portchester to Winchester and enjoy the wonderful Hampshire countryside.
You start off at the medieval Portchester Castle at the head of Portsmouth Harbour. The route then heads north towards Fareham and then onto Fort Nelson, one of five defensive forts built on the summit of Portsdown Hill in the 1860s. From here you continue to the town of Bishop's Waltham. View Full Details>>
Alver Valley Country Park
3 miles (5 km)
This lovely open space is located near Gosport and has 3 walking and cycling routes that show off the best areas of the 500 acre park. Enjoy woodland, lakes, ponds and views of the River Alver which runs through the park. View Full Details>>
Avon Heath Country Park
2 miles (4 km)
This is a short, easy walk around the delightful Avon Heath Country Park near Ringwood. You will follow a series of peaceful woodland paths on this circuit of the park. The park is dominated by lowland and wet heath, acid grassland and heather, and woodland. There is also an abundance of widlife to look out for including Sand Lizards, Smooth Snakes and Dartford Warblers. The park is ideal for families with a Nature Nursery for children which includes den building, pond dipping, mini beast hunting, campfires and outdoor cooking. View Full Details>>
Avon Valley Path
34 miles (55 km)
This wonderful river valley footpath takes you from Salisbury to Christchurch on the South Coast.
You start by the magnificent cathedral in Salisbury and head south towards Downton. The path then continues through Woodgreen and Godshill Wood before you arrive at the lovely Hampshire town of Fordingbridge.
The next section is a particularly pleasant waterside path taking you along the River Avon to Ibsley where the path passes through the Blashford Lakes which has a variety of wildlife to enjoy. View Full Details>>
Basingstoke Canal Walk
33 miles (53 km)
Follow the Basingstoke canal from Up Nately to Woodham, on this delightful waterside walk. The walk passes Fleet, Woking, Farnborough and Aldershot. There's lots of pretty locks and regular views of the lovely Hampshire and Surrey countryside.
The walk starts from Up Nately, located just to the east of the town of Basingstoke. You then head east passing the ruins of Odiham Castle which was built by King John in the early part of the 13th century.
The route continues past North Warnborough to Dogmersfield Park. The canal runs through the park which also has some nice woodland trails and a pretty lake.
You continue east past Crookham Village before heading through the large town of Fleet. The route then passes through the woodland of the Forest of Eversley to Aldershot. Here you head through the lovely Lakeside Nature Reserve where there are a series of lakes and lots of wildlife to look out for.
At Aldershot the canal turns north toward Frimley Lodge Park where you turn east to Woking. Shortly after the route comes to an end at Woodham, on the outskirts of Weybridge. Here the canal joins with the River Wey Navigation which you could follow north to Weybridge and the River Thames. View Full Details>>
Beaulieu River
2 miles (4 km)
Enjoy a waterside walk along the Beaulieu River in this easy walk in the New Forest. The walk runs from the pretty village of Beaulieu to Buckler's Hard along a section of the Solent Way long distance footpath. View Full Details>>
Blackwater Arboretum Trail
2 miles (3 km)
Explore the New Forest's Blackwater Arboretum on two super waymarked walking trails. The Blackwater Tall Trees Trail runs along the Rhinefield Ornamental Drive to Brock Hill on good footpaths. The trail is lined with majestic Douglas fir trees which are among the tallest and oldest trees in Britain. There are also two enormous redwoods visible from the path.
The shorter Blackwater Sensory Trail encourages you to discover the many different smells, textures and sounds of the trees.
If you enjoy this trail you could head to the nearby Knightwood Oak where you will find the largest oak tree in the forest. Also nearby is the delightful Ober Water.
The Arboretum is located just a few miles south west of Lyndhurst and not far from Burley where there are some nice trails through the Old and New Inclosures. The major village of Brockenhurst, with its main line train station is also just to the south east. View Full Details>>
Blackwater Valley Footpath
23 miles (37 km)
This is a nice easy waterside walk along the Blackwater River from Aldershot to Swallowfield.
The walk starts at the delightful Rowhill Nature Reserve in Aldershot and heads along the river to Farnborough, passing Gold Valley Lakes and Willow Park on the way. From Farnborough you continue through Frimley Hatches Nature Reserve and Blackwater to the splendid Tri Lakes Country Park near Yately. The final section takes you on to Swallowfield via Eversley. View Full Details>>
Blashford Lakes
5 miles (8.5 km)
This walk takes you around Blashford Lakes Nature Reserve and Ibsley Water on the edge of the New Forest. There are good surfaced footpaths to follow around several lakes with the Avon Valley Path also running through the site. You can stop and use won of the many bird hides to look out for woodpecker, nuthatch, grey heron, great crested grebe, coot and sand martin.  Adder, grass snake and kingfisher can be seen in the summer months. There are good facilities with a visitor centre and car park.
If you would like to extend your walk you could continue along the Avon Valley Path towards the pretty village of Ibsley or head east, on any number of footpaths, into the New Forest. Just to the east of the reserve you will find the expansive Rockford and Ibsley Commons where there are miles of heathland and woodland trails. View Full Details>>
Bolderwood Deer Sanctuary
1 miles (2 km)
This is a short walk in the New Forest taking you around the Bolderwood Deer Sanctuary. Here you will find a large herd of fallow deer with a viewing platform overlooking the meadow where the deer congregate. The deer are fed daily by the Forestry Commission keeper so it's highly likely you will see a large number of deer in the early afternoon. There is a good sized car park right next to the sanctuary and a number of graded walks taking you through the surrounding woodland. There is also a large lawn area, picnic tables and an information cabin.
The sanctuary is located about 4 miles west of Lyndhurst and about 6 miles east of Ringwood.
To extend your walking in the area you could follow our Lyndhurst Circular Walk and visit the Knightwood Oak. The tree is over 500 years old and the largest oak tree in the New Forest. View Full Details>>
Bournemouth Coast Path
37 miles (60 km)
This super walk takes you along the beautiful Dorset and Hampshire coastline from Swanage to Lymington. You will visit the beautiful beaches at Sandbanks and Bournemouth while enjoying super cliff top walking at Swanage, Studland and Barton-on-Sea.
Other highlights include the delightful nature reserves at Studland and Hengistbury Head where you will see a variety of coastal birdlife. Also of note is the stunning Christchurch Harbour and the final section along a sea wall through the beautiful Keyhaven Marshes. This fabulous nature reserve runs from Keyhaven to Lymington with a large variety of birdlife and splendid views of the nearby Isle of Wight. View Full Details>>
Bramshill Forest
7 miles (12 km)
This circular walk takes you around the pretty Bramshill Forest, near Eversley in Hampshire. The walk makes use of the Three Castles Path and various woodland trails, taking you through Warren Heath, Hazeley Heath and Heath Warren Wood. You'll pass a number of pretty streams and tranquil ponds on the way. Look out for wildlife including deer and various woodland birds as you make your way along the paths.
If you'd like to continue your walking in the area then you could head to the nearby Bracknell Forest or Wellington Country Park where you'll find miles of walking trails. View Full Details>>
Bramshott Common
3 miles (5.5 km)
Explore this large expanse of heathland on this walk near Liphook in Hampshire. There's a parking area on the western side of the common where you can pick up the trails. Head north from here and you will soon come to Waggoners Wells where you will find a series of man-made ponds and the pretty Cooper's Stream. After enjoying the waterside trail you can also visit Bramshott Chase where you will find an attractive mix of broad-leaf and coniferous trees, glade and open heathland.
To extend your walk just head north to the adjacent Ludshott Common where there are miles of additional footpaths to follow.
If you enoy this walk then just a couple of miles to south east you'll find Marley Common where there's acres of lovely heathland, woodland and meadows to explore. At nearby Liphook you can pick up a number of long distance trails to take you into the South Downs. The Sussex Border Path, Serpent Trail and the new New Lipchis Way all run through the area just to the south of the common so it's easy to extend your walking in the area. View Full Details>>
Brenda Parker Way
77 miles (124 km)
This splendid walk runs from Aldershot to Andover through the Hampshire countryside. The walk passes through Fleet, Winchfield, Bramley, Tadley, Kingsclere, Ecchinswell, Highclere, Sidley Bottom, and Rag Copse. Highlights include:

A waterside section along the Basingstoke Canal
The Wellington Statue - Near the Royal Garrison Church stands the 30 foot statue of the first Duke of Wellington, mounted on his horse, Copenhagen. It was commissioned to mark his victory at the 1815 Battle of Waterloo and is made mainly from bronze cannons captured at the time.
Fleet Pond - Hampshire's largest lake is also a peaceful nature reserve and a great place for wildlife spotting.
Calleva - an ancient Roman Town near the village of Silchester. See video below for more details
Highclere Castle - home of the discoverer of the tomb of Tutankhamun and location for period drama 'Downton Abbey'. The route heads through part of the wonderful 5000 acre estate.
Pilot Hill - Hampshire's highest point.

View Full Details>>
Brockenhurst
7 miles (10.5 km)
The large village of Brockenhurst is a popular base for walkers wishing to explore the New Forest. The train station also makes it easily accessible with regular trains from London, Bournemouth and Poole.
This circular walk explores the woodland to the east of the village, visiting Lymington Water, the Perrywood Ironshill Inclosure, the New Copse Inclosure, Standing Hat and Balmer Lawn. View Full Details>>
Brockenhurst to Boldre via Roydon Woods
3 miles (5 km)
This route follows bridleways between Brockenhurst and the village of Boldre in the New Forest. It's suitable for both cyclists and walkers, following country lanes and traffic free forest paths through a really pretty section of the forest. The route also passes the delightful Roydon Woods which consists of ancient woodland, pastures, ponds, heaths and the Lymington River. It's worth exploring this area and looking out for the wide variety of wildlife that dwells here. This includes Tawny owls, nightjars, various butterflies and deer. View Full Details>>
Butser Hill
1 miles (1 km)
Climb to the highest point on the South Downs on this walk near Petersfield.
There's a good sized car park off Limekiln Lane just to the west of the hill. From here it is a short climb to the 271 metres (889 ft) high summit of the hill. At the top you can enjoy wonderful views over the South Downs to the Isle of Wight.
The area is also a nature reserve with woodland, lowland, chalk grassland habitats. Look out for variety of butterflies including Duke of Burgundy, Chalkhill Blue and Silver-Spotted Skipper.
Fans of the comedy Only Fools and Horses may remember a scene with Del Boy reluctantly taking off on a hang glider. This scene was filmed on the western slopes of Butser Hill. View Full Details>>
Cadman's Pool
4 miles (6 km)
This walk visits a particularly lovely and fairly quiet area of the New Forest. The attractive little pool is located near Fritham and Stoney Cross. It attracts a variety of birdlife and is a great place for a picnic.
This walk starts from the Cadman's Pool car park and takes you around the pond to Splash Bridge through the Holly Hatch Inclosure. You then follow Dockens Water back to the car park. It's a nice stretch with riverside willows and pretty bridges over the water.
The area is also great for wildlife spotting. Look out for deer, ponies and birds such as finches, firecrests, and woodlarks.
If you would like to extend your walk then you could head to Latchmore Brook and the Hasley Hill Inclosure which is only about a mile west of the pool. Our Fritham Circular Walk visits the pool and the pretty Green Pond and Janesmoor Pond. View Full Details>>
Castleman Trailway
16 miles (26 km)
Travel from Ringwood to Poole along the disused Southampton to Dorchester railway line on this easy cycle and walking route. Route highlights include 3 lovely country parks - Avon Heath Country Park, Moors Valley Country Park and Upton Country Park. View Full Details>>
Clarendon Way
24 miles (39 km)
Walk from Salisbury to Winchester on the Clarendon Way and enjoy some wonderful scenery. The route takes you through the counties of Hampshire and Wiltshire and runs for a distance of about 25 miles.
The path starts next to Salisbury Cathedral and heads through Milford and past the photogenic ruins of Clarendon Palace before a short wooded section takes you to Pitton.
You then cross the hills to West and Middle Winterslow and descend into Broughton where you join a lovely country lane that takes you onto Houghton.
Here you cross the River Test on your way to the worthy village of King's Somborne with its 17th century pub and 13th century church.
Another wooded section through Parnholt woods then leads to the beautiful Farley Mount Country Park where at the highest point there is a pyramid shaped folly that gives the park its name.
The final section sees the walker descend into the city of Winchester, passing through the outskirts and then along the River Itchen to finish next to the famous cathedral. View Full Details>>
Danebury Hill Fort
1 miles (2 km)
Climb to Danebury Hill Fort and Danebury Down on this short walk in Hampshire. After archeological excavations it is believed the Iron Age Fort dates back to between 500BC-100BC.
You can start your walk from the car park on Old Stockbridge Road about 1 mile east of the hill. From here you can pick up the footpath taking you up to the hill fort. The high point stands at 143 m (469 ft) providing wonderful views over the beautiful Test Valley. It's a great spot for a picnic in the summer when you'll see lots of people enjoying the views and walking their dogs.
The hill is great for wildlife. Look out for wild ponies and the Chalkhill Blue Butterfly. The fort also has a number of information boards where you can read all about the fascinating history of the area.
The fort is located near to Stockbridge and the village of Longstock. An alternative route would be to start your walk in Longstock and follow footpaths west to the hill. The Test Way also runs through Stockbridge and Longstock. You could extend your walk by picking up the riverside trail. Heading north east will take you to Chilbolton, Wherwell and Harewood Forest. Head south and you will come to King's Somborne and Horsebridge.
Cyclists can reach the fort by following National Cycle Network Route 246 from Andover to the Stockbridge area. View Full Details>>
Dibden Inclosure
2 miles (2.5 km)
This area of the New Forest is a popular spot for walkers. You can start your walk from the car park just off the Beaulieu Road near the village of Dibden Purlieu. From here you can pick up some really nice trails around the enclosure. The area has some pretty streams and ponds with great views across the forest from the high points. Also look out for lovely heather in the late summer and new forest ponies which like to roam around Dibden Bottom.
The area is a popular spot with dog walkers with free parking and an off lead area.
If you'd like to reach the area by bike then National Cycle Network Route 2 passes through Dibden Purlieu from Hythe. View Full Details>>
Dogmersfield Park
5 miles (7.5 km)
Enjoy an easy stroll through Dogmersfield park on this circular walk in Hampshire. The walk starts at the Basingstoke Canal car park in Odiham and follows the canal towpath past Odiham Common to the pretty Tundry Pond. You then follow footpaths around Dogmersfield Lake before picking up the canal to take you back to the car park. The park is located just to the west of Fleet and Farnborough. View Full Details>>
Exbury Gardens
2 miles (2.5 km)
Explore 200 acres of beautiful gardens on this easy walk in the New Forest National Park. The gardens have miles of well laid out footpaths perfect for an afternoon stroll. In the gardens you'll find a wonderful collection of rhododendrons, azaleas, camellias, rare trees and plants. There are also tranquil lakes and ponds with pretty wooden bridges over the water. Other highlights include the Hydrangea Walk, the Rock Garden, Iris Garden, the Camellia Walk and a riverside path along the Beaulieu river. You can also catch the super Steam railway which will take you on a wonderful tour of the gardens.
If you would like to extend your walking in the area you could pick up the Solent Way and enjoy a riverside walk along the Beaulieu River. View Full Details>>
Farley Mount Country Park
3 miles (5.5 km)
Farley Mount Country Park is located a few miles west of Winchester. It is a large area of open country and woods and a Local Nature Reserve. At the highest point there is a pyramid shaped folly that gives the park its name. From here there are fabulous views over the South Downs and the surrounding area. The route below is devised for walkers but cyclists can follow the marked bridleway that dissects the park and links to further routes in the surrounding countryside. View Full Details>>
Forest of Bere
3 miles (5.2 km)
Enjoy miles of cycling and walking trails in this lovely forest near Portsmouth. The site is a delightful mixture of woodland, open space, heathland, farmland, downland, streams and ponds. View Full Details>>
Furzey Gardens
1 miles (1 km)
Enjoy a peaceful stroll around these beautiful gardens in Minstead in the New Forest. There are well laid out footpaths taking you through the gardens with Azaleas, Rhododendrons and woodland glades. Other highlights include the delightful 16th Century Cottage which you can explore, and a tranquil lake with a variety of plants and flowers around its borders. There are also viewpoints with views towards the Isle of Wight and New Forest. View Full Details>>
Gold Valley Lakeside Nature Reserve
1 miles (2 km)
A short walk around the peaceful Lakeside Nature Reserve in Aldershot. The reserve is a complex of wet habitats including river, ponds, lakes, reed beds, orchid meadow and wet woodland. The site includes the Basingstoke Canal Walk and Gold Valley Lakes. View Full Details>>
Hamble Common
1 miles (2 km)
This walk takes you around an area of common land in Hamble-le-Rice in Hampshire. The common has a waymarked trail to follow to ponds, heathland, oak woodland, meadow, salt-marsh, mudflats and a shingle beach on the River Hamble.  View Full Details>>
Hangers Way
21 miles (34 km)
Travel through Hampshire from Alton to the Queen Elizabeth Country Park along this 21 mile walking path.
The route passes through the delightful village of Selborne where you can take a detour to visit the lovely Selborne Common. There's nice footpaths here and varierty of flora and fauna to see. The village is also notable for its links with the world-famous naturalist, Revd. Gilbert White, who was a pioneer of birdwatching. White is recognised as being the first ecologist or environmentalist.
From Selborne you continue to Noar Hill and the attractive market town of Petersfield before finishing at Queen Elizabeth Country Park.
Scenery includes the beautiful woodland and grassland of the Hampshire countryside, while passing a series of steep-sided hills called the Hampshire Hangers, from which the path takes its name.
See the Hampshire CC website for more information on walks in the area. View Full Details>>
Harewood Forest
4 miles (7 km)
This large forest near Andover has miles of woodland walking trails to try. You can reach the forest by following the Test Way from nearby Chilbolton or Wherwell. It's about a one mile walk through the countryside to the woods from Wherwell. The Test Way passes through the woods but there are also other public footpaths to pick up once you are there.
The forest has an intersting history with the 19th century Dead Man's Plack to see. The Grade-II listed monument is dedicated to Ethelwald, Ealdorman of East Anglia, who (as legend goes) was killed in 963 by his rival in love, King Edgar I.
To extend your walking in the area you could head south west along the Test Way towards Stockbridge and visit Danebury Hill Fort. The fascinating Iron Age fort commands wonderful views over the Test Valley.
Cyclists can reach the forest area by cycling along National Cycle Network route 246 which runs through nearby Goodworth Clatford and Upper Clatford from Andover. View Full Details>>
Hatchet Pond
2 miles (3 km)
This large pond in the New Forest makes for a nice, easy circular walk. The pond is located about a mile west from Beaulieu with a good sized parking area at the eastern end. There's a nice footpath to follow around the water where you will often see New Forest Ponies enjoying a drink! The pond is the largest body of water in the New Forest so it's about a 2 mile walk all the way around. It's a great spot for a picnic with facilities that include toilets and an ice cream van in the summer months. Wildlife lovers can look out for birds on the water such as Herons and Egrets. View Full Details>>
Hawley Lake
2 miles (3.5 km)
Enjoy a circular walk around Hawley Lake on this easy walk in Hart, Hampshire.
You can start the walk from the Sail Training Centre on the northern side of the water. Trails then take you all the way round the lake, passing through the woodland of Hawley Woods. It's a lovely peaceful spot with nice views over the lake through the trees and lots of water loving wildlife to look out for on the water. The walk is just over 2 miles, taking place on generally good footpaths so it's ideal for an afternoon stroll.
Please note the surrounding area of Hawley Common is a MOD Training Area so please abide by the safety notices. View Full Details>>
Hayling Billy Trail
6 miles (9 km)
This popular cycling and walking trail uses the Hayling Billy Coastal Path which runs along the west coast of Hayling Island near Havant.
The trail gives fabulous views of Langstone Harbour which is an internationally important site for its wildfowl and wading birds. Also watch out for brent geese, oyster catchers and dunlin in winter.
The route is very flat and entirely off road so is ideal for families looking for a safe traffic free cycle ride or for walkers looking for a pleasant waterside stroll. This route links nicely with the Portsea Island Explorer if you'd like to continue your outing. View Full Details>>
Highclere Castle
10 miles (16.5 km)
This walk uses public footpaths to explore the extensive parkland surrounding this Stately home near Newbury. The house is now famous as the location for period drama 'Downton Abbey' and the comedy series 'Jeeves and Wooster'. There is a charge for visiting the house and it's immediate surrounding gardens but there are free public paths to take you through a large portion of the wider estate. This walk uses the Brenda Parker Way long distance footpath to take you through Highclere Park.
The walk starts from the car park south east of Highclere Castle off the A34. You have the option of first climbing Beacon Hill for great views over the estate. You then head to Old Burghclere where you turn north towards Whitway where you pick up the Brenda Parker Way. You then head west along the paths through Highclere Wood to Highclere Farm. This walk returns to Beacon Hill car park on the same paths but you could pick up the Wayfarer's Walk to turn it into a long circular walk. This would take you through the southern part of the estate.
You can also visit the castle grounds although this does require and admission fee. Here you will find beautiful gardens, serpentine paths,  herbaceous borders, lakes and peaceful woodland trails. You can also tour the magnificent house which has been home to the Carnarvon family since 1679. The real Downton Abbey has fine state rooms including wonderful furntiture and artworks.
The walk can be extended by continuing west along the Wayfarer's Walk to Pilot Hill and Walbury Hill which are the highest points in Hampshire and Berkshire respectively.
Just north of Highclere you will find the National Trust owed Chase Nature Reserve. There's lots of nice woodland trails, pretty streams and flora and fauna to see here too. View Full Details>>
Hinton Ampner
1 miles (1 km)
Explore the beautiful gardens surrounding this stately home near New Alresford in Hampshire. View Full Details>>
Holly Hill Woodland Park
3 miles (5 km)
This short circular walk takes you through the peaceful Holly Hill Woodland Park and along the estuary of the River Hamble. The park has two distinctive areas - Winnards Copse with a more formal landscape, lakes and ornamental exotic species and Cawtes Copse with its mix of native woodland species. There are two way marked trails of varying length following the footpath network around the site. The park is located in Sarisbury near Southampton and Fareham. View Full Details>>
Hurst Castle Spit
4 miles (7 km)
Walk along this long shingle spit to one of Henry VIII's Device Forts on this lovely coastal walk in Hampshire. The walk starts at Keyhaven in between  The walk starts at Keyhaven in between Lymington and Milford on Sea. You follow the shingle spit for about 1.5 miles out to the castle where there are splendid views of the nearby Isle of Wight and the south coast.
The striking coastal structure is an artillery fort established by Henry VIII between 1541 and 1544. It formed part of the king's Device Forts coastal protection programme against invasion from France and the Holy Roman Empire, and defended the western entrance to the Solent waterway.
English Heritage own the site so you can explore the castle for a reasonable fee. There's interesting exhibitions around the castle which provide you with a chance to piece together Hurst Castle's long history. Highlights include spectacular views from the roof of the Tudor keep across The Needles Passage to the Isle of Wight. The Keep is also notable as the place where Charles I was probably kept prisoner in 1648. View Full Details>>
Itchen Valley Country Park
2 miles (3 km)
Explore 440 acres of parkland in this attractive country park in Southampton. There are numerous walking trails and an off road cycle trail running through the park. The park contains a 250 acre water meadow nature reserve, 90 acres of ancient woodland and 60 acres of grazing land. The River Itchen also runs through the park.
The park has excellent facilities with a Visitor Centre built in the style of a 17th Century Hampshire Aisle Barn. The centre houses a gift shop and various interactive displays. View Full Details>>
Itchen Way
31 miles (50 km)
Follow the River Itchen from its mouth at Woolston to its source near Hinton Ampner on this beautiful waterside walk.
You start near Woolston station near Southampton Docks and head north through Southampton to a lovely riverside park near Swaythling and the Itchen Valley Country Park. The path continues past Southampton Airport and through Eastleigh before arriving at Winchester with its impressive cathedral. Here you can take a small detour to climb the lovely St Catherine's Hill and enjoy fine views over the town below, the River Itchen and the surrounding countryside of the South Downs.
From Winchester you then turn east towards Itchen Abbas and New Alresford with the final section passing through Cheriton and finishing at National Trust owned Hinton Ampner. View Full Details>>
Keyhaven Marshes
6 miles (10 km)
This coastal cycle or walk takes you from Lymington to Keyhaven through the beautiful Keyhaven and Pennington Marshes. The path runs along a sea wall with the marshes on one side and the sea on the other. As such you are surrounded by varied and beautiful scenery for the length of the route. In the marsh area you will pass a number of pretty lagoons where you can look out for a wide variety of birdlife including Egret, Shelduck, Curlew and Heron. On the coastal side there are fabulous views of the Isle of Wight which is less than 2 miles away. Hurst Castle is also visible for most of the way - you could extend your walk by walking along the shingle spit to Henry VIII's Device Fort if you have time. View Full Details>>
Knightwood Oak
1 miles (1 km)
Visit the largest oak tree in the New Forest on this short, accessible walk. You start off at the Knightwood Oak car park and follow a nice gravel path to the impressive tree. It's over 500 years old, has a girth of 7.38 metres (24.2 ft) and is still growing!
The Knightwood Oak trail is located just a few miles west of Lyndhurst. You could extend your walk by trying the New Forest Reptile Centre Trail which is less than a mile away. You could follow our Lyndhurst Circular Walk to visit the centre and the lovely Bolderwood Deer Sanctuary. View Full Details>>
Lakeside Country Park
1 miles (2 km)
Enjoy 60 acres of lakes, wet meadow and woodland located between Eastleigh and Southampton. The park has a range of birds, insects and small mammals as well as the occasional fox and deer. There is also a miniature railway and a cafe. View Full Details>>
Latchmore Brook and Hasley Hill Inclosure
3 miles (4.5 km)
Enjoy a waterside walk along the delighful Latchmore Brook, near Fordingbridge in the New Forest. The brook and surrounding countryside are an idyllic area, often surrounded by horses, ponies and deer. The walk continues into the Hasley Hill Inclosure where you will find a series of pretty woodland paths.
The walk begins from the Ogdens car park near Fordingbridge on the eastern side of the New Forest.
If you'd like to extend your walk then the pretty Cadman's Pool is only about a mile to the east. You could also try our Fordingbridge River Walk which takes you along the River Avon to Ibsley. View Full Details>>
Lepe Country Park
3 miles (5.5 km)
Lepe is a coastal Country Park located near Southampton, in the New Forest National Park. There is a large beach and stunning cliffs where there are fabulous views across the Solent to the Isle of Wight. The park has excellent facilities with Barbeque areas, picnic areas and a cafe.
The route below is designed for walkers but there is a Lepe cycle route running through the park and the surrounding area - please click here for details. View Full Details>>
Ludshott Common
4 miles (7 km)
Explore this large area of heathland and woodland on this circular walk in East Hampshire.
You can start your walk from the Waggoners Wells car park at the end of Waggoners Wells Lane. This gives you direct access to the three pretty man made ponds and Cooper's Stream which runs through the adjacent Bramshott Common. From the ponds there are good footpaths and bridleways leading north west towards Headley Down. There's 285 hectares (700 acres) to explore with lots of wildlife to look out for. This includes roe deer, sand lizards, woodlark, nightjar and Dartford warbler. There's also lots of interesting vegetation including pretty heather, gorse scrub and some impressive 'cathedral' Scots pine trees.
The common is loated close to the village of Liphook where you can pick up a number of long distance trails to take you into the South Downs. The Sussex Border Path, Serpent Trail and the new New Lipchis Way all run through the area just to the south of the common so it's easy to extend your walking in the area. You can also explore another National Trust managed site at Marley Common near Haslemere.
Just to the west you will find Woolmer Forest. View Full Details>>
Manor Farm and Country Park
3 miles (5.5 km)
This park has a number of delightful walking and cycling trails and is located just outside Southampton. The farm is 600 years old with historic buildings, barns and the 13th century St Bartholomew's church. You can feed the chickens and get up close to rabbits, chicks and ducklings. View Full Details>>
Martin Down Nature Reserve
2 miles (4 km)
This beautiful nature reserve on the Hampshire/Dorset border consists of 350 hectares of unspoiled chalk downland. It's a splendid area with miles of good footpaths taking you past wildflower meadows and sweeping grassland.
This circular walk starts from the car park off the A354 near Bokerley Junction. You then follow good footpaths around the reserve, passing along the Bokerley Dyke which defines the border between the counties of Hampshire and Dorset.
The area is great for flora and fauna. Look out for birds such as Cuckoos, yellowhammers, and skylarks. In the summer months there are various butterflies including Adonis blue and the dark green fritillary. The area is covered with an abundance of pretty plants and flowers including several species of orchid.
If you would like to extend your walk then you could pick up the Jubilee Trail which starts from the reserve. You could follow the trail to the nearby Pentridge Hill for great views over the Hampshire and Dorset countryside. You could also head north to Vernditch Chase where there are some nice woodland walking trails to try.
Martin Down is located near to both Fordingbridge and Salisbury. View Full Details>>
Meon Valley Trail
9 miles (15 km)
This peaceful cycling and walking trail runs along a disused railway track from West Meon to Wickham via Droxford. There are splendid views of the beautiful Meon Valley and the River Meon to enjoy as well as a variety of wildlife including butterflies, redwing and egrets.
The route is reasonably flat, running along a surfaced path for just under 10 miles. View Full Details>>
Monarch's Way
615 miles (990 km)
This incredible 615-mile walk approximates the escape route taken by King Charles II in 1651 after being defeated in the Battle of Worcester.
The Monarch's Way starts at Worcester then travels north to Boscobel and then south to Stratford upon Avon. It then continues south through the Cotswolds to Stow on the Wold before turning south west towards Bristol via Cirencester. The route then heads south through the Mendip Hills to Wells and then on through Somerset towards Yeovil and then south west to Charmouth. You then follow the Dorset coast before turning north again to Yeovil, before heading east across the Downs to Brighton and then onto the finish point at Shoreham-by-Sea.
The walk also takes you through two World Heritage Sites, one National Park and six Areas of Outstanding Natural Beauty. For those interested in the history of the walk there is ample opportunity to learn and discover more with a series of museums and historical sites dotted throughout the route.
The walk is waymarked with a picture of the ship The Surprise, the Prince of Wales crown and the Royal Oak tree at Boscobel House.
The route has been split into two separate gpx files. The first includes the section from Worcester to Bridport via the Midlands and Somerset. View Full Details>>
Moors Valley Country Park
3 miles (5 km)
Moors Valley Country Park and Forest, is situated in Ashley Heath, on the Dorset/Hampshire border. The park has a number of peaceful woodland paths so is a great place for a safe and easy cycle or walk. There are a number of well waymarked cycle and walking routes through the park, while there is also cycle hire available throughout the year.
The park contains the Moors River and two Lakes where you can see Grey Herons, Great Crested Grebes, Mallards and Mute Swans. There is also a steam railway and a 'Go Ape' adventure park.
Moors Valley is situated right next to Ringwood Forest so there is scope for continuing your ride for several miles through more peaceful woodland. View Full Details>>
Mottisfont Abbey
3 miles (5 km)
Explore the extensive grounds of this 13th century Augustinian priory on foot or by bike. View Full Details>>
New Forest Reptile Centre Trail
1 miles (2 km)
Follow the Reptile Discovery Trail on this easy walk in the New Forest. The trail takes place on well surfaced tree lined paths with a variety of wildlife to look out for. The centre has all of Britain's native lizards, snakes, frogs and toads. You can also view birds of prey on the nest cams and look out for dragonflies and tadpoles in the pond. It's a great educational walk for families or anyone looking for an easy, informative stroll.
If you'd like to extend your walk you could pick up our Lyndhurst Circular Walk and visit the Knightwood Oak which is less than a mile from the trail. View Full Details>>
New Lipchis Way
37 miles (60 km)
This is an exceptionally lovely walking trail that runs from Liphook, in Hampshire, to East Head at the entrance to Chichester Harbour. The path takes you through some of the loveliest parts of West Sussex including greensand ridges, Wealden river valleys, heathlands, high chalk downland and then finally the coastal plain at Chichester.
The first section of the walk runs from Liphook to Midhurst, passing through Woolbeding Common before a waterside section along the River Rother takes you to Midhurst. View Full Details>>
Ober Water
2 miles (3 km)
This nice, easy walk takes you around the pretty Ober Water in the New Forest. The circular walk starts from the Whitefield Moor car park and follows good tracks through the Aldridge Hill woodland and the Ober Valley. It's a really delightful spot with the tranquil stream surrounded by shady woodland glades. It's a great place for a picnic and a paddle on a summer's day!
Ober Water is located just over a mile west of Brockenhurst.
If you'd like to extend your walk then the Blackwater Arboretum Trail is located just over a mile to the north. The village of Burley is also nearby. There's nice trails to try here in the Old and New Inclosures. View Full Details>>
Odiham Castle and Canal Walk
4 miles (6.5 km)
Enjoy an easy stroll along the Basingstoke Canal on this pleasant walk in the village of Odiham. The historic village is located in the in the Hart district of Hampshire, near to the town of Fleet. The route includes a visit to the ruins of Odiham Castle which are located next to the canal.
Start the walk from the car park off London Road next to Colt Hill Wharf. From here you can pick up the towpath and follow it west to Warnborough Green where you can take a small detour to visit the River Whitewater, which runs just to the north of the canal.
The route continues to the castle which was built by King John in the early part of the 13th century. The King rode from the site to Runnymede, to seal the Magna Carte in 1215. The now ruined castle is still an impressive sight with the tower keep and moat a protected ancient monument.
The walk continues to Greywell where you can stop for refreshments at the cafe before returning to Odiham. View Full Details>>
Old Winchester Hill
9 miles (14 km)
This walk takes you up the 197 metres (646 ft) Old Winchester Hill in the South Downs. The hill and surrounding area is a National Nature Reserve with a wide variety of butterflies and wildlife to look out for. These include buzzards, kites, roe deer and foxes. The area is made largely of chalk grassland with extensive scrub and many orchid species. There is also an Iron Age hill fort and earlier Bronze Age barrows and burial mounds.
This circular walk starts at the village of Meonstoke and makes use of the South Downs Way to take you to Old Winchester Hill before returning via Warnford and Beacon Hill. There are super panoramic views of the South Downs and the Meon Valley from the high points. On a clear day you may even be able to see the Isle of Wight.
If you'd like to continue your walk then you could pick up the South Downs Way or the Monarch's Way which run past the hill. View Full Details>>
Oxdrove Way
25 miles (40 km)
The Oxdrove Way is an off road cycle trail and walking path which forms a figure of eight through the rolling downland, woods and farmland of the Hampshire countryside around New Arlesford. You will pass Preston Down, Bradley, Upper Wield, New Alresford, Abbotstone and Itchen Down. View Full Details>>
Petersfield Lake and Heath
1 miles (1.2 km)
Enjoy a gentle stroll around Petersfield Lake and heath on this easy walk in Hampshire. The heath has a free car park off the B2146 less than a mile from the town centre. From here you can pick up a nice trail around the 22 acre pond where you will see many ducks and swans. There's also footpaths branching off across the heath with areas of grassland and bronze age burial mounds to look out for. The park has good facilities with a play area, cafe and boat hire.
The long distance Serpent Trail starts on the heath so it's a great option if you would like to extend your walk. You can follow the trail east and enjoy views of the River Rother at Durleighmarsh.
The Hangers Way also passes close to the heath. It heads north through the town to Shoulder of Mutton Hill, Noar Hill and the pretty Selborne Common.
Heading south will take you through Buriton to the splendid Queen Elizabeth Country Park where you climb Butser Hill for wonderful views over the area. View Full Details>>
Pilgrim's Trail
29 miles (47 km)
This medieval walk runs from Winchester to Portsmouth through Bishop's Waltham and Southwick, following in the footsteps of the Miquelots, pilgrims who made the long journey to worship St Michael in Normandy. View Full Details>>
Pilgrims Way
133 miles (214 km)
Follow in the footsteps of the pilgrims who followed this ancient track from Winchester in Hampshire, to the shrine of Thomas Becket at Canterbury in Kent. View Full Details>>
Pilot Hill
2 miles (3.5 km)
Climb to the highest point in Hampshire on this walk on the Berkshire/Hampshire border. The walk starts from the Inkpen Beacon car park about 2 miles north west of the hill. From here you pick up the Wayfarer's Walk and follow it past Walbury Hill and the pretty West Woodhay Down. At 297 m (974 ft) Walbury Hill is the highest point in Berkshire and South East England. At the summit you can enjoy more great views over the county and explore the Iron Age Hill fort of Walbury Camp.
The route continues to Pilot Hill where you pick up the Brenda Parker Way to take you to the Hampshire village of Faccombe. View Full Details>>
Queen Elizabeth Country Park
5 miles (8.5 km)
Explore 2000 acres of open access woodland and downland in the South Downs on this circular walk or cycle in Hampshire. Queen Elizabeth Country Park is Hampshire's biggest country park with 20 miles of trails for walkers, cyclists & horse riders. Highlights in the park include Butser Hill - the highest point on the South Downs with views to the Isle of Wight. There is also a Visitors Centre where you can sign up for a guided walk.
The park is very popular with mountain bikers with several off road trails running through the park. See the video below for example of what you can expect. View Full Details>>
River Hamble
2 miles (3 km)
Enjoy a lovely waterside walk along the River Hamble on this easy walk in southern Hampshire. The walk starts in the village of Warsash at the mouth of the River Hamble. Park at the car park on Shore Road and pick up the public footpath heading north along the river. It's a delightful trail, passing Bunny Meadows and Wendleholme Nature Reserve with views across the water to Hamble-le-Rice. The trail runs for just over two miles, finishing at Lower Swanick, opposite Bursledon.
The Solent Way runs through Warsash so this is a good option if you would like to extend your walking in the area. You can pick up the path and enjoy views over Southampton Water.
You can also catch the ferry to Hamble-le-Rice and explore Hamble Common or follow the Strawberry Trail around the beautiful Hamble Valley. View Full Details>>
Royal Victoria Country Park
2 miles (4 km)
Explore 200 acres of woodland, grassy parkland and coastline in this delightful coastal park located at Netley, near Southampton. The park features a number of delightful walking paths while National Cycle Network route 2 also passes through the park. You can take a ride on the miniature narrow-gauge railway which runs for around 1 mile through the park while there is also has a 150-ft viewing tower, giving views over the park, and across Southampton Water to Hythe and Southampton. View Full Details>>
Salisbury Country Way
61 miles (98 km)
A super circular walk through the countryside around Salisbury. The walk visits the ancient stone circles at Stonehenge, Compton Park, Downton and includes a lovely riverside stretch along the River Avon. You'll also pass through the delightful Martin Down Nature Reserve. This beautiful nature reserve on the Hampshire/Dorset border consists of 350 hectares of unspoiled chalk downland with a variety of flora and fauna.
Other highlights include views of the River Wylye Valley and a stretch through Grovely Wood near the village of Great Wishford. View Full Details>>
Serpent Trail
64 miles (103 km)
This walk runs from Haslemere to Petersfield through the beautiful Sussex greensand hills. The path takes its name both from its serpentine shape and from passing through the habitat of all three British species of snake.
The route crosses many heathland areas and heads along the greensand ridges in the western Weald, visiting Liphook, Milland, Fernhurst, Petworth Park, Fittleworth, Duncton, Burton Mill Pond, Heyshott, Midhurst, Stedham and Nyewood before reaching the serpent's tail at Petersfield Lake and Heath in Hampshire.
The trail is waymarked with white plastic discs showing a snake in the approximate shape of the route on a purple triangle.
Route highlights include a climb to the highest point on the South Downs at Black Down in West Sussex. You'll also visit the pretty Iping and Stedham Commons near Midhurst. View Full Details>>
Shipwrights Way
46 miles (74 km)
A long distance cycling and walking trail running from Alice Holt Forest to Portsmouth along the imagined route a tree may have taken from forest to warship.
The varied trail includes woodland sections, country parks and coastal paths.
On the way you'll pass Bordon, Liphook, Liss, Petersfield, Queen Elizabeth Country Park, Staunton Country Park, Langstone Harbour, Havant and Hayling Island. There's splendid views of the South Downs and lovely views over to the Isle of Wight on the final coastal section. A lot of the route takes place on nice off road trails but there are some on road sections which are less suitable for walkers.
The route starts from Bentley Rail Station on the edge of Alice Holt Forest. You then head south, following the woodland trails through the forest.
You continue south past Broxhead Common to Bordon, where you skirt the edge of Woolmer Forest. View Full Details>>
Solent Way
60 miles (96 km)
Follow the Solent Way along the beautiful south coast from Milford on Sea to Emsworth.
The route starts off at Milford on Sea and heads along the coastal marshes to Lymington with splendid views of the Isle of Wight. This section runs through the beautiful Keyhaven Marshes where you can look out for a wide variety of birdlife. You also have the option of heading along the long shingle spit to Hurst Castle, one of Henry VIII's Device Forts.
At Lymington the route heads inland through the New Forest towards Hythe passing the excellent Beaulieu Motor Museum, the pretty Dibden Inclosure and the Beaulieu River as you go. At Hythe you cross Southampton water on the Hythe Ferry taking you to Southampton where you follow the coast to Gosport and Lee on Solent. On this section you will pass the delightful riverside villages of Hamble-le Rice and Warsash, catching a ferry over the River Hamble between the two settlements. Near here there's also Alver Valley Country Park and the delightful Titchfield Haven nature reserve at Fareham. Here you will find 369 acres of River, fen, pools, reedbed and meadow with a variety of wildlife to look out for.
From Gosport a ferry ride takes you over the River Hamble to Portsmouth with its fascinating maritime history. Highlights here include the D-Day Museum where you can see the Overlord Embroidery. This tells the story of D-Day and the Battle of Normandy in 34 extraordinary hand-stitched panels with a total length of 83 metres.
The final stretch leads you around the attractive Langstone Harbour to the finish at Emsworth Quay. View Full Details>>
Southampton Common
3 miles (5 km)
Explore 326 acres of woodland, parkland, rough grassland, ponds, wetlands and nature trails on this lovely cycling and walking route in Southampton. The park also has a Wildlife Centre with interactive resources and educational facilities. Southampton Common can be found just north of the city centre near the main university campus. View Full Details>>
St Catherine's Hill Winchester
1 miles (1.5 km)
Climb this small hill in Winchester for fine views over the town, the River Itchen and the surrounding countryside of the South Downs. It's a very pretty area with the chalk downland covered in wild flowers including bird's-foot trefoil, salad burnet, dropwort and several types of orchid. This attracts 25 different types of butterfly such as marbled white, chalkhill blue and brown argus. There are also the ramparts of an Iron Age hill fort, a 17th/18th century mizmaze and a copse of beech trees containing the site of a 12th century chapel.
There is a car park just north of the hill where you can pick up the footpaths to the hill. You could also walk from the centre of town which is only about a mile away. If you're coming by bike then National Cycle Route 23 runs right past the hill along the river. View Full Details>>
St Swithun's Way
34 miles (55 km)
Follow the St Swithun's Way from Winchester to Farnham on this historical walk through the Hampshire and Surrey countryside. The trail gives the walker the opportunity to visit numerous churches with pilgrimage connections.
The walk begins at the splendid Winchester Cathedral and heads east, through the Itchen Valley towards Itchen Abbas. This opening section includes a long waterside stretch along the River Itchen, passing through the pretty village of Itchen Abbas as you go.
The next section takes you from New Alresford to Alton along country lanes and through a couple of peaceful woodland stretches. You will also pass through the village of Chawton - home to Jane Austen.
From Alton you head north-east, following the River Wey through Bentley, before finishing at Farnham in Surrey. Here you can enjoy a visit to Farnham Castle and Farnham Park where there's 320 acres (130 hectares) of hills, valleys, ponds and streams. View Full Details>>
Standing Hat
2 miles (4 km)
This easy circular walk takes you through Forestry Commission managed Inclosures near Brockenhurst in the New Forest. You can park at the car park at Balmer Lawn and then follow good footpaths through the delightful woodland in the Pignal Inclosure. It's a lovely spot for an easy, peaceful stroll. Look out for the New Forest Ponies on your walk.
If you'd like to try more easy walks near Brockenhurst then the Ober Water Walk and the Blackwater Arboretum Trail are both good options. View Full Details>>
Staunton Country Park
4 miles (7 km)
Enjoy 1000 acres of landscaped parkland and forest at Staunton Country Park near Havant. Here you'll find a farm, two pretty lakes, a maze, a walled garden and glasshouses containing exotic tropical flowers and plants from around the world. There is also a visitor center, with animals and attractions and a number of interesting buildings including follies and a gothic library.
There are a number of trails ideal for walking and cycling while cycle hire is available at the Victorian Coach House. The route below starts and ends at the car park but Rowland's castle train station is another good access point situated less than a mile from the park. View Full Details>>
Staunton Way
9 miles (14 km)
The Staunton Way takes you from Queen Elizabeth Country Park near Petersfield, through the South Downs to Staunton Country Park near Havant. View Full Details>>
Strawberry Trail
14 miles (22 km)
This lovely figure of eight trail starts and ends near the car park at Hamble-le-Rice, passing through Bursledon and Botley on the way. It includes a delightful stretch alongside Southampton Water and through Royal Victoria Country Park at the start. You'll also pass through the pretty Hamble Common with a peaceful waterside section along the River Hamble another attraction. At the eastern end of the walk there's River Hamble Country Park where there's some lovely woodland trails and the historic Manor Farm and Country Park to explore.
The walk was developed by Eastleigh Borough Council.
To extend your walk you could pick up the Solent Way and head west to Westwood Woodland Park. View Full Details>>
Sussex Border Path
137 miles (220 km)
A fabulous long distance walk following the Sussex county border from Thorney Island in West Sussex to Rye in East Sussex.
You begin on Thorney Island with a lovely section along the coast from Emsworth. The route then heads through the South Downs to South Hartingand Liphook before continuing to Gospel Green, Rudgwick, Gatwick Airport, Horley and East Grinstead. You then head through the beautiful High Weald, passing Groombridge, Bewl Water and Northiam before finishing in Rye. The walk is well waymarked throughout.
Route highlights include a climb to the highest point on the South Downs at Black Down in West Sussex. You'll also visit the lovely Weir Wood Reservoir and the interesting Bodiam Castle. View Full Details>>
Swanwick Lakes
1 miles (1.6 km)
This walk visits the Swanwick Lakes Nature Reserve in the Hampshire village of Swanwick. View Full Details>>
Test Way
45 miles (73 km)
Travel through the Test Valley on this 45 mile walk through Hampshire and Berkshire.
The route starts Eling Tide Mile near Totton heading north towards the Lower Test Nature Reserve and Romsey along the river. Here the river runs parallel to the old Andover Canal which you can explore on the Romsey Canal Walk.
The route continues through Kimbridge and then onto the impressive National Trust owned Mottisfont Abbey. This 13th century Augustinian priory is surrounded by glorious grounds and is a major highlight on the trail.
The path continues through Stockbridge, Wherwell and the pretty village of St Mary Bourne with its delightful thatched houses. This section also passes Harewood Forest and Danebury Hill Fort near Stockbridge. It's worth taking a a short detour to climb the hill and enjoy some splendid views over the Test Valley.
The final section is a gradual climb through Hurtsbourne Tarrant and Linkenholt towards Inkpen Beacon and Walbury Hill in Berkshire where the trail finishes. View Full Details>>
Testwood Lakes
2 miles (2.5 km)
Enjoy an easy, waterside walk around these two pretty lakes in Totton, on the eastern edge of the New Forest. There are well surfaced footpaths all the way around the lakes. The area is managed as a nature reserve so you will find a variety of interesting wild flowers and woodland around the lakes. You can also look out for various wildfowl and waders on the water using the two bird hides. There are good facilities with a Visitor centre, toilets and parking.
If you'd like to extend your walk you could pick up the Test Way and follow the River Test to the nearby Lower Test Nature Reserve. View Full Details>>
The Chase Nature Reserve
2 miles (2.5 km)
This National Trust owned nature reserve has 143 acres of woodland to explore on a number of footpaths. It is located near to the villages of Woolton Hill and Enborne Row on the Hampshire/Berkshire border. The area consists of broadleaf and coniferous woodland with streams and lots of interesting flora and fauna to look out for. The snowdrops in early spring are particularly lovely. There is a car park just off station road which gives direct access to the trails.
It's easy to extend your walking in the area by heading into the adjacent Penwood forest. You can also visit the real Downton Abbey and climb to the viewpoint on Beacon Hill at Highclere Castle just to the south of the reserve. Walbury Hill and Pilot Hill, the highest points in Berkshire and Hampshire respectivley, are also close by. View Full Details>>
The Vyne
3 miles (5 km)
Explore the beautiful gardens and grounds surrounding this 16th century Tudor Mansion in Sherborne St John near Basingstoke. View Full Details>>
Three Downs Link
102 miles (164 km)
This is a walking and cycling path following bridleways through Hampshire, Berkshire, Wiltshire and Oxfordshire. The trail runs from Exton, in Hampshire, to Dean Hill, near Hungerford. You will pass through open chalk downland, along rivers and canals and through some pretty villages.
The route passes through or near Basingstoke, New Arlesford, Malborough, Winchester, Newbury and Hungerford. It uses the South Downs Way National Trail for part of the route and also links with the Ridgeway National Trail. View Full Details>>
Titchfield Haven
6 miles (9 km)
Explore this beautiful coastal nature reserve and enjoy a stroll along the Titchfield Canal on this circular walk near Fareham. The reserve boasts 369 acres of River, fen, pools, reedbed and meadow. These habitats attract a wide range of water loving wildlife. Look out for Reed Warblers, Bearded Tits, Water rails and Bittern around the reedbeds and Otters by the River Meon. There are a number of hides from which you can observe the wildlife. Other facilities include the Titchfield Haven Visitor Centre, tea room and exhibition about the history of the Solent area.
This walk starts at the car park near Hillhead Harbour and takes you along the coast passing the Meon Shore chalets. You then turn inland and pass Bromwich Pond and some nice countryside before coming to the village of Titchfield. Here you could head north of the village and visit the interesting 13th century Titchfield Abbey. There are attractive grounds with ponds and major remains of the abbey to see.
From Titchfield a waterside section along the Titchfield Canal and the River Meon takes you back to the car park.
The Solent Way passes the reserve so you could pick this up to continue your walk. View Full Details>>
Watership Down
2 miles (2.5 km)
Climb this hill made famous by Richard Adams' 1972 novel 'Watership Down'. The hill is located about 2 miles south west of the village of Kingsclere. The downs are popular with walkers and cyclists with good footpaths and bridleways crossing the area.
This walk starts at the White Hill car park off the B3051 just south of Kingsclere. You then pick up the Wayfarer's Walk long distance footpath to take you to the 237m hill summit. The path passes White Hill and The Warren on the way to Watership Down. It's a beautiful area with wonderful views over the surrounding countryside and the Sydmonton Court estate. The estate consists of a 16th century Tudor manor house and is home to the summer arts Sydmonton Festival. This walk finishes at the Watership Down Hill summit but you could extend the route by heading north along public footpaths to Sydmonton. You could also turn it into a circular walk by heading south from just east of the hill summit and then following country lanes and bridleways back round to the car park. If you continue west along the Wayfarer's Walk then you will pass the wonderful Highclere Castle. The house is famous as the location of period drama 'Downton Abbey'. It is surrounded by a 5000 acre estate with nice walking trails including a climb to the splendid viewpoint at Beacon Hill.
Less than a mile away to the west is Ladle Hill where you will find a well preserved hill fort. View Full Details>>
Wayfarer's Walk
71 miles (114 km)
Starting at the town of Emsworth on Chichester Harbour, follow this fabulous 70 mile walk through the heart of Hampshire and on into Berkshire.
You will pass through the pretty Hampshire towns and villages of Cheriton, Droxford, Hambledon and New Arlesford while also experiencing the beautiful landscape and wildlife in this special county.
The path is easy to follow as it is waymarked by metal and plastic disks attached to wooden and metal posts.
Highlights on the route in include the National Trust owned Hinton Ampner stately home with its wonderful gardens and Watership Down - the delightful setting for Richard Adams' 1972 novel.
The route passes the wonderful 5000 acre estate surrounding Highclere Castle in Hampshire. The house is famous as the location of period drama 'Downton Abbey' and includes the excellent viewpoint at Beacon Hill. There are also some lovely waterside stretches to enjoy at Cheriton along the River Itchen and along the River Arle at New Arlesford. The walk finishes at Walbury Hill, the highest point in Berkshire and the South East of England. View Full Details>>
West Green House
1 miles (1.6 km)
Enjoy a walk through the beautiful 10 acre gardens surrounding the 18th century West Green House and then extend your walk into the adjacent West Green Common. Easy walking paths take you through a series of walled gardens including a topiary garden with water lillies and a Persian Water garden in a woodland glade. There is also a grand water staircase, a lake and an aviary with chickens and bantams. You can extend your walk by heading into West Green Common where you will find peaceful woodland trails.
Just to the north you will find Bramshill Forest where you can continue your walking around the RSPB's Hazeley Heath. Dogmersfield Park can also be found a few miles to the south while the expansive Bracknell Forest is also nearby. View Full Details>>
Wilverley Plain
3 miles (5 km)
This circular walk visits Wilverley Plain and the Wilverley Inclosure in the New Forest. View Full Details>>
Winchester Circular Walk
3 miles (5 km)
This circular walk takes you around the city of Winchester in Hampshire. The walk makes use of the Itchen Way long distance footpath to take you along the River Itchen to St Catherine's Hill before returning to the town centre on other public footpaths. View Full Details>>
Winnall Moors Nature Reserve
2 miles (2.5 km)
Enjoy a short stroll around this pretty nature reserve in Winchester. In the reserve you will find wetland with chalk stream, reedbeds and grassland. View Full Details>>
Wokingham Way
55 miles (89 km)
This long circular walk follows the Wokingham Borough unitary boundary visiting Reading, Bracknell and Henley-on-Thames. The walk takes you through Wokingham's most delightful areas including : the expansive Bracknell Forest, Tri Lakes Country Park and Wellington Country Park. View Full Details>>
Woolmer Forest
3 miles (5.5 km)
This large area of heathland and woodland has public footpaths to follow from the hamlet of Conford in the north eastern part of the site. View Full Details>>
Yateley Common Country Park
6 miles (10 km)
Enjoy nearly 500 acres of heathlands, woodlands and ponds on this circular cycle or walk in Yateley, Hampshire. The route begins at the car park by Wyndham's Pool and takes you along a sequence of peaceful woodland trails to Yately Heath Wood and Minley Wood, before returning to the start point. View Full Details>>