Herefordshire Walks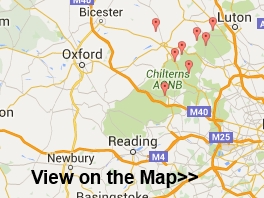 With the beautiful Wye Valley and the wonderful Malvern Hills Herefordshire has a number of attractive walking options.
Use the filter to show walks of a certain type such as woods, reservoirs, hills, long distance, country parks, canals and rivers.
In the spring walkers flock to the beautiful bluebell woods in the Herefordshire area. Click the 'Woodland' button below to see these.
Use the links to view full route information including elevation profiles, interactive maps and GPS downloads.
You can also view an overview map of all the routes in the using the Herefordshire Walk Map>>
Route Name
Distance
Description
Berrington Hall
1 miles (2.25 km)
Explore the 250 acre parkland of this fine Georgian mansion near Leominster. View Full Details>>
Bircher Common
2 miles (3.8 km)
Explore this area of lowland heath on this pleasant walk near Leominster. There's miles of footpaths to follow across the common with lovely views over the surrounding Herefordshire countryside from the high points.
Woodland trails can also be found in the adjacent Oaker Coppice and Croft Wood. View Full Details>>
Black and White Village Trail
43 miles (69 km)
This splendid circular walking trail visits a series of lovely Herefordshire towns and villages. View Full Details>>
Bodenham Lake
1 miles (1.5 km)
This walk takes you along the peaceful Bodenham Lake in Herefordshire. The creation of this picturesque wildlife site was funded by the National Lottery Heritage Fund and the European Regional Development Fund. It won the Canal and Rivers Trust Living Waterways Award in 2019. View Full Details>>
Bringsty Common
2 miles (3 km)
This large area of common land near Bromyard is a great place for walkers. The area covers over 200 acres with lots of footpaths to follow to the common's lakes, streams and pockets of woodland. Look out for pretty bluebells in the spring and a variety of birdlife on your walk. There's also splendid views towards the Malvern Hills and the surrounding Worcestershire and Herefordshire countryside. You can enjoy refreshments in the common-side cafe or pub after your exercise.
It's easy to extend your walk by heading to the Brockhampton Estate which is right next to the common. The 1,700 acre estate has lots of good walking trails, a lake, streams and woodland to explore.
The Worcestershire Way runs through Knightwick, just to the east of the common. The path will take you south to Ravenshill Wood and the Suckley Hills. Head north and you can visit Woodbury Hill, the River Teme valley and Abberley. View Full Details>>
Brockhampton Estate
2 miles (2.5 km)
The Brockhampton Estate in Herefordshire has a number of excellent waymarked walking trails to follow. The trails take you through large areas of ancient oak woodland with oak carved sculptures to look out for on the way. There are also waterside paths around the small lake and along the pretty stream. Look out for a variety of wildlife including buzzard, heron, woodpecker, and nuthatch.
The estate covers 1,700 acres so you can extend your walk and visit the relaxing orchards and the 14th century moated manor house. There's also acres of farmland with Hereford cattle and Ryeland sheep.
It's easy to further extend your walk by heading to the nearby Bringsty Common. It's right next to the estate and consists of miles of lovely footpaths with great views towards the Malvern Hills. You could also pick up the Worcestershire Way in Knightwick and explore the Suckley Hills and the River Teme valley. View Full Details>>
Bromyard Downs
1 miles (2.4 km)
This area of common land in Bromyard has some nice walking trails and a fine pub to visit. View Full Details>>
Cats Back
8 miles (12.5 km)
This circular walk climbs to the Cat's Back, a wonderful ridge on Black Hill in the Black Mountains region of the Brecon Beacons. View Full Details>>
Credenhill Woods
2 miles (3.2 km)
Follow the trails around Credenhill Park Wood on this easy walk in Herefordshire. The woods are located just to the north of the village and include an Iron Age hill fort.
You can start the walk from the car park at the south eastern corner of the woods. Then pick up the waymarked trails heading north into the woods. There's lots of interesting flora to see with early purple orchid, wild garlic, herb-paris and bluebells in the spring. The variety of trees include oak, ash, beech, field maple, small-leaved lime and wych elm. Also look out for wildlife including buzzards, various woodland birds and the three types of deer which inhabit the site.
You can also climb to the large hill fort whose defences follow the 600 ft contour and enclose nearly 50 acres. They comprise an embankment and ditch with a slight counter-scarp bank. Archaeological digs exposed storage pits and other remains of occupation including pottery with stamped and incised patterns typical of the West Midlands Iron Age. You can see some of the finds in the Hereford Museum.
The Wye Valley Walk long distance trail passes Credenhill to the south. You could pick up the trail to continue your walking in the area. View Full Details>>
Croft Ambrey
2 miles (4 km)
Climb to this Iron Age Hill Fort and enjoy great views over the Herefordshire countryside on this circular walk. The walk starts from the National Trust's Croft Castle car park. View Full Details>>
Croft Castle
2 miles (2.8 km)
This walk explores the grounds and gardens of the National Trust's Croft Castle near Leominster and Ludlow in Herefordshire. View Full Details>>
Daffodil Way
9 miles (14 km)
Explore the pretty countryside, orchards and woodland surrounding the village of Dymock on this circular walk in the Forest of Dean. The trail runs for about 9 miles through Dymock Woods and Kempley Green with lots of wild Daffodils to see in early spring. Also look out for bluebells and butterflies in the section through Dymock Woods. View Full Details>>
Downton Gorge
4 miles (6.8 km)
This circular walk visits the lovely Downton Gorge from the village of Downton on the Rock in Herefordshire. View Full Details>>
Eastnor Deer Park
5 miles (8 km)
This walk follows a section of the Geopark Way long distance trail through the beautiful Eastnor Deer Park. The 300 acre park includes hill climbs, woodland, ponds, lovely countryside and a herd of Red Deer.
Starting in Eastnor village follow the footpath east and you will come to the southern end of the Malvern Hills. The route then climbs to Midsummer Hill and Hollybush Hill where there are fantastic views over the park to Eastnor Castle and lake. This section also visits an unusual Iron Age Hillfort as its ramparts enclose two hills and the intervening valley. It dates from 390 BC and it is thought that the settlement was occupied by 1500 people until it was destroyed by fire in AD 48. You can follow various woodland paths round the hills before picking up a section of the Worcestershire Way and heading north to return to the deer park. Follow the same path back to Eastnor where on certain open days you can visit the 19th century mock castle. For a fee you can explore the grounds where there are nice footpaths taking you to the arboretum and lake. Watch the video below to see the beautiful grounds.
If you wanted to extend your walk you could head north from Misummer Hill to Herefordshire Beacon and further explore the Malvern Hills. Following the Geopark Way south from the hill will take you through the Bromsberrow Estate in the Forest of Dean area of Gloucestershire. View Full Details>>
Ewyas Harold Common
2 miles (3 km)
Enjoy an easy walk through the pretty Ewyas Harold Common in the Golden Valley of West Hertfordshire. There's some nice trails to follow across the site where you can see meadow saffron, woodland and grazing ponies. You can start the walk from the village and then follow the Herefordshire Trail north to the common. There's some nice grassy footpaths and flora including Rosebay Willowherb, bramble, hawthorn and birch trees.
Our Golden Valley Walk runs through the common. You could pick it up and head north through the lovely river valley to Abbey Dore and the remains of Dore Abbey. View Full Details>>
Eyebrook Reservoir
4 miles (6 km)
Enjoy a stroll alongside this lovely reservoir near Corby. You can park at the car park at the north eastern end of the water off Main Street in Stoke Dry. The village of Stoke Dry is reputed to be the place where the Gunpowder Plot was hatched. It has an interesting medieval church dedicated to Saint Andrew. 
You can pick up country lanes heading north along the reservoir from the car park. The area to the south is private land so please do not enter this section.
The area includes nice views of woodland and lots of wildlife. Look out for badger, fox, otter, muntjac deer, osprey, red kite, buzzards and various wildfowl on the water. Sightings include widgeon, pochard, teal and smew.
It's a beautiful area with the reservoir surrounded by rolling countryside of Leicestershire, Rutland and Northamptonshire.
If you'd like to extend your walk you could pick up the Rutland Round which passes the reservoir. View Full Details>>
Fownhope
5 miles (8 km)
This Herefordshire based village is in a lovely spot near to the River Wye and some attractive bluebell woodland. View Full Details>>
Garway Hill
1 miles (1.5 km)
Climb across Garway Common to the summit of Garway Hill on this walk in in south-west Herefordshire. There is a car park on the south eastern corner of the common where you can pick up the footpath to the hill. From the 1200ft (366m) summit there are splendid views over the Bristol Channel into Wales. On a clear day you can see Ross-on-Wye, May Hill, Skirrid Fawr, Sugarloaf Mountain and the Forest of Dean. After climbing the hill you can pick up any number of footpaths to explore the rest of Garway Common.
To extend your walking in the area you could head to nearby Grosmont and pick up the Three Castles Walk. View Full Details>>
Geopark Way
111 miles (179 km)
Meandering its way for 109 miles through the Abberley and Malvern Hills Geopark from Bridgnorth to Gloucester, the Geopark Way passes through stunning countryside as it explores 700 million years of geological history. The trail offers varied walking alongside rivers, through forests, along ridges and across valley floors; all with majestic views to match. Passing through an assortment of habitats there is a plethora of wildlife adding to the occasion. Quaint villages and towns dot the route bringing further elements of exploration and enchantment.
Highlights on the route includes a stretch through the lovely Eastnor Deer Park next to the 19th century mock castle. The climb through the Malvern Hills is also wonderful with splendid views over the countryside of Herefordshire, Worcestershire and Gloucestershire. View Full Details>>
Golden Valley Herefordshire
11 miles (18 km)
This walk takes you through the beautiful Golden Valley in western Herefordshire. It's a very scenic area with the rolling countryside of the valley of the River Dore and a number of pretty villages to enjoy.
The valley stretches from Ewyas Harold in the south to Dorstone in the north. There are several interesting historical sites to visit on the way including a former mediaeval Cistercian monastery and a chamber tomb from the Neolithic Period.
This walk starts from the village of Ewyas Harold which lies on the site of Ewyas Harold Castle, of which only the motte remains. From here you can pick up the Herefordshire Trail and follow it north through Ewyas Harold Common. The common contains an ancient greenway, meadow saffron (left over from cultivation by the monks at Dore Abbey), and lots of interesting wildlife.
Soon after leaving the common you will come to Abbey Dore and the remains of Dore Abbey. This former mediaeval Cistercian monastery was built between 1175 and 1220 and restored in the 1630s.
After exploring the atmospheric ruins the route continues past Abbey Dore Court which includes lovely gardens which are open to the public on certain days. At this point you pick up a nice footpath running along the River Dore to Blackbush Farm. Here you cross the river on Moorhampton Bridge and follow another path toward Turnastone, Vowchurch and Peterchurch.
The final section of the walk follows a quiet country lane north west to the finish point at Dorstone. You can extend the walk slightly by continuing through the village north east to Arthur's Stone. The Neolithic chambered tomb, or Dolmen, dates from 3,700 BC – 2,700 BC. It is situated on the ridge line of a hill overlooking both the Golden Valley and the Wye Valley. View Full Details>>
Goodrich Castle and Coppet Hill
6 miles (9 km)
Explore the Goodrich Castle estate before climbing to Coppet Hill on this walk in Herefordshire. There's fascinating history, woodland trails and great views from the high points to enjoy.
You can start the walk from the Goodrich Castle car park. First explore the ruinous Norman medieval castle described by Wordsworth as the 'noblest ruin in Herefordshire'. Then follow the footpaths south through Goodrich before climbing Coppet Hill. The hill is also a nature reserve with woodland and lots of wildlife. Look out for butterflies, deer and a variety of birdlife. From the high points of the hill you can see the Brecon Beacons, the Clee Hills and the Malvern Hills.
You can use the google street view link below to virtually explore part of the castle grounds and see the great views you get of the surrounding Herefordshire woodland and countryside.
To extend your walking in this lovely area you could pick up the Wye Valley Walk and enjoy a waterside walk along the River Wye. Follow the river south east and it will take you towards Welsh Bicknor, Lower Lydbrook and the Forest of Dean. Eventually you will come to Symonds Yat Rock where there are woodland trails and wonderful views over the Wye Valley. Near here is the mysterious King Arthur's Cave which is also worth a visit.
The castle and hill are located a few miles south of Ross-on-Wye. You could follow the riverside path from the town as an alternative route. View Full Details>>
Haugh Woods
2 miles (4 km)
These expansive woods in Hereford have mountain bike trails and a Butterfly Trail for walkers. The area covers about 850 acres so there's plenty of different trails to try. It's great for wildlife with over 600 recorded species of butterfly and moth. Families can enjoy nice easy walking trails with picnic benches to rest and refresh yourselves. The Haugh Wood Butterfly Trails are particularly popular. You can follow the waymarked trails and look out for the information boards which show you the different types of butterfly you may see on your walk. You can pick up all the trails from Haugh Wood car park in the centre of the woods.
There's lots of footpaths to choose from including the Three Choirs Way long distance trail which runs right through the wood. The Wye Valley Walk also skirts the western edge of the woods. You could actually follow the waymarked path from Hereford all the way to the woods as an alternative route.
The woods also link with the Mordiford Loop. The circular trail takes you through the orchards, woodland and countryside surrounding the village. View Full Details>>
Hay Bluff
1 miles (1.5 km)
This is a popular climb to Hay Bluff hill in the Black Mountains. The hill straddles the border of Wales and England. Most of the area lies within Powys with the eastern flanks in Herefordshire. From the summit there are wonderful views over the Wye Valley and the Welsh Mountains.
This walk starts from the Hay Bluff car park located just half a mile north west of the hill. However, you could also start the walk from Hay on Wye. Just follow the Offa's Dyke Path south from the town centre for about three miles and you will reach the hill. The path passes Cusop and Tack Wood before arriving at the car park and Stone Circle at the foot of the climb.
The route to the 677 m (2,221 ft) passes Ffynnon y Parc on a good path.  You can further explore the area as the entire hill is designated as open country so walkers have the freedom to roam at will. View Full Details>>
Hereford
6 miles (9 km)
This splendid cathedral city is a fine place to explore for walkers. There's some lovely riverside trails, attractive parks and easy access to the local countryside from the city centre. View Full Details>>
Herefordshire Beacon and British Camp
2 miles (2.5 km)
This walk climbs to Herefordshire Beacon in the Malvern Hills Area of Outstanding Natural Beauty. As well as some splendid views the site includes the significant British Camp Iron Age Hillfort, first constructed in the 2nd century BC. The boundary between Herefordshire and Worcestershire also runs just past the hill to the east.
The hill includes a few different footpaths which you can use to make a circular walk. You can start from the car park just to the north of the hill, off the A449. There's handy information boards here giving a detailed history of the camp.
From the car park you can directly pick up a path to take you up to the top of the beacon. At the 338 m (1,109 ft) summit there are splendid views into the counties of Herefordshire, Worcestershire and Gloucestershire. Just to the west of the hill you can also see the lovely Eastnor Deer Park and mock 19th century castle.
Follow the paths south through the earthworks and defensive ditches of British Camp to Millenium Hill, before descending on other paths to the car park. You could also pick up other trails to take you to the pretty British Camp Reservoir, just to the south east of the car park.
You can pick up the Geopark Way long distance trail to further explore the Malvern Hills. Following the paths north will take you to the popular Worcestershire Beacon and the town of Great Malvern. If you head south you will soon come to Midsummer Hill where there is another Iron Age Hillfort and Scheduled Ancient Monument. View Full Details>>
Herefordshire Trail - Ross on Wye to Bromyard
35 miles (56 km)
The Herefordshire Trail takes you on a tour of the area's prettiest villages, rivers, parks, woodland, countryside and hills. This section runs from Ross on Wye to the town of Bromyard via Ledbury.
Starting in Ross on Wye the trail heads north to the riverside settlement of Hole-in-the-Wall. You then turn east and head to Crow Hill, passing the woodland of Eaton Park on the way. From here the route turns north again towards Ledbury, with some long countryside sections interrupted with woodland trails through Yatton Wood and Hoar Wood. You'll pass the villages of Putley and Aylton on this part of the walk. There's also nice views of Marcle Ridge and Marcle Hill. You can cllimb the ridge and enjoy some fabulous views of the Malvern Hills, the Cotswold Hills, the Wye Valley, the Brecon Beacons and the Black Mountains.
The next section takes you north from Ledbury to Coddington, passing Wellington Heath, Frith Wood and Berrington Wood on the way. You continue to Bosbury and Bishops Frome before finishing at the town of Bromyard.
The route runs very close to the Wye Valley Walk for part of the way. View Full Details>>
Hergest Ridge
4 miles (6.5 km)
Cross the Hergest Ridge on this splendid walk on the England Wales border. The ridge runs between Kington in Herefordshire to the little village of Gladestry in Powys, Wales. It's an exhilirating and beautiful way to cross the border between the two countries. The route runs for about 4 miles along the Offa's Dyke Path reaching a height of 426 m (1,398 ft). There are fabulous panoramic views of the Welsh Hills and English countryside as you make your way across the ridge. The beautiful area inspired the 1974 album 'Hergest Ridge' by the English musician Mike Oldfield.
You can start the walk in the centre of Kington, picking up the trail on Ridgebourne Road and following it west up to the ridge. The route then passes Yeld Wood and Hanter Hill before descending into Gladestry where you can enjoy refreshments. The route also passes a disused Victorian circular country racecourse, popular between 1825 and 1846. You can still see the markings about half way along the ridge.
To extend your walk you can continue along the path towards Newchurch. The Mortimer Trail also passes through Kington so you can also pick up this path and explore the Herefordshire countryside north of the town. View Full Details>>
High Vinnalls
2 miles (4 km)
Climb to this wonderful viewpoint on this circular walk in Mortimer Forest in Ludlow. It's a challenging climb with the High Vinnalls viewpoint reaching a height of over 1200ft. From the high points there are fabulous panoramic views over the surrounding Herefordshire countryside.
This walk uses part of the Mortimer Trail long distance footpath. It starts at the High Vinnalls car park but you could start from Ludlow and follow the Mortimer Trail through the Mary Knoll Valley to reach the hill. To extend your walk you could follow the trail south to Croft Ambrey Hill Fort and woods. View Full Details>>
Kington
7 miles (11.5 km)
This Herefordshire based market town lies very close to the Welsh border. It's location next to Offa's Dyke and the wonderful Hergest Ridge make it a fine base for walking. There are also two significant waymarked footpaths passing through the town and the gorgeous Hergest Croft Gardens to visit. View Full Details>>
Ledbury-Eastnor Castle-Malvern Hills
8 miles (13.5 km)
This walk from Ledbury takes you through the Eastnor Castle Estate before climbing into the hills to the east of the town. It's a varied route with woodland sections, open countryside and a climb in the Malvern Hills at the end. View Full Details>>
Leintwardine
4 miles (6.8 km)
This small village in North Herefordshire sits in a pleasant rural location close to the Shropshire border. There's some nice trails along the two local rivers and some interesting historical sites in this former Roman settlement. View Full Details>>
Leominster
3 miles (4.5 km)
Explore this attractive Herefordshire town and enjoy riverside trails along the River Lugg.
The walk starts in the town centre at the noteworthy Grange Court. The timber-framed building was built in 1633 by John Abel, and moved to its present location in 1859. It is extravagantly decorated with carvings, including mermaids, angels, animals, flowers and grotesque people.
The route then follows public footpaths north past Leominster Priory which dates from the 13th century. You cross the River Kenwater before picking up riverside trails on the eastern side of the River Lugg.
Follow the trails south to Eaton Hall where you cross the river and follow the trails back into the town centre. View Full Details>>
Malvern Hills
8 miles (13 km)
This walk takes you the full length of the Malvern Hills from End Hill in North Malvern to Chase End Hill at the southern end. The Hills divide the counties of Herefordshire and Worcestershire and are covered with numerous footpaths and bridleways.
The start point for the walk is the car park at North Malvern in the 19th century spa town of Great Malvern. You then pass End Hill, Table Hill and Sugarloaf Hill on your way to Worcestershire Beacon. At 425 m (1,394 ft) the Beacon is the highest point in the Malverns and offers fabulous views of Worcestershire, Herefordshire, Gloucestershire, the Cotswolds, the Welsh Mountains and the Severn Valley. You can climb to the beacon from Great Malvern on our circular walk.
The route continues to Jubilee Hill, Black Hill and Herefordshire Beacon where you will find the noteworthy British Camp Iron Age hill fort and reservoir of the same name. Next you come to Hangman's Hill, and Swinyard Hill before arriving at the interesting Midsummer Hill where you will find an Iron Age hill fort which spans Midsummer Hill and Hollybush Hill. There are also splendid views of Eastnor Deer Park and the castle grounds.
The final section takes you over Raggedstone Hill to the finish point at the end of the range, known as End Hill.
It's a delightful walk on good footpaths with fabulous views throughout. Also look out for the springs and fountains dotted along the hills.
If you would like to try a longer walk try our Malvern Hills Circular Walk which takes you along a section of the old Worcestershire Way long distance trail. View Full Details>>
Marcle Ridge Circular Walk
4 miles (6 km)
Climb to Marcle Ridge and enjoy splendid views towards the Malvern Hills on this circular walk in Herefordshire. It's a lovely area with attractive woodland areas and interesting plants such as orchids and spurge laurel to look out for. From the elevated position on the ridge there are super views of the Cotswold Hills, the Wye Valley, the Brecon Beacons and the Black Mountains.
There's a parking area off Glowson Wood Rd where you can start your walk. Please note this car park is privately owned with permission granted by the owners for walkers to use it. As such please respect the space as it is not cleaned or managed by the council. Pick up the footpath here and follow it north through Hoar Wood to Hooper's Oak. The route then turns west and then south to Hyde Common and Lyndalls Wood. The final section takes you along Ridge Hill before returning to the car park where there is a picnic area nearby.
The Three Choirs Way and the Herefordshire Trail both pass Marcle Ridge so it's easy to extend your walking in the area. If you head north west along the Three Choirs Way you could visit Broadmoor Common and Haugh Woods where there's lots more footpaths and wildlife to look out for. Heading north will take you across Marcle Hill to Woolhope Cockshoot. View Full Details>>
May Hill
1 miles (2 km)
Climb this hill on the Gloucestershire/Herefordshire border for wonderful views over the two counties, the Forest of Dean and the River Severn. On a clear day you can also see the Cotswolds and the Black Mountains in Wales.
The walk starts from the May Hill Common car park about a mile north of the hill. You then climb to the 1000ft (305m) summit where you will find a distinctive row of Corsican pine trees planted to commemorate Queen Victoria's Golden Jubilee in 1887. The summit is also covered in interesting flora such as acid grassland, heather and bluebells in the spring. Look out for wildlife including ponies and meadow pipits on the way.
You can return the same way or venture into the adjacent Newent Woods and visit Glasshouse Hill and Castle Hill Wood to extend your walk. The Gloucestershire Way and the Wysis Way both pass the hill so you could also pick up these long distance walking trails.
An alternative route to the hill would be to follow the Wysis Way from nearby Mitcheldean. View Full Details>>
Michaelchurch Escley
7 miles (12 km)
This little Herefordshire village is located on the eastern side of the Brecon Beacons, in the Black Mountains region. It's a nice place to start a walk with some significant hills to climb to the west. The village itself is also very pretty with a little brook running through it and a fine local pub for refreshments after your exercise. View Full Details>>
Mordiford Loop
4 miles (6 km)
This waymarked circular walk explores the countryside and woodland around the Herefordshire village of Mordiford. The area comprises of a number of pretty orchards where you can look out for Lesser-spotted Woodpeckers. There's also woodland trails, an Iron Age Hillfort and lots of nice Herefordshire countryside to enjoy. The route runs for just under 4 miles with some small climbs on the way.
You can start the walk from the village or from the car park at Cockshoot Old Sufton. The village is very interesting and worth exploring. The bridge over the River Lugg dates from the 14th century. It is the oldest surviving bridge in Herefordshire.
The walk visits Bears Wood and skirts the edge of Haugh Woods. You'll also pass Backbury Hillfort which dates from the Iron Age. You can extend your walk by exploring Haugh Woods with its popular butterfly trails. Also of interest is the Wye Valley Walk which passes through the village. View Full Details>>
Mortimer Trail
30 miles (48 km)
This exceptionally lovely walk takes you through the beautiful Shropshire and Herefordshire countryside, from Ludlow to Kington.
The walk begins at the splendid, medieval Ludlow Castle in Shropshire and heads towards Aymestrey, crossing the River Teme before passing through Mortimer Forest, Haye Park Wood and Deer Park. This section passes the excellent viewpoint at High Vinnalls and visits the British Iron Age hill fort at Croft Ambrey, where there are more fabulous views of the Herefordshire countryside. You can also explore the beautiful gardens surrounding the historic Croft Castle here.
View Full Details>>
Pembridge
2 miles (3 km)
This walk takes you from Pembridge to the neighbouring village of Eardisland. They are both picture postcard English villages located on the River Arrow. View Full Details>>
Queenswood Country Park
3 miles (4.8 km)
This splendid park is the only designated country park in Herefordshire. At Queenswood you'll find an arboretum, with over 1,200 rare and exotic trees from all over the world. There are a number of waymarked trails as well as a sculpture trail, early autumn tree trail and late autumn tree trail. Trail highlights include the Lime Avenue, the Autumn and Summer Gardens and Cottrell's Folly. View Full Details>>
Ross Round
18 miles (29 km)
This delightful circular walk takes you through the Herefordshire countryside around Ross-on-Wye.
You start on the River Wye, in the pretty market town of Ross-on-Wye, and follow the river north to the riversde settlement of Hole-in-the-Wall. The walk then leaves the river, visiting Crow Hill, Weston Under Penyard, Penyard Park, Warmhill Wood and Howle Hill as you head through the Herefordshire countryside.
There's much to enjoy on this varied walk including rivers, woodland and a series of pretty villages. View Full Details>>
Sabrina Way
203 miles (327 km)
This route is part of the National Bridleroute Network and primarily designed for horse riders but can be used by walkers and cyclists also. The trail starts at the deer park at Great Barrington and heads north to Hartington. The route passes through the Cotswolds, the Malvern Hills, the Wyre Forest and Cannock Chase Forest, before finishing in the Derbyshire Peak District. View Full Details>>
Shobdon
2 miles (3.5 km)
This short circular walk takes you around the pretty Herefordshire village of Shobdon. View Full Details>>
Symonds Yat Rock
2 miles (4 km)
Enjoy wonderful views over the Wye Valley from this well known viewpoint on the Herefordshire and Gloucestershire border. From the elevated position you have a great view of the beautiful wooded gorge below. It's also a popular spot for birdwatching with peregrine falcons, buzzards, goshawks and hobbies regularly seen. The area is great for walking and cycling with miles of waymarked woodland trails and riverside paths to try. This circular walk starts from the car park and follows good footpaths to the viewpoint. You then continue along the river through the woodland, passing Huntsham Hill on the way. A section along the Perigrine Path then takes you along the River Wye before heading through Riddings Wood to the car park.
There are several other waymarked trails in the area which visit the Iron Age Hillfort and Mailscot Wood. There is also a nature trail with nature boards through an attractive section of mixed woodland. You can buy refreshments from the excellent Log cabin cafe.
This route is designed for walkers but cyclists can try the Symonds Yat Rock Cycle Trail which runs for about 3 miles from the campsite. You can also pick up the Perigrine Path cycle route which runs through Symonds Yat. View Full Details>>
Three Choirs Way
100 miles (161 km)
Visit the cities of Gloucester, Hereford, and Worcester on this long distance circular walk. View Full Details>>
Weobley
5 miles (8 km)
This historic Herefordshire based village is a lovely place for a stroll. The former market town includes a number of photogenic timber framed buildings and a noteworthy Norman church. View Full Details>>
Wye Valley Walk
138 miles (222 km)
This walk takes you through the beautiful Wye Valley in Gloucestershire, Herefordshire and Wales.
The walk begins on the mouth of the River Wye at Chepstow Castle in Monmouthshire and follows the River Wye north to Monmouth, passing the fascinating ruins of Tintern Abbey on the way. You continue through Ross on Wye to Hereford and then onto Hay on Wye. You then return to Wales and head to Builth Wells, Newbridge and Rhayader before the final stretch takes you towards the source of the Wye on the slopes of Plynlimon mountain in the Cambrian Mountains of Powys. View Full Details>>