Shropshire Walks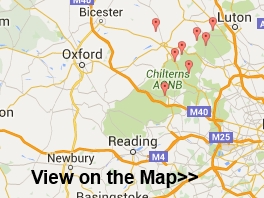 This fine English county on the border with Wales has some lovely walking in the Shropshire Hills AONB. Highlights include the climb to the iconic Wrekin and the wonderful Long Mynd.
Use the filter to show walks of a certain type such as woods, reservoirs, hills, long distance, country parks, canals and rivers.
In the spring walkers flock to the beautiful bluebell woods in the Shropshire area. Click the 'Woodland' button below to see these.
Use the links to view full route information including elevation profiles, interactive maps and GPS downloads.
You can also view an overview map of all the routes in the using the Shropshire Walk Map>>
Route Name
Distance
Description
Attingham Park
5 miles (8 km)
A circular walk around this lovely deer park in Shrewsbury. View Full Details>>
Battlefield Shrewsbury Walk
2 miles (2.5 km)
This walk explores the Battlefield Heritage Park, just north of the Shropshire town of Shrewsbury.  It is located on the site of the 1403 Battle of Shrewsbury fought between King Henry IV and English rebel nobleman Henry Percy. There is an accessible circular walking trail to follow around the site which also visits the Battlefield Church. Also known as St Mary Magdalene it was built in the fifteenth century to commemorate the battle. The area considered to be the site of the battle remains almost completely undeveloped, although in use as agricultural land and enclosed by hedges.
You can start the walk from the car park, just off the A5124, just to the north of Shrewsbury. Other facilities include a series of information panels, a café and farm shop. View Full Details>>
Bishop's Castle Ring
61 miles (98 km)
This long circular walk encircles the historic market town of Bishop's Castle in Shropshire. The walk first heads to Clun with it's Norman castle, church and interesting houses. You continue to Aston-on-Clun and then to the spectacular Long Mynd (video below). This heathland plateau forms part of the Shropshire Hills Area of Outstanding Natural Beauty and is owned by the National Trust. The views are spectacular, making this section one of the walk highlights.
The next section takes you to the rocky Stiperstones and The Bog lead mines, which are of great historical interest. The final section runs through Stapeley Common to the ancient stones of Mitchell's Fold before heading through Saddlers Little Wood and returning to Bishop's Castle. This section also passes the eye catching Corndon Hill which sits on the border between England and Wales. View Full Details>>
Bishop Bennet Way
32 miles (52 km)
The Bishop Bennet Way is a shared walking and cycling path running from Beeston in Cheshire to Wirswall on the Shropshire borders.
The route starts at the 13th century Beeston Castle and proceeds through Milton Green, Churton and Shocklach where you will pass the Grade I listed Norman church. View Full Details>>
Bridgnorth
19 miles (30 km)
This fine Shropshire town has some fine walking trails through the Severn Valley and a number of local parks and gardens to explore.
This long walk from the town centre makes use of the Severn Way and Geopark Way long distance trails to take you on a tour of the countryside to the south of the town. On the way you'll visit the Severn Valley Country Park, Chelmarsh Reservoir and Dudmaston Hall while enjoying long riverside stretches along the River Severn.
The walk starts in the town centre at the ruins of Bridgnorth Castle. The castle dates from the early part of the 12th century and is surrounded by pretty gardens. From here you can pick up the Severn Way running along the western side of the river. You head south passing Eardington before coming to Hampton Loade where you have the option of taking a detour to visit the nearby Chelmarsh Reservoir. The Jack Mytton Way runs along the northern end of the reservoir with nice views across the water. View Full Details>>
Brown Moss Nature Reserve
1 miles (2 km)
Enjoy a series of walking trails in this delightful nature reserve near Whitchurch. The site is 77 acres and includes marshes, pools, heathland and woodland. It's great for bird watching with woodpeckers, jays, Canada goose, mallard and great crested grebe regular visitors. Look out for froglets, dragonflies and great crested newts around the wetland areas. View Full Details>>
Caer Caradoc
9 miles (14 km)
Climb to the 1500 ft (459 m) summit of this distinctive hill in the Shropshire Hills AONB. The circular walk starts at Church Stretton, near the train station, and takes you to the Caer Caradoc summit where you will find an ancient hill fort. There are fabulous views of The Wrekin, Long Mynd, Carding Mill Valley, Wenlock Edge, the hills of North Wales and the Brecon Beacons. The walk then descends towards Comley and continues to the pretty village of Cardington. From here you return to Church Stretton via Willstone Hill, passing Hope Bowdler Hill on the way. View Full Details>>
Carding Mill Valley
3 miles (5 km)
Visit a lovely reservoir and waterfall on this short walk in the Shropshire Hills AONB. The walk starts at the National Trust's Carding Mill Valley visitor centre and car park in Church Stretton. You begin by following a pretty stream uphill on a good stony path before bearing left on New Pool Hollow to visit the pretty reservoir. You'll pass mill pools and the 2500 year old Bodbury Ring hill fort on the way. The walk then continues uphill to Lightspot Hollow where you will find a waterfall in a beautiful V-shaped valley lined with bilberry, bracken and heather. You can look out for trout in the pools and stonechats, buzzards and red kites in the air.
If you'd like to continue your walk you could head to the high point of the Long Mynd at Pole Bank. You could also climb the nearby Caer Caradoc for more fabulous views. The Shropshire Way and the Jack Mytton Way also pass through the area so you could pick these up easily too. View Full Details>>
Chelmarsh Reservoir
4 miles (7 km)
This circular walk takes you around the pretty Chelmarsh Reservoir in the Severn Valley. On the way you'll enjoy views of the River Severn and visit the little village of Chelmarsh.
The walk starts from Hampton Railway station on the Severn Valley Railway. You can catch the fine heritage steam trains from Bewdley or Bridgnorth. From the station it is a short walk to the reservoir using a section of the Jack Mytton Way long distance footpath. Follow the waymarked trail north and it will take you around the northern part of the reservoir and into Chelmarsh. View Full Details>>
Church Stretton
6 miles (10 km)
This attractive market town is a great place for exploring the Shropshire Hills Area of Outstanding Natural Beauty. It is located close to the lovely Carding Mill Valley and Long Mynd with various long distance trails also running through the area.
The town was nicknamed Little Switzerland in the late Victorian and Edwardian period because of its landscape. The local geology includes some of the oldest rocks in England.
This walk takes starts in the town near to the train station which is on the Welsh Marches line. The route then heads north west along a section of the Jack Mytton Way to Carding Mill Valley. View Full Details>>
Circular Walk around Ludlow
2 miles (2.5 km)
Visit Ludlow Castle, Whitcliffe Common and the River Teme on this walk around one of England's most attractive towns.
The walk starts at the imposing Ludlow Castle, just a short distance from the train station. The ruined medieval fortification was one of the first stone castles to be built in England, dating from the 11th century. You can follow public footpaths around the castle or pay for admission to the inner grounds.
The paths will take you to Dinham Bridge where you can cross the River Teme and turn left into Whitcliffe Common. The common is a lovely place for a stroll with a number of waymarked trails to try. The footpaths will take you through woodland, along the river and up to a splendid viewpoint where a toposcope shows the Shropshire Hills you can see. It's a great spot and well worth the short climb.
After exploring the common cross the bridge at the eastern end and follow Broad Street North through the town. There's some wonderful medieval and Tudor-style half-timbered architecture to admire including Castle Lodge. The 13th century period house is famous for being the residence of Catherine of Aragon whilst she was married to Prince Arthur. There's also the parish church, St Laurence's, the largest in the county of Shropshire. It's another popular visitor attraction with more fine architecture and a fascinating history.
Two very fine long distance trails pass through the town so it's easy to extend your walking in the area. You could follow the Shropshire Way north and head through the countryside to Stanton Lacy with views of the River Corve on the way.
The Mortimer Trail will take you south west through Mortimer Forest where you can climb to High Vinnalls and enjoy panoramic views over the Herefordshire countryside. View Full Details>>
Clee Hills
12 miles (19 km)
Visit Titterstone Clee Hill and Brown Clee Hill on this challenging walk in the Shropshire Hills AONB. Titterstone Clee stands at a height of 1,749 feet (533 m) while Brown Clee at 1,772 feet (540 m), is the highest peak in Shropshire. The views from the hills are truly wonderful with the Welsh Mountains of Snowdonia, Cadair Idris, the Brecon Beacons, and the Black Mountains visible. There are fine views across the Shropshire Hills AONB including Long Mynd, Caer Caradoc and Stiperstones are also marvellous. To the south are the Malvern Hills and the Cotswolds, and to the east are the Clent Hills, Turner's Hill,  and Barr Beacon. To the north is Cannock Chase and the Peak District including The Roaches and Winter Hill.
This walk starts at the car park at Titterstone Clee Hill and follows the Shropshire Way 5 miles north to Brown Clee Hill. Look out for a variety of wildlife including rabbits, adders, peregrine, kestrel, skylark, Eurasian curlew and barn owl often scene on the hills.
If you'd like to extend this walk you could start it from the nearby town of Ludlow and follow the Shropshire Way to Titterstone Hill. View Full Details>>
Cleobury Mortimer
2 miles (3.2 km)
This picturesque market town in Shropshire has some pleasant walks along the River Rea. It is notable as one of the smallest towns in Shropshire, and was granted its market charter in 1253.
This circular walk from the town takes you north to Ron Hill and Neen Savage, following the route of the River Rea. The route then returns on bridle tracks just to the east of the river.
The route runs for about 2 miles on fairly flat paths with nice river and country views on the way. View Full Details>>
Colemere Country Park
2 miles (2.5 km)
Enjoy a peaceful circular walk around the pretty Cole Mere in Shropshire. The mere is surrounded by mature woodland with two very attractive hay meadows where you can see wildflowers and orchids during the warmer months. The park attracts a variety of wildfowl including snipe, curlew and pochard. The Llangollen Canal also runs through Colmere and there are several other nearby meres including Blake Mere, White Mere and Newton Mere. As such, there is plenty of scope for continuing your walk if you have time.
You can start your walk from the Colemere Car Park at the south eastern end of the lake. It's located at postcode SY12 0QW for your sat navs.
The park is located a couple of miles east of Ellesmere. If you'd like to continue your walk you could head to the nearby Ellesmere Lake where there are lakeside and woodland footpaths to enjoy. View Full Details>>
Corndon Hill
2 miles (4 km)
Climb to this prominent hill in Powys and enjoy wonderful views over the Long Mynd and Stiperstones on this lovely walk on the Wales-England border.
You can start the walk from a parking area just north of the hill, near the Mitchell's Fold stone circle. From here it is a short walk to the hill summit which stands at a height of 1,683 ft. The view from here is first class with the Shropshire Hills and Welsh Mountains stretching out in front of you for miles. On a clear day the Clee Hills, Severn Valley, Clwydian Hills, Cheshire Plain, Cadair Idris, the Rhinogs and the Black Mountains are all in focus.
After taking in the view you can return the same way or turn it into a longer circular walk by descending south east and then south from the summit. The footpath then loops round to Lan Fawr near Priest Weston before returning to the car park.
The walk to Mitchell's Fold Stone Circle starts from the same car park so you can easily visit the fascinating Bronze Age stones at the same time.
Corndon Hill is located just a few miles west of the wonderful Stiperstones Nature Reserve. It's a great place to continue your walking with its craggy rock outcrops, gorgeous heather heathland and more wonderful views from the elevated position.
The long distance Shropshire Way also runs nearby and is another great way to explore this beautiful area on foot.
Also of interest is the Bishop's Castle Ring long distance footpath. It passes just to the west of the hill and will take you on a tour of the countryside and hills surrounding the Shropshire market town of Bishop's Castle. View Full Details>>
Dudmaston Hall
3 miles (4.5 km)
This 17th-century country house in the Severn Valley is surrounded by landscaped gardens, parkland, managed woodlands, lakes and farmland. View Full Details>>
Eastridge Woods
5 miles (8 km)
These expansive woods have miles of excellent mountain bike trails to try. The woods are located next to the village of Snailbeach, about 9 miles from Shrewsbury. There's a black trail (severe) and a red trail (difficult) so there's much to enjoy for the experienced rider.  Features include tough climbs, natural drops, rocks and very steep descents. This cycle route starts from Snailbeach but you could also start from the car park on the eastern side of the woods.
This route is designed for cyclists but walkers can also enjoy a number of footpath in the woods. The site sits in an elevated position some 1100ft above sea level. As such there are splendid views of the surrounding Shropshire countryside from the high points. View Full Details>>
Ellesmere Lake
2 miles (3 km)
Enjoy a short walk along Ellesmere Lake in this Shropshire based country park. The park boasts a lake, woodland walks and historic parkland on the edge of the medieval market town of Ellesmere. There is also an excellent Boathouse Visitor Centre and the lovely Victorian Cremorne Gardens on the shore of the Mere. These gardens additionally include the excellent Ellesmere Sculpture Trail. The stone and wood based pieces are created by international contemporary artists, commissioned by the Ellesmere Sculpture Initiative (ESi), and are made specifically in response to the location. The lake is a good place for birdwatching too with many wintering birds visiting the island in the centre. Keep your eyes peeled for the nesting herons as you may your way along the surfaced footpath.
If you'd like to continue you walk you could follow the Llangollen Canal to the nearby Colemere Country Park. It's only about a mile south east of the lake and includes another circular waterside trail. Just pick up the canal towpath to the south of the car park. View Full Details>>
Geopark Way
111 miles (179 km)
Meandering its way for 109 miles through the Abberley and Malvern Hills Geopark from Bridgnorth to Gloucester, the Geopark Way passes through stunning countryside as it explores 700 million years of geological history. The trail offers varied walking alongside rivers, through forests, along ridges and across valley floors; all with majestic views to match. Passing through an assortment of habitats there is a plethora of wildlife adding to the occasion. Quaint villages and towns dot the route bringing further elements of exploration and enchantment.
Highlights on the route includes a stretch through the lovely Eastnor Deer Park next to the 19th century mock castle. The climb through the Malvern Hills is also wonderful with splendid views over the countryside of Herefordshire, Worcestershire and Gloucestershire. View Full Details>>
Glyndwr's Way
135 miles (217 km)
Starting at Knighton on the English/Welsh border follow this wonderful 135 mile long trail through some of the most stunning landscape in Wales. Highlights on the route include rolling Welsh Hills, views of the River Severn, a series of interesting Welsh towns, several beautiful waterfalls including the Rhiwargor Waterfall and the lovely lakes of Llyn Clywedog and Lake Vyrnwy. View Full Details>>
Granville Country Park
3 miles (4.2 km)
This pretty nature reserve in Telford includes copses, heaths, grasslands, pools, scrub, wet woodlands and oak capped mounds. The park is located a couple of miles north of Telford town centre in Donnington Wood. It's perfect for a peaceful afternoon stroll with a variety of plantlife to see including Orchids, ox-eye daisy and cowslips. There are also splendid views of the surrounding countryside and a series of historic old mine buildings to see. The Hutchison Way walk passes through the park so there is the option of continuing your walk along this trail. View Full Details>>
Grinshill
2 miles (3.4 km)
This circular walk visits Corbet Wood and the viewpoint at Grinshill, near Shrewsbury. It's a pretty area with peaceful woodland trails and great views over South Shropshire and the Welsh Borders from the dramatic cliff tops at Grinshill Hill.
The site includes some rugged trails and an easier, family friendly route.
Grinshill is a geologically interesting area with stone quarried in the area since at least the 12th century. It's great for wildlife too with many species of butterfly and birds including coal tits, goldcrests, warblers and woodpeckers.
The route also visits the little village of Clive, birthplace of the English Restoration dramatist William Wycherley, author of 'The Country Wife'. It's nice to stroll around the village with its pretty cottages and Victorian church.
You can start the walk from the car park at Corbet Wood, next to Grimshill Quarry. Then follow the woodland trails west toward Clive. Just before Clive you can turn left and follow paths up to the Grinshill viewpoint which stands at a height of 192 metres (630 ft).
After taking in the views descend back to the path and head to the village of Clive. Here you'll find a lovely church made from the two different coloured sandstones quarried from Grinshill.
The walk then returns to the car park along a section of the Marches Way. View Full Details>>
Haughmond Hill
3 miles (5.6 km)
Enjoy a series of waymarked walking trails in this woodland area near Shrewsbury. There are four colour coded trails of varying lengths and difficulty.
The Bardon Geo Trail is waymarked with orange markers. It will take you to a viewpoint with wonderful views over the Shropshire countryside and the River Severn.
The red waymakers will take you on Henry's Hike where you can enjoy excellent views of The Wrekin.
Wilfred's Walk follows blue markers on a four km circular tour of the area. It is named after Wilfred Owen the famous World War One poet who had links with the area.
There is also an easy access trail suitable for wheelchairs and buggies which is waymarked with yellow markers.
You will pass through mixed deciduous/coniferous woodland and visit an Iron Age enclosure and Haughmond quarry on the way. Look out for deer as you make your way through the woodland areas. View Full Details>>
Hawkstone Park
6 miles (10 km)
This spectacular park in Shropshire covers 100 acres and includes intricate pathways, ravines, arches, bridges, towering cliffs and follies. There are magnificent views of the surrounding Shropshire countryside from the clifftops, a series of atmospheric caves to explore, the remains of the ruined Red Castle and the delightful Hawk Lake. The video below shows the fabulous scenery you can expect to see on your walk.
The park is located about 8 miles north of Shrewsbury. View Full Details>>
Hodnet
1 miles (1.7 km)
This walk visits the pretty Shropshire village of Hodnet. The village is known for the delightful Hodnet Hall Gardens which are open to the public from March through to the end of October. View Full Details>>
Hutchison Way
19 miles (30 km)
This walk was created by Telford & Wrekin council as a millennium project and named after late former Chief Executive of the council David Hutchison. It runs from Wellington to Newport via Telford and passes through woodland, country parks and some lovely Shropshire countryside.
Walk highlights include splendid views of The Wrekin in the Shropshire Hills Area of Outstanding Natural Beauty. This prominent landmark forms a beautiful backdrop for much of the walk.
You will also visit the Ercall with its small hill, quarries and wood. The area is full of flora and fauna and is regarded as an internationally important geological site.
At Donnington wood you will pass through Granville Country Park. View Full Details>>
Ironbridge Way
8 miles (13 km)
Starting in Leegomery head south to the historic Ironbridge on this 8 mile walk through Shropshire. The path passes Ketley and Little Dawley with pleasant sections through Lawley and Horsehay commons where you will pass the tranquil Horsehay Pool. View Full Details>>
Jack Mytton Way
68 miles (110 km)
This is a splendid walk or mountain bike ride through Shropshire from Cleobury Mortimer to Llanfair Waterdine. It passes through the wonderful Long Mynd in the Shropshire Hills AONB. View Full Details>>
Kerry Ridgeway
15 miles (24 km)
This is an exceptionally beautiful walk or cycle through Powys and then into Shropshire.
The route runs along a ridge top overlooking Wales on the one side and England on the other with spectacular views for the duration of the ride. It runs for about 15 miles with a gradual descent when going from west to east.
You start at Cider House Farm near Kerry and head east to Bishop's Castle passing through Ceri Forest on the way. You will pass through heather moors, woodlands and bilberry rich heaths with fabulous views of the Welsh and Shropshire Hills. View Full Details>>
Llwybr Ceiriog Trail
23 miles (37 km)
A circular walk or cycle through the beautiful Ceiriog Valley. The trail visits the pretty villages of Bronygarth and Pandy and contains some challenging climbs. View Full Details>>
Long Mynd
6 miles (9 km)
This circular walk takes you to Pole Bank, the highest point on the Long Mynd in the Shropshire Hills AONB. Much of this beautiful area is owned and managed by the National Trust so there are good footpaths to follow to the 516m (1,693 ft) summit.
The walk starts at the National Trust's Carding Mill Valley visitor centre and car park in Church Stretton. You begin by following a pretty stream uphill on a good stony path. You continue along Mott's Road passing Calf Ridge and Lightspot Hollow where there is the option to take a short detour to Lightspot Waterfall. At the top of the hill you head west along the ancient Portway, passing a Neolithic monument which was converted to a shooting box during the Victorian period. You soon come to the summit at Pole Bank where there are magnificent views of the Brecon Beacons, the Cambrian and Berwyn Mountains, Snowdonia and the Malverns. After taking in the views you descend passing the spring at Boiling Well and continuing through Townbrook Valley with its pretty brook and Victorian reservoir. A short woodland section then takes you to the finish point at the car park.
The walk makes use of the Shropshire Way and the Jack Mytton Way so there is the option of continuing your walk along these long distance footpaths. You could also climb the nearby Caer Caradoc for more fabulous views. If you're looking for a shorter less strenuous walk you could visit the reservoir and waterfall on the Carding Mill Valley walk. View Full Details>>
Lyth Hill Country Park
2 miles (3 km)
Enjoy wonderful views over the Shropshire Hills in this country park near Shrewsbury. The walk starts at the car park at the eastern end of the park. You then follow the Shropshire Way and other trails to the viewpoints. From here there are splendid views of The Wrekin, Wenlock Edge and Stiperstones. You also pass through areas of woodland, scrub, and open grassland with a variety of wildlife to look out for. Lyth Hill can also be reached by following the Shropshire Way from Shrewsbury. View Full Details>>
Maelor Way
24 miles (38 km)
This splendid walk takes you from the Shropshire/Cheshire border into Wales.
The path starts at Grindley Brook near Whitchurch and heads west to Penley in Wales, passing around the pretty Hanmer Mere on the way. You continue to Overton and then Erbistock where you join the River Dee and then the River Ceiriog to Chirk before the final waterside section leads to the finish point at Bronygarth.
This is a beautiful walk through some fabulous English and Welsh countryside. It also has several waterside streches along the two rivers with a stroll along the Llangollen Canal near Chirk to enjoy also. View Full Details>>
Market Drayton
11 miles (18.5 km)
This pleasant market town in north Shropshire has some nice waterside trails along the River Tern and the Shropshire Union Canal. The town is also well known for its gingerbread and has some fine architecture with half timbered and red brick buildings to admire.
This walk from the town takes you along a section of the Shropshire Union Canal to the neighbouring village of Cheswardine. View Full Details>>
Mitchell's Fold Stone Circle
2 miles (3.8 km)
Visit this fascinating Bronze Age stone circle and enjoy a hike across Stapeley Common and Stapeley Hill, on this lovely circular walk on the Wales - England border. It's a very beautiful and atmospheric area with the ancient stones surrounded by the stunning scenery of the Shropshire Hills AONB.
You can start the walk from the parking area near the stones and cross the dry heathland to the site. The site originally consisted of 30 stones, of which 15 now remain. The surviving stones range in height from just 10 inches to 6 feet 3 inches (1.91 metres), standing in an ellipse 89 feet by 82 feet (27 metres by 25 metres). After exploring the site you can continue your walk by climbing to Stapeley Hill. Along the way there are fabulous views over the surrounding hills and countryside from the high points.
The climb to Corndon Hill starts from the same location. You can follow tracks south to climb the hill which straddles the border with Wales. It's a great viewpoint with stunning views across the Welsh Mountains and Shropshire Hills.
The long distance Bishop's Castle Ring also passes the stone circle. You can pick it up to explore the area surrounding the market town which lies just to the south. View Full Details>>
Monarch's Way
615 miles (990 km)
This incredible 615-mile walk approximates the escape route taken by King Charles II in 1651 after being defeated in the Battle of Worcester.
The Monarch's Way starts at Worcester then travels north to Boscobel and then south to Stratford upon Avon. It then continues south through the Cotswolds to Stow on the Wold before turning south west towards Bristol via Cirencester. The route then heads south through the Mendip Hills to Wells and then on through Somerset towards Yeovil and then south west to Charmouth. You then follow the Dorset coast before turning north again to Yeovil, before heading east across the Downs to Brighton and then onto the finish point at Shoreham-by-Sea.
The walk also takes you through two World Heritage Sites, one National Park and six Areas of Outstanding Natural Beauty. For those interested in the history of the walk there is ample opportunity to learn and discover more with a series of museums and historical sites dotted throughout the route.
The walk is waymarked with a picture of the ship The Surprise, the Prince of Wales crown and the Royal Oak tree at Boscobel House.
The route has been split into two separate gpx files. The first includes the section from Worcester to Bridport via the Midlands and Somerset. View Full Details>>
Montgomery Canal
35 miles (56 km)
Enjoy easy waterside cycling and walking along the Montgomery Canal through Powys and Shropshire. The whole of the route can be walked while cyclists can enjoy the section from Newtown to Welshpool along National Cycle Network route 81. It's a great ride and suitable for families and people of all abilities.
Starting in Newtown you follow the River Severn towards Llanllwchaiarn and the start of the canal. You then follow the towpath north passing the Pwll Penarth Nature Reserve and a series of pretty villages including Abermule and Berriew where the canal is carried over the River Rhiw aqueduct. The route continues to Welshpool passing Powis Castle and the Llyn Coed y Dinas Nature Reserve. It's a super section of the canal with wildlife such as otters and water voles to look out for.
From Welshpool you continue north to Arddleen and Four Crosses where you cross the Vyrnwy Aqueduct. It's a highlight of the route with splendid views of the River Vyrnwy to enjoy.
The route continues through Pant and Maesbury Marsh before finishing at Frankton Locks in Shropshire. Here you can pick up the Llangollen Canal and enjoy more waterside walking. View Full Details>>
Mortimer Forest
8 miles (13 km)
Enjoy walking and cycling trails in this large area of woodland near Ludlow. The woods are located on the border of Shropshire and Herefordshire and include a number of signed trails taking you to the highlights of the forest.
The walk starts at the ruined castle in Ludlow and follows the Mortimer Trail over the River Teme into the forest. You'll pass Whitcliffe Common on the southern side of the river where there's a nice viewpoint and riverside trails.
The trail heads into the centre of the woods where you can enjoy a climb to High Vinnalls. It's a challenging ascent with the hill reaching a height of about 1200ft.
This walk uses a section of the long distance Mortimer Trail which runs through the heart of the forest. You can extend your walk by following the trail south and visiting the Croft Ambrey Iron Age Hillfort where there are great views to the Welsh Hills. There's also nice trails through the parkland and gardens of Croft Castle.
The Shropshire Way also passes Ludlow so you could pick up this trail and head deep into the Shropshire countryside. View Full Details>>
Mortimer Trail
30 miles (48 km)
This exceptionally lovely walk takes you through the beautiful Shropshire and Herefordshire countryside, from Ludlow to Kington.
The walk begins at the splendid, medieval Ludlow Castle in Shropshire and heads towards Aymestrey, crossing the River Teme before passing through Mortimer Forest, Haye Park Wood and Deer Park. This section passes the excellent viewpoint at High Vinnalls and visits the British Iron Age hill fort at Croft Ambrey, where there are more fabulous views of the Herefordshire countryside. You can also explore the beautiful gardens surrounding the historic Croft Castle here.
View Full Details>>
Nesscliffe Hill Country Park
1 miles (2 km)
Enjoy woodland trails, heather covered hills and wonderful views over the Shropshire countryside and Welsh hills in this country park near Shrewsbury. View Full Details>>
Oswestry
8 miles (13.6 km)
This large market town near the Welsh border has some nice walking trails to try to the west. This walk picks up the Offa's Dyke Path to explore the old Oswestry Racecourse and the woodland trails in Candy Wood. You'll also visit the River Morda with lovely views over the Morda Valley.
The walk starts in the town centre next to the heritage centre and the pretty Cae Glas Park. From here you pick up footpaths heading west through the countryside to Racecourse Common. From the 1700s to 1848, there was a popular racecourse on the site. Known as Cyrn-y-Bwch (Welsh for the Horns of the Buck), the site was chosen on this 1,000-foot (300 m) high hilltop because of its location between the Kingdom of England and the Principality of Wales, and the aim was to bring together the local landowners and gentry of Wales and England. Remnants of the old grandstand and figure-of-eight racetrack can still be seen. There's also a nice viewpoint from the elevated position of the common, with fine views over the surrounding English and Welsh countryside.
On the common you can pick up the Offa's Dyke Path and follow it south through Racecourse Wood and Candy Wood toward Tyn-y-coed. Around here you can enjoy views of the River Morda and the lovely Morda Valley.
From here you retrace your steps through the woods and common before returning to the town. View Full Details>>
Radnor Forest Ride
62 miles (100 km)
A long distance shared walking and cycle path that runs from Llanfair Waterdine on the English-Welsh border to the Brecon Beacons Visitor Centre. It will take you through the expansive area of the Radnor Forest located to the north of the Black Mountains and to the east of the Cambrian Mountains. The forest is noted for its photogenic geology and a wide variety of interesting flora and fauna.
The path follows a series of bridleways and minor country roads through some wonderful scenery including the beautiful Wye Valley and the spectacular Brecon Beacons. View Full Details>>
Sabrina Way
203 miles (327 km)
This route is part of the National Bridleroute Network and primarily designed for horse riders but can be used by walkers and cyclists also. The trail starts at the deer park at Great Barrington and heads north to Hartington. The route passes through the Cotswolds, the Malvern Hills, the Wyre Forest and Cannock Chase Forest, before finishing in the Derbyshire Peak District. View Full Details>>
Sandstone Trail
32 miles (51 km)
This is a popular walk that runs through Cheshire and Shropshire from Frodsham to Whitchurch.
The path starts in Frodsham and heads south to Frodsham Hill with lovely views over the Cheshire Plain and the Mersey Estuary. You continue to Delamere Forest with its 2,400 acres of mixed deciduous and evergreen woodland and Blakemere Moss, a lake around 1 km in length.
From Delamere you continue south towards Beeston Castle in Tarporley. With an exhibition detailing 4000 years of the castle's history and 40 acres of woodland trails, Beeston is a major attraction on the walk. Soon after you will come to Peckforton Castle, which is actually a country house built in the style of a medieval castle. It is now used as a luxury hotel.
The path then heads through the lovely Peckforton Hills, passing the Bickerton Hills and Hampton Green before joining the towpath of the Shropshire Union Canal to Grindley Brook and then onto the finish point at Whitchurch.
To extend your walking on the trail you could try our circular walk from Frodsham which uses the Delamere Way to create a loop around the town. View Full Details>>
Severn Valley Country Park
2 miles (2.5 km)
This 126-acre riverside park consists of woodland, meadows and riverside banks with views of the River Severn. The park has several lovely waymarked trails while National Cycle Route 45 also runs through the park. Features in the park include a lake with a bird hide, a woodland walk along a boardwalk and a delightful riverside path. There is also an informative visitor centre and picnic areas. View Full Details>>
Severn Valley Railway Walk
7 miles (12 km)
Enjoy a lovely walk along the Severn Valley Railway on this riverside trail in Bewdley. The circular walk runs along both sides of the River Severn with views of the heritage steam trains to enjoy on the way. It runs for just under 8 miles though you do have the option of catching the train back from Upper Arley if you wish.
Starting on the bridge in Bewdley the walk follows the waymarked Worcestershire Way north to the delightful village of Upper Arley. Here you have the option of catching the wonderful old train back or returning on foot on the opposite side of the river. Here you can enjoy a visit to Trimpley Reservoir. View Full Details>>
Severn Way
224 miles (360 km)
Follow the River Severn from its source at Plynlimon in Powys, to Bristol, the mouth of the river. You start the walk at Plynlimon in upland Mid Wales, before descending into Llanidloes, Newtown, Powys, and Welshpool. The route then follows the towpath of the Montgomery Canal passing The Wrekin and continuing on through Shrewsbury, the Severn Gorge, and the historic town of Ironbridge. You then cross into Worcestershire passing Bewdley, Stourport-on-Severn, Worcester and Upton-upon-Severn in the Malvern Hills. The next section passes through Gloucestershire and includes a section along the Gloucester and Sharpness Canal which takes you past the fascinating abandoned ships at Purton Hulks. You'll also visit Tewkesbury, Gloucester, the 12th century Berkeley Castle before heading to the Severn Estuary and the mouth of the Severn near Oldbury on Severn. View Full Details>>
Shrewsbury Canal
3 miles (5 km)
This cycling and walking trail follows the route of the Old Shrewsbury Canal from the centre of Shrewsbury to Haughmond Hill at Uffington.
The path starts at Castle Fields, just to the north east of the train station. It then heads through Ditherington and Heathgate before finishing at Uffington next to Haughmond Hill. It's a nice flat path running for about 3 miles with views of the River Severn.
The route runs along part of the long distance Shropshire Way and runs alongside the Severn Way. The are both good options for extending your walk.
You could also enjoy a climb to Haughmond Hill at the end of the route, where there are nice woodland trails and great views over Shropshire. View Full Details>>
Shrewsbury River Walk
2 miles (3.6 km)
A circular walk around the attractive town of Shrewsbury, visiting the River Severn, Shrewsbury Castle and The Quarry park.
The walk starts next to the train station at Shrewsbury Castle. The red sandstone castle dates from the 11th century and sits on a hill directly above the station. You can explore the castle grounds for free or, for a fee, visit the museum which includes regimental pictures, uniforms, medals, weapons and other equipment from the 18th Century to the present day.
After exploring the castle the walk heads around the station to the river where you can pick up the Severn Way. View Full Details>>
Shropshire Union Canal
66 miles (106 km)
Travel from the ourskirts of Wolverhampton to Ellesmere Port on this long distance waterside walk along the Shropshire Union Canal.
The route starts at Autherley Junction in the Oxley area of Wolverhampton. You follow the canal north into the countryside, passing Pendeford Mill Nature Reserve where there are good bird watching opportunities.
You continue north to Brewood and Wheaton Aston before passing Belvide Reservoir. The canal enters Shropshire, passing Market Drayton before entering Cheshire where you pass Audlem with views of the River Weaver.
The route then passes through Nantwich and Chester before finishing at Ellesmere Port where you join with the Manchester Ship Canal and the River Mersey.
The canal also links with the Llangollen Canal and the Montgomery Canal which run into Wales. View Full Details>>
Shropshire Way
139 miles (224 km)
This walk takes you through some of the most beautiful countryside in Shropshire. You will visit Shrewsbury, Clun (with its ruined castle), Ludlow, Clee Hills, Wenlock Edge, Ironbridge and The Wrekin, where there are some truly spectacular views of this splendid county. The walk begins at Grindley Brook, near Whitchurch, and runs along a circuit to finish a Wem.
Walk Highlights include:

Following the Shropshire Union Canal at the start of the route from Grindley Brook
Following the River Severn through Shrewsbury
Clun Castle - this ruined castle dates from the 13th century.
Haughmond Hill with its delightful woodland near Shrewsbury
Following the Rivers Onny and Tem into Ludlow and past Ludlow Castle
The Clee Hills near Ludlow - part of the Shropshire Hills Area of Outstanding Natural Beauty.
The wonderful medieval manor house of Stokesay Castle which dates from the 13th century and is run by English Heritage. The trail passes the castle near the town of Craven Arms.
The historic town of Ironbridge with its iconic 18th century bridge over the River Severn and the magnificent Ironbridge Gorge
The spectacular views from The Wrekin near Ironbridge.
The fascinating ancient woodland and 500 million year old rocks at The Ercall next to the Wrekin.
The wonderful geological rock formations and views from the Stiperstones.
The geologically interesting area at Grinshill.
Following the River Roden into the finish point at Wem

View Full Details>>
Silkin Way
14 miles (23 km)
Follow the Silkin Way through Shropshire and enjoy Rivers, parks and historical villages.
The path starts by Coalport Bridge on the River Severn and heads north towards Telford passing the fascinating Blists Hill Victorian Town at Madeley. The museum attempts to recreate the sights, sounds and smells of a Victorian Shropshire town in the late 19th century and early 20th century and is well worth a visit. View Full Details>>
South Cheshire Way
34 miles (55 km)
This is a splendid walk along canals and through wonderful Shropshire and Cheshire countryside from Grindley Brook, near Whitchurch, to Mow Cop near Congleton.
The walk starts on the Shropshire Union Canal at Grindley Brook and heads to Marbury. View Full Details>>
Stanmore Country Park Shropshire
2 miles (2.5 km)
This 100 acre country park near Bridgnorth is ideal for a peaceful afternoon stroll. The park is the site of a World War II training base and is criss crossed with well maintained tarmac paths taking you through the 80 acre woodland.
The park is located just to the east of Bridgnorth town centre. You could continue your walk along the Severn Way which runs through the town. View Full Details>>
Stiperstones
9 miles (15 km)
The area around this Shropshire Hill is fantastic for walking and cycling. This walk takes you to the 536 m (1,759 ft) Stiperstones summit where you can enjoy fabulous views of the area.
The Stiperstones is a 6 mile/10km ridge covered with craggy rock outcrops and gorgeous heather heathland. The area is also a National Nature Reserve with a diverse range of flora and fauna. Look out for red grouse, Eurasian curlew, peregrine falcon and the rare ring ouzel as you make your way across the hills.
This walk begins in Habberley taking you through woodland to the Stiperstones ridge. You head along the ridge passing the quartzite tors that Stiperstones is famous for. These include Shepherd's Rock, the Devil's Chair and Manstone Rock. Manstone is the highest at 536 metres (1,759 ft) and commands fabulous views over the Shropshire Hills, the Long Mynd and Wales. From here you return to Habberley on different tracks, passing through a series of wooded areas as you go.
If you'd like to continue your climbing in the area then you could head to the nearby Caer Caradoc and the stunning Long Mynd. This route also makes use of the Shropshire Way so you could continue along this path to the Bog Mine Visitor Centre where you'll find historical information about the area and two circular walks. View Full Details>>
Telford
11 miles (18 km)
This Shropshire based town has a number of long distance trails passsing through the area. There's also a lovely local country park and the ever popular climb to the Wrekin to try.
This route from makes use of the Silkin Way and the Ironbridge Way to create a circular walk around the town. You'll visits some of the town's local parks and the wonderful Ironbridge Gorge to the south of the town.
The walk starts in the town centre where you can pick up the Silkin Way shared cycling and walking trail. This will lead you past the town park where you can enjoy some waterside footpaths along the Radlay Pool. In 2015 the pleasant Town Park was voted "UK's Best Park" in the inaugural public competition organised by Fields in Trust.
The trail then passes Stirchley and Madeley before arriving at the River Severn. Here you can pick up the Severn Way and follow it west to the historic town of Ironbridge. Here you can view the impressive bridge which opened in 1781. It was the first major bridge in the world to be made of cast iron, and was greatly celebrated after construction owing to its use of the new material. The bridge, the adjacent settlement of Ironbridge and the Ironbridge Gorge form the UNESCO Ironbridge Gorge World Heritage Site.
In the town you can pick the Ironbridge Way and follow it north toward the impressive Telford Steam Railway on the western outskirts of the town. The route then turns east to take you back into Telford town centre. View Full Details>>
The Ercall
2 miles (3.5 km)
This small hill near The Wrekin has some nice walking trails to follow through Ercall Woods. The area is geoligcally significant with rocks dating back 500 million years and several disused quarries. There's also lots of interesting flora and fauna to look out for. In the spring you will find carpets of bluebells and the dingy skipper and speckled wood butterflies. From the high points on Ercall Hill there are splendid views across the Shropshire countryside.
You can start your walk from the car park on Wellington Road near Ercall Lane. From here you pick up the Shropshire Way and head in a north easterly direction past Lawrence Hill and through the woods to the Ercall Hill summit. The path then descends towards the Ercall Wood College on the outskirts of Wellington. You can also easily reach the area from the centre of Wellington. Head south from the train station or bus station for about a mile and you will come to the woods.
This route is designed for walkers but the area is also very popular with mountain bikers.
To extend your walk you can try the The Wrekin circular walk which starts from the same car park. View Full Details>>
The Wrekin
5 miles (8 km)
This popular walk takes you to the summit of this iconic Shropshire Hill.
You start at the car park at Lawrence Hill and follow good footpaths along the Shropshire Way to the 407 m (1,335 ft) summit. View Full Details>>
Wat's Dyke Way Heritage Trail
62 miles (99 km)
A new walking route running through the pastoral countryside near the Welsh-English border. The trail runs from Llanymynech in Powys to Holywell in Flintshire following Wat's Dyke - a 40-mile earthwork. On the route:
Montgomery Canal - the walk follows the canal from the start at Llanymynech to Maesbury (video below).
Oswestry - the next stage takes you to this interesting town with a Celtic Hill Fort. 
Erbistock - you will cross the River Dee at this pretty village.
Wrexham - the walk then heads to the largest town in north Wales, passing the National Trust Property of Erddig Hall just before.
Alyn Waters Country Park - the next stage takes you through this lovely park and the villages of Hope and Caergwrle. View Full Details>>
Wem
12 miles (19 km)
This pleasant market town in Shropshire has a couple of waymarked trails passing through it. You can use these waymarked paths to explore some attractive Shropshire countryside or enjoy waterside paths along the Roden River which runs through the town. View Full Details>>
Wenlock Edge
19 miles (31 km)
Wenlock Edge runs from Craven Arms to Much Wenlock, in the Shropshire Hills AONB. This walk follows the 19 mi (31 km) limestone escarpment using the footpaths of the Shropshire Way and the Jack Mytton Way long distance routes. View Full Details>>
Whitchurch Canal Walk
6 miles (9.7 km)
Enjoy an easy waterside walk along the Llangollen Branch of the Shropshire Union Canal, from Whitchurch to Marbury. It's a lovely section of the canal with lots of pretty locks, old bridges and nice views of the open countryside of Cheshire and Shropshire.
Starting in the town centre you can follow The Marches Way and the Shropshire Way west past Jubilee Park to the start of the Whitchurch Arm. Follow the towpath round to the north, passing Danson's Bridge and Grindley Brook lock.
You continue past Willeymoor Lock to Quoisley Bridge before coming into Marbury. The village is a lovely place for a stroll with a number of attractive meres to visit. Here you can look out for a variety of wildlife including gadwall, garganey and ruddy ducks at the Quoisley meres. Great crested, red-necked and Slavonian grebes, great and little bittern, Canada and pink-footed geese, coots, moorhens and mute swans can be seen at the Marbury meres. View Full Details>>
Whittington
11 miles (17 km)
This Shropshire village near Oswestry has a historic moated castle and some fine canalside trails to try nearby. There's also an ancient 16th century inn to rest and relax in afterwards. View Full Details>>