London Cycle Routes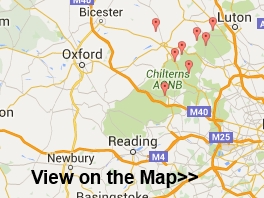 Greater London is an interesting place to cycle with central London becoming more cycle friendly largely thanks to the London Cycling Campaign, Transport for London and the National Cycle Network.
The outskirts offer many attractive routes with Wimbledon Common, Richmond Park and the River Thames offering some pleasant off road cycling opportunities.

The central area is also well served by cycling lanes and signed routes which you can view and download below.
Use the links to view full route information including elevation profiles, interactive maps and GPS downloads.
You can also view an overview map of all the routes in the using the Greater London Cycle Map>>
There are several National Cycle Networksigned routes in the county many of which have been mapped and can be viewed and downloaded below.

For more information on cycle routes in Greater London including tips, advice and free cycle maps please click here
Route Name
Distance
Description
Alexandra Park
1 miles (2 km)
Enjoy a walk or cycle through this popular park in North London. The park covers nearly 200 acres and surrounds the historic entertainment venue of Alexandra Palace. It includes a pretty boating lake where you can enjoy a boat ride or a lakeside snack at the cafe. There is a also a large garden centre with a Victorian style greenhouse, a deer enclosure with a small herd of fallow deer and a 10 hole pitch and putt golf course. You can also climb the park's tree-lined sloping hill where you can enjoy super views over London.
Alexandra Park is located between Wood Green and Muswell Hill. Alexandra Palace railway station (Muswell Hill branch) is located right next to the eastern end of the park. View Full Details>>
Barnet to Welwyn Garden City
14 miles (22 km)
Follow National Cycle Route 12 from the outskirts of London into Hertfordshire on this fairly easy route. The route starts by High Barnet tube station and follows minor roads and tracks to Hatfield and then onto Welwyn Garden City. Route highlights include a spell through Monken Hadley Common in Hadley Wood at the start. There's also Hatfield Hall Park and Gardens which is an ideal spot to stop for some refreshments. View Full Details>>
Battersea Park
2 miles (3 km)
Enjoy a walk or cycle through this riverside park in London. There's a cycle trail running through the northern end of the park and footpaths taking you around a boating lake, through Sub-Tropical Gardens and along the River Thames.  There's 200 acres (83-hectare) to explore with a children's zoo, a boating lake, a bandstand and cafe. There's also a 3 hectare nature area with mixed woodland where you can look out for butterflies and birds such as blackcap and bullfinch. Good footpaths take you around the lovely Sub-Tropical Gardens with a mixture of exotic plants and then to the Old English Garden with a fountain and pretty hedges and flowers.
The whole of this circular route is designed for walkers but there is a traffic free cycle track running through the northern end of the park. You can then cross Chelsea Bridge and continue along the Thames to Battersea Bridge. The Thames Path runs through the park so you can extend your walk by continuing along the thames. View Full Details>>
Bayhurst Wood Country Park and Ruislip Woods
5 miles (8 km)
Bayhurst Wood Country Park and Ruislip Woods are located in the London Borough of Hillingdon and contain numerous walking and cycling trails. Ruislip Woods covers 726 acres and became the first National Nature Reserve in an urban area of England in 1997. The site includes grassland, ponds, streams, marshland and the delightful Ruislip Lido.
The site is popular with Mountain bikers as there are a number of challenging off road trails. However there are also family cycle routes such as the David Brough cycle trail which is located in Bayhurst Wood and is suitable for all abilities of rider. View Full Details>>
Brent Reservoir
1 miles (1.2 km)
Brent Reservoir and the Wesh Harp Open space space is a popular place for walkers and cyclists. A traffic free path runs long the northern shore of this large lake with views across the water and woodland trails. It's a fine place for bird watching with two bird hides and visitors which include great crested grebe, gadwall, shoveler, common pochard, tufted duck and common tern.  There's also the Welsh Harp Environmental Education Centre which is a 15 acre woodland site where children can have a hands-on experience with nature.
If you'd like to extend your walk you could pick up the Capital Ring walking route and follow it west to the nearby Fryent Country Park. View Full Details>>
Brockwell Park
2 miles (2.5 km)
This park near Brixton has a cycle path running around the perimeter. There are also good footpaths taking you around the 50 hectare (125 acres) site with its pretty lake and wide lawns. In the park you can climb a small hill and enjoy views of the skyline of the city and Central London. Here you will find the early 19th century Brockwell Hall where you can enjoy refreshments in the cafe. There is also a popular open-air swimming pool named Brockwell Lido with a a Grade II listed art deco building and cafe. There are good family facilites with a playground, paddling pool and miniature railway.
If you'd like to continue your exercise then Clapham Common and Tooting Bec Common are both close by.
Dulwich Woods and Sydenham Woods are also only about 1.5 miles to the south east. View Full Details>>
Clapham Common
2 miles (3 km)
Enjoy a walk around this large open space in South London. The common covers 220 acres (89 hectares) with miles of walking trails taking you to open grassland, three ponds and a Victorian bandstand. Wide trails take you to the flower gardens and around Eagle, Long and Mount Ponds. There's also a cycling trail running through the centre of the park. Facilities include a running track, bowling green, Australian rules football pitches, Tennis courts and a skateboard park. The Windmill Pub at the park's eastern side is a good place for refreshments.
If you'd like to extend your exercise you could head south through Balham to Tooting Bec Common where there are more cycling and walking paths to try. The Capital Ring long distance walking trail runs through Wandsworth Common about a mile west of Clapham Common. You can pick this up to extend your walk. View Full Details>>
Colne Valley Trail
7 miles (11 km)
Follow the Colne Valley Trail from Uxbridge to Rickmansworth and enjoy riverside and canalside walking or cycling.
The trails follows the Grand Union Canal and the River Colne while also passing a series of pretty Lakes including Lynsters, Stocker's and Batchworth Lake. The trail finishes at Batchworth Lake by the car park in Rickmansworth. You can continue your exercise on our Rickmansworth Walk View Full Details>>
Croydon to Petts Wood
10 miles (16 km)
This route runs from East Croydon railway to Petts Wood along residential roads and off road tracks and paths. The ride includes a stretch along Addiscombe Railway Park - a disused railway path that offers a safe, traffic free ride. You will also visit Norman Park, Ashburton Playing Fields, Bromley Common and the delightful Jubilee Country Park Nature Reserve. The Park consists of 62 acres of grassland and ancient woodland and was purchased by Bromley Council to celebrate the Silver Jubilee of Queen Elizabeth II in 1977. It is full of wildlife with amphibians, birds, butterflies, insects, mammals, reptiles and wild flowers to look out for.
Good access points for the cycle ride are East Croydon train station and Petts Wood station. View Full Details>>
Cycle Superhighway 1
9 miles (14 km)
The CS1 Cycle route runs from Tottenham in North London into the city. View Full Details>>
Cycle Superhighway 3
14 miles (22 km)
The CS3 / Cycleway 3 cycle route runs from East London based Barking to to Lancaster Gate in central London. The popular route takes place on mostly segregated cycle lanes, passing some of the city's most interesting attractions and landmarks. View Full Details>>
Cycle Superhighway 7
12 miles (18.7 km)
The CS7 cycle route runs from Cannon Street in the City of London to Colliers Wood in South London. View Full Details>>
Cycleway 4
1 miles (2 km)
This is the first completed section of London's Cycleway 4 running from Tower Bridge to Rotherhithe Roundabout along the Jamaica Road. View Full Details>>
Cycleway 6
5 miles (7.6 km)
This London cycleway runs from Kentish Town to Elephant & Castle along safer roads. View Full Details>>
Epping Forest
19 miles (30 km)
This circular route starts at Epping tube station and takes you through the quiet roads in and around Epping Forest.
The route is on road so will suit all types of bike but if you're on an MTB or Hybrid it's well worth exploring the signed off road paths and tracks in the forest. View Full Details>>
Farthing Downs
2 miles (2.5 km)
This large area of chalk grassland is located near Coulsdon in south London. It is crossed with various walking trails and bisected by National Cycle Route 20. The area is surrounded by attractive woodland and countryside. As such it's a nice place to go for a short cycle or walk in a large open space in south London. You can start the route from the car park at the southern end of the downs. Use the street view link below to virtually explore the downs from here!
The whole of this route is designed for walkers but you can cycle through the area on Ditches Lane which runs through the centre of the site.
The London Loop runs over the downs so there is scope for extending your walk on this long distance trail. You could head to the nearby Happy Valley Park where you will find Devilsden Wood and more chalk grassland with interesting flora such as the rare man orchid and round-headed rampion. Just beyond Happy Valley you will find Coulsdon Common which has some nice woodland walking trails to try. Our Coulsdon South Circular Walk starts from the nearby train station and visits the Downs, Couldson Common and Tollsworth Manor. It makes use of the North Downs Way which runs just to the south of Farthing Downs and is another good option for continuing your walking in the area. View Full Details>>
Greenwich Park
2 miles (3.5 km)
Enjoy a cycle or walk through this large park in London. There's 180 acres of wide lawns, tree lined avenues, orchards and pretty gardens. There's also a beautiful 200m long herbaceous border and a deer park with  Red and Fallow Deer. You can climb to the park's high points for great views of the River Thames, Canary Wharf, the Isle of Dogs and the City of London. The park also houses The Royal Observatory, the home of Greenwich Mean Time, the Prime Meridian and London's only Planetarium. The observatory played a major role in the history of astronomy and navigation.
This circular route around the park is designed for walkers but you can cycle along The Avenue and Blackheath Avenue through the park. You can extend your cycle by heading to the River Thames and picking up National Cycle Route 1. Quietway 1 also starts from Greenwich. The Jubilee Greenway passes along the Thames to the north of the park. The 60km waymarked trail takes you on a tour of the capital's finest parks and most famous landmarks.
At the Cutty Sark you can pick up the Waterlink Way which takes you south along riverside paths to Beckenham. From here you can also follow the Thames Path east and visit the famous Millennium Dome.
You can virtually explore the park using the google street view link below! View Full Details>>
Greenwich to Cheshunt
21 miles (34 km)
Follow National Cycle Route 1 on this pleasant ride or walk through north London into Hertfordshire. You start by the Thames at the Cutty Sark in Greenwich and crosses to the Isle of Dogs via the Greenwich tunnel. This section gives splendid views of the River Thames and Canary Wharf.
Shortly after leaving the Thames behind you will come onto the Lee Valley path which will take you along the Regent's Canal and through Tower Hamlets and Victoria Park. You then join the River Lee near Lea Bridge for some more waterside riding. The off road path then takes you past various Reservoirs until you reach the lovely Lee Valley Park - London's largest open space. After going through the park you will soon pass close to Waltham Abbey before you arrive at the finish point at Cheshunt station next to Cheshunt lake. View Full Details>>
Greenwich to Croydon
16 miles (25 km)
This ride follows National Cycle Route 21, taking you through south east London. The ride starts by the Cutty Sark on the Thames in Greenwich and heads south along the Ravensbourne and Pool Rivers to New Beckenham. From there you continue south to Elmers End where you will pass through the lovely South Norwood Country Park. View Full Details>>
Greenwich to Gravesend
27 miles (43 km)
Starting in Greenwich on the banks of the river Thames follow National Cycle Route 1 to Gravesend via Dartford. View Full Details>>
Hainault Forest Country Park
4 miles (7 km)
This country park contains open space parklands, numerous public footpaths, a large lake, the Hainault Forest Golf Club and Fox Burrow Farm. There are 336 acres to explore with several paths suitable for cyclists so you can bring your bike and enjoy miles of traffic free cycling.
The park is located between Chigwell and Romford with Hainault underground station a good access point.
If you'd like to extend your outing you could follow the London Loop to the nearby Havering Country Park. View Full Details>>
Hampstead Heath
3 miles (5 km)
This circular walk explores London's famous Hampstead Heath. It runs for a distance of just over 3 miles, visiting several of the parks' highlights.
The large park covers 790 acres and contains miles of well laid out footpaths. You can climb the 98 metre (322 ft) high Parliament Hill for terrific views of major London landmarks such as Canary Wharf, the Gherkin, the Shard and St Paul's Cathedral. Along the eastern edge of the park are the pretty Highgate ponds which include three open-air public swimming pools. At the northern end of the heath you'll find Kenwood House. This former stately home is run by English Heritage and consists of gardens, ancient woodland and sculptures by Barbara Hepworth, Henry Moore and Eugene Dodeigne.
Several long distance walking trails run past the heath - you could pick up Dollis Valley Green Walk, Green London Way or the Capital Ring if you would like to extend your walk.
The route below is devised for walkers but cycling is also permitted on the heath but please be respectful of other users. Click here to see a map of the heath with the cycle route marked out. View Full Details>>
Hampton Court Park
2 miles (4 km)
This 750 acre park is open to the public and sits next to Hampton Court Palace and Bushy Park in south London. It's great for an afternoon stroll with long tree lined avenues running along the Long Water canal in the centre of the park. At the end of the canal, the Golden Jubilee Fountain shoots spectacular 30 metre jets of water into the air. Deer, descended from Henry VIII's original herd roam around the rest of the park freely. Adjacent to the park you will find Bushy Park which is a great option if you'd like to continue your outing.
You could also cross Kingston Bridge and try the Richmond to Kingston River Walk or the Kingston to Hampton Court River Walk which use the Thames Path National Trail. You can visit the pretty Teddington Lock and Canbury Gardens on the route. View Full Details>>
Hertford Union Canal
1 miles (1.7 km)
Enjoy an easy, waterside walk or cycle along this canal in Tower Hamlets. It runs for about a mile, linking the Regent's Canal and the Lea Valley Walk. You'll pass a series of locks and bridges along the way. It runs alongside Victoria Park so there is scope for continuing your walk through the park or along the Regent's Canal.
The canal also visits the ,Olympic Park where you can pick up the Lea Navigation and the Limehouse Cut Canal. View Full Details>>
High Elms Country Park
2 miles (4 km)
Enjoy the woodlands, nature centre, ice well, formal gardens and wildflower meadows in this 250 acre country park in Orpington. You'll also find the Clock House, Grade II listed building and the attractive Yew avenue (created 1896) in this varied and interesting park.
Chelsfield rail station is about a mile from the park but there are also car parks at the park.
The Cudham Circular Walk passes through the park so you can pick up this trail to extend your walking in the area. The circular walk takes you through the woodland and farmland surrounding Cudham and Downe in Bromley.
You could also pick up the long distance London Loop which takes you on a tour of the city's best parks, gardens and historic sites. If you head a short distance to west it will take you to Hayes Common and Keston Common where there's some nice woodland trails and good dog walking opportunites. View Full Details>>
Hornchurch Country Park
2 miles (4 km)
Enjoy a walk or cycle through this large country park in Havering in the Ingrebourne Valley. Features in the park include the River Ingrebourne, grassland, a fishing lake and woodland paths. The park is also a Local Nature Reserve with marshes containing the largest freshwater reed bed in London. As such it is a great area for birdwatching and wildlife spotting.
The park is also the site of the former RAF Hornchurch base which was used in the First and Second World Wars. As such there are some historical features including an aircraft dispersal bay, pillboxes, and Tett turrets. 
The Ingrebourne Valley walking and cycle route runs through the park so you could pick this up and head towards Rainham or Upminster to continue your outing. View Full Details>>
Hyde Park
2 miles (3 km)
Enjoy a walk or cycle around this famous London Park. There is a cycle path running up from Hyde Park Corner through the park and along the Serpentine Lake. You can cross the Serpentine Bridge and return on the other side of the lake for a nice easy circular cycle ride. The cycle path also extends to Kensington Gardens, passing the Serpentine Gallery and Kensington Palace before finishing at the Diana Memorial Garden near Queensway tube station.
Cycle Superhighway 3 can also be used to extend your ride. The popular trail runs from nearby Lancaster Gate to Greatfields Park in Barking, passing several of the city's highlights on the way.
Walkers can enjoy miles of footpaths taking you through Hyde Park to Kensington gardens where you can visit the Diana, Princess of Wales Memorial Fountain and Kensington Palace. There's 350 acres to explore with a rose garden, Italian garden, statues, fountains and the Round Pond. Other features include Speakers' Corner where you can listen to public debates and the ornate Albert Memorial in Kensington Gardens.
To extend your walking in the area you can head east along the The Diana Princess of Wales Memorial Walk and visit Green Park and the splendid St James's Park. The waymarked 60km Jubilee Greenway also passes through the park. The he circular trail takes you on a tour of London, visiting several of the capital's best parks. Cyclists could head south along London Cycle Route 5 to Belgravia and the River Thames where you will find Battersea Park on the other side of Chelsea Bridge. View Full Details>>
Ingrebourne Valley
3 miles (5 km)
This is a nice easy, family cycle ride or walk through the Ingrebourne Valley near Upminster. The route includes a stretch through Hornchurch Country Park with its ponds, lakes and pleasant scenery. View Full Details>>
Joydens Wood
4 miles (6.5 km)
Explore these ancient woods near Bexleyheath on this easy walk on the border of London and Kent. The area is historically and archeologically significant with remains found from Roman times. This is represented with a series of impressive wooden sculptures. Look out for the Saxon Warrior and Roman Soldier pieces in particular. There's lots of wildlife to see also. Look out for bats, woodpecker, owl and dormouse all of which are represented by a sculpture.
The wood has lots of good waymarked footpaths and nice wide bridleways for cyclists to follow. It's a peaceful place for walkers to visit on the outskirts of the city. With over 136 hectares (325 acres) to explore on miles of paths there's plenty to keep walkers and mountain bikers busy.
You can start your walk from Bexley train station just to the north of the woods. Then follows paths south to the site. As well as the extensive woodland there's an area of open heathland with ponds and picnic tables. Look out for pretty plants and flowers including bluebells, lily-of-the-valley, honeysuckle and wood sage.
The London Loop passes close to the woods so it's to extend your walking in the area. You can follow it to a number of parks and nature reserves close to the wood. At Foots Cray Meadows nature reserve you can enjoy a waterside walk along the River Cray while at Scadbury Park you can explore the ruins of Scadbury Manor. The popular trails at Petts Wood Circular and Jubilee Country Park are also close by. View Full Details>>
Limehouse Cut
3 miles (4.5 km)
Follow the Limehouse Cut canal on this waterside walk or cycle in East London. It's a nice route for anyone looking for an easy, safe cycle ride or walkers looking for a pleasant stroll in the city. Look out for wildlife including coot, swans, ducks and cormorants on the way.
The route starts from the Limehouse Basin, next to the River Thames in the London Borough of Tower Hamlets. Here you can see the road swing bridge at the entrance to the Thames. When tall masted boats either arrive or leave the basin, Narrow Street traffic is stopped. From the basin you follow the Lea Valley Walk north east along the canal through Bow Common, Bromley and Bow. The cycle route finishes at 3 mills studio but if you are on foot you can continue along the River Lea Navigation to the Olympic Park where you can explore the site on a number of footpaths and cycling trails. You could also continue along the Lea Navigation and visit the nearby Hackney Marshes just to the north of the Olympic Park.
At the stadium the Hertford Union Canal heads west to Victoria Park. This is another good option for extending your exercise. View Full Details>>
London to Box Hill
20 miles (32.5 km)
Follow National Cycle Network routes from London to the lovely Box Hill Country Park in Surrey. The route starts on the Thames at Wandsworth and travels through outer London and the North Downs to the park. It runs for a distance of just over 20 miles with some traffic free sections and nice countryside views to enjoy on the way.
The ride starts at Wandsworth by the river and near to the train station. You then head south, passing Merton and Earlsfield before a nice section along the Wandle Trail. You continue through Carshalton and Wallington before coming to Little Woodcote. You then head south west through Banstead, passing Epsom Downs and Headley Heath before finishing at Box Hill. View Full Details>>
London to Brighton
65 miles (104 km)
Travel from the banks of the River Thames in Greenwich to the South Coast on this popular route along National Cycle Network Routes 21 and 20. The route runs for a distance of about 65 miles, using a mixture of minor roads and traffic free paths.
The ride starts by the Cutty Sark on the Thames in Greenwich and heads south along the Ravensbourne and Pool Rivers to New Beckenham. From there you continue south to Elmers End where you will pass through the lovely South Norwood Country Park. The park includes a pretty lake with lots of wildlife to look out for. The route then continues through the pretty Addington golf course and on to Addington Hill along the London Loop.
The ride then heads through New Addington, Warlingham and Caterham to Redhill. There are several off road sections to enjoy on this section with pleasant stretches through Holt Wood near Warlingham and Mercers Country Park near Redhill. The park incldues a nice lake which is great for birdwatching.
From Redhill you continue to Crawley, passing Horley before an interesting traffic free section through Gatwick Airport takes you to Crawley.
The final section runs from Crawley to Brighton first passing through Tilgate Forest in Tilgate Country Park. View Full Details>>
London to Cambridge
81 miles (130 km)
This long distance cycle ride takes you from the Thames in London, through Essex and Cambridgeshire, to the Univeristy city of Cambridge. The route uses a mixture of National Cycle Network Routes and Local Cycle Routes to take you between these two great English cities. There's lots of traffic free sections, particularly at the start as you head through London and Lee Valley Park. The route then follows a mixture of country lanes and minor roads to Waltham Abbey, Harlow and Stansted Mountfitchet, before finishing in Cambridge.
The ride starts off at the Cutty Sark on the Thames in Greenwich. You then follow NCN Route 1 north, over the river and through the Isle of Dogs. Nice waterside sections along the Regent's Canal and the Lee Valley Navigation make for an easy, traffic free start to the ride.
The next section takes you along Walthamstow Reservoirs and through Lee Valley Park, with more traffic free paths alongside a series of lakes.
The route continues north through Waltham Abbey, passing through the pretty River Lee Country Park and Nazeing Meads. Around here you turn east through Harlow, passing Matching Tye before turning north to Matching Green.
The route then follows a series of quiet country lanes to Takely, where you pick up a section of the Flitch Way along a dismantled railway line. This takes you west, past Hatfield Forest to Birchanger. View Full Details>>
London to Dover
99 miles (159 km)
This long route travels from London to Dover using National Cycle Route 1 to Canterbury and then Regional Route 16 to Dover. It runs for nearly 100 miles using a mixture of quiet roads and signed traffic free paths.
The route starts in Greenwich, by the famous Cutty Sark, and heads east along the riverside path to Erith. Here you turn south to follow the River Darent to Crayford and Dartford.
You continue east to Northfleet and Gravesend, where you leave the river to head through the countryside to Rochester. Here you pick up a trail along the River Medway, passing Gillingham, before a countryside stretch takes you to Sittingbourne. Here you pick up the Swale Heritage Trail to take you to Faversham. The route then heads towards Whitstable, skirting the edge of the town before turning south to Canterbury, via Clowes Wood. View Full Details>>
London to Newhaven
99 miles (160 km)
Follow a series of signed National Cycle Network paths from London to Newhaven on this long ride to the coast. Newhaven is the town where you can catch the ferry to Dieppe in France and pick up a number of cycle trails to explore the country.
The route starts in the centre of London and heads south through the outskirts of the city, passing Clapham, Merton, Wallington and Coulsdon. You then enter the North Downs, passing Redhill, Gatwick Airport, Horley and Crawley. Here you turn east to East Grinstead following a dismantled railway line along the Worth Way.
At East Grinstead you pick up another nice traffic free section along the Forest Way to Groombridge. Shortly after you turn south to Rotherfield, Mayfield, Heathfield and Hailsham with part of the ride running along the lovely Cuckoo Trail. The final English section takes you through the South Downs, passing Alfriston before coming to the ferry at Newhaven. View Full Details>>
London to Paris
314 miles (506 km)
This ride takes you along the proposed route for the Avenue Verte - a traffic-free cycle path, safe enough for a child, linking London and the French capital.
The ride includes some climbs - the toughest being the North Downs for people cycling the route from south to north. Most of the route is rolling countryside, apart from Redhill to Crawley (via Gatwick airport!) in the UK, and the capital cities themselves. There are some pleasant waterside stretches to enjoy too, notably a run along the Wandle Trail in London and then a lovely spell along the wooded banks of the Seine in France.
The route starts in central London and heads to Newhaven on the south coast. From here you can catch the ferry to Dieppe in France and proceed to Paris.
The English part of the route heads south through London passing Clapham, Merton, Wallington and Coulsdon. You then enter the North Downs, passing Redhill, Horley and Crawley with a section along the Worth Way. Here you turn east to East Grinstead, picking up a nice traffic free section to Groombridge. Shortly after you turn south to Rotherfield, Mayfield, Heathfield and Hailsham. The final English section takes you through the South Downs, passing Alfriston before coming to the ferry at Newhaven. On the other side you head south east through the beautiful French countryside to the capital in Paris. View Full Details>>
London to St Albans
35 miles (56 km)
This ride follows London Cycle Network and National Cycle Network routes from south west London to the Hertfordshire town of St Albans. The route runs for about 35 miles, following signed paths through west London including waterside sections along the River Thames, the Colne Valley and the Grand Union Canal.
The route starts in South West London on Putney Bridge. Here you can pick up National Cycle Route 4 to take you along the river towards Barnes. You continue through Chiswick before crossing the Kew Bridge to head through Brentford. Here you pick up a nice waterside section along the Grand Union Canal, heading west through Norwood Green, Hayes and Hillingdon before coming to Uxbridge.
The next stage takes you along the lovely Colne Valley Trail where you'll pass a series of pretty lakes with views of the River Colne. Just before Rickmansworth you turn north east to follow another traffic free section to Watford. Here you turn north on a mixture of quiet roads and off road trails to Bricket Wood Common where you pass through the common. The final section runs through How Wood before coming into St Albans.
To continue your riding in the St Albans area try the Alban Way or the Cole Green Way. They are both nice traffic free rides taking you into the Hertfordshire countryside. View Full Details>>
London to Whitstable
71 miles (114 km)
Travel along signed cycle paths from the city of London to the lovely Kent based resort of Whitstable. The ride runs for just over 70 miles, using a mixture of off road cycle paths and quiet roads.
The route starts at the Cutty Sark, by the River Thames in Greenwich, London. You start off with a nice traffic free run along the Thames, heading east through Woolwich to Gravesend. You continue through Dartford and Gravesend to Rochester, where you will cross the River Medway and pass the noteworthy Rochester Castle.
The next section follows another traffic free path through the Riverside Country Park on the Medway Estuary in Gillingham. The estuary is a haven for wildlife with ducks and waders thriving on the invertebrate-rich mudflats, while the reedbeds are an important breeding area for birds such as the sedge and reed warbler.
After leaving the park you continue east through Newington, Sittingbourne and Faversham before passing through Graveney Marshes to reach the coast at Seasalter. View Full Details>>
London to Windsor
39 miles (63 km)
This long cycle ride runs along National Cycle Route 4 from West London to Windsor in Berkshire. The route runs for about 40 miles on a series of minor roads, riverside paths with plenty of traffic free sections to enjoy. Highlights on the route include long stretches through Richmond Park and Windsor Great Park. View Full Details>>
Minet Country Park
1 miles (1.5 km)
This country park in Hillingdon includes ponds, grassland and a variety of wild plants and flowers. There's some nice footpaths to follow around the site which includes picnic areas, meadows and hedgerows. It's also home to the Hillingdon Cycle Circuit. The purpose-built road cycling circuit is about 1 mile long and a great place for a leisurely ride. The video below shows the nice wide surfaced path with views over the park.
The Grand Union Canal passes the south side of the park so it's easy to extend your outing by picking up the towpath. If you head west you can visit Lake Farm Country Park where you will find meadows, grassland, a trim trail and a BMX track.
The long distance Hillingdon Trail also passes through the park. You can follow it north and then west to visit the pretty Yeading Brook. View Full Details>>
Morden Hall Park
1 miles (1.5 km)
This lovely park in south London is a great place to go for a walk or cycle in the city. The Wandle Trail runs through the park along the River Wandle with pretty bridges across the water and lots of wildlife to look out for. There's also a rushing weir and a restored waterwheel which gives an insight into the industrial history of the park. Water loving birds you might see include herons, egrets and kingfishers. Other features in the park include a delightful rose garden with over 2000 roses, wide lawns ideal for picnics and an excellent learning centre housed in the western mill. There are also many interesting buildings on the site including Morden Hall itself, Morden Cottage, an old Snuff Mill and several old farm buildings which are now used as a garden centre and a city farm.
There's a car park at the site but you can also easily visit the park by public transport. The Phipps Bridge, Belgrave Walk and Morden Road Tramlink stops and Morden Tube Station are very close to the park.
You can extend your outing by heading to the nearby Ravensbury Park and Mitcham Common where you will find a number of good footpaths taking you to woodland, grassland, scrub and the pretty Seven Islands pond. You can also follow the course of the River Wandle on the excellent Wandle Trail. If you head north from the park you will soon come to the lovely Merton Abbey Mills where you will find a pretty water mill and an arts and craft market. View Full Details>>
National Cycle Route 21
94 miles (152 km)
This is the complete Sustrans National Cycle Route 21 running from Greenwich in London to Eastbourne on the south coast. View Full Details>>
Olympic Park
3 miles (5 km)
The Queen Elizabeth Olympic Park has miles of nice trails on which to explore the expansive venue. It's free to visit every day of the week and includes parkland, waterways, playgrounds and cafes. 
Start at the car park at the southern end of the London Stadium and you can pick up paths alongside the stadium and the River Lea. You continue north passing the Copper Box Arena on your left. The arena hosted handball and modern pentathlon in the 2012 Olympics.
The route continues along the river past Alfred's Meadows passing the field hockey and Football 5-a-side pitch which was used at the 2012 Summer Paralympics. Around here you turn right crossing the bridge over the river towards the Lee Valley VeloPark. The facility includes a BMX track and was one of the permanent cycling venues for the 2012 Olympic and Paralympic Games.
After exploring the cycling centre you head south along the Olympic Park Avenue to the waterglades where there are a series of lakes and waterways. Around here you have the option of heading east and visiting East Village. This area was used for the Olympic Village and has been converted for use as a new residential district, complete with independent shops, bars and restaurants.
The final section of the walk takes you around the other side of the London Stadium, passing Stratford Marsh and the London Aquatics Centre where the Synchronized swimming took place. You'll also pass the fantastic ArcelorMittal Orbit. The sculpture is one of the real highlights of the park and Britain's largest piece of public art, standing at 114.5 metres (376 ft). It's also an observation tower allowing visitors to view the whole Olympic Park from two observation platforms.
To extend your walking in the area you can pick up the Lea Valley Walk and follow the river north west to Hackney Marshes. Continuing north will take you to Walthamstow Marshes and the Walthamstow Reservoirs where there are more nice cycling and walking trails.
Just to the west is Victoria Park where there's 200 acres of parkland with lakes and cycle paths.
Several long distance walking trails also pass the park. You could pick up the Capital Ring or the Jubilee Greenway to further explore the area. The Hadleigh to Stratford Legacy Walk also starts/finishes at the park. View Full Details>>
Paddington Canal
13 miles (21 km)
Follow the Paddington Arm of the Grand Union Canal from Paddington to Hayes, on this canalside walk or cycle through West London. The canal is a great way to escape from the hustle and bustle of the city and enjoy some pleasant scenery. There's tree lined paths, pretty locks, lots of barges and plenty of water loving wildlife to look out for on the way.
You can start the walk from Paddington Basin just to the north of Paddington Station or at Little Venice just to the south of Warwick Avenue tube. Little Venice is very pretty with narrowboats, water cafes and a good selection of restaurants and bars. You can virtually explore the area using the google street view link below.
From Little Venice you head west passing Westbourne, Kensal Green, Harlesden and Alperton. Shortly after Alperton you come to the Horsenden Hill open space which is worth a small detour. The park includes nice walking trails including a hill climb with fine views over the city of London.
The next section sees the canal turn south through Northolt where you will pass Northala Fields. The pleasant park consists of four artificial hills made out of the rubble from the old Wembley Stadium. There's nice views from the hills with other features including fishing lakes, streams, wetlands and wildlife ponds. View Full Details>>
Paddington to Northolt
10 miles (16 km)
This short easy ride takes you along the Grand Union Canal from Paddington to Northolt. You'll pass through Kensal Green, Stonebridge and Alperton along the towpath of the canal, enjoying some pleasant scenery as you go.
This route is one of the Transport for London signed local routes. View Full Details>>
Pilgrimage Way
23 miles (37 km)
This is a largely traffic free cycle ride or walk from Barking Abbey to Waltham Abbey via Three Mills, Limehouse Basin and the Olympic Park.
The route starts at Barking Abbey and heads through Plaistow and Mill Meads to the Limehouse Basin. This section follows a cycle track for most of the way and includes a stretch along the River Lea.
From Limehouse the route turns north through Victoria Park and Hackney Marshes to Lea Bridge where you begin a section along Tottenham Marshes and the Walthamstow Reservoirs which include West Warwick Reservoir and Lockwood Reservoir. The final section takes you through the lovely Lee Valley Park and along the River Lee Navigation Canal to the finish point at Waltham Abbey. View Full Details>>
Putney to Coulsdon
16 miles (25 km)
Follow National Cycle Route 20 through south London on this easy ride. The route starts in Wandsworth Park and heads along the Thames to Wandsworth. You'll then head south through Southfields and Earlsfield where you'll join the River Wandle. Here you join the cycle friendly Wandle Trail (mostly off road) through South Wimbledon, Morden and Carshalton. Highlights on the trail include Merton Abbey Mills and the lovely Morden Hall Park and Poulter Park. The final on road section from Wallington takes you through the Oaks Park and Mayfield Lavender farm to the finish point at Coulsden rail station. View Full Details>>
Putney to Greenwich
14 miles (23 km)
This route follows National Cycle Route 4 and the River Thames from Putney to Greenwich. The ride starts on Putney Bridge and heads through Battersea to Westminster passing the Tate Gallery and the Houses of Parliament on the way. You then continue along the Thames to Bermondsey and Rotherhithe before finishing at the iconic Cutty Sark near Greenwich. View Full Details>>
Quietway 1
6 miles (9 km)
This is the complete route for London Quietway 1, a new cycle route running from Waterloo to Greenwich through Lambeth, Southwark, Lewisham and Greenwich. The route uses a series of back roads and quiet streets to take you from Waterloo train station to Greenwich train station. Along the way you'll pass Tabard Street Gardens, South Bermondsey railway, the stadium of Millwall F.C and Deptford. At Greenwich you can head to the River Thames and enjoy views of Canary Wharf, the Millennium Dome and the Cutty Sark. You can also visit the nearby Greenwich Park which has a cycle path running through it. View Full Details>>
Rainham Marshes
7 miles (11.5 km)
This circular walk or cycle explores the RSPB Rainham Marshes Nature Reserve in London. View Full Details>>
Regent's Canal
9 miles (14 km)
Follow the Regent's canal through Regent's Park and Central London on this pleasant waterside cycling and walking route.
Starting at the Little Venice basin in Maida Vale, you follow the canal into Regent's Park where you will find the famous Zoo. You then pass through Camden, with its popular market, before continuing towards the East End. The route then passes the revived Mile End Park with its arts pavilion, terraced gardens and green bridge with views of Canary Wharf. You finish at the River Thames at Limehouse Basin.
You can extend your outing by picking up the Jubilee Greenway circular walk. The waymarked trail visits some of the capital's best parks and most famous landmarks. It uses the canal for part of the route.
At the western end the canal joins with the Paddington Canal, an arm of the Grand Union Canal. You can follow the towpath west through Little Venice to Westbourne, Alperton, Harlesden and Hayes. View Full Details>>
Richmond Park
7 miles (11 km)
Enjoy miles of super cycling and walking trails in this large deer park in London. Richmond Park is the largest of London's Royal Parks at 955 hectares or 2,360 acres. For cyclists National Cycle Network Route 4 and the circular Tamsin Trail run through the park on roads and well surfaced off road tracks.
The Tamsin Trail - The route below shows this cycling and walking trail which runs around the perimeter of the park on lovely resurfaced paths. It's a very popular route as it provides a great, largely traffic free ride in London. On it you'll pass woodland and ponds with a section along the pretty Beverley Brook. Cycles are available for hire near Roehampton Gate and, at peak times, near Pembroke Lodge in the north west corner of the park.
If you're on foot you could head to the beautiful Isabella Plantation. Here you'll find a 40 acre woodland garden with evergreen azaleas, ponds, Rhododendrons and Camellias. There's also the delightful Pen Ponds. The ponds are divided by a causeway which you can walk along and look out for a variety of birdlife.
If you'd like to continue your walk you could pick up the Capital Ring which runs through the park. One good option is to follow the trail to the nearby Wimbledon Common. Or you could head to Ham House at the western side of the park. View Full Details>>
River Roding
6 miles (9 km)
This cycling and walking route follows the River Roding from Roding Valley station to Ilford in Greater London. It's a nice trail on mainly traffic free paths so it is suitable for anyone looking for an easy cycle ride or pleasant stroll.
The route starts at Roding Valley station in Buckhurst Hill just west of Chigwell. The start point is close to the lovely Roding Valley Meadows nature reserve which is well worth a visit. The trail heads south past Woodford, Charlie Brown's Roundabout, Redbridge and Wanstead Park before finishing in Ilford. If you're on foot then Wanstead Park is a great place for a stroll. The river runs past the eastern side of the park which also includes a Heron pond and an Ornamental canal. The 140 acre park also has the splendid Chestnut Trail to try.
There's lots more to see in the area if you would like to extend your outing. The Epping Forest Centenary Walk can be picked up on Wanstead Flats near the end of the route. View Full Details>>
South Norwood Country Park
2 miles (2.5 km)
A cycle or walk through this pleasant country park in Croydon. National Cycle Route 21 runs around the park on nice traffic free paths. The park includes wildlfower meadows and a pretty lake with lots of wildlife to look out for. There's good facilites too with a visitor centre and car park.
To extend your exercise head north to Cator Park in New Beckenham. Here you can pick up the Waterlink Way which takes you to the River Thames on a series of traffic free paths. View Full Details>>
Thames Valley - London to Oxford
96 miles (155 km)
Follow the Thames Valley cycle route from the city of London to Oxford on this fantastic long distance bike ride. The route follows National Cycle Network Routes 4 and 5 along minor roads, country lanes and traffic free paths. There's much to enjoy with beautiful parks, riverside paths, lovely countryside and a series of pretty towns and villages.
The route starts on Putney Bridge in London, following the Thames Path west to Barnes. Here you turn south and head through Richmond Park and Ham Common before picking up the riverside path at Ham. A long traffic free section along the river takes you past Kingston-upon-Thames, Hampton Court Park, Sunbury and Staines. Here you leave the river and follow the route past Runnymede and into Windsor Great Park. You follow some nice trails through the expansive park before passing through Windsor and Eton where there's a delightful traffic free section across Dorney Common and past the pretty Dorney Lake.
The route then heads through Maidenhead, Wargrave and Twyford. View Full Details>>
Tooting Bec Common
2 miles (3 km)
This large open space in South London has a cycling trail running through the western side of the park. There's also miles of walking trails taking you to avenues of trees, acid grassland and a small pond with wildlife. The common covers 92 hectares (221 acres) so you can easily spend a couple of hours strolling around. There's also a cafe, tennis courts and an athletics track. A park run takes place every Saturday at 9:00am at the time of writing. Tooting Bec cafe is situated in a historic Victorian building and is a nice place to sit outside and take on some refreshments after your exercise.
The Capital Ring long distance walking route runs through the common so you can pick this up to extend your walk to either Wandsworth Common or Streatham Common which are both nearby. If you're on a bike then on road TFL cycle routes will take you to Clapham Common and Wandsworth Common from Tooting Common. View Full Details>>
Tower Bridge to Barking
11 miles (17 km)
Follow National Cycle Route 13 through the London Docklands on this interesting route. View Full Details>>
Trent Country Park
2 miles (4 km)
This country park on the outskirts of London has 413 acres of rolling meadows, brooks, lakes, ancient woodland, and historical sites to explore on foot or by bike. View Full Details>>
Twickenham to Hampton Wick
6 miles (10 km)
A pleasant, easy cycle route through the London Borough of Richmond. View Full Details>>
Uxbridge to Watford
12 miles (20 km)
This ride takes you along a section of the London Loop that runs along the Grand Union Canal Walk from Uxbridge to Watford.
The canal has some lovely sections at Denham and Harefield and there are also views of Stocker's and Batchworth Lakes near Rickmansworth and Denham Country Park.
This is a a nice easy ride in a pleasant area of Greater London and Hertfordshire. View Full Details>>
Victoria Park
2 miles (3.2 km)
Enjoy over 200 acres of parkland in East London on this short cycle or walk. The park boasts two cafes, a boating lake and several tree lined walkways. National Cycle Network route 1 also runs through the park so you can bring your bike.
Good access points are Cambridge Heath and Hackney Wick rail stations or Mile End tube station.
To extend your exercise you can head east and visit the Olympic Park where there's over 500 acres of parkland, waterways, playgrounds and cafes. The Capital Ring, Lea Valley Walk and Jubilee Greenway long distance trails also run through the area so you could pick up any of these to extend your walk. View Full Details>>
Walthamstow Reservoirs
2 miles (4 km)
Enjoy a waterside walk or cycle along this series of reservoirs in the Walthamstow Wetlands Nature Reserve. A traffic free cycle path runs along the River Lea Navigation Canal from Walthamstow Marshes to Banbury Reservoir. It follows National Cycle route 1 along the Lea Valley Walk passing Lockwood Reservoir, High Maynard Reservoir, Low Maynard Reservoir, East Warwick Reservoir and West Warwick Reservoir. The route starts at the Lea Valley Springfield Marina and follows the flat path to Tottenham Marshes for about 3 miles. It's a nice easy walk or ride with the option of continuing to Lea Valley Park and the William Girling Reservoir.
The area is great for wildlife with a heronry and various other water loving birds to look out for. These include pochard, tufted duck, coot, yellow wagtail, sedge warbler, great crested grebe and reed warbler.
The area is also very popular with anglers providing both coarse fishing and fly fishing.
You can extend your walk by picking up the Pymmes Brook Trail at William Girling Reservoir. The trail heads west towards Edmonton and Pymmes Park. View Full Details>>
Wandle Trail
11 miles (18.5 km)
Follow the River Wandle from the River Thames at Wandsworth to Croydon. The trail follows the largely traffic free National Cycle Route 20 so the paths are well surfaced, signed and also suitable for walkers.
Starting in Wandsworth you head south to Southfields, passing along a traffic free section through public parks. You continue past Earslfield towards Wimbledon where you pass Wimbledon stadium and Summerstown. You continue to Merton Abbey Mills where you will find a pretty water mill and an arts and craft market. There is also a riverside pub which is a great place to stop for refreshments.
From Merton Abbey Mills you continue through Morden Hall Park where you will find 125 acres of National Trust owned parkland and gardens. The next section runs to Carshalton, passing Poulter Park and Allot Gardens. The final section runs from Carshalton into Croydon, passing through the pretty Beddington Park on the way. View Full Details>>
Wanstead Flats
3 miles (5 km)
This large area of open grassland near Epping Forest has miles of walking trails to try. With its nice grassy paths, wildflowers and water features it's one of the best open spaces in London. On the flats you will find gorse, broom, woodland and ponds. It's a popular area with dog walkers and bird watchers.
You can also bring your bike to the park and enjoy a ride on one of the birdle paths. London Cycle Network routes 12 and 155 run past the flats to the south. You can follow these routes from nearby Ilford or Stratford.
The flats are well known for hosting a popular weekly parkrun. It's a 5km course taking place on Saturday mornings at 9:00 am.
There's a car park off Centre Road where you can start the walk. Heading east will take you across the flats to the lovely Alexandra Lake. You can then follow the Epping Forest Centenary Walk back to the western side of the park where you will find the Jubilee Pond. Look out for wildlife including meadow pipits and skylarks on your walk.
You can easily visit the area by public transport. Wanstead Park station is a two minute walk to the park.
It's easy to extend your walk by heading north along the Epping Forest Centenary Walk and visiting Bush Wood and Wanstead Park. The park has a splendid 3 mile trail taking you around woodland, parkland, two ponds and an Ornamental canal.
Just to the east you can follow a waterside cycling and walking path along the River Roding. View Full Details>>
Waterlink Way
7 miles (11.5 km)
This largely traffic free bike ride runs along National Cycle Route 21 from Beckenham to the Cutty Sark on the Thames. It's about a 7 mile run with waterside sections along the Pool River and Ravensbourne River. As it takes place on mostly traffic free paths, walkers can enjoy most of the route too. It's a nice easy route, suitable for beginners or families.
The route starts in Cator Park, Beckenham. Then head north through the park to New Beckenham, Bellingham and Catford. You then head through Lewisham and Deptford, finishing on the Thames by the famous ship.
To extend your exercise you can head to Greenwich Park just to the east of the Cutty Sark. There's nice cycling and walking trails to be found here. Around here you can pick up Quietway 1 which takes you all the way to Waterloo.
You could also continue north along NCN 1 and visit the Isle of Dogs on the other side of the river.
Heading south along NCN 21 from Cator Park will take you to South Norwood Country Park. View Full Details>>
Wimbledon Common
4 miles (6.5 km)
This large area of open space in south west London covers 1,140 acres. It's great for cycling and walking with numerous trails criss crossing the area.
The route starts at the iconic windmill and follows good tracks around the Wimbledon Common golf course which covers a large section of the common. You'll pass the pretty Queen's Mere and King's Mere which are surrounded by woodland paths.
Other attractions on the common include the windmill museum and an easy access nature trail taking you through grassland, woodland and heath. This can be accessed near the windmill.
If you would like to continue your exercise then you could head to the nearby Richmond Park where there are miles of cycling and walking opportunities. The delightful Beverley Brook Walk also runs along the western edge of the common so you could pick this up and head to the River Thames at Putney. View Full Details>>
Windsor to Putney
34 miles (55 km)
This fabulous cycle ride follows National Cycle Route 4 from Windsor to Putney along the River Thames. View Full Details>>
Windsor to St Albans
31 miles (50 km)
This fairly flat route takes you along National Cycle Route 6 from Windsor on the river Thames to the pretty Hertfordshire town of St Albans.
Sights on the route include the Jubilee River near Slough and the iconic Windsor Castle. View Full Details>>