Kent Cycle Routes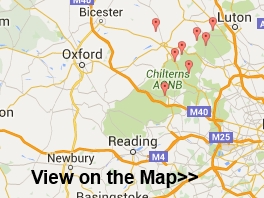 Kent has plenty of attractive cycling options with attractive countryside and coastline.
Dubbed the Garden of England it has some of the country's most memorable scenery including the rolling hills and valleys of the North Downs.
One popular trail for cyclists is the Viking Coastal Trail which runs along the Kent coastline passing through Birchington, Margate and Ramsgate. Also, be sure to explore the coast around Folkestone, Deal and of course Dover with its famous white cliffs while leaving time for a trip to Canterbury to see the beautiful Cathedral.

Use the links to view full route information including elevation profiles, interactive maps and GPS downloads.
You can also view an overview map of all the routes in the using the Kent Cycle Map>>
There are several National Cycle Networksigned routes in the county many of which have been mapped and can be viewed and downloaded below.

For more information on cycle routes in Kent including tips, advice and free cycle maps please click here
Route Name
Distance
Description
Ashford to Canterbury
19 miles (30 km)
This ride takes you along National Cycle Route 18 with some splendid views of the Kent countryside and the North Downs.
You start near Ashford International Station and then follow the Great River Stour out of Ashford. View Full Details>>
Ashford to Rochester
31 miles (50 km)
This super ride follows National Cycle route 17 and sections of the North Downs Way and the Pilgrims Way. There are several off road sections along these two trails making for a largely traffic free ride through the beautiful Kent countryside.
The route starts off near Ashford train station and follows the River Great Stour towards Kennington. You then head into the fabulous North Downs countryside, passing Eastwell Park - a former royal residence where the original gatehouse of Eastwell Towers is a popular photo shot. You then head through Westwell downs on your way to Charing where you will find the interesting Archbishop's Palace, said to contain the stone on which John the Baptist was beheaded. View Full Details>>
Barton's Point Coastal Park
5 miles (8.5 km)
Enjoy a leisurely stroll or ride along the Queenborough Lines canal and the Isle of Sheppey Coast on this circular route in Bartons Point Coastal Park. The route begins on the coast near Sheerness train station and follows the canal path before returning to the start point through Minster Park. View Full Details>>
Bedgebury Forest
6 miles (10 km)
Bedgebury is a great place for cyclists with miles of family cycle tracks and a more challenging mountain bike trail. The gentle 10km trail is perfect for exploring the 2000 acre forest at a leisurely pace on generally flat surfaced paths. Adrenalin junkies can enjoy 13km of single-track mountain biking. It's generally graded as a red trail and has fast sweeping gradual descents and some challenging climbs. There's also cycle shop where you can hire a bike.
The forest is also great for walkers with miles of peaceful woodland trails to follow. You can enjoy a stroll around the beautiful Bedgebury Pinetum. This recreational and conservational arboretum has 10,000 trees growing across 320 acres including the most complete collection of conifers on one site in the world. View Full Details>>
Betteshanger (Fowlmead) Country Park
5 miles (7.5 km)
Betteshanger (previously Fowlmead) country park is a 200 acre site with a number of walking and cycling trails located in Deal on the Kent coast. View Full Details>>
Bewl Water
12 miles (20 km)
This is a walking and cycling route around the beautiful Bewl Water reservoir near Lamberhurst. The route runs alongside the reservoir for most of the way though there is an inland section on quiet country lanes around Tolhurst. It runs for about 12.5 miles with great views of the High Weald AONB.
Bike hire is available during the summer months from the Boat House Bistro.
The area is also great for wildlife watching with Goldcrests, Long Tailed Tits, Wagtails, Skylarks and Lapwings in the woodland. Also look out for Kingfishers, Herons and the Great Crested Grebe on the water.
Please note the route is not always open for cyclists during the winter months - please check the Bewl Water website before setting off. View Full Details>>
Birchington to Sandwich
19 miles (30 km)
Travel along the Viking Coastal Trail from Birchington to Sandwich and enjoy the lovely Kent coastline and coastal towns.
The route starts at Grenham Bay near Birchington and follows the coastline through Westgate on Sea, Margate, Broadstairs and Ramsgate before turning inland and finishing at the tourist information office in Sandwich.
There's some splendid coastal scenery on this route with St Mildred's Bay and Botany Bay real highlights. View Full Details>>
Blean Woods National Nature Reserve
6 miles (9 km)
Enjoy miles of cycling and walking paths in the ancient woodland of Blean Woods near Canterbury. The site is one of the most extensive areas of broadleaf woodland in Britain and home to a wide variety of wildlife. There's miles of waymarked trails to try with birds such as Nightjar and Woodcock to look out for on the way.
To continue your walking in the area you can head south and try our Canterbury Rivers and Woods Walk which takes you through the orchards and woodland surrounding Canterbury. The Stour Valley Walk and North Downs Way long distance trails also pass just to the south of the woods. View Full Details>>
Brockhill Country Park
4 miles (7 km)
Brockhill Park has a number of waymarked woodland trails, a lake, open grassland and meadows. The park is rich in wildlife, with marbled white butterflies, green woodpeckers and carpets of snowdrops. There are also excellent facilities with picnic areas and a cafe. View Full Details>>
Capstone Farm Country Park
6 miles (9 km)
Enjoy several cycling and walking trails in this delightful country park near Gillingham. The park is located in the beautiful North Downs with ancient woodlands, old orchards, a freshwater lake and wildflower meadows to explore. There's excellent facilities with a Visitor Centre, cafe and picnic areas. View Full Details>>
Clowes Wood
3 miles (5.5 km)
Enjoy miles of cycling and walking trails in this area of woodland near Whitstable. The site is also a nature reserve and includes attractive mixed woodland, heathland and wet meadow. Look out for wildlife which includes woodpeckers, Woodcock and if you're lucky an owl.
Part of National Cycle Route 1, known as the Crab and Winkle Way, passes through the woods. You could follow this lovely traffic free path from nearby Whitstable to reach the woods.
The walk can be extended by heading east through Thornden Wood and West Blean Wood to the splendid Wildwood Forest Park. Here you will find a wonderful collection of animals including badgers, foxes, otters, pine marten and red squirrels. Also in Thornden Wood you can climb Knockhimdown Hill for nice views over the area.
To extend your walking in the area you can head to Whitstable harbour and try the Whitstable to Herne Bay Walk along the coast. View Full Details>>
Crab and Winkle Way
7 miles (10.5 km)
This lovely cycling and walking route runs from Whitstable on the Kent coast to Canterbury along National Cycle Route 1. It is largely flat and traffic free running along a disused railway line for part of the route while also passing through Blean Woods on the way.
Highlights on the route include the attractive harbour at Whitstable and the splendid Blean Woods National Nature Reserve which is the largest ancient broadleaved woodland in southern Britain. The magnificent Canterbury Cathedral is also a major attraction on this trail.
Starting on the sea front in Whitstable, the route heads south through Thurston Park and South Tankerton, on the outskirts of the town. A woodland section then follows through Clowes Wood. The woods are also designated as nature reserve and include attractive mixed woodland, heathland and wet meadow. Look out for wildlife which includes woodpeckers, Woodcock and if you're lucky an owl.
After leaving the woods the route heads through the countryside to the outskirts of Canterbury, where you will pass the buildings of the University of Kent. The final sections takes you into Canterbury, finishing near Canterbury West Station.
This route is also easily accessible with train stations at Whitstable and Canterbury. View Full Details>>
Darenth Country Park
1 miles (1.5 km)
This country park in Dartford has some nice cycling and walking trails to try. The park has a decent sized car park just off Gore Road, near Darent Valley Hospital. From here you can pick up the 1 mile circuit around the park. The park has nice wide lawns, picnic areas, meadows and pockets of woodland. The area is popular with dog walkers and joggers.
You can extend your walk by heading east and exploring Darenth Wood. Eventually you will come to Bean and the pretty Beacon Wood Country Park. There's more nice woodland trails here.
About 1 mile to the west of the park you can pick up the Darent Valley Path. This splendid long distance trail will take you along the River Darent to Farningham where you will find the pretty Farningham Woods Nature Reserve. View Full Details>>
Dover to Canterbury
32 miles (52 km)
Starting in Dover follow National Cycle route 1 along the coast through Kingsdown to Deal where there a views of Deal Castle. You then had inland through Sandwich (home of open golf) passing the River Stour and heading west to Canterbury via Westbere Lakes. View Full Details>>
Dover to Sandwich
14 miles (22 km)
This ride takes you along Regional Route 15 between these two historic Kent towns.
You start on the sea front at Dover and head through Guston, Whitfield and Eastry along quiet country lanes before finishing at the centre of Sandwich. There are train stations at either end of the route making it easily accessible. View Full Details>>
Gravesend to Sittingbourne
28 miles (45 km)
Starting in Gravesend on the banks of the river Thames follow National Cycle route 1 to Sittingbourne via Rochester and Gillingham.
The route starts by heading east to Upnor where you join the River Medway and pass the impressive Upnor Castle. You then head through Rochester with its splendid castle before continuing along the river through Riverside Country Park in Gillingham. The final stretch is mostly on road taking you into Sittingbourne and finishing with a pleasant spell along Milton Creek Country Park. View Full Details>>
Greenwich to Gravesend
27 miles (43 km)
Starting in Greenwich on the banks of the river Thames follow National Cycle Route 1 to Gravesend via Dartford. View Full Details>>
Heron Trail
13 miles (21 km)
This is a lovely circular route around the Hoo Peninsula which is bounded by the River Thames to the north and the River Medway to the south.
The route starts at Higham and follows the trail to Upnoor via the villages of Cliffe and Cooling. The ride passes near the RSPB Northward Hill Reserve where you can see 150 pairs of grey herons-hence the trail name.
To explore the peninsula on foot you can try the Hoo Peninsula Path or the Saxon Shore Way. View Full Details>>
Isle of Harty Trail
7 miles (11 km)
Starting at Leysdown on Sea on the The Isle of Sheppey, follow a series of quiet country lanes and off road tracks to the Isle of Harty. Highlights on the route include the coastal Leysdown Country Park, the 900 year old Harty Church and the Ferry House Inn near to the Ferry Landing. View Full Details>>
Jeskyns Park
2 miles (2.5 km)
Explore the woodlands, ponds, orchards and wildflower meadows in this country park near Gravesend. Walkers can enjoy a number of waymarked surfaced paths and an 8km grass trail. There are also easy surfaced paths for cyclists. These are good for families looking for a safe ride.
There's lots to see with 100 acres of meadowland with over 40 species of wildflower. You can also explore the orchards with apple, plum, cherry and pear trees. At Henhurst Lake you can look out for water loving wildlife while the woodland area and glades are a lovely tranquil place for a stroll too.
If you'd like to extend your outing then you could head to the nearby Shorne Woods Country Park where you'll find 288 acres of rolling woodlands, wetlands and meadows. Our Circular Walk around Cobham visits Shorne Woods, Jeskyns Park and also takes you to Cobham Woods which is run by the National Trust. View Full Details>>
Joydens Wood
4 miles (6.5 km)
Explore these ancient woods near Bexleyheath on this easy walk on the border of London and Kent. The area is historically and archeologically significant with remains found from Roman times. This is represented with a series of impressive wooden sculptures. Look out for the Saxon Warrior and Roman Soldier pieces in particular. There's lots of wildlife to see also. Look out for bats, woodpecker, owl and dormouse all of which are represented by a sculpture.
The wood has lots of good waymarked footpaths and nice wide bridleways for cyclists to follow. It's a peaceful place for walkers to visit on the outskirts of the city. With over 136 hectares (325 acres) to explore on miles of paths there's plenty to keep walkers and mountain bikers busy.
You can start your walk from Bexley train station just to the north of the woods. Then follows paths south to the site. As well as the extensive woodland there's an area of open heathland with ponds and picnic tables. Look out for pretty plants and flowers including bluebells, lily-of-the-valley, honeysuckle and wood sage.
The London Loop passes close to the woods so it's to extend your walking in the area. You can follow it to a number of parks and nature reserves close to the wood. At Foots Cray Meadows nature reserve you can enjoy a waterside walk along the River Cray while at Scadbury Park you can explore the ruins of Scadbury Manor. The popular trails at Petts Wood Circular and Jubilee Country Park are also close by. View Full Details>>
King's Wood Kent
2 miles (4 km)
This large area of woodland near Challock has miles of good walking trails to try. There's a good sized sculpture trail with a series of interesting wooden sculptures and pretty bluebells in the springtime. The ancient woodland is comprised of Sweet Chestnut, Beech, Corsican Pine and Douglas Fir. It's a great place for wildlife with species including fallow deer, adders, nightjars and green woodpeckers.
The forest is located just to the east of Challock with a parking area on White Hill Road. It is not too far from Canterbury and Ashford.
This route is designed for walkers to explore the sculptures but there are also lots of good cycling trails on the hard forest roads and mountain bike trails in the woods. The North Downs Way also passes through the eastern end of the woods so you can pick up this bridleway section too. View Full Details>>
Leybourne Lakes Country Park
4 miles (6 km)
Enjoy peaceful, waterside walking and cycling at Leybourne Lakes Country Park, near Maidstone in Kent. In the park you will find 230 acres of lakes and woodland providing a peaceful location for wildlife and birdwatching.
The expansive park includes several lakes with the River Medway running along the eastern section of the park. View Full Details>>
London to Dover
99 miles (159 km)
This long route travels from London to Dover using National Cycle Route 1 to Canterbury and then Regional Route 16 to Dover. It runs for nearly 100 miles using a mixture of quiet roads and signed traffic free paths.
The route starts in Greenwich, by the famous Cutty Sark, and heads east along the riverside path to Erith. Here you turn south to follow the River Darent to Crayford and Dartford.
You continue east to Northfleet and Gravesend, where you leave the river to head through the countryside to Rochester. Here you pick up a trail along the River Medway, passing Gillingham, before a countryside stretch takes you to Sittingbourne. Here you pick up the Swale Heritage Trail to take you to Faversham. The route then heads towards Whitstable, skirting the edge of the town before turning south to Canterbury, via Clowes Wood. View Full Details>>
London to Whitstable
71 miles (114 km)
Travel along signed cycle paths from the city of London to the lovely Kent based resort of Whitstable. The ride runs for just over 70 miles, using a mixture of off road cycle paths and quiet roads.
The route starts at the Cutty Sark, by the River Thames in Greenwich, London. You start off with a nice traffic free run along the Thames, heading east through Woolwich to Gravesend. You continue through Dartford and Gravesend to Rochester, where you will cross the River Medway and pass the noteworthy Rochester Castle.
The next section follows another traffic free path through the Riverside Country Park on the Medway Estuary in Gillingham. The estuary is a haven for wildlife with ducks and waders thriving on the invertebrate-rich mudflats, while the reedbeds are an important breeding area for birds such as the sedge and reed warbler.
After leaving the park you continue east through Newington, Sittingbourne and Faversham before passing through Graveney Marshes to reach the coast at Seasalter. View Full Details>>
Lower Leas Coastal Park
2 miles (4 km)
This coastal country park is located in Folkestone and has fabulous views over the Kent coastline. National Cycle Route 2 also runs through the park.
The park is divided into three zones. These include a formal zone with lovely gardens and pine avenues. The fun zone includes a free adventure play area and an amphitheatre. Finally, there's the wild zone with lots of interesting flora and fauna to look out for.
It's a delightful place with imposing cliffs, interesting rock formations, wildflower meadows and lots in intersting plants and flowers. View Full Details>>
Maidstone to Rochester
11 miles (18 km)
This route follows National Cycle route 17 through the wonderful scenery of the North Downs. Starting on the River Medway in Maidstone you will head north through the town to Sandling. View Full Details>>
Mereworth Woods
5 miles (8 km)
These large woods near Sevenoaks have miles of mountain bike trails and woodland walks to enjoy. The ancient woods consist of mixed broadleaf woodland, acid heath and some conifer plantations. The woods include wide bridleways with some steep descents and nice jumps to try. There's also good footpaths for walkers with lots of wildlife to look out for.
The Wealdway long distance trail runs through the western edge of the forest so you can pick this up to extend your walk into the surrounding Kent countryside. Heading north takes you to Platt and Wrotham Heath, while heading south takes you to West Peckham and the Grade II listed Oxon Hoath manor house. Around here you can pick up the Greensand Way which runs to the south of the woods.
Also nearby is Oldbury Hill where there are some good bridleways for mountain bikers and the pretty Ightham Mote which has good walking trails. View Full Details>>
Milton Creek Country Park
3 miles (4.5 km)
A short circular cycle or walk around Milton Creek Country Park in Sittingbourne in Kent. The park is set in 128 acres and contains Milton Creek, fishing lakes and a network of well laid out paths. The heritage Sittingbourne and Kemsley Light Railway also runs though the Park. The nearby Kemsley railway station makes for a good access point for the route. View Full Details>>
Miners Way Cycle Trail
30 miles (48 km)
This circular cycle route has been created by The White Cliffs Countryside Project and accompanies the Miner's Way Walking Trail. The trail passes through beautiful Kent countryside linking a number of interesting mining villages. View Full Details>>
Mote Park
1 miles (2 km)
This 450 acre park in Maidstone has a lovely lakeside cycling and walking track running through it, using National Cycle Network number 177. View Full Details>>
National Cycle Route 18
63 miles (101 km)
This signed Sustrans cycle route runs through Kent from Canterbury to Tunbridge Wells for a distance of about 63 miles. View Full Details>>
Oyster Bay Trail
7 miles (10.8 km)
Enjoy a flat, coastal ride from Reculver to Swalecliffe, via Herne Bay. The 7 mile ride includes a great traffic free stretch through Reculver Country Park where there are splendid cliff top views over Herne Bay. There's also a lovely run along Herne Bay promenade and a woodland section around Bishopstone. The route is well planned and signed so makes for a good family ride. View Full Details>>
Pegwell Bay Country Park
2 miles (4 km)
This park is located near Ramsgate and has splendid views over Pegwell Bay and Sandwich Bay. In the bay is a large nature reserve, known for its migrating waders and wildfowl. A local cycle route runs right through the park so you can take your bike. View Full Details>>
Pilgrims Way
47 miles (75.6 km)
Follow the Pilgrims Way cycle route from Rochester to Canterbury, through the beautiful North Downs. The route runs for about 47 miles on a mixture of quiet roads and traffic free paths. There's some fairly challenging climbs along the way so to complete in one day is for the more experienced rider.
The route starts off in Rochester next to the Medway River and Rochester Castle. You head south west along the river before turning south for a woodland section through Monk Wood. The route then passes the splendid viewpoint at Blue Bell Hill where you can enjoy views over the Kent North Downs. Near here you will also pass the interesting Medway Megaliths. This series of Early Neolithic chambered long barrows and megalithic monuments were constructed circa 4000 BCE, during the Early Neolithic period of British prehistory, surviving today in a ruined state.
The route then turns to the south east to head through the countryside around Boxley, Detling Hill, Thurnham, Hollingbourne, Harietsham, Charing and Westwell. This section takes you through some very pretty Kent villages with highlights including the picturesque water mill and windmill at Charing. View Full Details>>
Reculver Country Park
4 miles (6 km)
This country park is located on the Kent coast at Reculver. The cliff top views over Herne Bay are fantastic with a wide variety of wildlife and plantlife to see. The Reculver Towers are also located in the park. They are an important local landmark and are listed as a Scheduled Ancient Monument.
The park also includes the Bishopstones Nature Reserve where you can look out for wildlife including Sand martins, skylarks, meadow pipits and corn buntings.
The route below is designed for walkers as it takes you along footpaths around the park but there is a cycle route running right through the park. View Full Details>>
Redhill to Tunbridge Wells
36 miles (58 km)
Starting in Redhill first travel south through Gatwick airport (easier and more pleasant than it sounds!) and then onto the off road Worth Way, Forest Way and Sussex Border Path that will take you through East Grinstead and some lovely countryside before finishing in Royal Tunbridge Wells.
The ride follows National Cycle Route 21 and has a number of traffic free sections making it an attractive, leisurely ride. View Full Details>>
Riverside Country Park
3 miles (5 km)
Explore the Medway Estuary in 250 acres of country park in Gillingham, Kent. View Full Details>>
Royal Military Canal
12 miles (19 km)
This short cycle route takes you along a lovely cycleable section of the Royal Military Canal near Hythe.
There's much to enjoy on this route as there are lovely sections along the coast and the canal with views of Port Lympne Wild Animal Park an added bonus. You'll also pass interesting historical landmarks with the Portus Lemanis Roman Fort and the medieval Lympne Castle other noteworthy highlights on the route. View Full Details>>
Rye to Dover
39 miles (62 km)
This largely flat coastal ride takes you along National Cycle Route 2 from Rye in East Sussex to Dover and its famous white cliffs.
You start in Rye and head to Camber where there is a lovely coastal stretch with views of Camber sands. The route continues inland through Romney Marsh. to Hythe where you can enjoy a lovely spell along the Hythe Military Canal followed by a cruisy strech along the prom. View Full Details>>
Samphire Hoe Country Park
2 miles (3.5 km)
This coastal country park is located near Dover on the Kent coast. The park was created by using chalk marl from the Channel Tunnel excavations. There are fabulous views of the stunning Shakespeare Cliff and the Strait of Dover. The park is a Nature Reserve with a huge variety of wildlife and a number of nationally rare plant species including the Early Spider Orchid.
The North Downs Way long distance trail runs right past the park. you can pick this up and head west to visit East Cliff and Warren Country Park. Here you'll find more great views and three old Martello Towers. Our Folkestone Walk starts at Lower Leas Coastal Park and takes you to all three of Folkestone's coastal park.
You could also continue to Folkestone on our Dover to Folkestone Walk which takes you between these two Kent ports. View Full Details>>
Sheerness Way
6 miles (9 km)
Opened in 2011 this super, circular cycle and walking route, follows a series of safe, traffic free paths around Sheerness on the Isle of Sheppey.
You will run along the attractive Isle of Sheppy coast and Sheerness beach, while there is also a pleasant waterside section along the Queenborough Lines or the canal bank as it is known locally. At the eastern end of the route you'll also pass Barton's Point Coastal Park where there's a pretty lake with birdlife and a beach.
This is a nice family cycle ride as it takes place on flat, off road paths. Walkers looking for an easy circular walk will also find it suitable.
The route is easily accessible, starting and finishing at Sheerness-on-Sea railway station. View Full Details>>
Shorne Woods Country Park
2 miles (4 km)
This park near Gravesend has 288 acres of rolling woodlands, wetlands and meadows that can be explored via a variety of waymarked trails, suitable for cyclists and walkers. The park has excellent on site facilities including a visitor centre, cafe, a sensory garden, fishing lakes, a trim trail and picnic and play areas.
If you'd like to extend your outing then you could head to the nearby Jeskyns Park which has woodlands, ponds, orchards and wildflower meadows to explore. Our Circular Walk around Cobham visits Shorne Woods and also takes you to Cobham Woods which is run by the National Trust. You can also find more walking trails at the nearby Camer Park which is near Meopham. View Full Details>>
Sittingbourne to Canterbury
29 miles (46 km)
Follow National Cycle Route 1 through Kent from Sittingbourne to Canterbury.
The route starts by heading east to Conyer, Faversham and then onto Whitstable berfore turning south to Canterbury. Highlights include the partly off road Swale Heritage trail at the start followed by a lovely coastal stretch through Seasalter and Whitstable with splendid views of Whitstable Bay. The final approach to Canterbury is also pleasant, passing through Clowes Wood on off road tracks before finishing in Canterbury at the train station. View Full Details>>
Sittingbourne to Sheerness
11 miles (18 km)
This short route follows National Cycle route 1 to the Isle of Sheppey from Sittingbourne. Starting in Sittinbourne the route heads north through the countryside to the Kingsferry bridge which will take you over the Swale and onto the Isle of Sheppey. The route then heads through Queenborough and onto Sheerness where the route finishes by the beach. View Full Details>>
South Coast Cycle Route
165 miles (265 km)
This epic cycle route makes use of signed cycle paths to take you from Southampton to Dover along England's south coast. The 160 mile route has many traffic sections running right along the coast with the remainder running as close to the sea as possible.
The ride starts at the docks in Southampton and heads east to Portsmouth, Chichester, Bognor Regis, Worthing and Brighton where there's a nice traffic free section along the famous sea front.
You continue to Seaford where there's an inland section to Eastbourne where you rejoin the coast and head to Bexhill, Hastings and Rye. There's a nice section here past Rye Harbour to the popular Camber Sands. View Full Details>>
Tonbridge to Penshurst
5 miles (8 km)
This route take takes you from the town of Tonbridge to Penshurst Place where you can see a 14th century house surrounded by lovely gardens. The ride follows Regional Cycle Route 12 along a nice traffic free path with views of the River Medway along the way. You'll also pass the pretty Haysden Country Park where there's two nice lakes which offer good opportunities for wildlife watching. It's a 5 mile ride on a fairly flat path so suitable for most abilities. View Full Details>>
Trosley Country Park
4 miles (7 km)
Enjoy magnificent views of the North Downs in 170 acres of beautiful woodland and chalk downland at Trosley Country Park. View Full Details>>
Tunbridge Wells to Ashford
42 miles (68 km)
This ride takes you along National Cycle Route 18 through Kent from Tunbridge Wells to Ashford via Tenterdon.
The ride starts on Tunbridge Wells Common near the train station and heads East towards Pembury. A series of quiet country roads takes you onto a pleasant off road section through Bedgebury Forest where you can find the beautiful Bedgebury Pinetum which is worth stopping to explore. View Full Details>>
Viking Coastal Trail
32 miles (51.4 km)
This signed circular route takes you on a tour of some of Kent's most beautiful coastline and interesting seaside towns. The route begins at Birchington and visits Margate, Broadstairs, Ramsgate, Minster and Reculver. Most of the route takes place on traffic free paths many of which run directly along the coastline.
Route highlights include two splendid coastal country parks. First is the delightful Pegwell Bay Country Park with splendid views over Pegwell Bay and Sandwich Bay. Next is Reculver Country Park, which has magnificent cliff top views over Herne Bay and a wide variety of wildlife and plantlife to see. Other highlights include the beautiful Botany Bay, Broadstairs beach and the impressive Ramsgate harbour. View Full Details>>