London Walks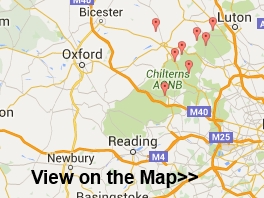 There's hundreds of good options for walkers in and around the capital. Highlights include the epic London Loop which takes you on a tour of the parks, woods and fields around the edge of Outer London. There's also the Jubilee Greenway which visits several of the capital's finest parks and includes waterside sections along the Regent's Canal and the Thames Path.
London is also not far from the Sussex and Kent coasts. See our Coastal Walks Near London page for details.
Use the filter to show walks of a certain type such as woods, reservoirs, hills, long distance, country parks, canals and rivers.
In the spring walkers flock to the beautiful bluebell woods in the Greater London area. Click the 'Woodland' button below to see these.
Use the links to view full route information including elevation profiles, interactive maps and GPS downloads.
You can also view an overview map of all the routes in the using the Greater London Walk Map>>
Route Name
Distance
Description
Addington Hills
1 miles (1.5 km)
Climb to this viewpoint in Croydon and enjoy great views across the City of London and the North Downs. You can park at the Addington Hills car park in Upper Shirley and pick up the footpaths from there. It's a short climb to the viewpoint where you can enjoy far reaching views towards Parliament Hill and Docklands. There's 130 acres to explore in the park with woodland and London's largest area of heathland to enjoy. It's great for flora and fauna with bell heather, gorse, marsh violet, common lizards and green woodpeckers to look out for.
The London Loop passes through the park so you can pick this up to continue your walking. If you head east you'll come to the Addington Golf Course, Threehalfpenny Wood, Coney Hall and Keston Common and Hayes Common. Heading south will take you to Littleheath Woods and Selsdon Wood where there is a nature reserve with lots of wildlife, ponds, open meadows and miles of waymarked walking trails. Just to the west is Croham Hurst Woods where you'll find ancient woodland and a climb to Breackneck Hill. Croydon is also just a short walk along the Vanguard Way.
To visit the park by tram you can get off at the Coombe Road tram stop. View Full Details>>
Alexandra Park
1 miles (2 km)
Enjoy a walk or cycle through this popular park in North London. The park covers nearly 200 acres and surrounds the historic entertainment venue of Alexandra Palace. It includes a pretty boating lake where you can enjoy a boat ride or a lakeside snack at the cafe. There is a also a large garden centre with a Victorian style greenhouse, a deer enclosure with a small herd of fallow deer and a 10 hole pitch and putt golf course. You can also climb the park's tree-lined sloping hill where you can enjoy super views over London.
Alexandra Park is located between Wood Green and Muswell Hill. Alexandra Palace railway station (Muswell Hill branch) is located right next to the eastern end of the park. View Full Details>>
Barnes Common, River and Wetland Centre
7 miles (11.5 km)
This circular walk takes you around the London village of Barnes. It's an affluent and attractive area with nice walks to be had through the common, green and along the River Thames. There's also the splendid London Wetland Centre with its lakes, ponds, gardens and wide variety of wildlife.
The walk starts from Barnes train station and heads east across Barnes Common and Putney Lower Common. The commons consist of mixed broadleaf woodland, meadows, scrubland and acid grassland.
The commons lead you on to the pretty Beverley Brook which you follow to the River Thames. Head north along the Thames Path and you will soon come to the London Wetland Centre. For a fee you can explore the site and look out for a huge variety of wildlife including otters, Eurasian bittern, northern pintail, northern lapwing, water rail, rose-ringed parakeet, Eurasian sparrowhawk, sand martin, common kingfisher, little grebe and great crested grebe. The site also includes an excellent visitor centre and a nice cafe.
After exploring the site, the walk heads back to the river, heading north to Hammersmith Bridge. You continue through Chiswick before leaving the river and heading to Barnes Green. The pretty green has a pond and the Grade II listed Sun Inn on its fringe. The mid 18th century pub is a nice place for refreshments at the end of your walk.
There's lots of good options for extending your exercise in the area. You could try our Chiswick Riverside Walk and visit the lovely Chiswick House with its beautiful gardens and neo-Palladian villa.
You could also follow the Beverley Brook south through Roehampton to Richmond Park where there's miles of cycling and walking trails set in a huge deer park. View Full Details>>
Battersea Park
2 miles (3 km)
Enjoy a walk or cycle through this riverside park in London. There's a cycle trail running through the northern end of the park and footpaths taking you around a boating lake, through Sub-Tropical Gardens and along the River Thames.  There's 200 acres (83-hectare) to explore with a children's zoo, a boating lake, a bandstand and cafe. There's also a 3 hectare nature area with mixed woodland where you can look out for butterflies and birds such as blackcap and bullfinch. Good footpaths take you around the lovely Sub-Tropical Gardens with a mixture of exotic plants and then to the Old English Garden with a fountain and pretty hedges and flowers.
The whole of this circular route is designed for walkers but there is a traffic free cycle track running through the northern end of the park. You can then cross Chelsea Bridge and continue along the Thames to Battersea Bridge. The Thames Path runs through the park so you can extend your walk by continuing along the thames. View Full Details>>
Bayhurst Wood Country Park and Ruislip Woods
5 miles (8 km)
Bayhurst Wood Country Park and Ruislip Woods are located in the London Borough of Hillingdon and contain numerous walking and cycling trails. Ruislip Woods covers 726 acres and became the first National Nature Reserve in an urban area of England in 1997. The site includes grassland, ponds, streams, marshland and the delightful Ruislip Lido.
The site is popular with Mountain bikers as there are a number of challenging off road trails. However there are also family cycle routes such as the David Brough cycle trail which is located in Bayhurst Wood and is suitable for all abilities of rider. View Full Details>>
Beckenham Place Park
2 miles (3 km)
This circular walk explores Beckenham Place Park in the London Borough of Lewisham. It starts at Ravensbourne station and heads through the park's woodland, skirting the edge of the golf course. You return to the station, following a footpath along the River Ravensbourne, in the eastern section of the park.
In the park you'll find 96 hectares (237 acres) of parkland including ancient woodland, a sensory garden and a Grade II listed mansion. It's also an excellent place for wildlife watching. Look out for a wide variety of birds including ring-necked parakeet, tawny owl, all three woodpeckers, blackcap, chiffchaff, goldcrest, spotted flycatcher, nuthatch and treecreeper. The park has wide areas of grassland where you can see wildflowers such as pignut, mouse-ear hawkweed, cat's-ear, autumn hawkbit, yarrow, common bird's-foot-trefoil and sheep's sorrel.
The Capital Ring and Green Chain Walk both run through the park. You can pick up these trails to extend your walking in the area. Heading west will take you to Crystal Palace Park, while heading east will take you to Elmstead Woods. View Full Details>>
Beddington Park
1 miles (2 km)
This park near Carshalton has good footpaths to follow along the River Wandle and around the pretty lake. There are 58 hectares of landscaped wooded park and the Carew family Manor house to enjoy. Beddinton Park has a fascinating history with the site of a Roman villa and bath-house at the northern side of the park. The park can be accessed from the nearby Hackbridge Station. If you are coming by bike then you can follow the Wandle Trail from Wandsworth or Croydon. If you head north you will soon come to Morden Hall Park and Mitcham Common.
You can virtually explore part of the park using the google street view link below! View Full Details>>
Bedfont Lakes Country Park
2 miles (3 km)
This water-focused nature reserve, has 180 acres of rolling meadows, woodlands and lakes. Over 300 plants and 140 bird species have been recorded in the park. The park offers a wide range of activities including, walking, picnics, a trim trail, orienteering and fishing. Bedfont Lakes is located near Ashford train station. View Full Details>>
Beeches Way
16 miles (25 km)
Follow the Beeches Way through the Chilterns from the River Thames at Cookham to the Grand Union Canal at West Drayton.
You start off at Cookham and head east to the wooded Burnham Beeches Nature Reserve. The reserve covers over 500 acres with a network of great woodland trails. There's also ponds, grassland, heathland with wildlife which includes Exmoor Ponies. The walk then passes through Fulmer before a lovely stretch through Black Park Country Park and Langley Park Country Park. The final stretch takes you around the lakes in Colne Valley Regional Park before finishing on the Grand Union Canal at West Drayton. View Full Details>>
Bentley Priory
3 miles (5 km)
This circular walk explores the popular Bentley Priory nature reserve in Harrow. The reserve has good footpaths to follow to 55 hectares of ancient woodland, grassland, scrub, wetland, streams, a lake and a deer enclosure. In the reserve you will find a variety of wildflowers such as spotted orchid. Look out for birds including buzzard, spotted flycatcher, and bullfinch.
You can park at the Stanmore Common car park and pick up the London Loop to the reserve. Other public footpaths will take you past the deer park and the lake.
There's lots of good options for extending your walk in this area. If you head west along the London Loop you can visit Harrow Weald Common and Oxhey Woods with its splendid, easy access sculpture trail. On the common there's also the noteworthy Grim's Dyke Hotel, the formere home of Sir William Schwenck Gilbert, the writing half of the Gilbert & Sullivan musical partnership.
The Stanmore Common walk also starts from the same start point as this walk. View Full Details>>
Berrys Green Circular
8 miles (13 km)
This pleasant circular walk passes through the woods and villages around the rural area of Berry's Green in Bromley. Highlights on the walk include the pretty village of Cudham and views of Biggin Hill Airport and Cherry Lodge Golf Club. View Full Details>>
Beverley Brook Walk
7 miles (11 km)
This walk follows the Beverley Brook from the River Thames at Putney to New Malden. The trail passes through Barnes Common, Richmond Park and Wimbledon Common, exposing you to some of South London's most attractive countryside.
Walk highlights include the Beverley Meads and Fishpond Local Nature Reserve where Kingfishers and Mandarin Ducks may be seen. At Barnes you will pass near to the splendid Wildfowl and Wetlands Centre, where you can see a wide variety of wildlife including lapwings, little ringed plovers, great crested and little grebes, gadwall, mallards, pochards and tufted duck broods. There is also a section through the delightful Richmond Park where you can look out for the resident deer. View Full Details>>
Bostall Woods
2 miles (3 km)
This walk explores Bostall Woods and Bostall Heath in Abbey Wood, Greenwich. The woods are well known as the former haunt of highwaymen such as the infamous Dick Turpin. You can follow a selection of nice footpaths through the 160 hectare site which includes woodland and open grassland. It's a lovely retreat from the urban surroundings with lots of wildlife to look out for and listen to. Keep your eyes peeled for a variety of woodland birds and butterflies in the summer months.
There is a car park on Longleigh Lane where you can pick up the trails. There's paths leading west into Bostall Woods and east into Bostall Heath.
Part of this walk uses the Green Chain Walk which runs right through the site. You can pick this up to extend your walk. Heading west will take you to Shooter's Hill and Oxleas Wood where there is an elevated terrace garden with splendid views over the capital and the surrounding counties. Just to the east is Lesnes Abbey Woods where you will find the ruins of the 12th century abbey, an arboretum and more woodland walking trails.
Cyclists can reach the woods by following a local cycle route which passes through Abbey Wood. View Full Details>>
Brent Reservoir
1 miles (1.2 km)
Brent Reservoir and the Wesh Harp Open space space is a popular place for walkers and cyclists. A traffic free path runs long the northern shore of this large lake with views across the water and woodland trails. It's a fine place for bird watching with two bird hides and visitors which include great crested grebe, gadwall, shoveler, common pochard, tufted duck and common tern.  There's also the Welsh Harp Environmental Education Centre which is a 15 acre woodland site where children can have a hands-on experience with nature.
If you'd like to extend your walk you could pick up the Capital Ring walking route and follow it west to the nearby Fryent Country Park. View Full Details>>
Brentford Canal Walk
7 miles (11 km)
A walk along the Grand Union Canal from Brentford to Minet Country Park and Lake Farm Country Park in Hillingdon.
Start the walk from Brentford Dock and the marina in Brentford. It's located just to the south of the train station and on the opposite side of the Thames from Kew Gardens.
From the marina you head west towards Syon Park where there's 200-acres of parkland and gardens to explore.
The canal then bends round to the north west towards Hanwell and Norwood Green. You'll pass close to Osterley Park where there's some lovely parkland and gardens to explore.
From Norwood Green the walk heads west through North Hyde to Hillingdon where you will pass Minet Country Park. The park includes ponds, grassland and a variety of wild plants and flowers. You can also pick up the long distance Hillingdon Trail here and follow it towards the pretty Yeadling Brook.
This route continues west to Hayes where it finishes at Lake Farm Country Park. Here you can enjoy meadows, open grassland and a trim trail. View Full Details>>
Brockwell Park
2 miles (2.5 km)
This park near Brixton has a cycle path running around the perimeter. There are also good footpaths taking you around the 50 hectare (125 acres) site with its pretty lake and wide lawns. In the park you can climb a small hill and enjoy views of the skyline of the city and Central London. Here you will find the early 19th century Brockwell Hall where you can enjoy refreshments in the cafe. There is also a popular open-air swimming pool named Brockwell Lido with a a Grade II listed art deco building and cafe. There are good family facilites with a playground, paddling pool and miniature railway.
If you'd like to continue your exercise then Clapham Common and Tooting Bec Common are both close by.
Dulwich Woods and Sydenham Woods are also only about 1.5 miles to the south east. View Full Details>>
Bushy Park
5 miles (8 km)
Bushy Park is a beautiful deer park in Hampton Wick, London. This walk takes you on a tour of the park, starting and finishing very close to Hampton Wick train station. You will pass a series of tranquil ponds before strolling along Cheshunt Avenue to the Diana Fountain. You head through the park towards the Teddington end before returning to the start point along Cobbler's walk. There are plenty of excellent photo opportunities with the many resident deer as they will often let you come quite close.
The walk is also very close to the river Thames and adjacent to the fabulous Hampton Court Park and Gardens if you would like to continue your walk around this lovely area. The Richmond to Kingston River Walk is a also a great option as it starts/finishes on the opposite side of Kingston Bridge. You can visit the pretty Teddington Lock and Canbury Gardens on this route. View Full Details>>
Camden Canal Walk
3 miles (5 km)
This circular walk in Camden takes you along the Regent's Canal and into Regent's Park. From Camden Road train station it's a nice waterside stroll to the park where you can enjoy miles of footpaths along the lake and through the beautiful gardens.
Along the way you'll pass the famous Camden Market and Camden Lock. The vibrant market includes a huge variety of street food and outdoor bars on the water. The lock is fully functional and a great place to see how these devices work.
Head west along the canal and you will soon come to Regent's Park. The famous Royal Park has 395 acres to explore with highlights including the stunning Queen Mary's Gardens with 400 varieties of roses and a lovely waterfall. After exploring the park the route returns to Camden Town train station.
It's easy to extend your walking in the area if you have time. Continuing west along the canal will take you to the Paddington Basin where you can pick up the Paddington Canal. From here it's a short stroll to Little Venice where there's narrowboats, water cafes and a good selection of restaurants and bars.
The long distance Jubilee Greenway also passes through the area. The 60km trail is a great way to visit the capital's highlights on foot. View Full Details>>
Capital Ring
78 miles (126 km)
This 78 mile circular walk takes you on a tour through London passing many of its most famous landmarks and through some of its most attractive parks and green areas.
The route officially starts at Woolwich foot tunnel by the Thames Barrier and first heads south passing through Eltham, Beckenham Place Park and Tooting Bec Common before reaching Wimbledon with its famous common and windmill. You continue through Richmond Park to Richmond where a pleasant stretch along the Thames takes you past the popular gardens at Kew. Soon after you join the Grand Union Canal for more pleasant waterside walking, passing Brentford and Hanwell on your way to Harrow. View Full Details>>
Celandine Route
12 miles (19 km)
Follow the River Pinn from Pinner to Cowley on this nice easy waterside walk through west London. View Full Details>>
Chelsfield Circular Walk
7 miles (11 km)
This short circular walk follows footpaths and tracks through the countryside around Chelsfield in Bromley. The walk starts at Chelsfield station and heads towards Crockenhall through farmland and woodland, before returning to Chelsfield via Goddington. View Full Details>>
Chiswick House
1 miles (2 km)
Explore the beautiful gardens surrounding this neo-Palladian villa in West London. The 65 acre gardens were restored in the 18th century and are perfect for a peaceful afternoon stroll. There are wide lawns, an artificial river, a lake and a beautiful waterfall descending a series of rock steps through three archways.
To extend your walking in the area you could try our circular Chiswick Riverside Walk along the Thames Path.The river runs just to the east of the house and can be followed west to the splendid Kew Gardens and Syon Park in Brentford. View Full Details>>
Chiswick Riverside Walk
7 miles (11.5 km)
This circular walk takes you along both sides of the River Thames from Chiswick to Barnes and Hammersmith. The route passes a number of interesting bridges and historical sites, including the lovely Chiswick House.
The walk starts at Chiswick railway station and heads to Chiswick Bridge over the river. The arched bridge is well known for its proximity to the finishing line of The Championship Course, the stretch of the Thames used for the Boat Race and other rowing events.
From the bridge you follow the path east to Duke's Hollow Nature Reserve and Barnes Railway Bridge. The river then bends round to the north towards Chiswick Pier. Around here you can take a small detour and visit Chiswick House, just to the west of the river. The splendid Palladian villa is surrounded by 65 acres of beautiful gardens and well worth the small detour. The gardens are open 7am until Dusk and include classical vistas, ponds, fountains and an 18th century wilderness. Head west just before Chiswick Pier and you will soon come to the house.
After passing the pier you continue round to Hammersmith Bridge, passing the Chiswick Eyot on the way. The narrow river island marks the approximate half-way point of The Boat Races.
This section also passes Hammersmith Terrace with its row of 18th century houses. The homes are Grade II listed and were once home to several notable artists.
Shortly after, the river passes the Georgian Kelmscott House, home to English textile designer, artist, writer and socialist William Morris from April 1879 until his death in October 1896.
At Hammersmith bridge you cross the river to Barnes and head west. This section passes the Leg of Mutton Reservoir which is also a Local Nature Reserve and Site of Borough Importance for Nature Conservation. The large pond is a good place to look out for wildlife including mute swans, great crested grebe and grey herons.
The final section passes through Mortlake before coming to Chiswick Bridge where you cross the river and return to the train station.
To extend your walk you could continue west along the Thames Path and visit the wonderful Kew Gardens and Syon Park in Brentford. Here you can also try our Brentford Canal Walk along the Grand Union Canal. View Full Details>>
Clapham Common
2 miles (3 km)
Enjoy a walk around this large open space in South London. The common covers 220 acres (89 hectares) with miles of walking trails taking you to open grassland, three ponds and a Victorian bandstand. Wide trails take you to the flower gardens and around Eagle, Long and Mount Ponds. There's also a cycling trail running through the centre of the park. Facilities include a running track, bowling green, Australian rules football pitches, Tennis courts and a skateboard park. The Windmill Pub at the park's eastern side is a good place for refreshments.
If you'd like to extend your exercise you could head south through Balham to Tooting Bec Common where there are more cycling and walking paths to try. The Capital Ring long distance walking trail runs through Wandsworth Common about a mile west of Clapham Common. You can pick this up to extend your walk. View Full Details>>
Colne Valley Trail
7 miles (11 km)
Follow the Colne Valley Trail from Uxbridge to Rickmansworth and enjoy riverside and canalside walking or cycling.
The trails follows the Grand Union Canal and the River Colne while also passing a series of pretty Lakes including Lynsters, Stocker's and Batchworth Lake. The trail finishes at Batchworth Lake by the car park in Rickmansworth. You can continue your exercise on our Rickmansworth Walk View Full Details>>
Colne Valley Way
11 miles (17 km)
Travel through the Colne Valley on this walk from Staines to Uxbridge.
The walk starts by the River Thames in Staines and begins with a lovely section around King George VI and Wraysbury Reservoirs that takes you to Colnbrook. This section also passes across the delightful Staines Moor where you enjoy views of the Wraysbury River and River Colne. The area of grassland attracts grazing horses and cattle with a variety of birdlife around the streams and reservoirs.
From Colnbrook you continue north with a waterside section along the River Colne with views of Little Britain lake. The walk finishes at Uxbridge in the London Borough of Hillingdon.
The trail also runs close to the pretty Harmondsworth Moor Country Park. Just to the east of Staines Moor the park has some nice footpaths and two lakes.
The path also runs close to Runnymede Park in Egham. View Full Details>>
Connaught Water
1 miles (1 km)
This pretty lake in Epping Forest has a nice circular walking trail around its perimeter. It's a nice easy stroll with the option of extending your walk into the surrounding woodland. The path is surfaced and fully accessible having recently been landscaped as part of the Heritage Lottery Funded Branching Out Project. A splendid boardwalk has also been created so you can enjoy a stroll above the water. As you walk around the site look out for wildlife including coots, swans, geese and great crested grebes on the lake.
The area has good facilities with a car park just off Rangers Road. You can see this on the google street view link below.
If you feel like stretching your legs further, you can pick up the Epping Forest Centenary Walk which runs past the lake. Follow it north to further explore the forest on waymarked footpaths. Head south and you can visit the Highams Park and Knighton Wood. View Full Details>>
Crane Park
2 miles (4 km)
This popular, easy walk follows the River Crane through Crane Park in Twickenham. There are good footpaths running along the riverside with woodland, scrub and reedbed. The park includes the Crane Park Island Nature reserve where you can look out for herons, water vole, woodpeckers, kingfisher, dragonflies and damselflies. You'll also pass the old Shot Tower, evidence of the The Hounslow Gunpowder Works which used to operate on the site of the park in the 18th century. It's a nice walk for families or anyone looking for an easy afternoon stroll. Access is straightforward with the walk starting from Twickenham station.
The park is located on the London Loop so it's easy to extend your walk towards Hounslow Heath or Teddington. You're also very close to Marble Hill Park and Strawberry Hill House. View Full Details>>
Cray Riverway
9 miles (15 km)
Follow the Cray Riverway on this easy waterside walk through Bromley.
The walk starts off in Orpington at the attractive priory gardens where you'll find the source of the River Cray. You then head north through Sidcup, Bexley and Crayford where you join the River Darent. View Full Details>>
Croham Hurst
2 miles (2.5 km)
Explore these geologically significant ancient woods on this short walk in Croydon. There's a number of footpaths to follow around the 83 acre site including a climb to Breackneck Hill. At the high points you will find seats where you can relax and enjoy the views of the surrounding area. The woods consist of  hazel, beech, oak, wood anemones, wavy hair-grass, heather and bilberry.
The Vanguard Way and London Loop long distance paths both run close to the woods so you can pick these up to extend your walk. If you head north east you will soon come to Addington Hills where there is a great viewpoint and London's largest area of heathland. Head south east and you come to Littleheath Woods and Selsdon Wood. Here you'll find 200 acres of ponds, open meadows and ancient woodland. View Full Details>>
Cudham Circular Walk
8 miles (13 km)
This circular walk takes you through the woodland and farmland around Cudham and Downe in Bromley. The walk passes Down House the former home of Charles Darwin and his family. It was in this house and garden that Darwin worked on his theories of evolution by natural selection and it can be found close to the walk start at the village of Downe. The house is now owned by English Heritage and includes an exciting interactive multimedia tour (narrated by David Attenborough), family rooms and extensive gardens.
The walk also passes close to Biggin Hill airport and through the splendid High Elms Country Park. The park boasts 250 acres of countryside including a 150 acre golf course, woodlands, a nature centre, an ice well, formal gardens and wildflower meadows. The route runs for just under 8 miles and includes some moderate hill climbs on the way. View Full Details>>
Danson Park
1 miles (2 km)
This large park in Bexleyheath has some nice footpaths to try. It's a pretty spot on the outskirts of the city with a small pocket of woodland, acres of grassland and an attractive lake. Additionally there are a number of well laid out gardens with fountains and a variety of plants and flowers. You can enjoy a stroll around the English Garden, the Rock Garden at the western end of the park, and the Peace Garden.
The park also include the 18th century Danson House. You can tour parts of the Grade I listed Palladian villa at certain times. There are grand rooms on the principal floor as well as the Victorian basement kitchen equipped with historic kitchen items.
The park is in a good spot for extending your walk to other local nature reserves, woods and parks. The London Loop runs just to the south to Foots Cray Meadows, the River Cray, Petts Wood and Scadbury Park. The expansive Joydens Wood also lies within walking distance of Bexley train station. View Full Details>>
Darent Valley Path
19 miles (31 km)
Travel through the Kent Downs AONB and along the Darent River on this beautiful walk.
You start off near Sevenoaks Railway Station and head north through the delightful tranquility of the Sevenoaks Wildlife Reserve. The route continues towards Otford (with its 16th century Palace) and then onto Shoreham where you'll pass Lullingstone Country Park. As one of the oldest family estates in England (1497) Lullingstone Castle has an interesting history and attractive gardens making it well worth a visit.
The next section takes you on to Eynsford and Farningham where the river is particularly attractive. This section passes Eynsford Castle and the pretty Farningham Woods Nature Reserve, which is worth a small detour from the path.
From Farningham you enter the outskirts of London, passing Darenth Country Park and Dartford. View Full Details>>
Denham Country Park
4 miles (7 km)
Enjoy waterside walking in this delightful park in Uxbridge. The rivers Colne and Misbourne and the Grand Union Canal pass through the park. There is a variety of wildlife, including herons, kingfishers and dragonflies. View Full Details>>
Dollis Valley Green Walk
11 miles (17 km)
This pleasant walk takes you from Mill Hill near Edgware in North London to the edge of Hampstead Heath along the Dollis Brook. View Full Details>>
Dulwich Woods
2 miles (2.5 km)
Explore Dulwich Woods and Sydenham Woods on this easy stroll in south east London. The ancient woods include several footpaths and over 200 species of trees and flowering plants. These include wild garlic, bluebell, dog violet, wood anemone, bugle, Chilean pine, oak and hornbeam. Also look out for remnants of Victorian gardens including an old Victorian folly.
The walk starts from Sydenham Hill railway station, just to the west of the woods. Cross College Road and then you can pick up the footpath leading into the southern section of Dulwich Woods. The paths then lead north east, taking you past the golf club into Sydenham Hill Wood.
The area is also a nature reserve so look out for a variety of wildlife as you make your way along the trails. Birds include nuthatch, treecreeper, tawny owl, kestrel and sparrowhawk. Also keep your eyes peeled for butterflies such as purple hairstreak, white-letter hairstreak and speckled wood.
In the northern section of the woods is a small pond. You may see frogs, newts, dragonflies and damselflies here.
The Green Chain Walk long distance trail passes through the woods. To extend your walk you could follow the trail north west to Dulwich Park. It's a pretty park with nice surfaced footpaths, a cafe, a boating lake and recumbent bicycle hire.
If you were to follow the Green Chain Walk south it would take you into Crystal Palace Park. Here you can enjoy tree lined paths, a maze, lakes and views towards London from the high points. You can also pick up the Capital Ring trail and further explore the area on foot.
Brockwell Park is only about 1.5 miles to the north west. There's some nice cycling and walking trails surrounding the 19th century Brockwell Hall here. View Full Details>>
Eastbrookend Country Park
2 miles (3.5 km)
This country park is a peaceful area located between Hornchurch and Dagenham. It has four pretty lakes and an environmentally friendly visitor centre. The park can be easily accessed from Dagenham East Station on the District Line. View Full Details>>
Elmstead Woods
2 miles (2.5 km)
Enjoy a short stroll through Elmstead and Marvel Woods on this easy walk in the London Borough of Bromley. The woods consist of oak, beech and sweet chestnut trees with various footpaths to take you around the site.
The Green Chain Walk long distance footpath passes right through the site so there is scope for extending your walk. Heading west will take you to the pretty Beckenham Place Park. In the park you'll find 96 hectares (237 acres) of parkland including ancient woodland, a sensory garden and a Grade II listed mansion.
Heading east from the woods will take you to Chislehurst Common. Near here you can also pick up the London Loop and enjoy another woodland stroll in Petts Wood and Foots Cray Meadows. View Full Details>>
Epping Forest Centenary Walk
15 miles (24 km)
Follow the Epping Forest Centenary Walk fom Manor Park to Epping on this pleasant 15 mile walk. It's an accessible route with train stations at either end.
You start near Manor Park train station, just east of Ilford. The route then heads north west through the lovely Wanstead Flats and then on through Leyton Flats to Higham's Park. You then pass Connaught Water and Great Monk Wood in Epping Forest before finishing at Epping. View Full Details>>
Fairlop Waters Country Park
2 miles (3 km)
This large park in Ilford includes sailing and angling lakes, an 18-hole golf course, a boulder park, an outdoor activity centre and a number of newly developed footpaths. View Full Details>>
Farnborough Circular Walk
5 miles (8 km)
This circular walk follows a series of footpaths through the countryside around Farnborough in Bromley. The walk passes the Grade I listed Holwood House and the lovely Keston Common with its peaceful ponds and variety of wildlife. There is also a pleasant woodland section through Ninehams Woods just before returning to Farnborough.
You can extend your walk by joining with the Three Commons Walk which takes you on a tour of Hayes, Keston and West Wickham common. View Full Details>>
Farthing Downs
2 miles (2.5 km)
This large area of chalk grassland is located near Coulsdon in south London. It is crossed with various walking trails and bisected by National Cycle Route 20. The area is surrounded by attractive woodland and countryside. As such it's a nice place to go for a short cycle or walk in a large open space in south London. You can start the route from the car park at the southern end of the downs. Use the street view link below to virtually explore the downs from here!
The whole of this route is designed for walkers but you can cycle through the area on Ditches Lane which runs through the centre of the site.
The London Loop runs over the downs so there is scope for extending your walk on this long distance trail. You could head to the nearby Happy Valley Park where you will find Devilsden Wood and more chalk grassland with interesting flora such as the rare man orchid and round-headed rampion. Just beyond Happy Valley you will find Coulsdon Common which has some nice woodland walking trails to try. Our Coulsdon South Circular Walk starts from the nearby train station and visits the Downs, Couldson Common and Tollsworth Manor. It makes use of the North Downs Way which runs just to the south of Farthing Downs and is another good option for continuing your walking in the area. View Full Details>>
Foots Cray Meadows
2 miles (2.5 km)
Enjoy a waterside walk along the River Cray in this lovely park and nature reserve in Bexley.
There's a small car park off Rectory Lane on the south western side of the park. From here it is a short stroll to the river where you can pick up the London Loop long distance footpath. There's also footpaths through pretty wildflower meadows, ancient woodland and the impressive five arches bridge over the river. Look out for lots of birdlife including little grebe, grey wagtails and kingfishers by the river.
It's easy to extend your walk in the area if you have time. You can follow the London Loop south west to Petts Wood and Scadbury Park where there are more nice footpaths through parkland, woodland and meadows.
Also nearby is the Joydens Wood Walk which starts from Bexley train station. The woods have over 136 hectares (325 acres) to explore on miles of footpaths and bridleways suitable for cyclists.
A couple of miles to the north there's Danson Park which includes a small pocket of woodland, acres of grassland, an attractive lake and well laid out gardens. View Full Details>>
Fryent Country Park
1 miles (1 km)
Explore 103 hectares (254 acres) of rolling fields, hills and woodland in this country park and nature reserve in the London Borough of Brent. The walk starts in the car park at the eastern end of the park and follows footpaths to the top of Barn Hill. At the top of the hill there is a pond and great views towards Wembley Stadium and London. There are also two other hills with viewpoints, several other ponds and grazing ponies to see in this fine open space.
Parking is available for about 50 cars but if you're coming on public transport you can catch the underground to Kingsbury Station on the Jubilee line.
If you'd like to continue your walk you can follow the Capital Ring to the nearby Brent Reservoir for waterside trails. View Full Details>>
Grand Union Canal Walk
145 miles (234 km)
Follow the towpath of Britain's longest canal from London to Birmingham on this fabulous waterside walk. You start in West London in a lively and attractive area with canalside bars and restaurants, before heading towards the Chiltern Hills, on through rural Northamptonshire and Warwickshire and into the Birmingham suburbs. Highlights include: View Full Details>>
Green Chain Walk
14 miles (22 km)
The Green Chain Walk visits a number of London's prettiest parks and open spaces while also passing through some interesting urban areas. This section of the route runs from Thamesmead to Crystal Palace. It covers a distance of just over 14 miles on a fairly flat, waymarked footpath. As such it could be completed on a single day. You'll visit a number of peaceful woods, attractive parks and historical sites allowing you to reconnect with nature in an urban environment.
The walk begins on the River Thames at Thamesmead and passes Lesnes Abbey Woods, Oxleas Wood, Bostall Woods, Avery Hill Park, Eltham Palace, Elmstead Woods and Beckenham Place Park before finishing at Crystal Palace Park.
Highlights on the walk include the fascinating ruins of the 12th century Lesnes Abbey and the splendid views from the elevated terrace garden in Oxleas Wood. View Full Details>>
Green London Way
100 miles (161 km)
Explore the best and most beautiful of London's open spaces on this circular walk through the capital. The route has been split up into 18 sections as follows:

1. Stratford to North Woolwich
2. Abbey Wood and Shooters Hill
3. Woolwich to Greenwich
4. Greenwich to Forest Hill
5. Forest Hill to Crystal Palace
6. Crystal Palace to Balham
7. Balham to Wimbledon
8. Wimbledon to Richmond
9. Richmond to Kew Bridge
10. Kew Bridge to Hanwell
11. Hanwell to Greenford
12. Greenford to South Kenton
13. South Kenton to Brent Cross
14. Brent Cross to Hampstead
15. Hampstead to Finsbury Park
16. Finsbury Park to Clapton
17. Clapton to Victoria Park
18. Victoria Park to Stratford

You'll pass a series of delightful parks including Wimbledon Common, Richmond Park, Hampstead Heath and Kew Gardens. There are also waterside sections along the River Thames and the Brent River to enjoy. View Full Details>>
Green Street Green Circular
7 miles (11 km)
This short circular walk takes you through the woodland, parkland and countryside around Green Street Green in Bromley. The walk visits Pratts Bottom, Chelsfield and the splendid High Elms Country Park. It runs for just over 7 miles with a few small climbs on the way. View Full Details>>
Greenwich Park
2 miles (3.5 km)
Enjoy a cycle or walk through this large park in London. There's 180 acres of wide lawns, tree lined avenues, orchards and pretty gardens. There's also a beautiful 200m long herbaceous border and a deer park with  Red and Fallow Deer. You can climb to the park's high points for great views of the River Thames, Canary Wharf, the Isle of Dogs and the City of London. The park also houses The Royal Observatory, the home of Greenwich Mean Time, the Prime Meridian and London's only Planetarium. The observatory played a major role in the history of astronomy and navigation.
This circular route around the park is designed for walkers but you can cycle along The Avenue and Blackheath Avenue through the park. You can extend your cycle by heading to the River Thames and picking up National Cycle Route 1. Quietway 1 also starts from Greenwich. The Jubilee Greenway passes along the Thames to the north of the park. The 60km waymarked trail takes you on a tour of the capital's finest parks and most famous landmarks.
At the Cutty Sark you can pick up the Waterlink Way which takes you south along riverside paths to Beckenham. From here you can also follow the Thames Path east and visit the famous Millennium Dome.
You can virtually explore the park using the google street view link below! View Full Details>>
Greenwich to Cheshunt
21 miles (34 km)
Follow National Cycle Route 1 on this pleasant ride or walk through north London into Hertfordshire. You start by the Thames at the Cutty Sark in Greenwich and crosses to the Isle of Dogs via the Greenwich tunnel. This section gives splendid views of the River Thames and Canary Wharf.
Shortly after leaving the Thames behind you will come onto the Lee Valley path which will take you along the Regent's Canal and through Tower Hamlets and Victoria Park. You then join the River Lee near Lea Bridge for some more waterside riding. The off road path then takes you past various Reservoirs until you reach the lovely Lee Valley Park - London's largest open space. After going through the park you will soon pass close to Waltham Abbey before you arrive at the finish point at Cheshunt station next to Cheshunt lake. View Full Details>>
Hackney Marshes
3 miles (5 km)
This circular walk explores the rivers, woods and nature reserves in the Hackney area of East London. There's nice waterside footpaths to follow along the River Lea and the Lea Canal. You'll also visit the Middlesex Filter Beds Nature Reserve at the northern end of Hackney Marshes. At the southern end there are woodland trails through the Wick Community Woodland. Along the way there's good views towards the West End, City and Canary Wharf.
The walk starts from the car park off Homerton Road at South Marsh. From here you can pick up the waterside path along the River Lea to North Marsh and the Middlesex Filter Beds Nature Reserve. Here the route turns left and picks up the towpath along the Lea Canal and the Hackney Cut. This leads to the Wick Woodland where you turn left and follow the woodland trails for about a quarter of a mile. Look out for woodland birds and a variety of interesting plants and trees in this area. After leaving the woods you pick up the River Lea again to take you back to the car park.
The marshes are located next to the Olympic Park which has good cycling and walking trails in over 500 acres of parkland, waterways, playgrounds and cafes. It's a great place to extend your walk if you have time.
Also nearby is Victoria Park with lakes and cycle and walking paths set in 200 acres of parkland. Our Hackney Canal Walk explores the park and the adjacent canals.
This route uses a section of the Lea Valley Walk. You could follow the river north west to and visit Tottenham Marshes, Walthamstow Marshes and the Walthamstow Reservoirs where there are some good waterside cycling and walking trails.
The Capital Ring and Jubilee Greenway long distance trails also run through the area. View Full Details>>
Hadleigh to Stratford Legacy Walk
72 miles (116 km)
A walk created to celebrate the 2012 Olympic games in London. It runs from Hadleigh, in Essex, to the Olympic Park in Stratford, London. The route starts near the Hadleigh Mountain Bike Centre and takes you through some of the most beautiful countryside in Essex to the White Water Centre near Waltham Abbey. From here the route heads south to Stratford and the main Olympic Stadium.
The walk visits Hanningfield Reservoir, Epping Forest, Lea Valley Park and Waltham Abbey. View Full Details>>
Hainault Forest Country Park
4 miles (7 km)
This country park contains open space parklands, numerous public footpaths, a large lake, the Hainault Forest Golf Club and Fox Burrow Farm. There are 336 acres to explore with several paths suitable for cyclists so you can bring your bike and enjoy miles of traffic free cycling.
The park is located between Chigwell and Romford with Hainault underground station a good access point.
If you'd like to extend your outing you could follow the London Loop to the nearby Havering Country Park. View Full Details>>
Ham House Richmond
4 miles (6 km)
Explore the pretty gardens surrounding this 17th century house in Richmond. The recently restored gardens include a productive kitchen garden with many heritage crops, the maze-like 'Wilderness', an orangery and a number of summerhouses. The house is located by the River Thames so you can enjoy a riverside walk before heading to the nearby Ham Common.
Inside Ham House there is a superb collection of paintings, furniture and textiles, acquired over 400 years ago. After your visit you could catch Hammerton's Ferry from just outside the house to the other side of the Thames where you can visit Marble Hill Park with its 18th century Palladian villa and 66 acres of parkland. View Full Details>>
Hampstead Heath
3 miles (5 km)
This circular walk explores London's famous Hampstead Heath. It runs for a distance of just over 3 miles, visiting several of the parks' highlights.
The large park covers 790 acres and contains miles of well laid out footpaths. You can climb the 98 metre (322 ft) high Parliament Hill for terrific views of major London landmarks such as Canary Wharf, the Gherkin, the Shard and St Paul's Cathedral. Along the eastern edge of the park are the pretty Highgate ponds which include three open-air public swimming pools. At the northern end of the heath you'll find Kenwood House. This former stately home is run by English Heritage and consists of gardens, ancient woodland and sculptures by Barbara Hepworth, Henry Moore and Eugene Dodeigne.
Several long distance walking trails run past the heath - you could pick up Dollis Valley Green Walk, Green London Way or the Capital Ring if you would like to extend your walk.
The route below is devised for walkers but cycling is also permitted on the heath but please be respectful of other users. Click here to see a map of the heath with the cycle route marked out. View Full Details>>
Hampton Court Park
2 miles (4 km)
This 750 acre park is open to the public and sits next to Hampton Court Palace and Bushy Park in south London. It's great for an afternoon stroll with long tree lined avenues running along the Long Water canal in the centre of the park. At the end of the canal, the Golden Jubilee Fountain shoots spectacular 30 metre jets of water into the air. Deer, descended from Henry VIII's original herd roam around the rest of the park freely. Adjacent to the park you will find Bushy Park which is a great option if you'd like to continue your outing.
You could also cross Kingston Bridge and try the Richmond to Kingston River Walk or the Kingston to Hampton Court River Walk which use the Thames Path National Trail. You can visit the pretty Teddington Lock and Canbury Gardens on the route. View Full Details>>
Harmondsworth Moor
2 miles (4 km)
This country park in Hillingdon has some nice footpaths taking you to grassland and two pretty lakes. It is the largest public park to be built in the London area in the last 100 years, having been opened in 2000.
The site includes riverside paths along the Wraysbury River and the River Colne. There's also some moderate hill climbs with extensive views towards London and Windsor Castle.
The park is located near to Heathrow Airport so there's good views of the planes taking off. It's a good place to visit if you've got a bit of time to kill before heading to the airport.
There's parking available at the southern end of the park off Tramac Lane and Accommodation Lane. The park is also just a short walk from Harmondsworth village. Cycle Routes run from Windsor and Eton to the park as well.
Just to the west of the park you can pick up the Colne Valley Way and visit Wraysbury Reservoir and the lovely Staines Moor. This large area of grassland attracts grazing horses and cattle with a variety of birdlife around several streams and reservoirs. It's a great place to extend your walking in the area. View Full Details>>
Harrow Weald Common
2 miles (2.5 km)
This area of common land in Harrow has some nice footpaths to try. There's 18 hectares to explore with woodland, heath and pasture. The common has a car park off Old Redding Road where you can pick up the trails. Head west and you will soon come to Gilberts Lake and Gilberts Orchard. You'll also pass Grim's Dyke, an ancient earthwork which runs for three miles between the common and Pinner Green. From the high points in the park there are nice views of Central London and the Chilterns. The Harrow Viewpoint on Old Redding is a popular spot and a great place to soak in the extensive views.
The common is also great for interesting flora and fauna. Look out for magnificent redwoods, rhododendrons and marsh plants like yellow iris and willow scrub. Keep you eyes peeled for wildlife such as red fox, muntjac deer and a variety of butterflies in the summer months.
The London Loop passes through the common so there is scope for extending your walk. If you head east you can visit Bentley Priory and Stanmore Common where there are more good walking trails to try. Heading west will take you to Oxhey Woods where there is a fine sculpture trail. View Full Details>>
Havering Country Park
2 miles (2.5 km)
Follow footpaths through the woodland and grassland of this country park in the London Borough of Havering. The centrepiece of the park is an impressive avenue of Giant Redwoods. There's over 100 acres to explore with nice wide trails to follow.
If you would like to continue your walk you could pick up the London Loop and follow it to the nearby Hainault Forest Country Park. View Full Details>>
Hayes Common
1 miles (2.3 km)
This area of common land in Bromley covers 91.1 hectares (225 acres) and includes a number of public footpaths and bridleways.
You can start the walk from Hayes train station which is located a short stroll from the common. There's a waymarked circular walk to follow across the site which includes some attractive woodland and heather moorland. There's also a public car park at the south eastern corner, near Keston, if you are driving.
The London Loop long distance footpath passes the common so you could pick this up to extend your walk. Head south east and you will soon come to Keston Common where there are some more nice trails and three pretty lakes. Around here you can also enjoy refreshments at the commonside Fox Inn (postcode: BR2 6BQ). There's a nice large beer garden to relax in during the summer months.
High Elms Country Park is a little further east along the London Loop trail but still within walking distance of the common. Here you'll find woodlands, a nature centre, ice well, formal gardens and wildflower meadows in a 250 acre space. If you head west along the trail you'll soon come to Addington Hills where there's a nice viewpoint to climb to. The Cudham Circular Walk can also be picked up in this area too. View Full Details>>
Hertford Union Canal
1 miles (1.7 km)
Enjoy an easy, waterside walk or cycle along this canal in Tower Hamlets. It runs for about a mile, linking the Regent's Canal and the Lea Valley Walk. You'll pass a series of locks and bridges along the way. It runs alongside Victoria Park so there is scope for continuing your walk through the park or along the Regent's Canal.
The canal also visits the ,Olympic Park where you can pick up the Lea Navigation and the Limehouse Cut Canal. View Full Details>>
Hertfordshire Chain Walk
39 miles (62 km)
The Hertfordshire Chain Walk is a series of circular walks running through Hertfordshire. This route is a combination of these walks, forming a linear route which runs from Enfield in London, through Hertfordshire to Ashwell & Morden Station in Cambridgeshire. View Full Details>>
High Elms Country Park
2 miles (4 km)
Enjoy the woodlands, nature centre, ice well, formal gardens and wildflower meadows in this 250 acre country park in Orpington. You'll also find the Clock House, Grade II listed building and the attractive Yew avenue (created 1896) in this varied and interesting park.
Chelsfield rail station is about a mile from the park but there are also car parks at the park.
The Cudham Circular Walk passes through the park so you can pick up this trail to extend your walking in the area. The circular walk takes you through the woodland and farmland surrounding Cudham and Downe in Bromley.
You could also pick up the long distance London Loop which takes you on a tour of the city's best parks, gardens and historic sites. If you head a short distance to west it will take you to Hayes Common and Keston Common where there's some nice woodland trails and good dog walking opportunites. View Full Details>>
Hillingdon Trail
19 miles (30 km)
Travel through North London along the Hillingdon trail and enjoy parkland, countryside and waterside walking along the Grand Union Canal.
The walk starts in Cranford Country Park and heads through the borough of Hillingdon passing West Ruislip and Harefield before finishing at Springwell Lock on the Grand Union Canal. There's much to enjoy on this walk including sections along the Grand Union Canal, the Yeading Brook and the delightful Ruislip Lido. View Full Details>>
Hornchurch Country Park
2 miles (4 km)
Enjoy a walk or cycle through this large country park in Havering in the Ingrebourne Valley. Features in the park include the River Ingrebourne, grassland, a fishing lake and woodland paths. The park is also a Local Nature Reserve with marshes containing the largest freshwater reed bed in London. As such it is a great area for birdwatching and wildlife spotting.
The park is also the site of the former RAF Hornchurch base which was used in the First and Second World Wars. As such there are some historical features including an aircraft dispersal bay, pillboxes, and Tett turrets. 
The Ingrebourne Valley walking and cycle route runs through the park so you could pick this up and head towards Rainham or Upminster to continue your outing. View Full Details>>
Horsenden Hill
2 miles (2.5 km)
This circular walk in Ealing climbs to Horsenden Hill. The hill reaches a height of 85m / 276 ft commanding fine views over the city of London. It's a lovely place for a walk with areas of meadows, woodland, grassland and wetland attracting a large variety of wildlife. After climbing the hill you can continue your walk in the western part of the site where you will find wildflower meadows, hedgerows and the Grand Union Canal.
The Horsenden Hill site also includes a new Gruffalo trail for children. Look out for a series of delightful wooden sculptures representing the characters from the book.
You can pick up the footpaths from the car park off Horsenden Lane North. Perivale and Sudbury Town tube stations are also nearby.
The Capital Ring long distance walking trail crosses the hill so you can pick this up to extend your walk. If you follow the path north you will soon come to Sudbury Hill. Head south and you can visit Pitshanger Park and the Perivale Wood nature reserve. The pretty reserve consists of oak woodland, pasture, damp scrub, three ponds and two streams. It's only a 5 minute stroll from the car park and well worth a visit if you have time.
The Grand Union Canal also passes to south of the hill. You can pick up the waterside path and head west to Northolt or east towards Alperton. At Northolt you can visit Northala Fields with its lakes, streams and four distinctive hills made out of the rubble from the old Wembley Stadium View Full Details>>
Hyde Park
2 miles (3 km)
Enjoy a walk or cycle around this famous London Park. There is a cycle path running up from Hyde Park Corner through the park and along the Serpentine Lake. You can cross the Serpentine Bridge and return on the other side of the lake for a nice easy circular cycle ride. The cycle path also extends to Kensington Gardens, passing the Serpentine Gallery and Kensington Palace before finishing at the Diana Memorial Garden near Queensway tube station.
Cycle Superhighway 3 can also be used to extend your ride. The popular trail runs from nearby Lancaster Gate to Greatfields Park in Barking, passing several of the city's highlights on the way.
Walkers can enjoy miles of footpaths taking you through Hyde Park to Kensington gardens where you can visit the Diana, Princess of Wales Memorial Fountain and Kensington Palace. There's 350 acres to explore with a rose garden, Italian garden, statues, fountains and the Round Pond. Other features include Speakers' Corner where you can listen to public debates and the ornate Albert Memorial in Kensington Gardens.
To extend your walking in the area you can head east along the The Diana Princess of Wales Memorial Walk and visit Green Park and the splendid St James's Park. The waymarked 60km Jubilee Greenway also passes through the park. The he circular trail takes you on a tour of London, visiting several of the capital's best parks. Cyclists could head south along London Cycle Route 5 to Belgravia and the River Thames where you will find Battersea Park on the other side of Chelsea Bridge. View Full Details>>
Ingrebourne Valley
3 miles (5 km)
This is a nice easy, family cycle ride or walk through the Ingrebourne Valley near Upminster. The route includes a stretch through Hornchurch Country Park with its ponds, lakes and pleasant scenery. View Full Details>>
Joydens Wood
4 miles (6.5 km)
Explore these ancient woods near Bexleyheath on this easy walk on the border of London and Kent. The area is historically and archeologically significant with remains found from Roman times. This is represented with a series of impressive wooden sculptures. Look out for the Saxon Warrior and Roman Soldier pieces in particular. There's lots of wildlife to see also. Look out for bats, woodpecker, owl and dormouse all of which are represented by a sculpture.
The wood has lots of good waymarked footpaths and nice wide bridleways for cyclists to follow. It's a peaceful place for walkers to visit on the outskirts of the city. With over 136 hectares (325 acres) to explore on miles of paths there's plenty to keep walkers and mountain bikers busy.
You can start your walk from Bexley train station just to the north of the woods. Then follows paths south to the site. As well as the extensive woodland there's an area of open heathland with ponds and picnic tables. Look out for pretty plants and flowers including bluebells, lily-of-the-valley, honeysuckle and wood sage.
The London Loop passes close to the woods so it's to extend your walking in the area. You can follow it to a number of parks and nature reserves close to the wood. At Foots Cray Meadows nature reserve you can enjoy a waterside walk along the River Cray while at Scadbury Park you can explore the ruins of Scadbury Manor. The popular trails at Petts Wood Circular and Jubilee Country Park are also close by. View Full Details>>
Jubilee Greenway
37 miles (60 km)
This 37 mile (60km) circular walk was created to celebrate the Queen's Jubilee in 2012. The 60km length is significant as each km represents each year of the Queen's 60 year reign. The route visits several of the capital's finest parks and includes waterside walks along the Regent's Canal and the Thames Path. The walk is well marked with a distinctive set of pavement slabs.
As a circular walk you could start and finish from any location along the route. This version appropriately starts at Buckingham Palace. You then head west passing through the splendid Hyde Park and Kensington Gardens. The park includes the Serpentine Lake, the Diana, Princess of Wales Memorial Fountain, Italian garden, statues, fountains and the Round Pond.
From Kensington Gardens, you turn north passing Bayswater and Paddington before picking up the Regent's Canal which you follow east to Regent's Park. It's a beautiful park with a boating lake and the famous zoo.
After leaving the park you continue along the canal through Camden Town, King's Cross and Tower Hamlets where you will pass through the lovely Victoria Park. The park is a highlight of the walk and was voted London's best local park by Time Out magazine in 2008.
The route continues east through West Ham and East Ham before meeting the River Thames. You will pass the famous Royal Victoria Dock and Royal Albert Dock before crossing the river and picking up the Thames Path. You then turn west towards Greenwich where you will pass Greenwich Park and the Cutty Sark. View Full Details>>
Jubilee Walkway
11 miles (18 km)
The capital's premier walking trail designed to connect the majority of London's key attractions. View Full Details>>
Kensington Gardens
2 miles (2.5 km)
This fine London park has a series of well laid out footpaths to follow. You can start your walk from the Serpentine Car Park off West Carriage Drive. Then pick up the Mount Walk towards the Round Pond. This lovely ornamental lake is positioned in front of Kensington Palace.  It was created in 1730 by George II. Look out for Model Yachts, Swans and Canada Geese as you make your way along the footpaths around the water. You can virtually explore the Round Pond by clicking on the google street view link below!
The route then follows the Budge's Walk to the Italian Gardens next to The Long Water. Here you will find four fountains and a number of classical sculptures.
The walk then passes along the Long Water to Serpentine Bridge, which marks the boundary between Hyde Park and Kensington Gardens. You can cross the bridge for splendid views across the Serpentine Lake into Hyde Park.
The The Diana Princess of Wales Memorial Walk passes through the park so you can pick this up to extend your walk. It will take you through Hyde Park and St James's Park, visiting landmarks significant in the life of Diana Princess of Wales.
The Jubilee Greenway also passes through the park so you can pick this up and head north to the Regent's Canal and Regent's Park. View Full Details>>
Keston Common
1 miles (1.5 km)
This area of common land in Bromley covers 55 hectares and includes some nice footpaths. You can start the walk from the car park at the south eastern corner off Westerham Road. On the site you'll find woodland, heathland, dry acid grassland and three pretty ponds. There's also lots of interesting flora and fauna to see on the way.
The common once formed part of the Holwood Estate, owned by the 19th century Prime Minister, William Pitt, the younger. Keston is also only two miles from Charles Darwin's home, Down House, and he often visited to study the plants and animals here.
After exploring the common head to the commonside Fox Inn (postcode: BR2 6BQ) for refreshments. There's a nice large beer garden to relax in during the summer months here.
To extend your walk pick up the London Loop and head short distance west to the nearby Hayes Common. There's more nice trails here with woodland and good dog walking opportunities. High Elms Country Park is a little further east along the London Loop trail but still within walking distance of the common. Here you'll find woodlands, a nature centre, ice well, formal gardens and wildflower meadows in a 250 acre space. If you head west along the trail you'll soon come to Addington Hills where there's a nice viewpoint to climb to. The Cudham Circular Walk and the Farnborough Circular Walk also pass through the area. View Full Details>>
Kew Gardens
2 miles (4 km)
Visit the most popular paid entry garden in the UK on this walk in Greater London. Kew has a series of well laid out footpaths running for several miles around the expansive site. It has the world's largest collection of living plants with a herbarium which has over seven million preserved plant specimens. Highlights include the fantastic Treetop walkway which takes you into the tree canopy of the Kew woodland. The Sackler Crossing bridge across the large lake and the wonderful Bamboo Garden are also must sees. You can virtually explore the gardens using the street view link below!
The gardens are located on the River Thames so you could extend your walk by picking up the Thames Path and heading towards nearby Richmond or Chiswick. Here you will find the splendid Marble Hill Park. Syon Park is also just opposite and is another good option. View Full Details>>
Knighton Wood
1 miles (2 km)
Explore Knighton Wood and Lord Bushes on this short walk in the Buckhurst Hill area of Epping Forest. It's a lovely area for a peaceful stroll with nice footpaths taking you to rhododendron, oak and ash woodland. There's also tranquil ponds and the pretty Knighton Lake.
You can park at the car park off Knighton Lane to start your walk. Then pick up the waymarked circular path called the Rowan Trail. The flat path runs for about 1.5 miles around the lake and the woods. Look out for pretty bluebells, violets and the Speckledwood Butterfly as you make your way around the site.
If you would like to extend your walk then you could head west and pick up the Epping Forest Centenary Walk. Follow it north and you will soon come to the delightful Connaught Water with its surfaced waterside path.
Knighton Wood is located very close to Roding Valley station where you can pick up the River Roding Walk which will take you through the pretty Roding Valley. View Full Details>>
Lake Farm Country Park
1 miles (1.5 km)
This pleasant park in Hillingdon has some nice footpaths, a trim trail and a BMX track to try. You can also enjoy a walk along the Grand Union Canal which runs along the southern end of the park. The park includes over 60 acres of meadows and open grassland with a variety of flora and fauna to look out for.
To extend your walk you can head east and visit Minet Country Park. View Full Details>>
Lea Valley Walk
53 miles (85 km)
A super walk with a series of delightful waterside sections along the River Lea. The walk runs from Leagrave, the source of the River Lea near Luton, to the Thames at Limehouse Basin, east London. You follow a riverside path for much of the way through, Luton, Hatfield, Hertford, Ware and Cheshunt with a swan emblem clearly waymarking the walk. The walk passes Nature Reserves, pretty riverside villages and includes a section through the fantastic Lee Valley Park - London's largest open space. You'll also pass the Olympic Park in Stratford which is well worth exploring. The final section of the walk runs along the Limehouse Cut Canal which is also suitable for cyclists.
In the Lee Valley park you can also pick up the Stort Navigation and follow the towpath to Bishop's Stortford. The river also runs parallel to the New River Path around Hertford and Ware so it's possible to create a circular walk using both the footpaths in this area. View Full Details>>
Lesnes Abbey Woods
1 miles (2 km)
Visit the fascinating ruins of Lesney Abbey and enjoy a stroll through the adjacent ancient woodland, on this lovely walk in south east London.
To start your walk you can park at the Lesnes Abbey car park just of Abbey Road. Abbey wood train station is also very close to the entrance to the ruins at the northern end of the park. Just stroll along Abbey Road for a few minutes and the abbey ruins are just on your right.
The abbey dates from the late 12th century and is dedicated to St Mary and St Thomas the Martyr. After exploring the ruins you can also visit the arboretum and the ornamental garden.
The walk extends into Lesney Abbey Woods just to the south of the ruins. There's a nice selection of footpaths surrounded by pretty flowers such as daffodils, bluebell and wood anemone. Look out for wildlife including butterflies and a variety of woodland birds.
The park has good facilities with a nice cafe and an exhibition giving details of the history of the abbey.
The Green Chain Walk passes right through the grounds so there is plenty of scope for extending your walk. If you follow the trail east it will take you into Bostall Woods. Continue south east and you will soon come to Shooter's Hill and Oxleas Wood where there is an elevated terrace garden with fine views over the city of London and the countryside of the surrounding counties. View Full Details>>
Limehouse Cut
3 miles (4.5 km)
Follow the Limehouse Cut canal on this waterside walk or cycle in East London. It's a nice route for anyone looking for an easy, safe cycle ride or walkers looking for a pleasant stroll in the city. Look out for wildlife including coot, swans, ducks and cormorants on the way.
The route starts from the Limehouse Basin, next to the River Thames in the London Borough of Tower Hamlets. Here you can see the road swing bridge at the entrance to the Thames. When tall masted boats either arrive or leave the basin, Narrow Street traffic is stopped. From the basin you follow the Lea Valley Walk north east along the canal through Bow Common, Bromley and Bow. The cycle route finishes at 3 mills studio but if you are on foot you can continue along the River Lea Navigation to the Olympic Park where you can explore the site on a number of footpaths and cycling trails. You could also continue along the Lea Navigation and visit the nearby Hackney Marshes just to the north of the Olympic Park.
At the stadium the Hertford Union Canal heads west to Victoria Park. This is another good option for extending your exercise. View Full Details>>
Little Venice London Walk
2 miles (4 km)
This canal-side walk takes you from Little Venice to Camden Town in London. The start point is in an area of London where the Paddington Arm of the Grand Union Canal meets the Regent's Canal. It's an attractive area with lots of narrowboats, tree lined paths and houses dating from the Regency period (early 19th century). Other notable highlights include the child friendly Puppet Theatre Barge and the ornamental Rembrandt Gardens.There's also a number of restaurants, shops, theatres, pubs and nice waterside cafes. If you are coming by public transport then Warwick Avenue tube station is just a stone's throw from Little Venice.
Starting at Little Venice the route follows the Regent's Canal north east, passing Maida Hill Tunnel and Lisson Grove Tunnel. On this section you can take a small detour and visit Abbey Road where the Beatles famously posed for Album Cover photo. The studios and the zebra crossing are located just a short distance to the north of the canal at Lisson Grove. Lord's Cricket Ground is also in the same area.
The canal continues past Regent's Park and Primrose Hill, passing close to London Zoo at the northern end of the park. You could take a detour here and climb Primrose Hill for splendid views over the city.
This route continues along the canal to Camden Lock where you can visit the famous Camden Market. Products sold on the stalls include crafts, clothing, bric-a-brac, and fast food. It is the fourth-most popular visitor attraction in London, attracting approximately 250,000 people each week. View Full Details>>
London Loop
149 miles (240 km)
Also known as the London Outer Orbital Path, this walk takes you on a tour of the parks, woods and fields around the edge of Outer London. You start at Erith, on the River Thames and pass through Crayford, Orpington, Petts Wood, Coulsdon, Kingston upon Thames, Uxbridge, Elstree, Cockfosters, Chingford, Epping Forest, Upminster and Rainham Marshes RSPB before finishing back on the River Thames at Purfleet, opposite Erith.
The walk has been divided into 24 manageable sections as follows:
Erith
Old Bexley
Petts Wood
West Wickham Common
Hamsey Green
Coulsdon South
Banstead Downs
Ewell
Kingston Bridge
Hatton Cross
Hayes
Uxbridge
Harefield
Moor Park
Hatch End
Elstree
Cockfosters
Enfield Lock
Chingford
Chigwell
Havering-atte-Bower
Harold Wood
Upminster Bridge
Rainham

On the way you'll also pass numerous parks, common land and open spaces such as High Elms Country Park in Orpington, Hayes Common, Stanmore Common, Harrow Weald Common and Nonsuch Park. The walk is waymarked with a disc featuring a kestrel. View Full Details>>
London to Brighton Walk
62 miles (100 km)
This long distance walk takes you from the city to the coast, following the route of the London to Brighton Challenge. The route runs for 100km (62 miles) following a series of public footpaths, minor roads and country lanes. It starts in Richmond Park in London and heads south through the North Downs, the Surrey & Sussex countryside before the final section through the South Downs to Brighton.
You start off in Richmond Park in South London and follow the Thames Path to Kingston Upon Thames. You then leave the river and head through Old Malden and Stoneleigh before passing through Nonsuch Park in Ewell.
The next stage takes you across Banstead Downs to Little Woodcote where you pick up a section of the London Loop to take you through Coulsdon, over Farthing Downs and through Happy Valley Park.
You then head into the countryside of the North Downs, passing Chaldon, Bletchingley and Copthorne before a long woodland stretch through Worth Forest.
You leave the woods, passing Wakehurst Place, Ardingly, Hayward's Heath and Plumpton where you join the South Downs. View Full Details>>
Marble Hill Park
1 miles (2 km)
Explore the 66 acres of riverside parkland surrounding the stunning 18th century Marble Hill House in Richmond. The park includes various leisure facilities including a cricket pitch, tennis courts, putting green and a children's play area. After your visit you could catch Hammerton's Ferry from just outside the house to the other side of the Thames where you can visit the lovely Ham House with its 17th century house set in beautiful gardens. View Full Details>>
Millennium Dome Walk
4 miles (6.5 km)
This walk takes you from the Cutty Sark to the Greenwich Peninsula where you can enjoy great views of the Millenium Dome.
The walk starts from the Cutty Sark for Maritime Greenwich station on the Docklands Light Railway. From here it is short hop to the river and the famous 19th century clipper ship. You then head east along the Thames Path rounding the Greenwich Peninsula and the Millennium Dome, now known as the 02 arena. The dome was completed in 1999 and originally housed the Millennium Experience, a major exhibition celebrating the beginning of the third millennium. The dome is one of the largest of its type in the world with the Prime Meridian passing the western edge.
You can extend the walk by continuing east along the Thames Path through New Charlton and Woolwich. Heading north from the pier you can visit the Isle of Dogs.
Also nearby is the splendid Greenwich Park where there's 180 acres of wide lawns, tree lined avenues, orchards and pretty gardens. View Full Details>>
Minet Country Park
1 miles (1.5 km)
This country park in Hillingdon includes ponds, grassland and a variety of wild plants and flowers. There's some nice footpaths to follow around the site which includes picnic areas, meadows and hedgerows. It's also home to the Hillingdon Cycle Circuit. The purpose-built road cycling circuit is about 1 mile long and a great place for a leisurely ride. The video below shows the nice wide surfaced path with views over the park.
The Grand Union Canal passes the south side of the park so it's easy to extend your outing by picking up the towpath. If you head west you can visit Lake Farm Country Park where you will find meadows, grassland, a trim trail and a BMX track.
The long distance Hillingdon Trail also passes through the park. You can follow it north and then west to visit the pretty Yeading Brook. View Full Details>>
Mitcham Common
2 miles (3 km)
Explore this large area of common land on this easy circular walk in south London. The common covers 182 hectares (460 acres) and has a number of good footpaths taking you to woodland, grassland, scrub and the pretty Seven Islands pond. The area is good for wildlife spotting. Look out for birds, frogs, toads and dragonflies around the ponds and butterflies near the wildflower meadow. Interesting flora you can see includes Gorse, Hawthorn copse, Cow parsley, St John's Wort and elderberries. It's a pretty area, particularly around the large pond.
The common is straightforward to access as it is located right next to Mitcham Junction train station and the Beddington Lane Tramlink Stop.
If you would like to continue your walking in the area then you could head to the nearby Morden Hall Park. Here you can enjoy a waterside walk or cycle along the River Wandle in a 125 acre National Trust estate with parkland and gardens. View Full Details>>
Morden Hall Park
1 miles (1.5 km)
This lovely park in south London is a great place to go for a walk or cycle in the city. The Wandle Trail runs through the park along the River Wandle with pretty bridges across the water and lots of wildlife to look out for. There's also a rushing weir and a restored waterwheel which gives an insight into the industrial history of the park. Water loving birds you might see include herons, egrets and kingfishers. Other features in the park include a delightful rose garden with over 2000 roses, wide lawns ideal for picnics and an excellent learning centre housed in the western mill. There are also many interesting buildings on the site including Morden Hall itself, Morden Cottage, an old Snuff Mill and several old farm buildings which are now used as a garden centre and a city farm.
There's a car park at the site but you can also easily visit the park by public transport. The Phipps Bridge, Belgrave Walk and Morden Road Tramlink stops and Morden Tube Station are very close to the park.
You can extend your outing by heading to the nearby Ravensbury Park and Mitcham Common where you will find a number of good footpaths taking you to woodland, grassland, scrub and the pretty Seven Islands pond. You can also follow the course of the River Wandle on the excellent Wandle Trail. If you head north from the park you will soon come to the lovely Merton Abbey Mills where you will find a pretty water mill and an arts and craft market. View Full Details>>
New River Path
28 miles (45 km)
Follow the man made New River from Hertford to Islington on this easy waterside walk. There's much to enjoy on this walk including regular views of the River Lea and riverside Nature Reserves. The walk passes through Hoddesdon, Rye Meads RSPB Nature Reserve, Cheshunt, Enfield and Finsbury Park with urban sections towards the end of the walk.
In the Hertford area the river runs parallel to the Lea Valley Walk which follows the towpath of the River Lea Navigation canal. It's a nice way of extending your walk or creating a circular route around the Hertford and Ware area. View Full Details>>
Northala Fields
1 miles (1.5 km)
This park in Northolt has some good cycling and walking trails to try. The main features of the park are the four artificial hills made out of the rubble from the old Wembley Stadium. You can climb the distinctive hills for great views over London and Canary Wharf. There's also a number of water features with fishing lakes, streams, wetlands and wildlife ponds. Other habitats include woodland, scrub, wildflower meadows and marshy grassland.
The park has good facilities with a car park just off the A40 and another off Kensington Road. You can see the mounds and the car park on the google street view link below. If you are coming by public transport then Northolt tube is a short walk away.
For cyclists London Cycle Route 88 and National Cycle Route 6 run close to the site.
The park includes a visitor centre with a cafe and toilets. It is also home to a popular weekly park run.
Just to the north of the site is Belvue Park and the Northolt Manor nature reserve where you will find meadows, scrub, woodlands, wetlands and ponds. Rectory Park lies just to the south.
The Grand Union Canal runs just to the east of the park so you could pick this up to continue your exercise. If you follow it east you will soon come to Horsenden Hill where you will find meadows, wetland and woodland with splendid views over the city.
Also nearby is the Hillingdon Trail which you can follow along the Yeading Brook to the Yeadling Brook Nature Reserve and ten acre wood. View Full Details>>
Olympic Park
3 miles (5 km)
The Queen Elizabeth Olympic Park has miles of nice trails on which to explore the expansive venue. It's free to visit every day of the week and includes parkland, waterways, playgrounds and cafes. 
Start at the car park at the southern end of the London Stadium and you can pick up paths alongside the stadium and the River Lea. You continue north passing the Copper Box Arena on your left. The arena hosted handball and modern pentathlon in the 2012 Olympics.
The route continues along the river past Alfred's Meadows passing the field hockey and Football 5-a-side pitch which was used at the 2012 Summer Paralympics. Around here you turn right crossing the bridge over the river towards the Lee Valley VeloPark. The facility includes a BMX track and was one of the permanent cycling venues for the 2012 Olympic and Paralympic Games.
After exploring the cycling centre you head south along the Olympic Park Avenue to the waterglades where there are a series of lakes and waterways. Around here you have the option of heading east and visiting East Village. This area was used for the Olympic Village and has been converted for use as a new residential district, complete with independent shops, bars and restaurants.
The final section of the walk takes you around the other side of the London Stadium, passing Stratford Marsh and the London Aquatics Centre where the Synchronized swimming took place. You'll also pass the fantastic ArcelorMittal Orbit. The sculpture is one of the real highlights of the park and Britain's largest piece of public art, standing at 114.5 metres (376 ft). It's also an observation tower allowing visitors to view the whole Olympic Park from two observation platforms.
To extend your walking in the area you can pick up the Lea Valley Walk and follow the river north west to Hackney Marshes. Continuing north will take you to Walthamstow Marshes and the Walthamstow Reservoirs where there are more nice cycling and walking trails.
Just to the west is Victoria Park where there's 200 acres of parkland with lakes and cycle paths.
Several long distance walking trails also pass the park. You could pick up the Capital Ring or the Jubilee Greenway to further explore the area. The Hadleigh to Stratford Legacy Walk also starts/finishes at the park. View Full Details>>
Osterley Park
3 miles (5 km)
A walk around the 350 acres of parkland at Osterley House in Hounslow West London. The country estate is one of the largest open spaces in west London and has miles of nice footpaths to try. In the park you'll find farmland, cattle, lakes and gardens with herbaceous borders, roses and ornamental vegetables beds. The site also includes family cycle trails so it's a great place for outdoor exercise and just a short hop from central London.
The Grand Union Canal passes the park on the eastern and northern sides. You can pick up the towpath to extend your exercise. Heading south will take you towards Brentford and Syon Park where there are more good walking trails. View Full Details>>
Oxleas Wood
1 miles (2 km)
This lovely park in south east London has good footpaths through bluebell woodland, a terraced garden, a rose garden and parkland. The area is in an elevated position on Shooter's Hill so there are great views of the city of London and the surrounding countryside to enjoy. In the park you will find ancient woodland including oak, silver birch, hornbeam and coppice hazel. There's nice wide lawns where you can enjoy a picnic and the far ranging views.
In Castle Wood you will find the 18th century Severndroog Castle. The impressive Gothic-style castle has a viewing platform from which you can see several of the surrounding counties on a clear day.
The park also has good facilities with a car park and a nice cafe.
The Green Chain Walk passes right through the park so you can pick this up to extend your walking in the area. Heading north will take you through Eltham Common and Woolwich Common before coming to the River Thames in Greenwich. Head east and you will soon come to Bostall Woods where there are more nice walking trails to try. Adjacent to Bostall Woods is the fine Lesnes Abbey Woods where you can explore the ruins of the 12th century abbey and visit the lovely ornamental garden and arboretum. View Full Details>>
Paddington Canal
13 miles (21 km)
Follow the Paddington Arm of the Grand Union Canal from Paddington to Hayes, on this canalside walk or cycle through West London. The canal is a great way to escape from the hustle and bustle of the city and enjoy some pleasant scenery. There's tree lined paths, pretty locks, lots of barges and plenty of water loving wildlife to look out for on the way.
You can start the walk from Paddington Basin just to the north of Paddington Station or at Little Venice just to the south of Warwick Avenue tube. Little Venice is very pretty with narrowboats, water cafes and a good selection of restaurants and bars. You can virtually explore the area using the google street view link below.
From Little Venice you head west passing Westbourne, Kensal Green, Harlesden and Alperton. Shortly after Alperton you come to the Horsenden Hill open space which is worth a small detour. The park includes nice walking trails including a hill climb with fine views over the city of London.
The next section sees the canal turn south through Northolt where you will pass Northala Fields. The pleasant park consists of four artificial hills made out of the rubble from the old Wembley Stadium. There's nice views from the hills with other features including fishing lakes, streams, wetlands and wildlife ponds. View Full Details>>
Parkland Walk
3 miles (5.5 km)
This walk in London follows the course of an old railway line running between Finsbury Park and Alexandra Park. The whole route is actually a local nature reserve and is the longest of its type in London. With lots of flora and fauna to look out for on the way, it's a great place to enjoy an easy stroll in an urban environment. Keep your eyes peeled for wildlife including hedgehogs, foxes and also butterflies around the many wildflowers you can see on the route. In fact, more than three hundred species of wild flowers have been recorded on the Parkland Walk.
The walk starts from the western end of Finsbury Park, just to the north of Finsbury Park station. You can enjoy a walk around the public park before you start. It contains a pretty lake, open ground, formal gardens, avenues of mature trees and an arboretum.
After leaving the park the route heads west to Crouch End. On this section look out for the old station master's house which still survives at road level. There are no longer any trace of the track or road-side station buildings, which were destroyed in a fire in 1967. You can also visit Crouch Hill Park and look out for the old platforms of Crouch End Station which are still visible, though somewhat overgrown.
The route then continues on nice woodland trails through Queen's Wood and Highgate Wood. The final section takes you through Muswell Hill to Alexandra Park before finishing at Alexandra Palace. The park is also a nice place to extend your exercise. It includes a boating lake, a Victorian style greenhouse, a deer enclosure with a small herd of fallow deer and a 10 hole pitch and putt golf course. View Full Details>>
Petts Wood Circular
4 miles (6 km)
A short circular walk that takes you through Petts Wood and Jubilee Country Park in Bromley. The Park consists of 62 acres of grassland and ancient woodland and was purchased by Bromley Council to celebrate the Silver Jubilee of Queen Elizabeth II in 1977. The park is also full of wildlife with amphibians, birds, butterflies, insects, mammals, reptiles and wild flowers to look out for.
Good access points for the walk are the car park at Jubilee Country Park and Petts Wood station just to the south.
The London Loop runs through the park so you can pick this up to extend your walk. Head north and you can visit Scadbury Park where you will find 300 acres of woodland and grassland. There's also the ruins of Scadbury Manor, home to Elizibethan courtier Sir Thomas Walsingham. Just beyond the park is Foots Cray Meadows nature reserve which has a nice waterside footpath along the River Cray to enjoy. View Full Details>>
Pilgrimage Way
23 miles (37 km)
This is a largely traffic free cycle ride or walk from Barking Abbey to Waltham Abbey via Three Mills, Limehouse Basin and the Olympic Park.
The route starts at Barking Abbey and heads through Plaistow and Mill Meads to the Limehouse Basin. This section follows a cycle track for most of the way and includes a stretch along the River Lea.
From Limehouse the route turns north through Victoria Park and Hackney Marshes to Lea Bridge where you begin a section along Tottenham Marshes and the Walthamstow Reservoirs which include West Warwick Reservoir and Lockwood Reservoir. The final section takes you through the lovely Lee Valley Park and along the River Lee Navigation Canal to the finish point at Waltham Abbey. View Full Details>>
Pymmes Brook Trail
10 miles (16 km)
Follow the Pymmes Brook Trail through North London on this pleasant walk. View Full Details>>
Rainham Marshes
7 miles (11.5 km)
This circular walk or cycle explores the RSPB Rainham Marshes Nature Reserve in London. View Full Details>>
Regent's Canal
9 miles (14 km)
Follow the Regent's canal through Regent's Park and Central London on this pleasant waterside cycling and walking route.
Starting at the Little Venice basin in Maida Vale, you follow the canal into Regent's Park where you will find the famous Zoo. You then pass through Camden, with its popular market, before continuing towards the East End. The route then passes the revived Mile End Park with its arts pavilion, terraced gardens and green bridge with views of Canary Wharf. You finish at the River Thames at Limehouse Basin.
You can extend your outing by picking up the Jubilee Greenway circular walk. The waymarked trail visits some of the capital's best parks and most famous landmarks. It uses the canal for part of the route.
At the western end the canal joins with the Paddington Canal, an arm of the Grand Union Canal. You can follow the towpath west through Little Venice to Westbourne, Alperton, Harlesden and Hayes. View Full Details>>
Regent's Park
2 miles (3.5 km)
This walk takes you around the beautiful Regent's Park in North London. There's 395 acres to explore with highlights including the stunning Queen Mary's Gardens which features 400 varieties of roses and a lovely waterfall. Stroll down long wide footpaths lined with pretty flowers and dotted with beautiful statues and fountains. There's also a large boating lake and the famous zoo to visit. You can extend the walk by crossing the Regent's Canal and climbing Primrose Hill for great views over the city. The waymarked 60km Jubilee Greenway also passes through the park so you could pick this up to explore the capital further.
Cyclists can pass through the northern end of the park along the canal. You can virtually explore the park using the google street view link below! View Full Details>>
Richmond Park
7 miles (11 km)
Enjoy miles of super cycling and walking trails in this large deer park in London. Richmond Park is the largest of London's Royal Parks at 955 hectares or 2,360 acres. For cyclists National Cycle Network Route 4 and the circular Tamsin Trail run through the park on roads and well surfaced off road tracks.
The Tamsin Trail - The route below shows this cycling and walking trail which runs around the perimeter of the park on lovely resurfaced paths. It's a very popular route as it provides a great, largely traffic free ride in London. On it you'll pass woodland and ponds with a section along the pretty Beverley Brook. Cycles are available for hire near Roehampton Gate and, at peak times, near Pembroke Lodge in the north west corner of the park.
If you're on foot you could head to the beautiful Isabella Plantation. Here you'll find a 40 acre woodland garden with evergreen azaleas, ponds, Rhododendrons and Camellias. There's also the delightful Pen Ponds. The ponds are divided by a causeway which you can walk along and look out for a variety of birdlife.
If you'd like to continue your walk you could pick up the Capital Ring which runs through the park. One good option is to follow the trail to the nearby Wimbledon Common. Or you could head to Ham House at the western side of the park. View Full Details>>
Richmond to Kingston River Walk
5 miles (7.5 km)
A lovely riverside walk along the Thames Path from Richmond to Kingston via Twickenham. It's an easy waterside stroll running for just under 5 miles so should take around 2 hours at a leisurely pace. At the end of the walk you can catch a train directly back to Richmond from Kingston station. View Full Details>>
River Roding
6 miles (9 km)
This cycling and walking route follows the River Roding from Roding Valley station to Ilford in Greater London. It's a nice trail on mainly traffic free paths so it is suitable for anyone looking for an easy cycle ride or pleasant stroll.
The route starts at Roding Valley station in Buckhurst Hill just west of Chigwell. The start point is close to the lovely Roding Valley Meadows nature reserve which is well worth a visit. The trail heads south past Woodford, Charlie Brown's Roundabout, Redbridge and Wanstead Park before finishing in Ilford. If you're on foot then Wanstead Park is a great place for a stroll. The river runs past the eastern side of the park which also includes a Heron pond and an Ornamental canal. The 140 acre park also has the splendid Chestnut Trail to try.
There's lots more to see in the area if you would like to extend your outing. The Epping Forest Centenary Walk can be picked up on Wanstead Flats near the end of the route. View Full Details>>
Ruislip Lido
2 miles (2.5 km)
Enjoy an easy circular walk around this pretty reservoir on Ruislip Common. The lake is a popular spot in the summer with its artificial beach and super Mini gauge railway. There's also nice walking trails around the water and through the adjacent woodland.
There are two car parks on site or you can catch the tube to Ruislip tube station.  Please see the link below for additional parking and public transport details.
After your walk you can enjoy refreshments at the lake side cafe and visit the Woodland Centre where you can learn about the history of the area.
It's easy to extend your walk by heading into Bayhurst Wood Country Park and Ruislip Woods. You can follow the Hillingdon Trail west through Mad Bess Woods. If you follow the trail south you will soon come to Ickenham where you can enjoy another waterside walk along the Yeading Brook. View Full Details>>
Scadbury Park
2 miles (3.5 km)
This pretty Local Nature Reserve in Bromley has some nice footpaths to try. There's 300 acres of ancient woodland, grassland and ponds to explore. Also of interest is the working farm and the ruins of Scadbury Manor. The playwright Christopher Marlowe is known to have stayed at Scadbury Manor just before his death in 1593. It was then owned by Marlowe's patron Sir Thomas Walsingham, a courtier to Queen Elizabeth I.
This circular walk runs around the edge of the park for just over 2 miles but there are other footpaths to try as well. The Acorn Nature Trail is a waymarked walk taking you around the site. Look out for green ring-necked parakeets and a variety of butterflies near the fruit trees. Interesting vegetation includes bluebells, yellow archangel and wood anemones.
The London Loop runs through Scadbury Park so you can pick this up to extend your walk. Heading south will take you through Petts Wood and Jubilee Country Park. Here you'll find more woodland trails and wildlife including amphibians, birds, butterflies, insects, mammals and reptiles.
If you head north east along the London Loop you will soon come to Foots Cray Meadows where you will find 250 acres of parkland and woodland. View Full Details>>
Scratchwood and Moat Mount Open Space
3 miles (5 km)
These two parks are situated right next to each other in the London Borough of Barnet. There are some nice footpaths linking the two parks with woodland trails, ponds and lots of wildlife to look out for.
You can start your walk from the Scratchwood car park just off the A1 Barnet Way. The London Loop long distance trail will take you through the park's woodland and on into Moat Mount just to the east. Here you'll find open grassland, wild flowers and great views over the city from the high points in the park.
The Dollis Valley Green Walk passes through the park so you can continue along this trail to extend your walk. If you follow it east it will take you along the Dollis Brook through Barnet.
You could also follow the London Loop west and visit the nearby Aldenham Country Park. View Full Details>>
Selsdon Wood
2 miles (3 km)
This woodland and nature reserve in Croydon is criss crossed with a number of nice footpaths and walking trails. The reserve includes 200 acres of ponds, open meadows and ancient woodland including oak, beech, ash and sweet chestnut. There's two colour coded waymarked trails which you can pick up from the car park.
The area is also known as the Bird Sanctuary with birds such as Blackcap, Buzzard, Cuckoo and Chiffchaff to look out for. Also keep your eyes peeled for Roe Deer, various insects and the rare White Squirrel.
It's great for flora too with 130 flowering plants to see. These include Crocus, Red Campion, Bluebell and Cowslip. 
The London Loop and the Vanguard Way pass through the wood so you can pick these long distance footpaths up and extend your walk. One option is to follow the trails north to Littleheath Woods and then on to Addington Hills. This lovely park includes London's largest area of heathland and a great viewpoint with views towards Parliament Hill and Docklands. Just to the west of Addington Hills is Croham Hurst Woods where you'll find ancient woodland and a climb to Breackneck Hill.
Heading east from Selsdon Wood will take you to Frith Wood and Frylands Wood.
Heading south will take you into Surrey, passing Greatpark Wood, Holt Wood and Chelsham. View Full Details>>
Shakespeare's Way
146 miles (235 km)
This walk follows a route that Shakespeare may have taken when travelling between Stratford-upon-Avon and London. The path passes through the Chilterns, Oxford, Blenheim Park, the Cotswolds, the valley of the River Stour and the Thames Valley making for a beautiful and varied walk. There are lovely waterside stretches along the Oxford Canal and the River Thames into London.
The walk is waymarked with a logo of Shakespeare's head. View Full Details>>
South Bucks Way
23 miles (37 km)
The South Bucks Way runs from Coombe Hill near Wendover to Denham near Uxbridge for a distance of approximately 23 miles.
You begin at the top of Coombe Hill with splendid views of the surrounding countryside and descend towards Great Missenden where you will pass the Abbey and join the River Misbourne. View Full Details>>
South Norwood Country Park
2 miles (2.5 km)
A cycle or walk through this pleasant country park in Croydon. National Cycle Route 21 runs around the park on nice traffic free paths. The park includes wildlfower meadows and a pretty lake with lots of wildlife to look out for. There's good facilites too with a visitor centre and car park.
To extend your exercise head north to Cator Park in New Beckenham. Here you can pick up the Waterlink Way which takes you to the River Thames on a series of traffic free paths. View Full Details>>
St James's Park
1 miles (2 km)
This park in central London is one of the finest and most popular parks in the capital. There are nice surfaced footpaths to follow around the large lake and through the park's attractive woodland. Look out for wildfowl on Duck Island and the resident St James's Park Pelicans. Other highlights include the splendid 20ft high Tiffany Fountain with Buckingham Palace behind it. You can also cross the Blue Bridge over the lake and enjoy fine views of Horse Guards Parade, Big Ben and the London Eye.
The Diana Princess of Wales Memorial Walk, the Jubilee Greenway and the Jubilee Walkway pass through the park so these are good options if you would like to extend your walking in the area. You can follow these long distance trails to the nearby Green Park, Buckingham Palace, Hyde Park and Kensington Gardens. The park is also just a 5 minute walk from the River Thames where you can pick up the Thames Path.
ycling is not permitted but there are bike parks at the eastern end of the park and several cycle routes pass the park. View Full Details>>
St Pauls Cray Circular Walk
6 miles (10 km)
A short circular walk around St Paul's Cray in Bromley. The route takes you through Pauls Cray Hill Park, past Cray Valley Golf Club and through Park Wood where you will pass the Scadbury Park Nature Reserve. Good access points are the parking lot at Park Wood or St Mary Cray Station.
This is quite an easy walk with the main highlight the section through Scadbury Park. With 300 acres of ancient woodland and the ruins of the Elizabethan Moated Manor House it is well worth exploring. View Full Details>>
Stanmore Common
4 miles (6.5 km)
This is a walk across Stanmore Common to Aldenham Country Park using part of the London Loop long distance trail. You can park at the Stanmore Common car park off Warren Lane to start your walk. The trail then takes you across the park's woodland and heathland before passing the two artificially created ponds. You then head along the eastern side of the common to Aldenham Reservoir where you can enjoy a waterside stroll and grab some refreshments at the cafe. You can then return to the common on the same paths. It's just over a 2 mile walk from the common to Aldenham so about 4.5 miles in total.
There's lots of wildlife to look out for in this area. Keep your eyes peeled for muntjac deer, spotted flycatcher and bullfinch on your walk.
You can extend your walk by heading west along the London Loop to Harrow Weald Common and Oxhey Woods. The woods have an excellent 1km sculpture trail with various carved wooden pieces and a rhododendron trail to try. View Full Details>>
Strawberry Hill House
1 miles (1.6 km)
Enjoy a short stroll around the 9 acre gardens surrounding Horace Walpole's stunning 18th century Gothic Mansion in Twickenham, London. View Full Details>>
Syon Park
2 miles (3 km)
Enjoy a stroll around the 200-acre grounds of Syon House in Brentford. There are good footpaths taking you to lakes, woodland and the impressive Great Conservatory.
There's 100 acres of Capability Brown inspired parkland, gardens, an arboretum and large areas of grassland and meadows.Kew Gardens and the Thames Path are close by so it's easy to extend your walk in this area. View Full Details>>
Thames Down Link
15 miles (24 km)
This walk links the Thames Path and North Downs Way National Trails. It runs for about 15 miles through countryside, woodland and common land.
The walk starts in Kingston upon Thames and heads south along the Hogsmill River to Epsom Common, Ashtead Common National Nature Reserve, Horton Country Park and Mickelham Downs. The route finishes at Westumble near the pretty Box Hill Country Park in Surrey. View Full Details>>
The Diana Princess of Wales Memorial Walk
7 miles (11 km)
This 7 mile walk in the capital visits four splendid London parks. The lovely trail is dedicated to the memory of Diana, Princess of Wales who had strong associations with many of the sites on the walk. These include buildings such as Kensington Palace, Spencer House, Buckingham Palace, St. James's Palace, and Clarence House.
The trail passes through Kensington Gardens, Hyde Park, Green Park and St James's Park on a series of well laid out, surfaced footpaths. The paths are waymarked with ninety individual plaques, each of which has a heraldic rose etched in the centre. It's a wonderful way to explore several of London's best parks in an afternoon.
Highlights on the walk include the Diana, Princess of Wales Memorial Fountain, the beautiful Serpentine Lake in Hyde Park and views of Big Ben and the London Eye from Blue Bridge in St James Park. Also look out for the famous Pelicans in this area.
The walk is in a figure of eight pattern so you could start and finish from any number of places. Hyde Park Corner, St James's Park Tube, Green Park Tube or the Serpentine car park in Kensington Gardens are all good options.
If you would like to extend your walk then you could pick up the Jubilee Greenway in Kensington Gardens and head north to Little Venice where you could follow the Regent's Canal to Regent's Park. At St James's Park you are very close to the River Thames where you could pick up the Thames Path and enjoy a riverside walk to the Houses of Parliament. View Full Details>>
Three Commons
5 miles (8 km)
This short circular walk in Bromley takes you on a tour of Hayes Common, Keston Common and West Wickham common. Highlights include Ravensbourne waterfall, Baston Manor and Keston ponds. The commons also include heathland, woodland and lots of interesting flora and fauna.
Good access points are Hayes railway station or the car park near Baston Manor.
The route links with the Farnborough Circular Walk which follows a series of footpaths through the countryside around Farnborough in Bromley. View Full Details>>
Three Forests Way
60 miles (96 km)
This circular walk links three fine forests in the Essex/Hertfordshire area - Hatfield Forest, Hainault Forest and Epping Forest. View Full Details>>
Tooting Bec Common
2 miles (3 km)
This large open space in South London has a cycling trail running through the western side of the park. There's also miles of walking trails taking you to avenues of trees, acid grassland and a small pond with wildlife. The common covers 92 hectares (221 acres) so you can easily spend a couple of hours strolling around. There's also a cafe, tennis courts and an athletics track. A park run takes place every Saturday at 9:00am at the time of writing. Tooting Bec cafe is situated in a historic Victorian building and is a nice place to sit outside and take on some refreshments after your exercise.
The Capital Ring long distance walking route runs through the common so you can pick this up to extend your walk to either Wandsworth Common or Streatham Common which are both nearby. If you're on a bike then on road TFL cycle routes will take you to Clapham Common and Wandsworth Common from Tooting Common. View Full Details>>
Trent Country Park
2 miles (4 km)
This country park on the outskirts of London has 413 acres of rolling meadows, brooks, lakes, ancient woodland, and historical sites to explore on foot or by bike. View Full Details>>
Valentines Park Ilford
2 miles (3 km)
Valentines Park is a large, 130 acre park in the London Borough of Redbridge, between Ilford and Gants Hill. View Full Details>>
Vanguard Way
66 miles (106 km)
This 66 mile trail runs from the outskirts of London, through Ashdown Forest, Alfriston and Cuckmere Valley to the stunning East Sussex coast.
Route highlights include the lovely Ashdown Forest, the White Horse near Alfriston and the wonderful final coastal stretch that gives views of the Seven Sisters Cliffs and Tidemills beach. The path also passes through the beautiful Cuckmere Valley with splendid views of Cuckmere River and Cuckmere Haven to enjoy. View Full Details>>
Victoria Park
2 miles (3.2 km)
Enjoy over 200 acres of parkland in East London on this short cycle or walk. The park boasts two cafes, a boating lake and several tree lined walkways. National Cycle Network route 1 also runs through the park so you can bring your bike.
Good access points are Cambridge Heath and Hackney Wick rail stations or Mile End tube station.
To extend your exercise you can head east and visit the Olympic Park where there's over 500 acres of parkland, waterways, playgrounds and cafes. The Capital Ring, Lea Valley Walk and Jubilee Greenway long distance trails also run through the area so you could pick up any of these to extend your walk. View Full Details>>
Walthamstow Reservoirs
2 miles (4 km)
Enjoy a waterside walk or cycle along this series of reservoirs in the Walthamstow Wetlands Nature Reserve. A traffic free cycle path runs along the River Lea Navigation Canal from Walthamstow Marshes to Banbury Reservoir. It follows National Cycle route 1 along the Lea Valley Walk passing Lockwood Reservoir, High Maynard Reservoir, Low Maynard Reservoir, East Warwick Reservoir and West Warwick Reservoir. The route starts at the Lea Valley Springfield Marina and follows the flat path to Tottenham Marshes for about 3 miles. It's a nice easy walk or ride with the option of continuing to Lea Valley Park and the William Girling Reservoir.
The area is great for wildlife with a heronry and various other water loving birds to look out for. These include pochard, tufted duck, coot, yellow wagtail, sedge warbler, great crested grebe and reed warbler.
The area is also very popular with anglers providing both coarse fishing and fly fishing.
You can extend your walk by picking up the Pymmes Brook Trail at William Girling Reservoir. The trail heads west towards Edmonton and Pymmes Park. View Full Details>>
Wanstead Flats
3 miles (5 km)
This large area of open grassland near Epping Forest has miles of walking trails to try. With its nice grassy paths, wildflowers and water features it's one of the best open spaces in London. On the flats you will find gorse, broom, woodland and ponds. It's a popular area with dog walkers and bird watchers.
You can also bring your bike to the park and enjoy a ride on one of the birdle paths. London Cycle Network routes 12 and 155 run past the flats to the south. You can follow these routes from nearby Ilford or Stratford.
The flats are well known for hosting a popular weekly parkrun. It's a 5km course taking place on Saturday mornings at 9:00 am.
There's a car park off Centre Road where you can start the walk. Heading east will take you across the flats to the lovely Alexandra Lake. You can then follow the Epping Forest Centenary Walk back to the western side of the park where you will find the Jubilee Pond. Look out for wildlife including meadow pipits and skylarks on your walk.
You can easily visit the area by public transport. Wanstead Park station is a two minute walk to the park.
It's easy to extend your walk by heading north along the Epping Forest Centenary Walk and visiting Bush Wood and Wanstead Park. The park has a splendid 3 mile trail taking you around woodland, parkland, two ponds and an Ornamental canal.
Just to the east you can follow a waterside cycling and walking path along the River Roding. View Full Details>>
Wanstead Park
3 miles (5 km)
This fine park in Redbridge has a lovely walking trail taking you around the Heron pond, Perch Pond and along the delightful Ornamental canal. The 140 acre park also includes an 18th century temple which serves as a visitor centre with a wealth of information on the history of the area.
You can start your walk from the car park on Warren Road. From here you can pick up the 3.25 mile the Chestnut Trail around the ponds, bluebell woods and canal.
The River Roding passes the eastern edge of the park so you can pick up the waterside trail to extend your walk.
The Epping Forest Centenary Walk passes the park's western edge at Bush Wood. View Full Details>>
Whitewebbs Park
1 miles (2 km)
This pretty country park in Enfield has some nice footpaths to follow around the parkland and woodland. Other features include an ornamental pond, small lakes and the Cuffley Brook which runs through the southern part of the park.
You can park at the car park at Whitewebbs Road at the northern end of the park to start your walk. From here it's a short stroll to the large pond where there are picnic tables. Just beyond there is Whitewebbs House where there is a nice cafe. Other paths then lead towards the lake in the south western corner and through Whitewebbs Wood before returning to the car park.
It's easy to extend your walk if you have time. The London Loop runs right through the park so you can pick this up and head to Clay Hill where you can enjoy a stroll along the Turkey Brook to Enfield Wash. Keep heading east and you will soon reach Lee Valley Park where you can enjoy a waterside stroll along King George's Reservoir.
Heading west along the London Loop will soon bring you to Trent Country Park. Here you'll find 413 acres of rolling meadows, brooks, lakes and ancient woodland to explore on foot or by bike. View Full Details>>
Wimbledon Common
4 miles (6.5 km)
This large area of open space in south west London covers 1,140 acres. It's great for cycling and walking with numerous trails criss crossing the area.
The route starts at the iconic windmill and follows good tracks around the Wimbledon Common golf course which covers a large section of the common. You'll pass the pretty Queen's Mere and King's Mere which are surrounded by woodland paths.
Other attractions on the common include the windmill museum and an easy access nature trail taking you through grassland, woodland and heath. This can be accessed near the windmill.
If you would like to continue your exercise then you could head to the nearby Richmond Park where there are miles of cycling and walking opportunities. The delightful Beverley Brook Walk also runs along the western edge of the common so you could pick this up and head to the River Thames at Putney. View Full Details>>
Yeading Brook
5 miles (7.5 km)
This lovely waterside walk follows the Yeading Brook through the London Borough of Hillingdon. This section of the path is known as the Willow Tree Wander. View Full Details>>