Rutland Walks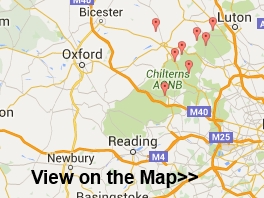 With lots of pretty towns and villages and the beautiful Rutland Water, there's lots of good options for walkers.
Use the filter to show walks of a certain type such as woods, reservoirs, hills, long distance, country parks, canals and rivers.
In the spring walkers flock to the beautiful bluebell woods in the Rutland area. Click the 'Woodland' button below to see these.
Use the links to view full route information including elevation profiles, interactive maps and GPS downloads.
You can also view an overview map of all the routes in the using the Rutland Walk Map>>
Route Name
Distance
Description
Clipsham
1 miles (1.6 km)
This walk explores the lovely Yew Tree Avenue in the Rutland village of Clipsham. View Full Details>>
Empingham
11 miles (18 km)
This Rutland based village sits very close to the Rutland Water dam with its waterside walking and cycling routes. View Full Details>>
Exton
4 miles (6.5 km)
This Rutland based village has some pleasant trails to follow through the parkland of the historic Exton Hall. There's also a particularly fine 17th century pub for rest and refreshment after your exercise. View Full Details>>
Eyebrook Reservoir
4 miles (6 km)
Enjoy a stroll alongside this lovely reservoir near Corby. You can park at the car park at the north eastern end of the water off Main Street in Stoke Dry. The village of Stoke Dry is reputed to be the place where the Gunpowder Plot was hatched. It has an interesting medieval church dedicated to Saint Andrew. 
You can pick up country lanes heading north along the reservoir from the car park. The area to the south is private land so please do not enter this section.
The area includes nice views of woodland and lots of wildlife. Look out for badger, fox, otter, muntjac deer, osprey, red kite, buzzards and various wildfowl on the water. Sightings include widgeon, pochard, teal and smew.
It's a beautiful area with the reservoir surrounded by rolling countryside of Leicestershire, Rutland and Northamptonshire.
If you'd like to extend your walk you could pick up the Rutland Round which passes the reservoir. View Full Details>>
Harringworth Welland Viaduct
4 miles (6.7 km)
This circular walk visits the impressive Harringworth Viaduct or Welland Viaduct in North Northamptonshire. View Full Details>>
Hereward Way
110 miles (177 km)
Starting in Oakham, in Rutland, follow the Herward Way through Stamford, Peterborough, Ely, and the Breckland forests to Thetford, in Norfolk.
Highlights on the walk include

Following the path around Rutland Water at the start of the route. You'll also be able to explore the medieval market town of Oakham where there's some wonderful old architecture at the Norman castle and the 16th century Oakham School.
The River Welland and Burghley House at Stamford
The section along the River Nene and through Ferry Meadows Country Park in Peterborough
The wonderful Welney WWT near Downham Market. The reserve is one of the best bird watching sites in the country.
Following the River Nene through March in Cambridgeshire
The magnificent Ely Cathedral and gardens
Following the Little Ouse River through Brandon and Santon Downham where there's a notable 12th century church to see.
The delightful RSPB Lakenheath Fen nature reserve near Brandon
The final section through the Breckland Heaths and Forests

View Full Details>>
Jurassic Way
88 miles (141 km)
This walk follows the Jurassic limestone ridge from Banbury to Stamford passing through Northamptonshire, Oxfordshire and Lincolnshire.
The walk includes a stretch along the Oxford Canal from Banbury and another waterside stretch along the Grand Union Canal near Braunston.
There's nice woodland trails through Fineshade Woods in the ancient Rockingham Forest area and you will also enjoy fine views of the River Welland as you approach Stamford.
The route passes through a series of picturesque towns and villages including Wardington, Catesby, Welford, Braunston, Ashby St Ledgers (with its impressive Manor House), West Haddon and Middleton. You'll also pass close to Naseby Battlefield, site of the famous Battle of Naseby in the English Civil War in 1645. There's a section along Welford and Sulby Reservoir here too. View Full Details>>
Leicestershire Round
102 miles (164 km)
Explore the countryside, villages, canals, rivers and reservoirs of Leicestershire on this interesting and varied circular walk. The walk beings at the lovely Bradgate Country Park near Newtown Linford and heads to Swithland Reservoir, Burrough Hill Country Park, the Grand Union Canal at Market Harborough, the wonderful Foxton Locks, Saddington Reservoir, Bosworth Battlefield Country Park, the Ashby Canal at Shackerstone and Thornton Reservoir. View Full Details>>
Macmillan Way
290 miles (467 km)
This epic long distance path links Boston in Lincolnshire to Abbotsbury in Dorset. It is promoted to raise money for the charity Macmillan Cancer Relief.
The route starts from Boston and then runs across the Fens to Bourne before joining the limestone belt. You then head to Stamford and then along the shoreline of Rutland Water. You'll also pass through the medieval market town of Oakham where there's some wonderful old architecture at the Norman castle and the 16th century Oakham School.
The trail then heads south and west via Warmington to Stow-on-the-Wold, then into the Cotswolds via Cirencester and Tetbury to Bradford-on-Avon. After leaving the Cotswolds you follow the path through Somerset passing Castle Cary before entering Dorset and the final section to Abbotsbury via Sherborne.
The route joins with other popular trails including the Viking Way at Oakham, the Thames Path National Trail near Thames Head and with the South West Coast Path towards the end of the route. View Full Details>>
Oakham
12 miles (19.5 km)
Oakham is the county town of Rutland and located in a lovely spot with miles of country trails and the wonderful Rutland Water nearby. The medieval market town also includes many sites of historical interest including the Norman Oakham Castle and the renowned Oakham School which dates back to 1584. View Full Details>>
Rutland Round
65 miles (105 km)
Explore the peaceful countryside of Rutland on this delightful circular walk. The route passes Oakham, Uppingham, Eyebrook Reservoir, Ketton, Harringworth Welland Viaduct, Empingham and Thistleton. There are also two sections along Rutland Water - one of the largest artificial lakes in Europe. View Full Details>>
Rutland Water
15 miles (24 km)
This splendid Nature Reserve has a fabulous cycling and walking path around the perimeter of the huge artificial lake. The route starts at Oakham and soon joins the waterside path towards Whitwell and the nearby Butterfly centre. You continue to Edith Weston, Manton and Egleton where you will find the birdwatching centre at Egleton Bay. Rutland water is excellent for birdwatching with a wide variety of winged visitors including Osprey, Cormorant and Lapwing. Cycle hire is available at Whitwell. View Full Details>>
Uppingham
9 miles (14.8 km)
The town of Uppingham is located in a pleasant position in Rutland. The town includes an attractive market place and many interesting buildings which include a notable public school, founded in 1584. This circular walk from the town takes you through the local countryside and woodland to the nearby Eyebrook Reservoir before a visit to the neighbouring villages of Stoke Dry and Lyddington. View Full Details>>
Viking Way
147 miles (237 km)
Follow in the footsteps of the Norse invaders on this long distance walk from the Humber Bridge to Oakham in Rutland. The walk passes through the Lincolnshire Wolds AONB and some delightful Leicestershire countryside before rounding Rutland water to the finish point at Oakham. Walk highlights include

Views of the Humber Estuary and the Humber Bridge at the start of the route at Barton Upon Humber.
The interesting former Roman towns of Caistor and Horncastle where you can still see the remains of the Roman Walls and other interesting landmarks.
The River Bain and the delightul Pinewoods in Woodhall Spa. Between Woodhall Spa and Horncastle you will also pass along the Spa Trail, a shared cycling and walking trail running along an old railway line.
A lovely waterside section along the River Witham into Lincoln
The city of Lincoln with its magnificent cathedral (video below)
A section along the Grantham Canal near Woolsthorpe by Belvoir and Belvoir Castle
The final section along the beautiful Rutland Water in Rutland. You'll finish in the medieval market town of Oakham where there's some wonderful old architecture at the Norman castle and the 16th century Oakham School.

View Full Details>>