Abbotsbury Walks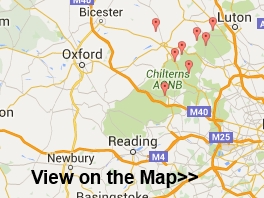 Abbotsbury is one of Dorset's prettiest villages with its picturesque cottages, subtropical gardens, swannery and 14th century chapel. It's also a great place for walkers with several long distance trails running through the area. There's hill climbs with great views, nature reserves teeming with wildlife and lovely coastal paths along Chesil Beach to enjoy.
Use the filter to show walks of a certain type such as woods, reservoirs, hills, long distance, country parks, canals and rivers.
In the spring walkers flock to the beautiful bluebell woods in Abbotsbury. Click the 'Woodland' button below to see these.
Use the links to view full route information including elevation profiles, interactive maps and GPS downloads.
You can also view an overview map of all the routes in the using the Abbotsbury Walk Map>>
Route Name
Photo
Distance
Description
Abbotsbury Castle
2 miles (4 km)
This walk from the pretty Dorset village of Abbotsbury visits the Iron Age Hillfort of Abbotsbury Castle. The route makes use of two long distance trails to take you to the site, where there are fine coastal views to enjoy. It's only about a two mile walk from the village but there is a fair climb to the hill's peak which stands at a height of almost 700ft.
The walk starts in the centre of the village and immediately picks up the Macmillan Way which starts in Abbotsbury. You follow the waymarked trail north fo about half a mile until you link with the South Dorset Ridgeway. Follow the path west for about 1.5 miles and you will come to the hill fort. The castle's position high above the Channel made it a first-line defence against invasion. The fort was occupied by the Celtic Durotriges tribe, but when the Romans invaded in AD 43, the second Augustian legion of Vespasian took the fort quickly with little struggle before moving on to Maiden Castle.
You can return the same way or continue west along the path and then head south to the coast. In this way you can turn it into a long circular walk.
The area is great for walkers with lots of options for extending your walk. You could head to the delightful Abbotsbury Subtropical Gardens or head to the wonderful Chesil Beach. View Full Details>>
Abbotsbury Subtropical Gardens
1 miles (1 km)
Enjoy a short walk around these beautiful gardens in Abbotsbury, Dorset. There are well laid out footpaths taking you through 30 acres of charming gardens with rare and exotic plants from all over the world. These include Camellia groves, Magnolias, Rhododendron and Hydrangea. Abbotsbury Gardens won the HHA/Christie's 2012 Garden of the year.
Highlights in the gardens include a pretty sclulpture trail, woodland trails in the arboretum, tranquil ponds, a summer house and a viewpoint with great views of the south coast.
The South West Coast Path runs past the gardens so you can pick this up to continue your walk to the nearby Chesil Beach or to the village of Abbotsbury. Also nearby is the Hardy Monument and the Iron Age Hillfort of Abbotsbury Castle where there are wonderful views over the Dorset coast and countryside. View Full Details>>
Burton Bradstock
1 miles (2 km)
There are a number of lovely coastal walking trails around this pretty National Trust run estate in Dorset. The estate is part of the Jurassic Coast and includes cliff-top trails along Burton cliff and the popular shingle Hive beach. You can use the National Trust car park above Burton Cliff to access the walking trails. Alternatively you could follow the South West Coast Path from nearby Bridport to reach the estate. From the area there are splendid views of Chesil Beach and Golden Cap, the highest point on the south coast. The area is also great for flora and fauna with a variety of plants such as pyramidal orchids, thrift, common mallow and wild clary. Look out for birds such as kestrels and buzzards.
Burton Bradstock is located at the western end of the beautiful Chesil Beach. You could continue your walk by heading east along Chesil Beach to West Bexington Nature Reserve and Abbotsbury Subtropical Gardens in the village of Abbotsbury. View Full Details>>
Chesil Beach
21 miles (33 km)
This walk takes you along Chesil Beach to St Catherine's Chapel in Weymouth, Dorset. The walk starts from the Chesil Beach Centre car park at Portland Harbour. The centre has information about the area and a good cafe.
The pebble beach runs for 18 miles with a series of beautiful lagoons on one side and the sea on the other. The Fleet lagoons are also a nature reserve so look out for a variety of coastal birds including Goldeneye and Manx shearwater.
This walk runs from the car park to Abbotsbury where you will find the delightful Abbotsbury Subtropical Gardens and St Catherine's Chapel which is dated from the 14th century. You can return along the beach or pick up the South West Coast Path at Abbotsbury and return on the other side of the lagoons.
You can also continue all the way along the beach to Burton Bradstock. This section of the beach passes West Bexington Nature Reserve and Burton Mere. The reserve consists of reedbed with grazing marsh and mixed coastal scrub. It is home to a variety of flora and fauna including Cetti's warbler, reed warbler, reed bunting, dormouse and water vole. As such it is another highlight of this wonderful stretch of Dorset coast.
At the end of the beach you will find the splendid Burton Bradstock Estate run by the National Trust. View Full Details>>
Eggardon Hill
2 miles (3 km)
Climb to this Iron Age hill fort and enjoy wonderful views over Marshwood Vale on this hilltop walk near Bridport.
The walk starts from the roadside parking area shown on the google street view link below. The footpath to the hill is just up the road from here. The hill fort is over 2500 years old and is rich in attractive plantlife. From the 252 m (827 ft) summit the views are wonderful with the English Channel visible on a clear day. It's a nice elevated path which takes you to the Bell Stone before returning the same way.
A local cycle route runs past Eggardon hill so you could follow this from nearby Powerstock to reach the hill. National Cycle Network Route 2 could also be followed from Bridport to Uploders before picking up the local route to Eggardon. It's a nice ride along a series of pretty country lanes.
You could also start the walk from Powerstock and follow good footpaths to the hill. View Full Details>>
Hardy Monument
2 miles (2.5 km)
Enjoy wonderful views over the Dorset countryside from this historical viewpoint near Portesham and Abbotsbury. The monument was built in 1844 in memory of Vice-Admiral Sir Thomas Masterman Hardy, Flag Captain of HMS Victory at the Battle of Trafalgar. This circular walk starts at the National Trust car park next to the monument and takes you over Black Down and through Benecke Wood. The walk can be extended to visit Portesham Hill and the nearby village of Portesham.
If you're coming by bike then you could catch a train to Dorchester and follow National Cycle Network Route 2 to the monument.
If you'd like to continue your walking in the area then you could visit the lovely Abbotsbury Subtropical Gardens which is only a few miles from the monument. Also nearby is the fascinating Iron Age Hillfort of Maiden Castle. The South Dorset Ridgeway passes the monument and is a great way to explore this section of the Jurassic Coast. View Full Details>>
Macmillan Way
290 miles (467 km)
This long distance path links Boston in Lincolnshire to Abbotsbury in Dorset. It is promoted to raise money for the charity Macmillan Cancer Relief.
The route starts from Boston and then runs across the Fens to Bourne before joining the limestone belt. You then head to Stamford and then along the shoreline of Rutland Water to Oakham. The trail then heads south and west via Warmington to Stow-on-the-Wold, then into the Cotswolds via Cirencester and Tetbury to Bradford-on-Avon. After leaving the Cotswolds you follow the path through Somerset passing Castle Cary before entering Dorset and the final section to Abbotsbury via Sherborne.
The route joins with other popular trails including the Viking Way at Oakham, the Thames Path National Trail near Thames Head and with the South West Coast Path towards the end of the route.
The Macmillan Way is well waymarked with a green and white disc. View Full Details>>
South Dorset Ridgeway
17 miles (27 km)
Enjoy wonderful views of the Jurassic Coast on this walk along the South Dorset Ridgeway. The route runs along the South West Coast Path from West Bexington to Osmington Mills with some beautiful scenery to enjoy. The area is also historically significant with several Bronze Age round barrows and Iron Age hill forts to look out for on the way. The immediate area contains about 500 archaeological monuments, nearly all of them several thousand years old. It's quite a challenging walk with several climbs, reaching a maximum height of nearly 800ft. From the elevated position of the path there are splendid coastal views to enjoy for most of the route.
The walk starts in the village of West Bexington on the Dorset coast near Chesil Beach. You then climb away from the coast to the Hardy Monument, passing Abbotsbury Castle Iron Age Hill Fort and the Hell Stone neolithic dolmen on Portesham Hill. The Hardy monument was built in 1844 in memory of Vice-Admiral Sir Thomas Masterman Hardy, Flag Captain of HMS Victory at the Battle of Trafalgar. It sits on Black Down and commands fine views to the coast.
The path continues east, descending towards the village of Bincombe across Bincombe Down. Soon after you come to Chalbury Hill Fort and the Osmington White Horse. The distinctive figure is one of the highlights of the walk. It dates from the early 19th century and represents King George III riding his horse.
From the white horse you descend to the village of Osmington. It's an interesting place with a church dating from the 12th century and dwellings dating back to the 16th century. The final section of the walk takes you from Osmington to the little hamlet of Osmington Mills on the coast. There's nice views of Osmington Bay as you finish your walk.
If you wanted to extend your walk you could continue east along the coast and visit the beautiful Ringstead Bay. View Full Details>>
Panoramio: Photos are copyrighted by their owners