Norfolk Broads Walks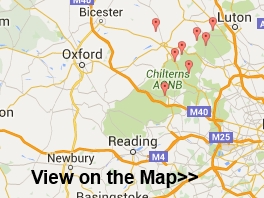 This National Park is best known as a hugely popular boating holiday destination. However there are also plenty of lovely footpaths to try along the broads, rivers and countryside of the area. There's also several nature reserve with a huge variety of water loving wildlife to look out for.
Use the filter to show walks of a certain type such as woods, reservoirs, hills, long distance, country parks, canals and rivers.
In the spring walkers flock to the beautiful bluebell woods in the Norfolk Broads area. Click the 'Woodland' button below to see these.
Use the links to view full route information including elevation profiles, interactive maps and GPS downloads.
You can also view an overview map of all the routes in the using the Norfolk Broads Walk Map>>
Route Name
Distance
Description
Acle and the River Bure
5 miles (8 km)
This circular walk explores the Bure Valley around the pretty Norfolk market town of Acle. It's a beautiful area with lots of water loving wildlife to look out for.
Starting on the eastern edge of the town you follow the Weavers' Way south to Damgate Marshes before turning east along the Tunstall Dyke. You soon come to the River Bure where you pick up the riverside footpaths towards Stokesby. Here you turn west and follow the river back to Acle.
If you would like to extend your walk you could follow the river east from Acle to Great Yarmouth. It's about a 10 mile walk to the coast with the river dotted with lots of pretty drainage mills. At Great Yarmouth you can enjoy more waterside paths along the beautiful Breydon Water. Also nearby is a circular walk around Fleggburgh and Filby Broad.
If you head north along the Bure you will soon come to Acle Bridge where there is a nice waterside pub. Keep going and you will soon come to Hickling Broad where there is a huge variety of wildlife to look out for. View Full Details>>
Angles Way
77 miles (124 km)
This splendid walk through the Norfolk Broads was voted the best waterside walk in Britain by waterscape.com in 2003. The walk is often completed in the following stages:
1. Great Yarmouth to Fritton Lake Country Park - on this section you will follow the River Yare, Breydon Water and the River Waveney passing Burgh Castle as you go. The section finishes at the delightful Fritton Lake Country World
2. Fritton Lake to Oulton Broad - you continue along the Waveney towards Lowestoft and the pretty Oulton Broad. On the way you will pass the splendid Somerleyton. The delightful model village includes thatched red-brick estate cottages and the splendid Somerleyton Hall with its beautiful gardens and expansive estate.
3. Oulton Broad to Beccles - an exclusivley waterside section along the Waveney (video below). You'll pass Oulton Broad and Carlton Marshes Nature Reserve with lots of interesting wildlife to look out for.
4. Beccles to Bungay - a countryside section via Shipmeadow
5. Bungay to Harleston- through the countryside via Homersfield with views of the River Waveney
6. Harleston to Diss - continuing along the Waveney via Hoxne and the Billingford Windmill. View Full Details>>
Barton Broad Boardwalk
1 miles (1 km)
This walk takes you to the lovely Barton Broad Boardwalk where you can follow the accessible path through swampy woodland and enjoy wonderful views across Barton Broad. View Full Details>>
Beccles
9 miles (14.5 km)
The Suffolk town of Beccles has some lovely riverside walks through the Broads National Park. View Full Details>>
Bramerton Riverside Walk
4 miles (6 km)
This walk takes you along a pleasant section of the River Yare near the village of Bramerton in Norfolk. View Full Details>>
Breydon Water
14 miles (22.5 km)
Visit the UK's largest protected wetland on this wonderful waterside walk in Great Yarmouth. The expansive estuary is also a nature reserve with a huge number of wading birds to look out for. Keep your eyes peeled for golden plovers, wigeons, lapwings and tens of thousands of Bewick's swans. There is also a bird observation hide at the east end of the water.
You can explore the area from Great Yarmouth by following the Weavers' Way west towards Berney Marshes. There's some beautiful Norfolk Broads scenery with mills, marshland and views of the River Yare and River Waveney.
If you follow the Angles Way along the southern side of the water you can visit the fine Roman Fort at Burgh Castle. View Full Details>>
Brundall
4 miles (6.2 km)
This riverside village is located just east of Norwich in the Norfolk Broads. There's lots of pretty marinas and a significant boat building industry in the attractive settlement. View Full Details>>
Burgh Castle
1 miles (2 km)
Explore the Roman Fort and enjoy a stroll along the River Waveney on this short walk in Norfolk. The fort dates from the 3rd century and still has some of its thick walls in tact. The area around the fort is also very beautiful with nice views across the Norfolk Broads to Breydon Water and the River Yare. View Full Details>>
Burlingham Woods
2 miles (3 km)
These pretty woods are located just east of Norwich near the villages of Acle and Brundall. View Full Details>>
Coltishall
6 miles (9.5 km)
This pretty riverside village is located in a lovely spot on the River Bure in the Norfolk Broads. It is often referred to as the "Gateway to the Broads" as it marks the start of the navigable portion of the River Bure. The village also includes an old thacthed church and the old Coltishall Station on The Bure Valley Railway. View Full Details>>
Diss
4 miles (6.6 km)
The attractive market town of Diss has some nice options for walkers with the pretty mere and the River Waveney in the vicinity. This circular walk uses a section of the Angles Way long distance trail to take you to the Roydon Fen and the Wortham Ling Nature Reserves. It's about a 4 mile route, taking place on easy flat footpaths and country lanes.
The walk starts in the town centre next to the mere. From here you can pick up the Angles Way and follow it west to Roydon Fen. The footpaths take you through the reserve where you can see typical fen plants such as marsh helleborine, marsh fragrant orchid and sawsedge.
The path continues to Wortham Ling where there are more nice trails to follow. The reserve includes acid grassland and dry heath on a sandy soil. Look out for wildlife including rabbits and butterflies in this area.
After exploring the reserve the route follows country lanes back into Diss. View Full Details>>
East Suffolk Line Walks
71 miles (114 km)
Follow the 'East Suffolk Line' railway from Ipswich to Lowestoft on this splendid walk through the Suffolk countryside. You'll pass through Woodbridge, Melton, Saxmundham, Halesworth and Beccles. There are also several riverside sections along the Rivers Alde, Deben, Fynn and the final one along the River Waveney from Beccles to Lowesoft. View Full Details>>
Great Yarmouth
6 miles (9.5 km)
This Norfolk seaside town is the gateway from the Norfolk Broads to the North Sea. There's lovely coastal walks and long distance trails which you can pick up from the town and follow into the Norfolk Broads. This walk follows the Angles Way along Breydon Water to the Roman Fort at Burgh Castle.
The walk starts on the seafront next to the Britannia Pier. The town's attracttions include the Pleasure Beach, the Sea Life Centre, the Hippodrome Circus and the Time and Tide Museum, as well as the UK's only surviving Victorian seaside cast iron and glass Winter Garden. From the front you can pick up the waymarked Angles Way footpath and follow it west through the town to Haven Bridge, where you cross the River Yare. You then pass through Cobholm Island before following the path along Breydon Water. The expansive estuary is also a nature reserve with a huge number of wading birds to look out for. Keep your eyes peeled for golden plovers, wigeons, lapwings and tens of thousands of Bewick's swans.
After a few miles you will come to the noteworthy Burgh Castle which is another highlight of the area. The interesting Roman fort dates from the 3rd century and still has some of its thick walls in tact. The site sits next to the River Waveney so you can enjoy more waterside trails here. View Full Details>>
Hickling Broad
15 miles (24 km)
Visit the Norfolk Broads village of Hickling and enjoy a walk around the beautiful Hickling Broad. It's the largest of the Broads and a fantastic area for wildlife. Look out for common crane, bittern, marsh harrier bearded tit and Cetti's warbler as you make your way around the lake. Also of interest are Chinese water deer, red deer and otters.
The walk starts at the car park and visitor centre off Stubbs Road on the north eastern side of the broad. From here you can pick up footpaths heading west to Hickling Heath. The walk then uses a section of the Weavers' Way long distance trail to take you around the broad to the River Thurne. Here you can enjoy riverside footpaths to Potter Heigham Bridge and boatyard where refreshments are available at the waterside Potters tearooms. The route then returns to the car park on the same paths.
It's easy to extend your walk by heading about a mile to the east and visiting the National Trust run Horsey Windpump and Horsey Mere. Here you'll find waymarked circular walks taking you to the interesting old drainage windmill and around the pretty mere.
Just to the south you can visit Fleggburgh and Filby Broad where there's a nice little circular walk from the village to the broad and Burgh Common.
If you follow the Weaver's Way and the River Bure south you will come to the market town of Acle which is well worth a visit. View Full Details>>
Horning
8 miles (13.3 km)
This Norfolk Broads village has some lovely waterside walks along the River Bure and the surrounding broads. It's one of the finest Broads villages with waterside pubs, shops, restaurant, tea-rooms and boat trips making it very popular with tourists. View Full Details>>
Horsey Windpump and Horsey Mere
3 miles (5 km)
A fine circular walk visiting an early 20th century drainage windmill on the Norfolk Broads with lovely waterside footpaths along Horsey Mere and other waterways. It's a beautiful area with reedbeds, marshes and the option of extending the walk to the nearby Horsey Beach where you can look out for grey seals and explore the dunes. Horsey Dunes, together with the adjoining Winterton Dunes, also contain the largest colonies of dark green fritillary and grayling butterflies in Norfolk.
The National Trust owns the mill so you can enjoy a climb to the top and enjoy fabulous views over the mere and surrounding broads. The area is also great for wildlife watching with Bitterns and Marsh Harrier to look out for in the air.
Highlights on the walk include Horsey's thatched church with a Saxon round tower and fascinating interior. You will also pass the 18th century Brograve Mill. The mill is now a derelict Grade II listed building and the earliest surviving tower mill in the Broads.
There's lots of good options for extending your walk. You could head just a mile to the west and visit Hickling Broad where you can pick up the Weavers' Way long distance trail. The trail runs around the broad before picking up delightful riverside paths along the River Thurne. View Full Details>>
How Hill
2 miles (3.8 km)
This walk takes you through the area around How Hill House in the Norfolk Broads. The house includes lovely parkland and gardens with riverside paths along the River Ant which runs past the site. The area is also a nature reserve so keep your eyes peeled for a wide variety of birds and insects on your visit. You can take a trip on the Electric Eel boat and look out for marsh harriers, dragonflies and butterflies as you make your way along the river. View Full Details>>
Loddon
7 miles (10.7 km)
This attractive market town in Norfolk has some delightful riverside trails to try. There's also some interesting history with a 15th century church and an 18th century water mill to see. View Full Details>>
Ludham
8 miles (12.7 km)
This Norfolk Broads based village sits in a lovely spot near Womack Water and the River Thurne. View Full Details>>
Ormesby Broad
1 miles (2 km)
This short walk takes you along Ormesby Broad to the village of Ormesby St Michael where you can visit Ormesby Little Broad. View Full Details>>
Oulton Broad and Carlton Marshes
5 miles (8 km)
This is a lovely waterside walk visiting Oulton Broad, the River Waveney and the pretty Carlton Marshes Nature Reserve near Lowestoft. The walk uses part of the long distance Angles Way and a series of other footpaths to explore the area. As well as the lovely Suffolk Broads scenery there's a huge variety of interesting wildlife. Look out for birds of prey including marsh harrier, barn owl and hobby. There's also lots of interesting plants including marsh orchid, marsh marigold and ragged-robin.
You can start your walk from the Oulton Broad car park or from Oulton Broad South railway station. From here you can pick up the Angles Way footpath which will take you into the reserve. Trails then take you along the waterways including various dykes and the River Waveney. There's also nice views across the large expanse of water and marsh that is Oulton Broad. Look out for a variety of watersports taking place on the water. The broad is a popular tourist spot with lots of restaurants, cafes, pubs, bars and shops. View Full Details>>
Potter Heigham
14 miles (22 km)
This pretty little village in the Norfolk Broads has some lovely waterside walks to try. View Full Details>>
Ranworth Broad
3 miles (5.5 km)
This circular walk in the Norfolk Broads visits the lovely village of Ranworth and its adjacent broad. View Full Details>>
Reedham
15 miles (24 km)
This Broads village is a lovely place to start a walk with miles of riverside trails and some pleasant footpaths to follow through the surrounding countryside. View Full Details>>
Rollesby Broad
1 miles (1 km)
Rollesby Broad is located just to the east of the Norfolk village of Rollesby. View Full Details>>
Salhouse Broad
1 miles (2 km)
This walk visits Salhouse Broad in the Norfolk Broads National Park. View Full Details>>
Somerleyton
6 miles (9 km)
Explore the area surrounding the delightful village of Somerleyton in the Waveney area of Suffolk. The circular walk makes use of the Angles Way and other public footpaths to take you on a tour of the village and the Somerleyton Estate surrounding Somerleyton Hall.
The village is accessible from Somerleyton rail station. You can catch the train from Lowestoft and Norwich directly.
The area has a fascinating history. Sir Samuel Morton Peto lived at the hall and was responsible for many of the most well known buildings in London, including Nelson's Column and the Houses of Parliament. He was also one of the pioneers of steam locomotion. The delightful model village includes the thatched red-brick estate cottages which he created for his workers.
You start the walk in the village passing the pretty cottages and village green before following the Angles Way footpath into the countryside towards Kitty's Farm. You turn south at Green Lane and head towards the river where you will pass two pretty lakes before returning to the village.
For a fee you can also enjoy a tour of Somerleyton Hall and gardens.  Here you will find a walled garden, an aviary, a loggia and a 90 metres (300 ft) long pergola covered with roses and wisteria.
If you would like to extend your walk then you can follow the Angles Way north and visit the splendid Fritton Lake Country Park. There are lovely cycling and walking paths around the large lake which is 2.5 miles long.
Heading south along the Angles Way will take you towards Lowestoft where you will find the lovely Oulton Broad and Carlton Marshes Nature Reserve. View Full Details>>
Stalham
7 miles (11 km)
This circular walk explores the countryside around the market town of Stalham in the Norfolk Broads. View Full Details>>
Strumpshaw Fen
3 miles (5.6 km)
This walk visits the RSPB'S Strumpshaw Fen Nature Reserve in the Norfolk Broads, west of Strumpshaw village. View Full Details>>
Surlingham
3 miles (5 km)
This Norfolk Broads village is a super place for a walk with river trails, broads and a fine local nature reserve to explore. View Full Details>>
Waveney Valley
17 miles (27 km)
The Waveney Valley is a wonderful place for waterside walking. With rivers, broads, nature reserves and several picture postcard villages it's the ideal place for easy walking on flat footpaths. View Full Details>>
Weavers' Way
59 miles (95 km)
Follow the Weavers' Way through the beautiful Norfolk Broads from Cromer to Great Yarmouth via North Walsham. The route meanders through the countryside passing Aylsham, North Walsham, Hickling and Acle before finishing at the popular coastal resort of Great Yarmouth. Highlights on the walk include:

Felbrigg Hall Park - This National Trust owned country house boasts a landscape park with a lake and 520 acres of woods.
Blickling Hall - this National Trust owned estate is a treasure trove of romantic buildings, beautiful gardens and landscaped park.
Hickling Broad - This National Nature Reserve is situated in the upper stretches of the River Thurne, and is the largest expanse of open water in the Broads. Near here there's the pretty village of Potter Heigham where there's a significant 12th century church and a 15th century medieaval bridge to see.
Rivers Thurne and Bure - Enjoy a long waterside stretch along these two rivers just after passing Hickling Broad
Breydon Water - The final section runs along the River Yare and the delightful Breydon Water into Great Yarmouth. It is a nature reserve run by the RSPB and includes the fine Roman fort at Burgh Castle.

View Full Details>>
Weavers Way Circular Walk
20 miles (32.2 km)
This route uses part of the Weavers Way and other paths along the River Bure to create a circular route around Acle in the Norfolk Broads. The route runs for about 20 miles on a series of flat footpaths with fine views across the marshes. View Full Details>>
Wherryman's Way
35 miles (57 km)
This walk follows the River Yare between Norwich and Great Yarmouth through the Norfolk Broads. View Full Details>>
Winterton on Sea
9 miles (14 km)
This village in Norfolk has lovely coastal walking trails, a wonderful dune based nature reserve and some gorgeous local broads and meres to visit. The village itself is also very pretty with delightful cottages, unusual roundhouses and a fine 17th century pub to visit. View Full Details>>
Wroxham
3 miles (5 km)
This delightful Norfolk town has some nice walking trails to follow along the River Bure in the town centre. There's also lovely nature trails to try at Hoveton Broad, just to the south east of the town. View Full Details>>