Wye Valley Walks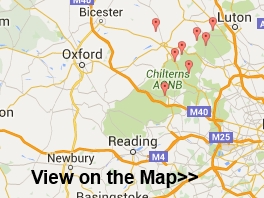 The beautiful Wye Valley has some great riverside trails, woodland paths and some wonderful viewpoints to climb to.
There's also the fascinating historical sites at Tintern Abbey and Chepstow Castle.
Use the filter to show walks of a certain type such as woods, reservoirs, hills, long distance, country parks, canals and rivers.
In the spring walkers flock to the beautiful bluebell woods in the Wye Valley area. Click the 'Woodland' button below to see these.
Use the links to view full route information including elevation profiles, interactive maps and GPS downloads.
You can also view an overview map of all the routes in the using the Wye Valley Walk Map>>
Route Name
Distance
Description
Chepstow
11 miles (18 km)
A splendid circular walk around Chepstow making use of the Wye Valley Walk and Offa's Dyke Path to visit some of the highlights of the area. There's lovely views of the River Wye, lots of peaceful woodland trails and a visit to the historic Tintern Abbey as you pass from Wales into England.
The walk starts at Chepstow Castle, the oldest surviving post-Roman stone fortification in Britain. From here you can pick up the Wye Valley Walk and follow it past the town before picking up woodland trails through Alcove Wood and Pierce Wood. You then pass Piercefield Park and Piercefield House, a largely ruined neo-classical country house dating from the late 18th century.
You continue past Chepstow Race Course, before climbing to the Eagle's Nest viewpoint on 365 steps trail. Here you will stand high above the Wye at Wyndcliff, looking out over the sweeping curve of the river around the Lancaut Peninsula.
The route then descends through Wyndcliff Wood and Black Cliff Wood before coming to Tintern Abbey. Here you can explore the fascinating ruins of a 12th century monastery. It's a beautiful area with the atmospheric ruins and the river flanked by the attractive woodland of the Forest of Dean.
After passing the abbey you cross the river on the old Tintern Railway Bridge which carried the Tintern Wireworks Branch trains over the river until 1935.
Heading south the next section picks up the Offa's Dyke Path and climbs to the viewpoint at the Devil's Pulpit. From here there are more wonderful views over the abbey and the AONB.
The route then continues to Plumweir Cliff and Worgan Wood before coming to the village of Woodcroft. Here you will pass Wintour's Leap where there are some magnificent limestone cliffs and Peregrine Falcons to look out for. View Full Details>>
Chepstow Park Wood
4 miles (6.5 km)
This large area of woodland is located a few miles north west of Chepstow. It contains miles of trails and footpaths with the option of extending your walk in the adjacent Fedw Wood and New Wood. Parking is available off Devauden Road about 1.5 miles north of St Arvans.
The Wye Valley Walk passes nearby St Arvans so you could pick this up and head through Wyndcliffe Woods to Tintern Abbey to extend your walk. View Full Details>>
Credenhill Woods
2 miles (3.2 km)
Follow the trails around Credenhill Park Wood on this easy walk in Herefordshire. The woods are located just to the north of the village and include an Iron Age hill fort.
You can start the walk from the car park at the south eastern corner of the woods. Then pick up the waymarked trails heading north into the woods. There's lots of interesting flora to see with early purple orchid, wild garlic, herb-paris and bluebells in the spring. The variety of trees include oak, ash, beech, field maple, small-leaved lime and wych elm. Also look out for wildlife including buzzards, various woodland birds and the three types of deer which inhabit the site.
You can also climb to the large hill fort whose defences follow the 600 ft contour and enclose nearly 50 acres. They comprise an embankment and ditch with a slight counter-scarp bank. Archaeological digs exposed storage pits and other remains of occupation including pottery with stamped and incised patterns typical of the West Midlands Iron Age. You can see some of the finds in the Hereford Museum.
The Wye Valley Walk long distance trail passes Credenhill to the south. You could pick up the trail to continue your walking in the area. View Full Details>>
Devil's Pulpit
3 miles (5 km)
Climb to this wonderful viewpoint and enjoy views over the Wye Valley AONB on this circular walk in Tintern in the Forest of Dean.
You can start the walk from the car park off the B4228 just north of Tidenham. You then head west through woodland before a moderate climb to the Devil's Pulpit. From here there are splendid views over Tintern Abbey and the River Wye.
After taking in the views you pick up the Offa's Dyke Path to take you through Worgan's Wood to Tidenham Chase. You then follow Miss Grace's Lane back to the woods from the start of the route.
To extend the walk you could continue along the Offa's Dyke Path to Woodcroft and Chepstow in Wales. If you head north you can visit Caswell Wood and Oakhill Wood. Caswell Woods consist of a variety of interesting plants and trees with bare limestone rock which attract Kestrels. At Brockweir you can cross the river then follow it round to the fascinating Tintern Abbey ruins.
Heading south along the path will take you to the magnificent limestone cliffs at Wintour's Leap. View Full Details>>
Eagle's Nest
1 miles (1.6 km)
This walk takes you to the Eagle's Nest viewpoint in the Wye Valley AONB. The site has been described as "one of the most impressive viewpoints in the British Isles". View Full Details>>
Goodrich Castle and Coppet Hill
6 miles (9 km)
Explore the Goodrich Castle estate before climbing to Coppet Hill on this walk in Herefordshire. There's fascinating history, woodland trails and great views from the high points to enjoy.
You can start the walk from the Goodrich Castle car park. First explore the ruinous Norman medieval castle described by Wordsworth as the 'noblest ruin in Herefordshire'. Then follow the footpaths south through Goodrich before climbing Coppet Hill. The hill is also a nature reserve with woodland and lots of wildlife. Look out for butterflies, deer and a variety of birdlife. From the high points of the hill you can see the Brecon Beacons, the Clee Hills and the Malvern Hills.
You can use the google street view link below to virtually explore part of the castle grounds and see the great views you get of the surrounding Herefordshire woodland and countryside.
To extend your walking in this lovely area you could pick up the Wye Valley Walk and enjoy a waterside walk along the River Wye. Follow the river south east and it will take you towards Welsh Bicknor, Lower Lydbrook and the Forest of Dean. Eventually you will come to Symonds Yat Rock where there are woodland trails and wonderful views over the Wye Valley. Near here is the mysterious King Arthur's Cave which is also worth a visit.
The castle and hill are located a few miles south of Ross-on-Wye. You could follow the riverside path from the town as an alternative route. View Full Details>>
King Arthurs Cave
4 miles (6.5 km)
This circular walk visits the mysterious King Arthur's Cave in the Wye Valley AONB near Symonds Yat. It's a lovely walk with long riverside sections and peaceful woodland trails. The area around the cave is also very quiet with just the sound of the river and birds to enjoy.
Start the walk from the Hollow Rock car park in Symonds Yat East. From here you can pick up footpath taking you up to the river. Here you can follow the waymarked Wye Valley Walk south along the river to Lady Park Wood. A footbridge takes you over to the north side of the river here before trails through Lords Wood lead you to King Arthur's Cave. The cave entrance lies less than 100 metres above the river on a hill, with a double interconnected entrance and two main chambers. It's also a designated nature reserve under the protection of the Herefordshire Nature Trust. There is evidence that the cave was occupied by man during the Upper Palaeolithic era, and flint tools and woolly mammoth bones have been unearthed within and around the caves.
After exploring the cave the walk heads north east through the woods and quarry to Symonds Yat West. Here you can catch the old rope ferry over the river and follow the path back to the car park.
To continue your walking in the area try the wonderful climb up to Symonds Yat Rock where there are fabulous wide ranging views over the Wye Valley. View Full Details>>
Lancaut Walk
2 miles (3 km)
This walk explores the Lancaut Peninsula in the Wye Valley AONB. It's a scenic and historic place situated around the abandoned medieval village of Lancaut. View Full Details>>
Llandogo
9 miles (14 km)
This Monmouthshire village sits in a fine location in the lovely Wye Valley AONB. View Full Details>>
Monmouth
6 miles (10 km)
A lovely circular walk around the Welsh town of Monmouth, visting Monmouth Castle, The Kymin viewpoint and the River Wye. The walk makes use of the Offa's Dyke Path and the Wye Valley Walk long distance trails to expose you to some of the beautiful surrounding the town.
The walk starts from the Grade I listed Monmouth Castle, located on a hill above the River Monnow near the town centre. The castle was established in 1067 immediately after the Norman Conquest, by William fitz Osbern. It was also the birthplace of Henry V in 1386.
From the castle you can pick up the waymarked Offa's Dyke Path. It heads east through the town to the Wye Bridge where you cross the Wye River. The path then climbs to The Kymin, where you can enjoy wonderful views down the Wye Valley, up into the Brecon Beacons and across to the Malvern Hills. There's also a number of neo-classical monuments, including the Roundhouse and the Naval Temple, built between 1794 and 1800.
After taking in the views the path then descends through the woodland of Harper's Grove to Upper Beaulieu Farm.
You continue to Upper and Lower Redbrook in Gloucestershire. Here you join the Wye Valley Walk which leads you along the river back to Monmouth. It's a beautiful section with the river flanked by attractive woodland and countryside. View Full Details>>
Monmouth to Symonds Yat
8 miles (12.9 km)
A lovely riverside walk from Monmouth to the wonderful viewpoint at Symonds Yat. The walk runs for about 8 miles, following the River Wye on a flat path before climbing to Symonds Yat for wonderful views over the Wye Valley, Wales, Herefordshire and Gloucestershire.
The walk starts at Monmouth Castle and heads a short distance to the river where you pick up the Wye Valley Walk. Follow the waymarked trail north east passing Dixton, the Fiddler's Elbow National Nature Reserve and the farmland and woodland of Hadnock on the other side of the river.
The river then bends round to the east passing the Grade II listed Wyastone Leys and Lord's Wood. Here you can visit King Arthur's Cave just to the north of the river. Flint tools and woolly mammoth bones have been unearthed within and around the limestone caves.
You continue through the Upper Wye Gorge which contains many species of trees that are locally and even nationally rare, forming one of the most extensive areas of semi-natural, broadleaved woodland in the entire valley. Look out for wildlife including badgers, fallow deer, buzzard, nuthatch, peregrine falcon, pied flycatcher, raven, tawny owl and the wood warbler as you make your way through this area.
The next stage passes the Symonds Yat Rapids where you can see canoeists and kayakers whitewater training and playboating. You then climb to Symonds Yat Rock where there are wonderful views over the Wye Valley. It's also a popular spot for birdwatching with peregrine falcons, buzzards, goshawks and hobbies regularly seen. View Full Details>>
Offa's Dyke Path
177 miles (285 km)
This incredible 177 mile trail starts on the River Severn Estuary in Gloucestershire in England before taking you over the border into Wales and on through some truly splendid mountainous scenery. Highlights on the route include the gorgeous Wye Valley AONB, crossing from England into Wales along the splendid Hergest Ridge and the awe inspiring Brecon Beacons National Park. You'll also pass the popular Moel Famau and Moel Arthur in the stunning Clwydian Range. View Full Details>>
Raglan
3 miles (5 km)
This Monmouthshire based village is located close to Monmouth and Abergavenny. There's some excellent walks in the nearby Forest of Dean and Wye Valley to enjoy. A fine old castle and a medieval church are two of the highlights of the immediate area. View Full Details>>
Ross Round
18 miles (29 km)
This delightful circular walk takes you through the Herefordshire countryside around Ross-on-Wye.
You start on the River Wye, in the pretty market town of Ross-on-Wye, and follow the river north to the riversde settlement of Hole-in-the-Wall. The walk then leaves the river, visiting Crow Hill, Weston Under Penyard, Penyard Park, Warmhill Wood and Howle Hill as you head through the Herefordshire countryside.
There's much to enjoy on this varied walk including rivers, woodland and a series of pretty villages. View Full Details>>
Severn Bridge
5 miles (8 km)
Cross from England into Wales on this walk across the Severn Bridge. The route runs for just under 5 miles from Aust to Chepstow, using fairly flat footpaths, with a moderate climb towards the end.
The walk starts from the village of Aust on the eastern side of the river in South Gloucestershire, England. Head west out of the village and you can pick up a section of the Severn Way to take you to the bridge. The iconic suspension bridge was opened on 8 September 1966, by Queen Elizabeth II, replacing the Aust Ferry which had previously transported cars across the river.
A shared cycling and walking trail now runs across the bridge, passing Aust Cliff and Aust Rock before coming to Beachley. There's spendid views over the river and surrounding countryside to enjoy on the crossing.
At Beachley the final section of the bridge passes over the River Wye, taking you into Chepstow in Wales. The route then picks up a section of the Wales Coast Path to take you along the Wye into Chepstow where the route finishes. View Full Details>>
Symonds Yat Rock
2 miles (4 km)
Enjoy wonderful views over the Wye Valley from this well known viewpoint on the Herefordshire and Gloucestershire border. From the elevated position you have a great view of the beautiful wooded gorge below. It's also a popular spot for birdwatching with peregrine falcons, buzzards, goshawks and hobbies regularly seen. The area is great for walking and cycling with miles of waymarked woodland trails and riverside paths to try. This circular walk starts from the car park and follows good footpaths to the viewpoint. You then continue along the river through the woodland, passing Huntsham Hill on the way. A section along the Perigrine Path then takes you along the River Wye before heading through Riddings Wood to the car park.
There are several other waymarked trails in the area which visit the Iron Age Hillfort and Mailscot Wood. There is also a nature trail with nature boards through an attractive section of mixed woodland. You can buy refreshments from the excellent Log cabin cafe.
This route is designed for walkers but cyclists can try the Symonds Yat Rock Cycle Trail which runs for about 3 miles from the campsite. You can also pick up the Perigrine Path cycle route which runs through Symonds Yat. View Full Details>>
The Kymin
2 miles (3 km)
Climb to the 245m (800ft) summit of Kymin Hill and enjoy wonderful views down the Wye Valley, up into the Brecon Beacons and across to the Malvern Hills. The National Trust owned site also has nice woodland trails and the Grade II listed Round House built in the late 18th century. There is also a Naval Temple built in 1800 to commemorate the second anniversary of the British naval victory at the Battle of the Nile in 1798. In the early 19th century Vice Admiral Horatio Nelson visited the Naval Temple and the Roundhouse on Kymin Hill, where he enjoyed the magnificent views. On a clear day you can see Abergavenny with Blorenge, Sugarloaf Mountain, Skirrid, Pen-y-fan and Corn Du.
The Kymin Dash takes place on the hill every year. The course covers about 7 miles, circling the town and both ascending and descending the Kymin by forest tracks, field paths and minor roads. 
It's easy to extend your walk in this lovely area. You can pick up the Wye Valley Walk and head along the river to the mysterious King Arthur's Cave and Symonds Yat Rock where you can enjoy more great views and a number of waymarked walking trails.
You can virtually explore the Kymin by using the google street view link below! View Full Details>>
Tintern Abbey
6 miles (9.5 km)
Visit the fascinating ruins of this 12th century monastery and then explore the surrounding area on this walk on the England-Wales border. This route makes use of the Wye Valley Walk and Offa's Dyke Path to visit local woodlands, countryside and viewpoints. It's a beautiful area with the atmospheric ruins and the river flanked by the attractive woodland of the Forest of Dean.
The walk starts at the abbey car park and heads west along the river to the pretty village of Brockweir. Here you cross the river and head through Caswell Woods where you will find a variety of interesting flora and fauna. The path then climbs to the Devil's Pulpit where you can enjoy fabulous views back towards the abbey and over the Wye Valley. More woodland trails then take you back to the village and the car park.
It's a great area for wildlife spotting with heron, kingfisher, otter to look out for on the river. Also look out for Kestrels around the limestone rocks in Caswell Wood. View Full Details>>
Tintern Old Station
2 miles (2.5 km)
This park is situated in the Wye Valley Area of Outstanding Natural Beauty (AONB) near Chepstow. It was voted the UK's favourite park in the 2011 People's Choice Green Flag Award public poll. The station was originally opened in 1876 and closed in 1959. It now serves as a popular tourist attraction with three old carriages used as a gift shop and museum with old railway memorabilia. There is a one mile circular walk around the park with a section along the River Wye. You could follow the river further along the Wye Valley Walk if you wanted to continue your walk. View Full Details>>
Wintour's Leap
2 miles (4 km)
Climb to this magnificent limestone viewpoint on this walk in the Wye Valley. You can start the walk from the south western end of the village of Woodcroft. View Full Details>>
Wye Valley Greenway
5 miles (8 km)
This cycling and walking route runs along a disused railway line through the beautiful Wye Valley. View Full Details>>
Wye Valley Walk
138 miles (222 km)
This walk takes you through the beautiful Wye Valley in Gloucestershire, Herefordshire and Wales.
The walk begins on the mouth of the River Wye at Chepstow Castle in Monmouthshire and follows the River Wye north to Monmouth, passing the fascinating ruins of Tintern Abbey on the way. You continue through Ross on Wye to Hereford and then onto Hay on Wye. You then return to Wales and head to Builth Wells, Newbridge and Rhayader before the final stretch takes you towards the source of the Wye on the slopes of Plynlimon mountain in the Cambrian Mountains of Powys. View Full Details>>
Wye Valley Walk Chepstow to Tintern
5 miles (8 km)
A walk from Chepstow through the Wye Valley to the wonderful Tintern Abbey. View Full Details>>