Buckinghamshire Cycle Routes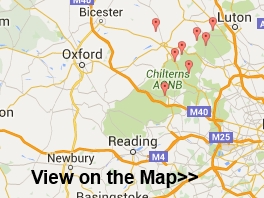 Buckinghamshire has a number of attractive cycle routes that lead you through attractive rural countryside and delightful English villages.
The Chiltern Hills also make an appealing backdrop to many of the rides.
Milton Keynes and Aylesbury are the main towns and both are very cycle friendly with a number of signed cycle paths running through and from the towns.
Use the links to view full route information including elevation profiles, interactive maps and GPS downloads.
You can also view an overview map of all the routes in the using the Buckinghamshire Cycle Map>>
There are several National Cycle Networksigned routes in the county many of which have been mapped and can be viewed and downloaded below.

For more information on cycle routes in Buckinghamshire including tips, advice and free cycle maps please click here
Route Name
Distance
Description
Bicester to Milton Keynes
25 miles (40 km)
Travel through the Buckinghamshire countryside along National Cycle Route 51 from Bicester to the cycle friendly town of Milton Keynes.
You will also pass through the pretty villages of Twyford and Steeple Claydon as you travel through the Aylesbury Vale district. The run into Milton Keynes is particularly attractive, passing Furzton Lake and Teardrop lakes on a leisurely off road stretch before finishing near the train station. View Full Details>>
Black Park Country Park
4 miles (7 km)
With over 10 miles of well signed cycling and walking tracks, Black Park is the ideal place for a great day out in the country. Set in 535 acres of woodland and heathland, you will find lakes, picnic areas, cafes and a Go Ape Tree top adventure course. The park is located in Wexham, just a few miles east of Slough.
The route below begins at the car park next to the lake and takes you to the famous Pinewood studios where many blockbuster films have been produced. You continue through the park to Upton Wood where you will circle the lake before returning to the finish point back at the car park.
The route is suitable for both cyclists and walkers but for cyclists there is also the Beeches cycleway. This 12 mile, signposted route joins Black Park, Stoke Common, Burnham Beeches and Dorney Lake allowing you to extend your ride if you wish. For walkers you may also like to try the Beeches way walk which passes through Black Park. Also of interest is the nearby Langley Park Country Park which lies just to the south of Black Park. View Full Details>>
Bletchley to Leighton Buzzard
8 miles (13 km)
Follow the Grand Union Canal Walk and National Cycle Route 6 from Bletchley to Leighton Buzzard on this pleasant short waterside ride.
The route passes a series of pretty locks and the villages of Stoke Hammond and Leighton-Linslade as you follow the towpath along the canal. There are train stations at Bletchley and Leighton Buzzard for easy access. View Full Details>>
Buckingham to Banbury
26 miles (42 km)
This route follows The Great Central Cycle Ride and the Oxfordshire cycleway from Buckingham to Banbury. The route follows a series of quiet roads through the countryside of Buckinghamshire, Northamptonshire and Oxfordshire and takes you through some pretty villages and lovely scenery.
Highlights on the route include the lovely Stow Avenue at the start of the ride and the attractive Biddlesden park (below) View Full Details>>
Buckingham to Daventry
25 miles (40 km)
Follow the Great Central Cycle ride from Buckingham to Daventry.
This is a fairly challenging ride taking place mainly on country lanes. Highlights on the route include the lovely Stow Avenue at the start of the ride and the attractive Biddlesden park (below). You will also pass through the pretty villages of Canons Ashby with its manor house and Preston Capes. View Full Details>>
Burnham Beeches
2 miles (2.5 km)
This hugely popular National Nature Reserve and woods has miles of good walking trails to try. The area consists mostly of beech woodland with lots of peaceful footpaths to follow. There's also ponds, streams, grassland and heathland with over 500 acres to explore. View Full Details>>
Caldecotte Lake
2 miles (2.5 km)
Enjoy and easy cycle or walk around this pretty lake in Milton Keynes. A lovely waterside path runs around the perimeter of the lake so it's perfect for families. There's a free trim trail with outdoor gym equipment and a table tennis table. There is also an excellent pub called the Caldecotte Arms where you can pick up a bite to eat. Walton Park and lake are right next to Caldecotte Lake so you can easily extend your outing there.
The site includes two bird hides where you can look out for a variety of birds on the water. Waterfowl, dragonflies and damselflies are regular visitors to the lake.
Caldecotte is located on the Grand Union Canal - you could pick this up and head a couple of miles north to the super Willen Lake where you will find more waterside walking and cycling. View Full Details>>
Chesham to High Wycombe
16 miles (26 km)
Follow National Cycle routes 57 and 50 through the Chiltern Hills on this lovely route. The route starts by the train station in Chesham and then heads east into the countryside to Great Missenden along National Cycle Route 57.
A mixture of on and off road paths take you to Great Hampden where you will turn south through woodland. An on road section along National Cycle route 50 takes you into the finish point High Wycombe near the tourist information centre. View Full Details>>
Chilterns Cycleway
170 miles (273.5 km)
This wonderful 170 mile route explores the Chilterns Area of Outstanding Natural Beauty, on a circular signed trail. View Full Details>>
Claude Duval Bridleroute
63 miles (102 km)
This shared walking and cycle path runs from Quainton, near Aylesbury in Oxfordshire to Great Barrington in the Cotswolds.
This route is named after the well-known local highwayman, Claude Duval. It starts at Quainton and passes Stratton Audley, Bicester and Bucknell before crossing the Oxford Canal near Woodstock. The route then heads towards Chipping Norton and then Spelsbury where you join the River Evenlode for a short waterside stretch to Ascott d'Oyley. You then head onto Great Barrington via Fifield. View Full Details>>
Dorney Lake
4 miles (6 km)
This purpose-built rowing lake in Buckinghamshire has a traffic free National Cycle Network trail running past it on one side and the Thames Path on the other. As such you can make a circular walking trail using these two trails or a linear ride from Eton Wick to Dorney Reach if you are on your bike. The lake was used as the rowing venue for the 2012 Olympics in London.
It's a lovely area with the riverside path and views across the lake to enjoy. There's also 450 acres of parkland including an Arboretum and Nature Conservation area. Look out for water loving birdlife including the grey heron.
You can park at the north western end of the lake just off Court Lane to start your walk. Alternatively you could catch the train to Windsor and then follow the Thames Path to the lake. It's about 1.5 mile walk passing Eton, Eton Wick and Dorney Common. A National Cycle Network Path also runs from the train station to the site.
If you would like to extend your exercise then you could visit the nearby Windsor Great Park. The park has miles of cycling and walking trails with woodland, parkland and lakes to enjoy. You could also continue along the Thames Path to Maidenhead which is only a couple of miles to the north.
The Jubilee River also runs past Dorney. This river has a great waterside cycling and walking trail running from Maidenhead to Eton. View Full Details>>
Emberton Country Park
3 miles (5 km)
Enjoy 200 acres of parkland and lakes in Milton Keynes on this short circular walk. Emberton contains over 5km of paths and trails winding their way around 5 lakes, through wooded glades and meadows. The route below begins at the village of Emberton and takes you around Grebe Lake and Heron Water in the park.
The park contains a visitor information centre, picnic areas and a number of bird hides where you can spot the wide variety of water loving birdlife that vists the park. View Full Details>>
Furzton Lake
1 miles (2 km)
Enjoy a short cycle or walk around this pretty lake in Milton Keynes. View Full Details>>
Hodgemoor Woods
2 miles (3 km)
These woods near the town of Amersham have some good footpaths and mountain bike trails to try.
You can start off at the car park on Bottrells Lane at the northern edge of the site. From here you can pick up miles of footpaths and bridleways across the 250-acre woods.
It's a delightful area with lots of pretty bluebells in the spring and a healthy population of Muntjac Deer to look out for. Also keep your eyes peeled for tawny owls, buzzards, kites and numerous other woodland birds.
This basic circular route is designed for walkers but cyclists can also enjoy a series of permissive trails and a bike park with bumps and jumps. See the video below for an idea of what you can expect from the ride. Click here for a map showing the trails and visit the website below to get a permit for cycling in the woods.
Our Amersham Circular Walk skirts the northern edge of the woods. You can pick it up to extend your walk and explore the countryside surrounding Amersham and the nearby village of Chalfont St Giles. The long distance South Bucks Way also passes just to the north of the woods. It's a great way to explore the Misbourne valley area of the Chilterns and extend your exercise. View Full Details>>
Jubilee River
6 miles (10 km)
Follow the Jubilee River path from Maidenhead to Eton and Slough on this waterside walk or cycle on the border of Berkshire and Buckinghamshire. It's a delightful, peaceful trail with the gentle river surrounded by attractive woodland and countryside. The river path follows National Cycle Route 61 for most of the way.
The route starts in Taplow and heads south past Taplow Lake. The 30 acre lake is popular with swimmers and wakeboarders.
You continue through Dorney, passing Dorney Common and the 15th century Tudor manor house of Dorney Court. The route then heads east passing the pretty village of Eton Wick before finishing in the fields just north of Eton and Windsor. Here you can pick up the Thames Path to extend your walk. The river also passes Dorney Lake where there is a nice surfaced cycling and walking trail with views across the Olympic lake. View Full Details>>
Langley Park Country Park
2 miles (4 km)
Langley Park has a variety of beautiful trails suitable for cycling and walking. The park contains 154 acres of free access parkland, 360 acres of farmland, delightful Edwardian rhododendron gardens (with views to Windsor Castle) and an Arboretum with a fine collection of specimen trees and a beautiful ornamental pond. There are also excellent facilities with a tea room overlooking the Edwardian gardens and designated picnic areas. Cycling is permitted, except in the Temple Gardens and the Arboretum. Cycle racks are located next to the tea room.
For cyclists there is also the Beeches Way Cycleway. This 12 mile, signposted route joins Black Park, Stoke Common, Burnham Beeches and Dorney Lake allowing you to extend your ride if you wish. For walkers you may also like to try the Beeches Way Walk which passes through Black Park Country Park. View Full Details>>
Linford Lakes
4 miles (6 km)
Enjoy a cycle or walk via country lanes around the pretty Linford Lakes area in the Ouse Valley, Milton Keynes. The route follows a section of the Hanslope Circular Ride, a cycle and walking route around Milton Keynes. The route takes you around the outside of the Linford Lakes Nature Reserve, which requires a permit for access and no cycles are allowed in the reserve. The nature reserve has a large lake, meadows, woodland and a complex of ponds. From the observation hides in the reserve you can look out for many species of bird, including waders breeding in the summer and winter visitors such as Smew and Great White Egret. Boardwalks take you through the complex of ponds, which teem with wildlife including many species of dragonfly. Permits to access the nature reserve, which must be obtained in advance, are available from http://www.theparkstrust.com/parks/linford-lakes-permit. Permit holders are welcome to cycle to the nature reserve - bicycles may be locked-up at the Study Centre situated at the reserve entrance.
The route also follows a section of the Grand Union Canal and passes nearby to the historic Great Linford Manor Park.
If you would like to continue your exercise you could enjoy more waterside walking along the Grand Union Canal or head to the nearby Willen Lake. View Full Details>>
Milton Keynes to Bedford
25 miles (40 km)
Follow National Cycle Route 51 from Buckinghamshire into Bedfordshire on this pleasant route.
The route starts near Milton Keynes rail station and heads to Campbell park where you cross the Grand Union Canal. You then pass Willen Lake before a short stretch along the River Ouzel.
A mixture of on and off road sections through the countryside then takes you onto Kempston where you finish the ride with a short stretch along the River Great Ouse, taking you into Bedford. You'll also pass Stewartby Lake Country Park where there are some nice trails around a pretty lake. View Full Details>>
Milton Keynes to Northampton
21 miles (33 km)
Follow National Cycle Route 6 and the River Ouse from Milton Keynes to Northampton.
The route follows many off road paths including the Midshires Way, Swan's Way and the River Ouse path as you make your way from Buckinghamshire into Northamptonshire.
Further highlights on the route are a spell through Salcey Forest and views of the Grand Union Canal. View Full Details>>
Oxford to Bicester
17 miles (27 km)
Starting in the historic University town of Oxford follow National Cycle Route 51 from Oxford to Bicester. The ride takes you past the Oxford University parks and Colleges before heading to the village of Kidlington. The rides continues onto Bicester, mainly on quiet roads, but with some short traffic free sections. The ride also has views of the River Cherwell and some lovely Oxfordshire countryside. View Full Details>>
Oxford to Milton Keynes
42 miles (67 km)
Starting in the historic University town of Oxford follow National Cycle Route 51 from Oxford to Milton Keynes via Bicester.
This ride takes you through the lovely scenery of the Cotswolds along quiet country roads and some traffic free paths.
The run into Milton Keynes is particularly attractive, passing Furzton Lake and Teardrop lakes on a leisurely off road stretch before finishing near the train station. View Full Details>>
Oxford to Princes Risborough
24 miles (38 km)
Follow National Cycle Route 57 on this lovely route through the Oxfordshire countryside. The route starts near the tourist information centre in Oxford and heads east to Thame on minor roads. You then join the Phoenix Trail - a lovely off road path on a dismantled railway line which takes you to the finish point at Princes Risborough rail. View Full Details>>
Phoenix Trail
7 miles (11 km)
This is a lovely short flat ride running from Thame to Princes Risborough.
The route is largely off road and takes you along a safe tranquil path with splendid views of the Chilterns in the distance. As such it's a good one for anyone looking for a family cycle ride or an easy walk. View Full Details>>
Rushmere Country Park
3 miles (5.5 km)
Explore 400 acres of lakes, ancient woodland conifer plantations, meadows and heath in this country park in Leighton Buzzard. View Full Details>>
Stowe Park
3 miles (5 km)
Explore 250 acres of stunning parks and gardens at this major Buckingham attraction. The gardens include beautiful lakes, several historic temples and monuments and many resident deer. Highlights on the route include the Grecian Valley, the Gothic Temple, the Temple of Friendship and the Palladian bridge.
The park is also open to cyclists though the route mapped out below is specifically for walkers. The cycle route is fairly flat and great for families.
If you'd like to continue your walk you could pick up the Ouse Valley Way long distance walk which runs past the park. View Full Details>>
The Ridgeway
43 miles (69 km)
This is the cycle friendly opening 43 miles of The Ridgeway - one of the UK's National Trails.
This section runs from Overton Hill, near Avebury in Wiltshire, to Streatley, in Berkshire, on the River Thames. The path passes through some lovely scenery including rolling downland and the woods and valleys of the Chilterns. Highlights on the route includes Wayland's Smithy - a Neolithic long barrow and chamber tomb, and the Uffington White Horse in the Berkshire Downs. View Full Details>>
The Three Shires Way
37 miles (60 km)
The Three Shires Way is a long distance bridleway which runs between Tathall End in north-east Buckinghamshire and Grafham Water in Cambridgeshire. The shared cycling and walking route traces the outline of ancient trackways and passes through a beautiful rural landscape. Along the way it skirts several small, historic villages, meanders through remnants of ancient woodland, and has many spectacular views.
The route is (sometimes) signposted with the Three Shires Way logo and officially runs for 37 miles, though it's nearer 39 miles long if starting/finishing at the Grafham Water Car Park. I'd recommend cycling north to south (unless faced by a strong south or south-west wind), hence : Start at Grafham Water Car Park, Cambs : TL166680 Finish at Tathall End, Milton Keynes : SP820468 A circular route around Grafham Water is also available, which extends the total distance to almost 47 miles. It passes through Easton, Spaldwick, Covington, Shelton, Yielden, Knotting, Lavendon and Emberton before arriving at Tathall End. It is generally a quiet rural route, much of it on clay and very muddy at certain times of the year. Some parts are classified as a 'Byway Open to All Traffic' or a 'Road Used as a Public Path' (generally open April to October), and are therefore legally accessible by motor vehicles. These tracks can be very rutted indeed; a notable example is Forty Foot Lane. Beware!
Note : Mapped on the 1:25,000 series Submitted by:Mark Worthington November 2008 View Full Details>>
Waddesdon Greenway
2 miles (4 km)
This shared cycling and walking trail links Aylesbury Vale Parkway Station with the village of Waddesdon and Waddesdon Manor. View Full Details>>
Wendover Woods
4 miles (7 km)
Enjoy miles of great cycling and walking trails in this large forest in Buckinghamshire. The cycle trail is a moderate 5 mile route on waymarked surfaced tracks. It has some steep sections but is generally suitable for all abilities/families.
For walkers there are several waymarked trails including a lovely easy access trail for all abilities. On the way you can see sculptures, deciduous trees, evergreen trees and many woodland flowers. There are also splendid views of the surrounding Chilterns countryside.
Other attractions in the woods include a splendid cafe and a Go Ape forest adventure with Zip Wires, Tarzan Swings and a variety of Crossings. For children there is a fun Superworm trail from the creators of the Gruffalo. The woods also include the highest point in the Chilterns at Haddington Hill.
If you'd like to continue your outing then several long distance trails run past the forest. You could pick up the Icknield Way Path, the Chiltern Link or The Ridgeway or head to the nearby Grand Union Canal and pick up the Wendover Canal Arm to visit Weston Turville Reservoir .
The woods are located near Aylesbury and Tring. Heading north east along the Ridgeway will take you into Tring via the lovely Tring Park. View Full Details>>
Westbury Circular Ride
12 miles (19 km)
This is a circular walk or cycle ride around Westbury in Buckinghamshire. View Full Details>>
Willen Lake
2 miles (4 km)
Willen Lake is Milton Keynes most popular park with a super waterside cycling and walking path to enjoy. The easy circular trail runs for a distance of about 2.6 miles around the perimeter of the lake. There's also pedalos, mini-golf and a cafe at the site.
If you would like to continue your outing you could pick up the nearby Grand Union Canal Walk or the Hanslope Circular Ride. Just to the north west you will find Linford Lakes-a lovely nature reserve in Milton Keynes with a number of pretty lakes and ponds.
If you head a couple of miles south along the Grand Union Canal you'll some come to Caldecotte Lake where you can enjoy more waterside walking and cycling. View Full Details>>