Buckinghamshire Walks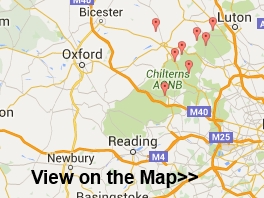 Explore Buckinghamshire with its canals, reservoirs and rolling Chiltern Hills.
Popular towns and villages include Amersham, Great Missenden and Marlow.
Use the filter to show walks of a certain type such as woods, reservoirs, hills, long distance, country parks, canals and rivers.
In the spring walkers flock to the beautiful bluebell woods in the Buckinghamshire area. Click the 'Woodland' button below to see these.
Use the links to view full route information including elevation profiles, interactive maps and GPS downloads.
You can also view an overview map of all the routes in the using the Buckinghamshire Walk Map>>
Route Name
Distance
Description
Amersham Circular Walk
9 miles (14 km)
This circular walk around the market town of Amersham visits the nearby village of Chalfont St Giles while exploring the attractive countryside of the Misbourne valley. There's riverside paths, woodland trails and a series of moderate hill climbs with splendid views of the Chilterns countryside.
The walk starts near the train station and passes through Parsonage Wood before heading east towards Little Chalfont. You then skirt the edge of Pollards Wood and continue into Chalfont St Giles. It's a pretty village with a duck pond fed by the River Misbourne. Other highlights include the church of Saint Giles which is of Norman architecture and dates from the 12th century. You can also visit the former home of John Milton, author of the epic poem 'Paradise Lost'. The house is now a open to the public as a museum and includes an extensive collection of 17th-century first editions of John Milton's works, both poetry and prose.
The village is roughly the half way point on the walk so a great place to stop for refreshments on one of the nice pubs or cafes.
After exploring the village the route then follows footpaths through the attractive farmland to the south of the river. You'll pass close to the pretty Hodgemoor Woods which is worth a short detour if you have time. The 250 acre bluebell wood has miles of good footpaths and mountain bike trails. The woods also have a healthy population of muntjac deer to look out for.
The South Bucks Way long distance trail runs through the area. You can use the waymarked path to go directly to Chalfont St Giles if you prefer a shorter walk. The path continues south through Chalfont St Peter before coming to the splendid Colne Valley.
Just to the north of the town you can pick up the Chess Valley Walk and enjoy a riverside stroll along the River Chess. View Full Details>>
Ascott House
2 miles (2.5 km)
This National Trust owned estate is the countryside residence of the Rothschild family. The 16th century manor house is surrounded by over 200 acres of parkland and 30 acres of beautiful formal gardens. View Full Details>>
Ashridge Boundary Trail
16 miles (26 km)
This walk takes you on a tour of the National Trust owned Ashridge Estate in the Chiltern Hills. The estate consists of 5,000 acres of woodlands, commons and chalk downland which supports a rich variety of wildlife.
The walk starts at the Ashridge Estate Visitor Centre next to the Bridgewater Monument, erected in 1832 to the Duke of Bridgewater. You can climb the monument for fabulous panoramic views of the estate before starting the circular tour of the beautiful grounds.
Highlights on the walk include the Golden Valley to the north-east of Little Gaddesden and Ashridge House which was created by famous landscape gardener Capability Brown in the 18th century. You will also visit Ivinghoe Beacon, with its splendid views of the Vale of Aylesbury, Berkhamsted Common and Dunstable Downs. Another highlight of the walk is the popular Dockey Wood. View Full Details>>
Aston Rowant Nature Reserve
5 miles (8.5 km)
Enjoy a circular walk around this wonderful nature reserve in the Chilterns and climb Beacon Hill on the way. The reserve is a splendid place for walking with miles of good paths taking you through woodland, chalk grassland and some lovely Chilterns countryside. It's a wonderful place for flora and fauna with flowers such as orchids, the Chiltern gentian and various wildflowers. The attractive mixed woodland includes beech, yew, and juniper. As for wildlife look out for Red Kites soaring above and butterflies such as the silver-spotted skipper and the Adonis blue. You may also see Dartmoor Ponies, Roe deer, feral goats and buzzards.
This walk starts in the good sized Cowleaze Wood car park and takes you through pretty bluebell woods before reaching Beacon Hill where you can enjoy wonderful views of the reserve and Chiltern Hills. The route then descends on the Ridgeway, before passing Bald Hill and returning to the car park.
If you'd like to continue your walking in this lovely area then you could head to the nearby Christmas Common and Watlington Hill where there is more beautiful flora and fauna. View Full Details>>
Aylesbury Canal
6 miles (10 km)
This waterside walk takes you along the Aylesbury Arm of the Grand Union Canal. The arm runs for about 6 miles from Aylesbury to Marsworth. You can start off from the centre of town near the train station or there is a parking area on the outskirts next to the canal. You then head east along the towpath to the village of Marsworth. Along the way there are pretty locks, stone bridges over the water and some nice views of the surrounding Bucks countryside to enjoy. Near the end of the walk you'll pass the lovely Tring Reservoirs. If you have time it is well worth following the footpaths around the four reservoirs which include Startops End, Marsworth, Tringford and Wilstone reservoir. Look out for birds such as grebes and bitterns on the water.
Just before Wilstone you will pass the Aylesbury Ring long distance footpath which crosses the canal. You can pick this up to explore the Buckinghamshire countryside around Long Marston and Buckland.
At Marsworth you have the option of continuing along the Grand Union Canal. Heading north will take you towards Cheddington, while heading south east will take you past Tring towards Berkhamsted. View Full Details>>
Aylesbury Ring
31 miles (50 km)
This long circular walk takes you on a tour of the beautiful Aylesbury Vale in Buckinghamshire. It runs for just over 30 miles and includes several pretty villages, canal side walking and a visit to the National Trust's Waddesdon Manor.
The path starts and ends in Wendover first heading towards Great Kimble and then onto Dinton where you will find the impressive Dinton Hall. The route continues to Eythrope, crossing the River Thame and passing Eythrope Park and Eythrope Manor House. You continue through the countryside past Waddesdon, Hardwick, Long Marston and the Aylesbury Canal before joining the Wendover Canal Arm near Aston Clinton for the final waterside stretch back to Wendover. View Full Details>>
Beeches Way
16 miles (25 km)
Follow the Beeches Way through the Chilterns from the River Thames at Cookham to the Grand Union Canal at West Drayton.
You start off at Cookham and head east to the wooded Burnham Beeches Nature Reserve. The reserve covers over 500 acres with a network of great woodland trails. There's also ponds, grassland, heathland with wildlife which includes Exmoor Ponies. The walk then passes through Fulmer before a lovely stretch through Black Park Country Park and Langley Park Country Park. The final stretch takes you around the lakes in Colne Valley Regional Park before finishing on the Grand Union Canal at West Drayton. View Full Details>>
Berkhamsted Canal Walk
6 miles (10 km)
This walk takes you along the Grand Union Canal from Berkhamsted to Tring and then on to Mawsworth. It's a very pretty section of the canal with a series of locks and nice views over the Hertfordshire and Buckinghamshire countryside.
The walk starts in the town centre near the train station and the pretty Canal Fields park. You can then follow the towpath north west past Northchurch Common on the Ashridge Estate. The common has some nice woodland walking trails and feeds into the pretty Berkhamsted Common. You continue towards Tring where you will pass the lovely Tring Reservoirs. The reservoirs are a great place to extend your walk with a series of waterside footpaths and lots of birdlife to look out for on the water. After passing round Marsworth Reservoir the walk finishes in the village of Marsworth. Here the canal splits of in two directions. If you head west you can follow the Aylesbury Canal to Aylesbury. View Full Details>>
Bernwood Jubilee Way
61 miles (98 km)
Explore the Ancient Royal Forest of Bernwood on this circular walk devised to celebrate the Queen's Golden Jubilee. Bernwood Forest includes a mixture of woodland, pasture, meadow, heathland and picturesque villages. The walk is often started at Brill and heads to Boarstall, Buckingham, Waddesdon, Nether Winchendon, Quainton and Thame.
Highlights on the path include the National Trust owned Boarstall Tower. The attraction includes a 14th-century moated gatehouse and beautiful gardens.
Near Oxford you will pass through Bernwood Forest itself. This peaceful area of woodland has a nice butterfly trail where you can look out for 40 different species of butterfly.
Also of interest is Nether Winchendon House. This medieval Manor House is situated in a beautiful valley at the foot of the Chilterns and includes a 12th century Great Hall and a 16th century Dining Room.
The walk also passes the beautiful Waddesdon Manor. View Full Details>>
Black Park Country Park
4 miles (7 km)
With over 10 miles of well signed cycling and walking tracks, Black Park is the ideal place for a great day out in the country. Set in 535 acres of woodland and heathland, you will find lakes, picnic areas, cafes and a Go Ape Tree top adventure course. The park is located in Wexham, just a few miles east of Slough.
The route below begins at the car park next to the lake and takes you to the famous Pinewood studios where many blockbuster films have been produced. You continue through the park to Upton Wood where you will circle the lake before returning to the finish point back at the car park.
The route is suitable for both cyclists and walkers but for cyclists there is also the Beeches cycleway. This 12 mile, signposted route joins Black Park, Stoke Common, Burnham Beeches and Dorney Lake allowing you to extend your ride if you wish. For walkers you may also like to try the Beeches way walk which passes through Black Park. Also of interest is the nearby Langley Park Country Park which lies just to the south of Black Park. View Full Details>>
Bletchley Park
1 miles (1.6 km)
This walk explores the fascinating Bletchley Park estate in the Buckinghamshire town of Bletchley. View Full Details>>
Bradenham Woods
2 miles (3.5 km)
This circular walk explores the woodland and countryside surrounding the pretty village of Bradenham in the Chilterns. The area is run by the National Trust so there are good, waymarked footpaths and facilties.
The walk starts in the car park in Bradenham. It's a typically lovely English village with pretty cottages, a village green, village pond and a cricket pitch. You will pass Bradenham Manor House and the fascinating St Botolph church which has sections dating from the 14th century. The footpath then gently climbs away from the village with wonderful views over the Chilterns. You then pick up woodland trails through the deciduous woodland of Park Wood. The wood is in an elevated position above the village so there are nice views back towards Bradenham, including the Manor House and the Church. After leaving the wood you descend back towards the village and the finish point at the car park.
If you are coming by train then Saunderton train station is only about a mile from the village.
If you would like to extend your walking in the area then both Hughenden Park and West Wycombe Park are great options. You could also explore Naphill Common which has many woodland footpaths. Our longer circular walk from High Wycombe visits the common, Hughenden Park and Downley Common. View Full Details>>
Brill Tramway Trail
6 miles (10 km)
This short circular walk follows the bed of the Brill tramway, through Quainton, Westcott and Waddesdon.
You start at Quainton and follow the path to the Buckingham Railway Centre where you will find a working steam museum set in a 25 acre site. The walk then continues through Westcott to the exquisite Waddesdon Manor. View Full Details>>
Buckingham
6 miles (9.7 km)
This interesting market town is located in north Buckinghamshire, near to the borders of Northamptonshire and Oxfordshire. It's surrounded by some lovely countryside with other highlights including the River Great Ouse, the Grand Union Canal and the magnificent Stowe Park.
This circular walk from the town takes you to the beautiful Stowe Park, just to the north east. The walk starts in the town centre where you can pick up footpaths running north through the countryside toward Chackmore. Shortly after you come to Stowe where you can follow public footpaths around the perimeter of the site. On the way there are nice views across the historic parkland and woodland. For a fee you can access all of the grounds which are run by the National Trust. There are stunning gardens to see with other highlights including the Grecian Valley, the Gothic Temple, the Temple of Friendship and the Palladian bridge.
On the western side of the park you'll cross the picturesque Oxford Water on an old bridge before returning to the town on Stowe Avenue. View Full Details>>
Burnham Beeches
2 miles (2.5 km)
This hugely popular National Nature Reserve and woods has miles of good walking trails to try. The area consists mostly of beech woodland with lots of peaceful footpaths to follow. There's also ponds, streams, grassland and heathland with over 500 acres to explore. View Full Details>>
Caldecotte Lake
2 miles (2.5 km)
Enjoy and easy cycle or walk around this pretty lake in Milton Keynes. A lovely waterside path runs around the perimeter of the lake so it's perfect for families. There's a free trim trail with outdoor gym equipment and a table tennis table. There is also an excellent pub called the Caldecotte Arms where you can pick up a bite to eat. Walton Park and lake are right next to Caldecotte Lake so you can easily extend your outing there.
The site includes two bird hides where you can look out for a variety of birds on the water. Waterfowl, dragonflies and damselflies are regular visitors to the lake.
Caldecotte is located on the Grand Union Canal - you could pick this up and head a couple of miles north to the super Willen Lake where you will find more waterside walking and cycling. View Full Details>>
Chess Valley Walk
10 miles (16 km)
Follow the River Chess through the Chess Valley on this delightful trail through Buckinghamshire and Hertfordshire. The popular route runs for a duration of just under 10 miles along a fairly flat, waymarked footpath.
You start at Chesham Station passing Latimer, Chenies and Loudwater before finishing at Rickmansworth Station. This is a nice easy waterside walk with plenty of attractive countryside and a series of quiet little villages to enjoy. It is also easily accessible with train stations at either end. Route highlights include the Grade I listed Chenies Manor House with its beautiful gardens and the splendid grounds of the Chorleywood House Estate near Loudwater. At Latimer you will also pass the impressive Latimer House, a red brick Tudor style mansion, which was designed by Edward Blore, and completed in 1838. View Full Details>>
Chiltern Heritage Trail
51 miles (82 km)
Travel through the Chilterns Hills on this splendid circular walk and visit numerous delightful hamlets, villages and towns in Buckinghamshire. The trail passes through several woods with bridleways suitable for cycling as well as walking.
The walk begins at Chesham and passes Amersham, Chenies, Chorleywood, Chalfont St Peter, Chalfont St Giles, Great Missenden and Little Missenden.
Highlights on the walk include the splendid Chenies Manor House and Gardens. Located in the village of Chenies the estate is highly recommended with its enchanting Tudor Manor House and award winning gardens.
Near Chalfont St Peter you will find the fascinating Chiltern Open Air Museum. The museum rescues and restores common English buildings from the Chilterns and relocates them to its 45-acre site, which includes woodland and parkland.
At Chalfont St Giles you will find John Milton's cottage where the famous poet completed Paradise Lost. Now a musuem it houses an extensive collection of his works and also includes a Grade II Registered Historic Garden.
Also of interest is the 13th century St Mary's Church and the award winning Amersham Musuem. As well as the sequence of interesting historical attractions there is some beautiful countryside and a long waterside stretch along the River Chess from Chesham to Chenies to enjoy. View Full Details>>
Chiltern Link
8 miles (13 km)
Travel through the beautiful Chiltern Hills on this path which links the Chess Valley Walk and the Ridgeway National Trail. The route runs for 8 miles between Wendover and Chesham passing through some really splendid countryside and the lovely Wendover Woods. View Full Details>>
Chiltern Way
124 miles (200 km)
This is the original 125 mile circuit of the Chilterns AONB taking you through Hemel Hempstead, Chalfont St Giles, Marlow, Hambleden, Turville, Fingest, Bix Bottom, Ewelme, the Ridgeway, Stokenchurch, Great Hampden, Aldbury, the Dunstable Downs Country Park, Sharpenhoe Clappers and Harpenden. The main attractions on the route are the series of delightful villages with their ancient churches, pretty village greens and fascinating museums. The Chilterns countryside is also beautiful with rivers, canals and the rolling hills to enjoy. View Full Details>>
Chiltern Way Berkshire Loop
28 miles (45 km)
This walk runs from the outskirts of High Wycombe to Crowsley Park, near Henley on Thames. The route includes several long sections along the River Thames where you will pass a series of delightful riverside towns and villages. These include Cookham and then Henley-on-Thames, home to the famous annual regatta. View Full Details>>
Christmas Common and Watlington Hill
4 miles (6 km)
This circular walk takes you around the lovely area of Christmas Common in the Chilterns.
The walk starts from the decent sized car park on Hill Road and takes you to Watlington Hill. Here you will find nice woodland paths and an abundance of wildlife. Red Kites are often seen gliding above while the hill is one of the last sanctuaries of the extremely rare silver spotted skipper butterfly. Also look out for rabbits on the attractive chalk grassland and redwings and fieldfares above. The hill commands great views of the Chilterns and the Oxfordshire Plain.
This walk makes use of the Swan's Way and the Oxfordshire Way to take you through some of the countryside and woodland surrounding Watlington Hill and the little village of Christmas Common. There is a nice pub in the village where you can enjoy refreshments at the end of the walk. View Full Details>>
Claude Duval Bridleroute
63 miles (102 km)
This shared walking and cycle path runs from Quainton, near Aylesbury in Oxfordshire to Great Barrington in the Cotswolds.
This route is named after the well-known local highwayman, Claude Duval. It starts at Quainton and passes Stratton Audley, Bicester and Bucknell before crossing the Oxford Canal near Woodstock. The route then heads towards Chipping Norton and then Spelsbury where you join the River Evenlode for a short waterside stretch to Ascott d'Oyley. You then head onto Great Barrington via Fifield. View Full Details>>
Claydon House
4 miles (6 km)
This circular walk takes you through the countryside surrounding Claydon House in Middle Claydon, near Buckingham. The magnificent 18th-century house is surrounded by a lovely estate with lakes, and wonderful views of the surrounding Buckinghamshire countryside.
This walk starts at Claydon house and follows countryside footpaths to Steeple Claydon, returning through the farmland to the west of the house.
The North Bucks Way long distance walk passes Claydon House so you could pick this up to extend your walking in the area. View Full Details>>
Cliveden House
2 miles (3 km)
Explore the stunning gardens and woodlands surrounding this Italianate mansion near Maidenhead. The grounds include several beautifully laid out gardens. The Rose Garden with red, orange and yellow flowers, the oriental water garden with Chinese pagoda and the Long Garden with stunning floral displays and topiary. There are also miles of woodland paths with stunning views back to the gardens and over the surrounding Berkshire countryside. Look out for elephant, bear and tiger wood carvings as you go. The grounds also extend down to the River Thames so there is the opportunity for some waterside walking too.
Other highlights include the recently restored maze, a number of exquisite temples, pavilions and follies, and the Fountain of Love located the end of the lime tree avenue which runs up to the house.
The house itself is now a luxury hotel but tours are available for the general public. The house has been home to an earl, three countesses, two dukes, a Prince of Wales and the Viscounts Astor. During the 1960s, it became the setting for key events of the notorious Profumo Affair.
The Thames Path and the Shakespeare's Way walking routes run past Cliveden. Both of these are good options if you would like to continue your walk.
You could also head west to Bisham Woods where there are miles of good walking trails and mountain bike tracks to try.
The Beeches Way runs past the northern edge of Cliveden. If you pick this up and head east you will soon come to the splendid Burnham Beeches Nature Reserve. The popular site covers over 500 acres with a network of woodland trails. There's also ponds, grassland, heathland with wildlife including Exmoor Ponies. View Full Details>>
Coombe Hill
5 miles (8 km)
Climb to the 260 m (850 ft) summit of this lovely hill in the Chilterns. Coombe Hill is the highest viewpoint in the Chiltern Hills and commands wonderful views over Aylesbury Vale and the Cotswolds.
This circular walk starts in Wendover, near the train station, and follows the Ridgeway long distance trail to the summit. It's a nice, grassy footpath taking you over the delightful Bacombe Hill. There's a series of nice woodland paths and the area is also a nature reserve so look out for pretty wildflowers and over 20 species of butterfly. The summit is a special place with the iconic Coombe Hill Monument. It was erected in 1904 in memory of 148 men from Buckinghamshire who died during the Second Boer War. As well as the great views over the Chilterns AONB you can also see Chequers, the country home of the Prime Minister from the summit.
From the summit you descend on more nice woodland paths to Dunsmore and then back into Wendover.
You could also visit the hill from the south by climbing from nearby Princes Risborough along the Ridgeway. Our walk starts from the town's train station and visits the attractive nature reserves at Pulpit Hill and Whiteleaf Hill on the way.
To extend your walking in the area you can pick up the Wendover Canal Arm of the Grand Union Canal. It starts in the town and heads to the nearby Weston Turville Reservoir, Tring Reservoirs and Bulbourne.
Also of interest is Wendover Woods where there's miles of good walking and cycling trails to be found. In the woods you can also enjoy a climb to the summit of Haddington Hill, the highest point in the Chilterns. View Full Details>>
Cross Bucks Way
24 miles (38 km)
Travel from Stratton Audley in Buckinghamshire to Linslade, near Leighton Buzzard along the Cross Bucks Way. View Full Details>>
Denham Country Park
4 miles (7 km)
Enjoy waterside walking in this delightful park in Uxbridge. The rivers Colne and Misbourne and the Grand Union Canal pass through the park. There is a variety of wildlife, including herons, kingfishers and dragonflies. View Full Details>>
Dockey Wood
2 miles (3 km)
This delightful little bluebell wood is part of the wider Ashridge Estate in the Chilterns. The wood is very popular in the spring months as it is covered in carpets of bluebells. Please stick to the paths marked by the National Trust when you visit the site.
You can park at the car park on Beacon Road which gives access to the wood. Then extend your walk by following the public footpaths running to Ward's Hurst Farm, the Ringshall Coppice and Ivinghoe Common.
You can further extend your walk by picking up the long distance Ashridge Boundary Trail and exploring 5,000 acres of woodlands, commons and chalk downland. View Full Details>>
Dorney Lake
4 miles (6 km)
This purpose-built rowing lake in Buckinghamshire has a traffic free National Cycle Network trail running past it on one side and the Thames Path on the other. As such you can make a circular walking trail using these two trails or a linear ride from Eton Wick to Dorney Reach if you are on your bike. The lake was used as the rowing venue for the 2012 Olympics in London.
It's a lovely area with the riverside path and views across the lake to enjoy. There's also 450 acres of parkland including an Arboretum and Nature Conservation area. Look out for water loving birdlife including the grey heron.
You can park at the north western end of the lake just off Court Lane to start your walk. Alternatively you could catch the train to Windsor and then follow the Thames Path to the lake. It's about 1.5 mile walk passing Eton, Eton Wick and Dorney Common. A National Cycle Network Path also runs from the train station to the site.
If you would like to extend your exercise then you could visit the nearby Windsor Great Park. The park has miles of cycling and walking trails with woodland, parkland and lakes to enjoy. You could also continue along the Thames Path to Maidenhead which is only a couple of miles to the north.
The Jubilee River also runs past Dorney. This river has a great waterside cycling and walking trail running from Maidenhead to Eton. View Full Details>>
Emberton Country Park
3 miles (5 km)
Enjoy 200 acres of parkland and lakes in Milton Keynes on this short circular walk. Emberton contains over 5km of paths and trails winding their way around 5 lakes, through wooded glades and meadows. The route below begins at the village of Emberton and takes you around Grebe Lake and Heron Water in the park.
The park contains a visitor information centre, picnic areas and a number of bird hides where you can spot the wide variety of water loving birdlife that vists the park. View Full Details>>
Furzton Lake
1 miles (2 km)
Enjoy a short cycle or walk around this pretty lake in Milton Keynes. View Full Details>>
Grafton Way
13 miles (21 km)
Follow the Grafton Way from Wolverton, Milton Keynes to Greens Norton in Northamptonshire. The walk starts following the Grand Union Canal to Cosgrove before heading into the countryside and passing the villages of Yardley Gobion, Paulerspury and Towcester. View Full Details>>
Grand Union Canal Walk
145 miles (234 km)
Follow the towpath of Britain's longest canal from London to Birmingham on this fabulous waterside walk. You start in West London in a lively and attractive area with canalside bars and restaurants, before heading towards the Chiltern Hills, on through rural Northamptonshire and Warwickshire and into the Birmingham suburbs. Highlights include: View Full Details>>
Great Missenden
5 miles (8 km)
Enjoy a circular walk around the village of Great Missenden in the Chilterns. The walk visits the pretty abbey gardens before climbing the surrounding hills for great views back down to the village and into the surrounding Chilterns countryside.
The walk starts in the village near to the train station and parking area. You then head south along a section of the South Bucks Way long distance trail. This will take you to Missenden Abbey where you can explore the pretty Abbey Park with its lake and views of the River Misbourne.
The walk then heads east into the hills surrounding the village. You'll pass Chalkdell Wood Nature Reserve before climbing towards Hyde End where there is some woodland and attractive farmland.
The route then turns north through South Heath and Ballinger Common. You descend to Frith Hill before returning to the village.
The walk links with the Chiltern Link near Ballinger Common so you could pick up this long distance trail to extend your walk. Heading east will take you through the countryside to Chesham where you can enjoy nice riverside walk along the River Chess.
Another good option is to follow the South Bucks Way north and link with the Icknield Way Path. You can then enjoy a climb to Coombe Hill for more great views over the area.
Also near Coombe Hill are miles of woodland trails in Wendover Woods and waterside walks along the Grand Union Canal.
The Chiltern Heritage Trail also passes through the village. View Full Details>>
Greensand Ridge Walk
40 miles (64 km)
A walk through Bedforshire, Buckinghamshire and Cambridgeshire from Leighton Buzzard to Gamlingay. The route follows a ridge of greensand which rises from the clay vales on either side.
You will pass through Woburn Park, Millbrook, Maulden Woods, Chicksands Wood, Ampthill Park and Sandy with some delightful countrsyside, woodland trails and fabulous views to enjoy. View Full Details>>
Haddington Hill
3 miles (4.5 km)
Enjoy a climb to the highest point in the county of Buckinghamshire on this circular walk in Wendover Woods.
There's a car park located very close to the hill summit from which you can start the walk. Follow the path east and you will soon reach the 267 m (876 ft) summit where you will find a rock marking the high point of the Chilterns. The rest of the route explores some of the footpaths to the south of the hill before returning to the car park.
The Icknield Way Path and The Ridgeway long distance trails both pass the hill. To continue your hill climbing in the Chilterns, follow the trails west to Coombe Hill. Here you can enjoy fabulous views over the Aylesbury Vale and the Cotswolds. View Full Details>>
Hanslope Circular Ride
20 miles (32 km)
A 20 mile circular cycle and walking route through open countryside in north Buckinghamshire. View Full Details>>
Hodgemoor Woods
2 miles (3 km)
These woods near the town of Amersham have some good footpaths and mountain bike trails to try.
You can start off at the car park on Bottrells Lane at the northern edge of the site. From here you can pick up miles of footpaths and bridleways across the 250-acre woods.
It's a delightful area with lots of pretty bluebells in the spring and a healthy population of Muntjac Deer to look out for. Also keep your eyes peeled for tawny owls, buzzards, kites and numerous other woodland birds.
This basic circular route is designed for walkers but cyclists can also enjoy a series of permissive trails and a bike park with bumps and jumps. See the video below for an idea of what you can expect from the ride. Click here for a map showing the trails and visit the website below to get a permit for cycling in the woods.
Our Amersham Circular Walk skirts the northern edge of the woods. You can pick it up to extend your walk and explore the countryside surrounding Amersham and the nearby village of Chalfont St Giles. The long distance South Bucks Way also passes just to the north of the woods. It's a great way to explore the Misbourne valley area of the Chilterns and extend your exercise. View Full Details>>
Hughenden Manor Park
2 miles (4 km)
The 1,500 acres of parkland surrounding the red brick Victorian mansion of Hughenden Manor is great for a short walk in lovely surroundings. There's woodland trails, pretty formal gardens and riverside paths to enjoy. The area is also surrounded by some beauitful Chilterns countryside.
The house and parkland is run by the National Trust so there are four good waymarked paths to try. There also beautiful formal gardens with an Italian influence, a walled garden, a willow maze and orchards.
Hughenden Manor was home to Prime Minister, Benjamin Disraeli during the 19th century. You can explore the house with its wonderful collection of personal memorabilia and Victorian playroom.
If you enjoy this walk then you could head to the nearby West Wycombe Park to extend your exercise. View Full Details>>
Icknield Way Path
110 miles (177 km)
The Icknield Way Path starts at Ivinghoe Beacon in Buckinghamshire and heads to Knettishall Heath in Suffolk along prehistoric pathways. There's fantastic views as you climb through the hills of the Chilterns AONB. There's also a series of lovely nature reserves and country parks to enjoy on the way.
Highlights on the walk include the Cam Valley views from Royston Heath, the lovely Dunstable Downs Country Park and the splendid Whipsnade Tree Cathedral. View Full Details>>
Ivinghoe Beacon
5 miles (8 km)
Climb to the top of this iconic hill in the Chilterns on this walk in Buckinghamshire. Ivinghoe Beacon stands at 233 m (757 ft) and commands fine views over the Chiltern Hills and the Vale of Aylesbury.
The walk starts from the car park next to Pitstone Windmill and makes use of the Icknield Way Path to take you to the summit. The Pitstone Windmill has been restored by the National trust and is well worth a visit before you begin your climb to Beacon Hill. On the way you'll pass through chalk grassland and woodland with a wide variety of wildlife to look out for. View Full Details>>
Jubilee River
6 miles (10 km)
Follow the Jubilee River path from Maidenhead to Eton and Slough on this waterside walk or cycle on the border of Berkshire and Buckinghamshire. It's a delightful, peaceful trail with the gentle river surrounded by attractive woodland and countryside. The river path follows National Cycle Route 61 for most of the way.
The route starts in Taplow and heads south past Taplow Lake. The 30 acre lake is popular with swimmers and wakeboarders.
You continue through Dorney, passing Dorney Common and the 15th century Tudor manor house of Dorney Court. The route then heads east passing the pretty village of Eton Wick before finishing in the fields just north of Eton and Windsor. Here you can pick up the Thames Path to extend your walk. The river also passes Dorney Lake where there is a nice surfaced cycling and walking trail with views across the Olympic lake. View Full Details>>
Langley Park Country Park
2 miles (4 km)
Langley Park has a variety of beautiful trails suitable for cycling and walking. The park contains 154 acres of free access parkland, 360 acres of farmland, delightful Edwardian rhododendron gardens (with views to Windsor Castle) and an Arboretum with a fine collection of specimen trees and a beautiful ornamental pond. There are also excellent facilities with a tea room overlooking the Edwardian gardens and designated picnic areas. Cycling is permitted, except in the Temple Gardens and the Arboretum. Cycle racks are located next to the tea room.
For cyclists there is also the Beeches Way Cycleway. This 12 mile, signposted route joins Black Park, Stoke Common, Burnham Beeches and Dorney Lake allowing you to extend your ride if you wish. For walkers you may also like to try the Beeches Way Walk which passes through Black Park Country Park. View Full Details>>
Linford Lakes
4 miles (6 km)
Enjoy a cycle or walk via country lanes around the pretty Linford Lakes area in the Ouse Valley, Milton Keynes. The route follows a section of the Hanslope Circular Ride, a cycle and walking route around Milton Keynes. The route takes you around the outside of the Linford Lakes Nature Reserve, which requires a permit for access and no cycles are allowed in the reserve. The nature reserve has a large lake, meadows, woodland and a complex of ponds. From the observation hides in the reserve you can look out for many species of bird, including waders breeding in the summer and winter visitors such as Smew and Great White Egret. Boardwalks take you through the complex of ponds, which teem with wildlife including many species of dragonfly. Permits to access the nature reserve, which must be obtained in advance, are available from http://www.theparkstrust.com/parks/linford-lakes-permit. Permit holders are welcome to cycle to the nature reserve - bicycles may be locked-up at the Study Centre situated at the reserve entrance.
The route also follows a section of the Grand Union Canal and passes nearby to the historic Great Linford Manor Park.
If you would like to continue your exercise you could enjoy more waterside walking along the Grand Union Canal or head to the nearby Willen Lake. View Full Details>>
London Loop
149 miles (240 km)
Also known as the London Outer Orbital Path, this walk takes you on a tour of the parks, woods and fields around the edge of Outer London. You start at Erith, on the River Thames and pass through Crayford, Orpington, Petts Wood, Coulsdon, Kingston upon Thames, Uxbridge, Elstree, Cockfosters, Chingford, Epping Forest, Upminster and Rainham Marshes RSPB before finishing back on the River Thames at Purfleet, opposite Erith.
The walk has been divided into 24 manageable sections as follows:
Erith
Old Bexley
Petts Wood
West Wickham Common
Hamsey Green
Coulsdon South
Banstead Downs
Ewell
Kingston Bridge
Hatton Cross
Hayes
Uxbridge
Harefield
Moor Park
Hatch End
Elstree
Cockfosters
Enfield Lock
Chingford
Chigwell
Havering-atte-Bower
Harold Wood
Upminster Bridge
Rainham

On the way you'll also pass numerous parks, common land and open spaces such as High Elms Country Park in Orpington, Hayes Common, Stanmore Common, Harrow Weald Common and Nonsuch Park. The walk is waymarked with a disc featuring a kestrel. View Full Details>>
Marlow
4 miles (7 km)
The riverside town of Marlow is a lovely spot for walking. With the Thames path and some lovely countryside and woodland there's lots of good options for walkers. View Full Details>>
Midshires Way
225 miles (362 km)
This route follows public bridleways and quiet country lanes through Middle England, from Bledlow, near Aylesbury in Buckinghamshire, to Stockport in Greater Manchester. The path links The Ridgeway National Trail with the Trans Pennine Trail passing through the countryside of Buckinghamshire, Northamptonshire, Leicesteshire, Nottinghamshire and the Derbyshire Peak District National Park.
Highlights include waterside sections along the Grand Union Canal, the Peak Forest Canal and the River Ouse. There is a splendid wooded section through Salcey Forest near Northampton where you could try the Tree Top Trail. View Full Details>>
Milton Keynes
8 miles (12.3 km)
This long circular walk around Milton Keynes takes visits Caldecotte Lake, the River Ouzel, the Grand Union Canal, and Willen Lake. View Full Details>>
Milton Keynes Boundary Walk
63 miles (101 km)
Enjoy rivers, canals, woodland and beautiful countryside on this walk around the boundary of Milton Keynes.
There's nice views of the Grand Union Canal, the Great Ouse river and the countryside of Bedfordshire, Buckinghamshire and Northamptonshire. View Full Details>>
North Bucks Way
33 miles (53 km)
This long distance walk through Buckinghamshire visits a number of pretty villages and takes you though the beautiful countryside of the Vale of Aylesbury. The walk is well signed and waymarked with a Bucks swan logo.
The walk starts near Princes Risborough at the pretty Pulpit Hill Nature Reserve in the Chilterns Area of Outstanding Natural Beauty. The walk then heads to Great Kimble and Upper Hartwell where you will find the National Trust owned Hartwell House. There are 90 acres of landscaped parkland to enjoy and a Grade I listed house where Louis XVIII, exiled King of France, lived for five years. Shortly after passing Hartwell you will come to Eythrope Park where you will cross a bridge and weir. The park was created for Alice de Rothschild as the grounds for her 19th century house, the Pavilion.
After crossing the River Thame at Eythrope you continue to Waddesdon where you will find Waddesdon Manor. This exquisite French Renaissance-style chateau is surrounded by beautiful parkland and gardens.
After passing through Waddesdon village you continue north to Quainton. Here there is an impressive windmill built in 1830 and a climb to Quainton Hill where there are splendid views of the surrounding countryside.  The route then descends to East Claydon where you will find the 18th century Claydon House. Run by the National Trust the fine house has lavish interiors and an estate with delightful parkland and lakes.
You continue north to Addington and then on to Great Horwood, where there is a nice mixture of heath common and woodland.
The final section takes you through the countryside to the west of Milton Keynes, passing Whaddon and Oakhill Wood before finishing in Wolverton by the Grand Union Canal. View Full Details>>
Olney
4 miles (6.5 km)
This circular walk takes you around the popular market town of Olney near Milton Keynes in Buckinghamshire. Along the way there's a riverside stretch along the River Great Ouse, nice countryside views and a visit to the pretty lakes in Emberton Country Park. View Full Details>>
Ouse Valley Way
142 miles (229 km)
Follow the River Great Ouse from the source at Brackley, Northamptonshire, to the mouth at The Wash at King's Lynn. You begin at Brackley and head to Buckingham, Milton Keynes, Olney, Bedford, St Neots, Huntingdon, St Ives, Ely, Downham Market before finishing at King's Lynn. View Full Details>>
Palladian Way
118 miles (190 km)
Walk from Buckingham to Bath through the beautiful countryside of Buckinghamshire, Gloucestershire, Oxfordshire and Wiltshire on this trail named after Andre Palladio's Italian architecture.
The walk runs from Buckingham to Brackley, Woodstock, Burford, Cirecncester, Malmesbury and then Bath.
You can enjoy waterside sections along the Oxford Canal near Kirtlington and along the River Windrush between Woodstock and Burford. There is also a section through the beautiful Cotswolds countryside around Burford.
Other route highlights include the National Trust Owned Stowe Park, and the magnificent Blenheim Palace - birthplace of Winston Churchill . View Full Details>>
Ridgeway Link
7 miles (12 km)
This is a walking path which runs from the Chilterns Gateway Visitor Centre near Dunstable to the Ridgeway National Trail at Ivinghoe Beacon.
There are splendid views of the surrounding area at the start before heading through Dunstable Downs, Whipsnade and Dagnall. View Full Details>>
Rushmere Country Park
3 miles (5.5 km)
Explore 400 acres of lakes, ancient woodland conifer plantations, meadows and heath in this country park in Leighton Buzzard. View Full Details>>
Shakespeare's Way
146 miles (235 km)
This walk follows a route that Shakespeare may have taken when travelling between Stratford-upon-Avon and London. The path passes through the Chilterns, Oxford, Blenheim Park, the Cotswolds, the valley of the River Stour and the Thames Valley making for a beautiful and varied walk. There are lovely waterside stretches along the Oxford Canal and the River Thames into London.
The walk is waymarked with a logo of Shakespeare's head. View Full Details>>
South Bucks Way
23 miles (37 km)
The South Bucks Way runs from Coombe Hill near Wendover to Denham near Uxbridge for a distance of approximately 23 miles.
You begin at the top of Coombe Hill with splendid views of the surrounding countryside and descend towards Great Missenden where you will pass the Abbey and join the River Misbourne. View Full Details>>
Stowe Park
3 miles (5 km)
Explore 250 acres of stunning parks and gardens at this major Buckingham attraction. The gardens include beautiful lakes, several historic temples and monuments and many resident deer. Highlights on the route include the Grecian Valley, the Gothic Temple, the Temple of Friendship and the Palladian bridge.
The park is also open to cyclists though the route mapped out below is specifically for walkers. The cycle route is fairly flat and great for families.
If you'd like to continue your walk you could pick up the Ouse Valley Way long distance walk which runs past the park. View Full Details>>
Sudeley Castle
3 miles (5 km)
Explore the award-winning gardens and beautiful 1,200 acre estate surrounding this 15th century castle near Winchcombe in the Cotswolds. View Full Details>>
Thame Valley Walk
15 miles (24 km)
Follow the River Thame from Albury in Oxfordshire to Aylesbury in Buckinghamshire on this pleasant waterside walk. The route runs for a distance of about 15 miles on fairly flat paths so could be completed in a day by walkers with a good level of fitness.
The walk passes Shabbington, Long Crendon, Chearsley, the 12th century Notley Abbey and Nether Winchendon.
The Thame Valley is home to an abundance of wildlife including reed warblers, cuckoos, damselflies and butterflies. Plant life and woodland also thrives making for a interesting walk for the naturalist.
Highlights on the path include the 15th century Nether Winchendon house, the attractive market town of Thame and the 15th century church of St Mary at Long Crendon. View Full Details>>
The Swan's Way
65 miles (105 km)
The Swan's Way long distance bridleroute runs from Salcey Forest in the north to Goring on Thames in the south, a distance of 65 miles (105km). From the Northants border, the route crosses the Vale of Aylesbury to meet the Ridgeway near Princes Risborough and then follows the chalk slopes of the Chilterns to the Thames at Goring. View Full Details>>
The Three Shires Way
37 miles (60 km)
The Three Shires Way is a long distance bridleway which runs between Tathall End in north-east Buckinghamshire and Grafham Water in Cambridgeshire. The shared cycling and walking route traces the outline of ancient trackways and passes through a beautiful rural landscape. Along the way it skirts several small, historic villages, meanders through remnants of ancient woodland, and has many spectacular views.
The route is (sometimes) signposted with the Three Shires Way logo and officially runs for 37 miles, though it's nearer 39 miles long if starting/finishing at the Grafham Water Car Park. I'd recommend cycling north to south (unless faced by a strong south or south-west wind), hence : Start at Grafham Water Car Park, Cambs : TL166680 Finish at Tathall End, Milton Keynes : SP820468 A circular route around Grafham Water is also available, which extends the total distance to almost 47 miles. It passes through Easton, Spaldwick, Covington, Shelton, Yielden, Knotting, Lavendon and Emberton before arriving at Tathall End. It is generally a quiet rural route, much of it on clay and very muddy at certain times of the year. Some parts are classified as a 'Byway Open to All Traffic' or a 'Road Used as a Public Path' (generally open April to October), and are therefore legally accessible by motor vehicles. These tracks can be very rutted indeed; a notable example is Forty Foot Lane. Beware!
Note : Mapped on the 1:25,000 series Submitted by:Mark Worthington November 2008 View Full Details>>
Tring Reservoirs
5 miles (8.5 km)
Enjoy a waterside walk around these pretty reservoirs in Hertfordshire. The four reservoirs include Startops End, Marsworth, Tringford and Wilstone Reservoir. They are fantastic for birdwatching with visitors including grebes, bitterns, peregrine falcon, pied flycatcher and ringed plovers.
This circular walk starts at the village of Marsworth and takes you around the reservoirs on a series of footpaths before returning along the Grand Union Canal. It's a nice easy walk with many waterside sections.
The walk can be extended by picking up the Aylesbury Ring or Grand Union Canal Walk which run through the area. You could head west along the Aylesbury Canal into Aylesbury which is about 6 miles from the reservoirs.
You could also pick up the Wendover Canal Arm and follow it south west into Wendover. View Full Details>>
Two Ridges Link
8 miles (13 km)
This lovely, easy walk links The Ridgeway National Trail and the Greensand Ridge Walk. View Full Details>>
Waddesdon Greenway
2 miles (4 km)
This shared cycling and walking trail links Aylesbury Vale Parkway Station with the village of Waddesdon and Waddesdon Manor. View Full Details>>
Waddesdon Manor
1 miles (2 km)
Explore the beautiful grounds surrounding this exquisite French Renaissance-style chateau near Aylesbury. Walking trails take you through woodland, Victorian style gardens, a parterre with ornate fountains and a working aviary with adjacent rose garden. There are also splendid views of the surrounding Oxfordshire countryside, the Chilterns Hills and the Vale of Aylesbury.
Built in the style of a French chateau between 1874 and 1889 for Baron Ferdinand de Rothschild the house is also well worth a visit. In the tour you will see grand rooms and over 15,000 works of art, including 18th-century portraits by British artists Reynolds, Gainsborough and Romney.
A number of walking trails run past the house including the Bernwood Jubilee Way, Aylesbury Ring, Midshires Way, and the Tramway Trail. These all offer great opportunities for exploring the Buckinghamshire countryside surrounding the park. View Full Details>>
Wendover Canal Arm
7 miles (11 km)
This easy walk follows the Wendover Arm of the Grand Union Canal from Wendover to Bulbourne. It's a pleasant stretch of canal, running for about 7 miles, with nice countryside views along the way .
The walk starts in the centre of Wendover, heading north towards Halton and passing the Weston Turville Reservoir on the way. You then turn north east, passing Buckland Wharf and Drayton Beauchamp before coming to the lovely Tring Reservoirs. You'll pass Marsworth Reservoir where there are good opportunities for bird watching. Look out for grebes, bitterns, peregrine falcon, pied flycatcher and ringed plovers on the water. The canal finishes shortly after at Bulbourne but there is the option of continuing you walk along the Grand Union Canal. Heading north will take you past Marsworth towards Cheddington and Leigton Buzzard. Heading south will take you into Berkhamsted.
Other good walking options around Wendover include the expansive Wendover Woods. There's miles of good walking and cycling trails to be found here.
The long distance Aylesbury Ring also runs through the area. View Full Details>>
Wendover Woods
4 miles (7 km)
Enjoy miles of great cycling and walking trails in this large forest in Buckinghamshire. The cycle trail is a moderate 5 mile route on waymarked surfaced tracks. It has some steep sections but is generally suitable for all abilities/families.
For walkers there are several waymarked trails including a lovely easy access trail for all abilities. On the way you can see sculptures, deciduous trees, evergreen trees and many woodland flowers. There are also splendid views of the surrounding Chilterns countryside.
Other attractions in the woods include a splendid cafe and a Go Ape forest adventure with Zip Wires, Tarzan Swings and a variety of Crossings. For children there is a fun Superworm trail from the creators of the Gruffalo. The woods also include the highest point in the Chilterns at Haddington Hill.
If you'd like to continue your outing then several long distance trails run past the forest. You could pick up the Icknield Way Path, the Chiltern Link or The Ridgeway or head to the nearby Grand Union Canal and pick up the Wendover Canal Arm to visit Weston Turville Reservoir .
The woods are located near Aylesbury and Tring. Heading north east along the Ridgeway will take you into Tring via the lovely Tring Park. View Full Details>>
West Wycombe Park
5 miles (8 km)
Explore the beautiful estate surrounding West Wycombe House on this walk in the Chilterns AONB. The Palladian house has 45 acres of landscaped gardens with a lovely large lake, views of the River Wyre, woodland paths and sweeping lawns to enjoy. Look out for attractive temples and follies such as the Temple of the Four Winds.
After strolling round the grounds you can climb to West Wycombe Hill for wonderful views over the Chilterns countryside. At the top of the hill you will find the 18th century Mausoleum. It is also a great spot to look out for the Red Kite.
After descending the hill you can then continue your walk through miles of surrounding woodland and head towards nearby Bradenham.
The village of West Wycombe also has many interesting features such as the Grade I listed church and the popular Hellfire Caves. This extraordinary network of man-made chalk and flint caverns is well worth a visit.
If you'd like to extend your walk then you can head to the nearby Hughenden Park with its gardens, parkland, woodland and and riverside paths. Our longer circular walk from nearby High Wycombe takes in Hughenden, Naphill Common and Downley Common. View Full Details>>
Westbury Circular Ride
12 miles (19 km)
This is a circular walk or cycle ride around Westbury in Buckinghamshire. View Full Details>>
Willen Lake
2 miles (4 km)
Willen Lake is Milton Keynes most popular park with a super waterside cycling and walking path to enjoy. The easy circular trail runs for a distance of about 2.6 miles around the perimeter of the lake. There's also pedalos, mini-golf and a cafe at the site.
If you would like to continue your outing you could pick up the nearby Grand Union Canal Walk or the Hanslope Circular Ride. Just to the north west you will find Linford Lakes-a lovely nature reserve in Milton Keynes with a number of pretty lakes and ponds.
If you head a couple of miles south along the Grand Union Canal you'll some come to Caldecotte Lake where you can enjoy more waterside walking and cycling. View Full Details>>