West Pennine Moors Walks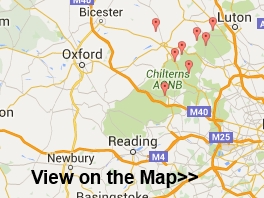 The West Pennine Moors cover 90 square miles (230 km2) of moorland in Lancashire and Greater Manchester. Highlights for walkers include numerous attractive reservoirs and some challenging hill climbs with views to the Lake District and the coast.
For other walks in the Pennines see the South Pennines Walks and the North Pennines Walks pages.
Use the links to view full route information including elevation profiles, interactive maps and GPS downloads.
You can also view an overview map of all the routes in the using the West Pennine Moors Walk Map>>
Route Name
Distance
Description
Abbey Village Reservoir
5 miles (8 km)
This walk visits the Abbey Village Reservoir near Abbey Village in Lancashire. The area is very popular with walkers able to enjoy waterside trails, open moorland and peaceful woodland. View Full Details>>
Anglezarke Reservoir
5 miles (7.5 km)
This circular cycle and walk loop takes you around the pretty Anglezarke Reservoir near Chorley. If you're coming by train you can easily reach the reservoir from Chorley or Adlington. Parking is also available at the south eastern end of the reservoir.
The route takes you around the reservoir using a series of country lanes. There are some climbs with great views over the Rivington chain of reservoirs which includes Yarrow Reservoir, High Bullough Reservoir and the Rivington Reservoirs.
It's easy to extend your outing by heading into the nearby Rivington Country Park where there are more cycle trails.
The route below is a cycle route but the reservoir also has some lovely walking trails on the eastern side. If you park in the car park where this route starts then you can pick up a lovely waterside footpath which will take you to High Bullough reservoir. It's a lovely walk with woodland trails. You could extend it by climbing the nearby Winter Hill.
You can also climb to the nearby Healey Nab for great views over the reservoir. On the Nab there are lots of footpaths and two colour coded mountain bike trails to try in the woodland area.
Just to the north is the delightful hamlet of White Coppice with its idyllic cricket pitch and series of reservoirs. View Full Details>>
Belmont Reservoir
2 miles (4 km)
This walk visits Ward's Reservoir and Belmont Reservoir on the West Pennine Moors.
Starts the walk from the car park on Rivington Road just to the west of the village of Belmont. From here you can pick up footpaths heading east around the pretty Ward's Reservoir before picking up trails across the moors to Belmont Reservoir. It's a very scenic area with splendid moorland scenery and views to the surrounding Pennine Hills. View Full Details>>
Blackburn
10 miles (16.5 km)
This Lancashire town has some nice canal trails, a local country park, several reservoirs and a significant hill to visit. View Full Details>>
Bold Venture Park Darwen
1 miles (2 km)
This large park in Darwen is great for an easy afternoon stroll. The pretty Bold Venture brook runs through the centre of the park so you can enjoy a nice waterside walk through the surrounding woodland valley. Along the way there are a number of wooden sculptures of animals and a series of waterfalls to look out for.
At the western end of the park you emerge from the woodland. Here you can enjoy nice views across the surrounding moorland towards Darwen Tower. At the end near the town the park has a large lake, a war memorial and attractive formal gardens. The footpaths throughout the park are generally good paved trails.
If you would like to extend your walk then you could visit Sunnyhurst Woods or continue along the Witton Weavers Way. View Full Details>>
Brinscall
5 miles (8 km)
This pretty village is located near Chorley in the county of Lancashire. It's a nice place to start a walk with woods, canals and nearby reservoirs to visit on foot. The village is also close to the West Pennine Moors where there are numerous hiking and cycling trails to try. View Full Details>>
Darwen Tower
3 miles (5 km)
This circular walk takes you up Darwen Hill to Jubilee Tower from Tockholes in Lancashire. The short climb to the tower gives great views over the surrounding moorland and reservoirs. The Bowland Fells and the mountains of Ingleborough and Whernside make a wonderful backdrop. On a clear day you can also see North Yorkshire, Morecambe Bay, Blackpool Tower, the Lake District and the Isle of Man.
The walk starts from the car park at Tockholes and follows good footpaths to the hill summit and the tower. You can then climb the 85 feet high tower on the stone spiral staircase inside. The tower was built in the late 19th century to commemorate Queen Victoria's Diamond Jubilee.
The route descends along the Witton Weavers Way, passing the attractive Sunnyhurst Hey and Earnsdale Reservoirs before returning to the car park. At Earnsdale reservoir you will find the pretty Sunnyhurst Woods. You could extend the walk by exploring the 85 acres of woodland with its streams and wide variety of birdlife.
There's also nice footpaths around Roddlesworth Reservoir and the adjacent Rake Brook Reservoir. View Full Details>>
Entwistle Reservoir
2 miles (4 km)
This circular walk follows the waterside footpath around Turton and Entwistle Reservoir near Bolton in Lancashire. The walk starts from the car park at the eastern end of the reservoir but you could also start from the nearby Entwistsle railway station. Trains run to Entwistle from Manchester, Blackburn and Clitheroe.
There is a good, well surfaced footpath around the reservoir, running for about 2.5 miles. It's a popular place for walkers with the beautiful still waters surrounded by attractive conifer trees. After your walk you can treat yourself to refreshments at the excellent Strawberry Duck pub located to the east of the reservoir, near the train station.
It's easy to extend your walk by picking up the Witton Weavers Way and following it south to the lovely Jumbles Country Park via Wayoh Reservoir. View Full Details>>
Great Hill
4 miles (6.5 km)
This circular walk climbs to Great Hill near Blackburn in Lancashire. View Full Details>>
Healey Nab
4 miles (6 km)
Enjoy woodland, rolling hills, moorland, ponds and streams in this elevated area of countryside above Chorley. The area is great for walkers and mountain bikers with a network of paths criss-crossing the hill.
This route is designed for walkers to reach the hill from Chorley town centre but the area is also great for mountain bikers with a Red Route and Black Route to try in the wooded section of the route. If you look on the open street map below you can see the routes marked out in the woodland section on the Nab. Also see the video below for an idea of the jumps you can expect to find at the site.
This walk starts at Chorley train station and heads east crossing the Leeds and Liverpool Canal and the M61 to reach Healey Nab. You then follow footpaths past Chorley Reservoir and then across the Nab towards Anglezarke Reservoir, before climbing to the woodland area. You follow the woodland trails before descending back towards Chorley. The hill rises to a height of well over 600 feet so there are fabulous views over the surrounding hills, reservoirs and countryside of the West Pennine Moors.
You can extend your walking in the area by trying the Chorley Canal Walk to Adlington or heading to the delightful hamlet of White Coppice with its idyllic cricket pitch and series of reservoirs.
There's also a nice trail to try around the nearby Rivington Country Park and Rivington Reservoirs.
If you prefer you could reach the Nab by parking at the nearby Anglezarke Reservoir and then following the trails along the water. View Full Details>>
Jumbles Country Park
2 miles (3 km)
Enjoy a short stroll around Jumbles Reservoir in this pretty country park in Bolton. The park is set within the beautiful West Pennine Moors with a lovely waterside footpath around the reservoir. There are also good facilities with a visitor centre and cafe.
The park is located just a couple of miles north east of Bolton city centre, near to the Lancashire village of Chapeltown. If you have time you could continue your walk along the Witton Weavers Way to the nearby Wayoh Reservoir and Nature Reserve. View Full Details>>
Oswaldtwistle
9 miles (14.7 km)
This Lancashire based town is located between Accrington and Blackburn in the Hyndburn borough of the county. View Full Details>>
Peel Tower
8 miles (13 km)
This walk climbs to the Peel Monument on Holcombe Hill in Ramsbottom near Bury. The tower is dedicated to Sir Robert Peel, the 19th century Prime Minister considered the father of modern British policing. The impressive landmark stands at a height of 1,100 feet (335 m) above sea level, commanding wonderful views over the surrounding countryside and towns. View Full Details>>
Rivington Pike
2 miles (3 km)
This popular walk climbs to the Rivington Pike viewpoint in the lovely Rivington Country Park, near Bolton. View Full Details>>
Rivington Reservoir
5 miles (8 km)
Enjoy a stroll along the Rivington Reservoirs on this waterside walk in Rivington Country Park, near Bolton.
The walk starts from the  Rivington Hall Barn car park at the southern end of the lower reservoir.  The barn is a popular tourist attraction and may date as far back as the 9th and 13th centuries, but is more likely to be from the 16th century. It was restored, altered and enlarged in 1905 by Jonathan Simpson for Lord Leverhulme. You can purchase refreshments here before or after your exercise.
From here you follow paths west towards the reservoir and the replica of Liverpool Castle. It was commissioned in 1912 by Lord Leverhulme, a philanthropist and the founder of Lever Brothers (now Unilever). It was never completed but the atmospheric ruins still remain. In this area there's also some attractive lakeside woodland where you can see lots of bluebells in the spring months.
The walk then follows footpaths north along the water towards the Upper Reservoir and the smaller Yarrow Reservoir. Here you cross to the other side along Knowsley Lane, where you can follow another path south along the western side of the Upper Reservoir. You then cross back on Horobin Lane which leads to the village of Rivington where there's the pretty green, the primary school and the little church. On the green you can see the village stocks which are inscribed 'T W 1719' on the stone base. The church warden and village constable patrolled the village and anyone disregarding the sanctity of the sabbath would be bound in them. The area is part of the wider Lever Park, a designed landscape between the open moorland and the chain reservoirs and is 'one of the largest and most impressive examples of landscape design in Edwardian England'.
After exploring the village the route follows the waterside paths back to the car park. View Full Details>>
Roddlesworth Reservoir
2 miles (4 km)
Enjoy a circular walk around these pretty reservoirs near Darwen in Lancashire. There are good footpaths running around the water and through the surrounding woodland. It's a very pretty area with woodland streams and bluebells in the spring. The route runs for just under 3 miles on a series of fairly flat paths.
You can start your walk from the car park on Tockholes Road at the Roddlesworth Information Centre. It's right next to the Royal Arms pub which is a good place for refreshments after your walk. From here you head west through Tockholes wood to the two reservoirs. You can also visit Rake Brook Reservoir which is just to the west of the lower reservoir.
This walk makes use of the Witton Weavers Way so you could extend your outing by heading to the nearby Darwen Tower and Sunnyhurst Woods. You could also follow the River Roddlesworth through Roddlesworth Woods at the southern end of the reservoir. View Full Details>>
Tockholes
6 miles (9.5 km)
This area in the West Pennine Moors is a popular place for walkers with woodland trails, reservoirs and a fantastic hill climbs to try. View Full Details>>
Turton Tower
5 miles (8.2 km)
This walk visits a notable historical landmark near Bolton. It's a fine place for an easy stroll and there are several other local highlights to see if you'd like to further stretch your legs. View Full Details>>
Wayoh Reservoir
3 miles (4.5 km)
Enjoy an easy circular walk around this pretty reservoir near Bolton. There is a good footpath around the water which makes use of the Witton Weavers Way on the eastern side. The walk starts near Entwistsle railway station which can be reached from Manchester, Blackburn and Clitheroe. You then pick up the lovely path with waterside and woodland sections to enjoy. There are also great views of the surrounding countryside and the impressive Entwistle viaduct.
To extend your walk you can head to the nearby Entwistle Reservoir or follow the Witton Weavers Way a mile south to Jumbles Country Park. View Full Details>>
Winter Hill
8 miles (13.5 km)
Enjoy a walk to Winter Hill on the West Pennine Moors in Lancashire. The walk begins in Rivington Country Park and takes you to the 1,496 feet (456 m) high summit on a series of footpaths.
After leaving the country park you ascend crossing Rivington Moor with fine views of Rivington Reservoir and Anglezarke Reservoir. You continue towards the village of Belmont where there is the opportunity for a short detour to the pretty Belmont Reservoir. After leaving Belmont you ascend towards the summit of the hill where you will see the Winter Hill TV Mast. From here there are fabulous views towards Greater Manchester, Blackpool Tower, Jodrell Bank Observatory, Snaefell in the Isle of Man and the Lake District mountains.
The descent takes you to Crooked Edge Hill and Horwich before returning to the country park. View Full Details>>
Witton Weavers Way
31 miles (50 km)
This circular walk starts and finishes in Witton Park near Blackburn. It's a lovely walk taking you first along the River Darwen and then past the 16th century Hoghton Tower before coming to the picturesque Belmont Reservoir. There are splendid views of the 1496 ft high Winter Hill on this section.
At Jumbles Reservoir in Jumbles Country Park you will turn north passing Entwistle Reservoir and Wayoh Reservoir before climbing Darwen Hill where you will find Jubilee Tower. You can climb the 85 ft high tower for some splendid views of North Yorkshire, Morecambe Bay, Blackpool Tower, Cumbria, and the Isle of Man. This section also passes the pretty Roddlesworth Reservoir, Abbey Village Reservoir and Rake Brook Reservoir which are surrounded by nice woodland trails. The route finishes passing the town of Darwen and then descending into Witton Country Park. View Full Details>>