Wiltshire Walks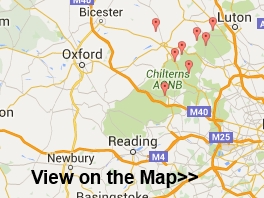 Enjoy miles of fabulous walking trails in this beautiful county. Highlights include the lovely Cranborne Chase AONB, the ancient stones at Avebury and the wonderful White Horse Trail.
Use the filter to show walks of a certain type such as woods, reservoirs, hills, long distance, country parks, canals and rivers.
In the spring walkers flock to the beautiful bluebell woods in the Wiltshire area. Click the 'Woodland' button below to see these.
Use the links to view full route information including elevation profiles, interactive maps and GPS downloads.
You can also view an overview map of all the routes in the using the Wiltshire Walk Map>>
Route Name
Distance
Description
Amesbury River Walk
3 miles (5 km)
Enjoy a stroll along the River Avon on this peaceful waterside walk in Amesbury. The circular walk starts from the car park just south of the town centre, near Amesbury Abbey. You can then pick up public footpaths along the river towards Normanton before returning through fields to the car park. View Full Details>>
Avebury Stones
5 miles (8 km)
Visit the largest stone circle in Europe and then explore the lovely surrounding Wiltshire countryside on this circular walk in Wiltshire.
You start off in the car park in Avebury and walk a short way to the stones. You'll pass through the pretty village of Avebury where you can find refreshment at the Red Lion Pub with its thatched roof and outdoor seating with views of the stones. The stones cover a wide area and date from the Neolithic and Bronze ages.  Avebury is classified as a World Heritage Site. 
The walk then heads into the surrounding countryside making use of the White Horse Trail long distance walk. You follow the path to Windmill Hill near Winterbourne Monkton. The hill dates from the early Neolithic period and is the largest causewayed enclosure in Britain.  From the hill there are wonderful views over the surrounding countryside. After soaking in the views you descend the hill and then follow good footpaths and country lanes back into the village.
Avebury is located a few miles west of Marlborough. If you are coming by bike then there are good National Cycle Network routes running from Marlborough.
You can also use the google streetview link on this page to virtually explore the site.
If you would like to extend your walk then you could continue south along the White Horse Trail to the nearby Silbury Hill. Here you will find the tallest prehistoric man-made mound in Europe. Heading west along the waymarked trail will take you to the Cherhill White Horse and the 120ft high Lansdowne Monument. View Full Details>>
Avon Valley Path
34 miles (55 km)
This wonderful river valley footpath takes you from Salisbury to Christchurch on the South Coast.
You start by the magnificent cathedral in Salisbury and head south towards Downton. The path then continues through Woodgreen and Godshill Wood before you arrive at the lovely Hampshire town of Fordingbridge.
The next section is a particularly pleasant waterside path taking you along the River Avon to Ibsley where the path passes through the Blashford Lakes which has a variety of wildlife to enjoy. View Full Details>>
Barbury Castle Country Park
4 miles (7 km)
Barbury Castle Country Park is a Scheduled Ancient Monument, Local Nature Reserve in the North Wessex Downs Area of Outstanding Natural Beauty. Part of the iron-age hillfort situated in the park has remained undisturbed since ancient times and is one of the best examples of its type. This circular walk takes you on a tour of the park which commands a splendid view across the Cotswolds and the River Severn. The walk can be started from the on site car park which can be found at postcode SN4 0QH for your sat navs.
To continue your walking in the area you could enjoy a climb to the nearby Liddington Hill and enjoy fine views over the countryside of the North Wessex Downs Area of Outstanding Natural Beauty. View Full Details>>
Barton Farm Country Park
3 miles (5.5 km)
This delightful country park is conveniently situated near Bradford On Avon town centre. The park is located next to the River Avon and the Kennet and Avon Canal so is perfect for leisurely waterside walking. There are also historic buildings, craft shops and tea rooms while the farmhouse, granary and tithe barn of the original Barton Farm date back to the 14th century.
To extend your walking in the area you could try the Bradford Upon Avon to Bath canal walk. It will take you all the way into Bath from the country park, visiting the impressive Avoncliff Aqueduct on the way.
There's also our circular Bradford on Avon Canal and River Walk which takes you along the canal and the river, visiting some of the highlights of the town. View Full Details>>
Bath Canal Walk
5 miles (8 km)
This is a popular walk along the Kennet and Avon Canal from Bath to Bradford on Avon. It's about a 10 mile walk along the towpath taking you from Somerset into Wiltshire on the southern fringes of the Cotswolds AONB. On the way you'll pass pretty locks, lots of barges, delightful little cottages, interesting villages, and attractive parks and gardens.
The walk starts at Bath locks situated at the start of the Kennet and Avon Canal. You then head north towards Bathwick passing through tunnels as you go. At Bathwick you pass the lovely Sydney Gardens which are worth a slight deviation from the canal to explore. The gardens are the only remaining eighteenth-century pleasure gardens in England.
The path continues to the village of Bathampton where you can take a small detour to visit the Toll Bridge over the River Avon. The bridge and toll house are both Grade II listed. There's splendid views from the bridge down to the beautiful weir below.
At Bathampton you turn south to Claverton. The little village has a Grade II listed pumping house and a church which dates from the 13th century.
You continue south towards Monkton Combe, passing the Dundas Aqueduct which carries the Kennet and Avon Canal over the River Avon on the Somerset Wiltshire border. It's a real highlight of the walk with great views over the river and the surrounding countryside from the elevated position of the aqueduct. You can virtually explore this section of the canal using the google street view link below.
The route then heads to Limpley Stoke and Freshford, passing Conkwell Wood on the way. The final section takes you into Wiltshire where you will pass the impressive Avoncliff Aqueduct and Barton Farm Country Park before finishing in Bradford Upon Avon. Barton Farm is worth exploring if you have time. It includes historic buildings, craft shops and tea rooms while the farmhouse, granary and tithe barn of the original Barton Farm date back to the 14th century.
There's lots of good options for extending your walking around the canal. At Bathampton you can pick up the tremendous Bath Skyline Walk where you can enjoy fabulous views over the city. View Full Details>>
Biss Meadows Country Park
4 miles (7 km)
Enjoy a peaceful riverside walk or cycle along the River Biss in this lovely country park in Trowbridge. The park has a series of nicely laid out paths so makes for a nice traffic free cycle or walk. Biss Meadows is located very near Trowbridge town centre so is easily accessible. There's also a variety of wildlife with herons and Kingfishers visitors to the park.
To continue your walking in the town you could try our Trowbridge Park and River Walk and visit the lovely sensory garden just to the north of Biss Meadows.
Just to the west is Southwick Country Park which has some good trails to take you around the 100 acre site. View Full Details>>
Bowood House
2 miles (2.5 km)
This Georgian country house is located on the edge of the North Wessex Downs, near the Wiltshire town of Calne. It's surrounded by lovely parkland with some nice walking trails to follow through woodland and to the large lake.
In the park you will also find English landscape gardens designed by Lancelot "Capability" Brown. The house itself was designed by Robert Adam in the 18th Century. Highlights include the Italianate terrace gardens, the Doric Temple folly, waterfalls, sculptures and the rhododendron walks.
Access to the house and gardens requires a fee but there are also public footpaths running through Bowood Park and along part of the lake. You can follow these from the nearby town of Calne to the park.
To continue your walking in the area head into Calne and pick up the Chippenham to Calne Railway Path. The shared cycling and walking trail includes lovely riverside sections along the River Avon and the River Marden.
If you head a few miles west of the house you could visit Lacock Abbey and Village. It's a fascinating area with nice walks along the River Avon and the woodland in the abbey grounds. View Full Details>>
Bradford on Avon Canal and River Walk
4 miles (6 km)
The West Wiltshire town of Bradford on Avon is a great place for walkers, officially recognised as a Walkers are Welcome town. There's good waterside paths along the canal and river, with waymarked trails also running into the surrounding countryside.
This circular walk takes you along the Kennet and Avon Canal and the River Avon which both run through the area. You can start the walk just to the west of the train station on the riverside path. Follow it a short distance to the south and it will take you to the pretty Barton Farm Country Park. Here you will find historic buildings, craft shops and nice tea rooms for refreshments. There's also a farmhouse, granary and an impressive 14th century Tithe Barn. The monastic stone barn, is over 50 metres long, and includes a fine timber cruck roof.
In the park you pick up the towpath of the canal and turn east, heading towards Trowbridge. This section passes Bradford Lock and the marina before coming to the river. Here you can pick up another footpath heading west past the golf course back into the town centre. If you have time you can also cross the river on Mckeever Bridge and visit the beautiful old Saxon Church on Church Street. The church dates from the 10th century and contains some wonderful architecture.
To extend your walking in the area you could follow the canal in the other direction and visit Bath on our Bath Canal Walk. It's a lovely section of the canal with highlights including the Dundas Aqueduct and the villages of Monkton Combe and Bathampton.
The long distance Macmillan Way also runs through the town. You can pick it up just to the east of the train station and explore the wider countryside. Following it north will take you to South Wraxall. If you follow it south west it will take you to the River Frome and Farleigh Hungerford.
Also nearby is the pretty Southwick Country Park. Located just a few miles to the south of the town the 100 acre park has a series of good walking trails to try. View Full Details>>
Castle Combe
1 miles (2 km)
Enjoy a short circular walk around this delightful Cotswolds village. It's like stepping back in time with its pretty little thatched cottages, a beautiful old church with a medieval clock and traditional country pubs. The lovely Bybrook River also runs through the village with little footbridges to cross. All in all Castle Combe generally ranks very high in any 'prettiest English village' polls!
This short circular walk starts in the centre of the village, near the Castle Inn and church. You then pass through the village and along the river before returning to the car park through woodland.
The Macmillan Way long distance walk runs through the village so you can easily pick this up to extend your walk into the surrounding Cotswolds countryside. You could follow it further south along the Bybrook to Slaughterford or west along the Broadmead Brook. Heading north will take you towards the Badminton House and Estate where there are two large ponds, several deer, attractive parkland and the 17th century Badminton House.
The Palladian Way also runs through the village. The long distance trail runs from Buckingham to Bath through the beautiful countryside of Buckinghamshire, Gloucestershire, Oxfordshire and Wiltshire. The trail is named after Andre Palladio's Italian architecture and visits several pretty villages and includes waterside sections along the Oxford Canal and the River Windrush. You could follow the trail north east and visit nearby Hullavington. Heading south west will take you to Colerne where there's nearly 90 historic listed buildings including a 13th century church and a noteworthy 17th century stone pub. View Full Details>>
Cherhill White Horse
2 miles (4 km)
This circular walk takes you to Cherhill Down and the Lansdowne Monument in Wiltshire. The Cherhill White Horse dates from the 18th century and is the third oldest white horse in the country. The downs are a lovely place for a walk with splendid views across rolling valleys and hills. On a clear day you can see the Tetbury water tower.
The walk starts in the pretty village of Cherhill with its thatched cottages, village hall and pub. The route then makes use of the White Horse Trail to climb the downs where you will pass the 120ft high Lansdowne Monument. The impressive structure was erected in 1845 by the 3rd Marquess of Lansdowne to commemorate his ancestor Sir William Petty. You will also pass Oldbury Castle, a hill fort which dates from the bronze age. The walk then descends the hill to the A4 where you pick up a roadside path to lead you back to Cherhill village.
If you would like to extend your walk then you could continue along the White Horse Trail to the nearby Avebury Stones and Silbury Hill.
A few miles to the south east you can visit the Devizes White Horse at Roundway Hill. The hill is also the site of a 1643 Civil War battle and Oliver's Castle Iron Age Hillfort. View Full Details>>
Chippenham to Calne Railway Path
6 miles (10 km)
This is a nice easy cycle or walk along the disused railway path from Chippenham to Calne. It follows National Cycle route 403 and includes lovely riverside runs along the River Avon and the River Marden. The route is almost entirely traffic free so is an ideal option for a family cycle ride or easy walk.
At the end of the trail near Calne, where recommend taking a small detour south of the route to visit the splendid Bowood House. The fine Georgian House is surrounded by beautiful parkland and gardens. View Full Details>>
Chiseldon and Marlborough Railway Path
9 miles (14 km)
This is a nice easy cycle or walking route along the now disused Chiseldon and Marlborough Railway.
It starts in Marlborough where you cross the River Kennet and head into the countryside along the path. You will pass through the pretty villages of Ogbourne St Andrew and Ogbourne St George before finishing at Chiseldon. This is a nice easy, traffic free ride so ideal families looking for a safe route. This route is also suitable for walkers looking for a peaceful easy walk.
This route links nicely with the Chiseldon Timberland Trail which runs on from Chiseldon to Swindon.
You could also visit Coate Water Country Park which has nice cycling and walking trails around a large lake.
To continue your cycling around Swindon see our circular Swindon Cycle Route which visits several of the parks in the town. View Full Details>>
Chiseldon Timberland Trail
4 miles (6.5 km)
This short easy cycle or walk trail runs from Swindon to Chiseldon along the old Swindon to Marlborough railway line.
The trail starts near Swindon Country Cricket Ground and heads to the lovely Coate Water Country Park where you can hire boats or try your hand at the crazy golf. The route then joins the disused railway path which takes you to Chiseldon and includes a stretch through a delightful bluebell wood. For walkers the best start point is at Coate Water where there is parking next to the trail start.
To continue your cycling around Swindon see our circular Swindon Cycle Route which visits several of the parks in the town. View Full Details>>
Clarendon Way
24 miles (39 km)
Walk from Salisbury to Winchester on the Clarendon Way and enjoy some wonderful scenery. The route takes you through the counties of Hampshire and Wiltshire and runs for a distance of about 25 miles.
The path starts next to Salisbury Cathedral and heads through Milford and past the photogenic ruins of Clarendon Palace before a short wooded section takes you to Pitton.
You then cross the hills to West and Middle Winterslow and descend into Broughton where you join a lovely country lane that takes you onto Houghton.
Here you cross the River Test on your way to the worthy village of King's Somborne with its 17th century pub and 13th century church.
Another wooded section through Parnholt woods then leads to the beautiful Farley Mount Country Park where at the highest point there is a pyramid shaped folly that gives the park its name.
The final section sees the walker descend into the city of Winchester, passing through the outskirts and then along the River Itchen to finish next to the famous cathedral. View Full Details>>
Cley Hill
1 miles (1.5 km)
Climb this distinctive hill in Warminster and enjoy wonderful views over West Wiltshire and Somerset. The chalk downland of the hill is covered in wildflowers in the summer months.
There is a car park about half a mile south of the hill. From here you can pick up the footpath to the hill summit. The hill is located very close to Longleat Park so you can continue your walk here. There are miles of woodland trails, a series of ponds and the famous safari park. You could try the Shearwater Lake Walk which takes you along a 37 acre lake with access to the surrounding forest. A short walk from here is the wonderful Heaven's Gate with fascinating sculptures and wonderful views over Longleat.
The Mid-Wilts Way also crosses the hill so you could pick this up and head towards Upton Scudamore or into Longleat Forest. Head east and you will soon come to the town of Warminster. Our Warminster Walk will take you around the Smallbrook Meadows Nature Reserve and the Lake Pleasure Grounds in the town centre. View Full Details>>
Coate Water Country Park
3 miles (5 km)
This is a short circular walk around the delightful Coate Water Country Park in Swindon. The walk begins at the car park and takes you around the 70-acre lake and through the wildflower meadows. The park is a great place to bird watch with Herons, Shags and Grebes among the visitors to the lake. Also look out for deer and foxes in the wildflower meadows. The park also has a Ranger Centre and Information Point and a pitch and putt.
Although the route below is devised for walkers the park also has a cycle path running along the lake. For more details visit the Information Point at the car park.
To extend your outing you could pick up the Chiseldon and Marlborough Railway Path from the village of Chiseldon. The climb to Liddington Hill also starts from Chiseldon. It's a nice climb which includes a visit to Liddington Castle Hill fort which dates from 7th century BC. View Full Details>>
Coombe Bissett Down
3 miles (5 km)
Enjoy a short walk around this pretty nature reserve near Salisbury. The reserve is located just a few miles south west of Sailsbury and has nice walking tracks to try. The area is a chalk downland valley with a variety of plants to enjoy such as delicate harebells, bee orchid, devil's-bit scabious and the burnt orchid. It's great for wildlife too with butterflies including Adonis blue, chalkhill blue and dingy skipper and birds including Yellowhammer, goldfinch, and skylarks. The reserve includes a mixture of grassland and woodland.
There are some slopes in the reserve so some climbing is required. You are rewarded with splendid views over the surrounding countryside of the Cranborne Chase AONB.
You can also enjoy a walk around the pretty little village of Coombe Bissett. There is a nice pub called the Fox and Goose, a church dating from the 12th century and lovely thatched cottages. The River Ebble also runs through the village. View Full Details>>
Corsham Court
2 miles (4 km)
Follow footpaths across Corsham Park on this walk near Chippenham. You can start your walk in the town centre and pick up the footpath on the eastern edge of the town. It takes you across the park with its pretty lake and woodland. In the summer months you can visit the historic house, with its significant art collection and beautiful gardens.
The house is located close to Lacock Abbey and Village where you can extend your walk. The abbey grounds include a woodland garden, rose garden, an apple orchard and the Bide Brook stream. View Full Details>>
Cotswold Canals
41 miles (66 km)
Follow a series of delightful waterways from Framilode to Lechlade on this waterside walk through Gloucestershire.
The walk starts at Framilode, next to the River Severn and follows the Stroudwater Canal and the River Frome to the market town of Stroud. You continue to Sapperton, following the River Frome and the Thames and Severn Canal. A wooded section through Hayley Wood follows before coming to Kemble where you will pass the source of the River Thames.
From Kemble you head to the village of Siddington and then on to South Cerney where you will pass the fabulous Cotswold Water Park which boasts 150 lakes, Nature Reserves and plenty of options for refreshment. View Full Details>>
Cotswold Country Park
6 miles (9 km)
This country park is located in the Cotswolds Water Park at Ashton Keynes on the Gloucestershire/Wiltshire border. The Park includes the largest inland beach in the UK, boat hire, crazy golf, a cafe and two lakes. It's a nice place for an easy inland beachside walk. There's also some woodland trails on the eastern side and lots of water loving birds to see on the water. View Full Details>>
Cotswold Water Park
10 miles (16.5 km)
This fabulous attraction has numerous waterside cycling and walking paths taking you around the park's 150 lakes. There are 40 square miles to explore within the water park but with the Thames Path National Trail and National Cycle Route 45 running through the park there is great scope for continuing your exercise along these trails (bike hire is available in the park). There is a wide variety of wildlife to see too - look out for otters, water voles and beavers.
The western section of the park shown in the map is located between Swindon and Cirencester. There is also an eastern section located near Fairford and Lechlade. Our Fairford Walk starts from the town and explores that section of the park before heading to Lechlade for a stroll along the Thames. View Full Details>>
Cricklade Circular Walk
5 miles (8.5 km)
Enjoy an easy stroll around the pretty Wiltshire town of Cricklade, on this circular walk in the Thames Valley. The river is in its infancy in this area, only a short distance from the source, near Kemble. It's a lovely area with lots of nice footpaths along rivers, canals and the lakes of the nearby Cotswold Water Park. The walk is just over 5 miles in length, with only a short climb around Hailstone Hill.
The route starts in the town centre and takes you along the river to Cerney Wick. This opening section follows part of the Thames Path before heading along the disused North Wilts Canal and Thames and Severn Canal. You'll also pass the pretty Elmlea Meadows consisting of three meadows which have been managed for hay followed by grazing. The area supports rich flora including the nationally rare fritillary.
At Cerney Wick you turn left and follow a path along the fringe of the Cotswold Water Park. The expansive park consists of 150 lakes with miles of waterside cycling and walking trails to try. This route turns south east following a dismantled railway line past Hailstone Hill before returning to the town. Here you can enjoy a stroll along the attractive streets with 17th and 18th century architecture. The church of St Sampson's is Grade I listed and dates from the 12th century.
If you would like to extend your walk you can follow the Thames Path west towards Ashton Keynes and then right through the water park to the source of the Thames near Kemble. Following the path east will take you to Castle Eaton and Lechlade. View Full Details>>
Devizes and Caen Hill Locks
2 miles (3 km)
This circular walk visits this wonderful feat of engineering on the Kennet and Avon Canal in Devizes, Wiltshire. The 29 continuos locks have a rise of 237 feet in 2 miles (72 m in 3.2 km). It's a stunning sight with the bonus of some lovely woodland and countryside to see in the area surrounding the locks. There's also lots of wildlife to look out for with Kingfishers, Moorhens, Ducks and Swans to see on the water.
You can start the walk from the Caen Hill Locks car park. Then follow the footpaths along the locks before crossing to the other side of the canal and picking up the towpath. You can continue east along the canal into Devizes and visit the Canal centre. The town is also well worth exploring with fine Elizabethan timber-framed houses in St John's Alley, two Norman Churches, the 16th-century Bear Hotel and the attractive market place among the highlights. After your walk you can enjoy refreshments at the Caen Hill canalside cafe. There's also a small canal museum where you can learn all about the history of the canal locks. View Full Details>>
Dinton Park
1 miles (2 km)
Explore the parkland and woodland surrounding this Neo-Grecian house in Dinton, Salisbury. View Full Details>>
Durrington Walls
3 miles (5.5 km)
This walk explores the large Neolithic settlement and henge enclosure of Durrington Walls near Amesbury, Wiltshire. You'll also visit the Neolithic Class II henge and timber circle of Woodhenge which is located nearby.
You can start your walk from the Woodhenge car park. A short stroll takes you to 4500 year old Durrington Walls, the largest complete henge in Great Britain. After exploring the ancient site you can further explore the surrounding area on public footpaths. Just to south west you will find the Bronze Age burial mounds at King Barrow Ridge. This is a nice spot with ancient Beech trees and nice views across the area from the elevated position of the barrows. The walk then turns east towards Halfmoon Clump before following an old railway track towards Woodhenge.
The walk can easily be extended to visit nearby Stonehenge by walking along the Stonehenge Avenue from Old Kings Barrows on the Woodhenge to Stonehenge Walk. You could also pick up the Salisbury Country Way which passes near to the site. The long distance circular footpath explores the countryside around Salisbury, visiting several pretty villages and interesting historical sites.
There's also nice footpaths along the River Avon in nearby Amesbury. You could visit Amesbury Abbey and then follow the river south towards Normanton and Great Durnford.
You can virtually explore the area around Woodhenge by clicking on the google street view link below. View Full Details>>
Figsbury Ring
1 miles (1.3 km)
This walk visits the Iron Age hill fort of Figsbury Ring near the city of Salisbury in Wiltshire. View Full Details>>
Fonthill Estate
4 miles (6.5 km)
Enjoy a lovely circular walk around the village of Fonthill Bishop on this circular walk near Salisbury in Wiltshire. There's much to enjoy with woodland trails, countryside views and a waterside section along the pretty Fonthill Lake.
The walk starts in the village and then climbs south east towards Ridge Hill, passing through woodland along the way. It's a moderate climb to a height of over 500ft with great views of the Wiltshire countryside from the high points.
At Ridge Hill you turn south west, descending to Fonthill Lake. The large lake is 1.6 km (1 mi) long and about 100 m (328 ft) wide. It's a beautiful, peaceful spot with Mandarin ducks and Swans to look out for on the water. The lake was used as the location for the filming of all the river scenes in the film Chocolat with Johnny Depp. At the southern end of the lake you can pick up a footpath along the River Nadder and visit Tisbury village if you have time.
This route then follows the lake north past Fonthill Park to the village. It's a lovely section with nice views across the lake to the surrounding woodland and farmland. View Full Details>>
Fontmell and Melbury Downs
5 miles (7.5 km)
Enjoy a variety of beautiful flora and fauna in this nature reserve in Compton Abbas on the Dorset/Wiltshire border. The area is associated with the novels of Thomas Hardy and includes a climb to Melbury Hill for wonderful views over the area. Also look out for a variety of birds, butterflies, wildflowers and orchids in this delightful area.
The walk starts from the car park at the top of Spread Eagle Hill and follows footpaths to Compton Abbas. From here you climb past Compton Down before reaching the 863 feet summit of Melbury Hill. From here there are splendid views over Blackmore Vale, Vale of Wardour and Shaftesbury. On the summit there's a handy toposcope which details the landmarks you can see. From the summit the walk then descends back to Compton Abbas before crossing Fontmell Down and returning to the car park.
At the end of your walk you can enjoy refreshments at the Compton Abbas Airfield Restaurant which is located just to the east of the car park. View Full Details>>
Great Wishford
3 miles (5 km)
Enjoy a peaceful stroll along the River Wylye on this waterside walk in the Wiltshire village of Great Wishford. You can start the walk at Stoford Bridge and then follow the riverside footpath to Serrington. It's a nice 1.5 mile stroll with lovely views across the countryside of the Wylye Valley. You can return the same way or head east at Serrington along the Chain Drove and then head south along the Monarch's Way to return you to the village.
Just to the west of Serrington you will find Steeple Langford where you can visit the Langford Lakes Nature Reserve. You can also follow the Monarch's Way south west from Great Wishford to visit Grovely Wood. The expansive wood has miles of nice woodland walking and cycling trails to enjoy.
The Salisbury Country Way also runs through the village. This long distance footpath takes you on a tour of the villages and countryside surrounding Salisbury. If you follow it north east you will soon come to the iconic Stonehenge. View Full Details>>
Grovely Wood
6 miles (9 km)
Enjoy cycling and walking trails in this large area of woodland near the Wiltshire village of Great Wishford. View Full Details>>
Heaven's Gate Longleat
1 miles (1 km)
Enjoy wonderful views over the Longleat Estate and the surrounding Wiltshire countryside on this short walk near Warminster. From the car park at the Nockatt Coppice there is a lovely footpath through attractive woodland which leads to the top of Prospect Hill and Heaven's gate. Here you will find a series of interesting stone sculptures created by the sculptor Paul Norris. In the right light the crystals and metals embedded within the stones are reflected meaning the stones appear to glow. From the top of Prospect hill you can also enjoy far reaching views towards Somerset. There's a series of benches where can you sit and relax or wide lawns where you could have a picnic.
To extend your walk you could head east through the woodland to Shearwater Lake. This 37 acre lake is surrounded by attractive woodland and interesting flora and fauna. You could also climb the nearby Cley Hill for more great views over West Wiltshire and Somerset. View Full Details>>
Imber Range Perimeter Path
30 miles (48 km)
This circular walking path takes you around the perimeter of a military training firing range located on Salisbury Plain. It's an interesting landscape with oceans of chalk grassland and a fascinating prehistoric history.
It starts and ends near Westbury and passes through Tilshead, Chitterne and the outskirts of Warminster. Points of interest include the National Trust's White Barrow - a large Neolithic long barrow near Tilshead and the Westbury White Horse on the Salisbury Plain escarpment dating from 1778. View Full Details>>
Kennet and Avon Canal Walk
76 miles (122 km)
A splendid waterside walk from the Thames at Reading, through Thatcham, Newbury, Hungerford, Great Bedwyn, Pewsey, Devizes, Bradford on Avon to Bath. Most of the walk follows the towpath making for an easy, relaxing walk.
The route of the Kennet & Avon Canal takes you through some of the nation's best loved landscapes, including West Berkshire - an Area of Outstanding Natural Beauty - and the southern tip of the rolling Cotswolds. Highlights include the delightful Thatcham Discovery Centre, Caen Hill Locks (video below), Avoncliff Aqueduct, Claverton Pumping Station, numerous pretty canalside villages and the historic city of Bath. View Full Details>>
King Alfred's Trail
9 miles (14 km)
Take a pad and pencil with you on this delightful circular walk around Pewsey and take brass rubbings of the engraved plaques along the route. View Full Details>>
Lacock Abbey and Village
2 miles (3.5 km)
Explore the picturesque streets and historic buildings of Lacock Village before a visit to the beautiful Lacock Abbey set within its own delightful woodland grounds. View Full Details>>
Land's End Trail
303 miles (488 km)
This terrific trail runs for over 300 miles from Avebury in Wiltshire, through Devon and Somerset to Land's End in Cornwall.
The walk has been spit into a number of manageable stages as follows
1 Land's End
2 Bosullow Common
3 St. Erth
4 Leedstown
5 Beacon, Camborne
6 Chiverton Cross
7 Mitchell
8 Tregonetha
9 Dunmere Bridge
10 St. Breward
11 Jamaica Inn, Bolventor
12 Minions
13 Callington
14 Tavistock
15 Lydford
16 Belstone
17 Sampford Courtenay
18 Chulmleigh
19 South Molton
20 Dulverton
21 Wiveliscombe
22 Bishop's Lydeard
23 Bridgwater
24 Glastonbury Tor
25 Bruton
26 Warminster View Full Details>>
Leland Trail
28 miles (45 km)
Follow in the footsteps of royal librarian John Leland during his 16th century survey of Britain's churches and priories.
You start at King Alfred's Tower at the north-western edge of the Stourhead in Wiltshire and head west towards Bruton and Castle Cary Walk in Somerset. The route continues to South Cadbury where you will pass Cadbury Castle Iron Age Hill Fort before coming to the pretty village of Queen Camel. The next section takes you to Yeovilton with a short stretch along the River Yeo leading you through the village and on towards Ilchester. The path then turns south towards Montacute where you will pass the National Trust owned 16th century mansion at Montacute House and the delightful Ham Hill Country Park. The final stretch takes you on to the finish point at Ham Hill Country Park where you will find splendid views of the Mendip Hills, Blackdown Hills, Quantock Hills and Dorset Downs. View Full Details>>
Liddington Hill
9 miles (14.5 km)
This circular walk uses the Ridgeway and the Aldbourne Circular Walk to climb Liddington Hill near Swindon. On the hill you will find Liddington Castle, a late Bronze Age and early Iron Age hill fort. The route climbs to a height over 900 feet with fantastic views over the countryside of the North Wessex Downs Area of Outstanding Natural Beauty.
You start the walk at the car park just south of the village of Chiseldon. You then follow footpaths up to Folly Farm before turning north to climb Liddington Hill. You can then explore Liddington Castle, one of the earliest hill forts in Britain, dating back to the seventh century BC. It's a fascinating and often tranquil area with few visitors.
After taking in the wonderful views the walk then descends to Sugar Hill and Shipley Bottom before returning to Folly Farm and the car park.
An alternative route is to follow the Aldbourne Circular Walk from the village of Aldbourne. It's located a few miles south east of the hill.
You could extend your walk by picking up the Chiseldon and Marlborough Railway Path. The disused railway runs to Marlborough through some lovely countryside with views of the River Kennet and a visit to some pretty Wiltshire villages.
Also nearby is Barbury Castle Country Park and the splendid Coate Water Country Park which has nice cycling and walking trails around a large lake. View Full Details>>
Lydiard Park
2 miles (3.5 km)
Located on the edge of Swindon is this splendid park with 260 acres of lawns, woodlands and pasture for visitors to walk or cycle through. Here you will find the beautifully-restored State Rooms of Lydiard House, with its original furnishings and portrait gallery. There is also an ornamental fruit and flower Walled Garden and a children's play area.
To continue your walking in the area you could head to the nearby Mouldon Hill Country Park. Here you'll find a pretty lake, the River Ray, a section of the North Wilts Canal and nice views from the park's high points.
About a mile to the north east you'll find Shaw Forest Park. View Full Details>>
Macmillan Way
290 miles (467 km)
This epic long distance path links Boston in Lincolnshire to Abbotsbury in Dorset. It is promoted to raise money for the charity Macmillan Cancer Relief.
The route starts from Boston and then runs across the Fens to Bourne before joining the limestone belt. You then head to Stamford and then along the shoreline of Rutland Water. You'll also pass through the medieval market town of Oakham where there's some wonderful old architecture at the Norman castle and the 16th century Oakham School.
The trail then heads south and west via Warmington to Stow-on-the-Wold, then into the Cotswolds via Cirencester and Tetbury to Bradford-on-Avon. After leaving the Cotswolds you follow the path through Somerset passing Castle Cary before entering Dorset and the final section to Abbotsbury via Sherborne.
The route joins with other popular trails including the Viking Way at Oakham, the Thames Path National Trail near Thames Head and with the South West Coast Path towards the end of the route. View Full Details>>
Malmesbury
2 miles (2.7 km)
A circular walk around the Wiltshire town of Malmesbury visiting the historic abbey and the River Avon. It's a very attractive town with numerous historic buildings, a photogenic market cross and picturesque river scenes to enjoy. View Full Details>>
Marlborough
6 miles (9.6 km)
The town of Marlborough lies in the heart of the North Wessex Downs AONB, making it a great base for exploring this naturally beautiful part of England. There's a number of fine waymarked trails passing through the town and the surrounding area. There's also a number of hill climbs, waterside paths along the River Kennet and miles of woodland trails in the nearby Savernake Forest.
This short riverside walk takes you along the Kennet to the nearby villages of Mildenhall, Stitchcombe, Axford and Ramsbury. It's a lovely section of the river with old bridges, pretty villages and lovely views of the Kennet Valley.
The walk starts in the Stonebridge Meadow Nature Reserve just to the east of the town centre. The delightful wild river reserve is a great place to see Watervole, Heron, Little Egrets and Kingfishers.
Follow the path east and you will soon come to Mildenhall. The village has a nice pub, village shop and a noteable Grade I listed church, with a Saxon tower.
You continue through Stitchcombe and Axford with its 17th-century pub and Grade I listed farmhouse.
The final section takes you into Ramsbury with more lovely river views next to a pretty lake. From here you can catch the bus back to Marlborough. View Full Details>>
Mid-Wilts Way
68 miles (109 km)
A 68-mile walking route that takes in some of Wiltshire's finest countryside and downland areas. The walk runs from the village of Ham (near Inkpen) to Mere (near Warminster).
You will visit a series of pretty villages including Wilton, Wootton Rivers, Oare, Seend Cleeve, Keevil, Steeple Ashton, Bratton, Upton Scudamore, Horningham and Kingston Deverill. The walk includes several hill climbs with fabulous views of the Wiltshire countryside. This includes a climb to Cley Hill in the Cranborne Chase AONB. View Full Details>>
Monarch's Way
615 miles (990 km)
This incredible 615-mile walk approximates the escape route taken by King Charles II in 1651 after being defeated in the Battle of Worcester.
The Monarch's Way starts at Worcester then travels north to Boscobel and then south to Stratford upon Avon. It then continues south through the Cotswolds to Stow on the Wold before turning south west towards Bristol via Cirencester. The route then heads south through the Mendip Hills to Wells and then on through Somerset towards Yeovil and then south west to Charmouth. You then follow the Dorset coast before turning north again to Yeovil, before heading east across the Downs to Brighton and then onto the finish point at Shoreham-by-Sea.
The walk also takes you through two World Heritage Sites, one National Park and six Areas of Outstanding Natural Beauty. For those interested in the history of the walk there is ample opportunity to learn and discover more with a series of museums and historical sites dotted throughout the route.
The walk is waymarked with a picture of the ship The Surprise, the Prince of Wales crown and the Royal Oak tree at Boscobel House.
The route has been split into two separate gpx files. The first includes the section from Worcester to Bridport via the Midlands and Somerset. View Full Details>>
Monkton Farleigh
5 miles (8 km)
This pretty village is located in West Wiltshire near Bradford-on-Avon and Bath. It's an interesting and historic place with a Grade I listed Manor House, a church dating back to the 12th century and a fine local pub dating to the 17th century. View Full Details>>
Mouldon Hill Country Park
2 miles (3 km)
This pretty country park near Swindon has some nice footpaths to follow through the site. In the park you'll find a pretty lake, the River Ray, a section of the North Wilts Canal and nice views from the high points.
You can cycle to the park from Swindon along National Cycle Route 45. To continue your exercise you could visit the nearby Lydiard Country Park. Here you'll find 260 acres of lawns, woodlands and pasture to walk or cycle through.
If you head south from the park you will soon come to Shaw Forest Park where footpaths will take you through ash/willow woodlands and scrub land containing juniper and alder. Our circular Swindon Cycle Route visits all these parks using signed cycle routes which run through the town. View Full Details>>
North Wiltshire Rivers Route
25 miles (40 km)
This is a an excellent, largely off road, cycling and walking path that runs along National Cycle Route 4 from Melksham to Avebury. It takes you to historic towns and villages, along delightful rivers and through some splendid Wiltshire countryside.
The route starts by the River Avon in Melksham and heads towards the historic village of Lacock where you will find the National Trust owned Lackock Abbey.. The route continues through Chippenham where you can enjoy another riverside stretch along the River Avon and then along the River Marden to Calne. The final section takes you through Cherhill, where you will pass the Cherhill White Horse, and then onto Avebury with its fascinating ancient stones. You can explore the site of the Avebury Stones using google street view below. View Full Details>>
Old Sarum Castle
1 miles (1.5 km)
Visit the site of the earliest settlement of Salisbury on this fascinating walk in Wiltshire. Here you can see the exposed foundations of the former cathedral and climb the mighty ramparts for splendid views of the surrounding Wiltshire Plains. There's  29 acres of beautiful rare grass chalkland to explore on a number of good footpaths. Look out for butterflies and kestrels, which can often be seen hovering over the outer bailey. 
The Old Sarum Way long distance footpath runs past the site so you can pick this up to extend your walk. View Full Details>>
Old Sarum Way
33 miles (53 km)
This circular route takes you on tour through the river valleys, woodland and downland around Salisbury.
There is some beautiful scenery to enjoy including views of the Rivers Avon, Ebble and Bourne. You will also pass through a series of peaceful villages including South Newton, Alderbury, Burcombe, Downton, Durnford and Charlton with pretty thatched cottages and quaint pubs to enjoy. View Full Details>>
Palladian Way
118 miles (190 km)
Walk from Buckingham to Bath through the beautiful countryside of Buckinghamshire, Gloucestershire, Oxfordshire and Wiltshire on this trail named after Andre Palladio's Italian architecture.
The walk runs from Buckingham to Brackley, Woodstock, Burford, Cirecncester, Malmesbury and then Bath.
You can enjoy waterside sections along the Oxford Canal near Kirtlington and along the River Windrush between Woodstock and Burford. There is also a section through the beautiful Cotswolds countryside around Burford.
Other route highlights include the National Trust Owned Stowe Park, and the magnificent Blenheim Palace - birthplace of Winston Churchill . View Full Details>>
Pepperbox Hill
1 miles (1 km)
This walk climbs to a distinctive 17th century folly on Pepperbox Hill near Salisbury in Wiltshire. View Full Details>>
Pewsey Avon Trail
28 miles (45 km)
A delightful walk along the River Avon from Pewsey to Salisbury that links with the River Avon Trail. You will pass several pretty riverside villages including Upavon, Amesbury and Upper and Lower Woodford.
There are fine views of Salisbury Plain and a series of picturesque riverside pubs if you're in need of refreshment. View Full Details>>
Ridgeway Circular Walk - Aldbourne
11 miles (18 km)
This circular route on the Wiltshire Downs explores the area around the village of Aldbourne. It's a 12 mile route on broad tracks which is also suitable for cyclists. The tracks are waymarked with 'Ridgeway Circular Route'. There's lovely rolling countryside with great views and some moderate climbs. Look out for a wide variety of flora and fauna on the attractive chalk downland. Wildlife includes deer, hares and birds such as skylarks and meadow pipits. In the summer butterflies can be seen around the widlflowers growing on the hills.
The route starts in the village of Aldbourne, about 5 miles to the south east of Swindon and 6 miles north east of Marlborough. It's a pretty village with an interesting history and the medieval church of Saint Michael which overlooks the village green. There's also a number of attrative old sarsen stone cottages.
You leave the village climbing in a north westerly direction to Sugar Hill where there are four Bronze Age barrows. You then turn west towards Liddington Hill. Here you will find Liddington Castle, a late Bronze Age and early Iron Age hill fort. From the 900ft hill there are splendid views over the beautiful countryside of the North Wessex Downs.
From the hill you descend to the hamlet of Woodsend and the abandoned medieval village of Snap. The route then heads east, passing Upper Upham before returning to Aldbourne. View Full Details>>
Roundway Hill
3 miles (5.5 km)
Visit this historically significant hill on this interesting walk in Devizes. The hill is the site of a famous Civil War battle where a Royalist cavalry force under Lord Wilmot won a crushing victory over the Parliamentarians in 1643. You'll also visit the iron age hillfort of Oliver's Castle and enjoy views of the Devizes White Horse and the surrounding Wiltshire countryside.
The walk starts from the Roundway Hill car park next to Oliver's Castle. You could also easily walk to the site from Devizes by following the Wessex Ridgeway north for about two miles. You can then follow a circular route around the site for about 4 miles. There's also the option of exploring the woodland of the Roundway Hill Covert with its 68 acres of broadleaf woodland.
This route is designed for walkers but the area is also good for mountain biking with trails running across Roundway Hill and the adjacent Beacon Hill.
To extend your walk you can continue along the Wessex Ridgeway towards Morgan's Hill where you can pick up the Wansdyke Path. It's located about two miles north east of the car park at the start of this walk.
You could also visit the nearby Cherhill White Horse which is also located near Morgan's Hill. View Full Details>>
Salisbury Circular Walk
2 miles (4 km)
Enjoy a stroll around the grounds of the famous cathedral before exploring the surrounding rivers, gardens and streets of this famous Wiltshire city.
This three mile circular walk starts at the cathedral before heading to Mompesson House where you will pass Queen Elizabeth Gardens on the River Avon. These lovely gardens were opened in the 1960s to commemorate the coronation of Queen Elizabeth II. They are a real highlight of the city with majestic lawns, beautiful flower beds, streams and riverside paths. There's also a sensory garden and great views back to the cathedral.
From the park you can pick up the Town Path leading south west across the lovely Harnham Water Meadows to the Old Mill. It's a special place with lots of different types of pretty wildflower and wildlife such as egrets, kingfishers and otters to look out for. At the Old Mill you will find a picturesque mill pond and weir with a pub for refreshments.
The walk then heads to Harnham where there is a short woodland section before crossing the river and returning to the cathedral.
It's easy to extend your walking in the area by picking up one of several long distance trails which run through the city. You could pick up the Avon Valley Path around Harnham and follow it south through the countryside towards Odstock and Downton.
Another good option is to follow the Clarendon Way east to Clarendon Palace. It's about a 2 mile walk through farmland and woodland to the fascinating medieval  ruined palace. The palace has an interesting history being used as a royal residence by Henry II, Henry III and Henry VI.
Just to the north of the city you will find the earliest settlement of Salisbury, Old Sarum Castle. Here you can see the exposed foundations of the former cathedral and climb the mighty ramparts for great views of the surrounding countryside. View Full Details>>
Salisbury Country Way
61 miles (98 km)
A super circular walk through the countryside around Salisbury. The walk visits the ancient stone circles at Stonehenge, Compton Park, Downton and includes a lovely riverside stretch along the River Avon. You'll also pass through the delightful Martin Down Nature Reserve. This beautiful nature reserve on the Hampshire/Dorset border consists of 350 hectares of unspoiled chalk downland with a variety of flora and fauna.
Other highlights include views of the River Wylye Valley and a stretch through Grovely Wood near the village of Great Wishford. View Full Details>>
Salisbury Off Road Explorer
31 miles (50 km)
This circular route follows a series of excellent off road tracks around Salisbury. Most of these trails are quite stony so a hybrid or mountain bike is advised.
Since this route is almost entirely off road it is also suitable for walkers looking for a long distance walk. View Full Details>>
Salisbury Plain
6 miles (9 km)
This walk explores a section of the ancient Salisbury Plain with its chalk grassland, fascinating historical sites and wide ranging views. It's an unusual landscape with a fascinating prehistoric history and a mock German village serving as Military training area.
The walk starts in the village of Tilshead which is roughly at the centre of Salisbury Plain. The small village includes a Grade I listed church, dating from the 12th century. There's also the Rose and Crown pub where you can enjoy refreshments after your walk.
You begin from the village and follow a country lane south west before heading across Tilshead Down, passing a Neolithic long barrow as you go.
The route continues across Copehill Down where there is a Ministry of Defence training facility. It was constructed in 1988 to resemble a Bavarian German village, providing troops with a simulated backdrop when training for European operations.
After passing the village the route picks up a section of the Imber Range Perimeter Path. You'll pass the National Trust's White Barrow, a large Neolithic long barrow stretching for 77.5 metres. Shortly after you return to the finish point back in the village. View Full Details>>
Salisbury to Stonehenge Walk
9 miles (15 km)
This walk takes you from the city centre of Salisbury to the iconic Stonehenge. The route runs for just over 9 miles using public footpaths, bridleways and country lanes. Along the way there's nice views of the River Avon and the surrounding Wiltshire countryside.
The walk starts at the world famous Salisbury Cathedral and heads north through the city towards Stratford sub Castle. Here you turn north east to follow a track up to Old Sarum Castle. Here you can see the exposed foundations of the former cathedral and climb the mighty ramparts for splendid views of the surrounding Wiltshire Plains.
After exploring the historic site the route continues north toward Netton and Woodford. Here you cross the river on Woodford Bridge before continuing to Durnford Mill in Great Durnford. Here you can visit the interesting Norman Church, admire the delightful thatched cottages and enjoy refreshments at the Black Horse pub. The converted mill is also very picturesque with its riverside location and weeping willows.
The final section runs north west from Great Durnford to Stonehenge. To explore the Stonehenge site itself you will need to purchase a ticket from English Heritage. The area around the cursus is on open access land so can be visited for free. This large Neolithic cursus monument was constructed several hundred years before the earliest phase of Stonehenge in 3000 BC. See our Stonehenge Walk for more details. View Full Details>>
Savernake Forest
6 miles (9.5 km)
This large area of woodland is located near Marlborough in the North Wessex Downs AONB.
In the woods you'll find miles of walking and cycling trails, with thousands of acres of ancient woodland to explore. As well as the peaceful trails there's a number of ponds, hill climbs, an arboretum, lots of bluebells in the spring and a variety of woodland birds to look out for. There's also some open farmland with grazing cattle and hundreds of beeches and oaks, with tree lined avenues, and coniferous plantations. 
You can start off from the parking area in the north western corner of the forest, next to the campsite. Then pick up the trails heading south east into forest.
For cyclists there's a nice trail running along the Grand Avenue through the centre of the forest. It's part of National Cycle Network Route 4 and you could continue your ride on our Marlborough to Reading Cycle Route.
To extend your exercise you could head south east from the forest and visit Bedwyn Common and Great Bedwyn village. Here there are some nice waterside paths along the River Dun to enjoy.
Just to the west of the forest you can pick up the long distance Wansdyke Path and visit the nearby West Woods where you'll find more good mountain bike trails and footpaths.
In nearby Marlborough you can enjoy a lovely walk along the River Kennet or pick up long distance trails including the Chiseldon and Marlborough Railway Path and the Wessex Ridgeway. View Full Details>>
Shaw Forest Park
1 miles (2 km)
Enjoy some nice walking trails in this community woodland in Swindon. You can park in the car park on Forest Park Road off Mead Way. From here you can pick up the trails to the ash/willow woodland, wildflower meadows, grassland and ponds. Look out for wildlife including roe deer, foxes and various wildfowl. At the north western edge of the park you can visit the pretty Peatmoor Lake.
To extend your outing you can head a mile north and visit Mouldon Hill Country Park. Here you'll find a lake, the River Ray, a section of the North Wilts Canal and nice views from the high points. Also nearby is Lydiard Country Park. Here you'll find 260 acres of lawns, woodlands and pasture to walk or cycle through. Our circular Swindon Cycle Route visits all these parks using signed cycle routes which run through the town. View Full Details>>
Shearwater Lake
2 miles (2.5 km)
Enjoy an easy waterside walk along this pretty lake on the Longleat Estate. The lake is located near Warminster and has a nice walking trail running alongside the 37 acre lake. It's a lovely area for a picnic with the lake surrounded by attractive flora and fauna. Look out for little sailboats and various wildfowl on the lake and fish in the water.
There are miles of woodland trails surrounding the lake so you can easily extend your walk here. One option would be to head west to Heaven's Gate for great views over the Longleat Estate.
There is a car park right next to the lake so access is easy. You can also enjoy refreshments at the lakeside cafe.
If you would like to continue your walking in the area then you could climb the nearby Cley Hill and enjoy wonderful views over West Wiltshire and Somerset. View Full Details>>
Silbury Hill
1 miles (2 km)
This circular walk takes you around the Silbury Hill ancient monument near Avebury in Wiltshire. The hill stands at a height of 30 metres (98 ft) making it the tallest prehistoric man-made mound in Europe. It is thought to have been created around 2400 BC, though its original purpose is up for debate. Silbury is part of the Stonehenge, Avebury and Associated Sites UNESCO World Heritage Site, making it a significant historical site. 
The walk starts from the car park off the A4, next to the hilll. You follow a good footpath around the hill and cross the River Kennet, before picking up the White Horse Trail to take you along the river. Look out for water voles on this section of the walk. A path along the A4 leads back to the car park.
If you'd like to extend your walk you could follow the White Horse Trail to the fascinating Avebury Stone Circle which lies less than a mile to the north of Silbury Hill. Head west along the waymarked trail and you will soon arrive at the Cherhill White Horse which is also well worth a visit. View Full Details>>
Southwick Country Park
2 miles (4 km)
Southwick Country Park is a popular place for walkers with a series of well laid out walking paths linking a series of fields. It is located on the edge of Trowbridge in Wiltshire. This walk takes you through the 100 acre site and into the surrounding countryside where you can see woodpeckers, buzzards and water voles. There is also a nature centre where you can feed the animals. See the video below for more details of this.
To continue your walking in the area you could try our Trowbridge Park and River Walk which visits the lovely sensory garden in the park. Biss Meadows Country Park is also nearby and has some good riverside trails to try.
The park is also located close to the town of Bradford on Avon where you can extend your walking along the Kennet and Avon Canal and the River Avon. View Full Details>>
Stanton Country Park
4 miles (6.5 km)
Explore this 74-hectare country park and Local Nature Reserve located near Swindon. Here you will find a lake, woodland, grassland, a ranger centre and an abundance of wildlife. The route takes you around the lake, past Stanton Park Farm and into the surrounding countryside before returning to the start point at Stanton Fitzwarren village. View Full Details>>
Stonehenge
2 miles (4 km)
This circular walk visits the countryside and woodland around this famous historical site. It's an atmospheric and beautiful area with great views across the fields of Salisbury Plain. View Full Details>>
Stour Valley Way
60 miles (97 km)
This splendid walk takes you along the River Stour from Hengistbury Head on the Dorset south coast to Stourton in Wiltshire.
You begin at Hengistbury Head and head inland past Christchurch Harbour to Throop Mill where you'll pass a historic old watermill and the pretty Stour Valley Nature Reserve.
You continue towards Wimborne Minster via Canford Magna and Longham Lakes. At Wimborne Minster you'll pass the beautiful Kingston Lacy with its acres of beautiful parkland and gardens. The route continues past Blandford Forum, Child Okeford, Hambledon Hill, Hod Hill and Sturminster Newton. The final section passes Gillingham before finishing at Stourton near the splendid Stourhead Estate and gardens. View Full Details>>
Stourhead
2 miles (2.5 km)
The 1,072 hectare (2,650 acre) Stourhead estate has miles of lovely walking trails to try. You can follow the well surfaced footpaths around the stunning lake and into the surrounding woodlands, parkland and gardens. There is a collection of exotic trees which look wonderful in the autumn months. You'll also pass some classical architecture including temples, mystical grottoes and the beautiful arched bridge over the lake.
If you would like to extend your walking in the area then you could follow the Stour Valley Way south towards Bourton. The waymarked, long distance trail can also be used to create a circular walk around the estate.
The Leland Trail also starts at Stourhead so you could pick this up and visit King Alfred's Tower.
To extend your walk you could climb White Sheet Hill for wonderful views over the Cranborne Chase AONB. View Full Details>>
Swindon Canal Circular Walk
5 miles (7.5 km)
A nice circular walk around Swindon, visiting the Wilts and Berks Canal, the Old Town Railway Path, Lawns Park and Queen's Park. It's about a 5 mile walk with waterside trails, nature reserves and nice views of the surrounding countryside.
You can pick up the canal towpath in the Kingshill area of Swindon, just a short distance from the tourist information centre and the train station.
Follow the canal south west until you come to the Rushy Platt Nature Reserve on the River Ray. Here you can pick up the Old Town Railway Path and follow the shared cycling and walking trail east to Lawns Park. The pretty park has some nice footpaths through woodland and around a lake. See the video below for an aerial view of the park.
After exploring Lawns Park you head past Queen's Park which also has a nice lake and a diverse range of ornamental trees and shrubs. Shortly after you pass the tourist information centre and return to the canal.
You can extend your walking in the Swindon area by heading to Stanton Country Park or Mouldon Hill Country Park where there are some nice cycling and walking trails to try.
You could also enjoy a climb to Liddington Hill for great views over the surrounding area. View Full Details>>
Tan Hill Way
12 miles (19 km)
This walk takes you through the beautiful Marlborough Downs in Wiltshire. You will pass Pewsey Downs, Milk Hill, Tan Hill and Morgan's Hill with fabulous views of the surrounding countryside for the duration of the walk.
The start point of the walk is the car park at Clench Common with the finish at Morgan's Hill which is also a nature reserve of the Wiltshire Wildlife Trust. View Full Details>>
Three Downs Link
102 miles (164 km)
This is a walking and cycling path following bridleways through Hampshire, Berkshire, Wiltshire and Oxfordshire. The trail runs from Exton, in Hampshire, to Dean Hill, near Hungerford. You will pass through open chalk downland, along rivers and canals and through some pretty villages.
The route passes through or near Basingstoke, New Arlesford, Malborough, Winchester, Newbury and Hungerford. It uses the South Downs Way National Trail for part of the route and also links with the Ridgeway National Trail. View Full Details>>
Trowbridge Park and River Walk
1 miles (1.5 km)
A short circular walk through Trowbridge Park and along the River Biss.
The walk starts in Trowbridge Park, just to the east of the train station. The park has some nice tree lined footpaths taking you to a war memorial and a delightful sensory garden. Head south through the park and you will soon meet with the River Biss. If you would like a longer walk you can continue south into Biss Meadows Country Park where there's nice waterside trails and lots of wildlife to look out for. This walk heads west along the river, passing the cinema and the library before leaving the river. You then head through the town centre to the Trowbridge Museum. Here you can hear the story of woollen cloth production in the town from its domestic beginnings through to the mechanisation of the process. Shortly after the route returns you to the park and the finish point.
To continue your walking in the area head south west to Southwick Country Park. The 100 acre park has a series of good walking trails to try.
At the northern edge of the town you can also pick up the towpath of the Kennet and Avon Canal. Following it east will take you to the nearby town of Bradford on Avon where there are more nice riverside trails along the River Avon. View Full Details>>
Wansdyke Path
12 miles (20 km)
Travel through the beautiful Wiltshire countryside on this lovely walk.
The path begins in Marlborough near the famous Marlborough White Horse before passing Savernake Forest, Knapp Hill and Tan Hill and finishing at Morgan's Hill. The walk passes through a mixture of chalk-land and attractive beech woodland at West Woods near Marlborough. There are also a few climbs which offer wonderful views of the surrounding Wiltshire countryside. View Full Details>>
Warminster
2 miles (3 km)
The Wiltshire based town of Warminster is in an ideal location for exploring the lovely Cranborne Chase AONB and the expansive Salisbury Plain. There's also two popular long distance trails to pick up and two interesting hill forts to visit. View Full Details>>
Wessex Ridgeway
137 miles (221 km)
This wonderful trail runs from Marlborough in Wiltshire to Lyme Regis on the Jurassic Coast in Dorset.
You will pass:
- Overton Down
- The mystical Avebury Stones
- The White Horse at Bratton
- Wardour Castle ruins
- Ibberton Hill with splendid views
-The Vale of Pewsey
- Salisbury Plain
- Pilsdon Pen - with panoramic views of Marshwood Vale
-Lewesdon Hill the highest point in the county of Dorset.
- Cerne Abbas Giant - the mysterious figure on Giant Hill in Dorset thought to have been created in the 17th century
- Win Green Hill, the highest point in the Cranborne Chase AONB
-Bulbarrow Hill - this Iron Age Hill fort near Blandform Forum command wonderful views over Blackmore Vale.
Roundway Hill - the site of a 1643 Civil War battle, also includes the Oliver's Castle Iron Age Hillfort. View Full Details>>
Wessex Ridgeway Trail
62 miles (100 km)
Follow the Wessex Ridgeway Trail and enjoy spectacular views of the Dorset countryside on this shared walking and cycling path.
The trail begins at Tollard Royal in Wiltshire and heads to Hambledon Hill passing through Ashmore Wood and crossing the River Iwerne on the way.
A short section along the river Stour and a wooded spell through Blandford Forest take you to Ibberton and then onto Up Cerne and Maiden Newton. You then head to Beaminster before passing through the beautiful Marshwood Vale and finishing on the Jurassic Coast at Lyme Regis. View Full Details>>
West Woods
4 miles (7 km)
This large area of woodland near Marlborough has miles of hard surfaced cycling and walking trails to try. It's nice for an easy family cycle and there are more challenging tracks for mountain bikers. Walkers can also enjoy various waymarked trails and an easy access route. The woods consist of a beautiful plantation of beech trees with carpets of bluebells in the spring.
The Wansdyke Path runs through the woods so you could pick this up to continue your exercise. You could also reach the woods from Marlborough by following the Wansdyke Path south west from the town centre for about 2 miles.
If you head east from the woods you can visit the expansive Savernake Forest where there's thousands of acres of woodland to explore. View Full Details>>
Westbury White Horse
3 miles (5 km)
Climb to Westbury Hill and visit the Westbury White Horse on this circular walk near Bratton in Wiltshire. The striking hill figure is 180 feet (55 m) tall and 170 feet (52 m) wide and has been adopted as a symbol for the town of Westbury, appearing on welcome signs and the logo of its tourist information centre. It is also considered a symbol for Wiltshire as a whole. From the viewpoint on Westbury Hill there are wonderful views over the Salisbury Plain and the surrounding Wiltshire countryside.
You can start the walk from the car park just to the south of the site near Bratton. Then follow the footpaths north to the lovely viewpoint. You can then pick up other paths along the ridge to the Iron Age hillfort of Bratton Camp. Habitats include extensive chalk grassland where you can look out for the Adonis Blue Butterfly.
The White Horse Trail,Wessex Ridgeway Trail and the Imber Range Perimeter Path all pass the hill so you could easily pick up these long distance footpaths to extend your walk. The White Horse Trail is of particular interest. The waymarked circular trail starts at the Westbury White Horse and runs through Pewsey, Marlborough, Broad Town, Cherhill, Devizes, Steeple Ashton and Bratton. It also visits the Cherhill White Horse.
Heading south along the Imber Range Perimeter Path will take you over Upton Cow Down to Warminster. View Full Details>>
White Horse Trail
90 miles (145 km)
This is a circular long distance, waymarked trail running through Wiltshire. It starts at the Westbury White Horse and runs through Pewsey, Marlborough, Broad Town, Cherhill, Devizes, Steeple Ashton and Bratton. The walk runs through some beautiful Wiltshire countryside and also visits fascinating historical sites such as the Avebury Stones and Silbury Hill. Other highlights include the Lansdowne Monument at the Cherhill White Horse near the watershed of the River Avon and the River Thames. Near here you'll also pass Hackpen Hill and it's associated white horse. Also known as the Broad Hinton White Horse it was created in 1838 to commemorate the coronation of Queen Victoria.
There's also a long waterside section along the Kennet and Avon Canal through Devizes and wonderful views across the Vale of Pewsey around Pewsey. View Full Details>>
White Sheet Hill
4 miles (7 km)
Climb to the 245 m (804 ft) summit of this hill in Wiltshire and enjoy wonderful views over the Stourhead Estate and the surrounding countryside. View Full Details>>
Wilts and Berks Canal
2 miles (3 km)
Enjoy a stroll along this pleasant section of the Wilts and Berks Canal in Swindon. The walk starts in the town centre and follows the canal towpath to West Leaze Farm. On the way you'll pass the River Ray and the Rushey Platt Nature Reserve where you can look out for the water-vole. The canal runs on to Melksham via Wootton Bassett and Chippenham. Near Chippenham there is a section of the National Cycle Network running from Pewsham to Lacock Abbey. You can see this on the video below.
To extend your walk you could try our Swindon Canal Circular Walk and visit the nearby Lawns Park and Queen's Park. View Full Details>>
Win Green Hill
2 miles (2.5 km)
Climb to the highest point in the Cranborne Chase AONB and enjoy wonderful views over Shaftesbury, Salisbury Plain, Glastonbury Tor, the Mendips, the Quantocks, the Purbecks and the south coast.
There is a National Trust car park near the hill summit. You can park here and follow footpaths up to the 277 metres (909 ft) high point and enjoy the panoramic views over the beautiful surrounding coutryside. The summit has a distinctive look with a clump of beech trees growing on a Bronze Age bowl barrow. In the summer months you will find many interesting plants and flowers on the rich downland of the hill. There's also a handy toposcope which details all the landmarks you can see from the summit.
You could extend your walk by continuing south along the Wessex Ridgeway to Tollard Royal via Ashcombe Bottom. As an alternative you could start the walk from the village of Tollard Royal and visit the hill from there. Also just to the west you will find Fontmell and Melbury Downs nature reserve where there's fine views and interesting flora and fauna. View Full Details>>
Woodford Valley
8 miles (13 km)
Enjoy riverside trails, rolling Wiltshire countryside and views of Stonehenge on this circular walk through the beautiful Woodford Valley. View Full Details>>
Wylye Way
33 miles (53 km)
Follow the River Wylye through Wiltshire on this interesting and varied waterside walk.
You start at the splendid Stourhead - an 18th century landscaped garden owned by the National Trust. View Full Details>>